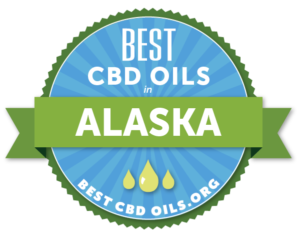 Do you live in the beautiful state of Alaska and find yourself trying to track down some CBD oil? Use the guide below to find the best CBD shops or online ordering options for your location.
The Best Places to Buy CBD in Alaska
CBD is one of the fastest-growing wellness and health-enhancing products. Furthermore, it's available in every state in America, online, and through many regions of the world.
Though Alaska only has a few brick-and-mortar CBD shops, buying CBD oil online is fast, easy, and convenient. Further, because the majority of online CBD suppliers are wholesale, you can shop for affordable, high-quality CBD oil products in bulk, including brand-name capsules, balms, edibles, tinctures, wax, concentrates, and more.
Check out our favorite CBD product
Order Online!
The best part? Delivery service is included, meaning CBD oil gets shipped straight to your front door for little to no additional fee.
Is CBD Legal in Alaska?

Alaska is a very cannabis-friendly state. They first decriminalized the plant in 1975, making them pioneers of this type of law. The state would go on to legalize medical cannabis in the year 1998, and as of 2014, cannabis is completely legal for recreational use throughout the state of Alaska. Because of these laws, you don't have to worry at all about using CBD in Alaska. It is completely legal. Cannabis products with any level of THC can be purchased and used in Alaska so you could choose to use marijuana-derived CBD there as well. Marijuana-derived CBD doesn't come from the same low-THC plants as the other stuff, which means it is likely to contain some (if not a lot) of the psychoactive cannabinoid THC.
In 2018, Alaska created some specific laws around industrial hemp as well, likely a result of the Farm Bill. The laws made it explicitly legal to grow industrial hemp throughout the state, and this industry doesn't fall under the same governance as the recreational marijuana does. Instead, this is headed up by Alaska's Department of Agriculture. Because cannabis of any kind is completely legal there, CBD is legal in Alaska.
What Is CBD?
Also known as cannabidiol, CBD is one of over 85 cannabinoids found in the cannabis plant. It is distinct from other well known cannabinoids in that it is not psychoactive. Because CBD only contains trace amounts of THC, it acts as a safe non-psychotropic alternative to other popular cannabis products, regardless of grade or dosage.
Of course, CBD oil's most promising potential is in healthcare. In short, CBD affects the endocannabinoid system, which controls a half-dozen day to day functions, including sleep, appetite, hormone regulation, mood, and chronic pain. More important, a growing amount of academic research suggests that CBD oil could reduce, mitigate, or even prevent some of the world's most persistent health challenges, such as cardiovascular disease, depression, Alzheimer's disease, schizophrenia, general anxiety disorders, epilepsy, ALS, and cancer. The more we learn about CBD's health benefits – and the complex science behind it – the more CBD's popularity will continue to grow, increasing supply, lowering costs, and promoting positive legislation and policies.
If you'd rather not buy CBD oil online, we've highlighted a few places to buy CBD and vape products in Alaska. Most shops have highly experienced, friendly staff, so if CBD is out of stock, they can direct your purchase elsewhere.
CBD Oil Shops in Anchorage
Really Neat Stuff (2520 E 68th Ave, Anchorage, AK 99507) is a 4-star tobacco and souvenir shop that carries a wide selection of CBD and CBD-related goods, as well as glass pipes, water pipes, and vaping accessories. Customer service is a point of emphasis, and the store always has affordable CBD oil for both novices and enthusiasts. Open seven days a week: Monday-Saturday 10AM-10PM, Sunday 12M-7:30PM.
There are about a dozen vape shops in Anchorage, as well, including: Cold Vapes 907 (4505 Spenard Rd, Anchorage, AK 99517); SUMO Vapor (5121 Arctic Blvd, Anchorage, AK 99503); Bloo Monkey Vapes (601 W 36th Ave, Anchorage, AK 99503); Primal Vapes (217 E Dimond Blvd, Anchorage, AK 99515); Legion Vapor (7926 Old Seward Hwy, Anchorage, AK 99518); Scarab Industries (4007 Old Seward Hwy; Anchorage, AK 99503); and Fatboy Vapors (810 E 36th Ave, Anchorage, AK 99503). All of these shops have at least a 4-star rating, feature top-of-the-line products, and have a highly knowledgeable staff. While none currently advertises a CBD selection, be sure to ask for in-stock or online CBD options.
CBD Oil Shops in Juneau
Two vape shops in Juneau might carry CBD oil. First is Global Vapors (323 S Franklin St, Juneau, AK 99801), established in 2014. Next, try Zootz Alor (209 Seward St, Juneau, AK 99801), which specializes in vaporizers for concentrates and e liquids. Both are open seven days a week.