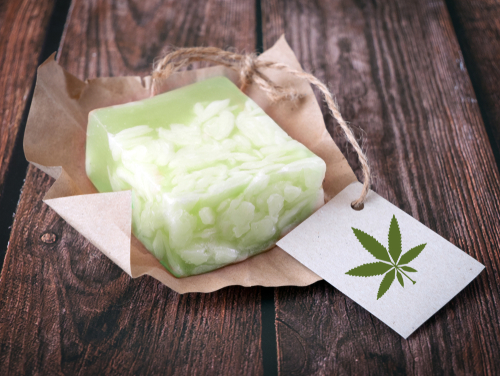 Handwashing has become a vital part of everyone's daily ongoing routine. With as many times as you run your hands under the tap every day, you want to make sure you use soaps made with ingredients that help, not hurt, your hands and skin. CBD soap may be just the product to take handwashing to a whole new level.
Additionally, CBD soaps may take a humdrum shower or bath to a whole new level. With good-for-your-skin ingredients like coconut oil, botanicals, and of course, hemp, you just might ditch your usual brand for one of these inspired choices. Ready to check it out? In this review, we've listed the top 6 CBD soaps to get you started.
At a Glance: Our Top CBD Soaps
Lather And Heal Your Skin With CBD Infused Soap Using Page Jumps!
---
Top 6 CBD Soaps
Mission Farms Relax CBD Goat Milk Soap
Highlights:
Long lasting
Great for dry skin
Sourced from Oregon hemp
Description:
Ingredients: raw goat's milk, whole hemp extract, coconut oil, olive oil, palm oil, organic grapefruit essential oil, organic ylang ylang essential oil
Pricing: $0.08 per milligram
Company: Headquartered in Oregon, Mission Farm's hemp is cultivated on the brand's own farms. It's organically grown and harvested by hand, and the result is some of the best CBD in the country. This reputable company was founded by people who experienced the healing power of hemp for themselves and wanted to bring it to the world, and they have.
Mission Farms Relax CBD Goat Milk Soap is a treat for the senses. It contains a whopping 200 milligrams of CBD and tons of beneficial, skin-loving ingredients. Infused with essential oils, it has a light, clean scent that lasts, and although it's super emollient, it doesn't disintegrate in the shower, so you get your money's worth. You can select from other formulations, too, including Rest, Relieve, and Pure.
Shipping: Free shipping on orders over $75.
Returns: 30-day money-back guarantee on all Mission Farms CBD products.
---
American Shaman Deep Spicy Wood CBD Soap
Highlights:
Made in the U.S.
Non-GMO ingredients
Lab test results available on site
Description:
Ingredients: distilled water, coconut and palm oils, sodium hydroxide, avocado oil, shea butter, hemp seed, jojoba oil, Theobroma cacao (cocoa) powder, Syzygium aromaticum (clove), Cymbopogon citratus (lemongrass), Pogostemon cablin (patchouli), Hibiscus abelmoschus (rose) ambrette seed and Andropogon zizanioides (vetiver) essential oils, Triticum vulgare (wheat germ) oil, silk amino acid (tussah silk fiber), CBD nanoemulsion
Pricing: $0.27 per milligram
Company: American Shaman is a popular CBD brand offering dozens of unique products you won't find anywhere else. The company is known for its pop-up shops and boutiques located around the country, but they have a robust online shopping platform that includes every CBD product you can imagine.
The brand's Deep Spicy Wood CBD Soap is made with 75 milligrams of nano-emulsified CBD and has a wonderfully fresh scent that will give you a lift every time you use it. Suitable for allergy-prone and sensitive skin, the soap is formulated with ingredients that not only cleanse but moisturize and soothe, too. The soap also comes in Fresh Mint or Sweet Almond scents.
Shipping: Free shipping on orders over $99.
Returns: American Shaman will refund your order within 45 days if purchased from the website.
---
CBD Living Refreshing Coconut Lime CBD Soap
Highlights:
Member of the National Hemp Association
100% natural ingredients
Available in three other scents
Description:
Ingredients: proprietary blend broad-spectrum nano hemp extract (aerial parts) 100 milligrams of cannabidiol (CBD), coconut oil, palm oil, safflower oil, Cocos nucifera (coconut) fruit extract, Citrus aurantifolia (lime) oil, Cucumis sativus (cucumber) fruit extract, Juniperus communis (juniper berry) fruit oil, Hippophae rhamnoides (sea buckthorn) fruit extract, lake colors
Pricing: $0.14 per milligram
Company: If you're looking for a great all-around CBD soap for everyday use, CBD Living has you covered. This California-based brand has been around since 2013 offering top-quality CBD products made using nanotechnology. This technology reduces CBD particles in size, so the skin more readily absorbs them.
CBD Living's Refreshing Coconut Lime CBD Soap contains cucumber, juniper berry, and sea buckthorn for a refreshing scent that is not overpowering. It's the perfect start to your day, and the 100 milligrams of CBD infused in each bar is the ideal amount. If you want to try other scents, check out Relaxing Lavender, Zenful Amber Bergamot, or Soothing Eucalyptus. CBD Living also offers a bundle that includes all four soaps!
Shipping: Free shipping over $75.
Returns: Refunds are subject to review. Contact support if you have a problem, and they will try to work with you toward a solution.
---
Wildflower CBD Soap Vanilla 3 Pack
Highlights:
Minimal ingredients
For face, body, and hair
Lab test results available on site
Description:
Ingredients: coconut oil, water, lye, broad-spectrum CBD oil, vanilla essential oil
Pricing: $2.00 per milligram
Company: Wildflower CBD is on a mission to "connect people with the healing power of plants." Founded in Vancouver in 2012, the brand offers a wide range of CBD products manufactured in the US. With values of sustainability, freedom, and transparency, they hope to make the world a better place.
The beauty of this Vanilla CBD Soap from Wildflower is that it's completely vegan and made with only a few easy-to-pronounce ingredients. You'll get three bars in all, and each bar contains 20 milligrams of CBD. Gentle yet highly versatile, this multiuse bar can be used on your hair, body, or face. It has a rich, foamy lather that cleans and hydrates.
Shipping: Free shipping on orders over $50.
Returns: When purchased through Direct CBD, unopened products returned within 30 days are eligible for a full refund.
---
Casco Bay Hemp Vanilla Oak & Charcoal CBD Soap
Highlights:
Vegan
Organic and eco-friendly
Lab results on the website
Description:
Ingredients: sorbitol, sodium cocoate, propylene glycol, sodium stearate, glycerin, Cocos nucifere (coconut), fruit juice, Aloe barbadensis (aloe vera) leaf juice, olive oil, CBD, activated charcoal, kaolin clay, fragrance, vitamin E, titanius dioxide, yellow 5, green 5
Pricing: $0.20 per milligram
Company: Casco Bay Hemp is a premium brand composed of a team of wellness experts with decades of experience in the cannabis industry. Using U.S.-sourced hemp, the company manufactures its CBD products in Maine in an ISO-certified facility. Each product is carefully tested by a third-party laboratory, with the results of those tests right on the website.
The brand states this Vanilla Oak & Charcoal CBD Soap is like "washing yourself in a whiskey barrel." The activated charcoal in the product is designed to rid your body of dead skin cells, unclog pores, and release toxins, and the vanilla offers a light and pleasant scent. Coupled with 75 milligrams of CBD, this bar is a must-have for anyone who wants a super-clean experience. A plain, unscented version is also available.
Shipping: Standard shipping fees are included.
Returns: If you are not satisfied with your purchase, send the product back within 30 days for a refund or exchange
---
Cannuka Cleansing Body Bar
Highlights:
Sustainably sourced
Cruelty free
Money-back guarantee
Description:
Ingredients: saponified oils of Cocos nucifera (coconut) oil, hydrogenated palm kernel oil, palm oil, olive oil, hemp seed oil, castor seed oil, shea butter fruit, sunflower seed oil, manuka honey, grape seed oil, Piper nigrum (black pepper) seed oil, tea tree oil, Lavandula hybrida (lavandin) oil, CBD isolate
Pricing: $0.36 per milligram
Company: Fans rave about Cannuka's premium products, which contain an array of natural compounds, including CBD, Manuka honey, vitamin E, shea butter, and a whole host of sustainably sourced ingredients. PETA-certified cruelty free, the brand offers a range of CBD products, many of them rivaling the top beauty products on the market.
Cannuka's Cleansing Body Bar is designed to clean and hydrate, and can be used on the face or body. There are 50 milligrams of CBD isolate in each bar, along with black pepper seed oil, New Zealand Manuka honey, and tea tree oil. It suds up into a luxurious foam that won't leave any filmy residue behind and won't dry out your skin. This long-lasting oversized bar is an ideal staple to add to your stash and is destined to become an everyday favorite.
Shipping: Free shipping.
Returns: Return unused items in original packaging within 60 days for a full refund.
---
What Does CBD Soap Do for Your Body?
CBD soap has a number of health benefits that vary among the different parts of your body. If you still have more questions after reading our list of the best CBD soaps, here's an explanation for what CBD soap can do for the endocannabinoid system, your skincare, and more.
The Endocannabinoid System
The endocannabinoid system in your body affects several vital functions, such as mood, memory, body temperature, hunger, and pain sensations. When cannabinoids bind to specific receptors on your neurons, they send signals to nearby cells to help regulate these functions.
Your body produces some of its own cannabinoids, known as endocannabinoids. However, it also can use some made by plants, known as phytocannabinoids, such as CBD. When your body absorbs CBD, it circulates through your bloodstream until it binds to cannabinoid receptors in your neurons. This potentially has several effects, including:
Mood enhancement
Reduced stress and anxiety
Pain relief
Improved sleep
Neuroprotection (healthier neurons)
Reduced inflammation
CBD for Skincare and Beyond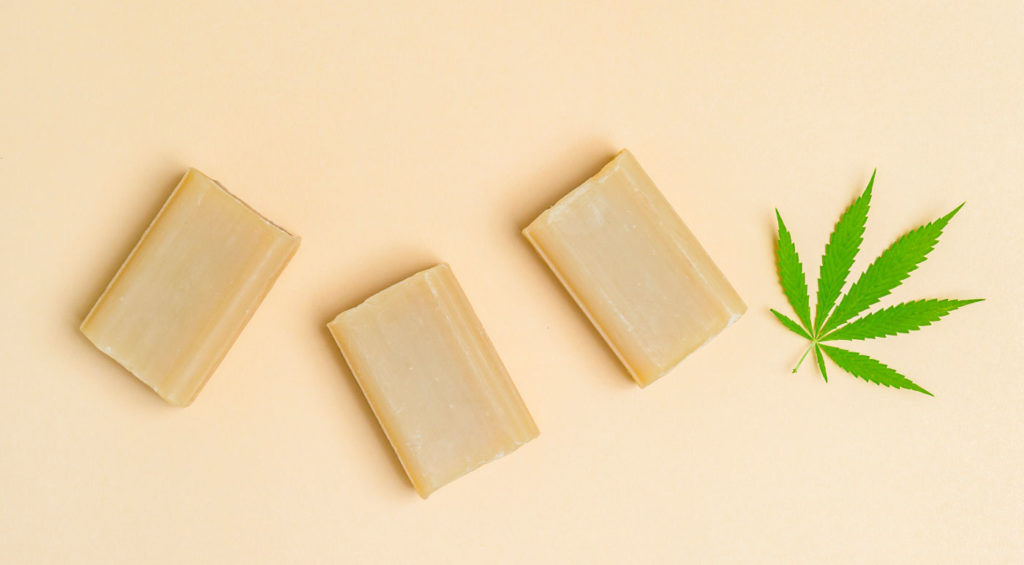 Your skin is your body's largest organ, and while CBD topicals do not enter into the bloodstream through your skin, they do sink into the dermal layers, where you also have thousands of endocannabinoid receptors. The one exception to this is CBD patches, which are designed to cross the skin barrier and enter the bloodstream.
What are the benefits of CBD soap? The compound is thought to have potent anti-inflammatory properties, making it helpful for a wide range of health conditions. In particular, it might help protect your skin against inflammatory damage and help alleviate skin conditions involving inflammation, such as dermatitis and acne.
Many people find that CBD soaps and other skincare products with cannabidiol are more hydrating, cleansing, and feel better on the skin overall. Some even swear by CBD's possible anti-aging effects, although not much research has been done on the subject.
Topical CBD could potentially help relieve muscle pain, joint pain, and neuropathic pain, too, which is why many people use salves and lotions containing CBD. The best way to see if it works for you is to lather with a CBD soap and rub it in slowly and gently to soak your skin thoroughly with this potent cannabinoid.
Methodology: What Qualities Make the Best CBD Soap?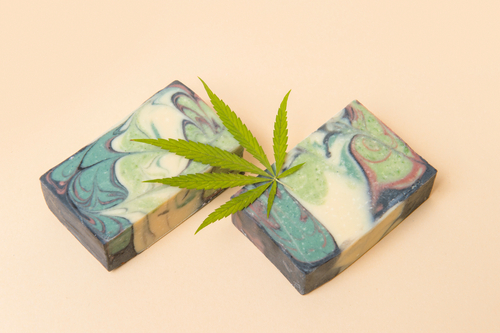 There are many CBD products on the market, so you may be wondering how we determine what makes one selection better than another. We consider several priorities when choosing the best CBD products for our lists. Here's what we seek out:
Why is lab testing so important to us? Third-party labs issue unbiased, scientific COAs (certificates of analysis) that reveal what is (and isn't) inside the products they test. Any brand can say they have the best ingredients, but a lab report will back it up, plus it will reveal any unwanted compounds in a formulation.
We prioritize companies that focus on transparency and truth in labeling. Customers deserve to know what is in the products they buy. Products should have easy-to-read labels that clearly state the place of manufacturing, ingredients, serving sizes, potency, suggested uses, and other relevant data.
Hemp absorbs everything (good or bad) from the soil in which it is grown. That's great for the environment but not so great if contaminated hemp makes its way into your CBD products. U.S. industrial hemp is grown under strict regulations that make our country's CBD some of the world's cleanest and purest.
You may have noticed we list a product's cost per milligram in each of our reviews. That's because it's the fairest way of determining whether you're getting a good value or not. The listed price of a CBD soap may be low yet may not reflect the best deal after calculating how much CBD it actually contains.
Customer Service and User Experience
With so many ways to keep customers happy these days, there's just no reason to tolerate bad service. The same goes for a frustrating checkout experience. We look at everything from how easy it is to place an order to how responsive the customer service agents are. Buying CBD soap should be a pleasure, not a hassle.
By now, many brands have grown in popularity through simple word-of-mouth recognition. Looking at what others are saying is still one of the best ways to gauge the quality of a product, so that's what we do. We check reviews, the Better Business Bureau, and real customer testimonials to see how a brand stacks up.
Possible Side Effects of CBD
CBD has an excellent safety profile as a cosmetic product. Any complications from CBD use tend to be relatively mild. The most common side effects from CBD use include drowsiness or sleepiness, dizziness, diarrhea, or changes in appetite or weight. However, these side effects are seen more with products you ingest or inhale than topical CBD products.
As is true with any skincare product, mild skin irritation can occur. If this happens, discontinue using the soap and contact the brand to discuss your options.
Final Thought on CBD Soaps
CBD soap is a safe and innovative way to utilize CBD, plus it promotes good hygiene. Try one of the products from our list of the best CBD soaps and see for yourself what kinds of benefits and perks these soaps can have on your daily health routine.
---
Additional Resources: