It's not an overstatement to say we are inundated with choices when it comes to CBD products. Now that cannabidiol (CBD) is mainstream, the compound is showing up in everything from coffee to bath bombs. In this article, we'll take a look at a relatively new CBD product: patches.
Featured CBD Brands for Patches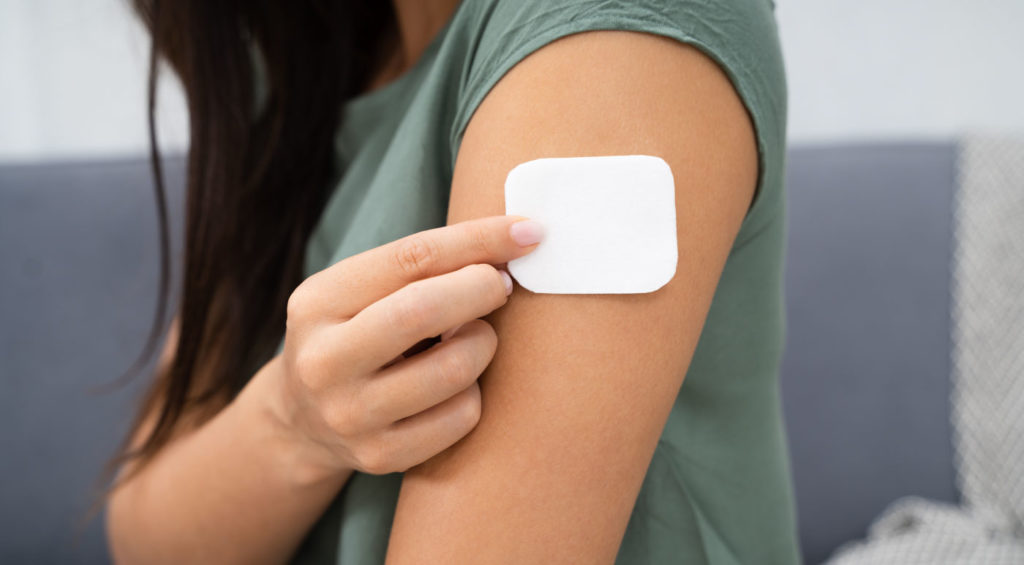 Designed to adhere to the body with the potential to offer sustained relief from pain, inflammation, and other discomfort, CBD patches are the hottest new trend. How do you know which one is right for you?
The answer depends on your specific needs and what each one can offer. To help you decide, we've reviewed the best CBD patches available on the market.
Get Long-Lasting Relief From Pain With CBD Patches Using These Page Jumps!
At a Glance: Our Top Four Picks for Best CBD Patches
Best Overall: Social CBD 100 mg Transdermal CBD Patch
The 100 mg transdermal patches from Social CBD are potent, but they also undergo five levels of testing before they hit the market. That's pretty outstanding in our book!
Best Value: CBD Living 60 mg CBD Patch
At 25 cents per milligram, it's hard to find a CBD patch this cheap and still get the quality you expect. CBD Living has you covered with this inexpensive yet potent patch.
Best Luxury Brand: The Good Patch 20 mg Hemp Queen CBD Patch
The Good Patch is a trendsetting brand that carries a whole variety of specialty CBD patches, and although they can be a bit pricey, these top-shelf offerings are impressive.
---
The 7 Best CBD Patches
Social CBD 100 mg Transdermal CBD Patch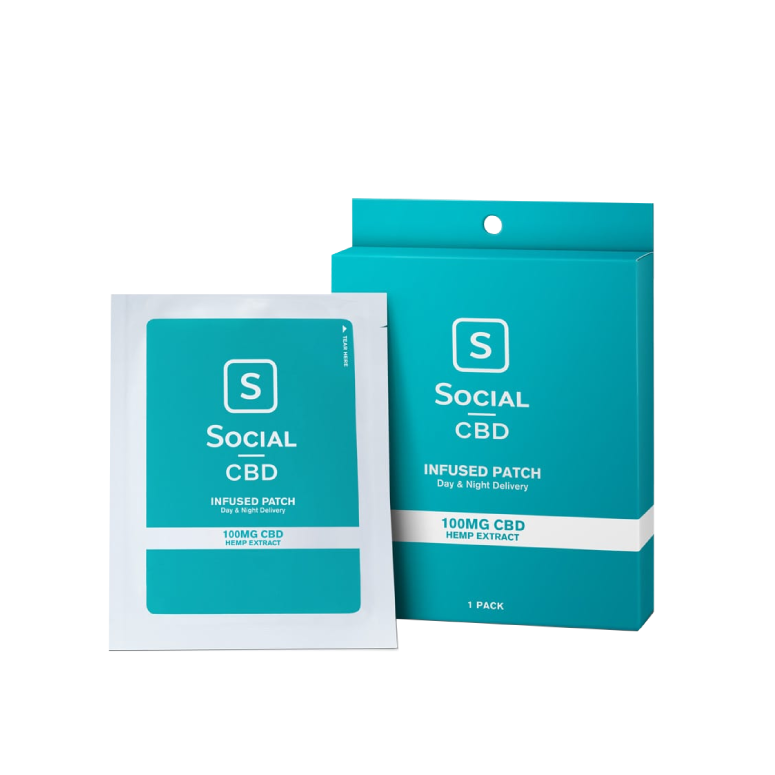 Highlights:
High potency
Third-party lab tested
100% plant-based
Description:
Ingredients: Polymer blend and CBD hemp extract
Pricing: $0.10 per milligram
Company: Social CBD is one of the most transparent CBD companies around, subjecting its CBD to five rounds of testing before it hits the shelves. The products are free of solvents, heavy metals, pesticides, and microorganisms. Not only that, but they use an ISO 17025-accredited third-party lab to ensure complete accuracy.
Social CBD's transdermal patches are available in 60 or 100-mg options, but the 100 mg is the most potent and effective, in our opinion. It can be applied for up to 24 hours of potential relief and is waterproof and sweatproof. Plus, the activation time is about 60 minutes, so you know help is on the way!
Shipping: Free shipping on orders over $65 through CBD Direct
Returns: When purchased through CBD Direct, unopened products returned within 30 days are eligible for a full refund.
---
CBD Living 60mg CBD Patch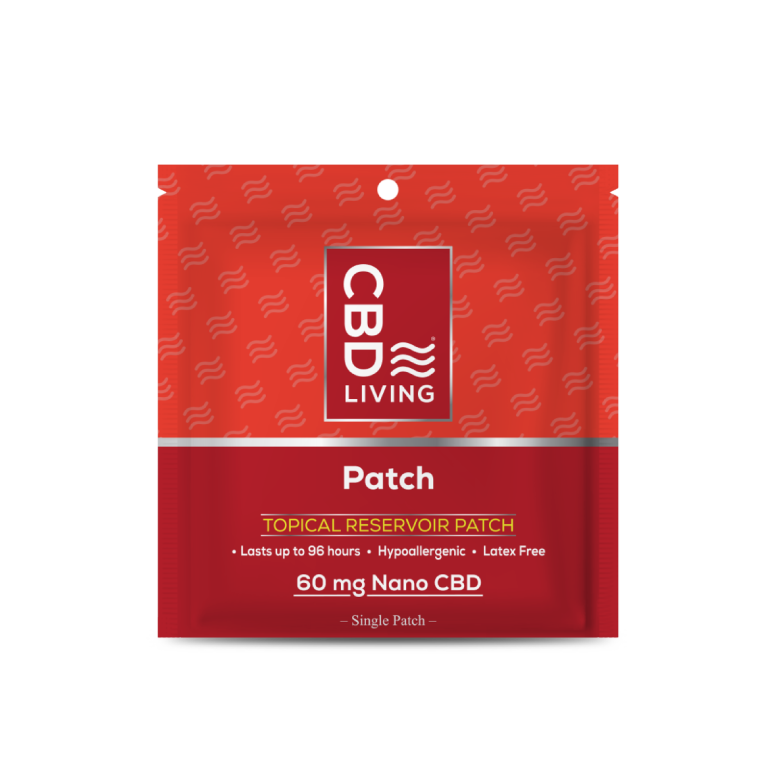 Highlights:
Organically Grown
Fair trade
Sourced from Colorado
Description:
Ingredients: Proprietary broad-spectrum nano hemp extract (cannabidiol / CBD) 60 mg, natural terpenes (myristate, palmitate, limonene), coconut oil, sunflower lecithin, aloe vera polysaccharides, linoleic acid, oleic acid, sweet almond oil, red palm oil, shea butter, sunflower oil extract, persea gratissima oil, eucalyptus oil, sage, citrus essential oil
Pricing: $0.25 per milligram
Company: This 60 mg CBD patch from CBD Living offers up to 96 hours of extended relief. The brand has a proprietary delivery system that uses three different nano-technologies: water-soluble, self-emulsifying, and skin-retention. It allows nutrients to penetrate the skin's deep layers and helps the patch to stay on longer for maximum effects.
CBD Living is a trusted brand established in 2013. They create their products using nano-technology, which effectively reduces CBD molecules into nano-sized droplets that are easily absorbed into the bloodstream. The company is a member of the National Hemp Association.
Shipping: Free shipping on orders over $65 through CBD Direct
Returns: When purchased through CBD Direct, unopened products returned within 30 days are eligible for a full refund.
---
The Good Patch 20 Mg Hemp Queen CBD Patch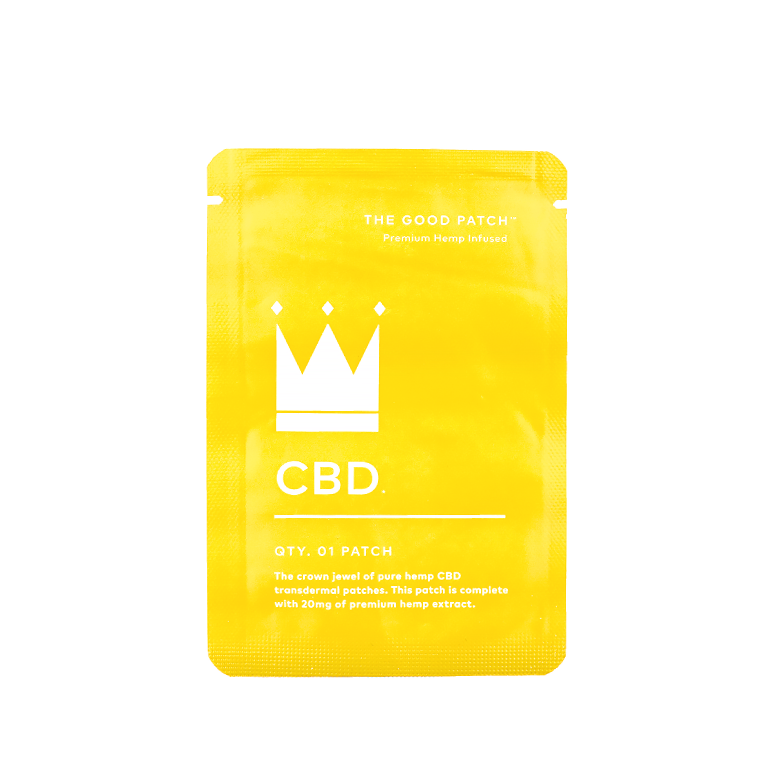 Highlights:
Works for 8-12 hours
Discreet
Other formulations available
Description:
Ingredients: 20 mg of premium hemp
Pricing: $0.20 per milligram
Company: The Good Patch is a brand specializing in transdermal patches for CBD and other nutrients, all made with organically farmed industrial hemp and plant-based ingredients. Established in 2017, they are the only company we know of that specializes exclusively in patches, and they have a wide range of options to choose from.
The brand's 20 mg CBD Patch contains no latex, parabens, sulfates, synthetic fragrances, artificial dyes, or colors. Additionally, they are gluten-free, non-GMO, cruelty-free, and vegan.
Shipping: Free shipping on orders over $65 through CBD Direct
Returns: When purchased through CBD Direct, unopened products returned within 30 days are eligible for a full refund.
---
Pure Ratios 96-hour Transdermal CBD Pain Patch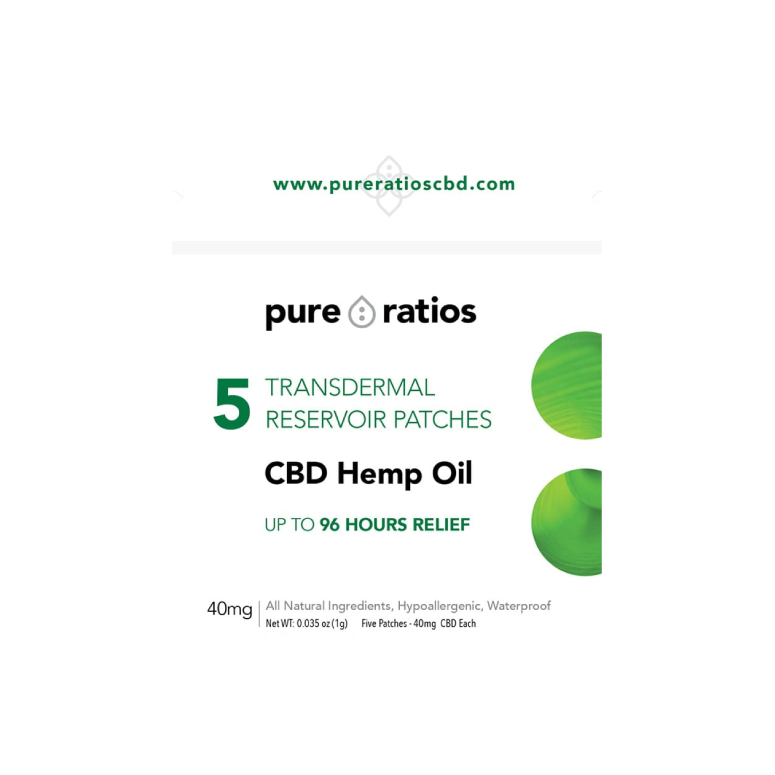 Highlights:
Long-lasting
Chemical-free
Waterproof
Description:
Ingredients: Coconut oil, aloe butter, sunflower lecithin, sweet almond oil, red palm oil, shea butter, avocado oil, and hemp-derived cannabidiol (CBD)
Pricing: $0.42 per milligram
Company: Pure Ratios developed a new kind of transdermal patch called the reservoir patch. The brand claims this type of patch can hold much more CBD than others, and offers a slow and gradual release over several days rather than hours. This means that, theoretically, you only need to change out your patch a couple of times a week, rather than once or more per day.
Waterproof and hypoallergenic, each patch contains 40 milligrams of CBD and includes skin-friendly ingredients like avocado oil, extra virgin coconut oil, sweet almond oil, aloe, and shea olein. There are no chemical additives, and the patch can be cut in half or quarters if you desire.
Shipping: Free shipping on orders over $65 through CBD Direct
Returns: When purchased through CBD Direct, unopened products returned within 30 days are eligible for a full refund.
---
Mary's Nutritionals Elite Transdermal Patch
Highlights:
Full-spectrum hemp
Lasts up to 12 hours
Infused with CBD and eucalyptus
Description:
Ingredients: Acrylic adhesive, propylene glycol, oleic acid, sunflower lecithin, full-spectrum activated hemp extract, eucalyptus, naturally derived terpenes
Pricing: $0.35 per milligram
Company: The Mission of Mary's Nutritionals lies in "Distilling the wisdom of plants to help people reach the full potential of their bodies, minds, and lives." The company has been around for several years and has gained a stellar reputation and a loyal following over that time.
The brand's Elite Patch contains 20 mg of hemp extract along with eucalyptus and naturally-derived cannabis terpenes. Each patch is latex-free and hypoallergenic and lasts for 8-12 hours. At just 20 mg CBD each, Mary's Nutritionals offers a moderate dose for the best effect you can find. This makes them great to try out if you are new to CBD or the patch format.
Shipping: Free shipping on orders over $65 through CBD Direct
Returns: When purchased through CBD Direct, unopened products returned within 30 days are eligible for a full refund.
---
Uncle Bud's 20 mg CBD Transdermal Patch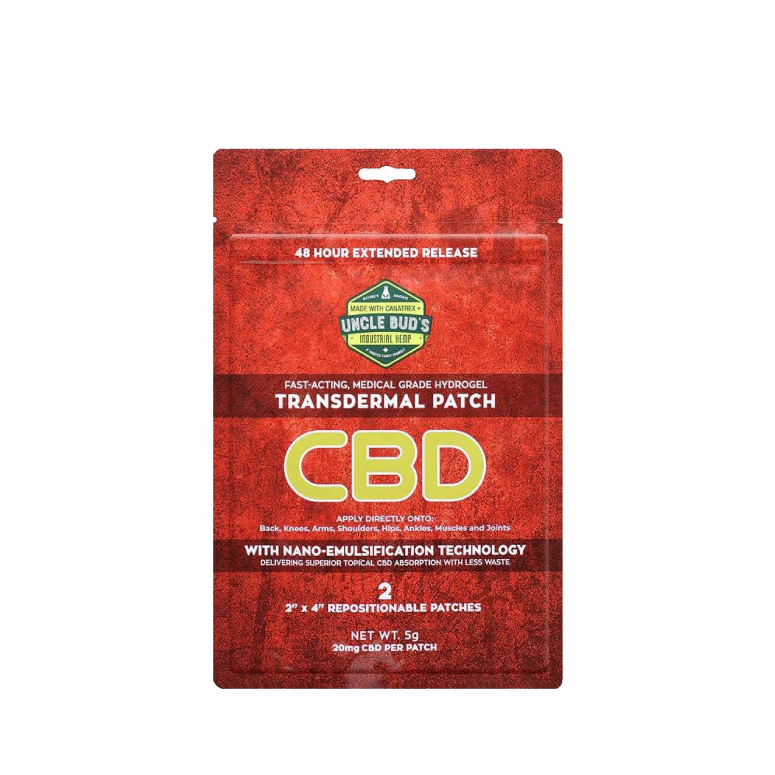 Highlights:
Medical-grade hydrogel patches
Easy to reposition
Lasts up to 48 hours
Description:
Ingredients: Vegan glycerol, polyacrylate, aqua, broad-spectrum cannabidiol
Pricing: $0.25 per milligram
Company: These extended-release CBD transdermal patches from Uncle Bud's contain 20 milligrams of CBD and come in packages of two. They are made with a medical-grade hydrogel that is 25% water, which helps to open the skin's pores for better delivery.
One of the things that sets these patches apart is that they can be repositioned to another part of the body at any time, without any loss of adhesion. Crafted with advanced nano-emulsifying technology, they are designed to work fast and last for up to 48 hours. Apply them to shoulders, knees, back, arms, hips, ankles, or other joints and muscles.
Shipping: Free shipping on orders over $65 through CBD Direct
Returns: When purchased through CBD Direct, unopened products returned within 30 days are eligible for a full refund.
---
How are CBD Patches Different from Other Delivery Methods?
There are several methods for getting CBD into your bloodstream. The most common ways are through ingestion or inhalation. Ingested CBD products take the form of capsules, tinctures, oils, or edibles. Taken by mouth, they pass through your digestive tract, where they are absorbed into your body via your intestines. Inhaled CBD products are vaped or smoked, and CBD is quickly absorbed into the many capillaries in the lungs.
CBD patches provide an alternate method of delivery. They are designed to slowly release controlled amounts of CBD into your bloodstream through your skin. Since they usually are made with a time-release formula, a transdermal patch containing CBD administers the compound in steady amounts throughout the day. This means you don't have to remember to keep taking doses, and you don't have to deal with peaks and lows. The small patches are also discreet so that you can use them anytime, anywhere.
How Do You Use CBD Patches?
Typically, patches work best when you apply them to an area of your body with a rich blood supply. This means you can place them anywhere that capillaries and blood vessels are close to the surface. This is especially true if you are dealing with widespread pain and inflammation or potentially treating things like anxiety or insomnia.
If your discomfort is in a specific location, you can also apply a CBD patch directly to the affected area. Your knees, back, shoulders, calves, and other sore spots may benefit significantly from the application of a patch. If it doesn't work, you can often reposition it or try another area.
Wherever you choose to apply a CBD patch, you should cleanse the area thoroughly first to remove oils and dirt that would prevent the adhesive from sticking to your skin.
How Long Do CBD Patches Take to Work?
Although some users have stated that patches work within 30 minutes, don't be surprised if they take at least an hour. Once applied, you can expect the effects to last anywhere between six hours to a few days, depending on the brand of patch you use. Remember, you don't need to leave them on for the max amount of time stated. They can be removed at any time.
How Does CBD Work?
The Endocannabinoid System
The cells in your body use many different systems to communicate with each other and their environment. One of these is called the endocannabinoid system. This system helps control many essential functions in your body, including:
Energy
Sleep
Appetite
Mood
Pain
Pleasure
Body temperature
Some cells, such as the neurons in your brain and nerves, have receptors for a group of chemical compounds known as cannabinoids. Cannabinoids are small organic molecules that can easily circulate through your body until they bind to a cannabinoid receptor. When they bind to this receptor, it sends a signal through the cells to create a biological response.
Your body produces some cannabinoids of its own, called endocannabinoids. Some plants also make cannabinoids, known as phytocannabinoids. CBD is a phytocannabinoid.
Uses of CBD
Doctors and scientists don't fully know yet about all of the health effects of CBD. What we do know now, however, is that pharmaceutical-grade CBD is useful for epileptic seizures. Its anti-inflammatory properties and neurological effects also show considerable promise for pain relief and for managing other conditions.
CBD affects the body's functions controlled by the endocannabinoid system. Results from early studies show that CBD may help with many illnesses and conditions, such as:
Neuropathic and chronic pain
Mood disorders, such as depression and anxiety
Psychological disorders, such as post-traumatic stress disorder (PTSD) and schizophrenia
Childhood epilepsy and seizures, such as Lennox-Gastaut and Dravet syndromes
Neurodegenerative disorders, such as Parkinson's disease and Alzheimer's disease
Malignant brain tumors
Opioid withdrawal
Although many findings are promising, It's vital to understand that studies about how CBD may help treat various ailments are still underway, and definitive evidence is still quite preliminary. You should never attempt to treat yourself for a serious illness without the help of a qualified professional.
Methodology: How Do We Pick the Best CBD Patches?
There are lots of CBD patches on the market, but not all are created equal. In choosing our top brands, we look at several factors:
Testing is the most critical feature of any good CBD brand. Without a third-party lab to verify a product's contents, it can be hard to know exactly what you're getting. Companies that have results available for viewing on their webpages rank highest since we believe that brands need to make it easy to see this information.
Clear Labeling of Ingredients
People want to know what they are putting on their skin and in their bodies. Although the FDA has yet to establish clear labeling requirements, those companies that do it without being told always rank higher on our lists.
Trustworthy, U.S.-based Sourcing
Wherever possible, we go with brands that source their hemp right here in the United States. Farming of hemp is well-regulated here, so it's easy to know that it comes from clean and pure soil.
Cost per milligram can vary widely among brands, and a product's sticker price can be deceiving. As long as we can determine how many milligrams of CBD a product contains, we list prices per milligram. This fairness levels the playing field among brands.
There's no reason to deal with cranky reps or a poor user experience in this day and age. We look at helpfulness, responsiveness, and ease-of-use, but we also prefer to deal with friendly people, and we think you do, too.
---
Additional Resources: