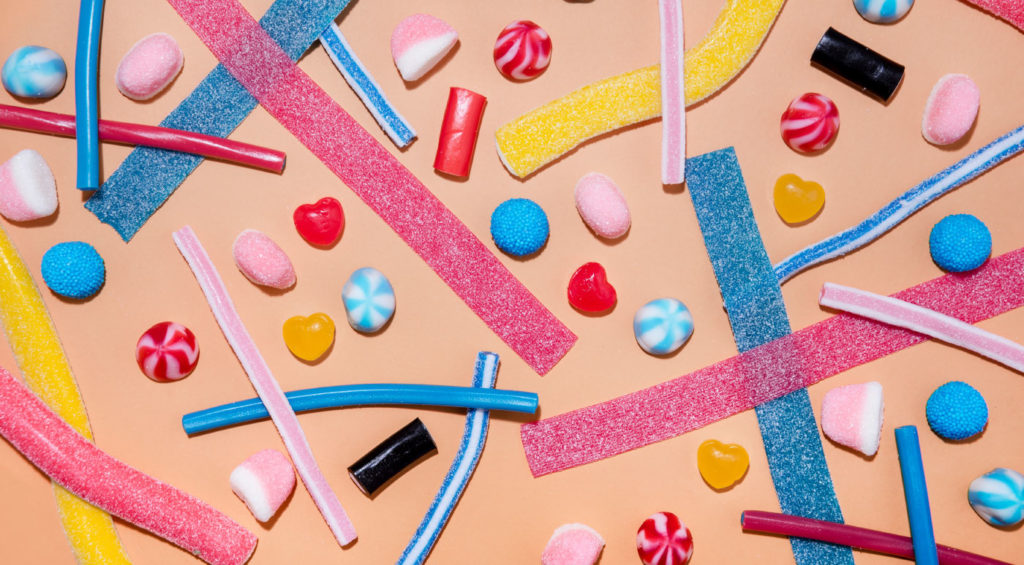 If 2018 taught us anything, it's that CBD can find its way into just about anything. While bars and restaurants were eager to put CBD oil into cocktails, desserts, and dinners, the FDA has yet to approve it for use as a medicine or food additive.
Ordering CBD from a restaurant may be on delay, but there are a multitude of ways you can still buy safe, all-natural CBD oil in fun and easy-to-eat candies.
Tincture vs CBD Candy
Tinctures, oils, drips — regardless of the way it's extracted and what it's mixed with, CBD is commonly offered in its liquid state. To use CBD in this form requires a dropper. The perks of using a tincture is you can change your dose whenever you feel like it. The downside to using a liquid CBD tincture is that it could be hard to accurately eyeball the the dosage, leaving you with a dose that's hard to gauge every day.
Many of the same companies that present CBD tinctures also create their own CBD gummies and candy to opt for instead.
CBD Gummies
Gummies come in as wide a variety as Flintstone vitamins do at the drugstore. Often, they're flavored, and sometimes they're vegan. Like with tinctures and oils, they also come in full-spectrum, broad-spectrum, and THC-free versions.
CBD Candy with THC
There's plenty of research that remains to be done with CBD and the hemp and cannabis plants it comes from. What we do know so far is that CBD seems to work best when its fellow cannabinoids are present, which is a good case for opting for full-spectrum CBD products.
While candy and wellness products rarely go hand in hand, candy containing CBD, THC, and other types of active cannabinoids from hemp are more of a daily vitamin than they are an indulgent treat.
Choosing the 10 Best CBD Candy Options
Whether you've got chronic pain or the Sunday scaries, you can still benefit from the effects of CBD with a simple piece of candy — the most popular option being CBD gummies. There are a few instances where you can find other ways to get a dose of CBD from chocolate or honey, but some of the best CBD edibles are made into sweet smiling faces or even froggies!
The Flintstones had familiar faces to cajole you into buying their product, but when it comes to choosing a CBD candy, there's a bit more of a selection process involved. The first consideration comes with the brand of CBD oil you're interested in trying.
All of the top contenders are those that are third-party lab tested oil and from non-GMO hemp plants. Grown in the United States is a plus, but there are also a few worthy contenders from overseas.
Some people may also have a few dietary restrictions or preferences that need to be honored, or you just hate the idea of using sugar-filled candy for wellness. Luckily, the CBD industry is conscious of individual needs and presents plenty of vegan gummies without artificial sweeteners or corn syrup.
Now that you know what to look for, we'll let you be the judge. Take a look at the 10 best CBD candy options there are, and decide for yourself which will work for you!
1. Kanibi Organi Gummies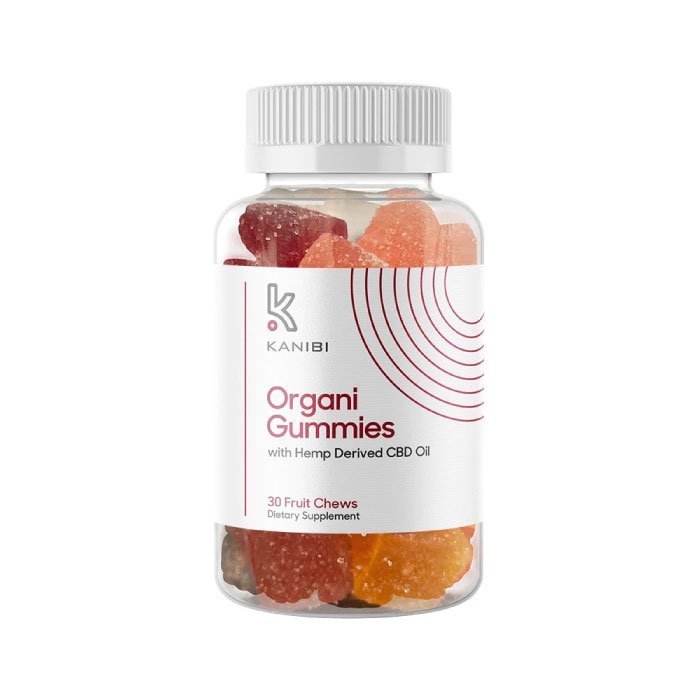 Gummies are a fan-favorite both as a sweet treat and for daily vitamin intake. Kanibi strikes the perfect balance between these two methods with their latest product: Organi Gummies.

Kanibi is committed to high-quality ingredients becoming top notch products. The company began with a simple lineup of a tincture and topical, but expanded into gummy territory to meet the wider needs of their customers.

Each gummie is filled with 10 mg of CBD distillate. A distillate normally means it's got all of the active ingredients of the hemp, including CBG, CBN, THC. This product, however lists THC as undetectable. There are two sets of lab reports to back up the potency of this content.

There's a lot more that goes into the mix when you're making a gummy, and those ingredients are held to the same rigorous standards. Organic ingredients serve as carrier for the high-potency oil. The oil is infused into the gummy, making it a true CBD candy.

Best for: easy-dosing of CBD with a tasty organic gummy.

2. Hemp Bombs CBD Gummies and Lollipops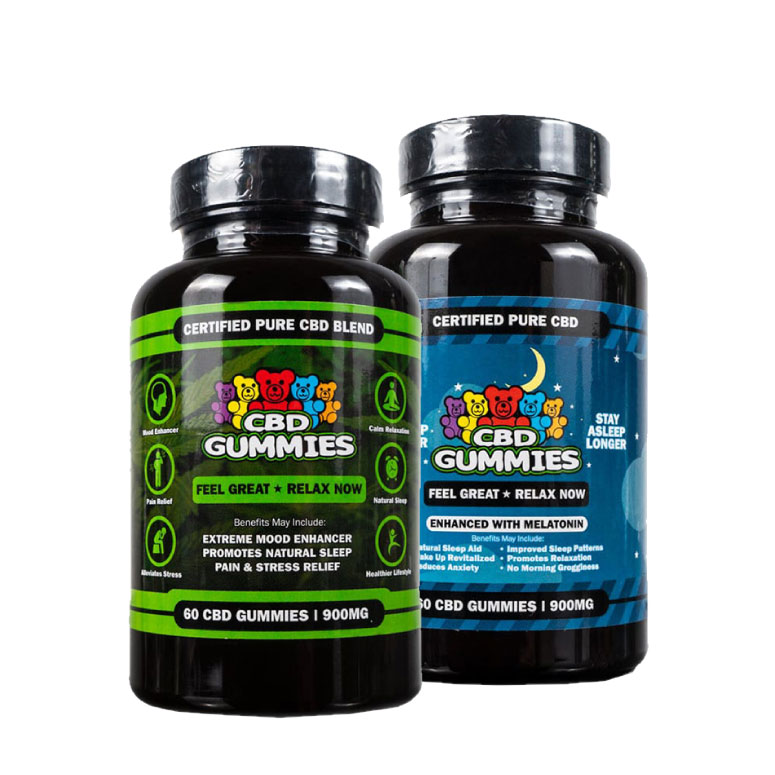 Hemp Bombs is known for having an extensive catalog of CBD products. When it comes to CBD candy, they're some of the most adventurous in terms of the products they have on offer.
As for CBD gummies themselves, Hemp Bombs created original, high-potency, and sleep formulas to help create a tailored approach to take their best CBD gummies and add some extra options.
Both the original and sleep formulas come in a 60-count bottle with 900 mg of CBD in each. Each gummy bear contains 15 mg of CBD, and the sleep formula is enhanced with melatonin.
The high-potency gummies pack a punch of 1500 mg per bottle, 25 mg per gummy. This intense formula is an option for CBD users who need a bigger punch, or those who have stronger symptoms, larger body size, or prior experience.
Hemp Bombs also moves into true candy territory with their CBD Lollipops: Jolly Bombs. These suckers are the stronger of the candies they provide, with an impressive 40 mg of CBD per pop.
The Jolly Bombs are vegan, but the gummies are not. All of Hemp Bombs' CBD edibles, however, are THC-free.
Best for: CBD users who like to have options when it comes to THC-free CBD products.
3. CBDfx Hemp Gummies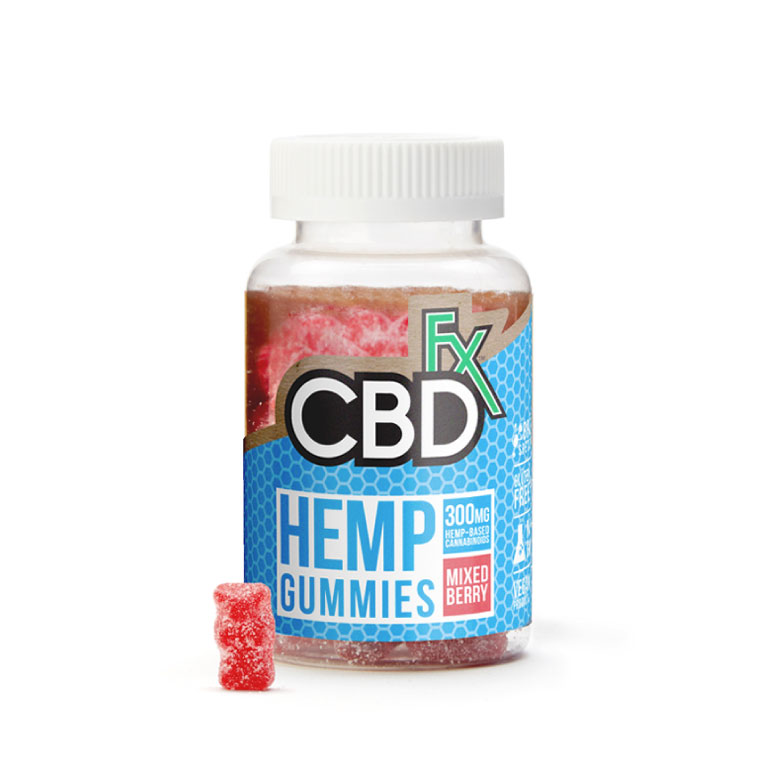 CBDfx is another brand that likes to offer autonomy in how their customers use CBD. Their CBD face mask helps rejuvenate and revitalize the skin, their vape pens offer a quick up-take of CBD, and their gummies are focused on an easy-to-dose daily supplement.
Since we're here for the gummies, we'll start by saying that these keep all the things you love while casting aside all the cheap or detrimental ingredients you can find in some products. CBDfx Hemp Gummies are organic, vegan, and made with broad-spectrum hemp extract. That's right — there is absolutely no artificial coloring, corn syrup, or animal products in these non-GMO daily bites.
As far as pricing goes, it's safe to say you'll pay a little extra to enjoy these all-natural ingredients. Each 5 mg gummy comes out to about $1.00, breaking down to about $.20 per milligram. It's not the cheapest option, nor the most potent, but you can be assured that you're getting high-quality, THC-free CBD in the most natural gummy you can buy.
Best for: Customers looking for an all-natural, vegan CBD gummy.
4. Hemp Lucid CBD Gummies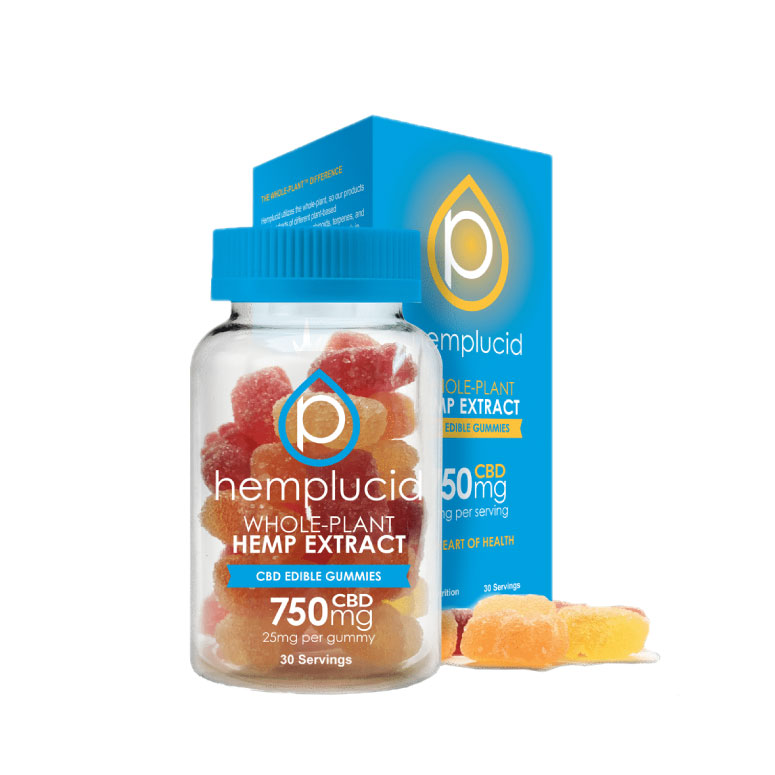 Hemp Lucid likes to put their hemp extract into a full range of expected products — rubs, capsules, gummies — but they also focus on optimizing the delivery for each. As a result, their one and only CBD edible is a gummy.
Hemp Lucid CBD gummies are made with full-spectrum, whole-plant hemp extract. At 25 mg of CBD per gummy, you'll receive a relatively strong dose of CBD in each serving. This dose is ideal (at least as a place to start) for activating the pain relief and anti-inflammatory benefits of CBD.
Hemp Lucid's gummies are a big investment with a fair payoff. A bottle of 30 gummies will cost you over $100. Keep in mind, however, that these highly-concentrated, full-spectrum gummies actually end up costing less than those of some competitors, at about $.14 cents per milligram — making it one of the 10 best CBD candy options in terms of both potency and price.
Best for: Anyone who wants a cut-and-dry full-spectrum CBD gummy.
5. Mana Artisan Botanics Hemp Dark Chocolate Bar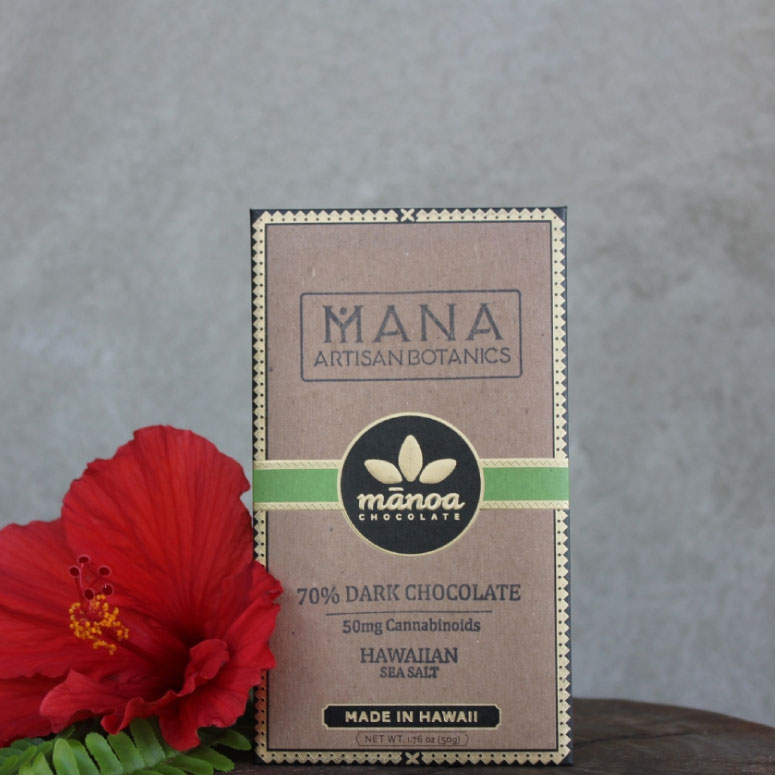 When you really want to treat yo'self, reach for a Mana Artisan Botanics Hemp Dark Chocolate Bar. When it comes to finding the 10 best CBD candy options, could we really not mention chocolate? While CBD gummies are good as a daily supplement, this chocolate bar is a chance to have your cake and eat it too. The 50-gram bar packs 50 mg of CBD into a creamy, Hawaiian-made, 70% dark chocolate bar with sea salt.
Mana Artisan Botanics stands behind their mission of supporting local agriculture and world-wide wellness. Though a candy bar doesn't seem to be the ideal contender for holistic health-conscious purveyors, it offers a sweet and deeply enjoyable way to take CBD and relax.
Best for: CBD users who don't like gummies or want a once-in-a-while hemp-infused treat.
6. American Shaman CBD Gummies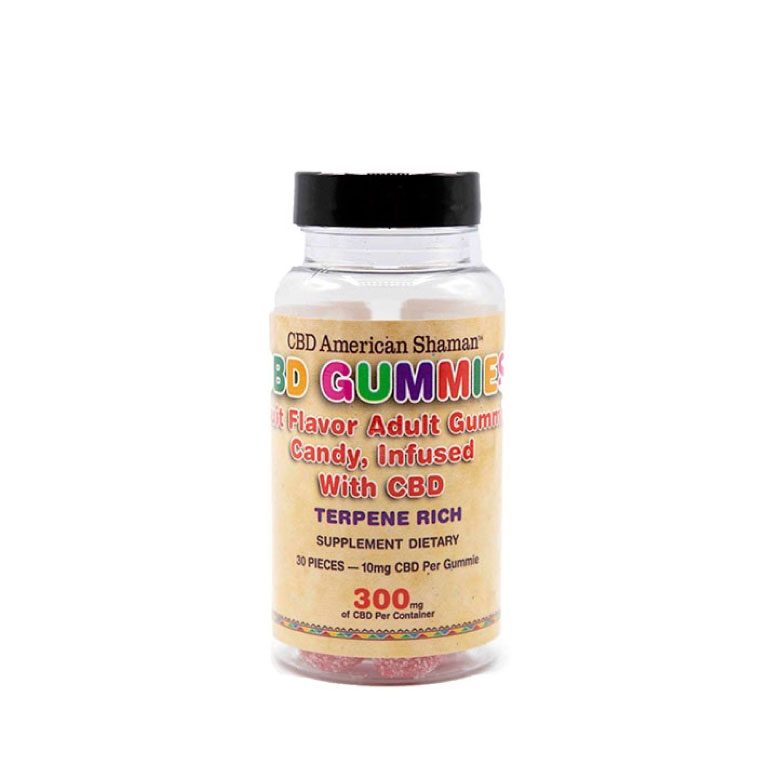 It's nice to envision a sagely shaman presenting you with the ideal dose of CBD to scrub your endocannabinoid system of pain messages and help your mind and body feel relaxed. While that's not quite an option (yet), American Shaman works as a wellness provider nonetheless — focused on organic, gluten-free, terpene-rich CBD oil in a range of products.
The 10 mg CBD gummies are a wonderful option for fighting off daily anxiety or helping to soothe chronic pain. The price is right if you know that 10 mg is effective for you, with the option of taking two for a double dose when needed. A $60 bottle ends up costing about $2 each, at $.20 per milligram.
If dosing isn't top of mind and you're simply interested in trying out some CBD candy, American Shaman creates tasty treats with all flavor preferences covered. Opt for fruity blueberry or rich coffee in this nondescript CBD & Terpene Rich Hemp Candy. It isn't dosed, but it's still nice to know your candy is giving you a little extra bit of TLC.
Best for: A small, trusted daily dose of organic hemp candy.
7. Highland Pharms CBD Gummies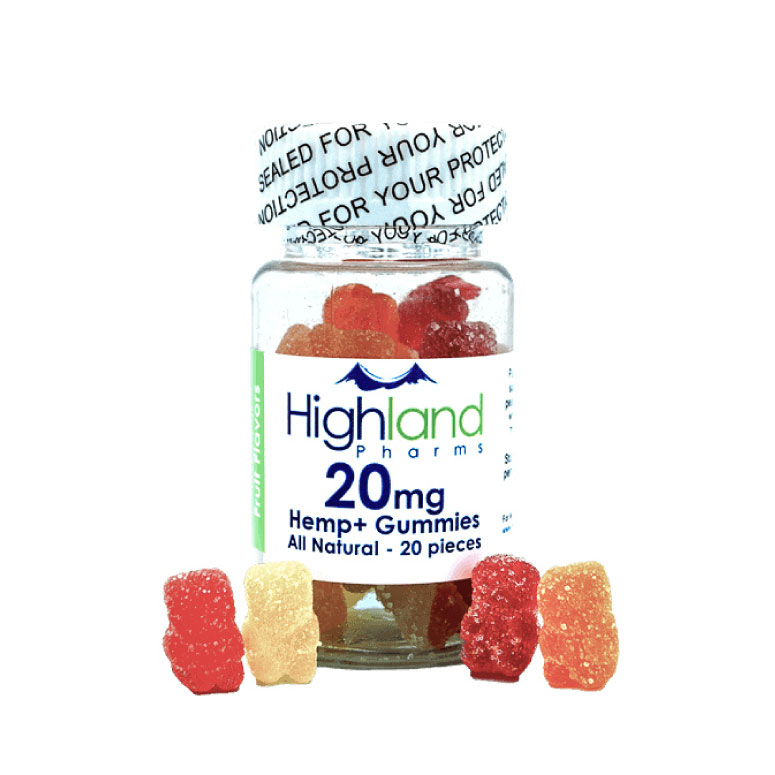 For all-natural ingredients, full-spectrum hemp oil, and low and high single-piece doses of CBD gummy bears, Highland Pharms is the place to be.
Their gummy bears are made with whole plant hemp, preserving all the active cannabinoids, terpenes, and health benefits you expect from CBD. The bottle is a mixed bag of colors and flavors, made only with natural ingredients like carrot juice, cane sugar, and citric acid.
The dosing of these CBD gummy bears is also in your hands. The lower-potency bottle of 20 gummies at 10 mg each is good for mild, everyday use. You can even cut the bears in half for a smaller dose that will hover around 5 mg.
For some, an added kick is needed right off the bat. The option for a 20-piece bottle of 20 mg gummies is also available. Made with the same all-natural ingredients, this version offers the same splitting capabilities while also shaving off a few cents per milligram, making it the better buy of the two.
Best for: A great-tasting, full-spectrum, all-natural CBD gummy.
8. CBDistillery CBD Isolate Gummies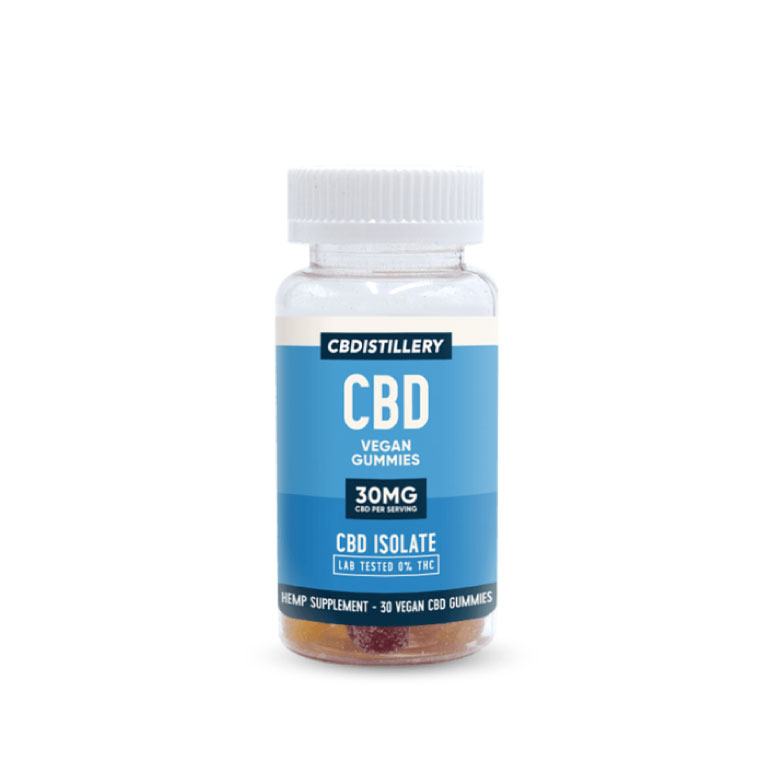 The amount of CBD in a gummy is one thing to keep top of mind when shopping. The second-most important decision to make is what type of cannabinoids you're open to ingesting. Full-spectrum products keep the hemp maximum of 0.3% THC in the mix, but there are plenty of people who have plenty of reasons to avoid THC altogether.
CBDistillery created a response to this with their CBD gummies that use only CBD isolate. They still use high-quality CBD extracted from the aerial parts of the hemp plant, and then they filter the CBD further to eliminate the THC it naturally contains.
To help make this pure CBD extract work at its highest level, each gummy is 30 mg. Though it's a higher dose than what you get in many full-spectrum products, 30 mg of CBD isolate may be the threshold you need to see the effects you're looking for.
These gummies are completely vegan and use all-natural products. Although they do include corn syrup, CBDistillery ensures that it's organic, non-GMO, and USA-grown.
Best for: A trusted CBD isolate gummy.
9. Joy Organics CBD Gummies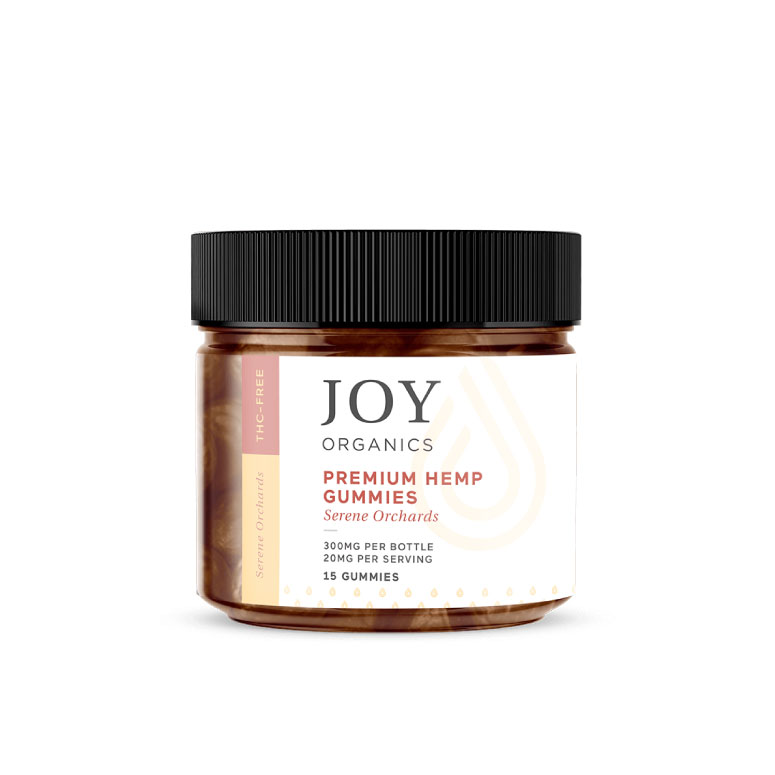 Avoiding THC doesn't mean you have to surrender all the non-psychoactive cannabinoids hemp has to offer. Joy Organics uses broad-spectrum CBD in their products, including these vegan gummies.
Each gummy contains a 20 mg dose of CBD. The bottle comes with 15 gummies, which is a bit lower than the quantity of many competitors. However, you can't compete with the formulation of Joy Organics CBD gummies. They're about as natural as you can get, made with organic ingredients like coconut oil, agave, and apple juice.
Joy Organics stands behind the potency and proficiency of their products so much that they offer a 30-day money back guarantee, which has become somewhat of a rarity among CBD products. Considering the price comes in around $.15 per milligram and the purchase security, it's well worth exploring as a natural CBD gummy, and it definitely fits our list of the 10 best CBD candy options.
Best for: An all-natural, organic, vegan, broad-spectrum gummy.
10. Lord Jones Old Fashioned CBD Gumdrops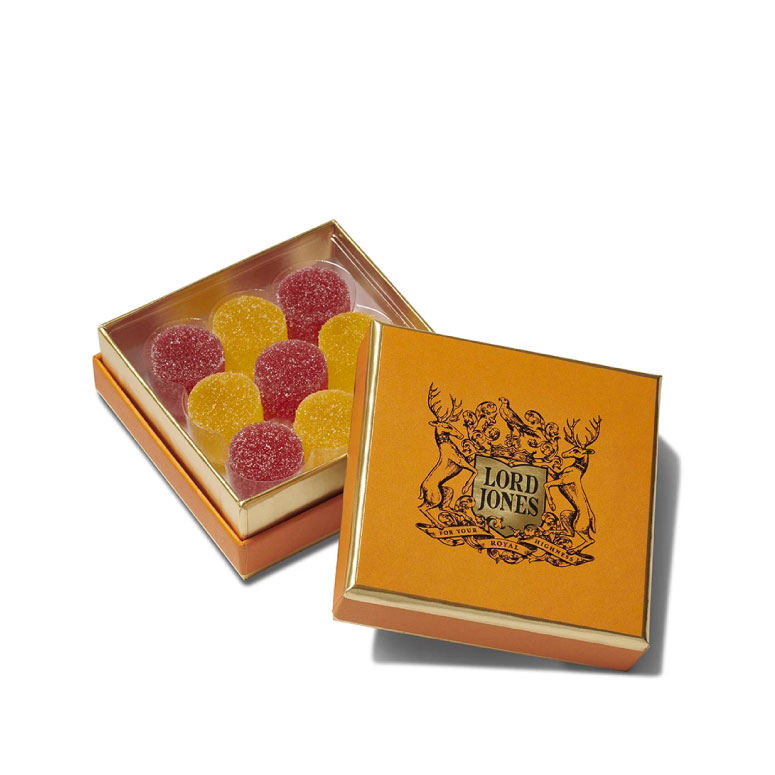 CBD candy is just like any food or supplement — there are some you can use every day, and others you save for a special occasion. Lord Jones' CBD gumdrops fall into the latter category.
The inviting little orange box is reminiscent of an expensive specialty chocolate box you might buy a loved one for Valentine's Day. Each of the nine Lord Jones Old Fashioned CBD Gumdrops inside is infused with 20 mg of broad-spectrum CBD, along with other natural ingredients like sugar and imported European fruit essence, and they're crafted by hand in small batches.
For CBD candy enthusiasts, this is a delightful gift. There's no denying that Lord Jones is the créme de la créme of CBD gummies, and some may say it should be at the top of the list of the 10 best CBD candy options on the market. Even so, there are a few things that stand in the way of it being the one and only option.
First, Lord Jones uses gelatin in their formula, ruling vegans out of their customer pool. They do offer free shipping, but the box of 9 costs $50, coming out to a steep $5 a pop.
Best for: A unique CBD gummy gift or as a special indulgence.