Got a sweet tooth? If you're in need of a sugar fix, one of our picks for the best CBD candy options can help.
Featured CBD Brand Edibles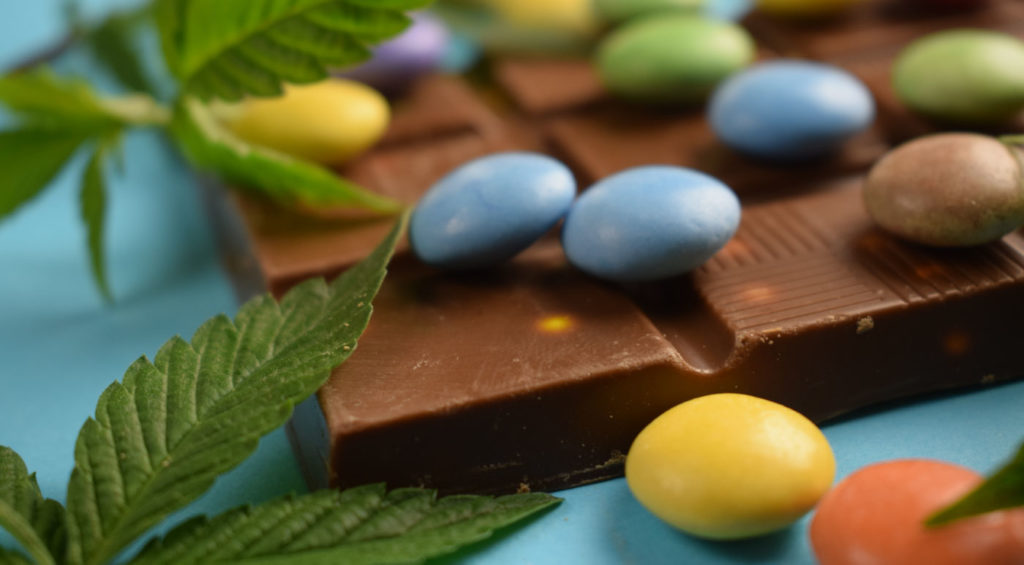 These brands have taken candy to a whole new level, infusing CBD into popular favorites like gummy bears, lollipops, and chocolate bars.
They're designed to provide you with a predetermined amount of CBD and are the perfect way to add a little joy to your day. Read on to discover the best CBD candies on the market.
Serve Your Sweet Tooth Using Page Jumps!
---
The 6 Best Tasting CBD Candy
Kanibi Organi Gummies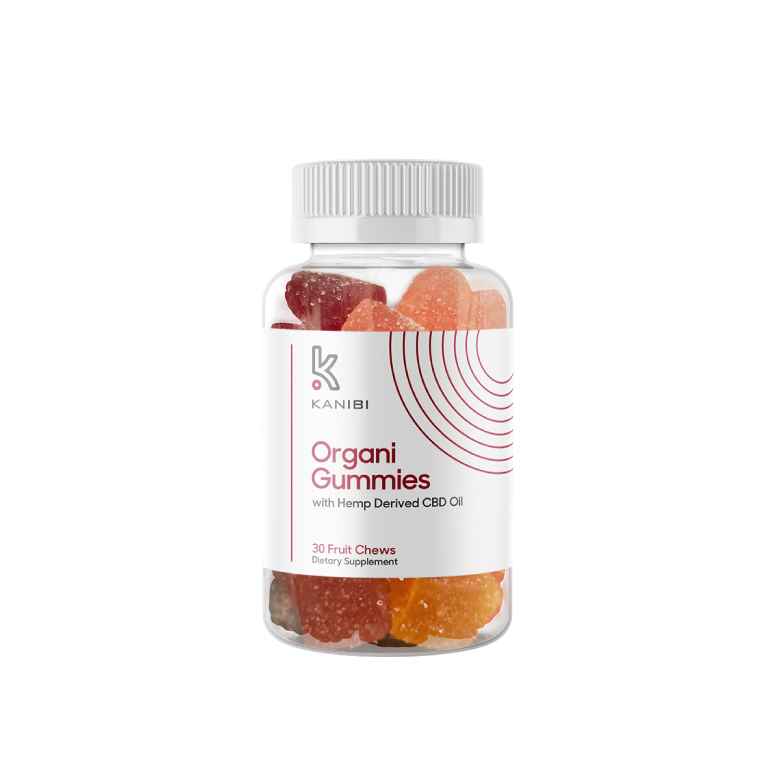 Highlights:
Organically grown
Double-lab-tested
CO2 extraction
Description:
Ingredients: Organic tapioca syrup, organic cane sugar, water, pectin, natural flavors, organic fruit and vegetable juice (For color), citric acid, sodium citrate, malic acid, organic sunflower oil, organic carnauba wax
Pricing: $0.13 per milligram
Company: Kanibi calls them "delicious and effective bites of joy." We tend to agree. The brand's Organi Gummies are hands-down one of the best CBD candies on our list. Each chewy morsel contains 10 mg of high-quality CBD distillate, and there are 30 assorted fruit-flavored gummies in a bottle. Those who would like a larger concentration can opt for the brand's 25-milligram option.
The quality of Kanibi's products is unrivaled—the brand conducts double-lab testing and creates its products in an FDA-inspected facility. The products are all made with organic ingredients and priced right at five cents a milligram. Although they are a newer brand, Kanibi has gained a strong and loyal following, with dozens of positive reviews on their gummies.
Shipping: Free shipping on all domestic orders!
Returns: 100% satisfaction guarantee. Contact support at support@kanibi.com for instructions on how to obtain a refund.
---
Hemp Bombs Jolly Bombs CBD Lollipops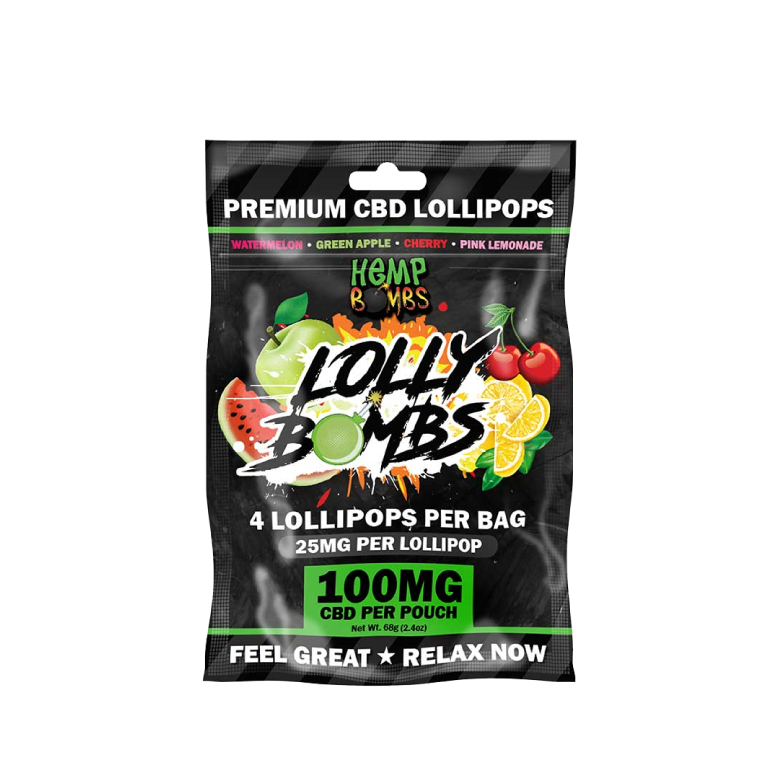 Highlights:
THC-free
Sustainably grown and cultivated
25 mg of CBD isolate in each pop
Description:
Ingredients: Broad-spectrum hemp extracts (CBD), sugar, corn syrup, malic acid, contains 2% or less of sodium lactate, natural and artificial flavor, artificial color (red 40, yellow 5, blue 1, yellow 6), sulfur dioxide, soy lecithin, BHT
Pricing: $0.15 per milligram
Company: Hemp Bombs has an impressive lineup of high-quality CBD offerings, which is no surprise for a well-established brand. They've been making people happy for years with their fun packaging and quality products, all of which are made with no THC. That's because they are crafted with broad-spectrum CBD.
Broad-spectrum CBD offers all the benefits of a full-spectrum product, but since there are no trace amounts of tetrahydrocannabinol, users don't need to worry about a false-positive drug test. These pops come in a package of four, with one of each flavor—watermelon, green apple, cherry, and pink lemonade. Each contains 25 mg of CBD, and the company recommends you eat the whole lollipop in one sitting for the most effective results.
Shipping: Free shipping on orders over $65 through CBD Direct
Returns: When purchased through CBD Direct, unopened products returned within 30 days are eligible for a full refund.
---
Mission Farms Pure CBD Peppermints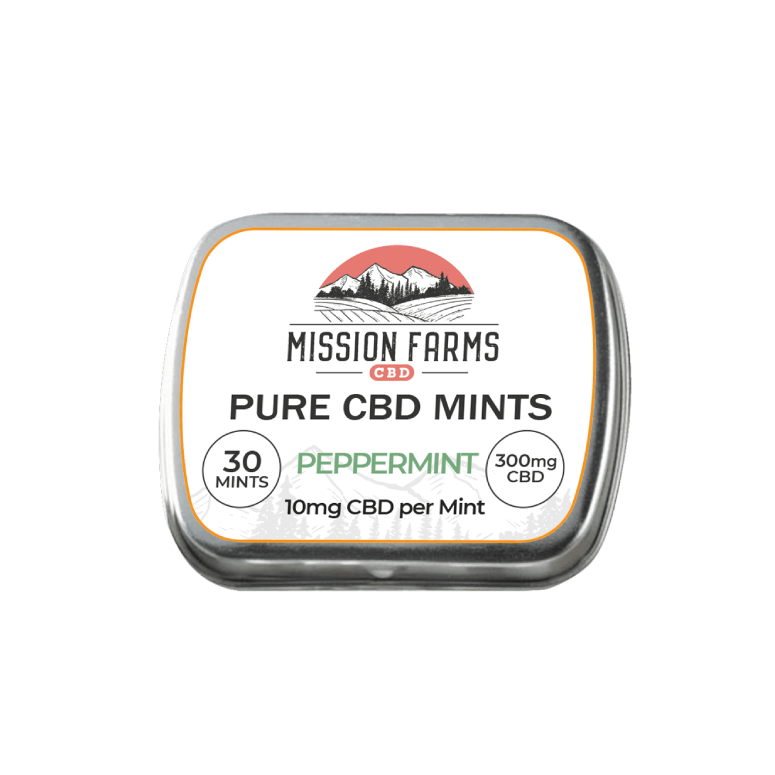 Highlights:
No detectable levels of THC
Third-party lab results readily available
Sourced from hemp grown outdoors in Oregon
Description:
Ingredients: Dextrose, hemp extract, stearic acid, organic peppermint oil
Pricing: $0.07 per milligram
Company: Mission Farms has a motto: "To Help People Feel Good Again." It's apparent in everything the brand does, from the open-air grown hemp at their farms to the process they use to craft their products in small batches. This is a hands-on company during all operation levels, from the tiniest seed to the final sale.
Mission Farms CBD Peppermints are the brand's flagship edible, and this is one of the only CBD mints we know of. Each little minty sphere contains 10 milligrams of CBD, and you can get them in tins of 10 or 30. Discreet and easy to carry, the mints are up to five times more effective than gummies, according to the brand. Lab tests confirm that the mints contain no detectable THC levels, so they are perfect for those concerned about workplace drug testing.
Shipping: Free shipping on orders over $75
Returns: 30-day money-back guarantee on all Mission Farms CBD products
---
Joy Organics Strawberry Lemonade Gummies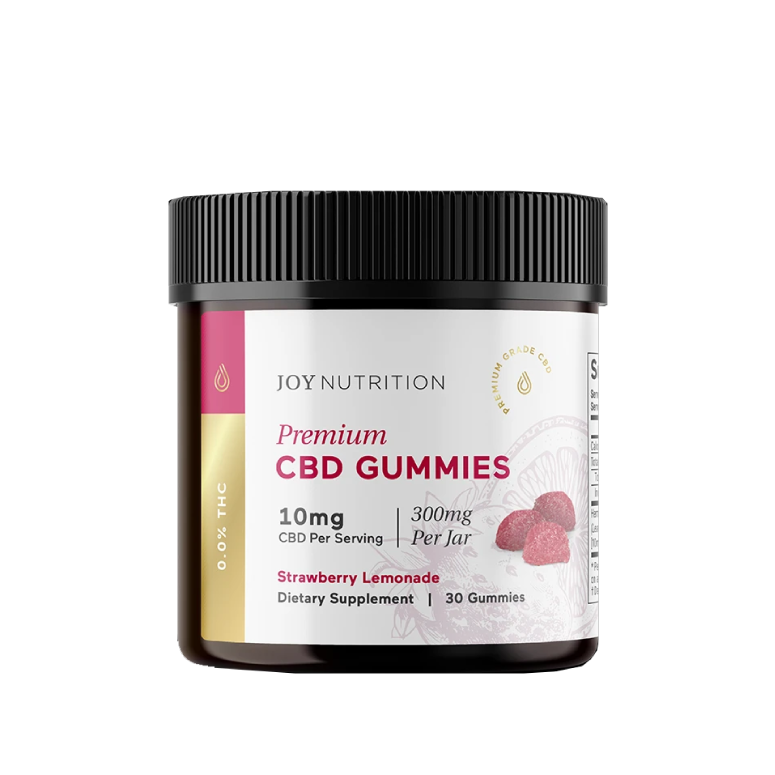 Highlights:
Grown and made in the U.S.
Organically cultivated
No THC
Description:
Ingredients: Organic tapioca syrup, organic cane sugar, water, pectin, phytocannabinoid-rich hemp extract, citric acid, natural flavors, sodium citrate, malic acid, fruit & vegetable juice (color), sunflower oil, and carnauba wax
Pricing: $0.05 per milligram
Company: Joy Organics is a family-owned and operated brand that has made an excellent name for itself among other top industry leaders. Driven by empathy, excellence, and integrity, the company is values-based and generous with its charitable giving initiatives. What really stands out for many customers are the brand's quality THC-free products—their Strawberry Lemonade Gummies are an ideal CBD candy for those concerned about drug testing.
They are third-party lab-tested for potency and purity, and each tasty gummy contains 10 mg of broad-spectrum CBD, which means you get all the goodness of a whole-plant CBD gummy but with no THC. Vegan, delicious, and made with no artificial colors or flavors, these treats can also be purchased in the brand's green apple flavor.
Shipping: Orders over $50 qualify for free shipping
Returns: 100% satisfaction guarantee. Contact support to initiate the process
---
Extract Labs Full-Spectrum CBD Gummies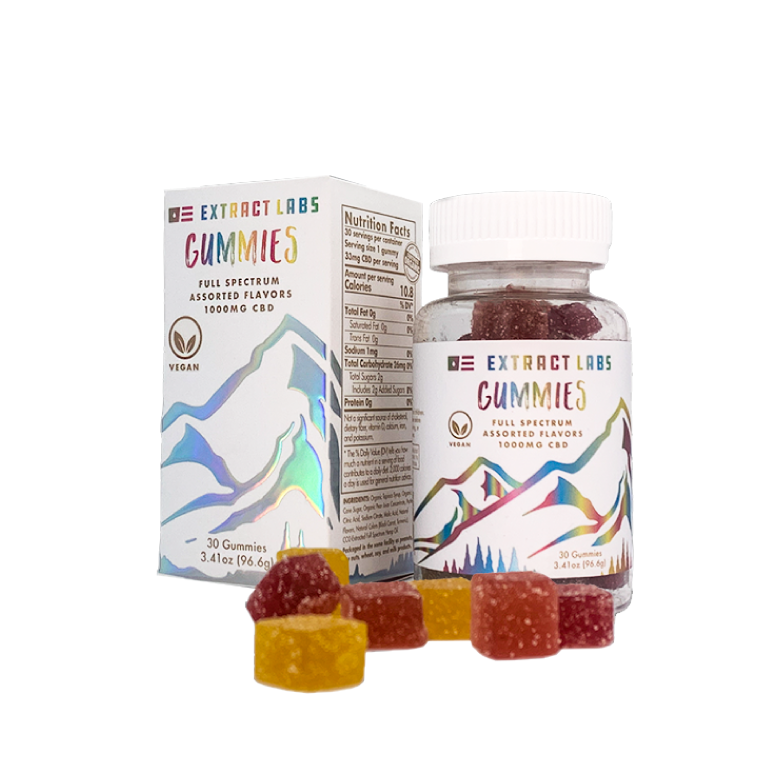 Highlights:
Made with USA hemp
Certified organic
CO2 extraction
Description:
Ingredients: Organic tapioca syrup, organic cane sugar, organic pear juice concentrate, pectin, citric acid, sodium citrate, malic acid, naturals flavors, natural colors (Black carrot, turmeric), CO2-extracted full-spectrum hemp oil
Pricing: $0.05 per milligram
Company: Extract Labs is an up-and-coming brand that has been featured on Good Morning America and The Today Show and in several prominent publications. It's easy to see why they are gaining such notoriety. They are doing just about everything right when it comes to CBD. From clean CO2 extraction to organic hemp sourced from Colorado, this brand is on point.
For CBD candy, Extract Labs carries full-spectrum CBD fruit-flavored gummies. Delicious and designed to encourage the entourage effect, each contains 33 mg of CBD, which is a pretty hefty dose. If you're just starting out, we recommend cutting them in half. However, veteran users will appreciate this product's potency, and if you're not happy, the company offers a 60-day satisfaction guarantee.
Shipping: Free shipping on all U.S. orders over $65
Returns: Seven-day returns on unopened and unused products, minus shipping
---
Charlotte's Web CBD Gummies: Calm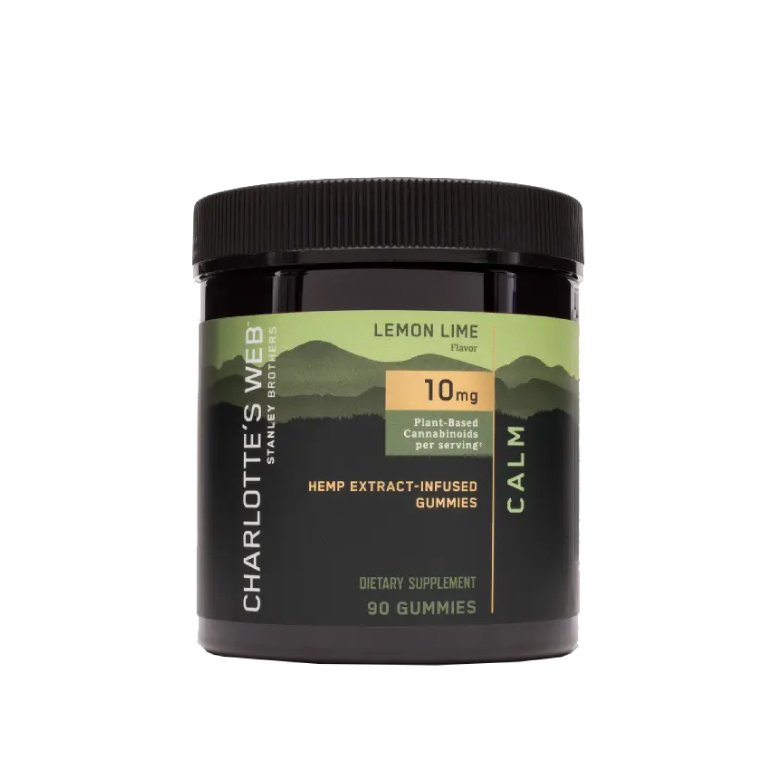 Highlights:
Great lemony flavor
Third-party lab tested
Sourced from U.S. hemp
Description:
Ingredients: CBD, 75 mg lemon balm, tapioca syrup, beet sugar, fructooligosaccharides, water, natural flavors, MCT oil, pectin, organic fruit and vegetable juice (color), less than 1% of malic acid, spirulina extract (color), sodium citrate dihydrate, organic lemon juice concentrate, citric acid, organic sunflower lecithin, tapioca starch
Pricing: $0.10 per milligram
Company: Charlotte's Web is one of the top CBD companies globally, and customers have come to expect excellence from the brand's many high-quality offerings. High quality is what you will get with Charlotte's Web Calm formula gummies that contain ingredients explicitly chosen to help you cope with life's stressors.
The gummies contain 75 mg of lemon balm and 10 mg of CBD per serving, which is two gummies. They are designed to support an overall sense of calm and relaxation, so if you are a Nervous Nelly, these candies may offer a potential solution. Plus, they are made with natural ingredients like fruit and vegetable juice that are sourced from U.S.-grown hemp, and are available in jars of 30, 60, or 90 gummies. Those who want to start low and slow can opt to take just one, which contains only five milligrams of full-spectrum CBD.
Shipping: Free shipping on all U.S. orders over $74
Returns: Refund of the full purchase price within 30 days of the purchase date. Contact support to initiate the process.
---
What Is CBD Candy?
Simply put, CBD candy is any type of candy that has CBD in the ingredients. We've seen hemp-sourced candy in the form of chews, gummies, mints, hard candy, lollipops, caramels, chocolate, and more. Is one type better than the other? Not particularly. They are all considered CBD edibles, so they take about the same amount of time to work—about 45 minutes to an hour. And like most CBD products, they come in different potencies, and formulas can vary.
For example, CBD candy made with CBD isolate means there are no detectable THC trace levels in the ingredients, just pure CBD. This type of candy is best for those concerned about workplace drug testing or sensitivity to THC.
CBD candy made with full-spectrum CBD contains all of the plant matter, terpenes, and flavonoids found in the plant itself. Although there may be trace levels of THC in a full-spectrum product, legally, it must contain no more than 0.3% of the chemical, which is not enough to get you high. Many people feel that a full-spectrum product offers benefits that isolate products don't, namely that they encourage the entourage effect.
Candy made with broad-spectrum CBD contains all of the cannabinoids, terpenes, and compounds found in a full-spectrum product but has undergone an additional processing step to remove all trace amounts of THC. Many consumers choose broad-spectrum products because they offer a THC-free experience while still allowing for a whole-hemp extract's benefits.
Why Use CBD Candy Instead of CBD Oil?
Tinctures, oils, extracts, and drops made with CBD are among the most popular forms of delivery when it comes to CBD. Placed under the tongue, they absorb quickly through the mouth's mucosal membranes, so they enter the bloodstream relatively quickly. Candies must pass through the digestive system to work, so why would you choose candies instead of a tincture?
The two primary reasons are taste and convenience. CBD candy is highly portable, and it's also discreet. You can toss it in your gym bag, backpack, purse, luggage, or even your pocket, and it looks just like any other candy one would snack on throughout the day.
Taste is the other main reason why people enjoy CBD candies over CBD oils. Some people just don't like the taste of hemp. Full-spectrum CBD oils are decidedly pungent and earthy tasting, and while many users love them, some do not. Getting your daily dose of CBD in candy form offers a way to enjoy the potential therapeutic benefits of cannabidiol without enduring the flavor of something you don't like.
Yes. The 2018 Farm Bill made hemp products legal throughout the nation, so at the federal level, CBD is permitted, provided that it contains less than 0.3% THC by volume. Individual states can impose their own rules, of course, so If you are concerned about legalities, it's still essential to check your state's regulations. A handful of places have some restrictions in place.
What Are the Health Benefits of CBD Candy?
Due to FDA regulations, we are not permitted to discuss the direct health benefits of CBD candy. We can say that CBD candy is thought to provide a number of the same benefits as any other CBD method of consumption since it works indirectly with the body's endocannabinoid system. This vast system controls body temperature, hunger, mood, pain, inflammation, and other vital functions.
Before taking CBD, you should conduct your own research to make sure it's right for you. Also, if you are taking prescription medications, check with your doctor before ingesting CBD, as it can interfere with the absorption of certain medicines.
What Makes These the Best CBD Candy Options
We've sorted through hundreds of CBD candies to come up with a list of top choices, but how do we decide? With so many great options out there, it can be a challenge. However, we look at some very specific factors when selecting the best CBD products for our lists:
Without independent lab testing, the CBD industry would be in serious trouble. Lab testing is the most important thing consumers need from brands. A certificate of analysis (COA) from a reputable lab will disclose the amount of cannabinoids, terpenes, and other compounds in a product, and will rule out the presence of stuff you don't want, like heavy metals, pesticides, and other contaminants.
Since the industry is still in the early stages, labeling standards are not yet set, so CBD companies are tasked with creating labels themselves. Labels should be easy to understand, legible, and contain accurate information about what's inside, including a list of ingredients and suggested serving sizes.
The industrial hemp acts of 2014 and 2018 have standardized hemp cultivation in the U.S., so you can trust that when you purchase from a company that uses American-grown hemp, you are getting the cleanest, most nutrient-rich extracts available. That's not always the case with overseas suppliers, where hemp could potentially be grown in contaminated soil.
Cost per milligram is the easiest way to determine value among brands, and you'll find that prices vary widely. If the cost of CBD candy is exorbitantly high, we want to know why. What makes it special? By the same token, if it's unusually low, we ask ourselves if it's possible to produce a product at such a low price point without cutting corners. Calculating the cost per milligram levels the playing field for all brands so consumers can see the price-to-value ratio of what they are getting.
Customer Service and User Experience
Who doesn't want to be treated warmly? Customer care is more important than ever these days, and excellent customer service that goes the extra mile is sure to be noticed. We also take note of the overall user experience on the brand's website. Is it easy on the eyes? Can you find what you need? How is the checkout process? If we can tick off these boxes, we know we are looking at a brand that has put some time into creating a good user experience.
Finally, we look at a brand's overall reputation in the CBD marketplace. By now, there are many established brands, and some of them have gained notoriety for the simple reason that they offer excellence and their products deliver results. Their reputation is firmly rooted in the hemp industry. When a brand is newer or does not have a well-known online presence, we check out what others are saying. People speak highly about products they love, and by listening to these conversations, we get a good idea of a brand's reputation, even if they are newer to the industry.
---
Additional Resources on CBD Edibles: