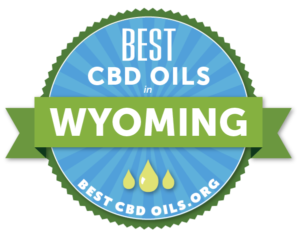 We've put together this guide to help you find the best CBD oil products available in Wyoming.
The Best Places to Buy CBD in Wyoming
Part of a hemp industry worth $500 million in annual imports, CBD is one of the fastest-growing health and wellness products on the market, sold in all 50 states and 40 countries around the world.
Wyoming doesn't currently have any dedicated brick-and-mortar CBD shops, but given CBD's rapid expansion, shops are expected in the future. Further, buying CBD oil online is fast, easy, and convenient, and because most online CBD suppliers are wholesale, you can shop for affordable, high-quality CBD oil products in bulk, including brand-name edibles, tinctures, capsules, balms, wax, concentrates, and more. Better yet, delivery service is included, meaning CBD oil is shipped directly to your doorstep for little to no fee.
Is CBD Legal in Wyoming?


Wyoming takes a relatively open-minded stance to CBD usage. Despite the fact that marijuana is illegal for recreational and medical usage, marijuana-derived CBD is available to individuals in the state as long as they obtain a prescription from a licensed neurologist due to the passage of Wyoming law HB 32 in 2015. These marijuana-derived CBD prescriptions will even allow for high dosage CBD usage, depending on the underlying illness and severity. The medical dosage of CBD allows for up to more than 5% CBD extract with less than 0.3% THC by weight. CBD that is marijuana-derived in Wyoming is, however, only available to those patients that suffer from epilepsy or various other related seizure disorders. Wyoming does not allow for the production or distribution of marijuana or marijuana-derived products, forcing these patients to seek their medical CBD from elsewhere.
Hemp extracted CBD will be completely legal in all circumstances in Wyoming starting the 1st of July, 2019. This is due to the recently passed Wyoming state law HB 0100, which allows all adults over the age of 18 to possess any hemp-derived CBD products, including lotions, balms, dietary pills, gummies, and juices. Additionally, under this same state law, adults over the age of 18 are allowed to administer hemp-derived CBD products to minors and vulnerable adults as long as they are recognized as a legal guardian or caretaker of the patient.
What Is CBD?
CBD, or cannabidiol, is one of more than 85 cannabinoids (chemical compounds from the cannibis plant), with a major catch: it won't get you high. CBD only contains trace amounts of THC, making it a safe non-psychotropic alternative to other popular cannabis products, regardless of grade, dosage, or form.
How does it work? In short, hemp-derived CBD helps the endocannabinoid system, which controls a half-dozen routine functions, including appetite, hormone regulation, mood, sleep, and chronic pain. Still, CBD oil's biggest potential impact is only just coming to the forefront. According to a trove of medical research, CBD could reduce, mitigate, or even prevent some of society's most pressing health challenges, such as cancer, depression, schizophrenia, Alzheimer's disease, epilepsy, cardiovascular disease, general anxiety disorders, and ALS. The more we learn about the health benefits of CBD – and the science that backs it – the more CBD's popularity will continue to grow, increasing supply, lowering costs, and promoting positive legislation and policies.
CBD Oil Shops in Casper
Norse Vapor (304 N Center St, Casper, WY 82601), established in 2016, is a 5-star shop that specializes in juice manufacturing. Prices are affordable, and discounts, vouchers, and promotions are always available online and in-store. Open Monday-Saturday 11AM-8PM.
Double Diamond Vapors (2877 E 2nd St, Casper, WY 82609) offers a wide variety of vaping products and may have CBD oil stock. Open seven days a week.
Ohm Man Vape Shop (406 N Beverly St, Casper, WY 82609) is a 4-star shop that carries homemade, premium e-liquids, plus vape hardware and accessories. In addition to a range of brand-name flavors, Ohm sells a full line of house flavors, as well. Open Monday-Saturday 10AM-8PM.
Straight Line Vapors (1214 W Collins St, Casper, WY 82604) holds a 5-star rating. Customers rave about the excellent customer service, and the friendly staff will be eager to discuss the best CBD product for your needs whether it's in-store or online. Open Monday-Saturday 10AM-8PM.
Last but not least, Vape World (2111 E 12th St, Casper, WY 82601) carries a large selection e-juices and accessories. Open seven days a week.
CBD Oil Shops in Riverton
Glass Water Pipes Plus (635 S Smith Rd, Riverton, WY 82501) is a head and vape shop that is – wait for it – open 24 hours a day, 7 days a week. Emphasizing a huge selection and personalized, professional customer service, be sure to ask the staff about available CBD oil products.
CBD Oil Shops in Lander
Established in 2014, Vapors (232 Main St, Lander, WY 82520) offers a huge selection of vaping goods from recognizable brand names like Sigelei, Pioneer4You aka IPV, Divine Mods, SMK Mods, Wik Stix, Mad Hatter Juice, and more. The shop's staff is highly knowledgeable, and customer service is a point of emphasis. Ask about CBD oil availability! Open Monday-Friday 10AM-6PM, Saturday 11AM-3PM.