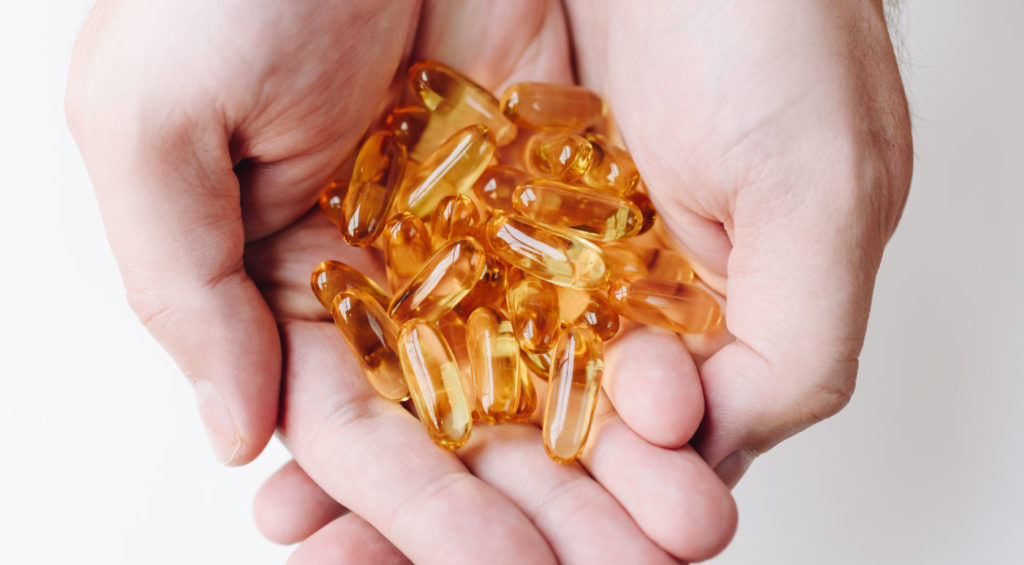 There are plenty of reasons to use CBD and countless methods of consuming it. Sometimes, keeping it simple is the best way. Softgels offer a daily dose that's premeasured and easy to swallow, making them one of the most practical CBD products to get your hands on. For your convenience, we've curated a list of the best CBD softgels on the market today.
Featured CBD Softgels
Find Your CBD Softgel Today With Page Jumps!
---
The Best CBD Softgels
Kanibi CBD Full-Spectrum Softgels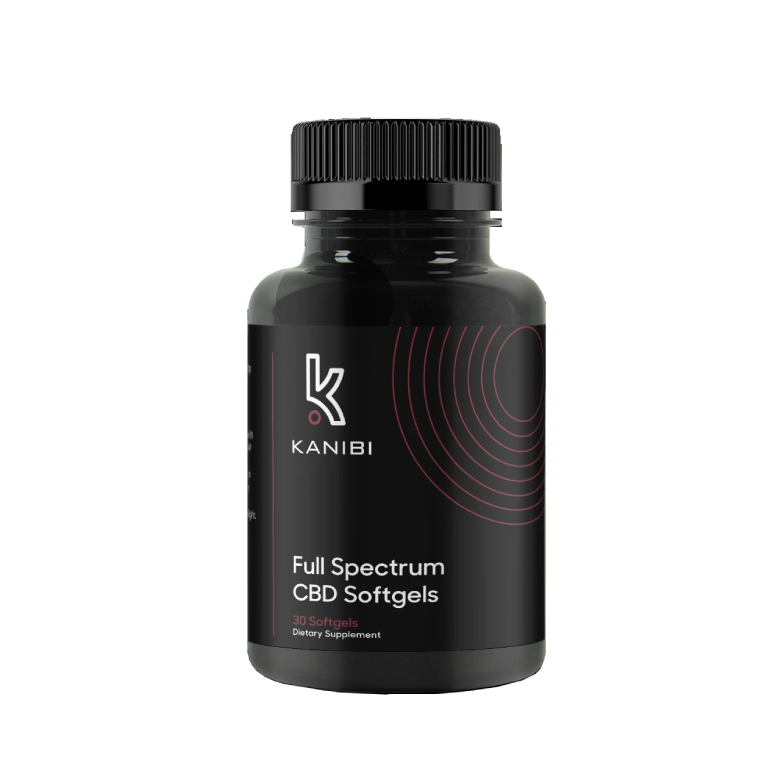 Highlights:
Sourced from organically grown hemp
Double lab tested
Made in an FDA-inspected facility
Description:
Ingredients: MCT oil, full-spectrum hemp oil
Pricing: $0.09 per milligram
Company: Kanibi is an up-and-coming brand focused on providing the most advanced CBD products using the power of science. The brand uses only selectively harvested, 100% organic domestic hemp in its products. Plus, they are formulated in an FDA-inspected facility, and double lab tested for safety and potency.
Kanibi's CBD Full-Spectrum Softgels contain 25 mg each of full-spectrum CBD, so they retain all the goodness of the plant's cannabinoids, terpenes, and other naturally beneficial compounds. There are no artificial colors, flavors, or preservatives in the product, and they are made with just two powerhouse ingredients: MCT oil and full-spectrum CBD.
Shipping: Orders over $100 qualify for free shipping
Returns: 100% satisfaction guarantee. Contact support at support@kanibi.com for instructions on how to obtain a refund
Best for: Those who want precision-made, double-lab-tested CBD soft gels
---
CBDfx CBD Gel Capsules
Highlights:
Available in a higher potency
Full-spectrum CBD
Rich cannabinoid and terpene profile
Description:
Ingredients: MCT oil, CBD-rich hemp oil, gelatin
Pricing: $0.09 per milligram
Company: CBDfx is another trusted and recognized name in the CBD industry, and they have a great selection of safe and effective products in their lineup. If you are looking for a place to purchase all of your hemp-based products together, it's worth having a look around the brand's website. They offer tinctures, pet products, gummies, and an array of innovative topicals.
The company's CBD Gel Capsules are available in the standard 25-milligram formulation, but they also offer a stronger 50-milligram option. If you have found you need a little more CBD in your daily capsule, this brand might be perfect for you. The capsules are sourced from domestic hemp and made in the U.S. in a CGMP facility under strict standards. Lab reports are available right on the website.
Shipping: Free shipping on orders over $35
Returns: Return new, unused, and unopened products within 30 days of delivery for a full refund, minus shipping
Best for: Those who want a high-potency CBD softgel
Medterra CBD Gel Capsules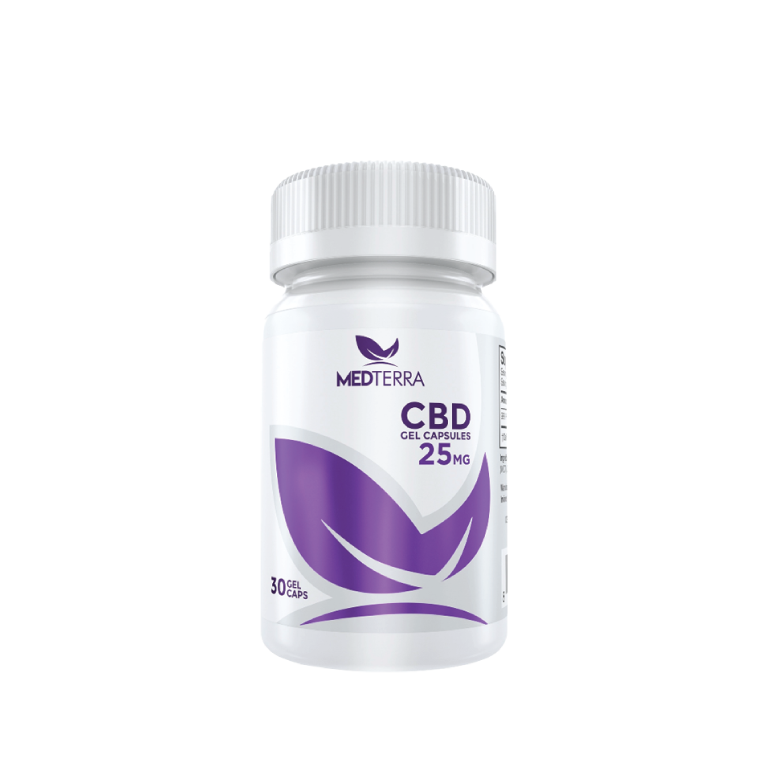 Highlights
THC-free
Made with Kentucky-grown hemp
CO2 extracted
Description:
Ingredients: 99% pure CBD isolate, MCT oil
Pricing: $0.07 per milligram
Company: Medterra is well known for its extensive line of CBD products made with 99% pure CBD isolate, making them completely THC-free. They are certified by the U.S. Hemp Authority, a coveted designation that assures consumers of the safety and quality of CBD products. Those who prefer isolate products have a wide range of choices here, from gummies to tinctures to topicals.
Available in 25- or 50-milligram formulations, Medterra's CBD Gel Capsules contain just two ingredients: MCT oil and CBD isolate. They are flavorless, odorless, and discreet, making them ideal for folks who are on the go. Take them every day (morning or evening) or only as needed.
Shipping: Free shipping on all U.S. orders over $65
Returns: When purchased through CBD Direct, unopened products returned within 30 days are eligible for a full refund.
Best for: Those who want a guaranteed THC-free CBD softgel
---
Charlotte's Web CBD Oil Liquid Capsules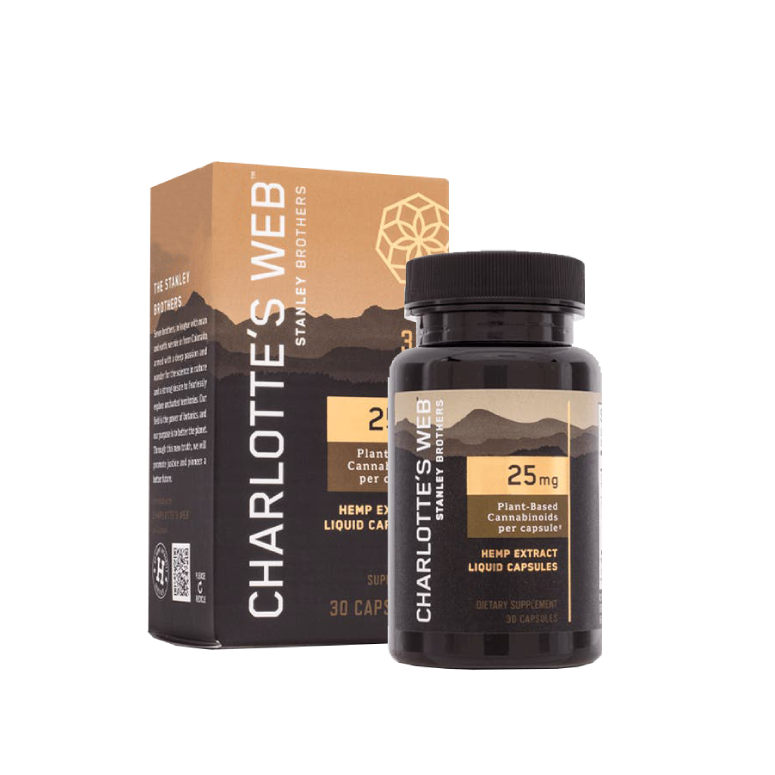 Highlights
Trusted and recognized brand
Full-spectrum, whole-plant extract
100% vegan
Description:
Ingredients: Full-spectrum hemp extract, organic extra-virgin olive oil
Pricing: $0.10 per milligram
Company: Charlotte's Web is an industry-leading CBD brand that has been in operation since 2011. The company is best known for making CBD a household word after helping a young child, Charlotte Fiji, drastically reduce the frequency of the seizures she experienced due to Dravet's Syndrome, a type of epilepsy. As word spread, parents from all over the world came to Colorado with the hope of helping their epileptic children live normal lives.
The company offers a wide range of CBD oils and other high-quality products. These CBD Oil Liquid Capsules contain 25 mg of full-spectrum CBD and come in a bottle of 30 or 60. They offer a convenient and portable way of getting an exact dose of cannabinoids when you're on the go. For those who would prefer a less potent option, the brand also carries 10-milligram CBD Oil Liquid Capsules. If the price is a concern, keep in mind that the cost gets lower when you purchase in higher quantities.
Shipping: Free ground shipping on orders over $25
Returns: 30-day guarantee. Return the unused portion for a full refund.
Best for: Those who want to stick with a vegan formulation from a trusted vendor
---
Joy Organics Everyday Formula CBD Softgels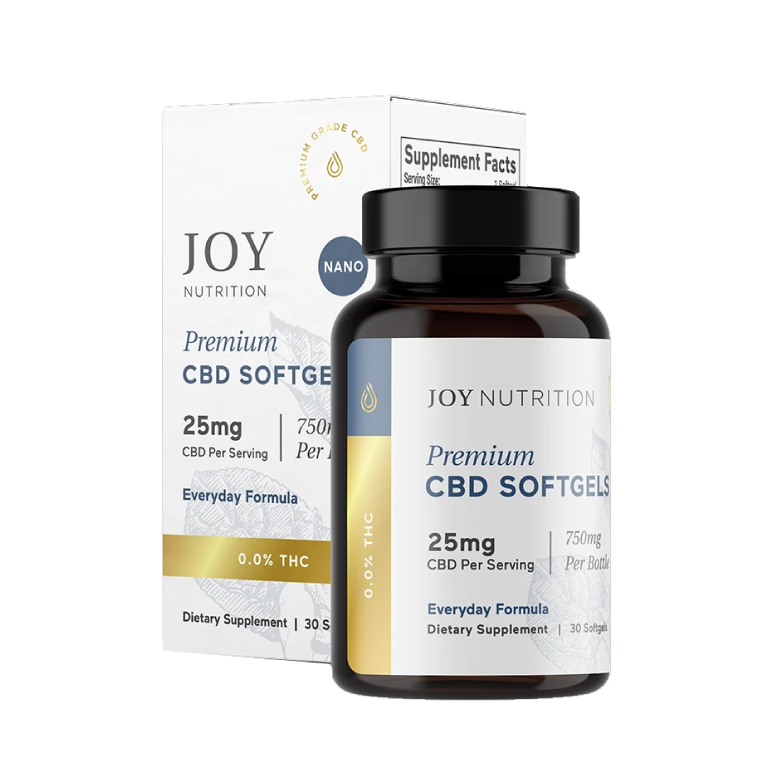 Highlights:
Organic and cruelty-free
Broad-spectrum with no THC
30-day money-back guarantee
Description:
Ingredients: Phytocannabinoid-rich hemp extract, polysorbate emulsifiers, medium-chain triglycerides, beta-caryophyllene, bovine-derived gelatin, glycerin, sorbitol, water
Pricing: $0.21 per milligram
Company: Joy Organics is a brand driven by integrity, compassion, and excellence. Just recently, they have even begun using only USDA-certified organic hemp in all of their formulations, and the company places a high priority on charitable causes, donating a portion of their monthly revenue to a select local or global nonprofit.
The brand's Everyday Formula CBD Softgels are available in 10- or 25-milligram formulations, depending on your dosing needs. Each is formulated with MCT oil and broad-spectrum CBD, containing all of the beneficial compounds found in hemp, minus any residual THC. This makes them an excellent option for those who are trying to avoid Tetrahydrocannabinol. While they are pricier than some softgels on our list, the quality speaks for itself. Subscribing to monthly deliveries will save you 20%, and you will make you eligible for periodic goodies as well.
Shipping: Orders over $99 qualify for free shipping
Returns: 100% satisfaction guarantee. Contact support to initiate the process.
Best for: Those looking for an organic broad-spectrum soft gel without THC
---
NuLeaf Naturals Full-Spectrum Hemp CBD Softgels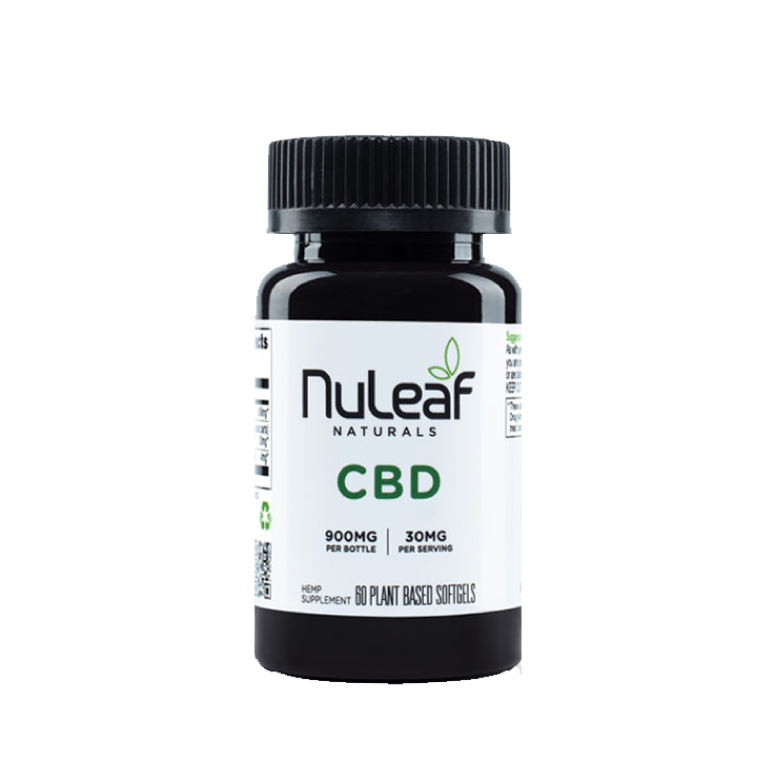 Highlights:
Brand-new product for this brand
Colorado-grown hemp
CO2 extracted
Description:
Ingredients: Full-spectrum hemp extract, organic virgin hemp seed oil, cassava root extract, purified water, vegetable glycerin
Pricing: $0.06 per milligram
Company: Founded in 2013, NuLeaf Naturals has developed a strong reputation for making some of the best CBD oils on the market. For years, they have focused on just one product and a simple yet effective formula that keeps customers coming back for more. But long-time users of Nuleaf's premium tinctures will be happy to see the brand's addition of a Full-Spectrum CBD Oil Softgel.
These capsules are low-to-medium potency at just 15 milligrams each, and you can purchase them in bottles of 20, 60, or 100. Since they are full-spectrum, they contain all the naturally occurring synergistic terpenes and cannabinoids of the hemp plant and are made with the same care and concern users have come to expect from this reputable vendor.
Shipping: All orders in the U.S. ship free
Returns: Return new, unused, and unopened products within 30 days of delivery for a full refund, minus shipping
Best for: Those who want to try a new, high-quality full-spectrum CBD softgel from a reputable brand
---
cbdMD CBD Oil Softgel Capsules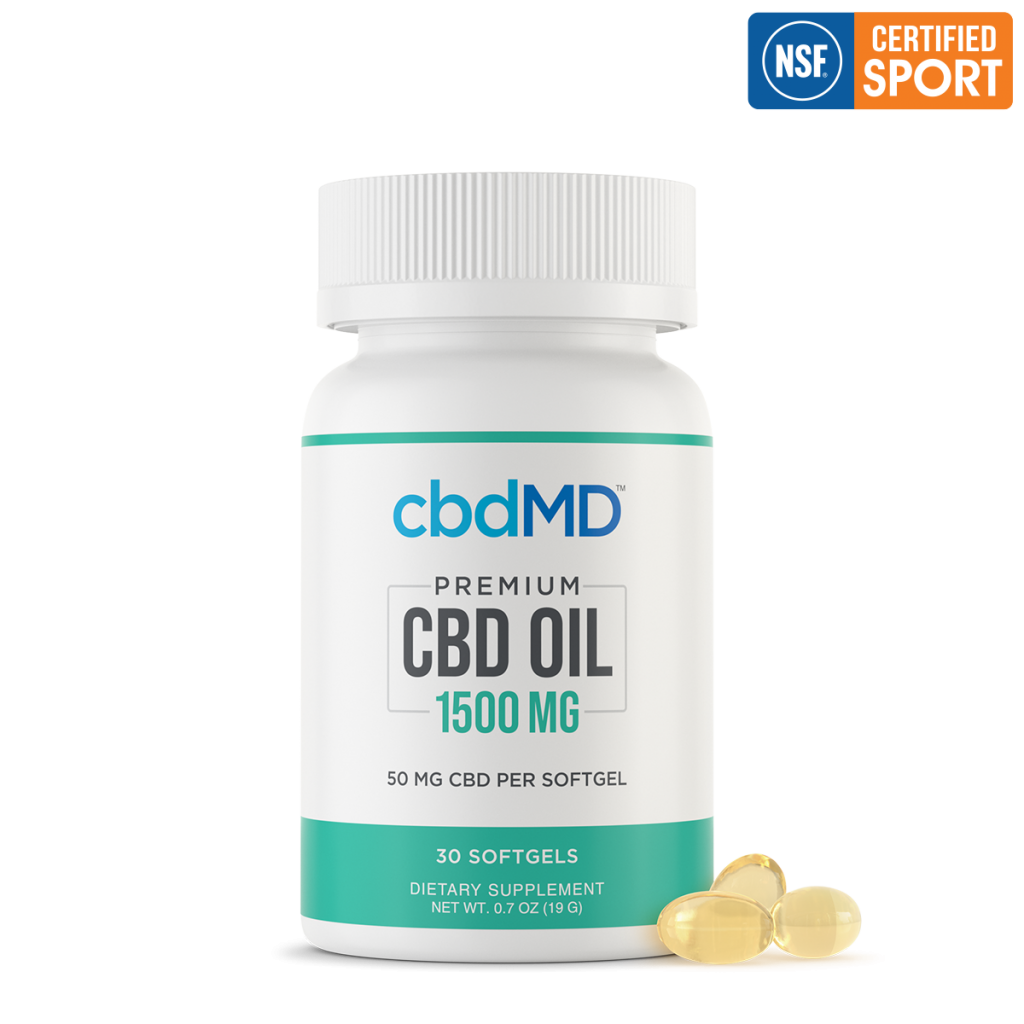 Highlights:
Sourced from U.S. hemp
Inexpensive
Select from several potencies
Description:
Ingredients: Hemp extract (cannabidiol, cannabigerol, cannabinol), MCT oil, and gelatin.
Pricing: $0.04 per milligram
Company: For many people, the potency of any CBD product is an important consideration. If you are looking for a specific dose when it comes to softgels, cbdMD has you covered. They offer their CBD Softgel Capsules in a range of potencies and prices, beginning with 15 milligrams and going all the way up to 50 mg each. This way, you can select the option that's right for you. Plus, if you like to make sure you have plenty on hand, you can choose from varying quantities.
The softgels are all made with broad-spectrum CBD, so you get all of the benefits of whole-plant formulations without the THC. All of the products at cbdMD are third-party tested by an ISO-certified lab and sourced from plants cultivated in the United States.
Shipping: All orders over $79.95 ship free
Returns: 60-day money-back guarantee. Contact support to initiate a return.
Best for: Those who have specific needs when it comes to the potency of their CBD softgels
---
CBDistillery Relief and Relax Full-Spectrum CBD Softgels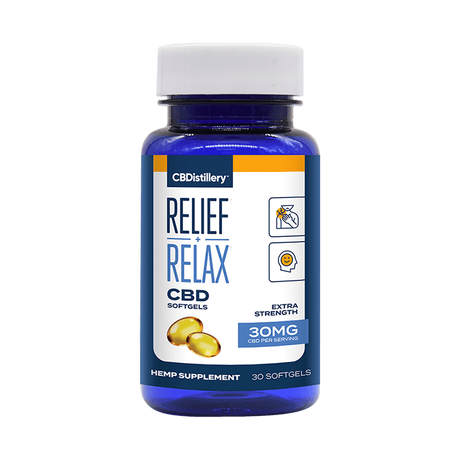 Highlights
Third-party tested at ISO-certified labs
Trusted brand created by Colorado natives
Hemp sourced from open-air farms in the U.S.
Description:
Ingredients: Fractionated coconut oil (MCT), full-spectrum CBD hemp extract, glycerin, water, gelatin
Pricing: $0.08 per milligram
Company: Voted Mashable's #1 Value Brand in 2019, CBDistillery has a long-standing reputation for offering safe, effective, and inexpensive CBD products. They've been around for a few years, and customers have come to rely on the brand's many superb offerings, including tinctures, powders, topicals, and more.
Each of CBDistillery's Relief and Relax Full-Spectrum CBD Softgels contains 30 milligrams of full-spectrum cannabidiol and 50 total cannabinoids. They come in a bottle of 60 softgels. For those looking for a full-spectrum softgel for encouraging the entourage effect, they are an excellent choice. If you would rather have a Broad-Spectrum Softgel, they carry that as well.
Shipping: Free shipping on orders over $75
Returns: 60-day customer satisfaction guarantee. Fill out a money-back guarantee form for refund or credit.
Best for: Those who want a potent full-spectrum CBD softgel to encourage the entourage effect
---
CBD Living CBD Gel Capsules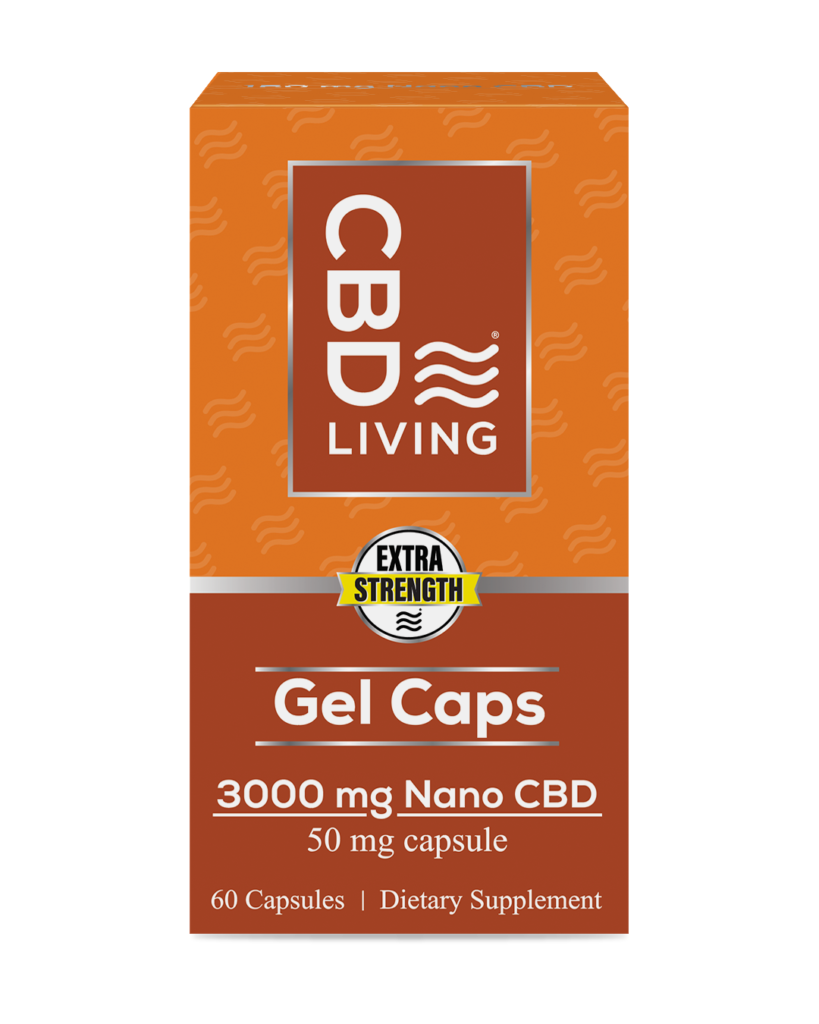 Highlights
Made with nanotechnology
Broad-spectrum (no THC)
Hemp sourced from Colorado and Oregon
Description:
Ingredients: Proprietary broad-spectrum nano hemp extract (aerial parts) 50 mg (cannabidiol / CBD), proprietary self-emulsifying technology, organic cold-pressed hemp seed oil, sunflower lecithin, mixed tocopherols, gelatin, capsule shell
Pricing: $0.13 per milligram
Company: CBD Living is a reputable brand known for its proprietary water-soluble nanotechnology, which they use to craft all of its products. The brand is available in 5,000 stores globally, and they stock over 100 products, including topicals, edibles, tinctures, pet products, beverages, and everything in between.
CBD Living's CBD Gel Capsules are formulated by in-house scientists who break the CBD particles into less than 100 nanometers. This allows for increased absorption and enhanced bioavailability to the cells. Customers can select from potencies of 5, 25, or 50 mg in each gelcap, depending on their needs. The 100% organic hemp used to make these capsules is sourced from licensed farms in Oregon and Colorado.
Shipping: Free shipping on orders over $75
Returns: Refunds and exchanges are subject to review. Contact support and they will try to work with you to come up with a reasonable solution.
Best for: Those who want to try the effects of CBD made with nanotechnology
---
How to Choose the Best CBD Softgels
In our current age of impossibly extensive CBD options, there are a lot of things to consider and a lot of tempting options when it comes to choosing a product. In order to narrow it down, there are a few key things you'll need to know before deciding on the best CBD soft gels for you.
Softgels May Take Longer to Work, but Reportedly Have Longer-Lasting Effects
Inherently, any CBD product you consume orally will be subject to the first-pass effect, breaking down the active ingredients before they get a chance to get to work. This means they must pass through the digestive system so it may take longer for them to kick in. You can expect to wait anywhere from 30 to 90 minutes for relief.
This makes softgels a bit different from sublingual tinctures. Tinctures are not subject to the first pass effect initially, since they are absorbed via the tiny capillaries under the tongue before swallowing the remaining oil. The effects may be faster, with many people reporting symptom relief within 10 to 15 minutes.
On the other hand, many people find that the effects of softgels last longer, typically from four to eight hours or more, whereas those taking CBD oil may need to redose more frequently.
Dosing Can Vary With CBD Softgels
Many people ask about proper dosing of CBD softgels, but like CBD oil, the amount can be different for each person. Age, weight, metabolism, and other factors come into play. Additionally, different vendors carry varying potencies and their dosage instructions vary widely too.
If you already take CBD oil, you probably have a good idea of the number of milligrams you are comfortable with, and you could start with that. If you are completely new to CBD, we recommend going with a low-potency CBD softgel at first. As you become familiar with the effects, you can double up on your dosage or shop for a vendor that carries a higher potency.
Full-Spectrum vs. Isolate vs. Broad-Spectrum
The spectrum refers to the range of cannabinoids that are naturally occurring in the plant and preserved in the product. CBD (cannabidiol) is the chief element you're looking for in a hemp-based product, but there are plenty more that fly somewhat under the radar.
CBD is accompanied by all of the other active components of the plant, including CBG, CBN, CBDa, and yes, even THC. A full-spectrum product will retain trace amounts of THC along with all the rest of the listed ingredients to support the "entourage effect." This effect allows for CBD to be as effective as nature intended, joined by all of its counterparts.
But there are plenty of reasons to want to avoid THC, and the CBD industry has created products which make it possible to do so. Initially, it was by creating a CBD isolate. These extracts remove all other cannabinoids, leaving nothing but CBD behind. While it's a potent dose, some users find that it doesn't give the same results as a full-spectrum product might.
So how can you get the potency of CBD without any of the THC? That's where broad-spectrum comes in. Broad-spectrum products theoretically allow for the entourage effect by securing all of the active cannabinoids except for THC.
Hemp Seed Oil vs. Hemp Extract
When you're buying any type of CBD product, you want to ensure what you're getting is hemp extract, not hemp seed oil.
What's wrong with hemp seed oil? Nothing! As a matter of fact, hemp seed oil is abundant in many vitamins and nutrients–like vitamin E, calcium, and zinc–that can improve your health. The thing is, however, you won't find any active CBD in the seeds. CBD occurs in the leaves or aerial parts of the plant.
Can Softgels or Gel Capsules Be Vegan?
The "gel" in softgels often alludes to gelatin as an ingredient, but not always. While a majority of brands (including most that you'll see here) do use animal gelatin, at least one vendor, Charlotte's Web, offers a vegan softgel.
What Makes These Options the Best CBD Softgels?
It's important to know that the hemp used to extract CBD is clean, safe, and untarnished, and you also have to account for a product's potency and bioavailability. We consider a variety of factors when we deem a product "the best." Here's what we look for:
Independent Laboratory Testing
Third-party lab testing is the single most important factor when it comes to choosing the best CBD softgels. Consumers deserve to know exactly what is inside the CBD products they are trying, which is why lab testing is so vital. It tests for potency, purity, and the presence of contaminants like mycotoxins, mold, heavy metals, pesticides, and residual solvents.
The results of these tests are called certificates of analysis (COAs) and should be prominently displayed on a brand's website or at least easily accessible should you want to view them.
In addition to lab testing, we look for brands with clear and easy-to-read labels on their product packaging. You should be able to figure out the exact ingredients, how much to take, the expiration date, where your product is manufactured, and other pertinent information by reading the label.
Some brands even go as far as having QR codes on their packaging, which you can scan to get the third-party test results right on your smartphone. That's the kind of forward thinking we love to see.
Thanks to the Farm Bill of 2018, United States hemp is some of the cleanest and safest in the world. With domestic hemp, you can be assured that the plant is grown in pre-tested, uncontaminated soil. Since hemp absorbs everything from the soil in which it is grown, this is vital. When the hemp is sourced abroad, we have no way of knowing what was in the ground beforehand.
At first glance, the sticker price of one brand's softgels might look like a better deal than another brand's offerings. But surprisingly, the listed price is not always the most accurate way of deciding whether you're getting the best deal.
Instead, we calculate the cost per milligram of CBD in each softgel. It's the most accurate way of determining whether you are getting the most bang for your buck.
Customer Service and User Experience
Consumers have come to expect a simple and straightforward experience when shopping for goods and services online, and buying CBD is no exception. Everyone appreciates responsive customer service and a friendly, helping hand, so we look at the whole experience.
We also assess criteria like shipping, returns, and the ways to contact the company. Plus, we examine the checkout process itself.
It might seem old-fashioned, but word-of-mouth is still one of the best ways to find great products. We scour forums, reviews, and social media to see what others are saying about different CBD softgels and the brands that make them. Testimonies of real users often reveal truths that slick ad campaigns do not.
Want to know what else makes a CBD softgel great? See our list of the best CBD Softgels below and decide for yourself which one is the right fit for your lifestyle.
---
Additional Resources on CBD Edibles: