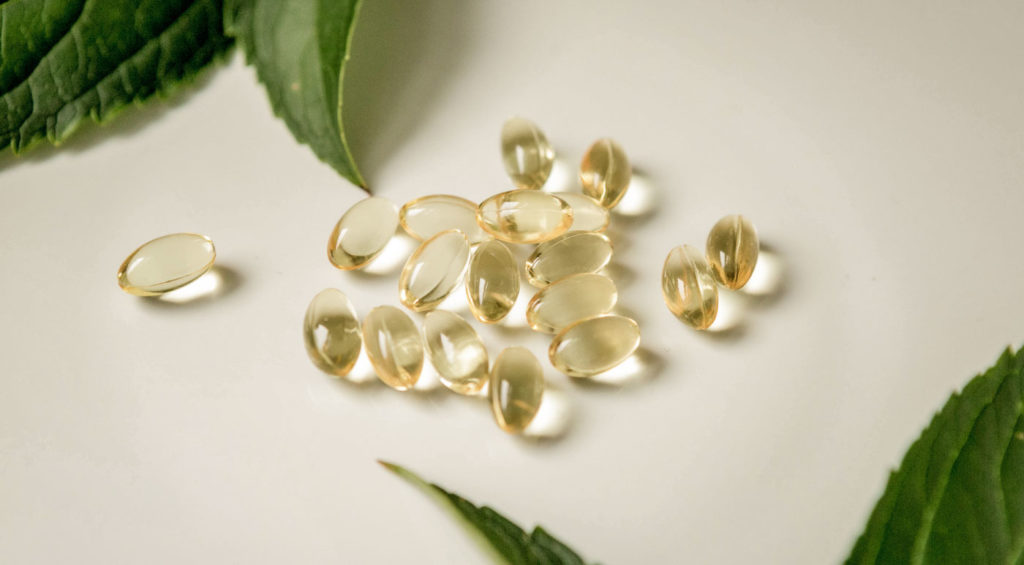 There's plenty of reasons to use CBD and plenty of methods that exist to take it. Sometimes, keeping it simple is the best way. Softgels offer a daily dose that's premeasured and easy to take, making it one of the most practical CBD products to get your hands on. So, for your convenience, we've made a list of the 5 best CBD softgels on the market today.
How to Choose the Best CBD Softgels
In our current age of impossibly extensive CBD options, there are a lot of things to consider and a lot of tempting options when it comes to choosing a product.

In order to narrow it down, there are a few key things you'll need to know before deciding on the best CBD softgels for you.
Full-Spectrum vs. Isolate vs. Broad-Spectrum
The spectrum refers to the range of cannabinoids that are naturally occurring in the plant and preserved in the product. CBD (cannabidiol) is the chief element you're looking for in a hemp-based product, but there are plenty more that fly somewhat under the radar.

CBD is accompanied by all of the other active components of the plant, including CBG, CBN, CBDa, and yes, even THC. A full-spectrum product will keep the THC along with all the rest of the listed ingredients to support the "entourage effect." This effect allows for CBD to be as effective as nature intended, joined by all of its counterparts.

But there are plenty of reasons to want to avoid THC, and the CBD industry has created products which make it possible to do so. Initially, it was by creating a CBD isolate. These extracts remove all other cannabinoids, leaving nothing but CBD behind. While it's a potent dose, some users find that it doesn't give off the same results as a full-spectrum product might.
So how can you get the potency of CBD without any of the THC? That's where broad-spectrum comes in. Broad-spectrum products allow the entourage effect to take place by securing all of the active cannabinoids except for THC.
Hemp Seed Oil vs Hemp Extract
When you're buying any type of CBD product, you want to ensure what you're getting is hemp extract, not hemp seed oil.

What's wrong with hemp seed oil? Nothing! As a matter of fact, hemp seed oil is abundant in many vitamins and nutrients–like vitamin E, calcium, and zinc–that can improve your health. The thing is, however, you won't find any active CBD in the seeds. CBD occurs in the leaves or aerial parts of the plant.
Can Softgels or Gel Capsules Be Vegan?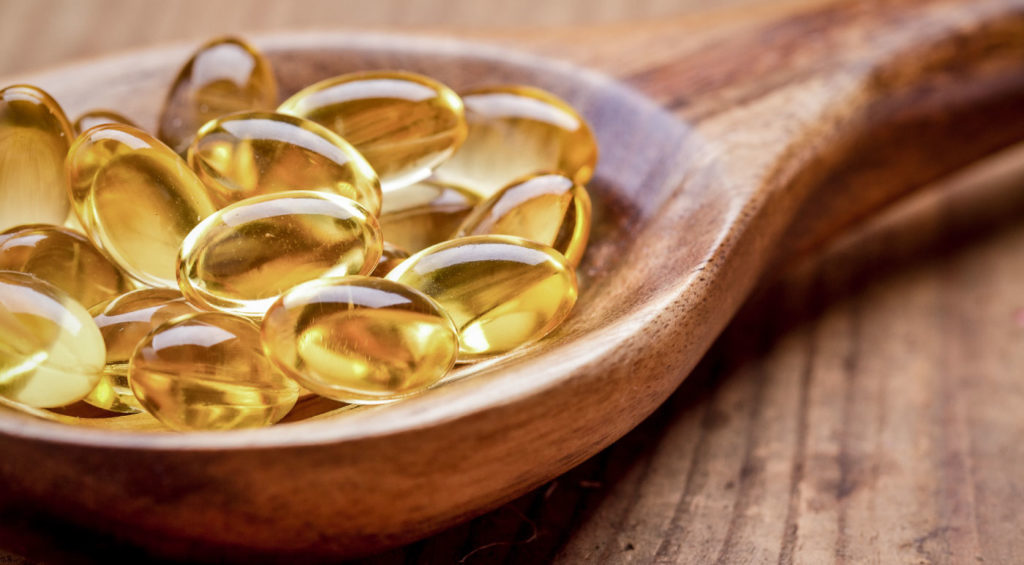 The "gel" in softgels often alludes to gelatin as an ingredient, but not always. While a majority of brands (including some that you'll see here) do use animal gelatin, there is an option for vegan softgels, made with alternatives such as rice powder.
What Makes Theses Options the 5 Best CBD Softgels?
We consider a variety of factors when we deem a product "the best."

It's important to know that the hemp used to extract CBD is clean, safe, and untarnished. All of our recommendations come backed with official third-party lab reports, proving that what's inside is safe to go into your own insides.

When it comes to softgels, you also have to take into account the potency and bioavailability. Inherently, any CBD product you consume orally will be subject to the first pass effect, breaking down the active ingredients before they get a chance to get to work. To make up for this, our top picks are products that take this harsh internal environment into consideration, allowing your body to enjoy the goodness you provide it.

Want to know what else makes a CBD softgel great? See our Top 5 Best CBD Softgels list below and decide for yourself which one is best for your lifestyle.
1. Joy Organics 10mg CBD Softgels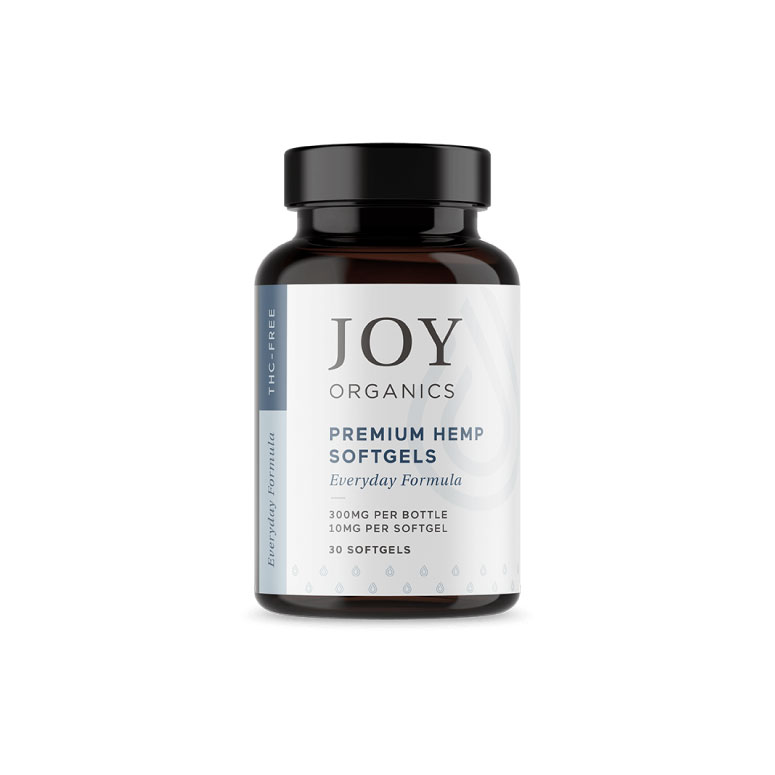 Joy Organics is consistently proving to be a top-of-the-line CBD brand. The family-owned company uses lab tested USA-grown hemp in all of their products. They ship free to anywhere in the United States and offer a money-back guarantee with every purchase.

This is a great start for any CBD purchase, and the Premium Hemp CBD Softgels have a profile that's equally as appealing. Nano-emulsion breaks down the oil to make it easier for your body to process than typical oils. This improved bioavailability allows for the 10mg to work just as hard as a higher-potency softgel.

Joy Organics keeps everything in their products completely clean. You will find sorbitol among the ingredients, but it's put there solely to help preserve the capsules within the bottle. It's in such small amounts that side effects are highly unlikely.

These capsules are made with Joy Organics' standard broad-spectrum CBD. This formula retains all of the active cannabinoids within the extract, but removes THC completely.

This separation is good for people who might be wary of drug test results coming back positive for THC. All of the other cannabinoids–CBDa, CBN, CBG, etc.– are safe and approved for all work environments.

This 10mg softgel is a great daily supplement to take to help combat mild aches, pains, and stress. It's even safe enough to give to pets! The only consumers who should avoid this product are vegans, as it contains gelatin.

Best for those looking for an organic broad-spectrum softgel without THC.
2. Sagely Naturals Relief & Recovery Softgels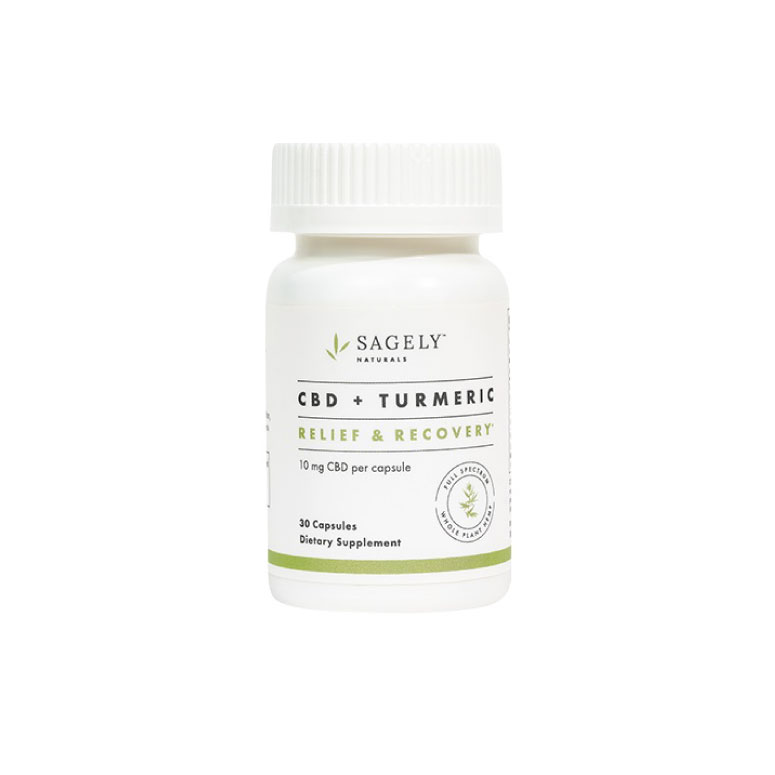 The name of the game with CBD is "Relief and Recovery," and these Sagely Naturals Softgels put those values at center stage.

Sagely Naturals is on-board with absorption. They take the chance out of how much you'll really get by adding turmeric and black pepper extract to their capsule. This addition helps to improve the bioavailability of the CBD and its pain-fighting powers.

Adhering to the highest standards, the CBD itself is extracted from organic, US-grown hemp. Natural pest-control, like ladybugs, are used during growth to ward of threats to the CBD's integrity without the need for harmful pesticides.

The company uses a non-descript proprietary extraction method, which also promises to avoid any harsh chemicals or residuals. Though it is full-spectrum, most of the THC is removed, leaving trace amounts that are well below even the miniscule industry standard of 0.3%

The potency within these capsules are ideal for easing mild joint or exercise-induced pain and promoting overall health.

Sagely Naturals has also achieved what many other brands have not by creating a completely vegan gel capsule. It's gluten-free and cruelty-free to boot, made with a focus on pure botanicals, making it one of the most truly clean CBD capsules available.

Best for those looking for a vegan CBD softgel suitable for everyday use.
3. Populum Softgels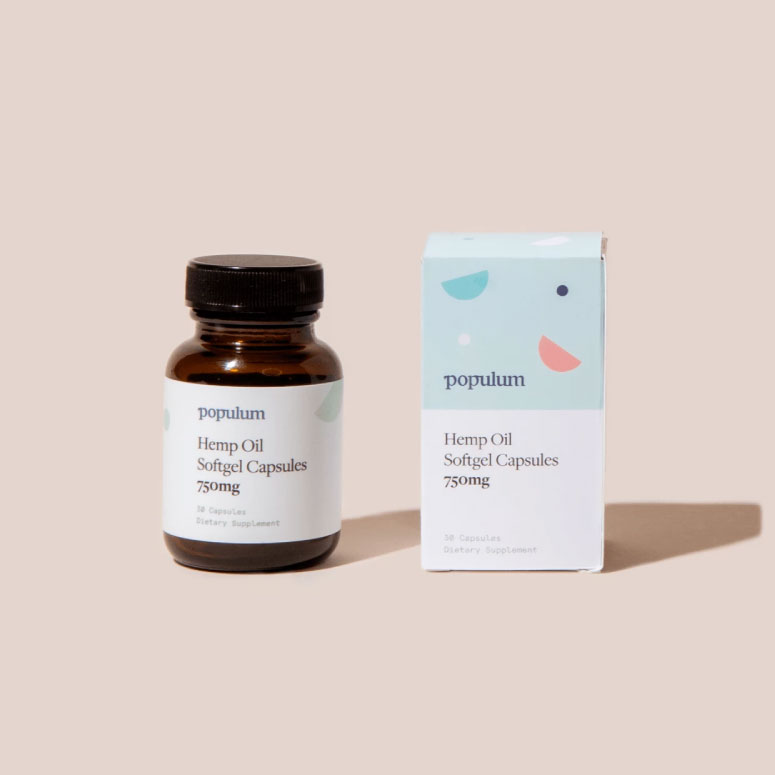 Populum offers a bit of flexibility when you consider their Full-Spectrum Hemp CBD Capsules.

The ingredients list includes hemp-derived CBD oil with coconut oil, gelatin, and glycerin (for preservation). A mild, all-natural orange flavor is added to help alleviate some of the harsh hemp overtones.

The capsules come in doses of either 15mg or 25mg each, all made with the same natural-ingredient lineup. They allow for the full terpene and cannabinoids profile to remain, making way for the entourage effect to take over. This includes trace amounts of THC, which they humbly remind you to consider before purchasing.

Passing a drug test isn't guaranteed, but your happiness is. The originators of the 30-day risk-free trial say you can still opt to try the product out before you wholey commit. If you like it, keep it! If you don't, Populum will happily return your money to you, no-strings attached.

Should you decide this is the right product for you, Populum rewards loyalty. Monthly auto-renewals allow you to trust that your CBD will show up each month at a 20% discount. In addition to all of this, shipping is free.

Every single box comes with lab results, proving to the CBD industry as a whole that transparency is easy, accessible, and appreciated.

Best for those looking for a quality CBD product with purchasing (and returning) power.
4. Medterra CBD Gel Capsules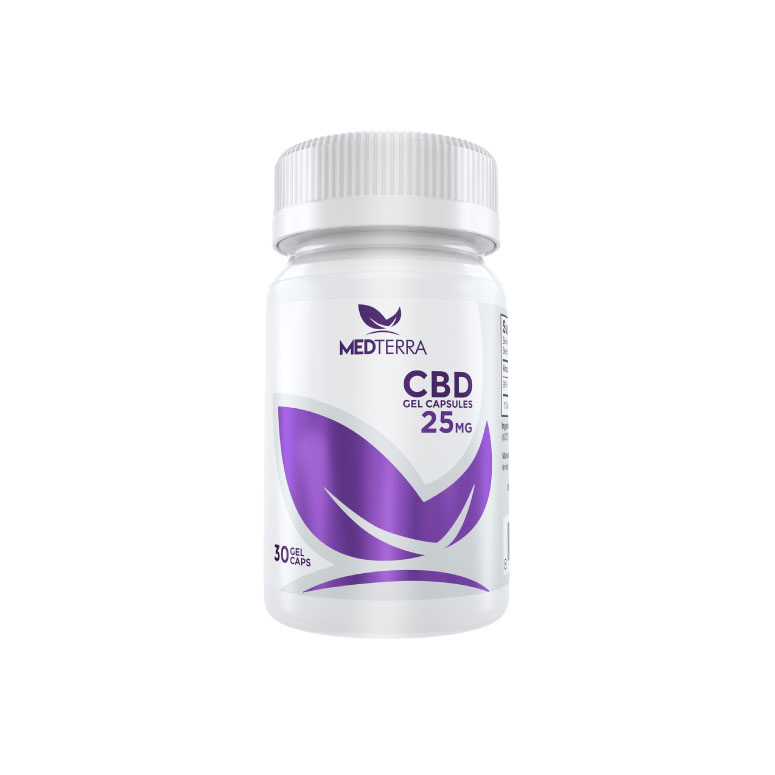 Always isolated, Medterra is committed to bringing potent CBD with 0% THC to each and every product. This promise also applies to their CBD Gel Capsules.

A simple ingredients list of hemp extract, coconut oil, and gelatin create these CBD capsules. You'll also get the option of 25 or 50 mg strength when you make a purchase–all guaranteed to be 99% pure and free of THC.

Avoiding THC altogether can sometimes be seen as a setback for CBD products, but having the option for isolate is important (and necessary) for some people. Transparent lab results prove that CBD (and a touch of CBC and CBN) are the only detectable cannabinoids inside these capsules.

Good for using day or night for aches and pains, help sleeping, or just overall wellness, Medterra capsules are the tried and true answer to effective CBD isolates.

Best for anyone who wants a true CBD isolate softgel.

5. Highland Pharms 10mg Water Soluble CBD Capsules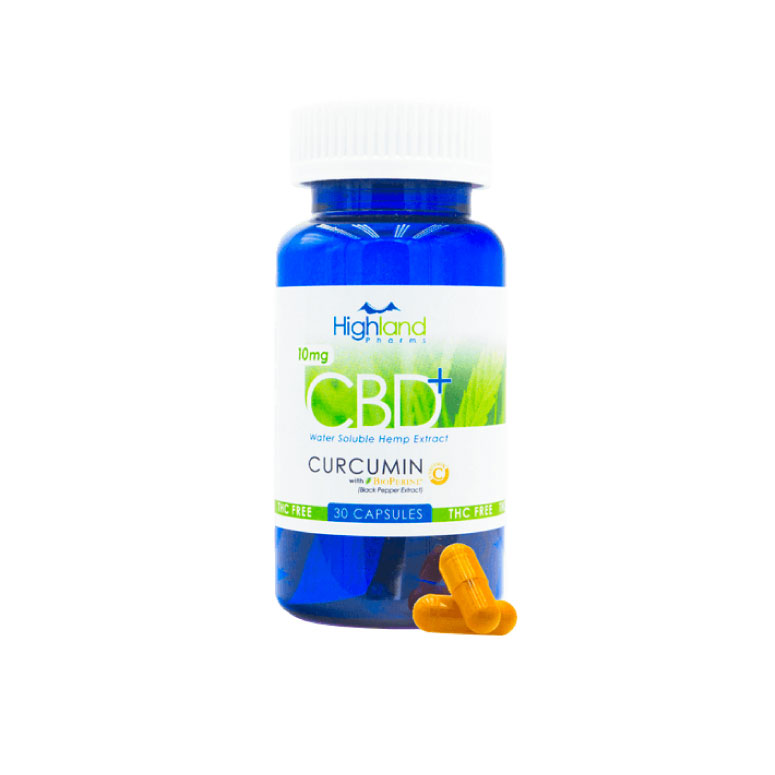 The difference here is in the type of CBD. This water-soluble extraction means that the body is more equipped to absorb the extract than it would be your typical oils which slip through. Much of the potency within an oil ends up getting wasted, bringing the true potency down from the advertised percentage to a fraction of that within the body.

When you take a water-soluble softgel, you'll get a much more effective result with a lot less. Highland Pharms compares their 10mg Water Soluble CBD Softgel with 25-40mg oil-based softgels.

In addition to getting more bang per capsule, you'll get a touch of curcumin. Curcumin, the identifying compound of turmeric, shares many health benefits with CBD, including a pain-reducing anti-inflammatory, anti-microbial, and potential cancer fighter. These benefits don't just boost the benefits of CBD, but curcumin can also help CBD be more effective.

Also like CBD, curcumin has some trouble with blood absorption. That's where BioPerine comes into play. This black-pepper extract is known to help improve the bioavailability of nutrients, including curcumin, and helps usher along the effects.

This triple-punch of highly-potent CBD and curcumin and BioPerine for promotion of body absorption makes this one of the most promising CBD softgels you can get.

Best for those looking for a highly-effective and potent CBD softgel.