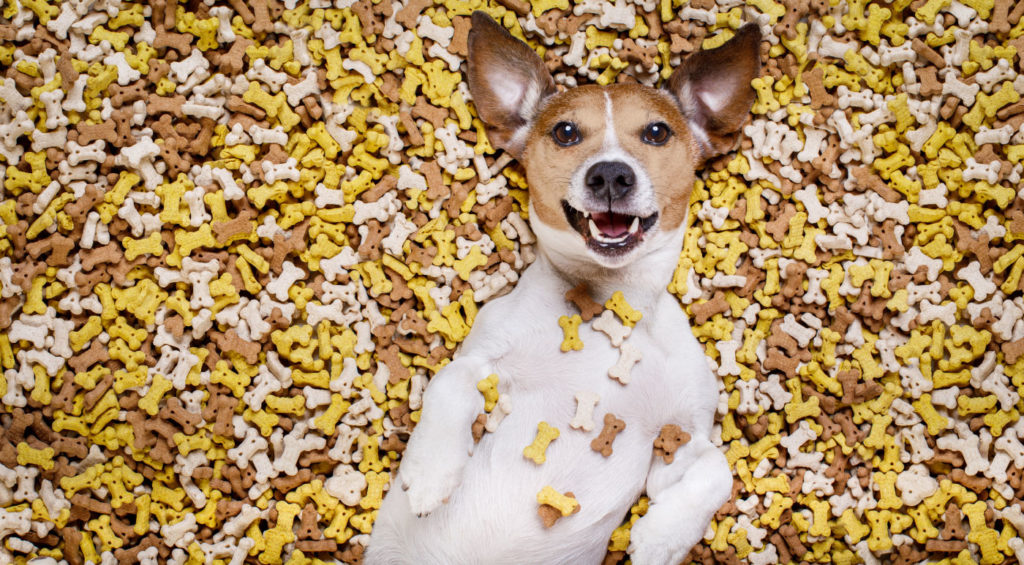 Cannabidiol, or CBD, is growing in popularity due to its numerous health benefits. This hemp plant derivative is most commonly consumed in the form of an oil or tincture, but can also be eaten in the form of many delicious treats. But it doesn't just have to be for people; your dog can eat it too! Not only is it safe, but research has shown it is effective at relieving pain and increasing comfort in our furry companions.

Here we review the best CBD dog treats available in the United States to help you find an all-natural solution to help your dog with anxiety, chronic pain and other health issues. But keep in mind, before giving CBD products to your pup, you should consult your veterinarian to discuss if CBD is right for what your pet is experiencing. If so, CBD may have numerous benefits if used correctly.
Best CBD Dog Treats
With the increasing use of CBD oil, pet owners will see many available products online. The CBD dog treats that we list here stand out from the rest in several ways: their CBD is all natural, laboratory tested, and backed up by customer reviews.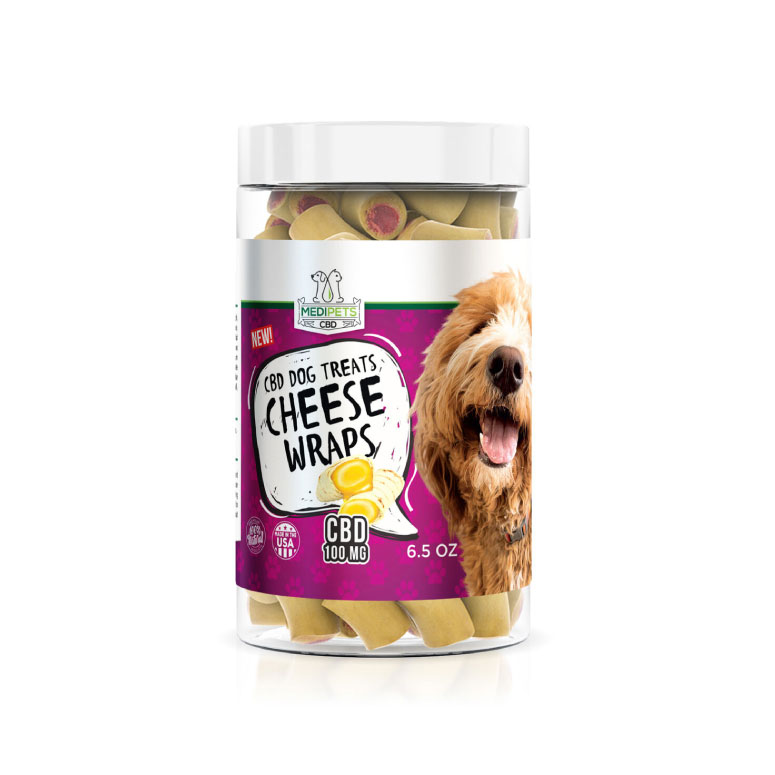 MediPets CBD Dog Treats Cheese Wraps contain 3 mg of CBD per treat and have the cheesy flavor that is sure to get your dog's tail wagging. But if cheese isn't your dog's thing, you can get these wraps and other treats (such as biscuits and bites) in many other flavors. From beef to turkey & sweet potato, there's a tasty and therapeutic treat for every dog at MediPets.
These treats are made from CBD oil from industrial hemp right here in the United States and are backed up by laboratory testing. MediPets' CBD treats are also extremely affordable compared to other companies. Furthermore, MediPets' CBD treats also won a 2018 Pet Business Industry Recognition Award!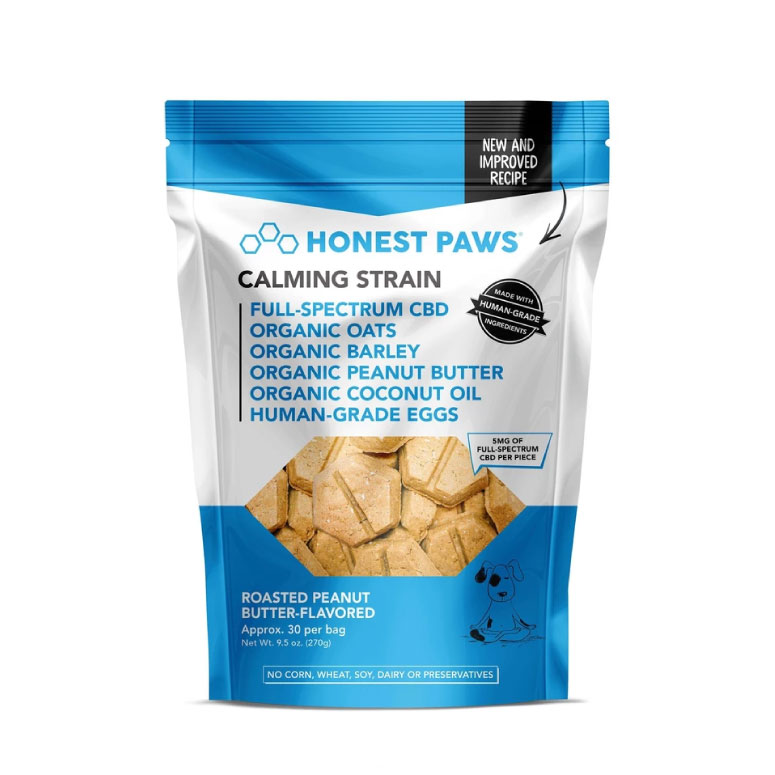 According to Honest Paws, these Calming CBD Bites are perfect for promoting relaxation in stressful situations. These Calming Bites are made from organic, broad spectrum hemp with naturally occurring CBD oil and contain only the best all-natural ingredients; and what dog doesn't love peanut butter!
These Roasted Peanut Butter Calming Bites contain 5 mg of CBD per treat. What I love about Honest Paws is that you can see, right on the product's website, the certificate of analysis straight from the laboratory. Honest Paws' treats are not only safe, but according to the reviews they are effective at relieving stress-induced anxiety too!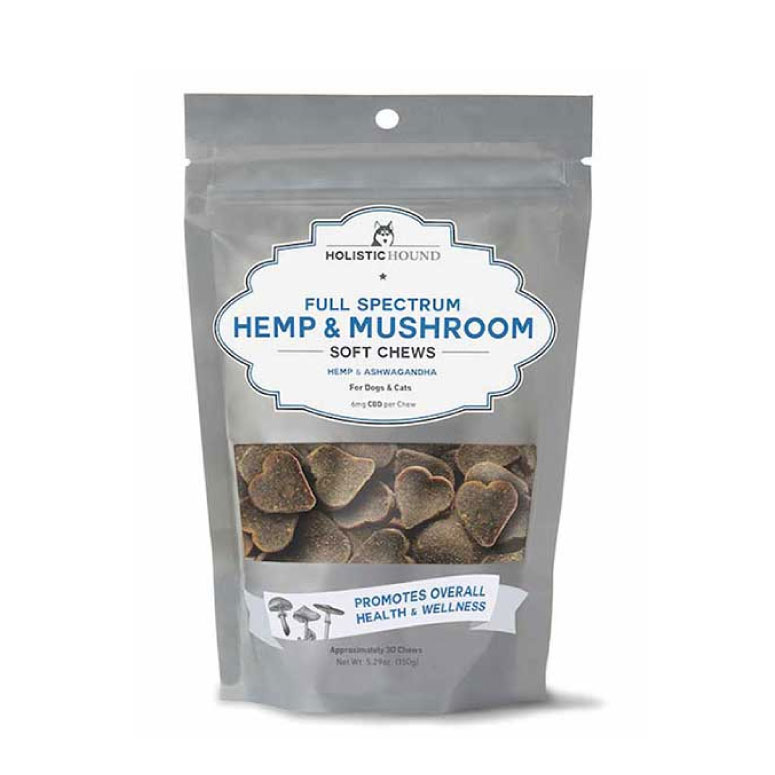 According to Holistic Hound, these Hemp & Mushroom Soft Chews contain full spectrum hemp with 6 mg of CBD oil. This company has utilized water soluble technology for increased absorption and effectiveness, as well as ashwagandha, an herb that promotes calmness, hormone balance, immunity, joint health and more. Along with their blend of five medicinal mushrooms, this combination provides powerful health benefits.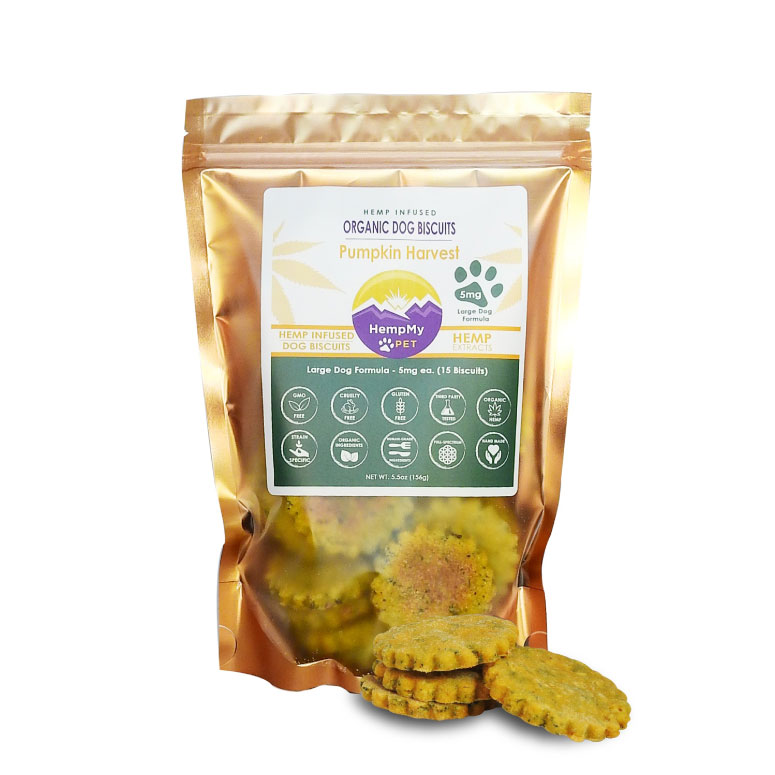 These CBD oil treats are made from quality hemp in small batches at the Biscuit Barkery of Northern Colorado. They are pumpkin flavored and come in both large dog (5 mg) and small dog (2 mg) formulas. While a little on the pricey side, reviews claim that they alleviate arthritic pain in older pups.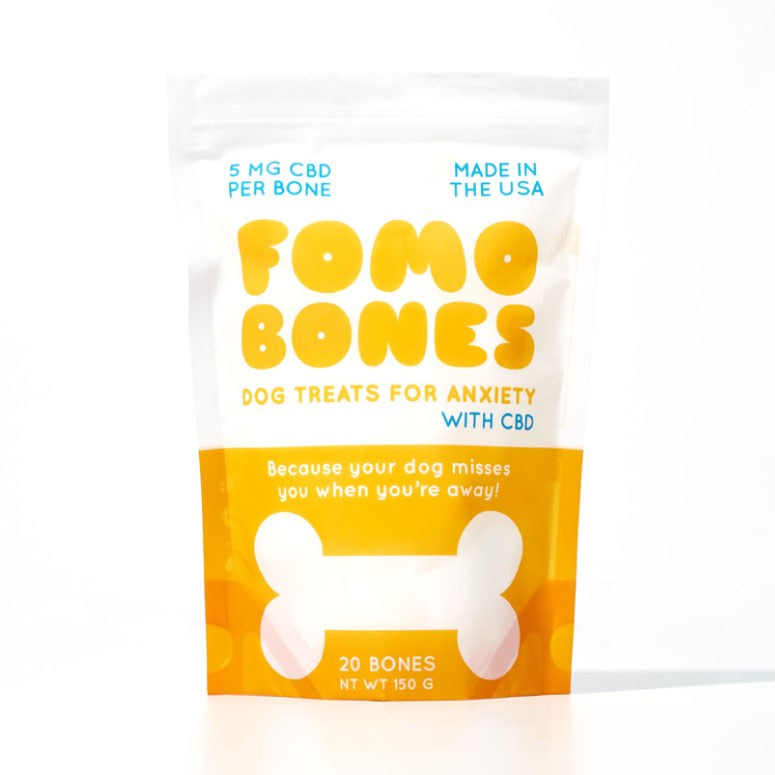 These treats are made with premium ingredients including naturally occurring, full-spectrum CBD. They have a unique formula, including ingredients such as passion flower, valerian root, chamomile, and, of course, a CBD isolate made from hemp oil that's been refined down to pure CBD. You can even access the laboratory report right on the product page. The customer reviews are glowing, averaging in at five stars! The only drawback to this product is that the company doesn't list how much each CBD biscuit contains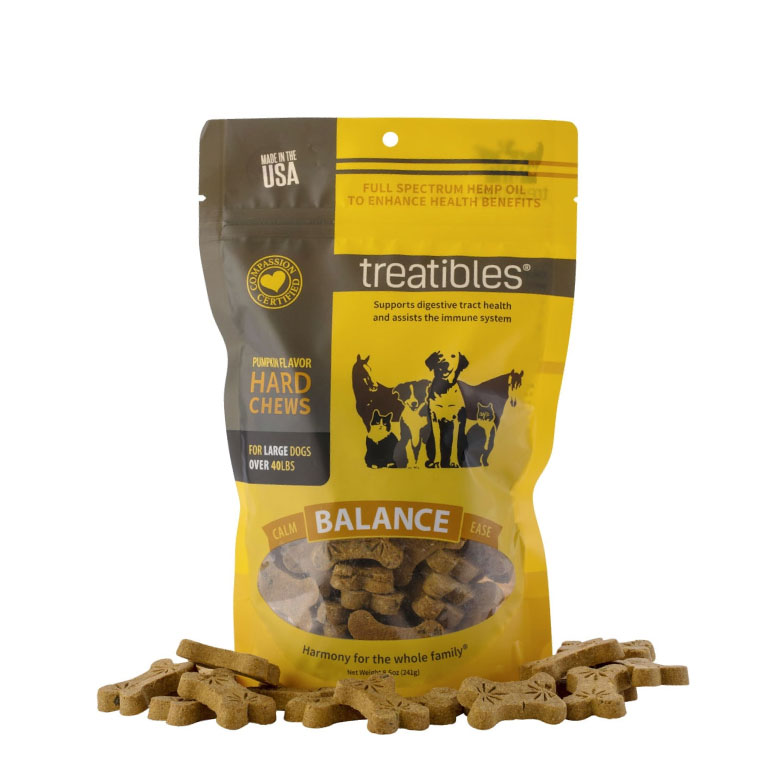 Maybe you have a small dog or are just looking for a smaller dose for your pupper. Well, Treatibles offers both small and large chews that contain just 1 mg of organic broad spectrum CBD from hemp oil. Alternatively, you could try their Ease (Blueberry Flavor) Hard Chews!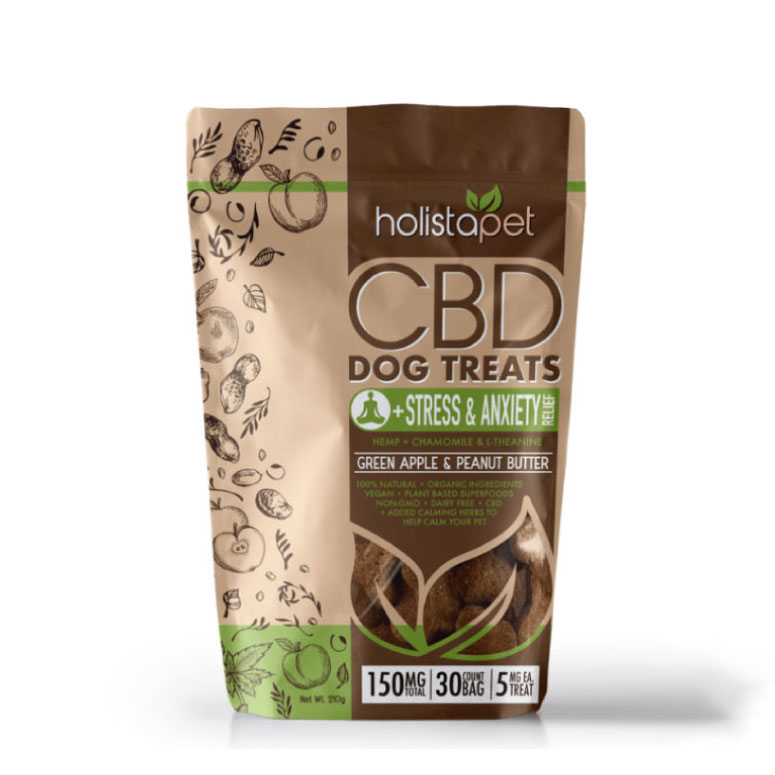 HolistaPets offers CBD dog treats in three formulas, Stress & Anxiety Relief, Joint & Mobility Care, and Heart & Immune Care. Each comes in a different flavor too! While Stress & Anxiety Relief treats are green apple and peanut butter, Joint & Mobility are pumpkin spice and cinnamon, and Heart & Immune Care are blueberry and sweet potato. Each formula is specifically enhanced to treat a specific ailment. For Stress & Anxiety, the peanut butter and apple dog treats are enhanced with l-theanine and chamomile. Each treat contains the same amount of CBD though, coming in at 5 mg per treat.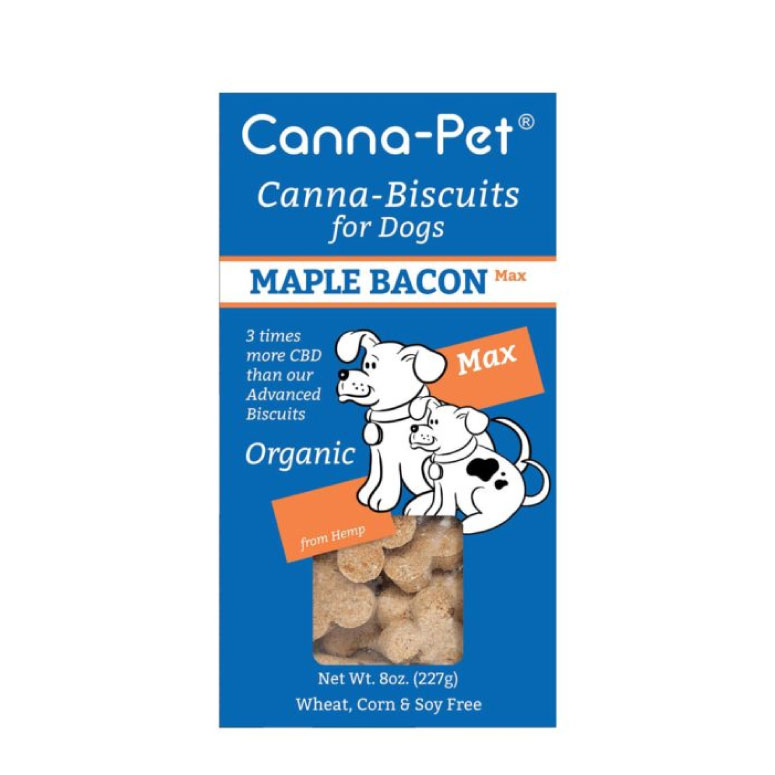 What's unique about Canna-Pet's Maple Bacon Biscuits is that they contain both CBD and terpenes. Terpenes are natural compounds responsible for creating aromas and work together with the CBD to cause enhanced effects. Each biscuit is baked in the United States and include organic, quality food ingredients. These MaxCBD formula biscuits also contain somewhat more CBD than your average biscuit, coming in at 8.4 mg per treat.
What is CBD Anyway?
CBD has been a hot topic ever since the passage of the 2018 Farm Bill made it legal to sell hemp and hemp products in the United States. CBD, or cannabidiol, is a chemical found in the Cannabis sativa plant, otherwise known as marijuana or hemp.

What's the difference between marijuana and hemp? While marijuana and hemp are technically the same plant; the difference is that the hemp variety contains incredibly small amounts (less than 0.3%) of THC, or tetrahydrocannabinol. THC is the chemical that is psychoactive, in other words, it's the chemical that is responsible for the "high" associated with smoking marijuana. Because there is such a minuscule amount of THC found in the hemp plant, you won't get high off it, and neither will your dog!

So how do CBD products work? Your brain has something called an endocannabinoid system. This means that there are natural, or endogenous, chemicals in your brain that act on cannabinoid receptors. Receptors allow for chemical responses and communication by binding a specific molecule, kind of like a lock and key. Anandamide is one such naturally occurring endocannabinoid that interacts with these cannabinoid receptors.

Now, CBD doesn't act directly on these particular receptors, but studies suggest that it uniquely works by increasing the levels of anandamide. Research has shown that anandamide levels are associated with stress and anxiety responses, more anandamide being associated with less stress. Additionally, indirect activation of cannabinoid receptors by CBD generally exerts anti-seizure/anti-epilepsy and anti-inflammatory effects. The use of CBD products also has minimal side effects. For these reasons, CBD use has received a lot of attention.
How Can CBD Help My Dog?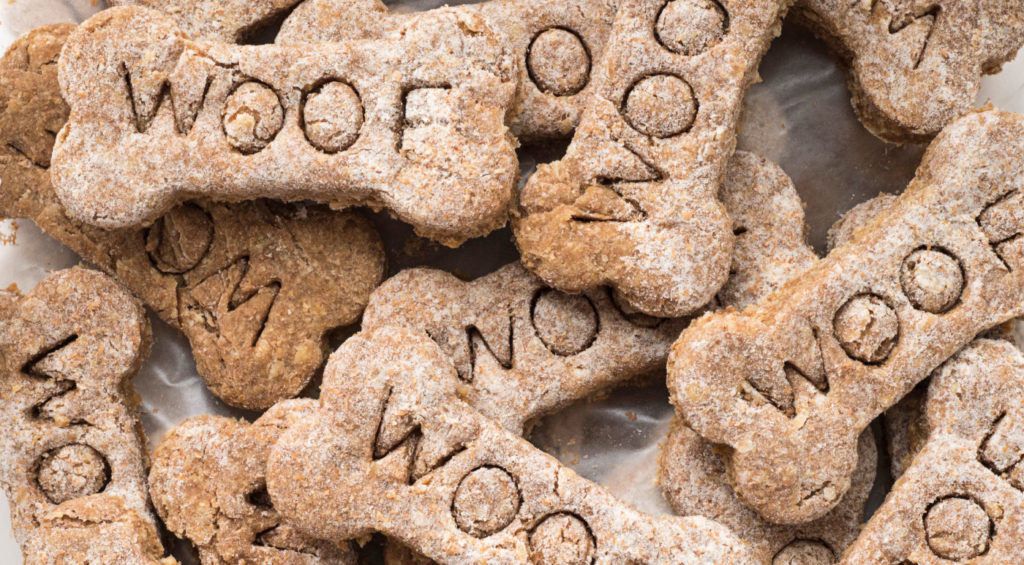 While there isn't a clinical study for every ailment your dog might be experiencing, research has confirmed that CBD is effective at promoting a reduction in osteoarthritis-associated pain and increasing general activity levels in dogs. More recently, a study at Colorado State University sought to determine the effects of CBD in dogs with epilepsy. They found that the amount of CBD found in a dog's blood with associated with a reduction in seizure frequency. Finally, reports from pet owners suggest that CBD is effective at reducing stress and anxiety, which is consistent with research done in mice. Again, you should consult your veterinarian to discuss if CBD is right for your dog, but CBD appears to be a promising new therapeutic tool for aiding in the maintenance of many conditions in our canine companions.