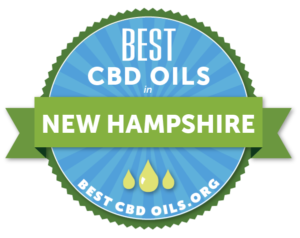 In this guide we take a look at the best places to buy CBD Oil in the state of New Hampshire.
The Best Places to Buy CBD in New Hampshire
Cannabinoid Oil (CBD) is a popular therapeutic hemp-derived product because of its affordability, legality, and health benefits. At the moment, New Hampshire only has a few brick-and-mortar shops specializing in CBD, but don't fret: buying CBD online is a great alternative and presents several advantages. First, online retailers carry an extensive selection of high-quality CBD oils, juices, edibles, tinctures, and other CBD products—often better than what you'd find in a traditional store. They also typically offer wholesale prices, meaning premium, affordable CBD, delivered straight to your front door.
Is CBD Legal in New Hampshire?


New Hampshire legalized medical marijuana for a limited number of medical problems in 2013. The medical marijuana laws also allow eligible patients to obtain marijuana-extracted CBD medications with a doctor's recommendation. Recreational marijuana use is still illegal in the state; however, possession has been decriminalized for small amounts. Due to the current marijuana laws in New Hampshire, only medical marijuana patients can legally obtain and utilize marijuana-derived CBD.
In 2015, New Hampshire passed a hemp cultivation law which allowed the University of New Hampshire to grow hemp crops for academic research reasons. This hemp cultivation law was very restrictive. No other universities or entities are accepted into the program, and the University of New Hampshire can only cultivate hemp crops for research and academic purposes. The hemp grown in the state is not legally allowed to be used for manufacturing purposes. Despite this restrictive law, CBD products that are industrial hemp-derived are legal for possession and use by the general public in the state, putting NH in line with the nation's laws. Because they have been so slow to catch up, there are not many physical shops where you can find CBD there. But, the importation of industrial hemp-derived products (including CBD) is not restricted by any state laws, so many residents just order CBD products online.
What Is CBD?
So what is CBD? One of over 85 cannabinoids in the cannabis plant, CBD sets distinguishes on a significant point: it won't get you high. Cannabidioil is a non-psychotropic with only trace amounts of THC, thus offering a safe hemp-derived product with a range of medically-documented health benefits.
CBD affects the endocannabinoid system, a system known to feature into the control of mood, appetite, hormone regulation, sleep, and pain. But a growing amount of research shows that we've only begun to tap into the potential of CBD: among the chronic diseases that CBD may reduce, mitigate, or prevent include epilepsy, schizophrenia, Alzheimer's disease, ALS, cardiovascular disease, general anxiety disorders, depression, and cancer.
As every year passes, more medical research surfaces to showcase the therapeutic value of CBD for a variety of medical conditions.
Now let's take a look at places to buy CBD in Southern New Hampshire and Massachusetts.
CBD Oil Shops in Salem
There are two great CBD shops in Salem. First, Happy Daze (224 N Broadway, Salem, NH 03079), which holds a perfect rating. Established in 2013, the shop's CBD selection is extensive, and vaporizing, glass smoking accessories, and more are available, too. Customers highlight friendly customer service, a knowledgeable staff, and affordable CBD prices. Further south, Smoker Choice (356 S Broadway, Salem, NH 03079) offers high-quality CBD and seven-days-a-week service.
CBD Oil Shops in Massachusetts
If you don't mind a quick road trip, Massachusetts has a number of CBD options, including vape shops, dispensaries, and clinics.
CBD Oil Shops in Georgetown
Healthy Pharms (401 E Main St, Georgetown, MA 01833) is a not-for-profit dispensary that carries high-quality CBD products in multiple grades. Everything is cultivated and processed on-site, and the staff is extremely knowledgeable in holistic medicines. Open seven days a week, 11AM-7PM.
CBD Oil Shops in North Reading
Route 28 Lucky Mart (202 N St, North Reading, MA 01864) has a huge inventory: e-pens, e-liquids, CBD oils and shots, Kratom, vape juices, and much more. Open seven days a week.
strong>Best CBD Shops in Greater Boston Area
Maverick Smoke Shop (25 Maverick Sq, East Boston, MA 02128) features hookahs, water pipes, 50 different vaporizers, 100 varieties of e-liquids, and high-quality CBD products. With nearly two decades of experience, the staff is highly knowledgeable and eager to help you find the right CBD grade for your needs, whether you're a CBD novice or experienced user. Open seven days a week: Monday-Saturday 8AM-11PM; Sunday 11AM-8PM.
Main Street Smoke Shop (7 Main St, Peabody, MA 01960) is one of Salem's most popular CBD shops, with a great selection of products: e-pens, e-liquids, JUUL, Kratom, CBD oil, and CBD shots. Prices are always affordable, and personal and friendly customer service is a point of emphasis. Open seven days a week; Monday-Saturday 7AM-7PM, Sunday 8AM-2PM.
Best Clinics and Dispensaries to Buy CBD in Boston
New England Treatment Access (60 Washington St, Brookline, MA 02445) is located in the heart of Brookline, offering low prices, excellent selection, and a highly knowledgeable staff. All of NETA's products are grown and processed at the organization's state-of-the-art cultivation facility, ensuring expert-approved, high-quality CBD oils. Open seven days a week: Monday-Saturday 10AM-6:30PM, Sunday 12PM-4:30PM.
Another Salem favorite, Alternative Therapies Group (50 Grove St, Salem, MA 01970) is a popular CBD shop with rare premium CBD strains and expert customer service. No appointments necessary; open Monday-Saturday 9AM-5PM.
Best CBD Shops in Natick
It's a bit of a drive, but Wicked Chronic (185 Worcester St, Natick, MA 01760) has a full inventory of CBD and CBD hemp oil products, as well as vaporizers, incense, vaping accessories, and more. Established in 2016, Wicked offers one-on-one customer service, affordable prices, and a laid-back, neighborly atmosphere. Open Monday-Saturday, 11AM-8PM.
Best CBD Shops in Franklin
Franklin Smoke Shop (24 E Central St, Franklin, MA 02038) features a huge range of products, from high-quality CBD oils to CBD edibles and vaping accessories. The friendly staff is highly knowledgeable and eager to assist customers, regardless of CBD experience-level. Open seven days a week, 9AM-9PM.
Best CBD Shops in East Bridgewater
Vape Solutions (687 N Bedford St, East Bridgewater, MA 02333) carries high-quality CBD edibles in addition to a wall-to-wall selection of e-juices, e-liquids, mods, tanks, starter kits, batteries/chargers, coils, glass and water pipes, and drip tips. Open seven days a week.