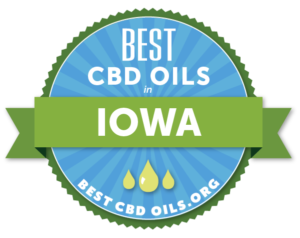 Iowa is one of the best places to buy CBD in the Midwest, with stores in Des Moines, Cedar Rapids, and Davenport offering high-quality CBD at cheap prices, especially when compared to other states. As one of the fastest-growing health and wellness products on the market, hemp-derived CBD, or cannabidioil, offers recreational and health benefits, including stress reduction, anti-psychotic properties, and evidence of potential cancer prevention. Most importantly, hemp-derived CBD doesn't contain intoxicating properties, so you can feel safe using it as an oil, lotion, edible, juice, tincture, or any other available form.
Is CBD Legal in Iowa?


Iowa is an interesting state when it comes to CBD. Medical marijuana use is legal in Iowa, but truly, this law only applies to marijuana-derived CBD oil that contains 3% THC or less. Actual cannabis is illegal for medicinal or recreational use in Iowa, and the possession of cannabis remains a criminal offense. This was written into the state's law in 2014 with the Medical Cannabidiol Act. Marijuana-derived CBD that contains less than 3% THC is legal for medicinal use if a person has one of the qualifying conditions and a valid prescription from an Iowa physician. Lawmakers in the state are in the process of allowing more potent medical cannabis as of 2019. Marijuana-derived CBD is not recreationally legal at all, and this doesn't appear to be changing soon.
Hemp-derived CBD is a different story. Hemp farming and research became legal in Iowa in May of 2019. The Iowa Hemp Act will allow farmers in Iowa, but the Department of Agriculture will need to draft a plan and submit it to the USDA. National legislation made hemp-derived CBD legal nationwide with the 2018 Farm Bill, as long as it contains less than .03% THC. Representative Jarad Klein stated that "the passage of this bill [Iowa Hemp Act] will explicitly make those hemp CBD products available for retail sale available in Iowa." Governor Reynolds signed the bill into law, but there still seems to be some confusion. We recommend careful consideration when purchasing CBD in Iowa for the time being and consider shopping for your products at an Iowa-licensed dispensary. However, according to law, hemp-derived CBD is legal for recreational use and consumption.
Best CBD Shops in Des Moines
Conveniently located in West Des Moines, Great Alternatives II Vape Shop (411 Railroad Pl, West Des Moines, IA 50265) is a 5-star rated shop with premium e-liquid, Kratom, mods, tanks, and a range of high-quality CBD products, including CBD oils and multigrade capsule options available at four price points. Established in 2014, Great Alternatives emphasizes personal, friendly customer service. Whether you're a first-time CBD buyer or longtime enthusiast, the knowledge staff is eager to help you navigate the selection to the find the best CBD product for your needs. The seven-days-a-week hours are nice too.
Best CBD Shops in Mount Vernon
Just outside of Cedar Rapids, Kae Apothecary (104 2nd Ave N, Mount Vernon, IA 52314) is a 5-star rated natural self-care shop, offering a variety of holistic products like sugar scrubs, beard oils, healing salves, candles, and organic hemp-derived CBD oils. Customer service is highly personable and friendly, and customers' needs are treated on a tailored, case-by-case basis. Open Tuesday, Thursday, Friday, and Saturday.
Best CBD Shops in Davenport
Davenport is one of the best places to buy CBD in Iowa, with four excellent shops worth highlighting.
East Village Vape Cafe (1203 Jersey Ridge Rd, Davenport, IA 52803) is one of Davenport's go-to CBD shops, with a wide variety of grades and price points in CBD gummies, suckers, chocolate, tinctures, and more. You'll also find premium Kratom, e-juices, Kava, and other alternative wellness goods. The staff is highly knowledgeable and happy to help customers find the best CBD products for their needs, whether they're CBD novices or longtime enthusiasts. Return customers may be able to earn reward points, and don't forget to check online for special discounts and vouchers. Open seven days a week.
Established in 2015, The Vapor Shop (2847 E 53rd St, Davenport, IA 52807) offers premium CBD oils and pens, vaporizers, e-juices, box mods, and more. Brand selection includes Aspire, Sigelei, Innokin, Kangertech, SmokTech, Wismech, IPZ, and Sense Herakles. Friendly and personal customer service is a major emphasis, and prices are always fair. Open seven days a week.
Yabba Dabbas House of Glass (3502 W Kimberly Rd, Davenport, IA 52806) was also established in 2015. In addition to high-quality CBD, the shop carries glass pipes, water pipes, and accessories. Open seven days a week.
Just across the Mississippi River, The Smoking Pipe Shop (109 2nd Ave W, Milan, IL 61264) sells Kratom, vape products and accessories, e-juices, concentrates, and premium CBD. Prices are affordable, and veterans, active military, and first responders get 10% off. Open seven days a week.