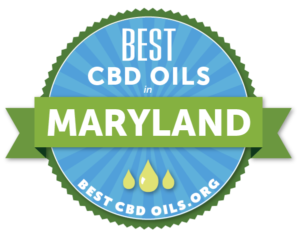 Following the rest of the I-95 corridor, Maryland is starting to push into the CBD market, with some of the best CBD shops in the region and easy access to more in Wilmington, Philadelphia, and West Virginia. Fortunately for you, we've compiled them all below! If you don't see a store within reach, don't forget you can always order CBD online; and if you're in the DC area, check out our special DC page.
Is CBD Legal in Maryland?


Maryland first legalized the use of medical cannabis back in 2003 for anyone that could prove that it was medically necessary and provided at the recommendation of their doctor. The state now has a thriving network of medical dispensaries that sell not only marijuana but also marijuana-derived CBD products. Recreational use has yet to become legal, but Maryland made a name for itself in 2014 when it decriminalized marijuana possession and use. It is the most lax state in this regard. Because recreational use isn't legal, you can not purchase marijuana-derived CBD for this purpose.
Maryland has progressive stances on cannabis, but it drug its feet when it comes to industrial hemp. It wasn't until April of 2019 that hemp farming became legal in the state, bringing it up to speed with the changes in federal law that took place in late 2018. Hemp-derived CBD is completely legal for both medical and recreational use in Maryland. What's more, the state is bringing its progressive attitudes to the CBD industry as well. It was announced in 2019 that the chain CVS would start stocking hemp-derived CBD in Maryland. One thing to remember is that you will likely need to be over the age of 18 with a valid ID to obtain your CBD at that store, though.
CBD Oil Shops in Baltimore
Smoke Shop 1 (337 Hospital Dr, Glen Burnie, MD 21061) is one of Baltimore's go-to vape shops, boasting a 4.5-star rating. Established in 2013, you'll find a variety of vapes, e-juices, glass pipes, Kratom, and all-natural, hemp-derived CBD oils, liquids, creams, pills, and edibles. In addition to wall-to-wall selection of brand name goods, reviewers rave over the knowledgeable staff, which is eager to help you find the right product, whether you're a first-time CBD buyer or a longtime enthusiast. Prices are at or below market value, and be sure to check online for potential promotional deals. The hours are great, too! Open seven days a week: Monday-Saturday 9AM-9PM; Sunday 9AM-7PM.
CBD Oil Shops in Annapolis
The 5-star rated Vape Loft (185 Mitchells Chance Rd, Edgewater, MD 21037) is a local, family-owned shop which offers a range of premium-grade goods, including drippers, RDA's, vaporizers and vape accessories, mods, and high-quality CBD products. The friendly and knowledgeable staff make customer service a breeze, and feel free to ask for guidance if you're unsure about a product or are new to CBD. Open seven days a week: Monday-Saturday 11AM-8PM; Sunday 12PM-5PM.
CBD Oil Shops in Rockville
Vapor Vapor Vapor (15906 A Shady Grove Rd, Gaithersburg, MD 20877) holds a 4-star rating on 20 reviews. Established in 2014, the shop carries major vaping brand names —— Aspire, SMOK, Segelei, etc. —— and a wall-to-wall CBD selection. The staff offers personal, professional customer service, and don't forget to check for online deals. Open seven days a week: Monday-Saturday 9AM-9PM; Sunday 11AM-7PM.
CBD Oil Shops in Delaware
Established in 2014, VapeEscape (5321 Concord Pike, Wilmington, DE 19803) was one of Delaware's first vape shops and employs a highly qualified, knowledgeable staff that's eager to answer all your CBD oil questions. With one of the largest selections in the region, you'll find a a variety of premium CBD liquids, waxes, crystals, edibles, tea, and turpines. Customers are also encouraged to try the store's 1,000 bottle flavors —— and 1 million flavor combinations! —— at the tasting bar to sample products as a try-before-you-buy program. Prices are cheap, and online promotional deals are often available. Open seven days a week: Monday-Saturday 10AM-9PM; Sunday 11AM-5PM.
CBD Oil Shops in Pennsylvania
Just west of Philadelphia, Phoenixville Smoke Shop (245 Bridge St, Phoenixville, PA 19460) offers a wide range of hemp-derived CBD products. Reviewers highlight the store's knowledgeable and friendly staff, great selection, and up-to-date CBD products. Open seven days a week: 10AM-9PM on weekdays and Sunday; 10AM-10PM Friday-Saturday.
CBD Oil Shops in West Virginia
Charlies Too (835 E Washington St, Charles Town, WV 25438) sells CBD liquids in 20 flavors. Prices can't be beat, and customer service is a major point of emphasis. If you've got a question, don't be afraid to ask the expert staff!
Eclipse 4922 (Williamsport Pike, Martinsburg, WV 25404) has been serving the tri-state area for 25 years. With a 3,000 square foot space, Eclipse's extensive inventory includes hand blown pipes, Kratom, and an array of CBD products. Hours are great, too! Open seven days a week, 11AM-7PM.