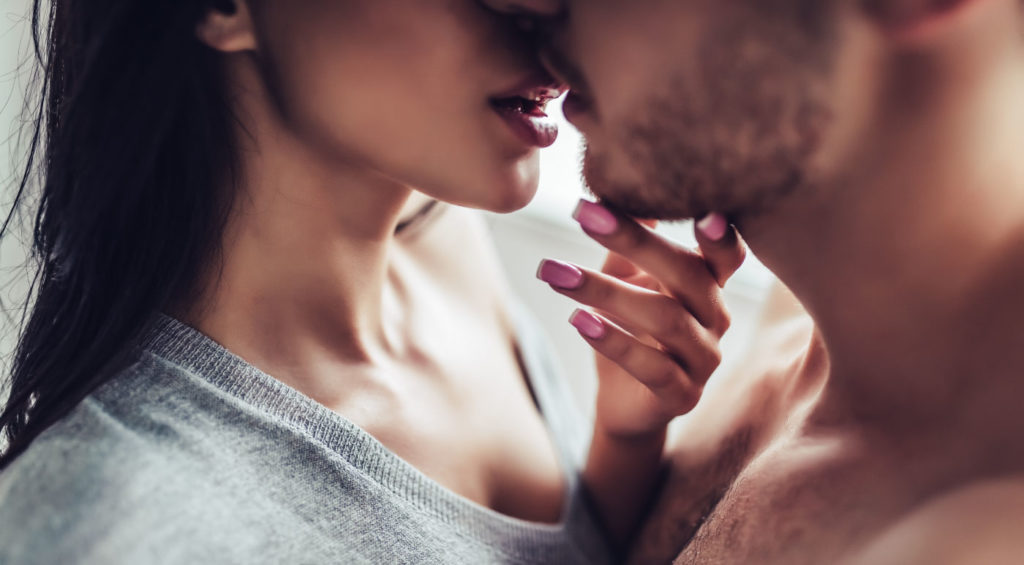 Finally, CBD and sex have made a baby. CBD lubricant comes in many shapes, sizes, and names, but one thing is for sure and it's that you may never look at sex the same again once you give it a try. CBD lubricants have also changed the game quite a bit and is just one more unusual, yet effective, way to absorb your healthy intake of CBD.

Read on to find out more about lubricants, what is beneficial about combining them with CBD, and which ones are worth getting your hands on in our list of the five best CBD lubricants.
Why Use Lubricants?
Why have sex? While we're sure you have your own laundry list of reasons why (I'm in the mood! I just got married! I want a baby!), the truth is in the pudding.

Sex makes us feel closer to the ones we love. Intimacy creates trust and instills a sense of togetherness. It's the act of two people coming together in love.

But sex has plenty of other benefits for your health and happiness. Sex can boost your body's antibodies, helping you fight colds. It can help you sleep. Some research even suggests it can lower blood pressure, risk of heart attack, or even risk of prostate cancer.

But it's not enough to just have sex; you have to enjoy it. Lubing up can help smooth things out, get things started, and keep all your tissues in tip top shape while you partake.

Lube isn't always necessary, but it makes the situation markedly better. It can add to the ease of sex in those early moments when it can seem tense. It can help prevent vaginal tearing and pain from insertion. Plus, not only does lube help get things started, it also aids in a big finish.

The list of reasons why you should use lubricant is pretty endless, and you already have all you need to get 'er done. However, if you want to put a little touch of added excitement to your experience or your routine, CBD lubricant can help.
What Does a CBD Lubricant Do?
As it turns out, CBD lubricants in particular are great for going the distance. While CBD lubes, of course, are great for making things a little less rocky during sex, you can also use it as a massage oil to get the heart pumping and the juices flowing.

If it's safe for use inside the body, then it's safe for the skin. Some are even better suited for skin arousal, like the Privy Peach Sensation Intensifying Erotic Oil.

CBD lubricants give you heat and excitement, but they also create a sense of ease and calm. This serenity helps to keep you cooler longer, resulting in a slightly longer session and a more intense climax.

There's a reason that sexual arousal is akin to getting the blood flowing; that's literally what it means. This is another area of sexual wellness where hemp shines. Cannabis (and of course, hemp) is a "vasodilator," meaning it expands the blood vessels and increases circulation and blood flow. This blood flow, as a result, boosts sensations and intensifies orgasms.
Are CBD Lubricants Only for Women?
Is sex just for women? Of course not! CBD lubricants aren't either.

While many erotic items often seem to promote delicacy through intimacy, that doesn't make them exclusionary. No matter what's on the package, CBD lubricants are non-discriminate.

If your masculinity simply can't lend itself to products that are pretty in pink, Jack's Knob Polish will preserve your rough and tumble aesthetic in the bedroom. However, it's good to remember that real men embrace pink. Being open to this feminine touch can be exceedingly sexy for new partners–and is a sure sign that you care about arousal over image.
Is CBD Lubricant Edible?
Simply put, if it's safe to insert down below, it's safe to insert up above.
All of the products listed here are intended to be used for intimacy. While some, like Foria Awaken Arousal which uses coconut oil, taste better than others made with sodium benzoate, like Kush Queen's water-based lube, yours and your partner's body will remain lickable and kissable even after you add lube to the mix.
What to Look for in the Best CBD Lubricant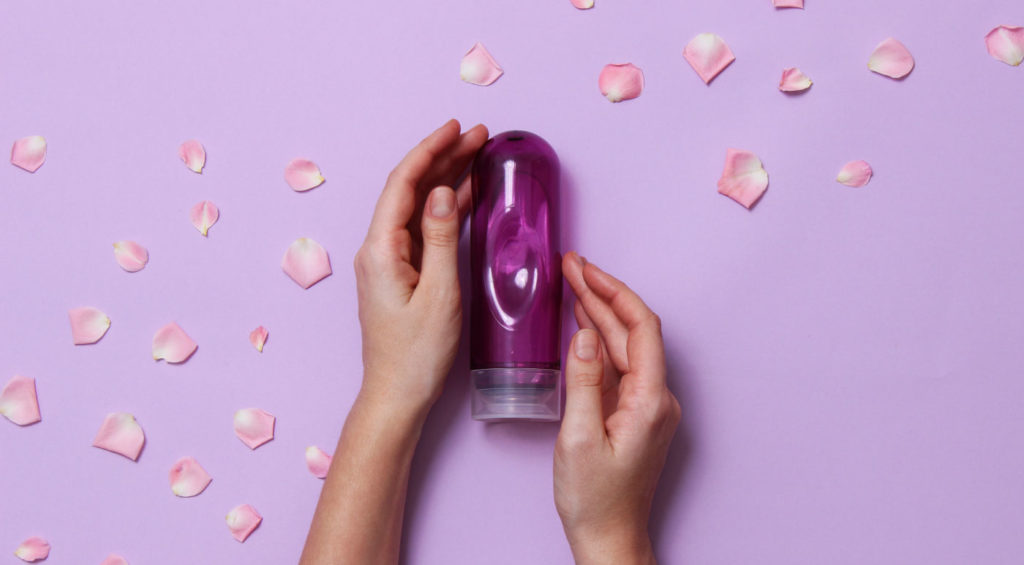 No one, not even your partner, knows you better than you know yourself. When you engage in physical intimacy with someone else or on your own, you're relinquishing your body to achieve pleasure.

For some people, this is often nerve-wracking instead of exciting. CBD lubricants that are particularly strong in CBD, like Ananda Hemp's Bliss Intimate Oil can help to relax the area from anticipation and promote arousal through blood flow thanks to natural aphrodisiacs.

Other lubricants will be able to do the same, but with a touch less of CBD and a heavier hand on sweet smells to create an all-around pleasurable experience.

The CBD content isn't the only thing to be mindful of. Take good stock of how you intend to engage in sex, particularly protected sex, as this will guide your choice in CBD lube.
Is it Safe to Use Lubricant With Condoms?
This is a really important question to ask when you're looking into purchasing CBD lubricants. While some are water-based and perfectly safe to use with your protection, others made with oil, including coconut oil, will cause condoms to break down.

If latex is an element in your lovemaking, be absolutely sure you choose an option that won't compromise your condoms.
Are There Ingredients to Avoid in Lubricant?
While water-based lubes are great for protecting your protection, women should be cautious about another ingredient: glycerin. Vaginal pH balance is delicate and the addition of glycerin could potentially cause natural yeast to overpopulate and cause infection.

While there are a few ingredients and scenarios to avoid, CBD-infused lubes should, by all means, be wholly embraced.
5 Best CBD Lubricants
Whether you intend to use it with condoms, on its own, or on your own, we've got some absolute knockouts in this list of the best CBD lubricants that are sure to excite your most passionate desires.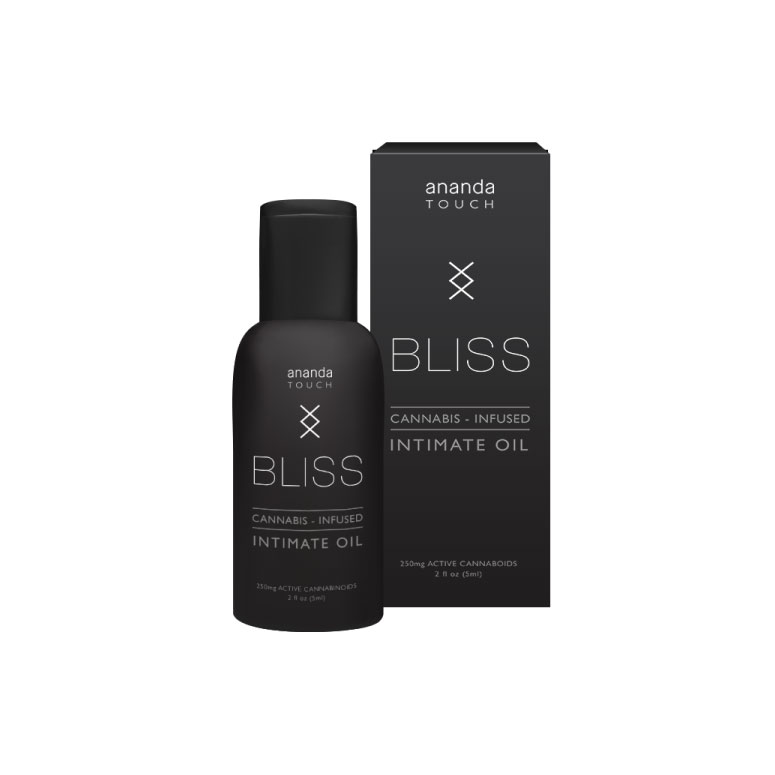 Price: $60
Potency: 250 mg full spectrum cannabinoid oil per 2oz bottle
"Ananda" in Sanskrit translates to "joy, bliss, or delight." This inspired the name for the molecule anandamide, which helps to pull you back from stress and regulate emotional and physical sensations. As it turns out, anandamide hangs out in the endocannabinoid system and works well alongside cannabinoids such as CBD, which is why this lube is one of our top picks in best CBD lubricant.

Ananda Hemp is aptly named for this blissfulness that can be incited through exposure to hemp products. Great for use on any body, the Bliss Intimate Oil is intended to both enhance and equalize the sensation in our body before intimacy.

Peppermint essential oil for coolness and black pepper essential oil for heat (plus improved absorption) are the ingredients behind the powers of Ananda Hemp's oil. You'll also get to enjoy a bit of cacao seed butter–believed to be the only source of the aphrodisiac compound theobromine–which is also edible. It's like eating a piece of chocolate, but way better.

You'll put out a little extra for this oil, but you're paying for the potency. It's a great intimate oil to add to your bedside table, but it won't necessarily play well with other items you have there. Coconut oil makes this CBD oil soft and silky, although it does inhibit its use with condoms.

Best for: Those looking for a more potent CBD lubricant.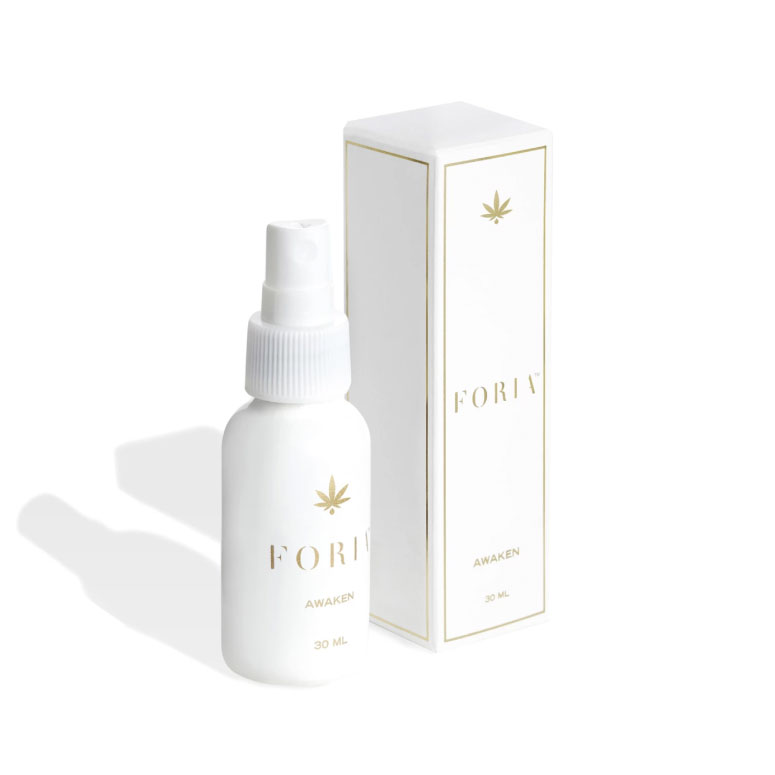 Price: $48
Potency: 30mL (mg of CBD unknown)
Foria Wellness is known for igniting the spark between sexual health and hemp. With their original product being their CBD suppository for menstrual cramps or reproductive pain, Foria is no stranger to the more gentler lady parts.

They've since took the step away from a focus on pain and took a stab at pleasure. This natural arousal oil is made with broad spectrum CBD, so you'll get all the soothing elements within the hemp and none of the psychoactivity.

This broad spectrum oil is their first ever THC-free product, though it still contains plenty of the good stuff. If the hemp scent isn't one that you consider arousing, not to worry. They also add a touch of botanical and aromatic oils–all considered to be aphrodisiacs–so you can feel all your senses get swept away into bliss.

Edible, vegan, and sustainable as it is, it is not intended for use with condoms (but is safe with silicone).

Best for: Those looking for one of the best smelling CBD lubricants.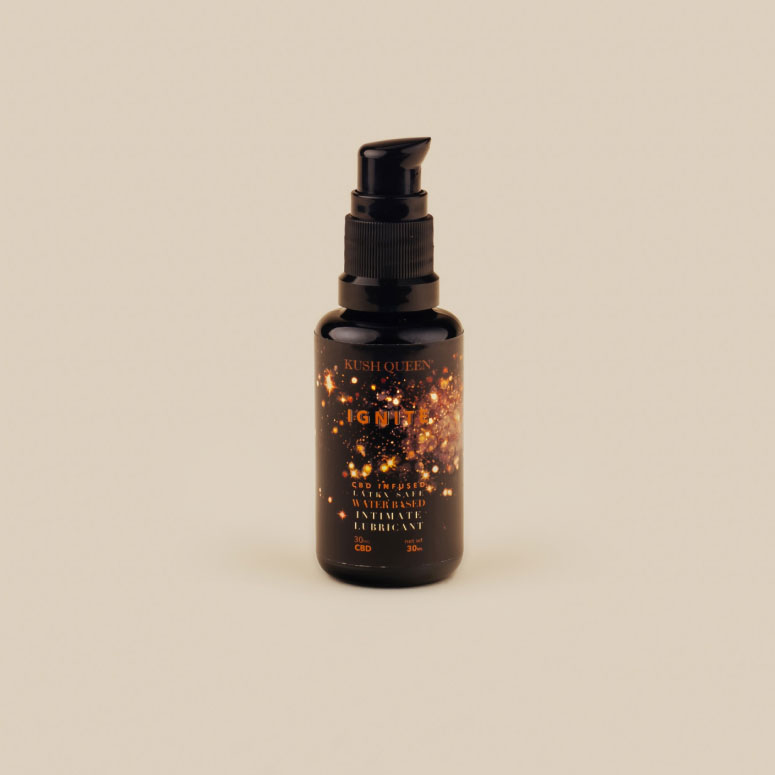 Price: $50
Potency: 30 mg CBD per 30mL bottle
Exciting your sex life through the use of CBD lubricants is nice. Having to sacrifice condoms is not. The Kush Queen Ignite CBD Lube is the answer to this dilemma. It's water-based, so the good news is you won't have to worry about resorting to plan B (whatever that may be for you).

It's quick, it's potent, and it's safe, which is why it's one of our top five best CBD lubricants. Plus, it's guaranteed 0% THC. It's perfectly safe to use anywhere, but at the expense of scent. This is one of the few downsides. If you like the idea of fragrance to help set the mood, spray your pillow or light some candles beforehand. Then, sit back relax and let Kush Queen Ignite do the rest.

It's also worth noting that the nano-technology of this CBD lubricant could improve its absorption and bioavailability, making it even more potent. A little goes a long way!

Best for: Those looking for a water-based and latex safe CBD lubricant.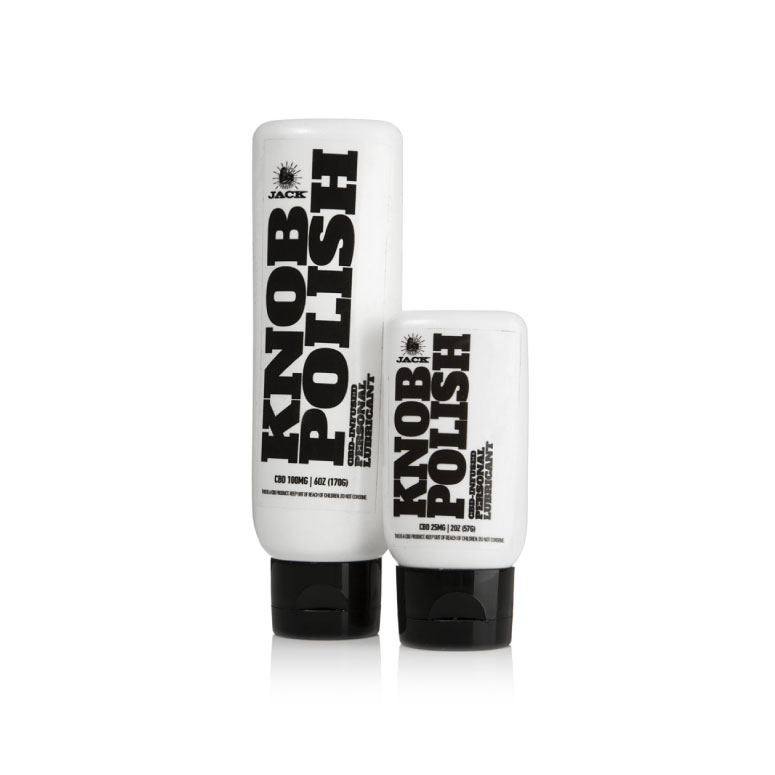 Price: $12 – $24
Potency: 30mg of CBD per 2.5 oz or 100mg per 6 oz.
We know a lot of these private part products are packaged to appeal to the feminine counterparts, but, let's face it, men could use a little dollop of magic whether they partake in sex with someone else (or on their own.)

Introducing Knob Polish: a man-targeted topical intended to fire you up and cool down your receptors so you can go the extra mile.

This particular oil is a one-two punch of ease and excitement. It's water-based and made without spermicides or coconut oil. This formula gives you the green light to use as you see fit with latex condoms or around your silicone toys.

This lube is also by far the most affordable on our list. The smaller size packs around 30mg per bottle, while the larger has up to 100mg. This will vary by serving, but the light touch on your most intimate parts creates explosive results for men and women alike.

Let's hear it for the boys!

Best for: Those looking for one of the most affordable CBD lubricants with a male focus.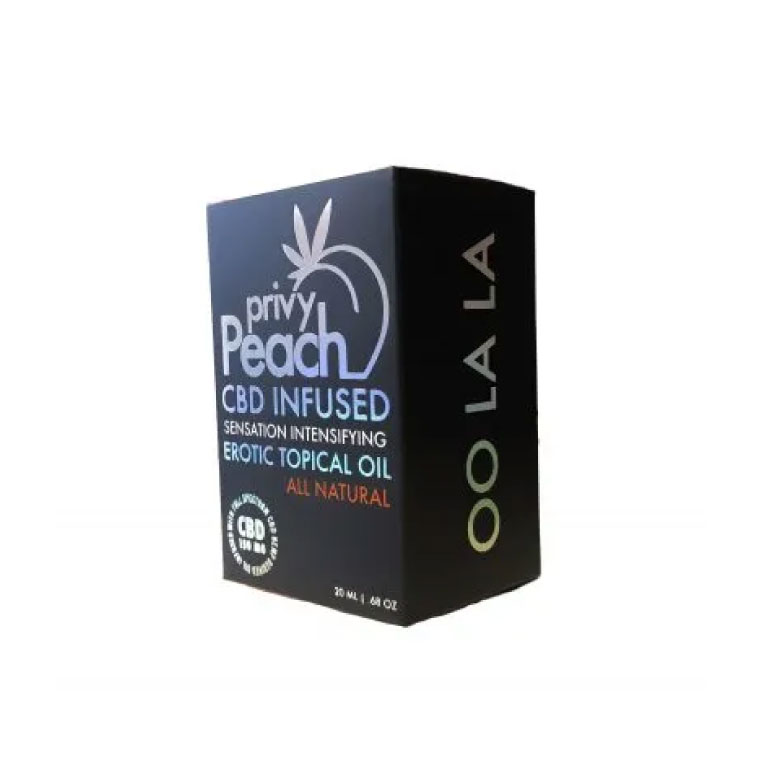 Price: $48
Potency: 15mg CBD per 2mL
Privy Peach is widely known for creating a notoriously good Personal Lubricant with the most sensitive women in mind. It's a great product, and popular to boot, but it's cousin is an underdog that's blurring the lines on what lube is.

The Sensation Intensifying Erotic Oil is a semi-solid salve (thanks to cocoa butter) in the familiar Privy Peach single-serve pack. It softens immediately on body contact and is ideal for improving blood flow to increase orgasm intensity. Plus, it's scented to set the mood.

The sweet-smelling ingredients aren't limited to your erogenous zones, either. Warm up the main event with a CBD-infused massage to get the blood flowing throughout the body for added delight. Enjoy the exciting and relaxing scents of vanilla, lavender, jasmine, and mint.

The CBD comes from full spectrum hemp-infused coconut oil. While it's ideal for working all over and safe to eat and insert, it will compromise latex condoms.

It might not be a good use with condoms but this CBD lubricant is great to use on the body. Some customers even mention using it on normal daily wear, tear, and pain in other areas of the body. It is recommended for external use, but those who aren't overly sensitive will find it can be quite pleasurable for more intimate areas as well.

Best for: Those looking for a CBD lubricant that is very versatile.

Final Thoughts on CBD Lubricant
If you're looking for a way to add a little extra pleasure to your pillow talk and play, try one of the products from our list of the five best CBD lubricants and discover a new way to feel so incredibly good.