Finally, CBD (in lube form) has entered the bedroom. CBD lubricant goes by many different names, but one thing's for sure—you may never look at sex the same again once you give CBD lubricants a trial run.
Featured CBD Brands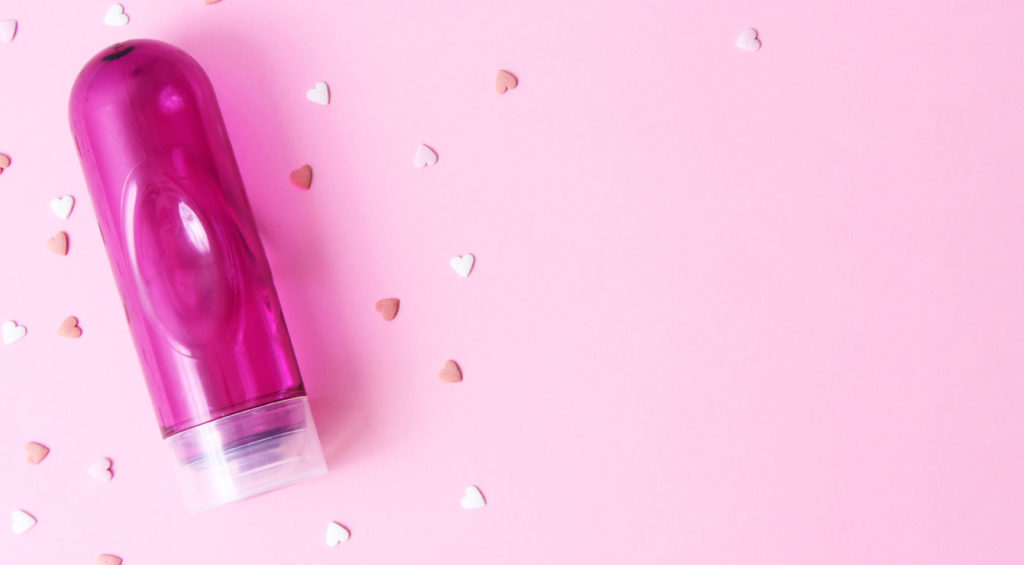 This innovative product is an industry game-changer and is just one more unusual yet effective way brands are offering CBD.
Read on to find out more about lubricants, what is beneficial about combining them with CBD, and which ones are worth getting your hands on in our list of the four best CBD lubricants.
Use These Page Jumps And Spice Things Up With This CBD Lubricant!
---
Top 4 Best CBD Lubricants
Foria Wellness Awaken Arousal Oil
Highlights:
Broad-spectrum CBD
Chocolate and mint aroma
Organic and natural ingredients
Description:
Ingredients: Organic MCT coconut oil, whole-plant infusions (organically grown hemp, organically grown kava root, organic cinnamon, organic ginger, organic vanilla), organic essential oils (cardamom, peppermint), cacao absolute
Pricing: $1.60 per milligram
Company: Foria Wellness is known for igniting the spark between sexual health and hemp. With their well-known CBD suppository for menstrual cramps or reproductive pain, Foria is no stranger to creating products for sensitive areas.
They've since taken a step away from pain to focus on pleasure. This natural arousal oil is made with broad-spectrum CBD, so you'll get all the soothing elements within the hemp and none of the psychoactivity.
Foria's Awaken Arousal Oil is also their first-ever THC-free product, though it still contains plenty of the good stuff. If a hempy scent isn't one that you consider arousing, not to worry. They also add a touch of botanical and aromatic oils–all considered to be aphrodisiacs–so you can feel all your senses get swept away into bliss.
Edible, vegan, and sustainable as it is, it is not intended for use with condoms (but is safe with silicone).
Shipping: Free shipping on all U.S. orders over $69.
Returns: When purchased through Direct CBD, unopened products returned within 30 days are eligible for a full refund.
Best for: Those looking for one of the best-smelling CBD lubricants.
---
O-Shot CBD Arousal Oil for Women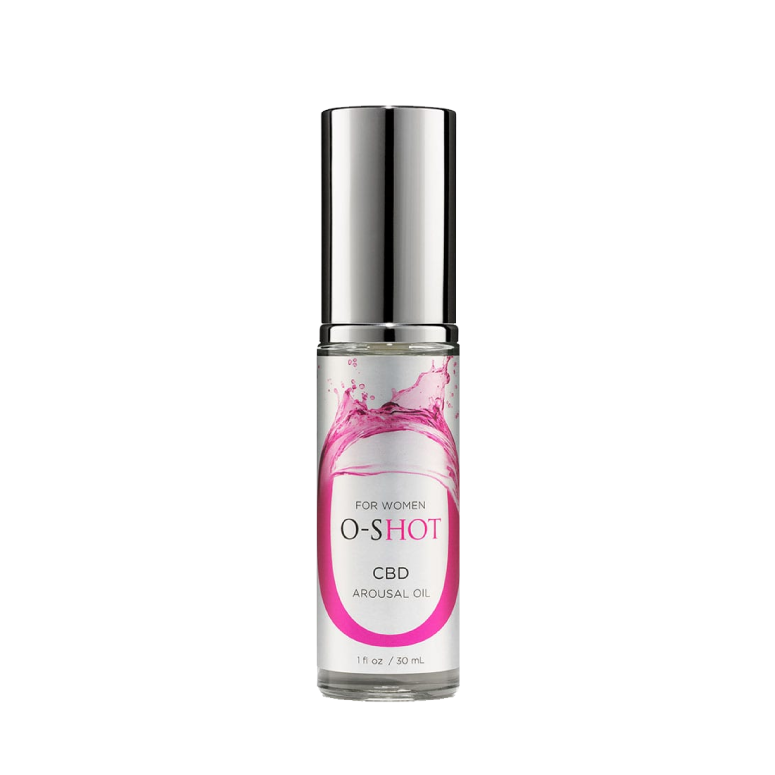 Highlights:
Dermatologist-tested
Deliciously edible
Hypoallergenic
Description:
Ingredients: Cocos nucifera (coconut) oil, piper methysticum (kava) root extract, broad-spectrum cannabis sativa (hemp) oil, elettaria cardamomum seed oil, zingiber officinale (ginger) root oil, cinnamomum camphora (camphor) bark oil, mentha piperita (peppermint) oil, vanilla planifolia fruit oil, natural and artificial flavors
Pricing: $2.00 per milligram
Company: O-Shot CBD Arousal Oil for women is designed to provide tingling and warming sensations to make your orgasm even more enjoyable. The formulation is a blend of eight natural botanicals, and 20 milligrams of CBD sourced from thoroughly tested industrial hemp.
It's broad-spectrum, so you don't need to worry about the effects of any THC, yet it contains all of the other essential cannabinoids in the hemp plant. Pleasure is heightened, and as blood flow increases in your genitals, O-shot CBD Arousal Oil will intensify your pleasure.
Made with organic MCT oil, the product is also fully edible. The brand recommends applying three to four pumps of oil to your intimate areas about five minutes before foreplay to get things started. You can reapply anytime you want, too.
You won't want to use this with latex condoms or toys, so keep that in mind. However, this is an extremely well-reviewed CBD lubricant, and as one user put it: "I can't believe I've lived my life this long without it."
Shipping: Free shipping on all U.S. orders over $49
Returns: When purchased through Direct CBD, unopened products returned within 30 days are eligible for a full refund.
Best for: Those looking for a great-tasting CBD lubricant
---
Privy Peach CBD Erotic Oil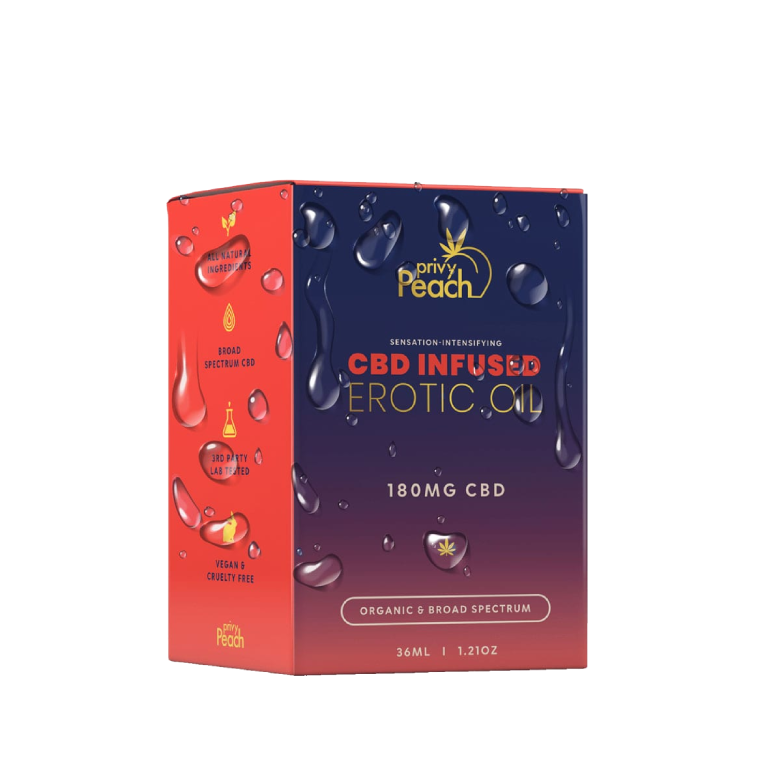 Highlights:
Contains aphrodisiac essential oils
Full-spectrum
Single-use pouches for convenience
Description:
Ingredients: Full-spectrum hemp-infused coconut oil, cocoa butter, vanilla, jasmine, lavender, cardamom, peppermint, cinnamon, and spearmint oils
Pricing: $0.27 per milligram
Company: Privy Peach is widely known for creating a notoriously good personal lubricant with the most sensitive areas in mind. It's a great product and popular to boot. Plus, this CBD lube is also super-convenient, discreet, and portable.
The CBD Erotic Oil by Privy Peach is said to contain "well-known aphrodisiac essential oils that will make you squeal with delight." Indeed, the ingredients' lineup is pretty impressive: jasmine, cardamom, and mint are all designed to get the blood flowing. The sweet-smelling elements aren't limited to your erogenous zones, either. Warm up the main event with a CBD-infused massage to get the blood flowing throughout the body for added delight.
The CBD comes from full-spectrum hemp-infused coconut oil. While it's ideal for applying all over and safe to eat and insert, it will compromise latex condoms.
Our favorite thing about this lubricant is its portability. It arrives in a box of 12 pouches, each containing 15 milligrams of CBD. That means you can keep one in your purse, on your bedside table, in your suitcase, or even the glove box of your car. Hey, you never know when the mood might strike.
Shipping: Free shipping on all U.S. orders over $50.
Returns: When purchased through Direct CBD, unopened products returned within 30 days are eligible for a full refund.
Best for: Those looking for a travel-friendly CBD lubricant
---
Kush Queen Ignite CBD Lube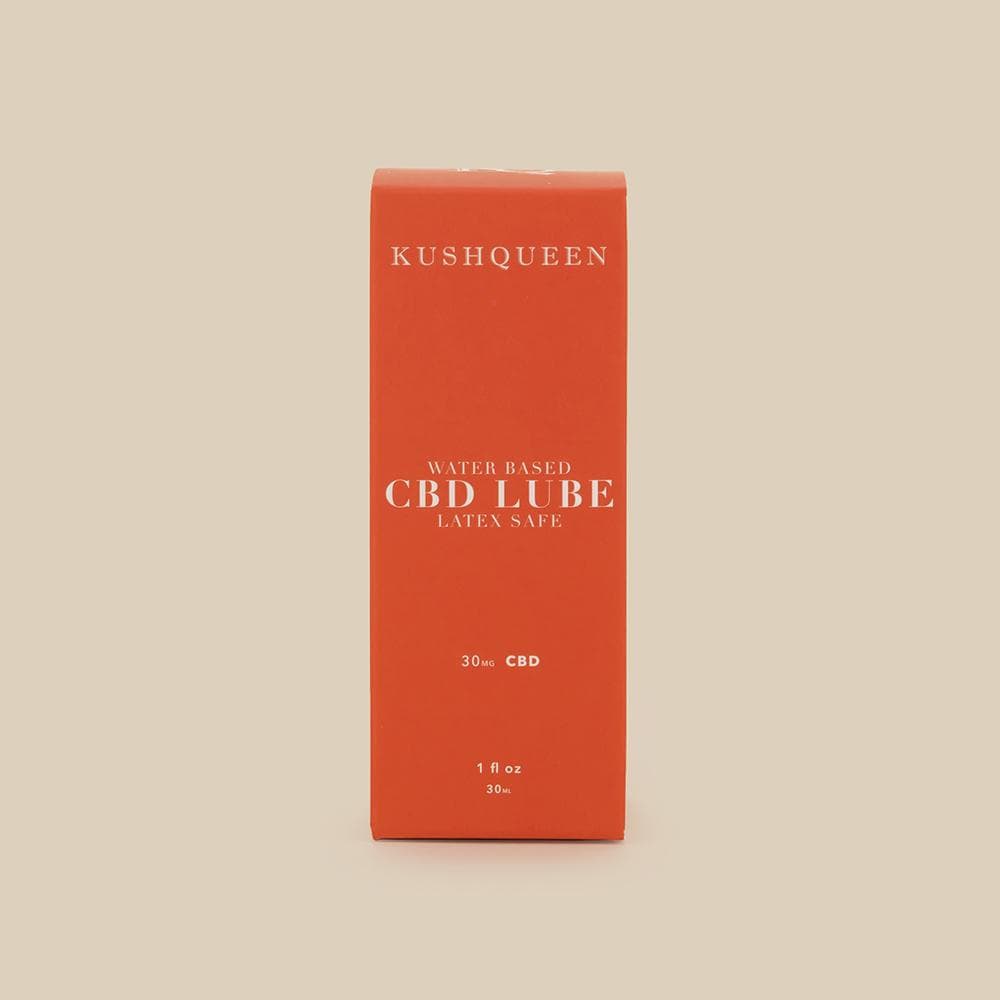 Highlights:
Latex-compatible
Made with nano-CBD
Water-based
Description:
Ingredients: Purified water, citric acid, hydroxyethylcellulose, hydroxypropyl, methylcellulose, potassium sorbate, sodium benzoate, xanthan gum, cannabis oil
Pricing: $1.67 per milligram
Company: Boosting your overall pleasure during sex through the use of CBD lubricants is nice. Having to sacrifice the use of condoms is not. The Kush Queen Ignite CBD Lube is the answer to this dilemma. It's water-based, so the good news is you can use it with condoms and without any worries.
It's quick, it's potent, and it's safe, which is why it's one of our top five best CBD lubricants. Plus, it's guaranteed to contain no THC. It's perfectly safe to use anywhere, but at the expense of scent. This is one of the few downsides. If you like the idea of fragrance to help set the mood, spray your pillow or light some candles beforehand. Then, lay back, relax, and let Kush Queen Ignite do the rest.
It's also worth noting that this CBD lubricant's nano-technology could improve its absorption and bioavailability, making it even more potent. A little goes a long way!
Shipping: Free shipping on all U.S. orders over $49
Returns: When purchased through Direct CBD, unopened products returned within 30 days are eligible for a full refund.
Best for: Those looking for a water-based and latex-safe CBD lubricant.
Why Use Lubricants?
Why have sex? While we're sure you have your own laundry list of reasons why (I'm in the mood! I just got married! I want a baby!), the proof is in the pudding. Sex makes us feel closer to the ones we love. Intimacy creates trust and instills a sense of togetherness. It's the act of two people coming together in love.
But sex has plenty of other benefits for your health and happiness. Sex can boost your body's antibodies, helping you fight colds. It can help you sleep. Some research even suggests it can lower blood pressure, risk of heart attacks, or even prostate cancer risk.
But it's not enough to just have sex; you have to enjoy it. Lubing up can help smooth things out, get things started, and keep all your tissues in tip-top shape. Lube isn't always necessary, but it makes the situation markedly better. It can add to the ease of sex in those early moments when it can seem tense. It can help prevent vaginal tearing and pain from insertion. Plus, not only does lube help get things started, but it also aids in a big finish.
Various medical conditions in women, such as vaginal dryness due to hormonal changes, vaginismus, or vestibulitis can contribute to painful sex. If this is the case for you, using CBD lubricants can restore pleasure through comfortable and exciting sensations.
The list of reasons why you should use lubricant is pretty endless. However, if you want to add a little touch of added excitement to your experience, CBD lubricant can help.
What Does a CBD Lubricant Do?
As it turns out, CBD lubricants, in particular, are great for going the distance. While CBD lubes are great for making things a little less rocky during sex, you can also use them as a massage oil to get the heart pumping and the juices flowing. Pro tip: If it's safe for use inside the body, it's safe for the skin.
CBD lubricants give you heat and excitement, but they may also create a sense of ease and calm. This serenity helps keep you chill longer, resulting in a slightly longer session and a more intense climax.
There's a reason that sexual arousal is akin to getting the blood flowing; that's literally what it means. This is another area of sexual wellness where hemp shines. Cannabis (and, of course, hemp) is a "vasodilator," meaning it expands the blood vessels and increases circulation and blood flow. This blood flow, as a result, boosts sensations and intensifies orgasms.
Are CBD Lubricants Only for Women?
Is sex just for women? Of course not! CBD lubricants aren't either.
No matter what's on the package, CBD lubricants are non-discriminate and meant for people of all genders. Being open to trying something new can be exceedingly sexy, and thinking about lube is a sure sign that you care about your and your partner's experience.
Is CBD Lubricant Edible?
Simply put, if it's safe to insert down below, it's safe to insert up above.
All of the products listed here are intended to be used for intimacy. While some, like Foria Awaken Arousal, taste better than others, yours and your partner's body will remain lickable and kissable even after you add lube to the mix.
Is it Safe to Use Lubricant With Condoms?
This is a fundamental question to ask when you're looking into purchasing CBD lubricants. While some are water-based and perfectly safe to use with your protection, others made with oil, including coconut oil, will cause condoms to break down.
If latex is an element in your lovemaking, be absolutely sure you choose an option that won't compromise your condoms.
Are There Ingredients to Avoid in Lubricant?
While water-based lubes are great for protecting your protection, women should be cautious about another ingredient: glycerin. Vaginal pH balance is delicate, and the addition of glycerin could potentially cause natural yeast to overpopulate and cause yeast infections.
While there are a few ingredients and scenarios to avoid, CBD-infused lubes should, by all means, be wholly embraced.
How much CBD Lubricant should I use?
As with all applications containing CBD oil, you will need to use the minimum recommendation and then increase as needed. Generally, all types of CBD products can affect people in different ways, meaning what's good for one person may not even affect another at all. When it comes to CBD lubricants, start with the least amount and then increase when needed to accommodate comfort and sexual pleasure.
Can I have an allergic reaction to CBD Lubricant?
Before using in an intimate setting, make sure you are not allergic to CBD lubricant. Perhaps the easiest way to "test" it out is to apply in a small area on the arm. If a patch test proves no allergic reaction, then you are probably good to go.
Allergic reactions to CBD products are rare; however, please be self-aware of any changes due to the use of CBD lubricants!
Disclaimer: As with any type of medication, checking with your doctor first is a smart thing to do. CBD lubricants often contain scents or other elements that can cause excessive irritation; therefore, doing more harm than good. If you take other medications, follow your doctor's advice on the topic!
What to Look for in the Best CBD Lubricant
No one, not even your partner, knows you better than you know yourself. When you engage in physical intimacy with someone else or on your own, you're relinquishing your body to achieve pleasure.
For some people, this is often nerve-wracking instead of exciting. CBD lubricants that are particularly potent in CBD, like Ananda Hemp's Bliss Intimate Oil, can help to relax the area from anticipation and promote arousal through blood flow thanks to natural aphrodisiacs.
Other lubricants will be able to do the same but with a touch less of CBD and a heavier hand on sweet smells to create an all-around pleasurable experience.
The CBD content isn't the only thing to be mindful of. Take good stock of how you intend to engage in sex, particularly protected sex, as this will guide your choice in CBD lube.
Methodology: How Do We Know These Are the Best CBD Lubricants?
Although the FDA has only approved CBD prescription products to assist in two forms of childhood epilepsy that are very rare, Dravet syndrome and Lennox-Gastaut syndrome, over-the-counter CBD has not been approved by the FDA.
Therefore, no, we don't have crystal ball-insight about how effective it is. Instead, we search out some specific qualities before adding products to our top CBD lists based on many factors. But, keep in mind that the effect of CBD oil in any type of product can yield a wide array of individual results. In the case of lubricants, here's what we're looking for:
For a product that's going on a pretty sensitive area of the body, we want to be sure of the ingredients and amounts. Still, it's also essential to ensure there are no possible contaminants like heavy metals, pesticides, or mold. Third-party lab reports provide all this information in the form of COAs (certificates of analysis). This documentation should be easy to find on each brand's website.
Unlike food or health supplements, CBD has not been held to the same labeling standards. Until the regulations are more precise, brands should provide this information without being required to, and we place a priority on those companies that do. You deserve to know what's in the product you're purchasing, along with easy-to-understand directions for use, where it was manufactured, and any other pertinent information.
United States–Farmed Hemp
Except for a few trusted European growers, we select brands that source their hemp from farmers here in the United States. U.S. hemp is grown under a specific and strict set of rules, which renders it some of the world's cleanest and safest. Ultimately, everything that's in the hemp makes its way into your CBD products, so it's crucial that we know its origins.
Cost per milligram of CBD is the fairest and most accurate way to tell if the product you are purchasing is a good value. While the price tag may be enticing, if there is hardly any CBD in the product, it won't give you the same bang for your buck as a similar, more expensive product containing more of the compound. This is also true in reverse; the most costly CBD lubricant may not be the best value.
Customer Service and User Experience
With so many ways to keep customers happy, there's absolutely no excuse for poor customer service. We look at everything from how easy it is to navigate the website to how responsive the customer service is. It benefits a company, as well as the customer, when they provide easy-to-find information that you will need to place an order. Asking questions should be a straightforward experience. Buying CBD should be a pleasure, never a hassle.
Word of mouth is still one of the best ways to find really great products. As you might imagine, this has never been truer than it is with CBD lubricants. A brand can have a great marketing campaign, but ultimately, it's the end-users who will either build a company up or tear it down. We scour social media, forums, and reviews to see what real people are saying about a brand's CBD intimacy products.
---
Additional Resources: