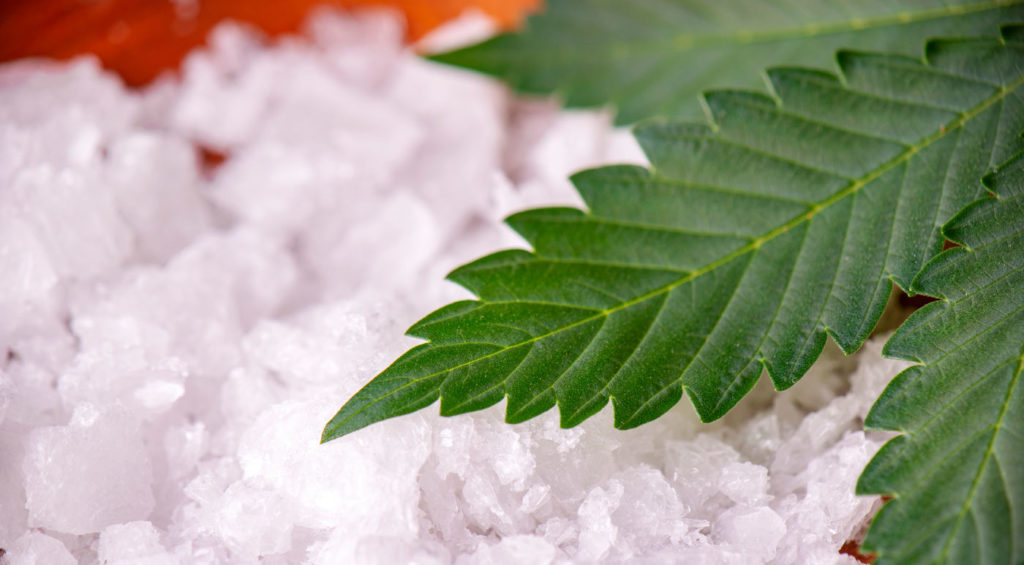 Do you want just the benefits of pure CBD (cannabidiol) without the added frills of CBD edibles or other consumables? Perhaps you're an amateur chef and want to whip up a batch of homemade CBD cookies. Or a diy-er who wants to make lotions, soaps, or other notions containing CBD.
Whatever you're end goal is, you want to use the best CBD concentrate, wax, etc. you can find. You can add CBD concentrate to recipes for drinks, baked goods, lotions, or other self-care products. CBD isolates can be used in a vape pen, dabbed with a water pipe, or dissolved under your tongue for a quick hit of high-strength CBD.
There are plenty of options for CBD available for any intended use. Here we list the 10 best CBD concentrates, waxes, etc. that are available in the United States today to help you find the right one for you.
Table of Contents
---
CBD Concentrate 101
New to CBD concentrates, waxes, etc? Here's what you need to know to get started.
How Are CBD Concentrates Made?
Like other CBD products, CBD concentrates come from hemp extract or hemp seed oil. Various processes are used to remove other components from CBD oil, until you are left with mostly pure CBD.
How Do You Use CBD Concentrates?
Essentially, CBD concentrates are hemp oil or purified CBD in an ultra-concentrated form that you can dilute to the strength you prefer, in any kind of substance you like. Those in crystalline or powdered forms are especially good for mixing into foods and beverages.
CBD waxes, budders, and shatters are also popular forms of CBD for vaporizing, or "dabbing." These forms of CBD can be heated on a hot surface to be flash vaporized and inhaled. You can use a combination of a dab nail, modified water pipe, and lighter to do this, or a more convenient (and expensive) e-nail. Concentrates can also be added to vape liquids for use in regular vape pens.
Since it can be tricky to get the concentration and the heating right when dabbing, we recommend that first-time users get instructions from someone with more experience.
Types of CBD Concentrates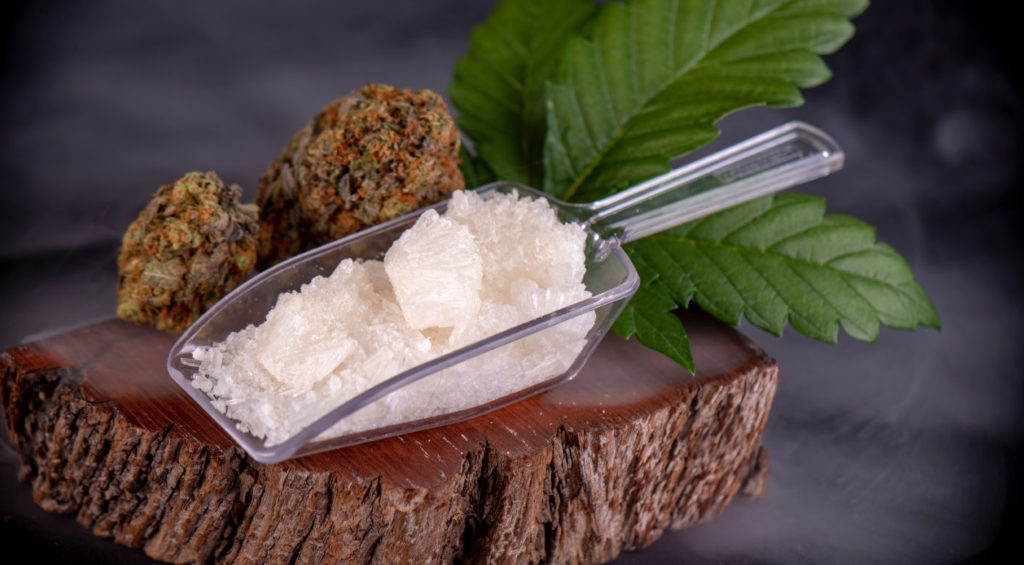 Oil: Tinctures with high amounts of CBD concentrated in a plant oil carrier, such as coconut oil, MCT oil, or olive oil
Waxes: Dense, solidified CBD oil that is opaque; can be shaped or sculpted
Budders: Thick CBD oil that is part liquid, part solid; can be scooped or spread like peanut butter
Shatters: Clear shards of crystallized CBD with a glass-like appearance
Isolate Powders: Purified CBD in an easily mixable and dissolvable powder form; often in purities of 99% CBD or higher
---
The 10 Best CBD Concentrates, Waxes, Etc.
The following are the 10 best CBD concentrates, waxes, budders, shatters, and powders you can find in the country. We've chosen them because of their brands' commitment to sustainable agriculture, health and well-being, and customer service. Rave reviews from fellow CBD enthusiasts helped our decision making.
We had a few important criteria for inclusion in this list: each company has to source their CBD from organic, pesticide-free, non-GMO hemp; use vegan-friendly manufacturing processes; test their products through third-party labs for potency and purity; and have products that can be shipped to anywhere in America (by using industrial hemp, as defined by the FDA).
1. CBDistillery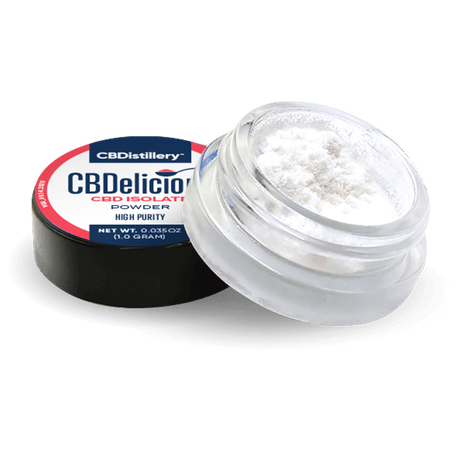 CBDistillery frequently tops the charts with many of its CBD products. Their CBD isolates, derived from sustainably-farmed hemp and purified using a CO2 extraction method for the highest quality CBD concentrate possible, are no exception. They have certification from the U.S. Hemp Authority to back them up as well.
In addition to standard CBD powder, CBDistillery's CBDelicious powder is specially formulated for people who want to use it as an ingredient in homemade edibles. It is designed to be flavorless so it doesn't impact the final flavor of whatever tasty treat you may be making. In a crystalline form it is especially easy to mix in foods and drinks, much like salt and sugar. The company's dedication to quality and consistency, as well as the variety of options it provides, makes it a shoe-in for our #1 pick among the 10 best CBD concentrates, waxes, etc.
Price: $27-$38 per gram
Strength: 99%+
---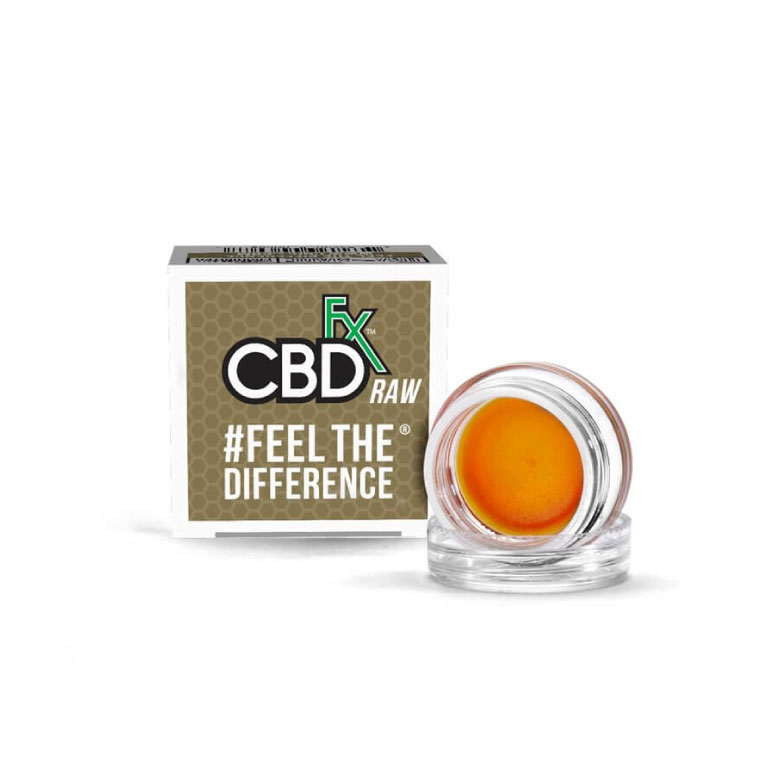 The CBD wax from CBDfx is made especially for dabbing. It is made with full-spectrum oil, which contains beneficial terpenes, amino acids, and other cannabinoids in addition to CBD. Customers say that this wax is easy to use because it is not too sticky.
Price: $49.99 per gram
Strength: 30%
---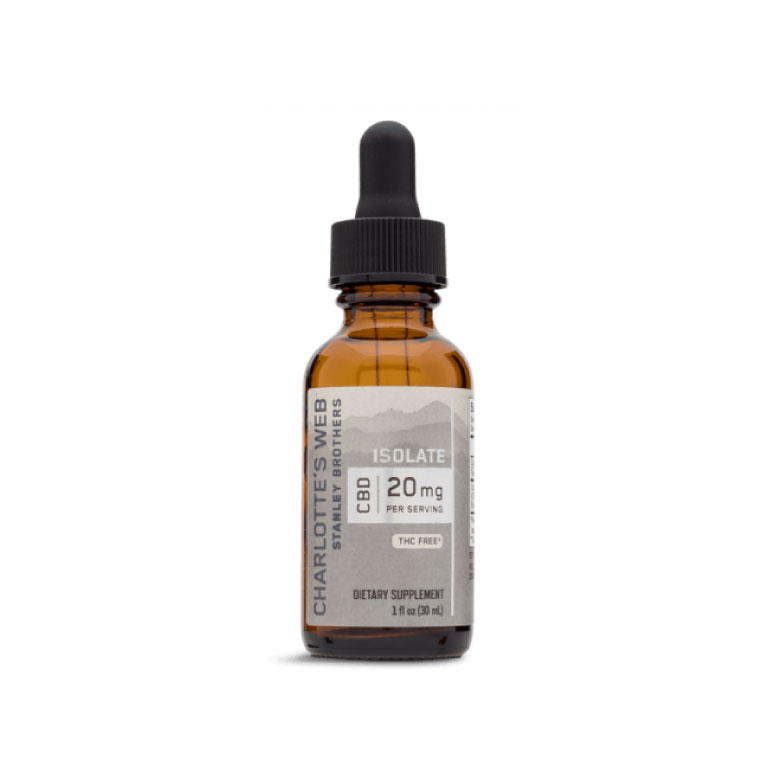 Rounding out our top three best CBD concentrates, waxes, etc. is an oldie (in terms of CBD manufacturers) but a goodie. Charlotte's Web was one of the first CBD companies to enter the market, and it's established a renowned brand and a loyal following. They are certified by the U.S. Hemp Authority and guarantee top-quality products. You can rest assured that you are supporting an ethical company, that has a thriving employee volunteer program and donates 2% of its pre-tax proceeds to charitable causes.
Charlotte's Web offers a liquid CBD concentrate. This oil is flavorless and has a very high concentration of CBD in each dropper serving. You can either take it straight like standard CBD oils or mix it into homemade goodies.
Price: $99.99 for 30mL
Strength: 20mg CBD per 1mL serving
---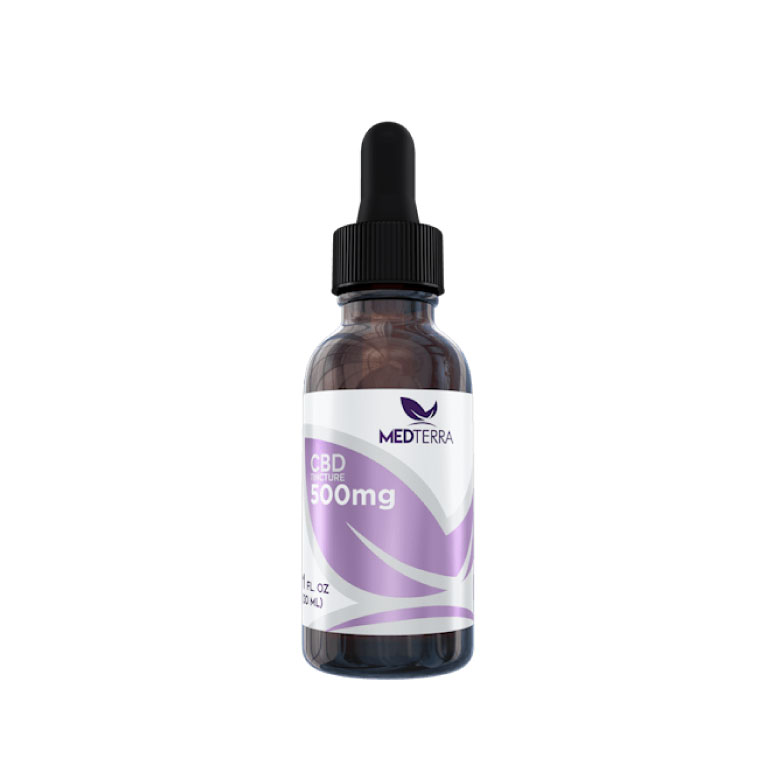 MedTerra's products all contain 99% pure CBD and are guaranteed to be THC free. Thus, they can be shipped anywhere in the United States as well as some other countries. Certified by the U.S. Hemp Authority, this Kentucky-based company uses non-GMO, organic hemp in all its products.
At MedTerra you can find one of the highest concentrations of CBD oils available, with 100mg of CBD per milliliter. Try it out if lower dose CBD oils haven't been cutting it for you, or dilute it in drinks, edibles, or cosmetics of your choice.
Price: $132.99 for 30mL
Strength: 100mg CBD per 1mL
---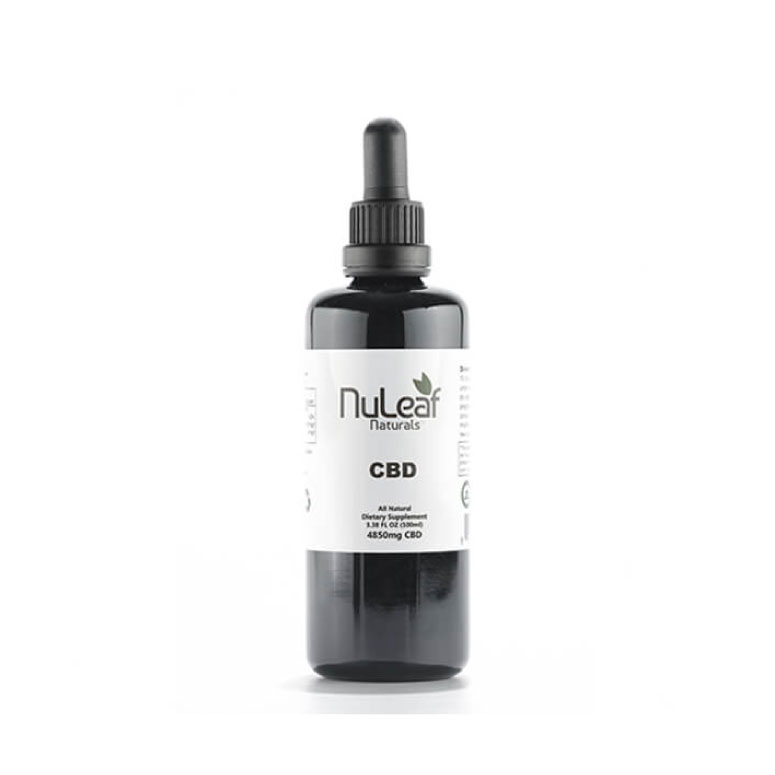 NuLeaf Naturals' selling point is in their name: all-natural CBD products made without synthetic ingredients. This Colorado-based company uses a CO2 extraction process, which does not introduce solvent chemicals into the final product. CO2 extraction also means that all the other beneficial cannabinoids and terpenes from the hemp plants are included in their full-spectrum oils.
NuLeaf Naturals sells one of the highest quantities of CBD oil you can find. You can buy bottles of their high-strength CBD oil in bulk for greater value.
Price: $30 per 100ml
Strength: 48.5mg CBD per 1mL
---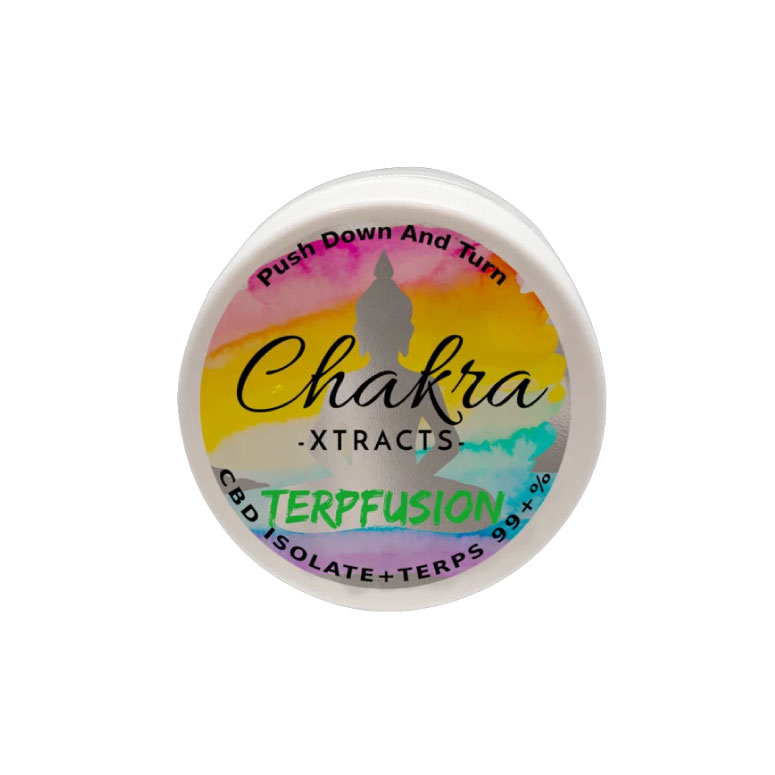 Chakra Xtracts makes CBD concentrates that are specifically formulated for dabbing. Chose between dabs with pure CBD isolates, full-spectrum hemp oil, or infused with xtracts terpenes. These come in a variety of tropical flavors like mango, pineapple, and lemon. Animal lovers take note: Chakra Xtracts donates 2% of its profits to help homeless pets.
Price: $27.99-$44.99 for 1000mg
Strength: 99%+
---
7. CBD Health Products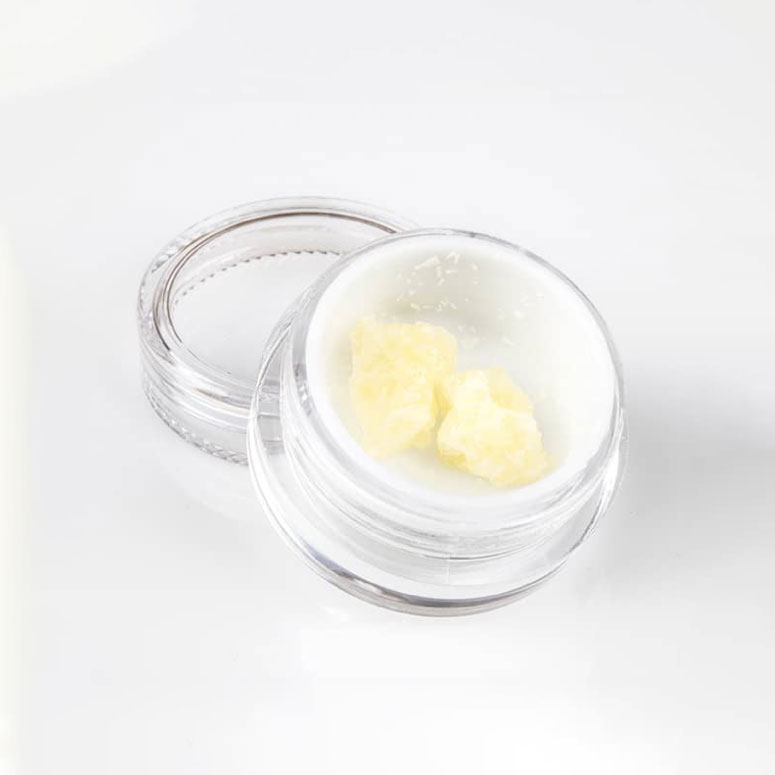 CBD Health Products specializes in CBD concentrates. They offer a variety of dabs, shatters, and vapes in different flavors, in addition to CBD gummies and tinctures for pets. In addition to CBD, their dabs and shatters contain CBG (cannabigerol) and CDT (cannabis-derived terpenes). The variety of their products, along with their commitment to quality, earn CBD Health Products a strong standing in our picks for the 10 best CBD concentrates, waxes, etc.
Price: $55-$60 per gram
Strength: 90% CBD, 5% CBG, 5% CDT
---
We apologies, it appears this product is no longer available.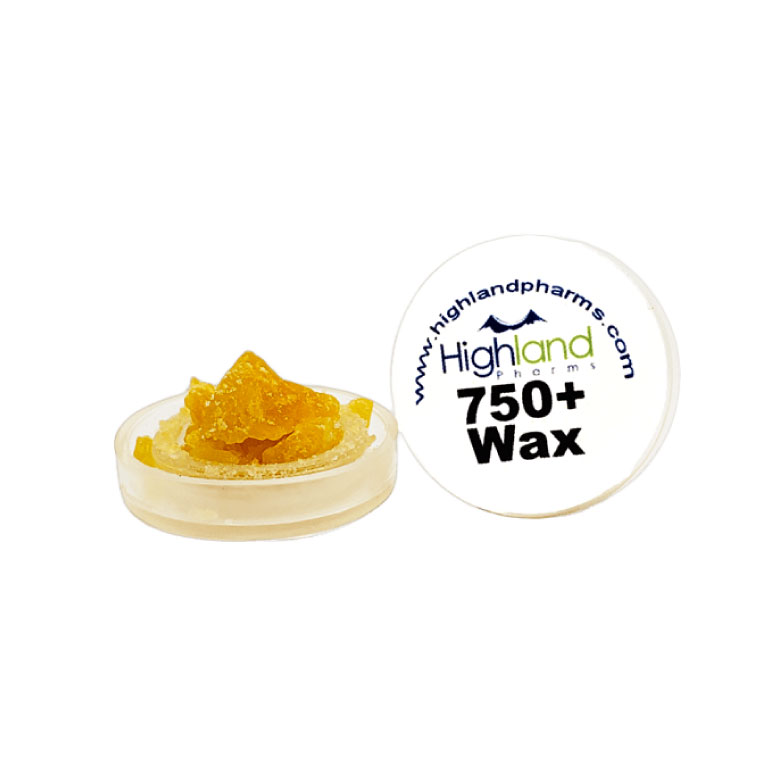 Highland Pharms has an assortment of CBD waxes, shatters, and crystals for dabbing whichever way you prefer—in a vape cartridge, pipe, bowl, or other. These come in a range of concentrations so you can fine-tune your dab dose. Their CBD shatters come in tropical flavors like orange and strawberry banana, while their waxes are more subtle with notes of citrus and pine.
Price: $49.95-$79.95 per gram
Strength: 30%-99.9% CBD
---
We apologies, it appears this product is no longer available.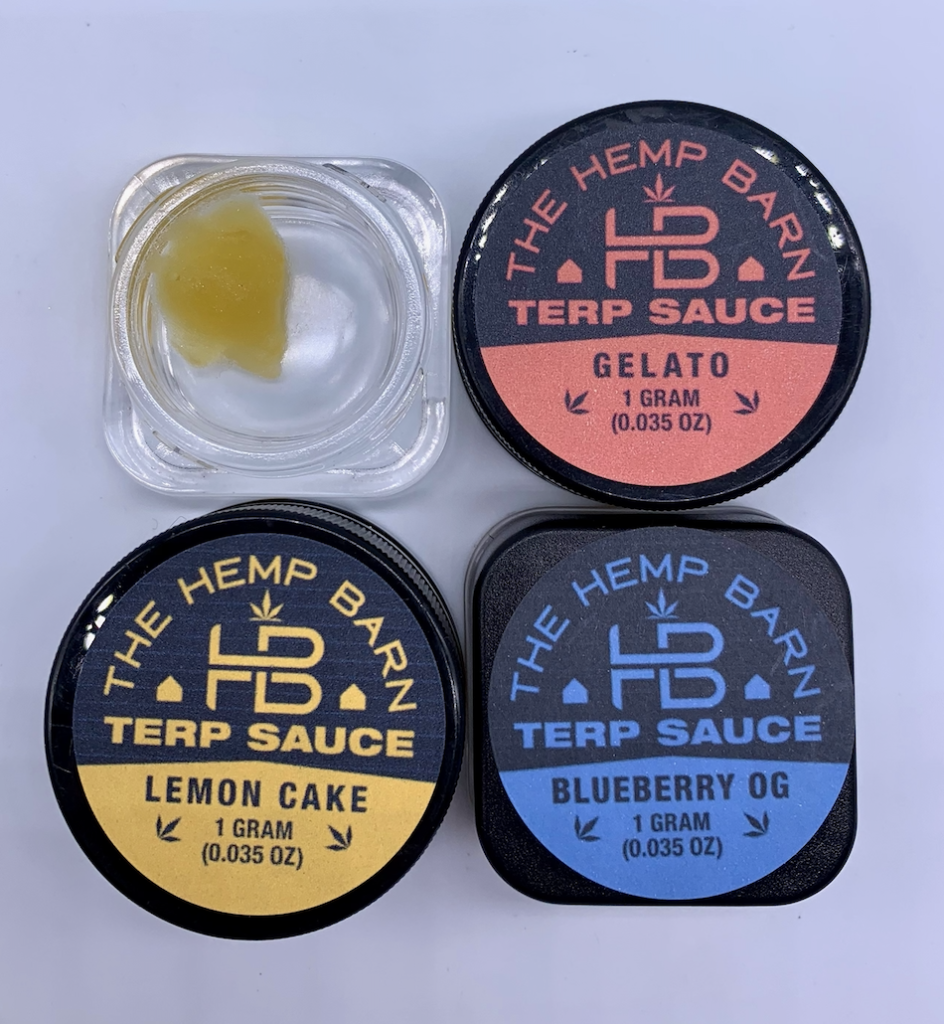 Though without a variety of flavors, you have a choice in the strain of hemp in CBD products from The Hemp Barn. If you are a true cannabis connoisseur or are loyal to a particular strain, you can go here to exercise your choice. The Oregon-based company sells quality CBD concentrates in several styles, including dabs, crystalline isolates, and vape cartridges. Their terp sauce is a blend of CBD with terpene isolates, making a thick liquid for dabbing.
At $15 for a gram of 99% pure CBD isolate, they offer one of the best prices on straight-up CBD.
Price: $15.00-$44.99 per gram
Strength: 70%-99% CBD
---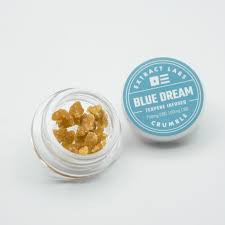 Wrapping up our choices for the 10 best CBD concentrates, waxes, etc. is Extract Labs. Proud to use American-grown hemp, Extract Labs offers full-spectrum CBD concentrates and high-strength tinctures.
They purify their hemp oil using a CO2 extraction process, getting all the terpenes and other phytochemicals from the hemp without introducing harmful chemical solvents. Their concentrates contain high amounts of other cannabinoids in addition to CBD, including cannabigerol (CBG) and cannabinol (CBN), and are infused with extra beneficial terpenes.
Extract Labs also offers one of the greatest varieties in flavors of CBD shatters and crumbles. Choose from classic favorites like cookies or cherry wine, or ones with special strains of cannabis adding unique tastes. Buy these in bulk for a discounted price.
Price: $50 per gram
Strength: 80%+ CBD, plus other cannabinoids
---
Health Benefits and Side Effects of CBD Concentrates
The Endocannabinoid System
Cannabidiol (CBD) is a type of cannabinoid, an organic molecule used by your body's endocannabinoid system (ECS). The ECS sends chemical messages between neurons to control several of your body's important functions, such as memory, temperature, appetite, and pain. When cannabinoids bind to specific receptors on your nerve cells, they elicit a biological response that helps regulate these functions.
There are many benefits of CBD on the ECS. CBD works by circulating through your bloodstream until it binds to cannabinoid receptors on the neurons in your brain and nerves. This can cause several effects, including:
Relaxation
Reduced anxiety
Pain relief
Better sleep
Neuroprotection (healthier brain and nerve cells)
Decreased inflammation
The Entourage Effect
Industrial hemp plants and cannabis plants contain many beneficial bioactive compounds besides cannabidiol (CBD) and tetrahydrocannabinol (THC). While both plants are related, the CBD in the above products comes from the industrial hemp plan. This plant contains only trace amounts of THC (0.3%), which is the component that gives cannabis users a "high" feeling, and it's that very small amount of THC that makes these products legal in the U.S.
There are dozens of other cannabinoids in hemp, including cannabinol (CBN) and cannabigerol (CBG). Hemp oil derived from the whole plant (not just hemp seed) is known as full-spectrum or broad-spectrum oil and contains these other cannabinoids as well as trace amounts of THC (within legal limits). When CBD and other cannabinoids are used together, they work together and create what's referred to as an "entourage effect," which may increase the benefits some people see from CBD.
For users who want to be sure there is absolutely no THC in their products, there are CBD isolates which, as the name indicates, isolates the CBD and includes only that component in the products.
Compared to other pharmaceuticals that are used for neurological conditions, CBD has a very good safety profile. That being said, like any bioactive product, it does have a few potential effects. The most common side effects from CBD use include:
Drowsiness or sleepiness
Dizziness
Diarrhea
Changes in appetite or weight
The method by which you consume CBD can also come with its own health complications. For example, dabbing or smoking CBD can cause coughing or shortness of breath. Recently, a rare but serious lung disease has been linked to vaping cannabis products. For these reasons, you may want to avoid inhaling CBD products, especially if you have any pulmonary disorders.
Because CBD products are not regulated by the FDA, always make sure any CBD products you buy are third-party tested for quality and contaminants. And if you aren't sure where to begin your search, get your information from a reliable source of CBD product information to ensure you get the best CBD concentrates, waxes, etc. available.
---
Additional Resources on CBD Edibles: