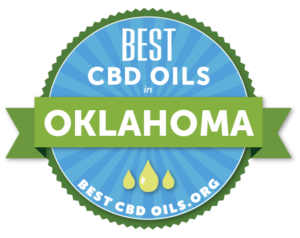 Are you wondering where you can buy the best CBD Oil products in Oklahoma? We've got you covered.
The Best Places to Buy CBD In Oklahoma
Oklahoma is becoming one of the Southwest's best states to buy CBD, with premium CBD products at affordable prices. In addition to its recreational appeal, CBD offers a range of health advantages — from stress reduction to evidence of potential cancer prevention — which makes it one of the fastest growing alternative health and wellness products on the market. Most important, hemp-derived CBD products have zero intoxicating properties, and it comes in a variety of forms like oils, lotions, edibles, juices, and tinctures.
Is CBD Legal in Oklahoma?


A popular vote referendum for medical marijuana passed in the state of Oklahoma in 2018, allowing for eligible patients with a medical recommendation to obtain, possess and use medical marijuana and marijuana-derived CBD products. Despite the fact that recreational marijuana use is still illegal in the state, the possession of small amounts of leaf cannabis has been decriminalized to an extent. Many residents of Oklahoman have voiced their support for broader medical marijuana laws and for laws allowing adults to use recreationally and to possess marijuana for personal use. While the state is still making progress, marijuana-derived CBD is only legal for medical cannabis patients.
CBD products that are derived or extracted from industrial hemp sources have been formally legal in the state since 2015. Even prior to this law that explicitly made industrial hemp and industrial hemp-based products in the state, industrial hemp–particularly hemp-extracted CBD–was very popular with many of the state's residents. It only seen even larger growths in the hemp business since the legality of industrial hemp was made clear. Oklahoma City by far has seen the most growth, with numerous CBD specialty shops springing up ever since the CBD health scene first started sprouting.
Best CBD Shops in Oklahoma City
Oklahoma City is the best place to buy CBD in Oklahoma, and a few shops in particular are worth highlighting:
Trichomes (1101 N Villa Ave, Oklahoma City, OK 73107) is a 5-star rated CBD shop with a major focus on customer service for both regular CBD buyers and first-timers. To lead customers through the wall-to-wall selection, Trichomes's expert staff offers insights on individual CBD strains, and makes sure that each customer's needs and interests are taken into account, including preferred price point, CBD strength, and previous CBD experience. The store also has some of the best hours in town: open seven days a week; Monday-Saturday 11AM-8PM, Sunday 11AM-6PM.
Established in 2017, Rick & Bunni's Smokeshop (5759 S Pennsylvania Ave, Oklahoma City, OK 73119) is a 5-star rated shop that carries premium CBD oils, water and tobacco pipes, and accessories. Reviewers highlight the shop's excellent customer service and cheap CBD prices. Open Monday-Saturday 11AM-10PM.
Herban Mother (607 NW 28th Street, Oklahoma City, OK 73103) is an herbal shop and health market that offers a wide variety of products: natural oils, butters, and hemp-derived CBD oils, lotions, tinctures, edibles, capsules, and more, including CBD for pets. Appointments are welcome but never required; open Tuesday-Saturday.
Best CBD Shops in Norman
Located in the South Oklahoma City suburb of Norman, 13 Vapor Co (1004 24th Ave NW, Norman, OK 73069) is a 5-star heap and vape shop that carries premium and house-blend juices, high-quality CBD products, and accessories like mods, tanks, and coils. Conveniently located off I-35, customers give positive marks for personalized customer service, cheap prices, and a friendly, knowledgeable staff. Open seven days a week: Monday-Saturday 10AM-8PM, Sunday 12PM-6PM.
Best CBD Shops in Stillwater
For Stillwater residents and Oklahoma State students, Vapor Supplies Unlimited (704 N Main St, Stillwater, OK 74075) offers premium medicinal CBD oil products at several price points. Customer service is a major point of emphasis, and regular customers can earn rewards points to get discounts on high-quality CBD products. Open seven days a week: Monday-Saturday 10AM-8PM, Sunday 12PM-8PM.
Best CBD Shops in Broken Arrow
There are two places in Broken Arrow to buy CBD.
First, Buzzn Smoke & Gift Shop (1921 S Elm Pl, Broken Arrow, OK 74012) is a premium vape shop established in 2016 with one of the best CBD product selections in East Oklahoma, including oils, edibles, and tinctures. Hookahs, water pipes, and other accessories are also available, and all products are always priced fairly. Open seven days a week: Monday-Saturday 10AM-9PM, Sunday 12PM-8PM.
Vape Away (1312 N Elm Pl, Broken Arrow, OK 74012) is another great place to buy CBD, premium e-juices, hookahs, mods, and other vape accessories. Staff is knowledgeable, and prices are cheap. Open seven days a week: Monday-Saturday 10AM-7PM, Sunday 10AM-2PM.