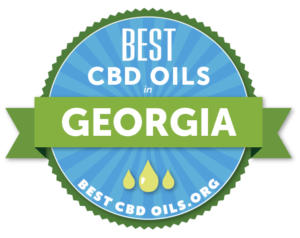 We put this guide together to help Georgia residents find the best CBD oil product options in the region.
Is CBD Legal in Georgia?


Medical marijuana use is on its way in Georgia. Laws were passed in March that would allow the sale of medical cannabis oil to the nearly 9,000 people that are already allowed to use the drug. Use of medical marijuana was legalized in 2015, but it wasn't until this year that Georgia has begun paving the way for patients to legally obtain a substance they've been allowed to use for quite some time. There are now six private companies authorized to grow medical marijuana, but distribution channels are still in the works. Thus, what Georgia calls 'Low-THC Oil' is completely legal for medicinal use, but it may be difficult to obtain. This seems to apply only to marijuana-derived CBD.
As for hemp-derived CBD, it is fully legal. There are some laws in place that appear to discourage the use of CBD among recreational consumers, but it was made explicitly legal by not only the 2018 Farm Bill at the federal level but also by a bill in Georgia. In early 2019, there was a bill passed in the state that allows the cultivation and sale of hemp and hemp products as long as they fall into federal guidelines. Hemp-derived CBD meets these guidelines because it has less than .3% THC; CBD companies are meticulous about following these guidelines, so you have nothing to worry about.
Best CBD Oil Shops in Georgia
Georgia's CBD market is expanding rapidly, fast becoming one of the best places in the country to buy CBD. The largest concentration of shops is located in North Georgia, in and around the Greater Atlanta Area, but CBD is always available for online purchase, as well. (For those willing to make a road trip, Florida has CBD shops in Jacksonville, Gainesville, and Tampa.) For your convenience, we've listed the state's best CBD shops below.
CBD shops are popping up all over Georgia. In the near future, you should be able to find CBD products in larger cities like Atlanta, Augusta, Columbus, Macon, Savannah and Athens. We expect even medium sized locations like Sandy Springs, Roswell, Albany, Johns Creek, Warner Robins, Alpharetta, Marietta, Valdosta and Smyrna will have stores with CBD for sale. Instead of waiting though, we've gone ahead and found the best cbd oil shops available right now and created the guide you see below:
CBD Oil Shops in Atlanta
There are nearly a half-dozen great CBD oil shops inside the Atlanta city limits . Here are a few to get you started.
Near Hartsfield-Jackson, Sam's Paradise Vape (3380 Sunset Ave, Hapeville, GA 30354) is among the best-rated CBD oil shops in the city, serving College Park, East Point, Forest Park, and all of Metro Atlanta. First benefit: new customers get an immediate 10% discount off any purchase – not a bad start. The selection is hard to beat, too. Sam's offers over 200 different premium e-juice flavors from over 40 different companies, plus vaporizers, electronic cigarettes, e-juices, vape starter kits, and a variety of other CBD oil products and gear. Since opening in 2015, the store has gained a devoted customer base thanks to personal customer service, affordable prices, and a very knowledgeable staff, eager to guide you through the wall-to-wall shelve stocks. Open seven days a week: Monday-Saturday 11AM-9PM; Sunday 12PM-7PM.
If you're in northwest Atlanta, check out The Fog Lounge Vape Shop (3662 Chamblee Tucker Rd, Chamblee, GA 30341), just off the I-285 Chamblee Tucker exit. Boasting a perfect 5-star rating, Fog Lounge sells some of the best CBD oil products in town – including a stellar selection – plus house-crafted e-juices, over 150 mods in stock, 100 juice brands, incense, and more. Prices are very affordable and the store offers to match or beat competitors. In particular, customers seem to emphasize quality customer service: a knowledgeable staff that's ready to help both novices and experienced users navigate the (almost) overwhelming variety of products. Open seven days a week: Monday-Thursday 10AM-9PM; Friday-Saturday 10AM-10:30PM; Sunday 10AM-8:30PM.
Alternatively, stay inside 285 just across the way at Vape Central (3350 Chamblee Tucker Rd, Atlanta, GA 30341), which has a 4.5-star rating based on 20+ reviews. As with Sam's Paradise, first-time customers are treated to a 10% discount on your CBD oil purchase or any other of your favorite products — mods, e-liquids, CBD-infused juices, vapes, batteries, drip tips, replacement coils, tanks, etc. Open seven days a week: Monday-Friday 10AM-10PM; Saturday 10AM-11PM; Sunday 11AM-9:00PM.
CBD Oil Shops in Roswell and Alpharetta
Established in 2013, Haze Vaporizers (1425 Market Blvd, Roswell, GA 30076) has a perfect 5-star rating, dirt cheap prices, and a $5 discount on your first purchase. Still not convinced? The store offers one of the best CBD selections in the state, in addition to more than 1,000 vaporizer products, mods, batteries, tanks, e-juice, and the biggest brands on the market. Open seven days a week: Monday-Saturday 9AM-9PM; Sunday 12PM-8PM.
Just up the road, Alpha Smoke (221 S Main St, Alpharetta, GA 30009) is another 5-star rated CBD shop with a wide variety of products and excellent customer service. Check in for high quality CBD oils and more. Open seven days a week: Monday-Thursday and Sunday 11AM-7PM; Friday-Saturday 11AM-8PM.
Finally, Sam's Paradise Vape has a new location in Mountain Park (14865 Hwy 92, Woodstock, GA 30188), offering all the products at the College Park store for the Northsiders.
CBD Oil Shops in Kennesaw, Marietta, and Smyrna
Cloud 9 Smoke & Vape Co (3600 Cherokee St, Kennesaw, GA 30144) is Kennesaw's one-stop shop for CBD oil needs. Offering an $8 for $10 voucher on Yelp, Cloud 9 has low prices, a full line of CBD products, and a knowledgeable staff to point you in the right direction. Open seven days a week: Monday-Friday 10AM-11PM; Friday-Saturday 10AM-12AM; Sunday 12PM-9PM.
In Smyrna, One Luv Smoke Shop (579 Concord Rd SE, Smyrna, GA 30082) has a motto we can get behind: "Best Customer Service & Best Price." In addition to premium e-liquids, starter kits, etc., One Luv carries premium CBD oils for a bargain. Open seven days a week: Monday-Thursday 10AM-9PM; Friday-Saturday 10AM-10PM; Sunday 12PM-6PM.
CBD Oil Shops in Cumming
Cumming residents should be sure to visit Vapors Emporium (655 Atlanta Hwy, Cumming, GA 30040), a 4.5-star rated shop that carries high quality CBD, kratom, and specializes in premium juices from across the country. Established in 2014, Vapors Emporium has already built a devoted clientele who can vouch for the friendly and professional staff. Open seven days a week, with excellent hours: Monday-Saturday 10AM-10PM; Sunday 12PM-6PM.
CBD Oil Shops in Lawrenceville
Vape Cabin – Smoke Shop & Hookah Lounge (1956 Duluth Hwy, Lawrenceville, GA 30043) holds a 5-star rating, Lawrenceville's primary CBD connection. Established in 2010, Vape Cabin carries a variety of CBD oil products and a number of other accessories. Open seven days a week, with excellent hours: Monday-Thursday 10AM-9PM; Friday-Saturday 10AM-12AM; Sunday 12PM-8PM.
You can also find CBD Products online and have them shipped to you!