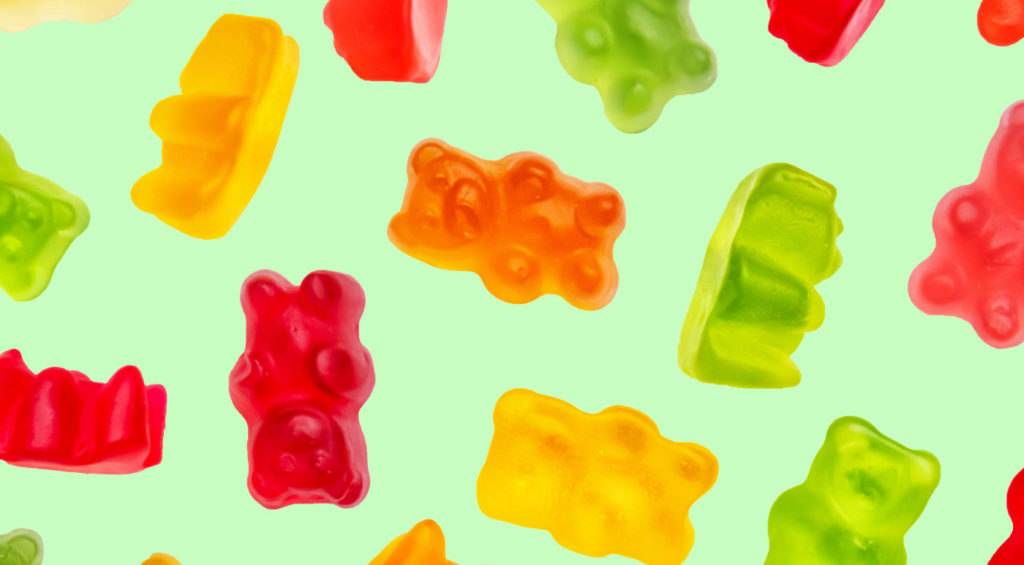 Why are there so many different ways of taking CBD?

This is a common question among newcomers who are starting to consider CBD. The multitude of ways CBD can be taken–topicals, tinctures, capsules, gummies–is as varied as the reasons why you could find use from CBD–pain management, insomnia, anxiety.

It's the use the why you're using it that will ultimately dictate the how. Gummies can seem like a fun and easy way to get a dose of CBD oil, but there are a few things to consider before you buy a pack.

Do you experience daily anxiety? A gummy can come in handy. Taking a CBD gummy just as you would a Flinstone vitamin is a viable way to tackle face down mounting anxiety. Whether it's a busy, momentous, or particularly stressful day, one gummy to start can enable you to stand up against your nerves as you take on the day.
Best Overall:
Though we love a good underdog story, Kanibi is simply is the queen of CBD. The introduction of gummies to their product line is fairly recent, and it's a testament to the contemplation they put into their products. CBD isn't a one-size-fits-all (as much as most of the internet will try to tell you) and their relatively low dose per piece coupled with targeted formula for your individual needs makes them best in class.
Best for Beginners:
CBD FX has expanded on their line of tried and true gummies, but it's their original formula that's a great recommendation for all of those who are just getting started. Each gummy is worth only 5mg, which is a great place to start if you're unsure how much you'll need. At a 20 cent price per gummy value, it's a guilt-free purchase that will truly allow you to decide what's best for you without breaking the bank.
Best Cost/Value Ratio:
Either of the formulas you choose from CBDistillery will give seasoned CBD users the best bang for your buck. Each gummy is a whopping 30mg of CBD isolate, which breaks down to about 7 cents a mg. They're highly affordable, vegan, and quite popular as a CBD brand.

Best Customer Service:
Hemplucid has become a CBD company for the people. They're highly active all over the internet, both answering and asking questions for curious customers on Instagram, Reddit, and their other social profiles. The social team responds to customers, get feedback from their clientbase, and encourages customers to ask questions. They have a thorough FAQ page on their site and at the bottom of that page? An actual usable email address where you can reach out and ask anything else.
Without further ado, here are our Top 10 Best CBD gummies:
1. Kanibi
Kanibi now offers Organi Gummies, a high quality and affordable gummy, in addition to their oils and cream. These gummies offer a great taste at just 10 calories per gummy.

The Organi Gummies are made from Organic hemp that is infused into the gummy to give you the most benefits.
Kanibi understands the importance of having a range of products for each persons unique needs. These gummies are perfect for an on the go lifestyle, and the give you the control to have more precise dosing than other products. These gummies are double lab tested for a quality guarantee. They retail for $44 for 30 fruity chews.
2. CBDistillery
As an alternative to whole leaf gummies, you can try out a gummy made with CBD isolate from CBDistillery. This formula will completely separate CBD from other active cannabinoids, terpenes, or phytonutrients of the hemp plant.

Some people find comfort in knowing that the CBD they buy is truly only CBD. CBDistillery gummies have been heralded by plenty of news outlets like PopSugar, CNN, and Yahoo, for their vegan, GMO-free, and very tasty CBD gummies.

Though they limit what goes into the gummies, they offer their customers the option of a daytime or nighttime formula. Each of these gummies are 30mg and end up being about half the price per milligram of HempLucid's.

This is a great, affordable option of a gummy for anyone who's worried about drug-testing or the effects of THC.
3. CBD FX
If the 25 or 30 mg of the previous companies sounds like a lot per serving, CBD FX has a solution. Each of their gummies is infused with just 5 mg of CBD, making it a great beginner gummy.

When you're just starting out with CBD, it may take some time to discover how much of the stuff is needed to give you the desired effects. With easy to dose 5mg gummies, you can incrementally work up to your ideal serving.

These cute and cuddle bears aren't just good for beginners. Experienced users may also like the option to gradually dose throughout the day. They're also made with full spectrum, whole plant CBD, so those in favor of the entourage effect will find these to be quite useful.

The gummies come to about $1 each, and are completely vegan, organic, and made with USA-grown hemp. CBD FX also gives an x-ray into their formula by providing lab reports for every batch.

These gummies are perfect for newcomers to feel out the experience before splurging too much.
4. Hemp Bombs
Hemp Bombs marketing gets right down to it. The logos may be more attractive to experienced users, but these 15mg gummies are actually quite tame.

The price ends up costing you about 11 cents per milligram, which is a good deal for a 60-count bottle of gummies.

Their CBD gummies are designed to improve mood, promote sleep, and relieve pain. To help create mood-boosting effects, they also had some L-Theanine to the mix, which is a natural amino acid that is often taken to help with anxiety, depression, or even hyper activity.

These affordable and potent gummies are made with high-quality full-spectrum CBD that's lab tested. The gummy itself is made with corn syrup, gelatin, and artificial flavors. Though it's not all-natural nor vegan, it is still an affordable and potent option.
These gummies are perfect for those who are less concerned with what's in the gummy and more concerned with giving their mind and wallet a chance to relax.
5. Fab CBD
The ingredients in FabCBD create the holy trinity for CBD gummies. Their CBD Chews, as they like to call them, are made with all natural and vegan ingredients. The active ingredients are non-GMO CBD isolate from hemp organically grown in Colorado, and that's it.

These CBD chews are intended to support everyday stresses, help with exercise recovery, and promote a sense of calm and focus. With no additional ingredients or supplements, the 25 mg of CBD gets a chance to truly shine on its own.

When you break down what you're paying for in this simple, unassuming packaging, each chew costs about $2.13. Though it may seem like you're paying a lot for one gummy, consider this: for each 25mg chew, you're really only spending 9 cents per milligram.

The price is quite fair and although you'll have to spend more than $89 to get free shipping, you're covered by a 30-day money back guarantee.

These gummies are best for vegans and vegetarians.
6. Green Roads
If it's widespread recognition you're looking for from a product, follow the Green Roads. This company has had shoutouts or features from Forbes, Cosmopolitan, BuzzFeed, CBS, CNN, and plenty more. They call their pharmacist-formulated products "consistent," "best tasting," and "long-lasting" and the awards they've won can back up their claims.

In terms of their gummy offerings, the Relax Bears are one of our favorite ways to get a dose of CBD. The dose is mild. Generally speaking, 10mg falls somewhere in the middle of the road, which still leaves room to stack an extra bear on top if that's what you know your body needs.

Also, though it may seem like an all-natural path to take, Green Roads does contain some artificial coloring and corn syrup. However, this lab-tested CBD gummy is quite affordable.

These gummies are a great option for casual CBD users who don't mind foregoing all-natural for affordable.
7. Lord Jones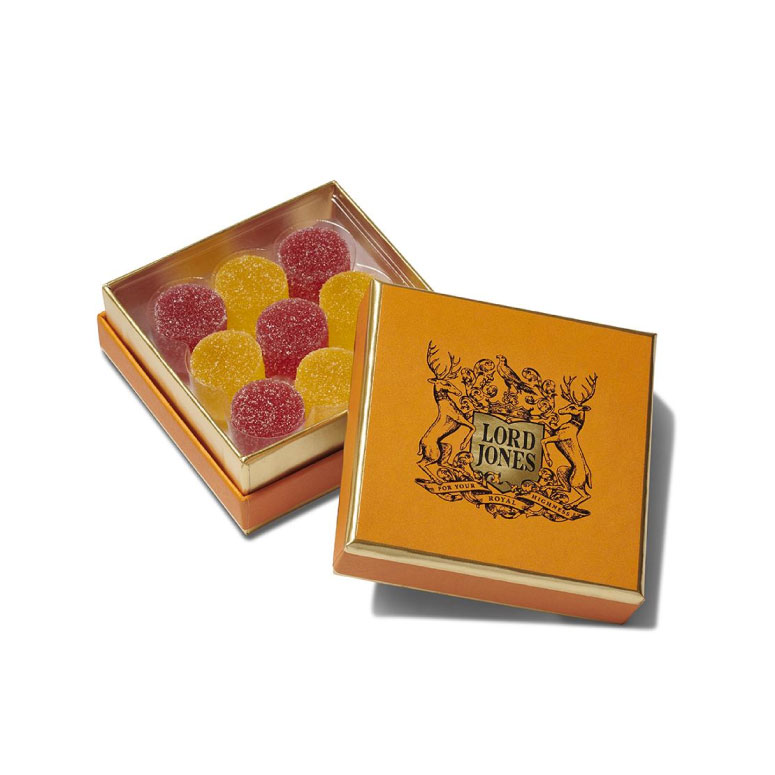 One delighted reviewer commented that "from texture to taste" Lord Jones Old Fashioned CBD gumdrops are the best in the game.

Another review was happy to find this product successfully helped alleviate anxiety and, as a bonus, ended up soothing some of her back pain.

The feedback on Lord Jones is undeniable. The Gatsby-like packaging presents you with a top-notch contender for CBD gummies that are lab tested, gluten-free, and made in the USA. For the not-so-good reviews, their customer support team is incredibly helpful. The team reaches out directly to dissatisfied comfort to offer help with dosage for those who aren't getting the intended (or hoped for) results.

That said, Lord Jones is a luxury that will cost you. A 9-count box comes at $45. The saving grace is that each gummy is 20mg, which is much more recommended for people who know that's the amount they need. Otherwise, if you find it isn't working for you, customer support is eager to help make things right.

Lord Jones are practically royalty among CBD brands. Similar to a box of Cuban Cigars, this pack makes a great gift idea for someone who knows and loves CBD.
8. HempLucid
The goal of HempLucid's products is to help you "experience life again." Their gummies are made from whole-plant extract, which means you'll get all the important components that come with CBD. It isn't isolated from the other active cannabinoids, like THC, so there will inherently be as much as a 0.3% concentration of THC present, but that's it. Arguably, this amount helps to boost the effects of CBD (called the entourage effect) so you can get the most of your gummies.

If you buy a back of 5 gummies, it ends up costing you $4 for each gummy, so you'll certainly want to get the most out of this purchase. If you're sure this is the brand for you can save 40 cents per unit if you stock up with the 30-piece supply.

Each piece is 25 mg of CBD, so it will likely give you a full dose with just one. If you're not sure how to work with a dose this large, their customer support team is available to assist you in making the best decision you can with their product.

These gummies are a great option for those who know they want true full spectrum CBD.
9. Highland Pharm
Unlike all of the companies who put CBD in their name, Highland Pharm is intent on sticking to the medicinal angle of natural ingredients. Their CBD gummies are made with organic ingredients, natural flavors, and full-spectrum hemp extract.

Highland Pharm believes in using full-spectrum so that you can get all of the natural phytonutrients available from the hemp plant. Each gummy comes filled with 10mg of CBD and the associated cannabinoids, which is a nice manageable dose. They even recommend that you can cut it in halves or quarters to adjust as needed.

Though some reviews say that there's a strange flavor to these little bears, the company contends that it's all part of the natural process. The undesirable taste has done little to curb enthusiastic buyers, who stand by the efficacy of Highland Pharm's gummies.

These gummies make for a good starter pack or ones to keep in the medicine cabinet for most-needed moments.
10. Joy Organics
Joy Organics achieves the surprising feat of creating a broad spectrum and THC-free gummy. The brand is dedicated to compassion, integrity, and excellence, and their all-natural, vegan gummies are a great example of this success.

These gummies are each 20 mg and lab-tested for purity. The lab tests also assure you that, though you'll get reliable phytonutrients from the hemp, there is no detectable THC.

The ingredients are holistic and very simple. It's flavored with apple juice, stevia, and coconut oil, and the only taste that might be off-putting to some customers is that of the natural hemp extract.

It will be easy to get used to once you start to appreciate the effects. It may take some time, but at 20mg even seasoned veterans will likely get some sort of relief through just one.

Joy Organics are also on the higher end of the price spectrum. However, Joy Organics promises world-class customer support and, if all else fails, a 100% 30 day money-back guarantee.

These gummies are great for shoppers who want to feel secure in the quality and support they get from a CBD brand.
Final Thoughts
With all of the pros there will surely come some cons, and that holds true to taking gummies like candy. Unlike topicals, which penetrate right into the skin, or tinctures which disperse right into your bloodstream, gummies are digested. Digestion puts it through the "first pass effect," subjecting the ingredients to the harsh (but helpful!) acidic environment of the stomach. By the time it's taken into the bloodstream, the amount of milligrams per serving will have been stripped down, making it slightly less potent than what it started as.

The upside to this bodily function battle against CBD is that what does get into the bloodstream is apt to stay there longer. The slow acting absorption is a great option if you're someone who needs to combat pain throughout the day or are hoping to stay cool, calm, and collected by the time the afternoon hits.

One word of caution for any and all CBD gummies: always ensure they are third-party tested. Lab testing from an outside source is the only way to know for sure that your product is true uncontaminated CBD. All of our recommendations have lab tests readily-available so you can sit back, relax, and allow your gummy to get to work.
Additional Resources on CBD Edibles