If you're reading this, you're likely in search of the best CBD vape pens on the market. Welcome! You've come to the right place!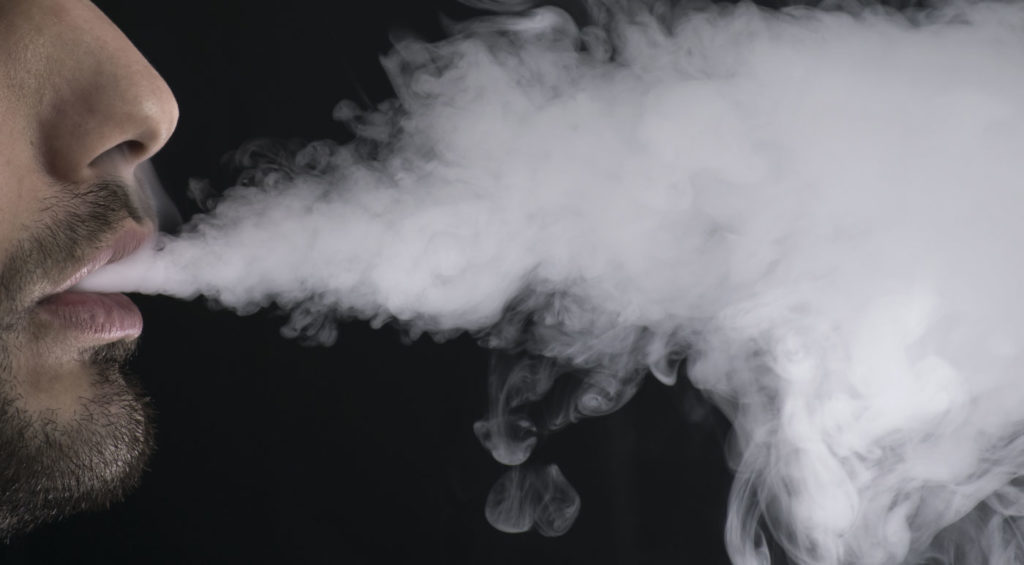 In this article, we cover all the details you need to know. First, we'll talk about what makes a good CBD vape pen. Then, to make your search easier, we're going to let you in on the 7 best CBD vape pens we've found, why we chose them, and who they fit best.
Use These Page Jumps To Find Your Convenient CBD Vape!
Following the product review, we'll also give you a little more info about why vaping is one of the best ways to consume CBD. But first, here's a sneak peek at our top four selections:
At a Glance: Our Top Four CBD Vape Pens
Try The CBD Disposable Vape Pens
Try The CBD brand has a solid thing going with its excellent variety of vape pens. Inexpensive and available in several flavors, they are everything you would expect from this purveyor of fine CBD products.
Extract Labs CBD Blue Dream Extract Tanks
Extract labs offers the cheapest CBD vape product on our list at just 0.10 cents a milligram. Plus, this is a full-spectrum formulation for those who want more from their CBD.
Social CBD Pre-Filled Revive Lemon Vape Pen
At Social CBD, you can find several high-quality vape pens containing no THC. If you're worried about an upcoming drug test or simply want an isolate-based vape, this is the brand to choose.
When it comes to disposable CBD vapes, industry leader CBDfx has been in the game longer than any brand on our list. While they are pricier than our other top picks, you can be assured of top-shelf quality that has stood the test of time.
Best CBD Vape Pens
CBDFX CBD Vape Pens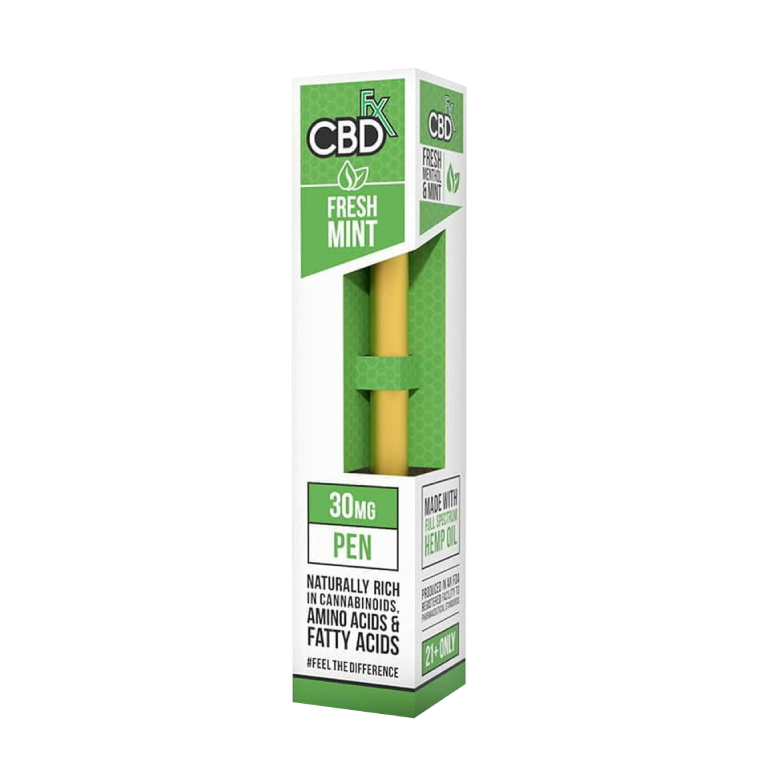 Highlights:
Lots of flavor options
Single-pass CO2 extraction
Organically grown hemp
Description:
Ingredients: proprietary blend of CBD, propylene glycol, vegetable glycerin, natural and artificial flavors
Pricing: $0.42 to $0.50 per milligram
Company: Some companies like to focus on perfecting one or two products (or flavors), but that can cut out the customers who appreciate having some more comprehensive options for taste variations. CBDFX makes its CBD vape pens from organically grown, full-spectrum hemp oil, and they offer a breadth of flavors to try—or to mix up your routine. Strawberry lemonade may be suitable for summer days, while fresh mint can help you focus on your studies or freshen up — and calm the nerves — for a date.
Those flavors, along with Blue Raspberry and Tropic Breeze, come in 30-milligram disposable pens.
The other type of vape pen the brand makes is filled with 50 milligrams of cannabis-centric flavors like OG Kush, Pineapple Express, and Gelato. These are flavored with terpenes and are described as an intermediate vape pen — not too overwhelming, yet not overly subtle. Notably, these are the most expensive vape pens by milligram of CBD on our list. However, they are also great for beginners, as you can try out a single pen for under $15.
Shipping: Free shipping on orders over $35
Returns: Return new, unused, and unopened products within 30 days of delivery for a full refund, minus shipping
Best for: People who want to explore a range of flavor options from an established company
---
Try The CBD Disposable Vape Pens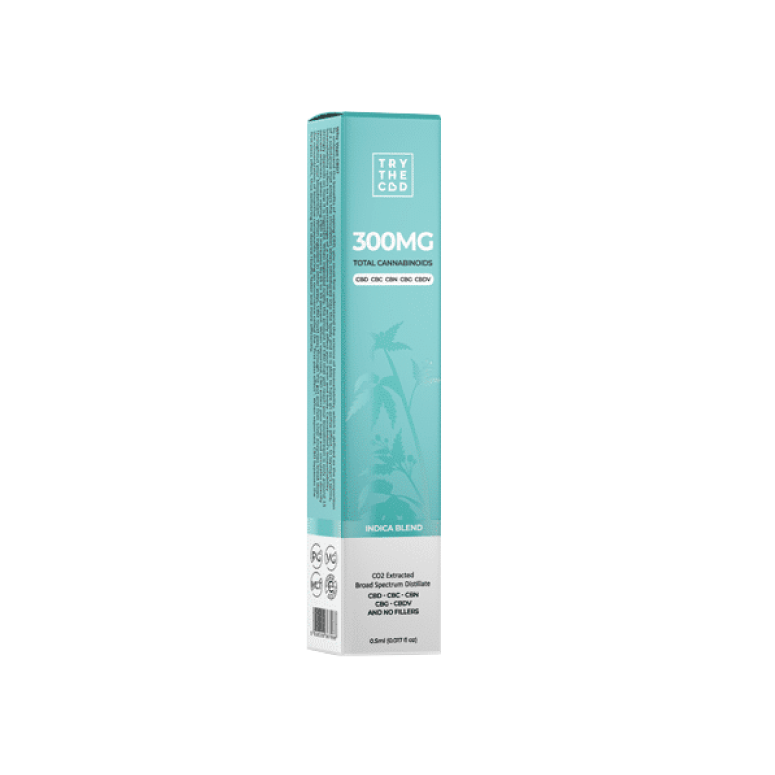 Highlights
No PG, VG, MCT, OR Tec Temper
Lab tested
Great flavor selection
Description:
Ingredients: broad-spectrum CBD distillate, terpenes
Pricing: $0.12 per milligram
Company: Try the CBD offers disposable vape pens in your choice of fan-favorite flavors like OG Kush, Green Crack, Pineapple Express, Strawnana, Gorilla Glue, or the inconspicuous Indica. All these vapes are made only with broad-spectrum distillate and natural terpenes. There are no other cutting agents in the formulation—not even Tec Temper. Every Try The CBD vape pen comes backed with accessible lab reports proving their potency and purity.
This Colorado-based company recently received accreditation from the Better Business Bureau and is a proud member of the Hemp Industries Association and the National Hemp Association. In addition to vapes, the brand offers an array of excellent CBD products, including tinctures, gummies, capsules, and more.
Shipping: Free ground shipping on orders over $75
Returns: 30-day returns on unopened and unused products, minus shipping
Best for: those who know their strains and want to get the taste and experience of vaping without the high
---
Extract Labs CBD Blue Dream Extract Tanks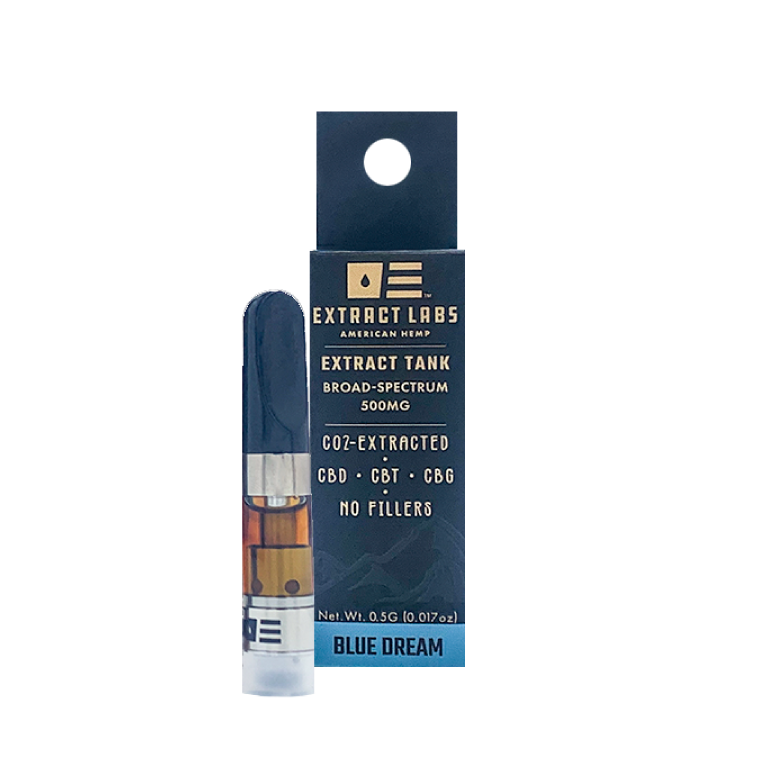 Highlights
Award-winning brand
Certified Organic
CO2 extracted U.S.-grown hemp
Description:
Ingredients: CO2-extracted full-spectrum distillate, plant-derived terpenes
Pricing: $0.03 per milligram
Company: At just 0.7 cents per milligram, Extract Lab's full-spectrum blue dream extract tank is an excellent find for those looking for a bargain. Made with cannabigerol (CBG), cannabacitran (CBT), and cannabidiol (CBD), it's designed for full-body relaxation. This is a full-spectrum formulation that contains only trace amounts of THC — not enough to get you high and well under the federal legal limit. However, if you're looking to chill out, this is the vape product for you.
Extract Labs sells its extract tanks separately from its battery kits, so you'll need to purchase them separately. Plus, they have plenty of other tanks to select from, including Strawnana, Grandaddy Purp, Bubba Kush, and more. Each contains a generous 500 milligrams of cannabinoids and comes with a 60-day money-back guarantee if you're not satisfied. In addition to vape products, the brand carries a wide selection of CBD products.
Shipping: Free shipping on all U.S. orders over $50
Returns: 60-day money-back guarantee. Contact support to initiate the return
Best for: Those who want an inexpensive full-spectrum vape product
---
Healthworx CBD Broad-Spectrum CBD Vape Pen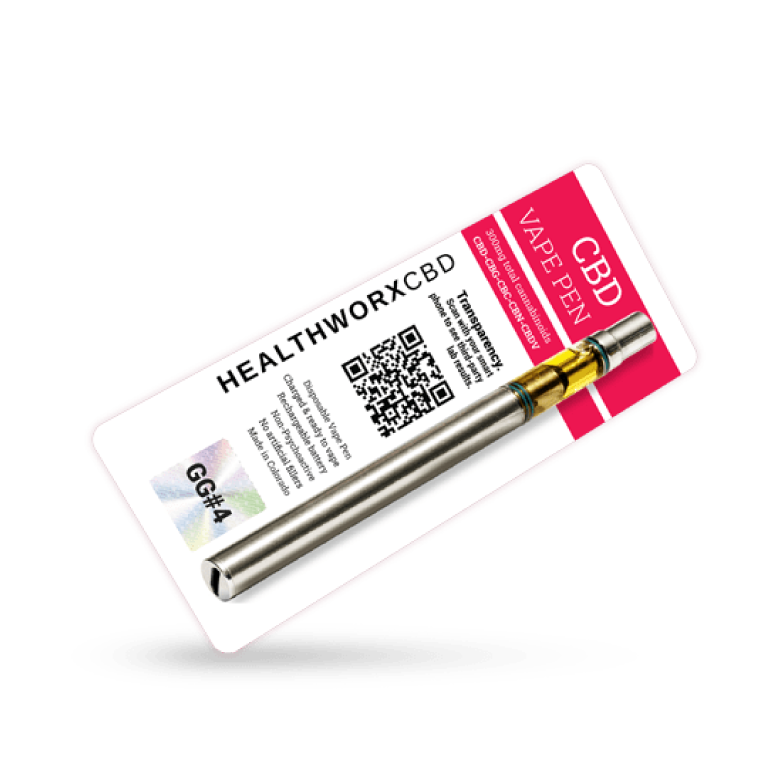 Highlights:
Made with Tec temper
COAs readily available
Trusted supplier of CBD vape pens
Description:
Ingredients: broad-spectrum CBD distillate, natural botanical terpenes, Tec temper
Pricing: $0.10 per milligram
Company: Healthworx CBD has positioned itself as a trustworthy and reputable supplier of CBD products. In addition to detailed information, third-party lab COAs are listed on every product page on the brand's website. That is exactly the type of transparency and accountability that goes into making a successful CBD brand, which is just one reason we love the Healthworx CBD disposable vape pen.
It comes in a handful of "flavors" reminiscent of actual cannabis strains, including Pineapple Express, OG Kush, Strawnana, and Green Crack. Healthworx also has a natural option, which is subtle and earthy, and an Indica, which tastes earthy and woody, and promises "a full-body 'couch-locked' effect." For the uninitiated, this means it's super-relaxing to both the mind and the body. The CBD used in these vapes is a broad-spectrum distillate that's completely free of THC.
Shipping: Orders over $75 qualify for free shipping
Returns: Returns of all unused and unopened products are accepted for 30 days following receipt of your order. Send back for a refund less 15% handling charge and the shipping costs
Best for: Anyone who wants a trusted, daily CBD vape
---
Wildflower CBD Pre-Filled CBD Cartridges and Vaporizers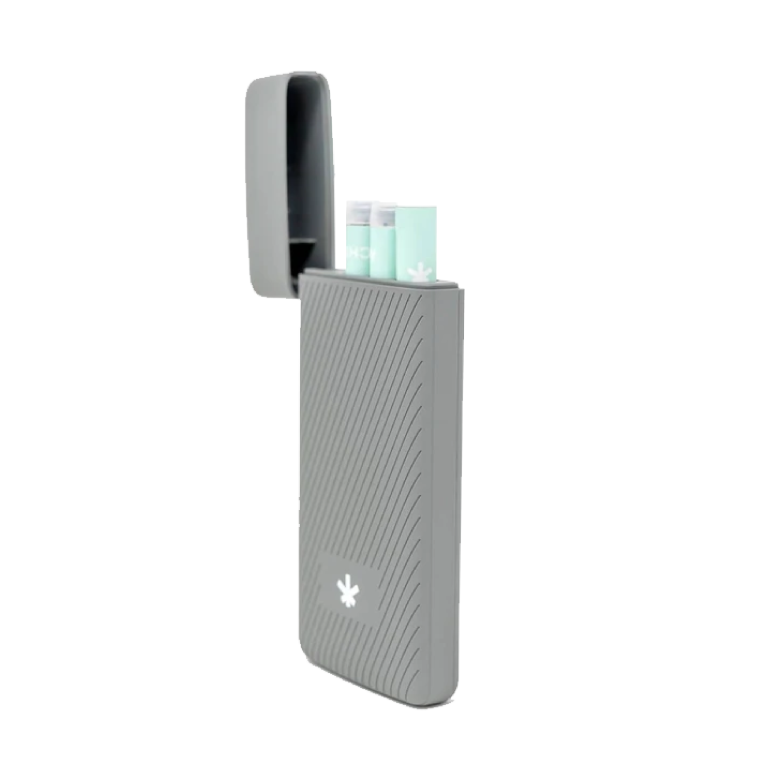 Highlights
100% satisfaction guarantee
Compatible with the brand's rechargeable vaporizer
Contains terpenes and essential oils
Description:
Ingredients: vegetable glycerin, CBD crystalline, broad-spectrum hemp CBD, essential oils (lavender, peppermint, spearmint), polysorbate, glyceryl stearate, and soy lecithin
Pricing: $23.33 per vaporizer
Company: If you want to buy from a company on a mission to connect people with the healing power of plants, Wildflower is ideal for you. The brand was founded in Vancouver in 2012, but all its products are sourced from U.S.-grown hemp and manufactured at GMP facilities.
The brand offers two vape pen formulas: one for immunity and one for aches. In the Immunity formula, Wildflower uses eucalyptus, thyme, and myrrh essential oils, blended with full-spectrum CBD oil and VG to create this vegan vape formula. The Aches option also uses full-spectrum CBD oil and VG but opts for lavender, peppermint, and spearmint for the intended results. Both of these products come in a leak-proof stainless steel body that's colored with food-grade paint in a calming mint green hue.
Shipping: Free ground shipping on orders over $50
Returns: 30-day returns on unopened and unused products, minus shipping
Best for: Those looking for a vape made with full-spectrum CBD and targeted intention
---
Why Vape CBD?
Vaping seems to have appeared out of thin air. Now, restaurant and airplane signs don't just say "no smoking," but make a point to mention that the ban includes "vaping or e-cigarettes." But vaping isn't only a replacement for nicotine cravings. It can also be a way to get your daily dose of CBD. People vape CBD for a variety of reasons ranging from potential pain and anxiety relief to possible relaxation and focus. And because CBD vapes must contain less than 0.3% THC according to federal guidelines, you won't get high.
Is Vaping CBD Better Than Other Methods of Using CBD?
The wonderful thing about vaping — as opposed to the other methods you might use to consume CBD — is that the body can use it faster. Ingesting CBD by eating gummies or other edibles means your body needs time to digest it and put it to work, so you may not feel the effects for up to an hour.
Topicals work similarly. The skin needs a little bit of time to process the chemical and attach it to the right receptors. Balms, creams, lotions, and other skin applications for CBD are also limited in what they can accomplish. Though they may enact relief for joint pain, the same can't be said for anxiety or restlessness.
While taking CBD oil sublingually (under the tongue) does have a quicker effect, some of its potency is still lost as part of it is inevitably processed through the digestive system.
When vaping CBD, the effects can be felt right away. By nature, your lungs need to work fast. When you breathe in air, the lungs' thin walls work immediately to bring oxygen to the body. The same goes for whatever else you inhale. For most people, this immediate effect is why vaping CBD is such a popular delivery method.
Is Vaping CBD Safe?
The primary questions potential users ask have to do with the safety of vaping CBD. Can vaping CBD hurt you? Is vaping CBD addictive? Is it safe? The truth is, we don't fully know the answers to these questions yet. The truth is that CBD vapes are a pretty new product to the market, and even though they don't contain nicotine, the long-term effects are still a mystery. Additionally, many black-market CBD products and knockoffs are being sold, making it even harder for consumers to know what the best CBD vape even is.
Remember, while vaping CBD can be pleasant and fast acting, your lungs are not indestructible, and just because CBD is on the label doesn't mean a product is healthy to inhale. If you are going to vape, however, there are a few things you must know:
There is a lack of clinical research about the long-term effects of vaping CBD.
Harmful additives have been found in many vape products (not those on this list), so you should do your research and check the ingredients when shopping for unfamiliar brands.
Proper labeling and third-party lab testing are vital. Avoid brands that do not have these in place and purchase only from reputable companies.
Kids, pregnant women, and those with compromised health should not vape.
Our Methodology: What Makes the Best CBD Vape Pen?
Flavor, potency, usability, and price all play a factor in making some CBD vape pens better than others. Still, there are also some essential considerations when it comes to shopping for CBD products in general:
Third-Party Lab Testing
As with any CBD or cannabis-based product, lab tests are a must. First tip: Never buy any hemp or cannabis product unless they have clear up-to-date lab reports proving their product's strength. When you're shopping for CBD vape pens, you want the best — and that means knowing what you're getting is safe to use and effective.
Ingredients and Product Labeling
One widespread and acceptable practice is to blend CBD oil with common food additives like vegetable glycerin (VG) or propylene glycol (PG). However, studies have indicated that additives such as propylene glycol may be harmful to health when heated and may even be carcinogenic.
Other brands may use medium-chain triglycerides (MCT) oil, but for the most part, there's evidence to suggest this isn't the best way to vape CBD. In 2019, Colorado banned the chemical from being included in vape products due to the fact that when heated, MCT oil can convert to volatile compounds that can harm delicate lung tissue. Instead, the latest and greatest in vaping ingredients is Tec temper. Tec temper is meant to reduce some of the irritation that comes from vaping, which initiates coughing.
You'll want to look out for clear product labeling that tells you precisely what is inside the pen.
Source of Hemp
The best vape pens start with the highest-quality ingredients available, which is why we look for brands that source their hemp in the U.S. Domestically grown hemp is guaranteed to be safe and free of contaminants, thanks to the Industrial Hemp Acts of 2014 and 2018. Otherwise, it's hard to know where the plant originated, and that's not good when you're talking about a plant that absorbs toxins from its environment.
Value
How do we determine value? It's a little more involved than just looking at the price tag of an item. We take the vape product's total price and divide it by the number of milligrams included when determining the actual costs. It's the most accurate way to compare prices across brands.
Other Considerations
Other factors we look at include customer service, user experience, and a brand's overall reputation. After all, with so many brands vying for your attention, you never need to settle for substandard service, and the technology exists to make every visit to a website a pleasant experience. As far as reputation goes, that usually speaks for itself. Companies with a loyal following and solid business practices stay in business and generate more word-of-mouth advertising than even the most expensive marketing can drum up.
Closing Thoughts
For those who want to try a different delivery method for CBD or who are looking for a fast-acting alternative to tinctures and other methods, vaping might be the answer. Our list of the best CBD vape pens has been heavily vetted, sorting out only those brands that offer the highest-quality CBD products that are lab tested and considered safe. As with all things related to CBD, you will need to do your own due diligence to determine what is right for you.
---
Additional Resources: