To say that people like coffee is an understatement. People love coffee. They love the aroma. They love the taste. And they love the effects. As coffee lovers ourselves, nothing beats the first sip of that magical elixir in the morning.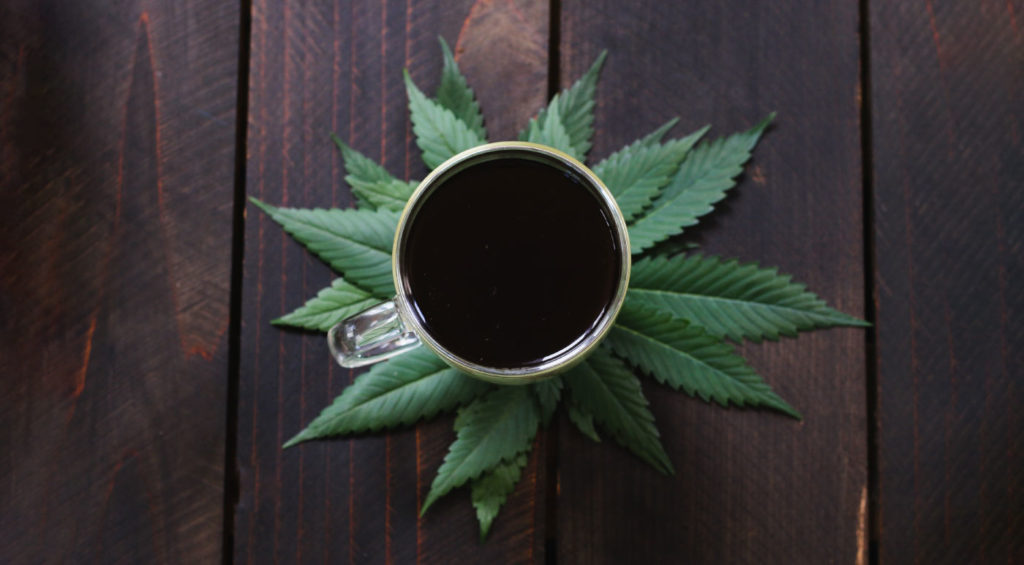 That's why—when we found out some brands had decided to pair CBD with coffee—we swore we heard the angels singing. The idea of these two mood-lifting ingredients combined into one incredible beverage was even better than when Reese's invented the peanut butter cup.
In this review, we'll introduce you to 9 companies that have taken caffeine worship to a whole new level by infusing coffee with CBD. Mornings will never be the same. 
Table of Contents
At a Glance: Our Top 4 CBD Coffees:
Best Overall: Green Roads CBD Coffee
From one of the top CBD brands in the country comes this bold and smooth coffee—sure to start your morning off on the right foot.
Best Value: Willie's Remedy Hemp-Infused Medium Roast Blend
The beloved musician proves once again he's a man of the people with this ethically sourced CBD coffee coming in at just 10 cents per milligram of CBD.
Best THC-Free: Sträva Medium-Roast Whole-Bean CBD Coffee
Sträva knows coffee, so when we found out they had infused their renowned brew with THC-free broad-spectrum hemp, we were all over it.
Best Luxury Brand: American Shaman CBD Coffee Pods
Sometimes you have to pay a little more to get the very best. American Shaman's CBD Coffee Pods are for those who won't compromise on single-serve java.
Is Coffee Good for the Body?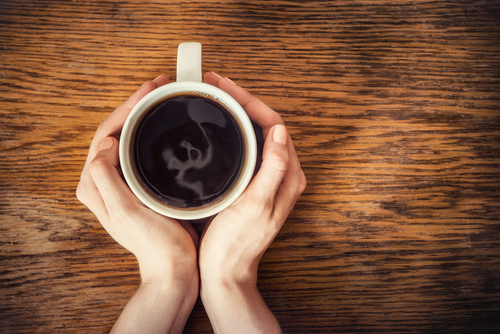 Coffee is jam-packed with caffeine, making it a tasty and ritualistic daily stimulant for our busy modern lives. The Alcohol and Drug Foundation classifies caffeine as a stimulant drug, which acts as a bullet train for messages between the brain and the body.
While this may help rocket you from a restful sleep into ready-to-go mode, this classification has led some to believe that coffee is bad for you.
However, the most recent studies about the impact of coffee on human health tell a different picture. John Hopkins researchers have recently concluded that moderate amounts of coffee may:
Helps You Live Longer
Studies have shown coffee drinkers are less likely to die from kidney disease, diabetes, stroke, or coronary heart disease.
Make You Less Susceptible to Parkinson's Disease
For some reason, caffeine is linked to a lower chance of developing Parkinson's disease. And in those who already have the condition, it can help them to control their movements better.
Assist in Keeping Your Liver in Tip-Top Shape
Coffee appears to protect the liver, and those who drink it have healthier ranges of liver enzyme levels than those who don't.
Strengthen DNA
Dark roasts seem to decrease breakage in DNA strands, a process that can lead to cancer or tumors.
Decrease the Odds of Developing Colon Cancer
Some researchers have discovered that coffee drinkers are less likely to develop colorectal cancer. This is true whether the coffee is decaf or regular.
Decrease the Risk of Dementia
Researchers found that people who drank three to five cups of coffee a day were 65% less likely to develop dementia.
Any Side Effects?
Of course, too much of a good thing can also have side effects. Excess amounts of caffeine can cause excitability and dizziness, anxiety and irritability, racing heartbeat, and dehydration. Some brands claim these side effects can be combated by using another naturally occurring plant extract: CBD.
Why Add CBD to Coffee?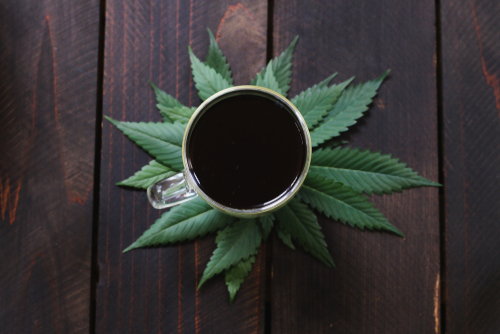 Cannabidiol, known as CBD, is characterized as having calming and soothing effects. Where there's knee pain, sore muscles, or arthritic joints, taking CBD may alleviate some of the discomforts. Where there is anxiety and restlessness, CBD may help calm the thoughts and relax the mind. When drinking CBD coffee, you may experience that awake and alert feeling without the nervousness that goes along with it.
---
Let's take a look at the best CBD coffees on the market today!
The Best CBD Coffee
1. Green Roads CBD Coffee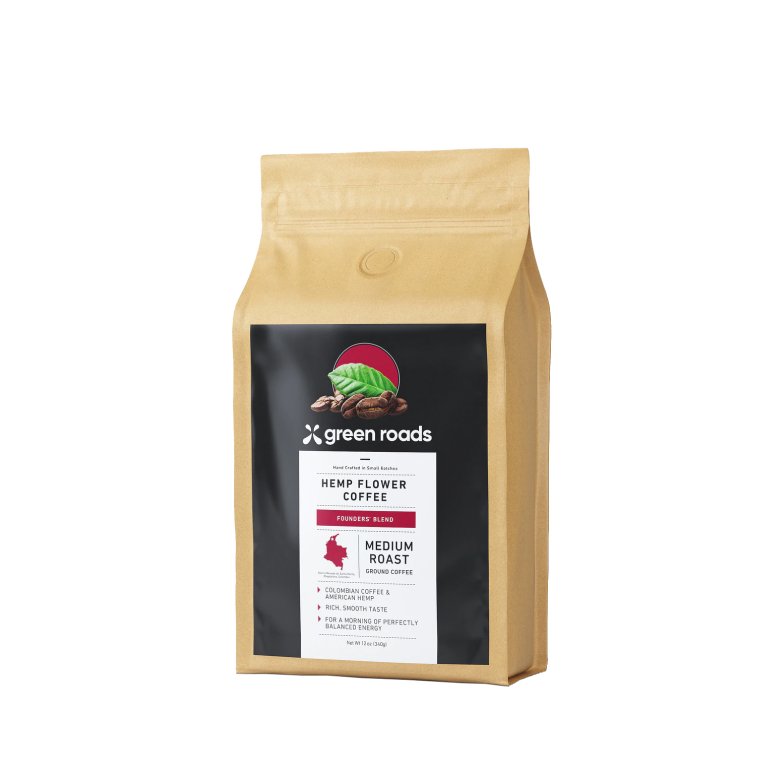 Highlights
Well-established and trusted brand
Supercritical CO2 extraction
Multi-stage independent lab testing
Description:
Ingredients: Columbian coffee, U.S. hemp
Pricing: $0.20 to $0.25 per milligram
Company: This winner of the 2018 Best CBD Product Award takes their product line to the next level by introducing Green Roads CBD Coffee—in flavors of Founders Blend, hazelnut, and french vanilla. Purchase in 12-ounce or 2.5-ounce bags, or opt for a bundle and sample all three. The product gets the same attention from the brand's licensed in-house pharmacist as all of their other offerings, along with a thorough inspection by a third-party lab.
There are roughly 9.67 mg of CBD in each serving, although amounts can vary depending on the batch. It's made with quality Colombian coffee beans infused with broad-spectrum American-grown CBD hemp extract. This trusted brand is our top choice for a reason—this coffee truly is outstanding.
Shipping: Free standard U.S. shipping on all orders over $65
Returns: 30-day refund window for unopened products
Best for: Coffee connoisseurs who like a little extra punch from their specialty imported coffee beans
---
2. Willie's Remedy Hemp-Infused Medium Roast Blend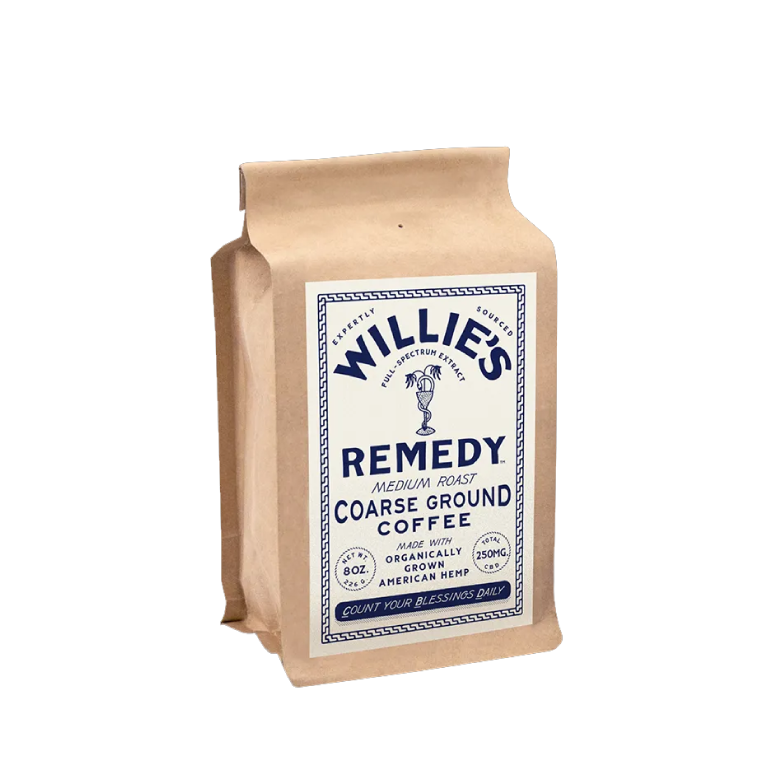 Highlights
Fair-trade certified
Organically grown
Full-spectrum
Description:
Ingredients: Nicaraguan and Colombian coffee, full-spectrum U.S. hemp oil
Pricing: $0.10 per milligram
Company: Chalk it up to his enduring fame as a musician and outspoken hemp advocate, but Willie's Remedy by Willie Nelson has received plenty of press, including a specific feature on its release in Rolling Stone, The Hemp Mag, and Austin 360. The well-known star has taken the entrepreneurial route and created a plant-enriched coffee—and landed our list of the 10 best CBD coffees.
The plant, obviously, is hemp. Grown in Colorado and certified organic, each eight-ounce bag contains 250 mg of full-spectrum CBD sourced from American-grown crops. But there's more. The coffee is fair trade-certified Nicaraguan from the woman-focused SOPPEXCCA co-op and Colombian coffee from mission-driven co-op catalyst, Colombian Risaralda. There are both ground and whole-bean options available. The Medium Roast Coarse-Ground is a fan favorite, but other options are available, including light, dark, and decaf. It is reportedly best if it's made with a french press.
Shipping: Pay your own shipping
Returns: 100% satisfaction guaranteed. Return whole package for a refund, minus shipping fees
Best for: Those looking for an ethically sourced CBD coffee
---
3. Sträva Medium-Roast Whole-Bean CBD Coffee
Highlights
Sourced from organic hemp
Broad-spectrum (no THC)
COAs available right on the website
Description:
Ingredients: 100% Arabica coffee, organically grown broad-spectrum hemp extract
Pricing: $0.22 per milligram
Company: Sträva is made to tap into your needs. They've created blends to help you focus, restore, elevate, or escape your mornings, all while promoting peace and wellness. This Medium-Roast Whole-Bean CBD Coffee is well-balanced, with tasting notes of black cherry and milk chocolate. Sourced from Columbian coffee and organically grown hemp, it represents some of the finest CBD coffee you can buy.
The Colorado-based brand embodies a philosophy called Sträva Gold, which signifies seven attributes of purpose, quality, and transparency. Safe, ethically sourced, and made with the highest level of craftsmanship, it's a top-shelf product.
Shipping: Free standard U.S. shipping on all orders over $35
Returns: Satisfaction guaranteed. Contact support for a resolution
Best for: Those who want to make CBD coffee part of their wellness routine
---
4. American Shaman CBD Coffee Pods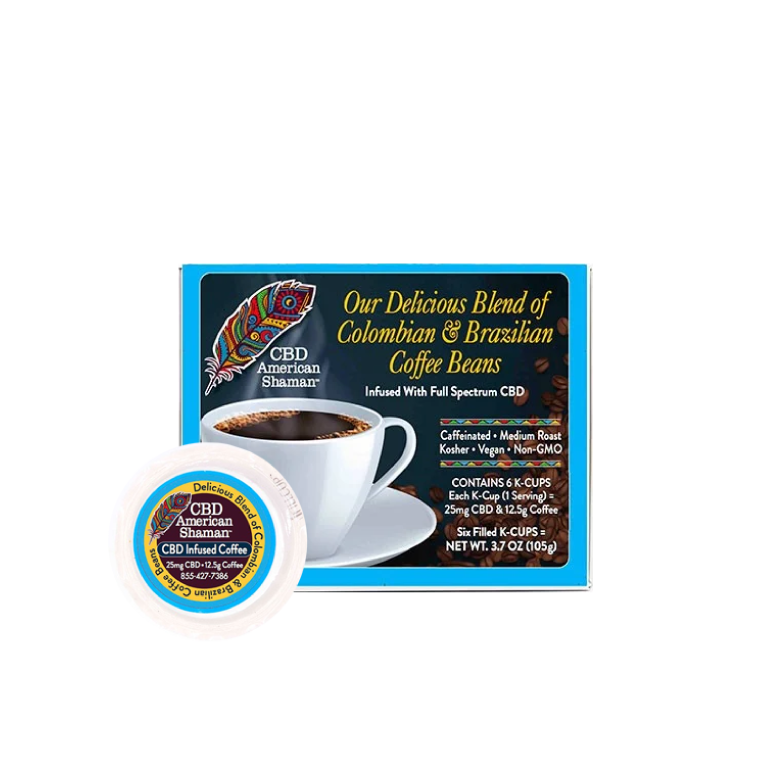 Highlights:
Ethanol extraction
Just two main ingredients
Lab test results available on site
Description:
Ingredients: Hemp oil, Brazilian and Columbian coffee
Pricing: $0.23 per milligram
Company: American Shaman's CBD-Infused Coffee Pods are just one of many innovative edible CBD products offered by this brand. They come in a box of six, and each pod contains 25 mg of CBD that has been harvested and processed with no pesticides or herbicides—surprising, this is one of the cheaper CBD coffees on our list.
Since everyone is unique, the brand does not recommend serving size. However, each pod makes one cup of delicious CBD coffee and is designed to be used with a Keurig or similar coffee maker. The coffee is made with Columbian and Brazilian Coffee, and the CBD is American-sourced.
Shipping: Free shipping on orders over $99
Returns: American Shaman will refund your order within 45 days if purchased from the website.
Best for: Those looking for a CBD coffee from a long-established brand
---
5. Hemp House Dark Roast CBD Coffee Pods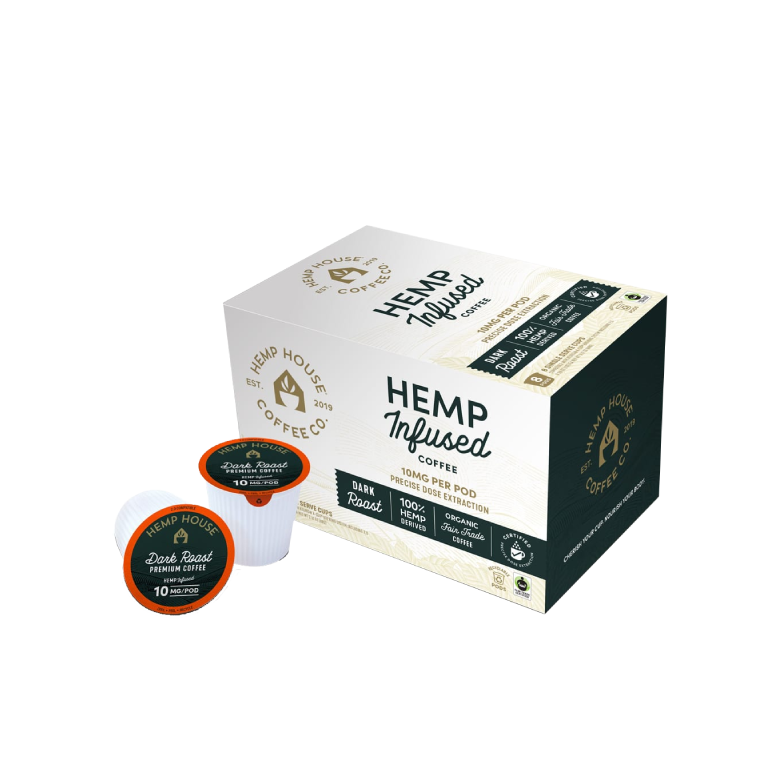 Highlights
Eight pods per box
Fair trade
Organic
Description:
Ingredients: Organic, fair trade coffee, hemp extract
Pricing: $0.25 per milligram
Company: Hemp House carries an excellent selection of CBD beverages, but coming soon is the brand's own single-use K-cups. Sourced from fair trade organic coffee, each pod contains 10 mg of CBD and is designed to be used in a Keurig or other single-serving style coffee maker.
The coffee is bold, smooth, and rich, and the packaging is BPA-free and recyclable. The brand sources their CBD from only top-quality hemp to ensure maximum bioavailability, and the precise dosing means you will get a consistent serving size every time. The product is tested and verified by an independent third-party laboratory.
Shipping: Free shipping on orders over $65 through CBD Direct
Returns: When purchased through CBD Direct, unopened products returned within 30 days are eligible for a full refund.
Best for: Those who want premeasured dosing that is consistent every time
---
6. Fresh Bombs CBD Coffee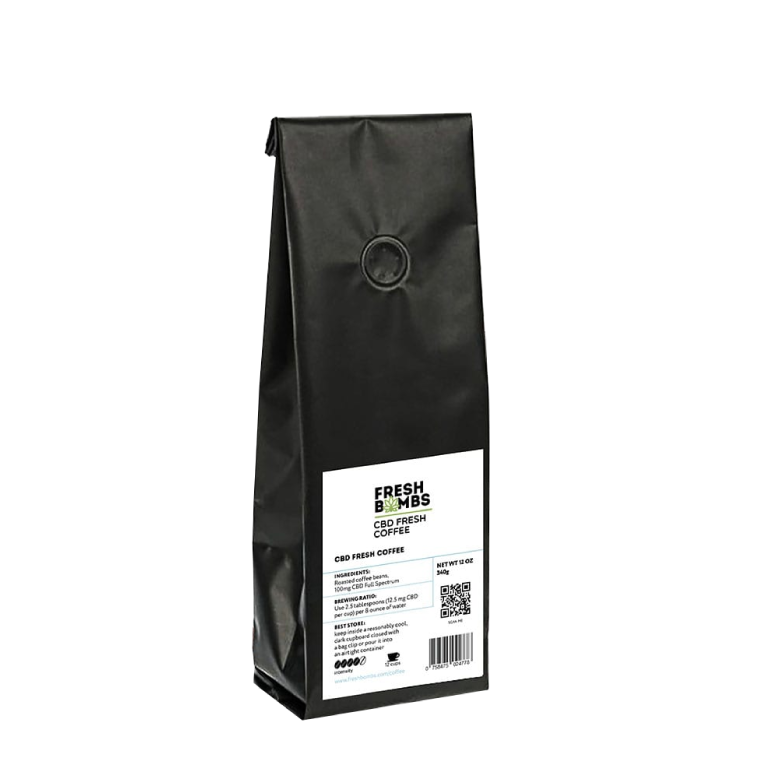 Highlights:
Full-spectrum CBD
Chocolate undertones
Rich and smooth
Description:
Ingredients: Roasted coffee beans, full-spectrum CBD
Pricing: $0.30 per milligram
Company: Fresh Bombs CBD Coffee is sourced from the rich volcanic soils of Huila, Guatemala, Columbia, and Brazil. Complex yet sweet, this brew has a pleasant bite and a smooth aftertaste with hints of chocolate.
The company recommends you start with a low serving at first, moving up until you feel the desired results. Each 12-ounce bag contains 100 mg of full-spectrum CBD. They should be kept in a sealed, airtight container in a cool dark cupboard for best results. Use 2.5 tablespoons of coffee for every six ounces of water and brew according to the manufacturer's directions for your machine.
Shipping: Free shipping on orders over $65 through CBD Direct
Returns: When purchased through CBD Direct, unopened products returned within 30 days are eligible for a full refund.
Best for: Those looking for a CBD coffee with a complex flavor
---
7. Hakuna Supply Awaken Blend Hemp Roast Coffee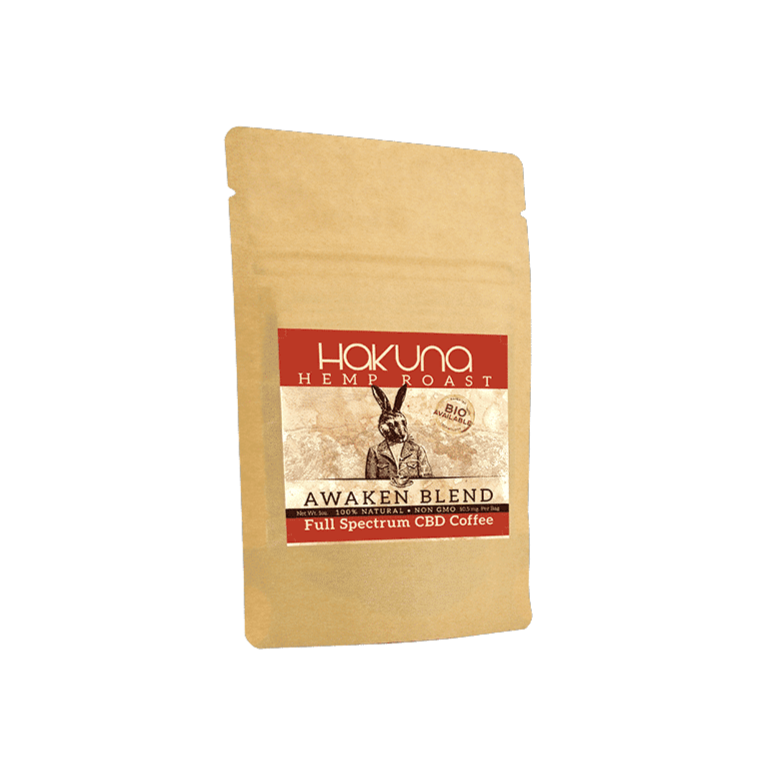 Highlights
Colorado-sourced hemp
CO2 extracted
Five milligrams of CBD per cup
Description:
Ingredients: Guatemalan coffee beans, full spectrum water-soluble CBD powder
Pricing: $0.80 per milligram
Company: Hakuna Supply began in 2016 with a mission toward "creating purpose driven products to relieve stress and clutter, powered by sustainable supply chains". Originally, the brand focussed on beautifully-designed stash boxes for cannabis, but they soon branched out to other products, including this fabulous CBD coffee.
Hakuna's Awaken Blend Hemp Roast Coffee is made by infusing nano-CBD with the beans to create a highly bioavailable brew. Each delicious cup contains a little over five milligrams of CBD. At just one ounce, this is a relatively small bag that will make two to three cups of coffee. However, it's a great way to try it out. Plus, a portion of the proceeds goes to GoBe, an organization which is dedicated to ending homelessness for veterans and their families.
Shipping: Free shipping on orders over $75
Returns: If you are unhappy with your product you may return it anytime within 30 days of purchase. Contact support for details.
Best for: Anyone who wants a subtle touch of CBD with a South American flair
---
8. Kickback Cali Daze CBD Coffee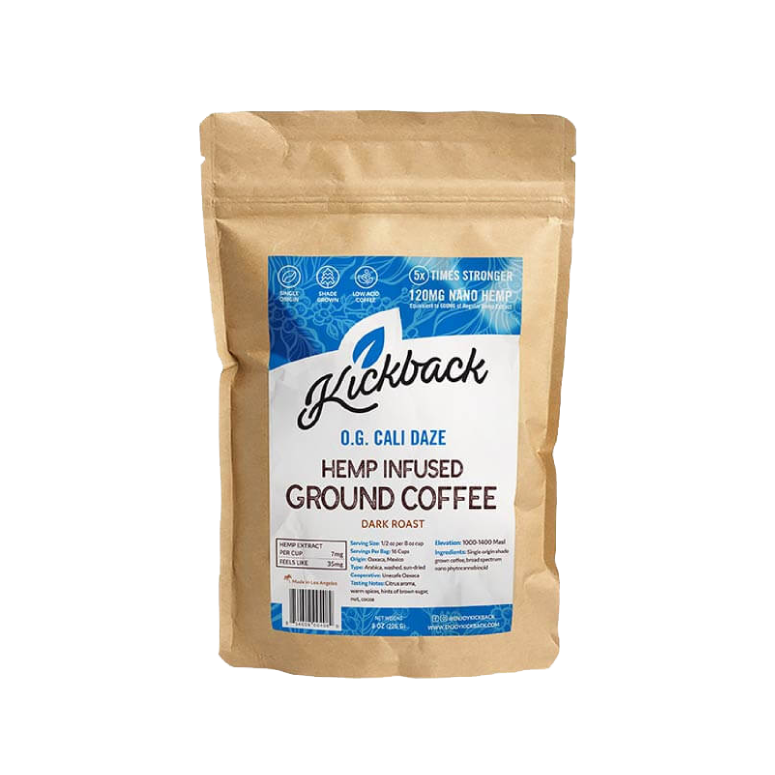 Highlights
Excellent reputation
Single-origin
Nanotechnology
Description:
Ingredients: Single-origin shade-grown coffee, nano hemp extract
Pricing: $0.22 per milligram
Company: The Dark Roast OG Cali Daze coffee from Kickback CBD is a relaxing way to perk up in the morning. The 120 mg of CBD inside an eight-ounce bag of Dark Roast coffee feels something more like 600 mg intended to create this relaxing effect. If you're not looking for this added boost, the OG Cali Rise Medium Roast takes it down a notch. It includes 90 mg of full-spectrum CBD that could feel like upwards of 450 mg.
How do they get a little bit of CBD to go the extra mile? The secret is in using Nano CBD. A single milligram can feel like it has five times the effect because it's "nano emulsified," making it water-soluble and therefore more bioavailable. An increase in bioavailability means that it's easier for your body to process the CBD before it metabolizes it into waste, allowing you to reap more significant benefits.
Shipping: Free shipping on orders over $69
Returns: Return new, unused, and unopened products within 14 days of delivery for a full refund, minus shipping.
Best for: Those who are looking for an added kick from CBD
---
9. Buddha Beans Three Coffee CBD Flight Bundle
Highlights
Awesome variety
USDA-certified organic hemp
Single-origin roasts
Description:
Ingredients: Mexican, Burundian, Columbian, and Ethiopian Coffee, 100% organic hemp
Pricing: $0.20 per milligram
Company: Rich, smooth, and full-bodied—these are the hallmark adjectives of a great cup of coffee. Sourcing coffee from Burundi, Mexico, Colombia, and Ethiopia, the Big Buddha brand creates a line of CBD-infused coffees to meet your specific taste. In addition to the multiple sources, you can then further customize your CBD coffee experience. Get a light, medium, or dark roast and have it arrive either pre-ground or as a bag of whole beans.
Though the coffee is imported from expert-growing locations, the hemp used to create the CBD is organically grown in the United States. A six-ounce bag contains 150 mg of CBD, while the larger 12-ounce bag has a CBD content of 300 mg. The Three Coffee CBD Flight Bundle combines three sample-size bags of Buddha Beans CBD coffee—Mexican, Columbian, and Ethiopian—for a globetrotting experience.
Shipping: Free shipping on orders over $35
Returns: Return new, unused, and unopened products within 14 days of delivery for a full refund, minus shipping.
Best for: World travelers and coffee connoisseurs
---
How Do We Know These Are the Best CBD-Infused Coffees?
At Best CBD Oils, we examine hundreds of hemp-based products every year. How do we narrow down a list of the best? We look at some critical factors we feel are the most important when it comes to all CBD products:
Frankly, if a CBD brand does not have third-party lab testing in place, we are very reluctant to even look at their products. Testing is the most critical factor in determining whether a company is worth your time and attention. A certificate of analysis (COA) issued by a third-party laboratory will reveal much of what you need to know about a product. This includes how much CBD (and other cannabinoids) it contains and the presence of any unwanted compounds such as heavy metals, pesticides, or residual solvents. These tests should be displayed prominently on the website and should be easy for consumers to access. Otherwise, what's the point?
Two years after the industrial hemp act passed, there are still no clear labeling requirements for CBD products. But things are getting better. Reputable companies have taken it upon themselves to create clear labels revealing precisely what's inside the bottle. We like that. It makes things easy for us, and it makes things safer for you.
Thanks to the farm bills of 2014 and 2018, the hemp-pilot program in many states has strict guidelines in place for cultivating the plant. This means that you can count on American-grown hemp to be safe, pure, and potent. Naturally, hemp that is organically and sustainably grown is preferable, which is why you often see organic brands higher up on our lists.
One way to level the playing field for everyone is to reveal each product's cost per milligram. It's easy to be swayed by slick marketing campaigns, but numbers are not so fickle. Along with the other considerations on our list, CBD's cost per milligram comes into play, and we like brands that make CBD affordable for the average shopper.
Customer Service and User Experience
It's never been more critical for brands to step up their customer service games in a world with so many choices. Like you, we enjoy dealing with kind and helpful people—it's one of the joys of life. So yes, we look at CBD companies and evaluate our experiences with customer support, shipping, returns, and the checkout process.
By now, some brands have developed an amazing reputation based only on word-of-mouth testimonials. That tells us something—that their products work. But they also rose to the top by being fair, transparent, and ethical. In this business, reputation is everything.
CBD Coffee for Anxiety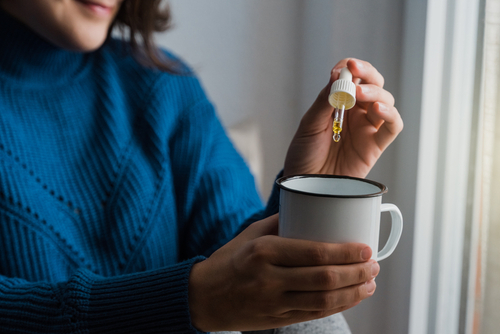 Caffeine is known to rev you up, but what if you could give your alertness a boost and still let you stay cool, calm, and collected? That's precisely what many people feel makes CBD coffee such a great product.
Caffeine can trigger anxiety, which isn't good for anyone who regularly experiences anxiety, panic, or has issues with fight, flight, or freeze. Since caffeine in coffee works as a stimulant, it produces a similar reaction to "fight or flight." For those with anxiety, that jolt could push them to the edge instead of providing a steady alertness. Though adding CBD to their coffee can be a delicate balance for some, others find it an excellent way to beat the usual anxiety and tense stomach that can come from coffee.
Before You Go!
Right now, the laws surrounding CBD food and drinks vary from state to state. Although the compound is legal at the federal level, the FDA has cracked down hard on restaurants, coffee shops, and bars selling beverages and foods containing CBD. This means you'll likely have to make your own CBD coffee at home for the time being. However, with our list of the 9 best CBD coffees, we make it easy for you to add a steaming hot cup of this magic potion to your mornings.
---
Additional Resources on CBD Edibles: