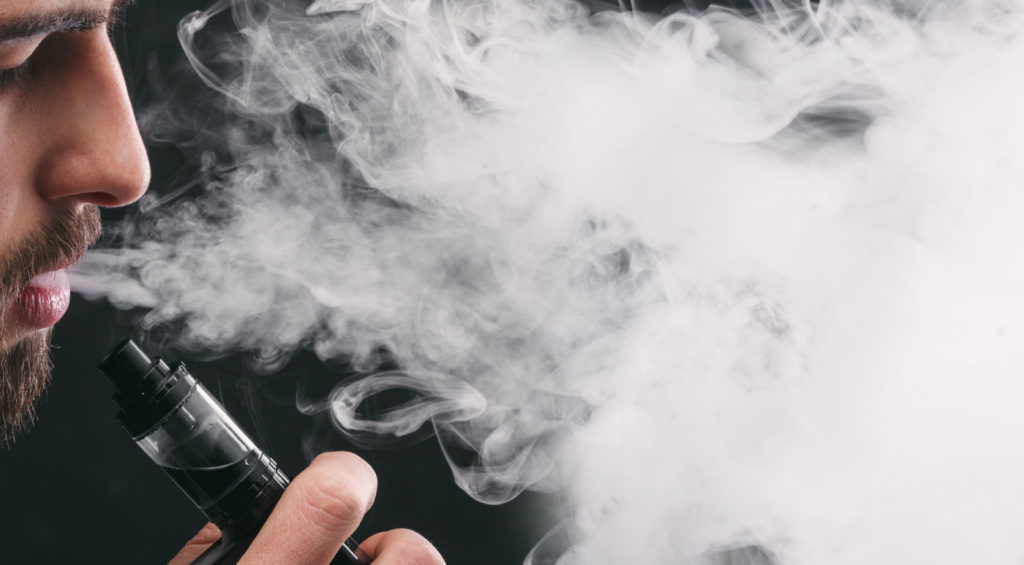 To vape or not to vape? That seems to be the question on the minds of many people with a habit for lighting up.
Before you start inhaling any old substance in the name of herbal therapy, find out what makes this trend one with a potential for better health, and always get your information about CBD products of any kind from a trusted source.
Enjoy Flavor And Quick Effects With These Page Jumps!
---
The 8 Best CBD Vape Oils
Hemp Bombs CBD E-Liquids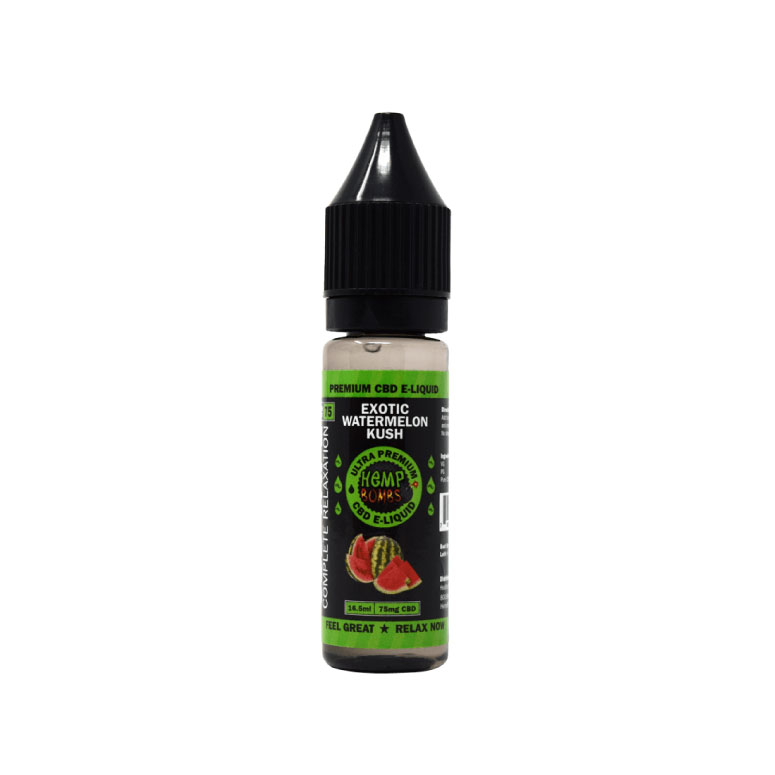 A variety of flavors and THC-free hemp extract make this CBD oil the tastiest isolate available—and truly fitting for anyone.
The Hemp Bombs' vape oil (or E-liquid, as they like to call it) comes in a crazy amount of flavors. They keep it sweet so you can enjoy the experience, and offer you Mix & Match packages to test out a few.
The hemp extract is blended with a 70/30 vegetable glycerin and propylene glycol mix. Propylene glycol is categorized by the FDA as generally recognized as safe, so you'd need pretty potent amounts for it to do you any real harm.
As for the hemp extract itself, all Hemp Bombs' vape oils are THC-free.
The flavors are a little off the mark from traditional, but they cover pretty much everything to ensure you'll find something you like. Crushed Pineapple Paradise, Roasted Colombian Coffee, and Arctic Spearmint Blast are among their options. If those sound enticing to you, or if you want to branch out to check out one of their other exotic and exciting flavors, get a Mix & Match package. The variety of options, as well as the quality and purity of Hemp Bombs' products, gives their offering one of the top places among our choices for the 10 best CBD vape oils.
CBDfx CBD Vape Juice
CBDfx creates an affordable, trusted, and great-tasting vape formula with non-detectable levels of THC.
Take your pick of juicy fruity flavors and CBD impact. The CBDfx vape formula uses PG and VG to carry their organic, USA-made hemp extract that's full of all the necessary cannabinoids.
If you feel like you need an extra boost, even from their 1000mg option, get a side of terpenes with your purchase.
The Blue Raspberry flavor is their most popular, for its sweet and juicy flavor without the tell-tale blue tongue.
CBD is the star of these formulas. The entire series is made with isolated CBD extract. Test results provided for each potency prove that the concentration of all other cannabinoids is so low that it's undetectable.
Hemplucid Tincture Vape / Drip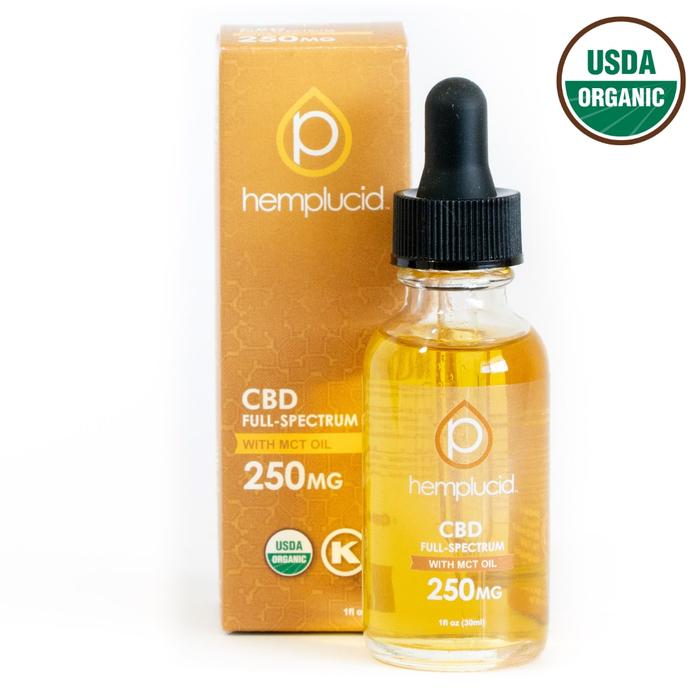 Streamlined ingredients and a customizable level of potency make Hemp Lucid our most preferred all-around CBD vape oil, and our #1 pick of the 10 best CBD vape oils.
A big selling point for vaping CBD is that it gets to work quickly—if it has the potency and purity to do the job. Hemplucid's Vape Tincture/Drip is quality assured and as potent as you want it to be.
The extract is made with the whole plant, producing a full-spectrum hemp extract. The entourage effect is at play here, calling on CBG, CBN, and THC to help boost the effects of the dominating cannabinoid of hemp: CBD.
An oil always needs a carrier, and Hemplucid uses organic vegetable glycerin. The other ingredient is polysorbate 80, a water-soluble substance used as an emulsifier.
These ingredients are both considered generally safe for inhalation.
This hemp oil is simple and streamlined. It's not flavored, and it doesn't contain any unnecessary ingredients.
As far as the dose of CBD goes, Hemplucid gives you options. The lowest option available is 150mg of CBD, but it goes up incrementally to 1500mg per 30mL.
---
Pure Hemp Botanicals Vape Juice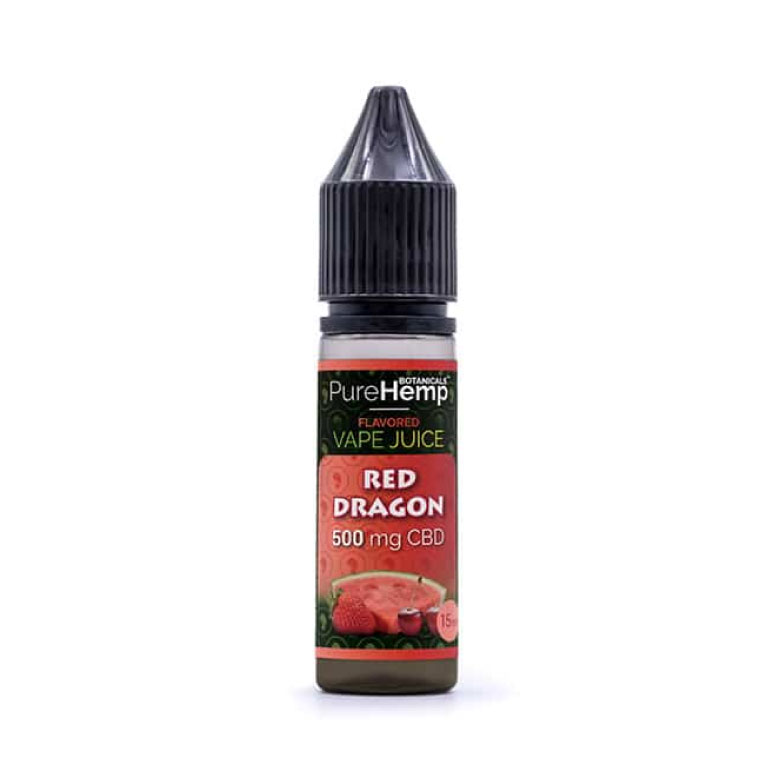 Choose one of three refined flavors to enjoy this full-spectrum vape experience.
Option paralysis in the face of boundless CBD flavors can be a crippling decision for some.
Bananas Foster, Red Dragon, Piña Colada—those are your options when you shop the Pure Hemp Botanicals vape juice options.
What you're also getting is a big vapor cloud, ensured by the VG/PG mix.
They also keep the miligram opportunities to a relatively simple selection. The standard size is 500mg, which is a pretty generous amount of CBD, and it always has a maximum of 0.3% THC.
The second formula is a double punch, delivering 1000mg of CBD per bottle.
The hemp extract here is made with organic, Colorado-grown hemp plants that also provide terpenes.
---
Palmetto Harmony Aura CBD Vape Oil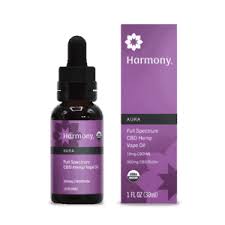 A no-nonsense CBD vape oil enhanced with terpenes.
This bottle from Palmetto Harmony brings you 300mg of full spectrum vape oil in a 30mL bottle.
Why does it stand up against its rivals? Well, the Aura CBD Vape Oil is made with the same high-quality ingredients as all of their products: USA-grown, organic hemp.
The oil preserves all the integrity of the plant and its accompanying cannabinoids, creating a full-flavor oil with a strong terpene profile.
It's blended with vapable vegetable glycerin, avoiding any of the potential hazards of polysorbate 80.
If you want to test the waters before you buy this bottle, you can reach for the 15mL size instead. Both sizes are straightforward and flavorless, so you get the soothing anti-inflammatory benefits of CBD and absolutely nothing else.
---
ECODRIP Vape Additive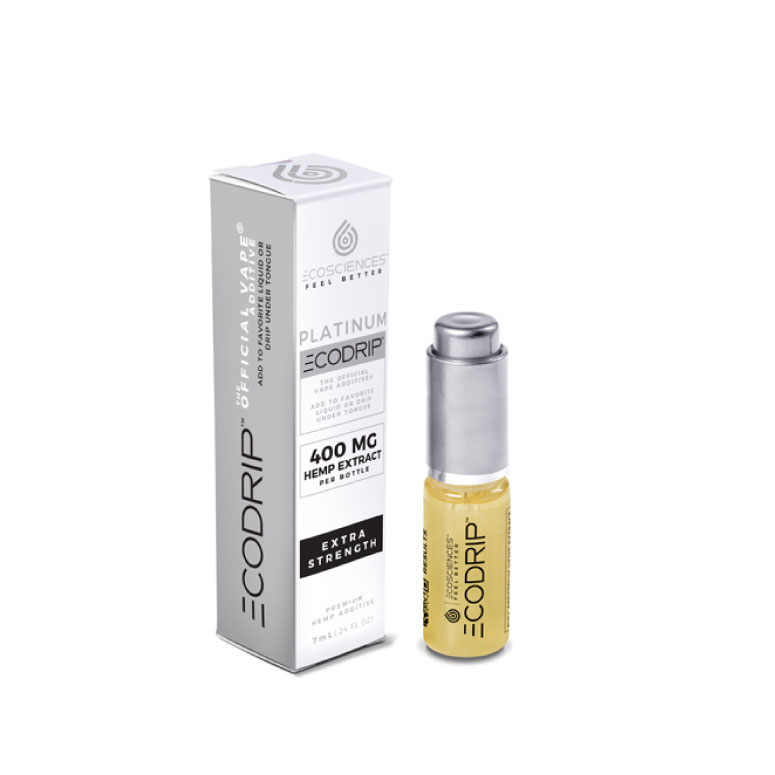 High-potency CBD vape juice additive that can give you an added boost when you need it.
CBD Drip seems destined to make a worth vape oil by their name alone.
CBD Drip is the parent company of ECOSciences, which has its own line of high-potency vape juice. The ECODRIP Gold and Platinum additives are intended to enhance the CBD vape oil that fills your device.
This full spectrum CBD vape juice is unflavored, and a little goes a long way. Just a few drops can be added to your vape pen along with the oil you usually vape. The company brings little additional information to their product page, but ensure they're up to standards with accessible lab reports.
These high potency CBD oils are made with the right smokable ingredients, but may serve you best if used to enhance the experience you're getting from lower concentrations, like what CBD Drip offers through their line of flavored AKUA vape juices.
---
Try the CBD Vape Oils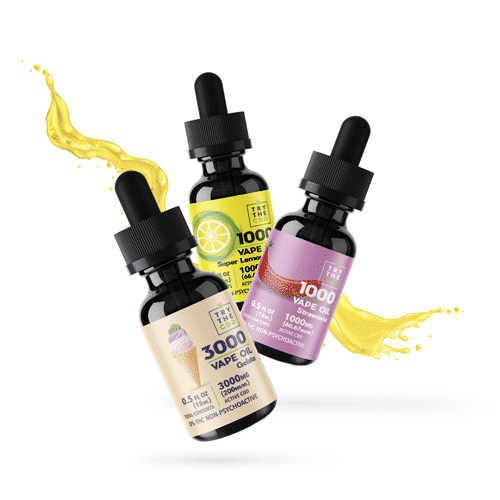 All of the most beloved strain flavors of the cannabis plant, without the THC.
Some experienced hemp smokers may recognize the flavors that Try the CBD brings to their CBD vape blends.
Gelato, Grand Daddy Purp, Pineapple Express, and OG Kush are a few of the options you can turn to cloud, without any danger of an impending high.
The downside of their formula is that they use MCT oil. These oils, like sunflower or coconut oil, act as successful carriers of CBD. They're often (and likely) what's in most of the CBD oil you buy that's intended to be used sublingually.

As far as its safety and efficacy goes during inhalation goes, the jury is still out.
---
Koi CBD Vape Oil and eJuice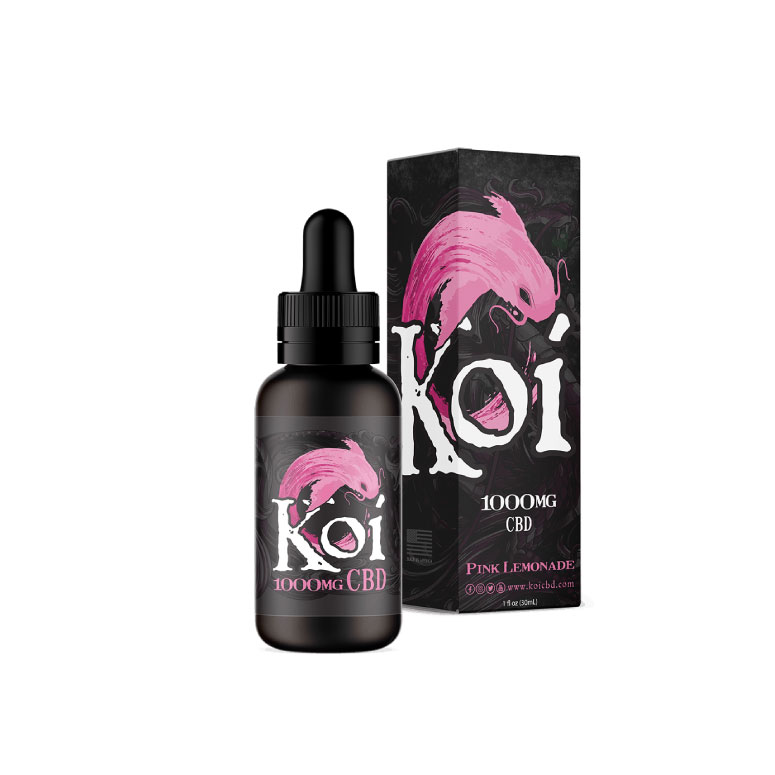 For high-quality CBD oil in even distributions of CBD isolate throughout the day.
The CBD eJuice from Koi CBD touches on all the integral points of a quality CBD oil. They use a VG/PG blend to deliver CBD isolate in smooth, tasty puffs. The hemp plants the CBD is extracted from are always pesticide free, and their extraction method is solventless.
The extraction here is a major component because of the separation of CBD from the other active ingredients. This oil delivers nothing but cannabidiol, so you won't have to worry about the extras that could be detected in a drug test.
The 30mL bottle come in different concentrations, letting you tailor your CBD dosing to what fits you best. Koi recommends that first timers wait about 3 hours on their first try, to see if the effects need altering.

All their products are koi branded by color, but you can use your candy-eating experience to guide your palette. For instance, Red Koi is Strawberry Milkshake and Pink Koi is pink lemonade. Flavorless is also an option, which you'll get with the White Koi selection. Koi CBD's smooth delivery, fun flavors, and high quality make it a great product to round out our picks for the 10 best CBD vape oils.
---
Why Vape CBD?
For those who smoke cigarettes, vaping CBD is increasingly being considered as a worthy alternative. The FDA cautions against explicitly labeling it a "safer alternative," though vaping does expose smokers to fewer toxic chemicals than cigarette smoking.
Even if you're not trying to replace nicotine, there could be plenty of good reasons for you to opt for vaping one of the 10 best CBD vape oils on today's market.
Maybe you want to get a daily dose of CBD in the quickest way possible. Vaping is believed to deliver CBD to the body much more quickly than other methods of consuming CBD.
When consumed through edibles or via pills or capsules, the CBD takes time to be broken down and absorbed by the body. It also puts it at the mercy of the "first pass effect," taking some potency out of the mix as the stomach's acid breaks it down.
Vaping, on the other hand, allows you to inhale CBD directly into the lungs, where it's quickly absorbed and transported through the body. The beneficial effects can be felt almost immediately.
Anxiety or panic attacks can come on suddenly and unexpectedly. If you rely on CBD to bring your emotions back down to a manageable level, you'll want the CBD to get to work quickly. Vaping is the only method that can get you results in the moment rather than with patience.
Can You Get Disposable Vapes?
You can! If you're new to vaping CBD and interested in trying it out, a disposable vape pen might be a good first stop.
But proceed with caution. Given the current state of our planet, shop disposables in moderation. Disposable vape pens, by nature, can't be reused or recycled, so they just become trash. If you decide you like vaping, try to reduce the waste you produce with your CBD ritual. A happy Earth provides us with healthy hemp.
Since we know you're ready to get started on your CBD journey, here are our choices of products to get you started off on the right foot.
Is it Safe to Vape CBD?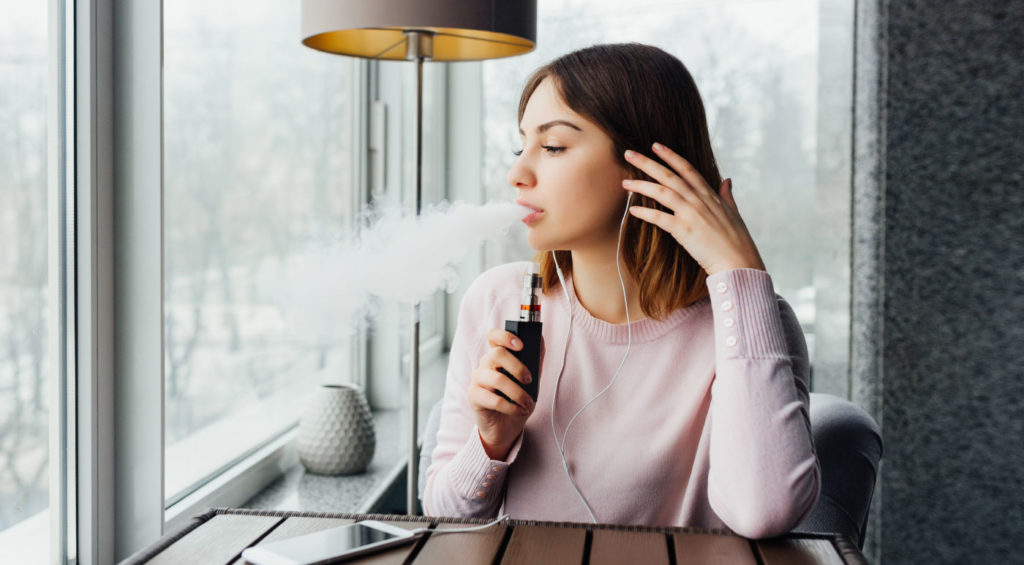 The science of vaping ensures us that it's safer than most other methods of smoking. Nicotine is a known danger to the lungs and throat, and even smoking marijuana comes with its own risk of carcinogenic exposure (although research suggests that cannabinoids can work against cancerous cell generation, whereas nicotine promotes it).
But when it comes to CBD vape oils, what are you getting out of the mix?
What's the Downside to Vaping CBD Oil?
Vaping CBD oil can get it to your body quickly and safely—which sounds like there's got to be a catch.
There is, but it's a mild one: easy come, easy go. CBD hits the receptors and gets to work fast, but the effects of vaping CBD oil will wear off more quickly than consuming an edible or taking a capsule.
Additional Resources: