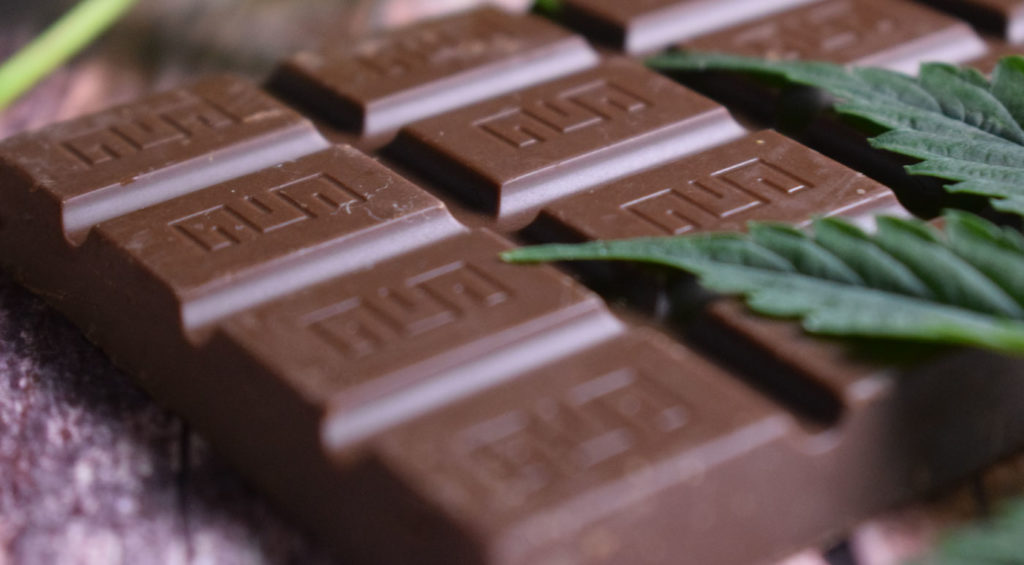 Did you know that pot brownies are actually good for you? Well, the right kind can be, anyway.
As marijuana aficionados have insisted for decades, some of the substances found in cannabis have many health benefits. In particular, cannabidiol (CBD) is good for reducing inflammation, anxiety, pain, and more. Chocolate confections containing CBD (which comes from the industrial hemp plant, not the marijuana plant) are great for getting a good daily dose of this natural compound without the psychoactive effects of other chemicals that are found in marijuana.
Before buying any CBD product, make sure it's high quality. Since the FDA doesn't regulate these products, that can be a challenge. That's why you need to always go to a trusted source for recommendations. And that's why we're here—we've checked them out and found the 10 best CBD chocolates, so you know your choice is a solid one.
The 10 Best CBD Chocolates on the Market
With the passage of the 2018 Farm Bill, chocolates containing hemp extract or CBD can now be shipped to and sold in any state in the USA. There is now a vast variety of chocolate CBD products and other CBD edibles to satisfy anyone's tastes. So let's take a look at the 10 best CBD chocolate makers and candies we found!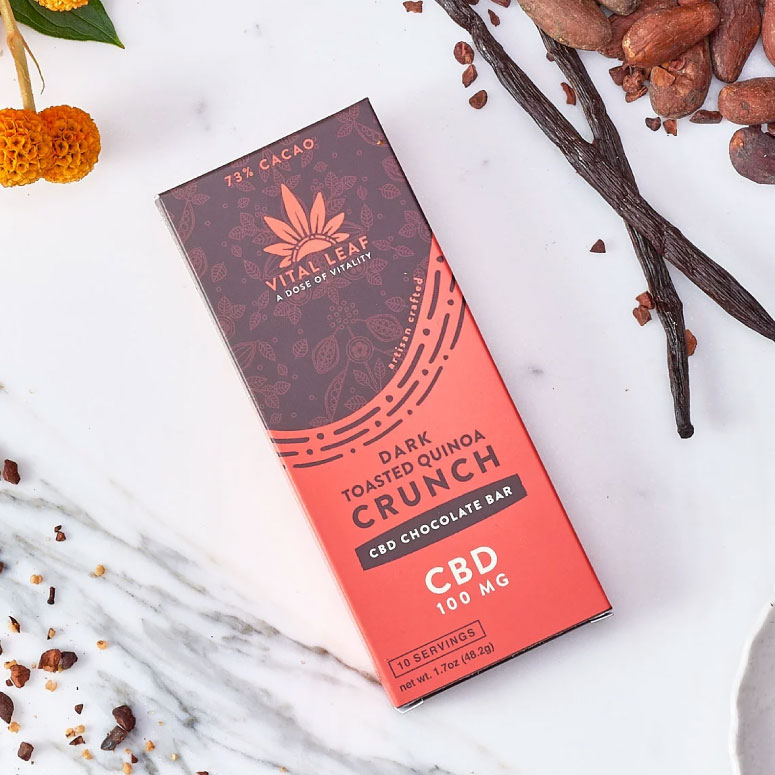 Vital Leaf's CBD chocolates have everything you could want in a chocolate candy. The company procures its chocolate from organically, sustainably, and ethically grown sources. Their chocolate products are also vegan, gluten-free, and have a lower glycemic index than many commercial chocolates.
The CBD chocolates from Vital Leaf come in three scrumptious flavors: classic dark, toasted quinoa crunch, and roasted hazelnut and sea salt. Their regular bars contain 100mg CBD each, but you can get mini bars with only 30mg CBD if you are new to CBD products or just want to try them out. You can get a sampler pack with mini bars in all three flavors!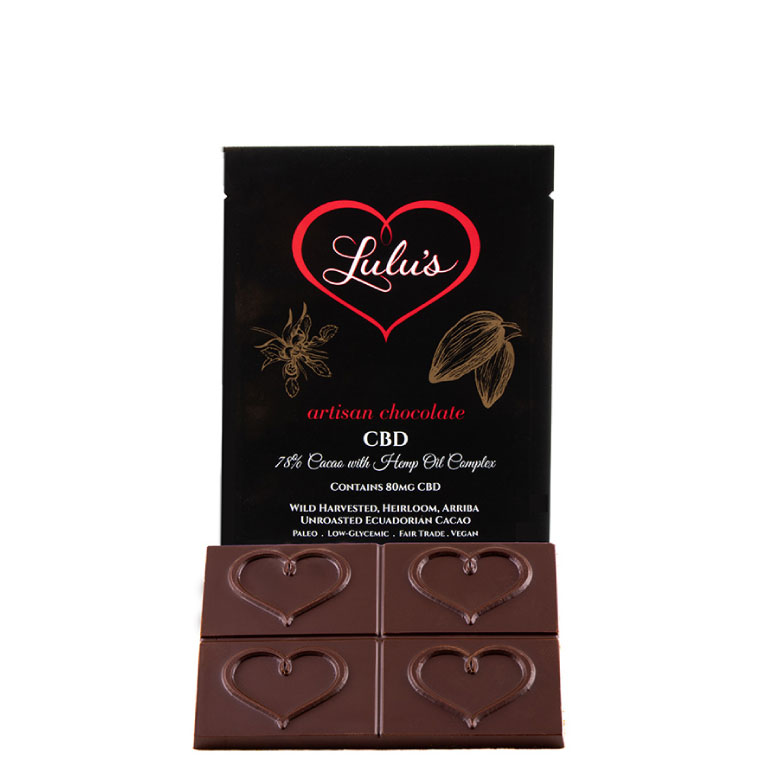 Lulu's artisanal CBD chocolate mixes organic CBD with 78% cacao dark chocolate. They also add extra terpenes, which are natural compounds with health effects that complement those of CBD. Their chocolate bars are all organic, vegan, and gluten-free. With third-party lab test reports available on their webpage, Lulu's is committed to transparency so you can know exactly what you are eating.
At $12 per bar or $132 for a case of one dozen, Lulu's chocolate comes with a very reasonable price tag. Their normal bars contain 80mg of CBD, but you can also get 20mg mini bars that are perfect for trying out edible CBD for the first time.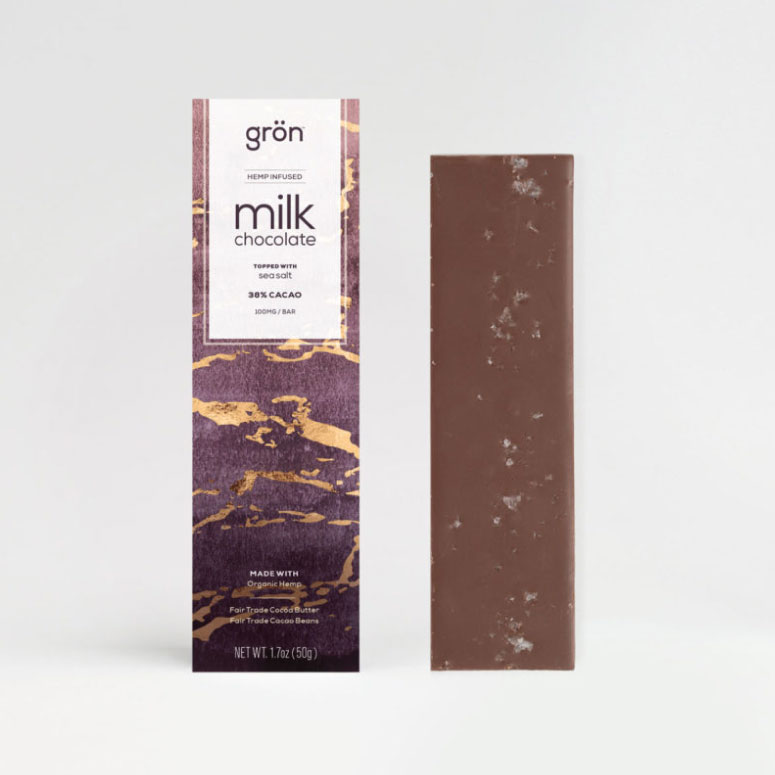 This chocolatier from Portland, Oregon takes sustainability all the way. The hemp that they use is organic, non-GMO, and locally grown, while their chocolate comes from single-source farms in southeast Asia. For their chocolate and sea salt bars, all salt is hand harvested from the ocean. To top it all off, their standard dark and milk chocolate bars come in fully recyclable packaging.
Grön's chocolate has a smooth, buttery flavor. They also offer chocolate CBD cookies with different flavors and natural ingredients, such as bourbon vanilla and pistachio ginger. Their bars each contain 100mg CBD, while their cookies contain 50mg CBD each.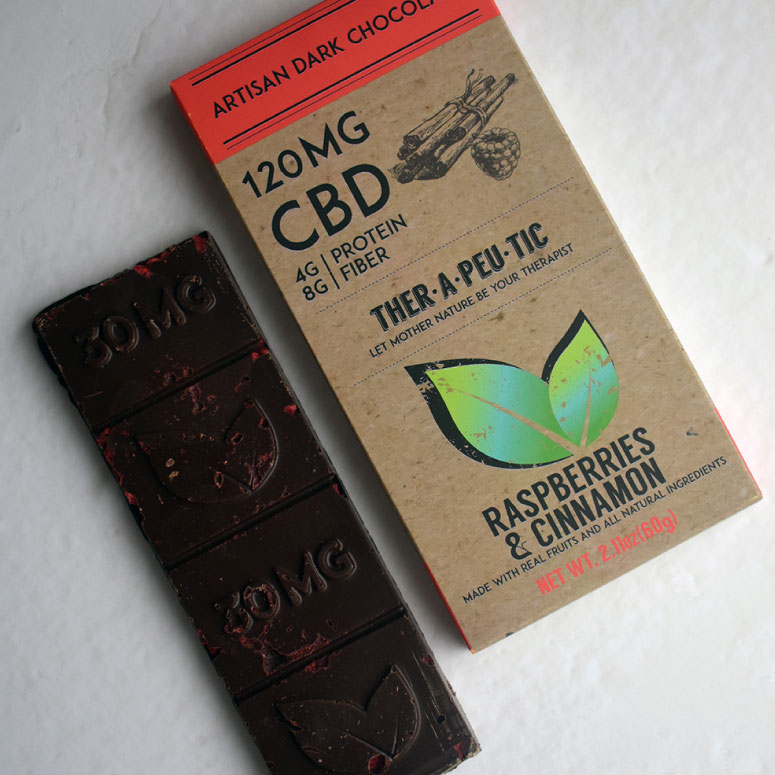 Therapeutic Treats offers a larger variety of CBD chocolate products than many other companies. Their chocolate bars come in both a standard 60mg CBD per bar or extra-strength 120mg CBD per bar. Each strength comes in several different flavors made with natural ingredients, such as raspberries & cinnamon and peanut butter & honey. With these extra ingredients, some of their bars contain additional nutrients such as fiber and calcium.
The CBD in Therapeutic Treats' chocolates is obtained using a CO2 extraction method, which doesn't use chemical solvents that can be hazardous to your health. This method also extracts a higher concentration of CBD and other cannabinoids and terpenes, while not degrading them as much as some other extraction methods. The chocolate is sourced from organic farms in Ecuador that use environmentally friendly agricultural practices.
Therapeutic Treats offers a subscription program for their products. This way you can get a continuous supply for a discounted price.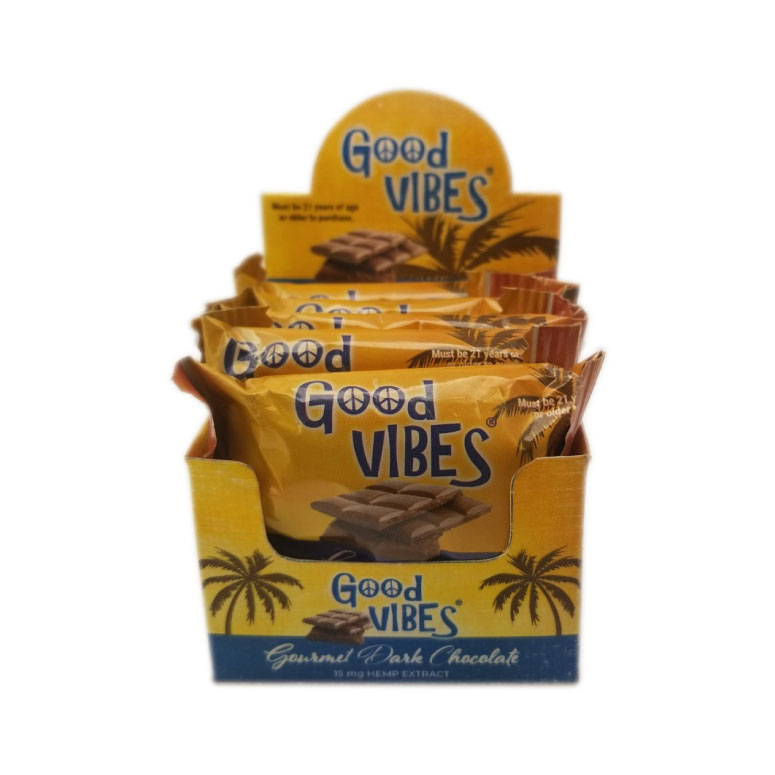 For the most bang for your buck, Pure Science Lab's CBD chocolate bars each contain 140mg CBD, which is more than most you will find on the market. These can be broken into small pieces with just 5mg CBD each—perfect for people new to CBD edibles or for determining your precise optimal dose. Their Good Vibes line of CBD products also comes in chocolate bites and gummies, which are great for sharing. You can buy packs of these in bulk for a discounted price.
True to their name, Pure Science Lab manufactures their CBD products in certified laboratories using organic hemp grown in the United States. Third-party laboratory test results are available on their webpage, so you can check the purity of their products for yourself.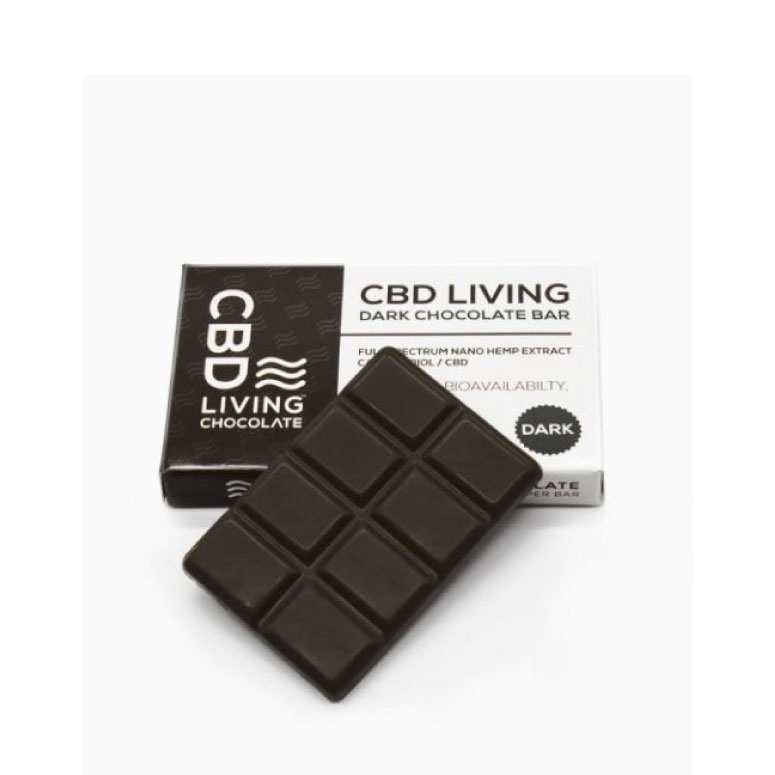 The CBD chocolate bars from CBD Living are like something straight out of a science fiction show. CBD Living uses patented nanotechnology to infuse hemp seeds into their chocolate bars. This makes the CBD and other cannabinoids more easily absorbed by your stomach and intestines, which enables it to take effect faster and gives you greater health benefits at smaller doses.
Each chocolate bar from CBD Living contains 120mg CBD and can be broken into eight pieces with 15mg CBD each. They are organic, non-GMO, and gluten-free. With third-party laboratory test results available on their website, you can rest assured knowing exactly what you are getting when you buy from them.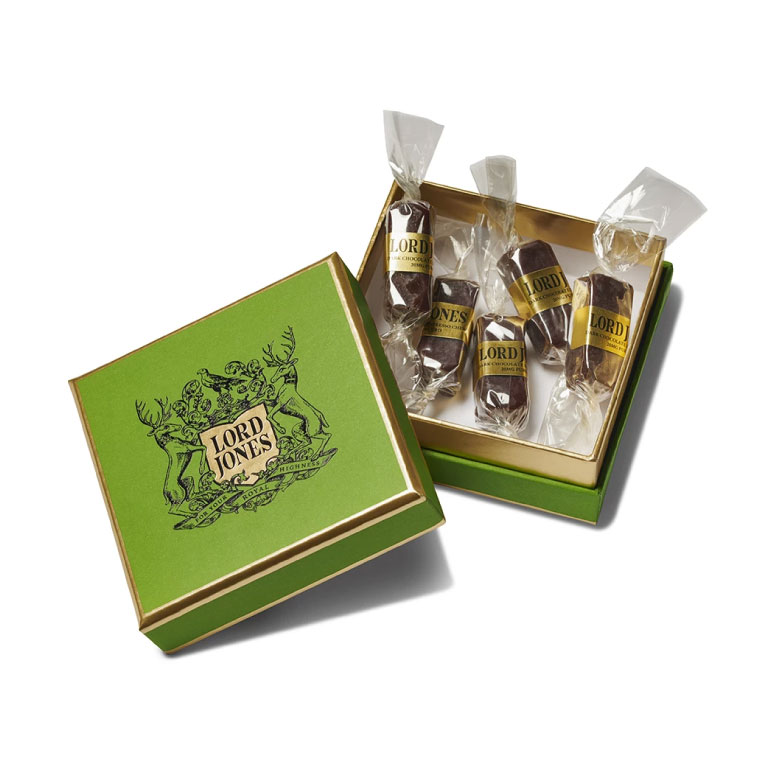 Lord Jones crafts their CBD chocolates by hand in small batches to ensure high quality. They use sustainably-sourced fair-trade chocolate from Ecuador and full-spectrum CBD oil extracted from the whole hemp plant. All of their products are organic and gluten-free.
Each of their decadent chocolate chews contains 20mg CBD. At $30 for a box of five, they are on the more expensive end of CBD delectables. However, their quality, smooth taste, and fancy presentation make them nice gift. And they come with free shipping.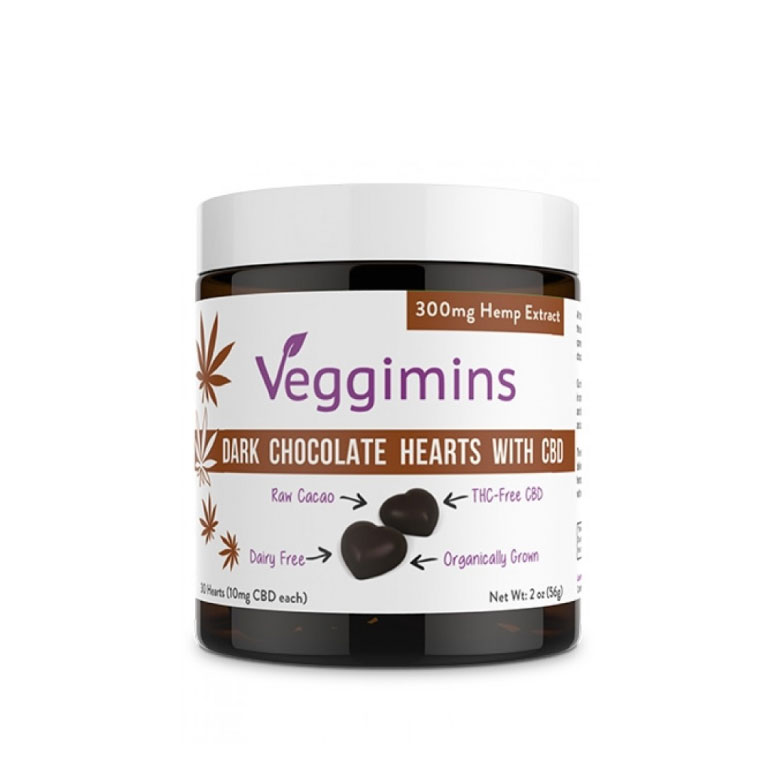 Veggimins dark chocolate hearts with CBD are meant to provide an optimal daily dose of CBD at an affordable price. Each jar of 30 hearts comes in doses of either 2mg CBD or 10mg CBD per heart, and is intended to be a one-month supply. Their high-dose option runs at $54.99 for a jar with a total of 300 mg CBD, making it one of the best prices per milligram of CBD you can find. You can also buy a subscription for a continuous supply at a lower price.
Veggimins' chocolate hearts are stone-ground in small batches and are made with entirely organic ingredients. The hemp oil they use is extracted without solvents.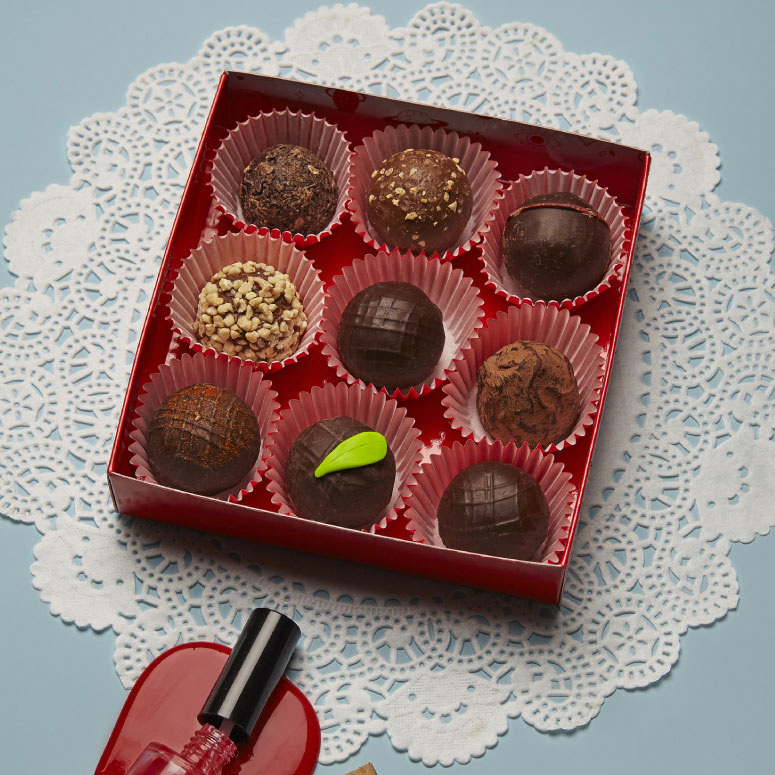 AUR Body's chocolate CBD bon-bons cater to everybody's dietary needs. These bite-sized balls are vegan, gluten-free, dairy-free, and even sugar-free. The company boasts being paleo diet and keto diet friendly.
Each bon-bon contains 10mg hemp oil, and they come in boxes of nine. They also offer one of the greatest varieties of flavors you can find on the market. Try out their "Breakfast" bon-bons, which contain organic oats and vanilla, or their "Dinner" bon-bons, containing chili powder, cayenne pepper, and cinnamon.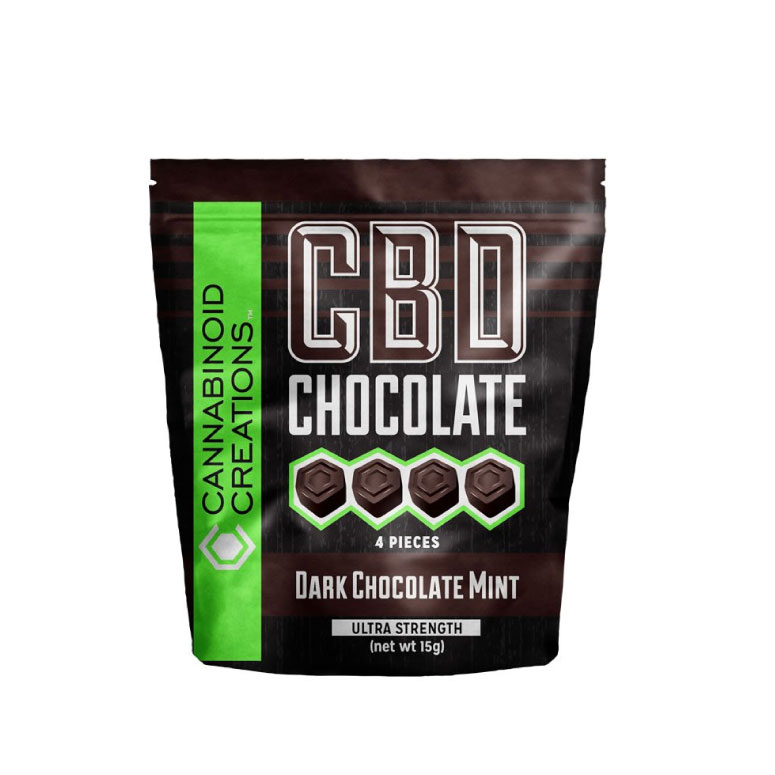 Cannabinoid Creations' CBD chocolates have won the High Times Cannabis Cup. With 15mg CBD each, their bite-sized chocolate treats are a great way to get your daily dose of CBD. They come in a few different tasty flavors in both dark and milk chocolate, including mint and boysenberry. As a bonus, all of their hemp is grown locally and sustainably.
Health Benefits of CBD
CBD is a type of cannabinoid. Your body uses cannabinoids to send chemical messages between neurons to control several important functions, such as memory, body temperature, hunger, and pain sensations. When cannabinoids bind to specific receptors on your nerve cells, they trigger a biological response that helps regulate these functions. This is known as the endocannabinoid system.
Your body produces some of its own cannabinoids, known as endocannabinoids. However, it also can use cannabinoids made by plants, known as phytocannabinoids. CBD is one such phytocannabinoid. When you consume CBD, it binds to cannabinoid receptors on your neurons. This can cause several effects in your body, including:
Relaxation
Reduced anxiety
Pain relief
Better sleep
Neuroprotection (healthier brain and nerve cells)
Decreased inflammation
Health Benefits of Chocolate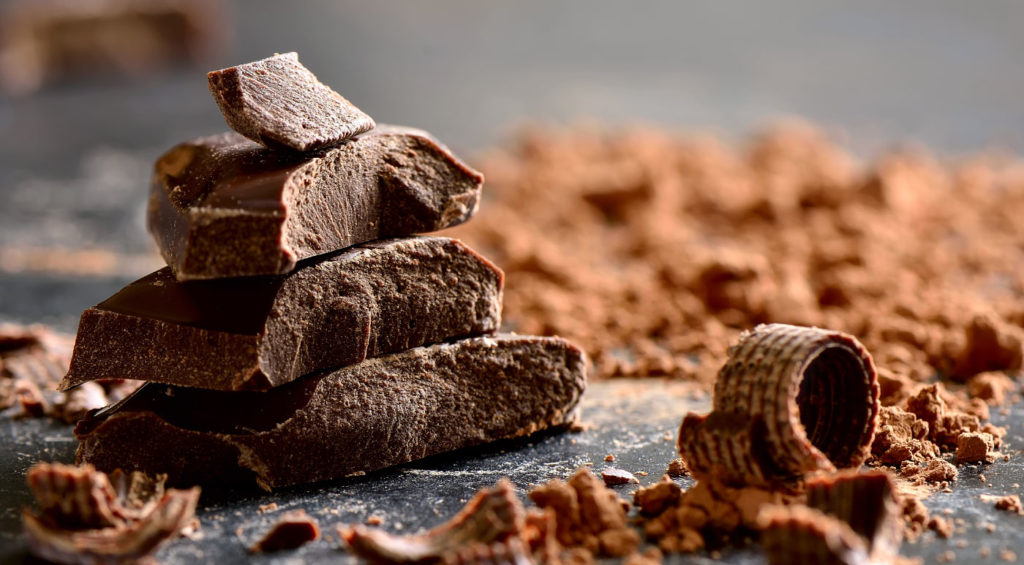 Chocolate is derived from beans of the cacao plant. Cocoa beans contain a significant amount of iron, moderate amounts of magnesium, and low amounts of zinc, calcium, and potassium. They also contain trace amounts of B vitamins, and vitamins A, E, and K.
Cocoa powder also contains a number of phytochemicals with biological activities. These phytochemicals include flavanols and polyphenols with antioxidant and anti-inflammatory properties. The higher the cocoa content of a type of chocolate (especially dark chocolate), the more of these healthy molecules it contains.