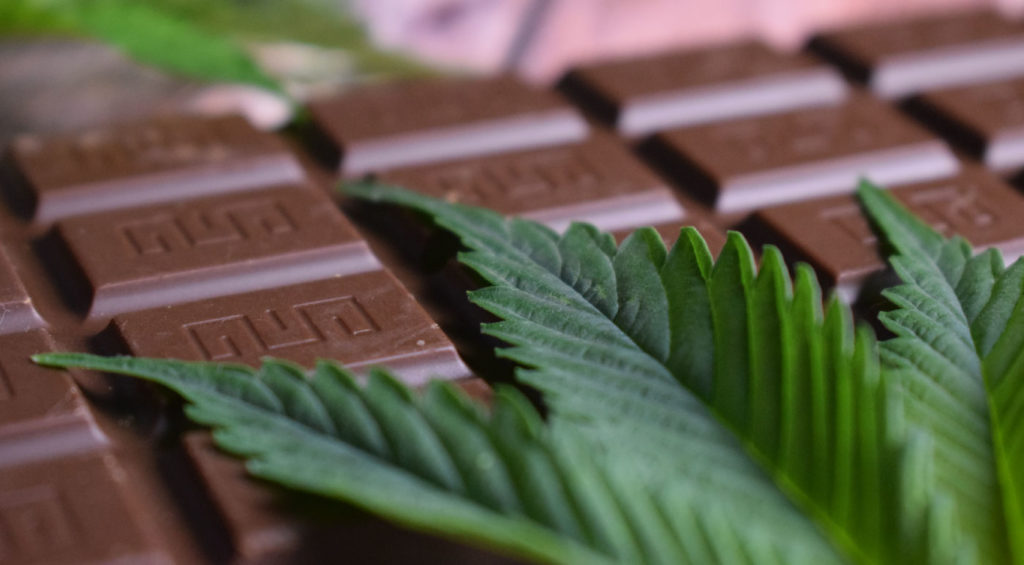 Did you know that pot brownies are actually good for you? Well, the right kind can be, anyway.
Featured CBD Brands:
As marijuana enthusiasts have insisted for decades, some of the substances found in cannabis could have profound health benefits. In particular, cannabidiol (CBD) may potentially help with inflammation, anxiety, pain, and more. Chocolate confections containing CBD (which comes from the industrial hemp plant, not the marijuana plant) are great for getting a good daily dose of this natural compound without the psychoactive effects of other chemicals found in marijuana.
Before buying any CBD product, make sure it's high quality. Since the FDA doesn't regulate these products, that can be a challenge. That's why you need to always go to a trusted source for recommendations. And that's why we're here—we've done our research and uncovered the ten best CBD chocolates, so you know your choice is a solid one.
Sweet CBD Chocolate With Quick Page Jumps!
The Best CBD Chocolate at a Glance:
Green Roads is our top overall choice when it comes to CBD chocolate. The brand has a solid reputation for safety and transparency, and they've been offering some of the best CBD products on the market for years.
We don't know how they did it, but CBD Living has managed to create a delicious high-potency CBD chocolate bar for only eight cents a milligram, an unheard-of bargain when it comes to edibles.
---
The Best CBD Chocolates
---
CBD Living Dark Chocolate Bar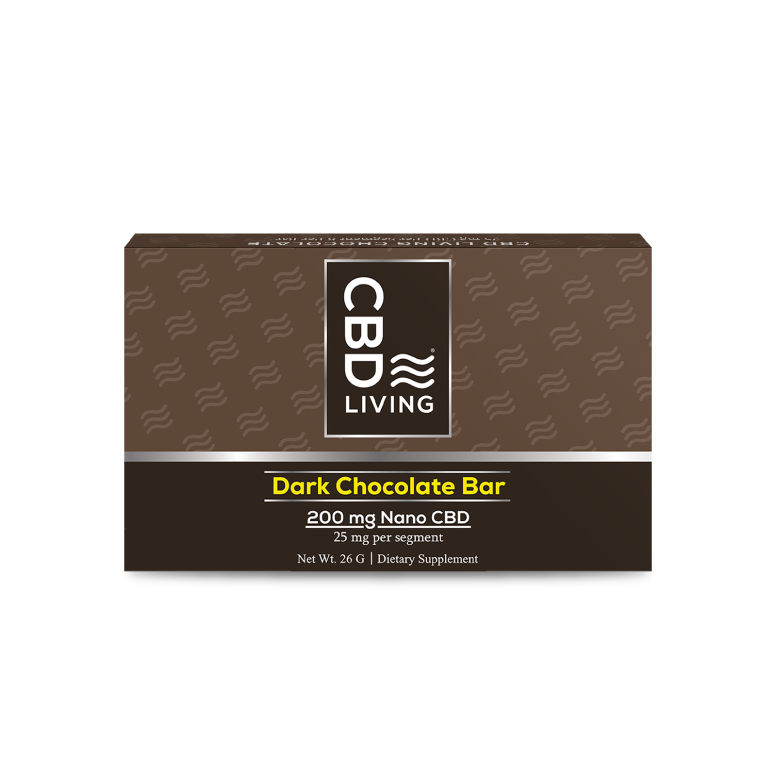 Highlights:
Nano CBD
Choose from milk or dark
High potency
Description:
Ingredients: Proprietary broad-spectrum nano hemp extract (aerial parts) 25 mg (cannabidiol/CBD), sugar, palm kernel oil, nonfat dry milk, cocoa, soy lecithin, salt
Pricing: $0.08 per milligram
Company: While the CBD chocolate bars from CBD Living are like something straight out of a science fiction show, the patented nanotechnology they use in the making of these treats is truly catching on. Nanotechnology reduces the CBD molecules to tiny particles that are more easily absorbed into the bloodstream, and many people feel it's one of the most bioavailable methods of taking CBD.
Science aside though, these bars are delicious, highly potent, and inexpensive. They contain 200 mg of CBD, more than any of the other options on our list. Plus, the price is right. At just eight cents per milligram of CBD, they are a boon to bargain hunters everywhere. Don't be put off by the low price, however. CBD Living is a top brand that checks off all the boxes when it comes to the best CBD chocolate. These bars are organic, non-GMO, and gluten-free. And with third-party laboratory test results available on their website, you can rest easy knowing exactly what you're getting.
Shipping: Free shipping on orders over $75
Returns: Refunds and exchanges are subject to review and are provided at the discretion of CBD Living. Contact support if there is a problem.
---
Vital Leaf Hazelnut & Sea Salt CBD Chocolate Bar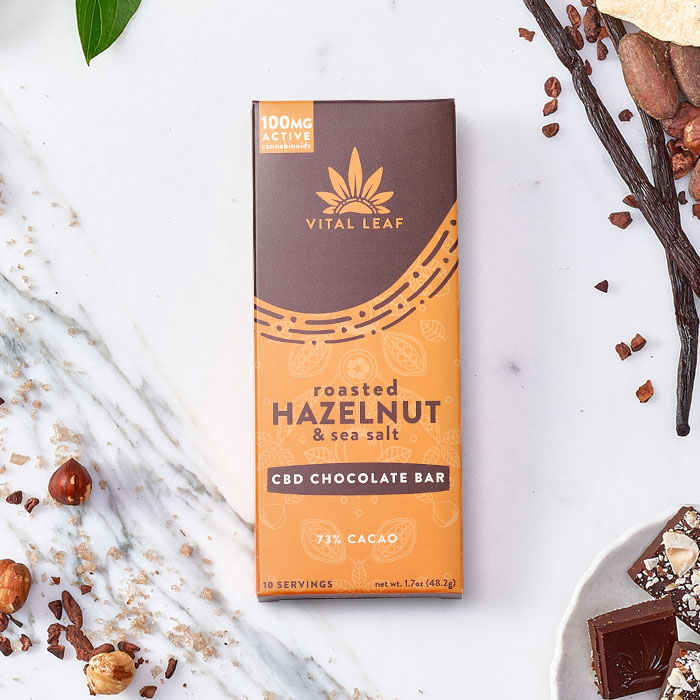 Highlights:
Organic and fair trade
Supports the regenerative cacao movement
Vegan
Description:
Ingredients: Organic fair-trade cacao paste, organic fair-trade cacao butter, organic coconut sugar, organic Oregon-grown lightly roasted hazelnuts (tree-nut), phytocannabinoid-rich full-spectrum hemp extract, alder-smoked sea salt
Pricing: $0.08 per milligram
Company: Vital Leaf is a newer CBD company that is making a great name for itself in the hemp industry. Why? They use a plant-forward approach in crafting all their formulations, plus they are committed to ethically sourced ingredients and the people who supply them.
We are in love with these Hazelnut and Sea Salt CBD Chocolate Bars. The hemp is sun-grown in Oregon and the cacao is regeneratively sourced in Ecuador and sweetened with coconut sugar. There are 10 squares in each delicious bar, and each square contains 10 mg of CBD. While it will be hard not to eat the whole bar, it's recommended that you savor it piece by decedent piece. Vital Leaf also offers a Quinoa Crunch or Classic Dark version of this bar. If you can't decide what you want, you can pick up a variety pack with mini versions of all three treats.
Shipping: Orders over $50 qualify for free shipping
Returns: All chocolate sales are final
---
Kat's Naturals Activated Hemp Dark Chocolate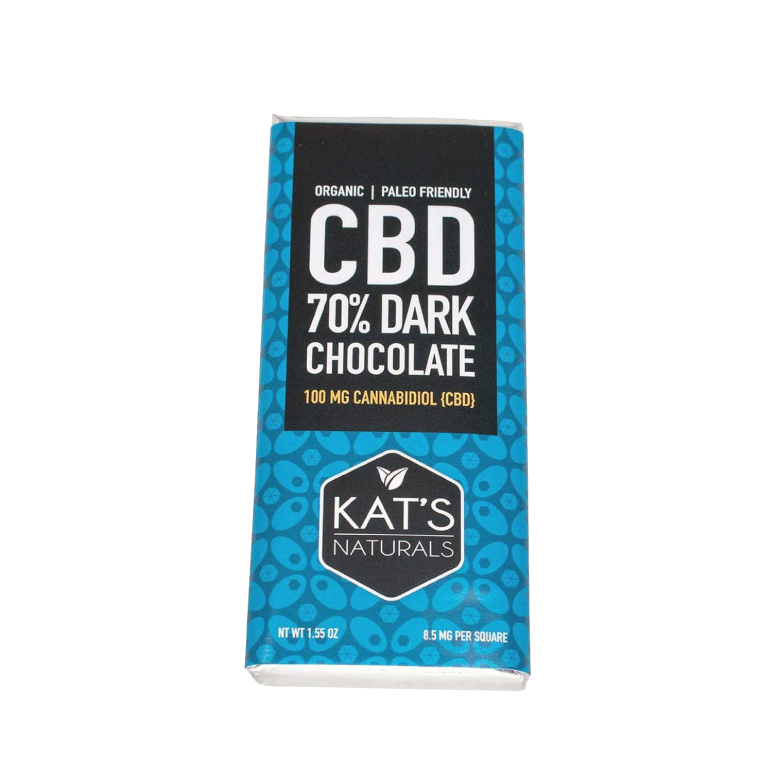 Highlights:
Full-spectrum
Handcrafted in Tennessee
70% organic cocoa
Description:
Ingredients: Organic cocoa liquor, organic cane sugar, organic cocoa butter, natural cocoa powder, activated organic hemp
Pricing: $0.10 per milligram
Company: Founded by Kat Merryfield, Kat's Naturals is a Tennesee CBD company focused on organic, farm-to-home remedies. They offer a wide range of CBD products, from tinctures to skin-care solutions, but one of their most popular offerings by far is the Activated Hemp CBD Dark Chocolate Bar.
Before purchasing, please be aware that this bar contains a little more THC than most on our list—0.087% to be exact. While this amount is still low and probably imperceptible, it's still handy to know. Lactose-free, paleo, and vegan-friendly, this full-spectrum bar is full of other cannabinoids like CBDV, CBDA, CBG, and CBCA to encourage the entourage effect. Those who prefer white chocolate are in luck, as Kat's offers a Peppermint White Chocolate flavor, too.
Shipping: Free shipping on orders over $50 through CBD Direct
Returns: When purchased through CBD Direct, unopened products returned within 30 days are eligible for a full refund.
---
Cannabidiol Life CBD Milk Chocolate Peanut Butter Cups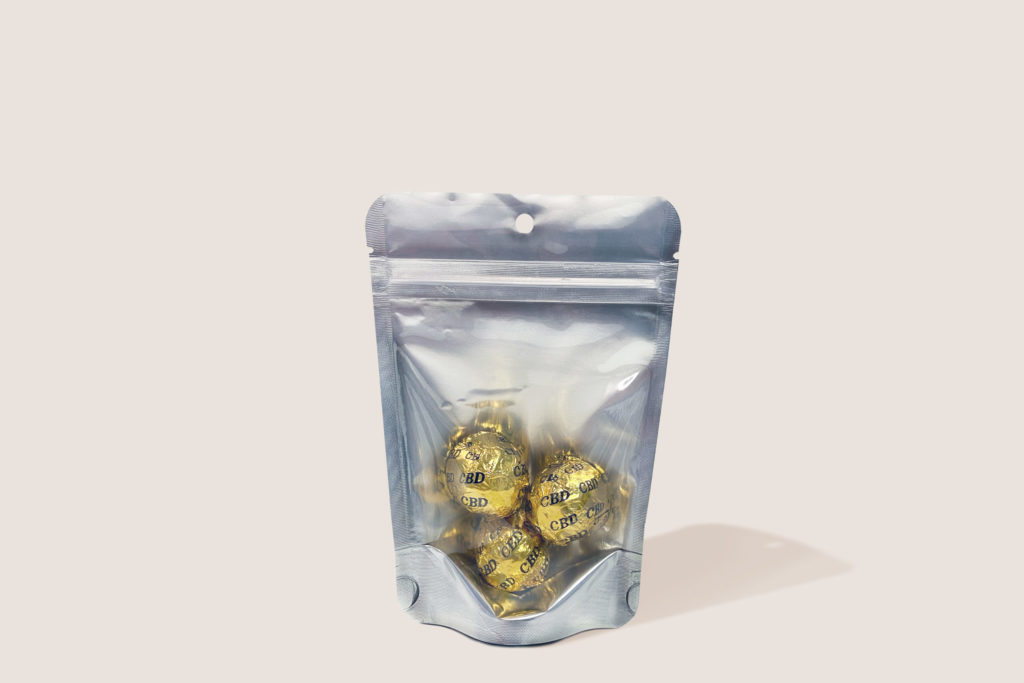 Highlights:
Sourced from Colorado hemp
25 mg of CBD per cup
Non-GMO
Description:
Ingredients: Cocoa, fresh milk, fresh cream, cane sugar, inverted cane sugar, tapioca syrup, butter (cream, salt) molasses, vanilla extract (alcohol 35%), salt, oleo hemp extract (gum acacia, maltodextrin, hemp extract isolate, fractionated coconut oil)
Pricing: $0.16 per milligram
Company: When we spotted these CBD Peanut Butter Cups from Cannabidiol Life we heard the angels singing. Really? Peanut butter, chocolate, and CBD? Could life get any better? If the thought of these little nuggets of joy has your mouth watering, we highly recommend ordering more than one package, as there are only three delicious cups in each bag. However, each cup does contain 25 mg of CBD, a relatively nice daily dose if you aren't into tinctures and the like.
Cannabidiol Life is well-known for some of its innovative products, so it was no surprise to learn you can also order plain dark chocolate bars on the same page, too. Same deal here—three pieces of dark chocolate generously infused with 25 mg of CBD each.
Shipping: Free shipping on orders over $36
Returns: 100% guarantee on all unopened, unused products within 30 days. Contact support to initiate.
---
What Are the Potential Health Benefits of CBD Chocolate?
CBD is a type of cannabinoid. Your body uses cannabinoids to send chemical messages between neurons to control several vital functions, such as memory, body temperature, hunger, and pain sensations. When cannabinoids bind to specific receptors on your nerve cells, they trigger a biological response that helps regulate these functions. The reaction takes place in what is known as the endocannabinoid system.
Your body produces some of its own cannabinoids, known as endocannabinoids. However, it also can use cannabinoids made by plants, known as phytocannabinoids. CBD is one such phytocannabinoid. When you consume CBD, it binds your own cannabinoid receptors and may have several effects in your body, including:
Relaxation
Reduced anxiety
Pain relief
Better sleep
Neuroprotection (healthier brain and nerve cells)
Decreased inflammation
Chocolate is derived from beans of the cacao plant. Cocoa beans contain a significant amount of iron, moderate amounts of magnesium, and low amounts of zinc, calcium, and potassium. They also contain trace amounts of B vitamins and vitamins A, E, and K.
Cocoa is also packed full of flavinols—chemicals that might help protect the heart. Flavinols support the production of nitrous oxide, which improves blood flow and relaxes blood vessels. This can potentially lower blood pressure.
Additionally, cocoa powder contains several phytochemicals with biological activities. These phytochemicals include flavanols and polyphenols with antioxidant and anti-inflammatory properties. The higher the cocoa content of a type of chocolate (especially dark chocolate), the more of these healthy molecules it contains.
Does CBD Chocolate Make You High?
The inclusion of trace amounts of THC in your CBD product is what helps to encourage the entourage effect—a theory that the compounds in hemp work best when taken together.
Provided that the chocolate you order does not contain THC over the federal legal limit of 0.3%, you won't feel impaired or get high from eating CBD chocolate. If you are worried about ingesting even small amounts of THC, you can opt for a selection that is made using pure CBD isolate or broad-spectrum CBD. Neither of these options contains THC.
If you go to a local dispensary, you may find CBD chocolate with a 1:1 ratio of CBD to THC, so always read the labels. This is different from the chocolates offered on this list, which were curated for CBD products only.
Remember that you should always check with your doctor when starting any new regimen, whether it's CBD or otherwise. This is especially true if you take prescription medication since some medicines don't work as well when the patient takes CBD.
Is CBD Chocolate a Good Method of Delivery?
Chocolate and CBD both have the potential to be therapeutic and healing for the mind and body, and using them together is the perfect pairing. This duo may help you relax and have a much-needed time out from the daily grind and give you a little lift as you go about your regular schedule.
CBD chocolate is absorbed via the digestive system in the same way other CBD edibles are. While not as fast as a sublingual product, it is thought that the effects may last a bit longer.
Some chocolates even contain enough to serve as a source for your daily CBD needs, and the great taste of these products is an ideal solution for those who do not care for CBD oils or the taste of hemp. However, for every day dosing with CBD, they may be too cost-prohibitive to make sense, and most people reserve CBD chocolate for a special occasion or indulgence.
How Do We Determine the Best CBD Chocolates?
First, we do a broad search of all the CBD brands offering edibles, looking specifically for chocolate. But it doesn't stop there. The real work begins when we start looking deeper into the ingredients, extraction and manufacturing methods, and other factors.
If you assumed that all CBD products are lab tested, you guessed wrong. CBD still exists in a sort of "wild west" of regulation, and there are thousands of retailers selling the compound. Like those on this list, many are legit CBD brands with high-quality ingredients and a strong commitment to safety. Not surprisingly though, there are also quite a few that are only in the industry for profit. That's why third-party lab testing is so important.
Independent lab testing is the most crucial factor in finding the CBD product that's right for you. The COAs (certificates of analysis) that are generated through this testing should always be available for consumer viewing. Sometimes they are displayed prominently next to each product description, and other times they can be found on a dedicated web page. Either way, if they are not available, we won't review the brand. It's that simple.
The COAs tell you exactly what is in your CBD and in what quantities. They list the number of cannabinoids in each product and reveal any contaminants or unwanted compounds in the chocolate. Here are some other considerations when choosing the best CBD products:
It wasn't long ago that proper labeling of CBD products wasn't enforced, so it was hard to tell what was inside the wrapper or container. While many reputable brands stepped up to the plate themselves and began labeling their products correctly, the FDA now has standards for CBD labeling.
If a brand does not meet these standards, we question its integrity and generally leave them off the list until they are in compliance.
Does the US grow the best hemp in the world? Maybe. Thanks to the 2014 and 2018 farm bills, hemp farming is highly regulated in America. There are many hoops to jump through before a grower can sell industrial hemp, and the rules are strict. While this is not easy for growers, it's good for consumers.
Hemp absorbs everything from the earth in which it's grown. In the U.S., the soil must meet specific testing standards. It's hard to know if hemp sourced from other countries is also grown using these strict measures. This is why, whenever possible, we endorse brands that use U.S. hemp in their products.
If you've shopped around for CBD products, you know that prices are all over the place. How can you possibly know if you're getting the best deal? We'll let you in on a secret: The best way to determine the cost per value ratio is not by looking at the price tag of the product but how much each milligram of CBD in the product costs.
This sounds a lot more complicated than it is. To determine the value for CBD chocolate, we simply take the item's price and divide it by the total (not per serving) milligrams of CBD as stated on the label. This method will always reveal whether you're getting the best bang for your buck.
Customer Service and Reputation
Everyone appreciates good customer service, and those brands that go above and beyond the call of duty truly stand out to us. We also feel that purchasing CBD online should be a hassle-free activity, so we look at the shopping process, ease of navigation, and checkout experience to determine the overall user-friendliness of a site.
Finally, we read up on a brand's reputation by scouring the Better Business Bureau, customer reviews, social media, and discussion forums to see what people are saying. The truth always comes out when you talk to real customers, and we're happy to say that the brands we feature have a solid track record when it comes to quality and integrity.
---
Additional Resources on CBD Edibles: