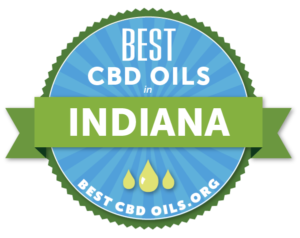 If you're looking to buy high quality CBD in Indiana, your best bet will be in Indianapolis and Carmel, which have two excellent CBD shops, with wide selections and great prices. From there, Columbus and Cincinnati each have highly-rated stores, as does Louisville, if they're within driving distance. Otherwise, shop at the multiple online CBD retailers. Below, we've profiled and located the best brick-and-mortar CBD shops in Indiana and around the region.
Is CBD Legal in Indiana?


Indiana is one of those states that seems to be significantly behind when it comes to their opinion and legislation surrounding cannabis or products derived from cannabis. Marijuana is highly criminalized in Indiana and is not legal under any circumstances, medical or otherwise. Because of that, marijuana-derived CBD is completely illegal for recreational use. Hemp research, specifically cannabidiol research, was approved in 2016 with the passage of HB 1228. In 2017, that was followed by the legalization of CBD in the treatment of epilepsy. This new law included hemp-derived CBD as well as marijuana-derived CBD containing less than .3% THC.
In 2018, HB 1137 was passed in Indiana. Industrial hemp was legal at that time, but products derived from industrial hemp were excluded. Once this bill was passed, commodities and products derived from industrial hemp were no longer excluded, and thus, became legal. Police departments have been slow to adjust to this new law meaning that there is still at least one department that believes you can be arrested for the possession of CBD even if it falls within federal guidelines. However, hemp-derived CBD has been legal for medicinal and recreational usage in Indiana since the passage of HB 1137 and is also protected under the 2018 Farm Bill that was passed in Congress.
As CBD becomes more widely used in Indiana for its many health benefits, expect to be able to purchase products in cities like Indianapolis, Fort Wayne, Evansville, South Bend and Carmel. You may even find good shops in places like Fishers, Bloomington, Hammond, Gary and Lafayette. Below, we've put together a list of the best shops where CBD is currently available.
Best CBD Oil Shops in Indianapolis
For Indianapolis residents near downtown and University Heights, be sure to visit 20 Past 4 and More (3433 Madison Ave, Indianapolis, IN 46227). Established in 2009, 20 Past 4 and is one of the best head shops in the city with a wide range of products, including premium CBD oils, vaporizers, and many more accessories at affordable prices. (The store will occasionally post promotions online, too.) Whether you're a CBD newbie or longtime enthusiast, the staff prides itself on professional and personal customer service; and if you don't what you're looking for, or just need some direction, feel free to ask for help. Open seven days a week: Monday-Saturday 10AM-10PM; Sunday 10AM-9PM.
Best CBD Oil Shops in Carmel
Xpress Tobacco Outlet (622 S Rangeline Rd B, Carmel, IN 46032) offers a great selection of CBD oil products, in addition to vapes, e-liquids, , glass pipes, and accessories. Prices are affordable, and customer service is cordial and responsive. Open seven days a week.
Best CBD Oil Shops in Columbus
Great Vapes (1294 Bethel Rd, Columbus, OH 43220), established in 2014, offers a deep inventory of premium CBD oil products, e-cig equipment, vape accessories, custom e-juices, and more, which its friendly staff is happy to help you navigate. Open seven days a week: Monday-Thursday 10AM-7PM; Friday-Saturday 10AM-8PM; Sunday 11AM-6PM.
Established in 2010, High Up Head Shop (1434 N High St, Columbus, OH 43201) has a 4-star rating and carries a stock of premium CBD and Kratom products; hookahs, vaporizers, and water pipes are also available. Open seven days a week.
Finally, if you're in Hilliard, Smoke House (5439 Roberts Rd, Hilliard, OH 43026) promises high-grade CBD oils, Kratom, water pipes, e-cigarettes, e-juices, and other top-notch CBD products at affordable price points. Customer service is always a focus, and the staff provides personalized and professional assistance. Open seven days a week, with the best hours in Ohio: Monday-Saturday 10AM-10PM; Sunday 11AM-9PM.
Best CBD Oil Shops in Cincinnati
If you're in Cincinnati, Hemptations (2034 Madison Rd, Cincinnati, OH 45208) is always worth a peek. Established in 1995, this shop has one of the largest selections of hemp and hemp CBD oil products in the region, all of which is individually sourced and curated to guarantee premium quality. Affordable prices and friendly customer service are major emphases, as well. Open seven days a week; Monday-Saturday 11AM-7PM; Sunday 12PM-6PM.
TNT Vape Shop (601 Union Rd, Monroe, OH 45036) is another great CBD shop, carrying a premium line of vapor equipment and CBD oil products. Open weekends only.
Best CBD Oil Shops in Louisville
A&A Smoker's Outlet (5909 Terry Rd, Louisville, KY 40216) offers glass oil burners, hand pipes, dab kits, and a special section for e-juices and CBD products. Open seven days a week, 9AM-9PM.