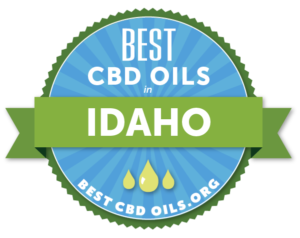 Trying to find out the best shops to buy CBD in Idaho? Look no further. Our guide was built to help you find great CBD products at the best prices.
The Best Places to Buy CBD in Idaho
CBD is one of the quickest-growing wellness and health products on the market, with shops popping up across the country and online retailers selling CBD products. In all, hemp-derived CBD is part of a $500 million industry, and most experts predict the market to continue grow with additional legislation, academic research, and increased public awareness about the benefits of cannabidioil.
At the moment, Idaho doesn't have brick-and-mortar shops specializing in CBD, but plenty of local vape shops may have it in stock——more on that later. In the meantime, consider ordering CBD online, where retailers carry an extensive selection of high-quality CBD oils, juices, edibles, tinctures, and other CBD products in multiple grades to accommodate experienced CBD users and CBD novices. Online CBD retailers also tend to offer wholesale prices—which means premium, affordable CBD—and include convenient delivery straight to your residence.
Next, let's review CBD's legal status in Idaho.
Is CBD Legal in Idaho?


The most important thing that you need to know is that CBD is legal in the state of Idaho; however, Idaho is one of the most strict states when it comes to cannabis. The use of marijuana is still criminalized in Idaho, and they are not currently moving towards any sort of legalization for medical cannabis consumption. Not only is marijuana and any product derived from marijuana illegal (including marijuana-derived CBD), any product that contains any THC whatsoever is a criminal offense. For instance, in 2018, a business owner was investigated for selling CBD products that contained .0175% THC. This was prior to the Farm Bill, though. As of 2019, she is back in business.
State laws in Idaho weren't aligned with the Farm Bill until March of 2019. Even at the time of writing this, the legality of industrial hemp is ambiguous there. It is not legal to farm hemp in Idaho. However, the possession and use of CBD is legal with a few conditions. Hemp-derived CBD from approved parts of the industrial hemp plant that contain 0% THC is legal. You may have trouble purchasing and using CBD isolates in Idaho, but any other products are fair game. Just be sure to check the lab reports provided by the company you're considering purchasing from!
What Is CBD?
Cannabidioil is a non-psychotropic cannabinoid with only trace amounts of THC offering a safe alternative to other cannabis products and a range of medically-documented health benefits.
CBD affects the endocannabinoid system, which controls many everyday functions like mood, sleep, hormone regulation, appetite, and pain. That in itself would be cause for celebration, but medical research suggests we're only beginning to understand CBD's biggest health advantages: cardiovascular disease, general anxiety disorders, epilepsy, chronic pain, schizophrenia, Alzheimer's disease, and ALS all might be reduced, mitigated, or prevented via regular CBD usage.
Yearly there are more medical discoveries hinging around CBD's therapeutic and health-promoting qualities.
CBD Oil Shops in Boise
While Boise doesn't have shops dedicated to CBD products, several popular vape shops may carry it. A few worth checking out: E-Cig City Vape N Brew (3701 W Overland Rd, Boise, ID 83705), Vape (233 N Orchard, Boise, ID 83706), and Volt Vapes Fairview (8009 W Fairview Ave, Boise, ID 83704) are all highly-rated shops. For those in the Boise suburbs, look into Urban Vapor Loft (2951 E Overland Rd, Meridian, ID 83642), Matrix Vapor (2498 E Fairview Ave, Meridian, ID 83642), Cafe De Vapor (7068 W State St, Boise, ID 83714), and Treasure Valley Vapors (46 E Eagle River St, Eagle, ID 83616).
CBD Oil Shops in Idaho Falls
Idaho Falls has a half-dozen shops that may have CBD in stock, including: The Vapor Door (1733 W Broadway St, Idaho Falls, ID 83402), Idaho Vape (939 S 25th E, Idaho Falls, ID 83406; 475 Park Ave, Idaho Falls, ID 83402), Outlaw Vapor Idaho Falls (1182 E 17th St, Idaho Falls, ID 83404), and Vaping Outlet (2157 E 17th St, Idaho Falls, ID 83404).
Other CBD Oil Shops in Idaho
Twin Falls, Pocatello, Nampa, and others have vape shops worth checking out too, and don't forget that the CBD market, while rapidly growing, is still in its infancy. As CBD grows in popularity, expect to see an increased CBD presence in Idaho.
That wraps up our roadmap to the best CBD oil options in Idaho. We hope it helped!