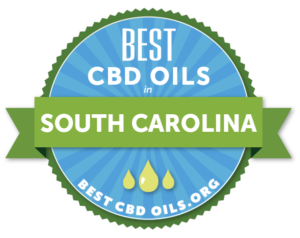 Do you want to buy CBD Oil products in South Carolina? Following the lead of several other states in the country, South Carolina is quickly becoming one of the Southeast's best places to buy CBD, with premium quality products matched to impressively low prices. No wonder.
The Best Places to Buy CBD In South Carolina
In addition to its recreational appeal, CBD provides a range of health benefits — from reduced anxiety to evidence of potential cancer prevention capabilities — making it one of the most rapidly growing health and wellness products in the market. Best of all, hemp-derived CBD products don't contain intoxicating properties, so you can feel safe using it in any of its multiple forms: oil, tincture, lotion, juice, edible, dab, and more.
For your convenience, below you'll find a compilation of brick and mortar CBD shops in South Carolina, but be sure to check online if you don't see a store near you: a number of online retailers sell premium CBD products at affordable prices and will deliver your order straight to your door!
Best CBD Shops in Charleston
There are nearly a half-dozen places to buy CBD in and around Charleston, the most popular of which might be Eucalyptus Wellness and Elixir Bar (280 W Coleman Blvd, Mount Pleasant, SC 29464). Boasting a perfect 5-star rating, the shop carries a variety of CBD oils, herbs, teas, and other healthy and holistic standbys, including vitamins, supplements, and juices. Customers highlight personal, friendly customer service, and price points are at or below market. Alternatively, Herbal Passion (845 Savannah Hwy, Charleston, SC 29407) is another health and wellness store that's received a lot of attention. Featuring premium CBD oils, bulk herbs, spices, superfoods, and house tea blends, this shop also prizes responsive customer service, whether you're a first-timer or experienced CBD enthusiast.
If you're looking for vape and head shop options, Mutiny Vapors (214 St James Ave, Goose Creek, SC 29445) carries an unrivaled line of national and award-winning e-liquids, CBD juices, vape devices and accessories, and much more. Airavata Vapors (1200 Queensborough Blvd, Charleston, SC 29464) is newer stop (opened in December 2016) but features an equally appetizing selection of high quality CBD, e-juices, and gummies.
Best CBD Shops in Greenville
Opened in 2010, 4.5-star Smoke 'n Brew (1553 N Pleasantburg Dr, Greenville, SC 29609) is one of the most established vape shops in the region and holds the distinction of being one of the few places in upstate South Carolina to buy CBD. If you're looking for other goods, you won't be disappointed, either: Kratom pills and powder, vaporizers, e-liquids and juices, and numerous accessories make up a wall-to-wall selection.
Best CBD Shops in Clemson
Randy's Smoke-N-Holes (3907 Clemson Blvd, Anderson, SC 29621) is Clemson's premier destination for CBD products, vape supplies, Kratom, and related goods.
Is CBD Legal in South Carolina?


Marijuana possession has yet to be decriminalized in the state of South Carolina, and there are absolutely no laws allowing for recreational or medical marijuana or marijuana-derived products. This means that anybody caught buying, selling, or possessing any amount of cannabis in the state will be facing some serious charges. There have been many attempts in updating the state's laws on medical cannabis and derivatives; however, none of them have been successful as of yet. In 2014, marijuana-derived CBD became legal for medicinal consumption if the patient has a severe seizure disorder and a doctor's recommendation.
CBD products derived from industrial hemp were illegal according to the state's laws up until 2014 when S. 839 was passed, allowing industrial hemp to be cultivated in the state for medical use. It wasn't until 2017 that state laws were defined and expanded on, allowing for the personal use of industrial hemp and hemp-derived products. The recreational and medicinal use of hemp-derived CBD is completely legal in SC and has been since 2017. Since then, many areas of South Carolina has seen an explosion of CBD specialty shops, with cities such as Charleston and Greenville seeing shops opening to take advantage of the more progressive stance the Palmetto State adopted.