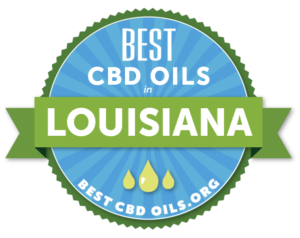 Are you looking to find CBD in Louisiana?
The Best Places to Buy CBD In Louisiana
Following the lead of several other states in the country, from California to New York to Florida, Louisiana is becoming one of the Gulf Coast's best places to buy CBD, with premium quality products paired with affordable prices. For anyone who understands the benefits of CBD, this shouldn't come as a surprise. In addition to its recreational appeal, CBD offers a range of health advantages — from stress reduction to evidence of potential cancer prevention — which makes it one of the most fastest growing health and wellness products on the market. Most important, hemp-derived CBD products don't contain intoxicating properties, so you can feel safe using it as an oil, lotion, edible, juice, tincture, or any other available form.
For your convenience, below you'll find a compilation of brick and mortar CBD shops in Louisiana, but be sure to check online if you don't see a store near you: a number of online retailers sell premium CBD products at affordable prices and will deliver your order straight to your door!
Is CBD Legal in Louisiana?


Louisiana has an interesting history with medical marijuana. It has been officially legal since 1978, and it was even legalized again in 1991 to expand the list of qualifying conditions. Providing legal channels for approved patients to obtain medical cannabis is where the state falls flat. A dispensary system bill failed in 2014, and there was a tentative bill introduced in 2017 that would finally grant access to some patients. Marijuana-derived CBD is legal for approved patients under these laws but legal channels to acquire these products have yet to be established. For recreational use, marijuana and marijuana-derived products are illegal, but some areas have decriminalized their possession.
Hemp-derived CBD is a slightly grey area in Louisiana. In 2019, two bills have been introduced that would establish a significant excise tax on all hemp and CBD products and would provide regulatory guidelines for industrial hemp. As of May 2019, any alcohol or food product containing CBD is explicitly illegal. However, other hemp-derived CBD products would finally reach statewide legality for both medicinal and recreational use. State officials previously insisted that hemp-derived CBD products were illegal, even as recently as April, but they are finally bringing their laws in line with the 2018 Farm Bill.
Best CBD Shops in New Orleans
Established in 2015, Smoke-N-Style (1820 Dickory Ave, Harahan, LA 70123) is a 5-star rated vape, tobacco, and head shop that offers a wide range of goods: e-liquids, vaporizers, Kratom, concentrates, and premium CBD oils and hemp-derived CBD products. (The shop is also your go-to for any accessory need, from coils and mods to batteries and chargers.) Customers rave over a lot here, but customer service is one major point of emphasis. The staff is friendly and knowledgeable, and assists customers on an individual basis to create a personalized, tailored shopping experience. A range of price points is available, from entry-level to high-end, and online discounts and promotions may be available. Open seven days a week: Monday-Saturday 11AM-9PM; Sunday 12PM-9PM.
CBD Shops in Gretna
Just south of New Orleans, Up In Smoke (651 Terry Pkwy, Gretna, LA 70056) specializes in vaping products, hookah supplies, pipes, and high quality CBD oils. Established in 2015, customers highlight the wall-to-wall selection, affordable price points, and excellent customer service: Whether you're a CBD novice or longtime enthusiast, Up In Smoke's staff is eager to help find the right CBD product for your needs. Open seven days a week, 9AM-10PM.
CBD Shops in Houma
Bayou Queen Vape (693 Corporate Dr, Houma, LA 70360) has a wall-to-wall selection, including CBD products, vape products and accessories, and 100 e-juice flavor varieties. Open Monday-Friday 10AM-8PM; Saturday 12PM-5PM.
CBD Shops in New Llano
Holy Smoke Vapor Lounge (465A Acton Rd, Marksville, LA 71351) offers quality CBD oils and name brand vaping products — Smok, Sigelei, Wismec, Eleaf, etc. Open Monday-Saturday 10AM-9PM.
CBD Shops in New Llano
Established in 1964, Adolph's (101 Vernon St, New Llano, LA 71461) is a local mainstay, now offering vape e-juices, Kratom, hookah, and a premium line of CBD products in addition to traditional beer, wine, and spirits. Open seven days a week.
CBD Legality in Louisiana
CBD hemp oil is federally legal and has been ruled to fall under the same importation and commerce regulations of other hemp products. Further, no Louisiana state legislation has been enacted to regulate CBD hemp oil.
Go in more depth:
CBD Shops near New Orleans