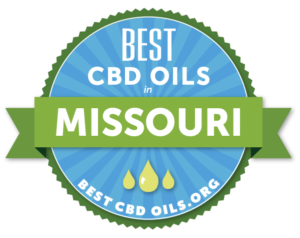 One of the fastest-growing health and wellness products on the market, CBD shops are popping up across the US, and the Midwest is no exception. If you're looking to purchase CBD in Missouri, Kansas City and St. Louis each have several highly-rated shops selling premium CBD products and other holistic goods. Below, we've profiled and provided locations for the best places to buy CBD in the area, but, if you prefer the convenience of online shopping, remember that wholesale and other private retailers sell CBD online, too.
Is CBD Legal in Missouri?


As recently as December of 2018, the state of Missouri has passed a law allowing for the use of medical marijuana and CBD medications derived from marijuana sources. These laws, surprisingly, allow for a wide variety of medical conditions and symptoms to be treated with doctor-recommended cannabis. This medical marijuana law will allow individuals with documentation that they suffer from one of the eligible health problems a lot of relief as soon as dispensaries open. As of March of 2019, there aren't any in operation. Because of this, it seems that recreational marijuana use won't be possible until sometime in the distant future, if at all. Recreational use of marijuana-derived CBD is not likely to be possible soon either.
Missouri, believe it or not, is one of the most progressive states in America when it comes to hemp-derived CBD. Back in 2009, the first bill in which industrial hemp was legally defined as containing no more than 1% THC by weight and made legal for cultivation was introduced. It was signed into law in 2014, which is when CBD became legal for medical use. September of 2018 was when the recreational use of hemp-derived CBD became legal there, a full three months before the passage of the Farm Bill. Missouri also doesn't impose the same restrictions that other states do in regards to CBD in foods or beverages. In fact, in February of 2019, they began allowing the sale of CBD-infused alcohol. So, if you want to purchase or use CBD that comes from industrial hemp, you have nothing to worry about here.
CBD Oil Shops in Kansas City
CBD Plus (6310 Brookside Plz, Kansas City, MO 64113) is one of Kansas City's most trusted resources for quality-grade CBD products, including tinctures, lotions and topicals, gummies and edibles, and CBD pet treats, all of which contain cannabidiol extracted from hemp. Customers compliment CBD Plus's extra friendly staff and personal, professional customer service, whether you're a CBD regular or first-time buyer. Open seven days a week: Monday-Saturday 11AM-7PM; Sunday 12PM-4PM.
Just a few minutes away, Main Smoke Shop (3429 Main St, Kansas City, MO 64111) is a great all-around head shop, with vape products, hand blown glass, dabbers, Kratom, e-liquids, and premium CBD. Established in 2004, Main Smoke continues to be a local favorite for its great prices, online discounts, and knowledgeable staff who are happy to help you navigate the wall-to-wall selection. Open seven days a week: Monday-Friday 10AM-9PM; Saturday-Sunday 10AM-8PM.
American Shaman Store (500 W 103rd St, Kansas City, MO 64114) is conveniently located off I-435 in South Kansas City. With a perfect 5-star rating, reviewers highlight a lot, from the top-shelf inventory, to friendly staff, to the overall environment. All products are hemp-based, including a range of CBD oils available at several affordable price points. Better yet, American Shaman posts great online deals, including a $25 for $30 voucher that saves you %17 off the in-store price tag. Military discounts are available, as well. Open even days a week: Monday-Saturday 10AM-9PM; Sunday 11AM-7PM.
CBD Oil Shops in St. Louis
CBD KRATOM (3161 Morganford Rd, Saint Louis, MO 63116) is one of St. Louis's best herbal and vape shops, with CBD available in oils, wax, edibles, capsules, tinctures, topicals, and cartridges. Among the major brands in-stock include: BeeZbee CBD, +Plus CBD, Green Roads, Mary's Nutritionals, Essential CBD, Nine Mile, and Green Garden Gold, among others. With a 4.5-star rating, customers unanimously praise the friendly and personal professional service. Open even days a week, 8AM-10PM.
Established in 2013, Mr. Nice Guy has rapidly expanded to feature one of the largest selections of CBD products in St. Louis, plus vaporizers, Kratom, detox, pipes, and accessories. Prices remain at or below market, and online deals are often available, as well. For maximum convenience, Mr. Nice Guy also offers online orders and delivery services. Now with five locations: 2644 Cherokee St, St. Louis, MO 63118; 0300 Lincoln Trail, Fairview Heights, IL 62208; 8506 Olive Blvd, St. Louis, MO 63132; 3325 N Hwy 67, Florissant, MO 63033; and 5892 Delmar Blvd, St. Louis, MO 63112.
Finally, Cloud 9 Premium Lounge (1517 Cottleville Pkwy, Cottleville, MO 63376) is the best-rated vape shops and hookah bars in St. Louis, with a perfect 5-star rating on 20 reviews.
You can also find CBD Products online and have them shipped to you!