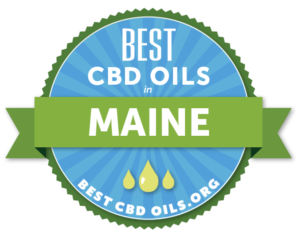 Do you live in the beautiful state of Maine but find it difficult to track down places to buy CBD oil that actually works? We've put together this guide to help you find the highest quality at a store nearest to you.
The Best Places to Buy CBD in Maine
Cannabidiol (CBD) is part of a massive hemp industry that accounts for $500 million in annual imports — and most experts predict continued growth. CBD is one of the fastest-growing therapeautic products in this sector and is available in all 50 states and over 40 countries.
For a state of its size, Maine has an above-average amount of brick-and-mortar CBD shops, but you might prefer buying CBD online for convenience, wholesale pricing, and delivery services. Online retailers also tend to have a wide selection of high-quality CBD strains, including CBD oils, capsules, edibles, tinctures, balms, and other CBD products.
Is CBD Legal in Maine?


The Maine Medical Marijuana Act was first enacted in 1998. This act made it so that patients could grow and use marijuana, providing they met certain medical conditions and cannabis was recommended by their doctor. In 2016, recreational marijuana was legalized statewide, but it has been met with some opposition from the governor. Medical dispensaries are scattered across the state, but no recreational dispensaries have been able to set up shop just yet. Since medical and recreational marijuana use are both legal in Maine, the use of marijuana-derived CBD is completely legal as well.
Industrial hemp was first legalized in Maine back in 2009. Of course, that has only expanded over the years and significantly so since the passing of the US Farm Bill in 2018. As recently as 2019, there were some concerns surrounding the legality of CBD. This prompted Governor Janet Mills to sign the CBD Food Law in order to protect Maine residents' rights to consume hemp-derived CBD. This is massive for CBD-consumers in Maine because it ensures that you won't lose access to your favorite products despite the legal shuffling going on as the FDA moves towards regulation. Hemp-derived CBD products, including CBD edibles, are completely legal for medicinal and recreational purchase and consumption in Maine.
What Is CBD?
CBD is a non-psychotropic cannabinoid product (one of over 85) with only trace amounts of THC, so no matter the strain or dosage, CBD has zero intoxicating effects, making it a safe and legal alternative to other cannabis products.
CBD also has significant health benefits. In particular, CBD targets the endocannabinoid system, which regulates day-to-day functions from appetite and mood, to hormone regulation, sleep, and pain. But that's just the beginning. A growing amount of medical research suggests that CBD could reduce, mitigate, or prevent some of society's most devastating medical issues, including Alzheimer's disease, cardiovascular disease, schizophrenia, epilepsy, ALS, general anxiety disorders, depression, and cancer. Annually, more reports come out extolling the virtues of therapeutic CBD.
Now let's take a look at places to buy CBD in Maine.
CBD Oil Shops in Portland
Established in 2017, Soul Being (662 Congress St, Portland, ME 04101) is an alternative medicine shop and wellness situated in the heart of downtown. Find CBD products as well as massage therapies, aromatherapy, yoga, and much more. Open Tuesday-Saturday, 11AM-7PM.
CBD Oil Shops in Brunswick
In spite of its name, Not Another Glass Shop (7 Monument Pl, Topsham, ME 04086) is just that. Established in 2017, you'll find a wide selection of CBD products, vaping products, e-juices, glass, and more. Open Tuesday-Sunday, 11AM-7PM.
CBD Oil Shops Near Lewiston
REMEDY Compassion Center (730 Center St, Auburn, ME 04210) is a state-licensed cannabis clinic, offering high-quality CBD strains and pain-relieving indicas and sativas. Boasting a five-star rating, customers rave over the highly knowledgeable staff. Customer service is a priority, and REMEDY helps customers on a case-by-case basis with tailored CBD products for their health needs. Open Tuesday-Saturday.
While not a CBD shop, GTK Analytic (Greene, ME 04236) is a cannabis lab that uses a 200x microscope/camera to inspect CBD concentrates, oils, and tinctures, helping CBD users find the optimal dosage and grade for their specific health needs.
CBD Oil Shops in Waterville
With seven years of experience, Empire Vape Shop (251 Main St, Waterville, ME 04901) specializes in vapes and e-cigs. Customers will also find over a dozen different juice flavors, premium juices, and 99% pure high-quality CBD liquid. Expert staff will help you navigate the extensive selection and answer any questions, whether you're a experienced CBD user or novice. Open seven days a week: Monday-Saturday 8AM-8PM, Sunday 11AM-5PM.
CBD Oil Shops Near Bangor
If you're in the Bangor area, East Coast CBDs (241 Depot St, Unity, ME 04988) offers medical-grade, high-quality CBD products developed on site and delivered to straight to your door. With multiple strains available, customers are ensured the best CBD for their specific needs.