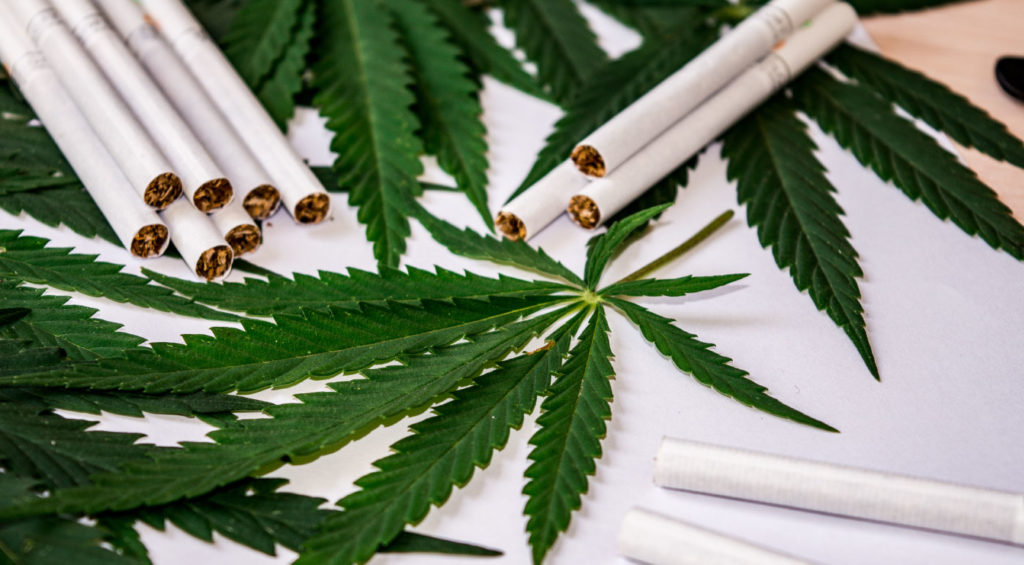 Smoking is hardly a new trend. Shamanistic rituals dating back to 5000 B.C. reveal that ever since plants and humans have existed on Earth together, there's always been something to smoke that humans connect with.
Featured CBD Brands
Thanks to new government regulations in the U.S. and abroad, the ancient tradition of smoking hemp is back in fashion. CBD cigarettes are available!
If you've never purchased CBD cigarettes, you may be wondering where to find the best. Can you buy them from the same vendors that sell CBD oil? We've done the research and listed our top choices for you, but you may still have many questions about CBD in cigarettes. Following the review, you'll find a brief introduction that covers all the basics.
Table of Contents
How We Find the Best CBD Cigarettes
Narrowing down the top-rated CBD cigarettes is no easy task. We comb through dozens of brands to find the ones that best meet our criteria, which include:
Third-Party Lab Testing
Since the CBD industry is still unregulated, we look at vendors that take transparency seriously by conducting lab testing on their products. The CBD should be tested at an independent facility, and reports should be available for viewing on the brand's website.
Clear Labeling
Again, because there are relatively few standards in the industry, clear and easy-to-read labels are a must. You should be able to see pertinent information like the ingredients, potency, dosing suggestions, place of manufacturing, and other vital data.
Domestic Hemp
We like domestic hemp. Why? Because it's the safest and most regulated in the world. Brands that use U.S.-sourced hemp to make their CBD are given preference because the product can easily be traced from seed to sale.
Value
When determining the overall value of a CBD product, we look at the cost per milligram rather than the sticker price. It's the most accurate way of knowing whether you are getting a good deal. Surprisingly, the most expensive brand might be the best deal in the long run.
Customer Service
If you have questions or concerns about a CBD product, who do you turn to? Customer service, right? So a brand's customer service must be easy to communicate with and provide a satisfying outcome. We also look at shipping, return policies, and the checkout process to see how the brand stacks up against the competition.
Reputation
Older trusted brands have already established a reputation in the CBD world, but newer brands are still trying to gain traction. We look at what others are saying on forums, review sites, and other online sources. The best way of determining a product's effectiveness is often by asking real users.
Now that you know how we select the best CBD cigarettes let's look at our list of favorites.
Top Five Best CBD Cigarette Brands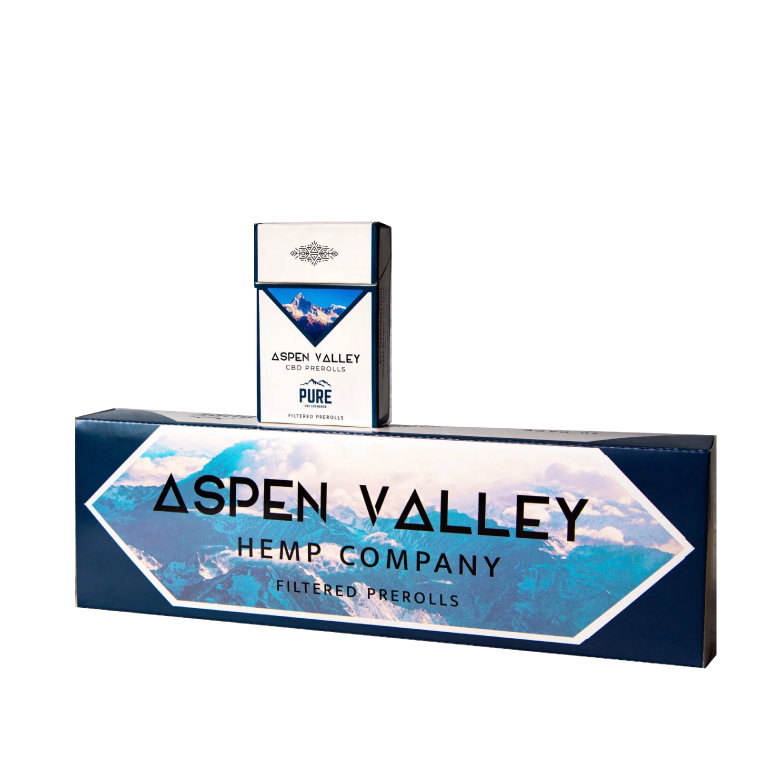 Highlights:
Professionally manufactured (looks and feels like a real cigarette)
Single packs or cartons available
No nicotine, tobacco, or harmful substances
Description:
Ingredients: 0.85 milligrams of ground CBD flower in each cigarette
Pricing: $0.01 per milligram
Company: Our top choice among the best CBD cigarettes comes from Pure CBD Exchange. This is an operation that knows its way around hemp, and it specializes in tinctures, loose flowers, and joints. However, the brand really shines with its Aspen Valley CBD Cigarettes.
Each pack contains 20 cigarettes, filtered and rolled with nothing but CBD flower. The packs are $9.99 each, and cartons are only $80, which brings the price to under $0.01 cent per milligram. Each cigarette contains around 85 milligrams of premium CBD.
This filtered style of smoking hemp leaves isn't unique to the Pure CBD Exchange; however, they do offer one of the most reasonably priced CBD cigarettes for those who need a tobacco alternative. The CBD content is mild, making for an enjoyable smoking experience completely void of nicotine.
Shipping: Orders over $100 qualify for free shipping.
Returns: Unopened products can be returned for a refund but need prior authorization. Return shipping costs are the responsibility of the purchaser.
Best for: those looking for inexpensive high-potency CBD cigarettes
---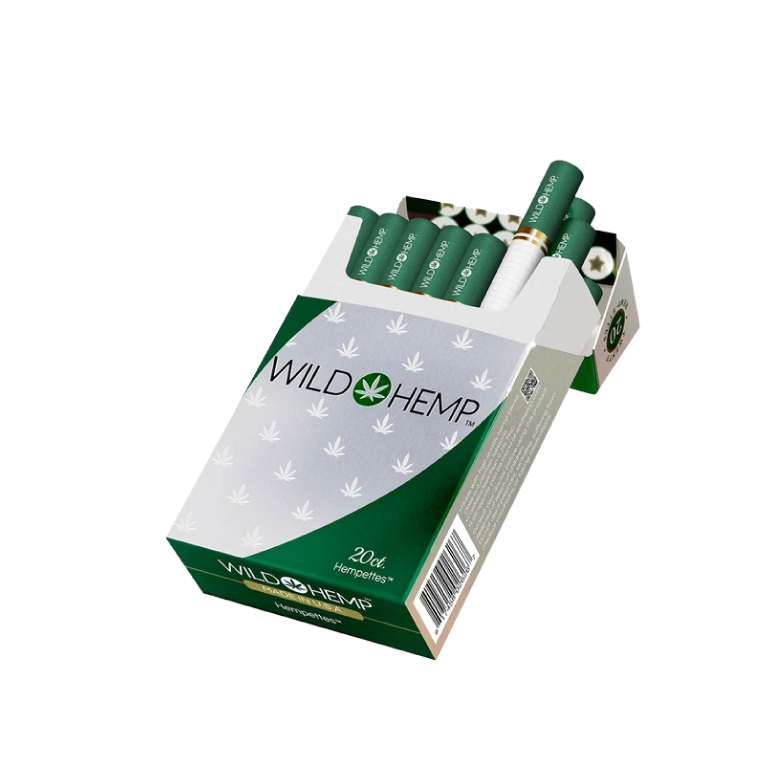 Highlights:
Sourced from domestic hemp
Less than 0.3% THC (tetrahydrocannabinol)
Third-party lab tested for potency and purity
Description:
Ingredients: 50 milligrams of hemp per Hempette
Pricing: less than 1 cent to $0.01 per milligram
Company: Wild Hemp is one of the leading brands of CBD cigarettes, which they cleverly call "Hempettes"—theoretically as a way to differentiate from its tobacco counterparts.
Of course, there's no tobacco present in these cigarettes, just U.S.-grown hemp rich in CBD.
As with most full-spectrum hemp products, there is a touch of THC present. Still, at levels that don't exceed the federal legal limit of 0.3%, they won't cause any noticeable mind-altering effects. However, they may potentially help keep you calm and relaxed. Customers can select from regular, menthol, sweet, or pineapple blaze flavors.
Wild Hemp's Hempettes have become so popular, they are sold by retailers nationwide. They contain a decent amount of CBD — about 50 to 75 milligrams per Hempette, making them the cheapest CBD cigarettes on our list.
Shipping: Free shipping on all orders.
Returns: All sales are final. Returns not accepted.
Best for: those who want inexpensive CBD cigarettes with pleasing flavors and scents.
---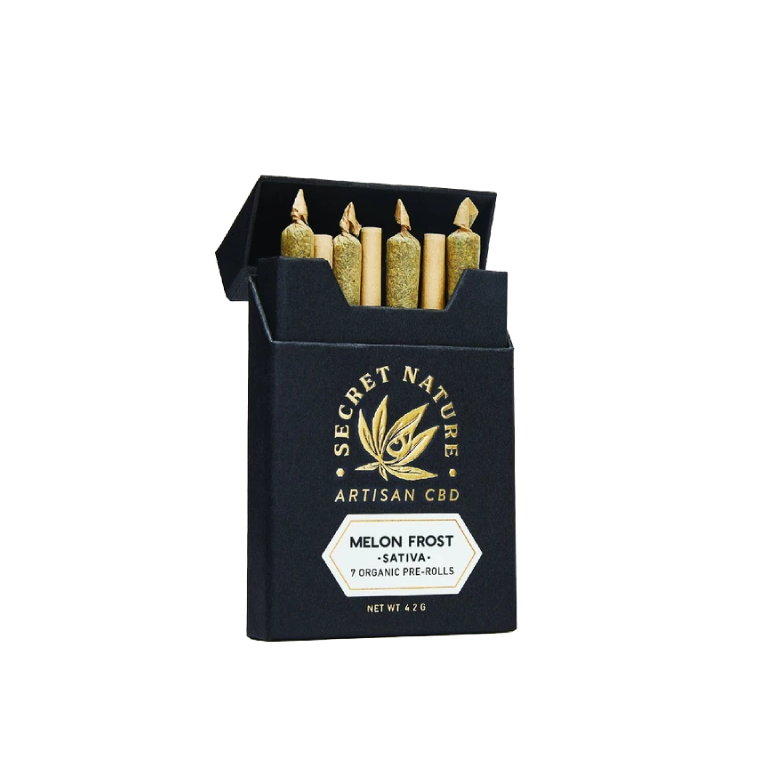 Highlights:
Select from many artisan flavors
Made with organic ingredients
Third-party lab tested
Description:
Ingredients: 95 milligrams of organic, trimmed CBD flower in each joint
Pricing: $0.06 per milligram
Company: Secret Nature is a vertically integrated brand that controls its whole process from seed to shelf, so they know exactly what goes into each of its artisan-quality pre-rolls. Based in California, Secret Nature specializes in loose CBD flower pre-rolled joints and vape extracts made to exacting standards.
These Melon Frost CBD Pre-Rolls are just one of the many options the brand offers. They have a distinct terpene profile that is designed for a focused, uplifting smoke "sesh" without the high. There are seven cigarettes in each package, and each contains a whopping 95 milligrams of CBD, so this is one of your best bets if you're looking for the highest-potency CBD cigarette.
Unlike some of the others on our list, Secret Nature pre-rolls come with no filter. Instead, they are rolled up like a joint with hemp paper and packaged in a sturdy black box and a hermetically sealed bag to prevent odor.
Shipping: Pay your own shipping.
Returns: You may only return unopened products within 30 days of delivery for a full refund or exchange; however, you are responsible for return shipping.
Best for: those looking for top-tier high-potency CBD cigarettes
---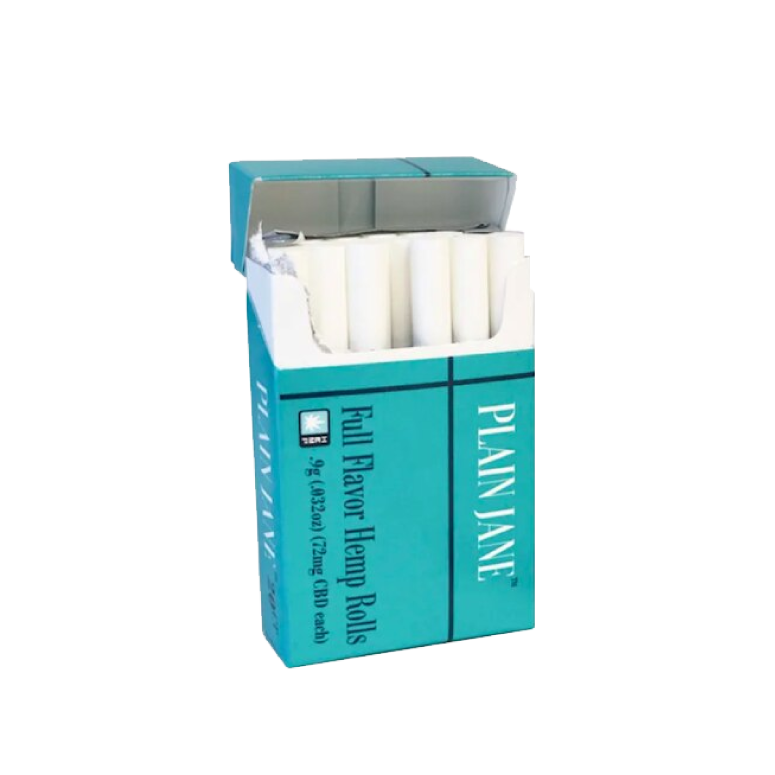 Highlights:
Made with rice paper so it burns slow
Full-flavor or low-odor cigarettes available
Sourced from Oregon hybrid strains
Description:
Ingredients: 72 milligrams of Oregon hemp per cigarette
Pricing: $0.01 to $0.03 per milligram
Company: Hemp cigarettes don't have to be a fancy or expensive experience. Plain Jane is a brand that offers CBD cigarettes as a minimalistic product. Its cigarettes come in standard packs of 20, and you can also purchase a package of just two cigarettes and test the waters. Each cigarette promises 72 milligrams of CBD each, which is a relatively high potency for CBD cigarettes.
These Full-Flavored Pre-Rolls have that familiar hempy smell and are full of flavor thanks to strains like Sour Space Candy, Lifter, and Electra. However, Plane Jane carries Regular Hemp Pre-Rolls that have been processed to remove the hemp scent for those who would like a more discreet smoke experience.
Both options are incredibly well reviewed, and the brand is well-known for its top-quality CBD products. Full cartons are available as well, and you can even get a carton of the two-count packs to share among friends.
Shipping: Free shipping on orders over $30.
Returns: You may return unopened, unused products within seven days but must contact support to initiate the process. Customers are responsible for their own return shipping costs.
Best for: those looking for reasonably priced regular and low-odor CBD cigarettes
---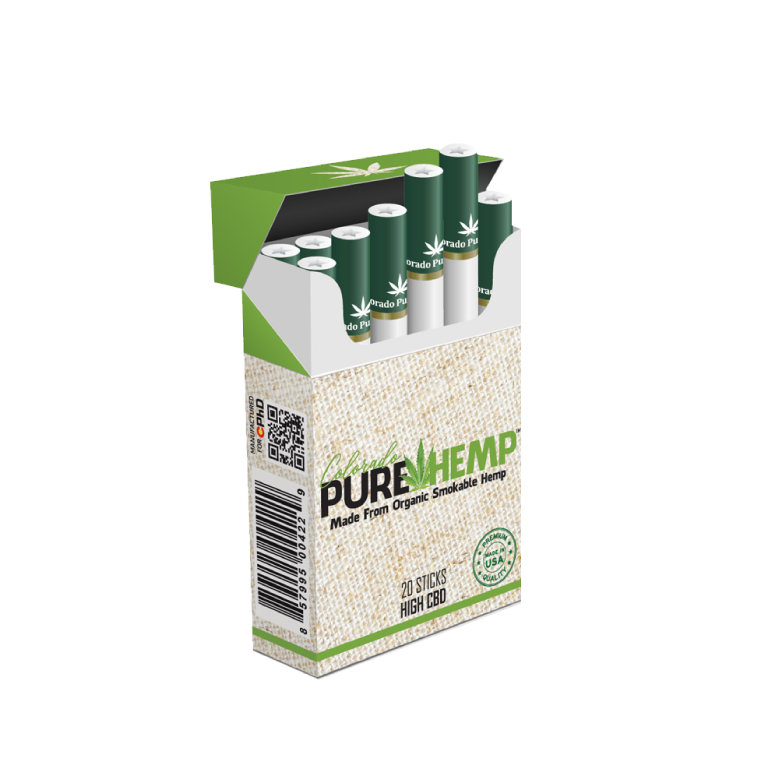 Highlights:
Lab tests available right on the website
Made with organic hemp
Less than 0.3% THC
Description:
Ingredients: 36 milligrams of pure hemp flower in each hemp stick
Pricing: $0.02 per milligram
Company: Many folks enjoy the flavor profile and scent that accompanies smoking, so for those people, getting a cigarette that stays true to those aspects is essential. If that sounds like you, Colorado Hemp has you covered. The brand's Hemp Sticks boast a "unique flavor profile" that preserves everything you love about CBD-rich hemp.
These CBD cigarettes are sourced from 100% organic hemp and contain all of the naturally occurring terpenes, flavonoids, and cannabinoids from the plant, with only 0.3% THC in the formula. They have star-tipped filters and the classic look of a real cigarette, but they contain no nicotine, tobacco, or additives.
Each Hemp Stick contains about 36 milligrams of CBD, making them the logical medium-potency option on our list. Customers can also select the Menthol Hemp Sticks.
Shipping: Free shipping on orders over $30.
Returns: If you are unhappy with your purchase, you can request a refund within 13 days. The brand claims to resolve 100% of customer issues within 48 hours. You will be responsible for return shipping.
Best for: those looking for medium-strength regular or menthol CBD cigarettes
---
Why Smoke CBD?
Thanks to the 2018 Farm Bill, products containing CBD derived from the industrial hemp plant are now permitted in the United States, and they are all the rage. Smoking hemp is preferred over smoking cannabis by some people, given its high CBD content and the fact that it's entirely legal. Today, many people are using CBD to potentially help manage anxiety, pain, inflammation, insomnia, and other issues.
The range of products that contain CBD is vast, and they're all pretty much intended for specific results. CBD oil is the most popular product made with cannabidiol, but shoppers can find plenty of other options, too, including CBD capsules, candy, tea, coffee, and topicals.
Smoking CBD is a popular option because of one defining detail: It's quick. CBD oil can be smoked with a vape pen, but many people find CBD cigarettes are a more convenient option. While consuming gummies or using lotions have their benefits, smoking is the fastest way to get the CBD into your bloodstream.
With inhalation, the CBD is absorbed immediately in the lungs and transported throughout the body almost instantaneously. Whether you are experiencing anxious moments or severe pain, this may be an excellent way to get the results you want faster than waiting for the CBD to pass through the digestive system.
Is CBD Marijuana?
No, but it is similar. Marijuana is derived from the cannabis plant just like hemp. Although hemp and marijuana are part of the same plant family they are different. And the major difference lies in the active chemicals.
CBD can be found in all cannabis plants, but it's the most abundant in hemp. And what hemp has in CBD, it lacks in THC. This is good news for those who don't want to experience the psychoactive results of using more traditional cannabis products. In short, a hemp or CBD cigarette won't get you high.
Why Not Just Smoke a CBD Joint?
If you're into that, you can! Dried hemp flower is commonly wrapped in rolling papers the same way marijuana is, so that is an option. They are typically sold as pre-rolls and sold by many online vendors. But joints are a whole different experience than filtered CBD cigarettes.
Smoking cigarettes is more familiar to some people, and, actually, smoking CBD cigarettes is often used to break the habit of nicotine and tobacco. The filtered tip and even burn from start to finish make CBD cigarettes an attractive alternative for those moving away from cigarettes or those who don't like the idea of smoking a joint.
CBD cigarettes also have an appearance similar to tobacco cigarettes, so they're much less conspicuous in public than a pipe or hemp rolled up in rolling paper.
Is There Tobacco in CBD Cigarettes?
No. Some people may like to wean themselves off of tobacco by mixing a self-rolled cigarette with hemp. But when you buy CBD cigarettes, it's assumed that you're in it for the hemp, not the tobacco, nicotine, and other additives of a typical cigarette.
Smoke 'Em if You Got 'Em!
The Food and Drug Administration is still working on determining the safety and efficacy of CBD products. Though cigarettes in any form can't truly be considered health-conscious, hemp flower is less addictive than nicotine-packed tobacco cigarettes. Whether you're looking to break the habit of smoking cigarettes, or you're just hoping to get the relaxing effects of CBD, hemp cigarettes can be worth exploring.