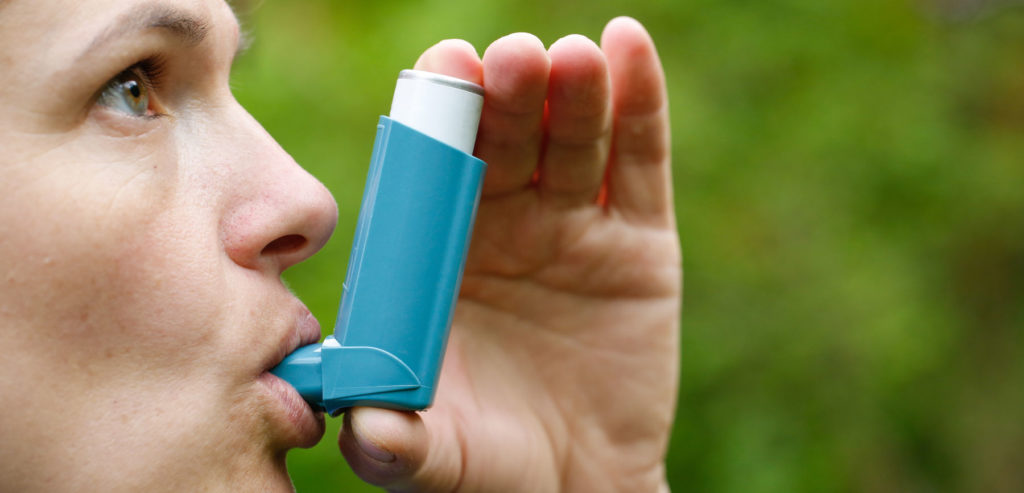 The quickest way to get CBD into your system is by inhaling it. Understandably, many health concerns have been raised about smoking and vaping marijuana products, so nobody would blame you for looking into other alternatives.
Featured CBD Brands
While not as popular as many other CBD products, a few hemp companies are answering the call to find healthier methods of inhaling the cannabinoid. Their solution? CBD inhalers.
How do they work? They work as you might expect, delivering a convenient and precise dose of CBD designed to be absorbed into the body via the lungs. No heating necessary. In this article, we present our list of the best CBD inhalers you can purchase online now.
Use These Page Jumps To Find Your CBD Inhaler!
---
The 3 Best CBD Inhalers On the Market
Fairwinds Zero 550 Inhaler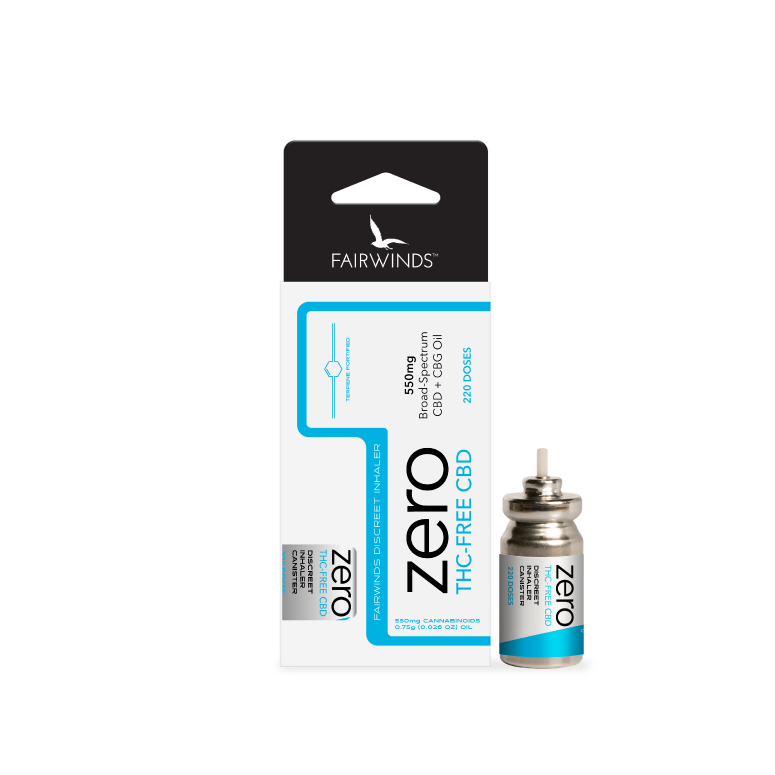 Highlights:
FDA-regulated and approved propellant
No pesticides, molds, mycotoxins, or metals
Terpene-fortified
Description:
Ingredients: CBD oil, CBG, HFA propellant (FDA approved)
Pricing: $0.11 per milligram
Company: Fairwinds has established itself as one of the top sellers of CBD inhalers. Along with an FDA-approved propellent, the brand utilizes CBD and CBG plus minor cannabinoids for a full-spectrum effect without the high. It contains no THC, additives, or essential oils, and produces no vapor, odor, or smoke. If you're looking for a hemp-only product, this is it. Please note that the canister and actuator are sold separately, although the actuator is only an additional $2.99.
Shipping: Free shipping on orders over $35.
Returns: Pay your own first-class or priority shipping.
---
CBD LUXE Be Clear CBD Inhaler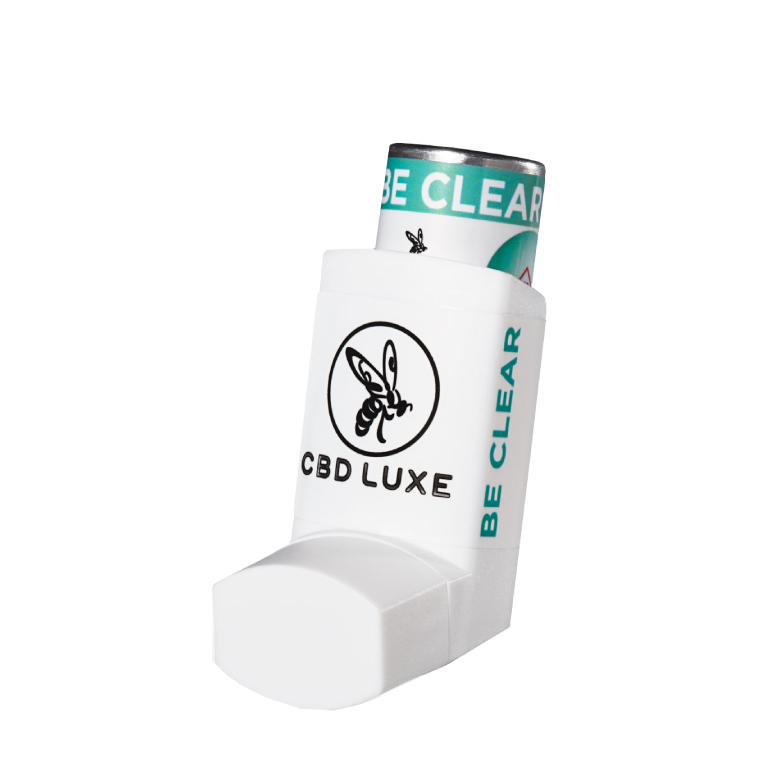 Highlights:
Several options available
Premium organic ingredients
Full-spectrum
Description:
Ingredients: Micell full-spectrum hemp oil, green tea, oleic acid, ethyl alcohol, stevia
Pricing: $0.07 per milligram
Company: CBD LUXE CBD Inhalers are some of the better-known inhaled CBD products on the market. In this review, we are featuring the Be Clear Regular CBD Inhaler, but you can also opt for Spearmint-Lemon, Lavender Chamomile, or Green Tea and Honey if you like. Each canister contains 1,100 milligrams of full-spectrum CBD and a range of cannabinoids for encouraging the entourage effect. There are approximately 200 5.5 milligram doses in each canister.
Shipping: Free standard USPS shipping.
Returns: Refunds given within 30 days on unopened and unused products only.
---
Monarch Life Sciences Nano-Mist Inhaler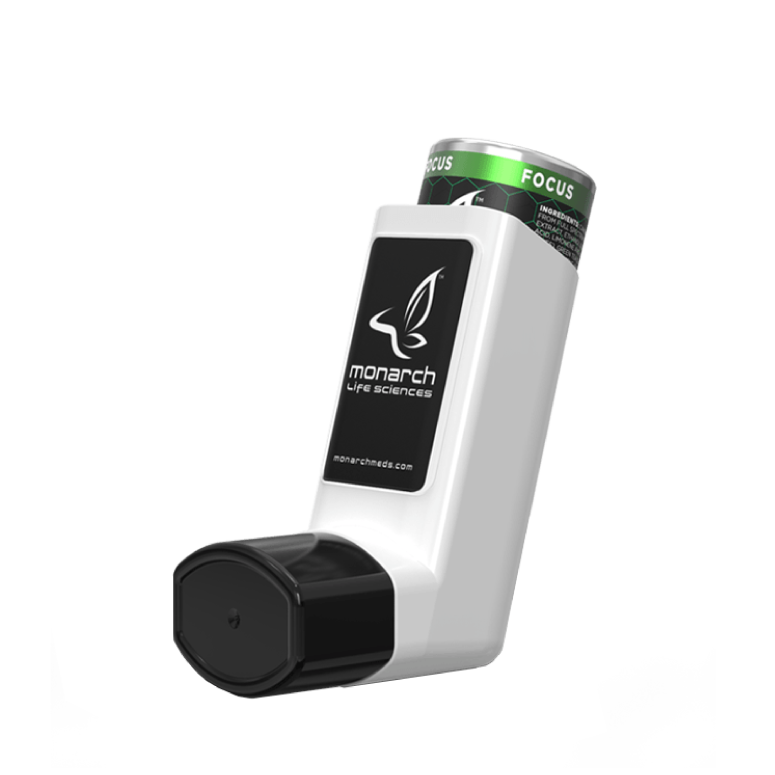 Highlights:
Infused with micronutrients
Great flavors
Utilizes nanotechnology
Description:
Ingredients: Broad-spectrum CBD, pharmaceutical-grade FDA-approved propellant, terpenes, botanicals
Pricing: $0.04 per milligram
Company: Each puff of the Nano-Mist Inhaler from Monarch Life Sciences delivers 7.5 milligrams of Purzorb® CBD, a proprietary broad-spectrum formulation made using nanotechnology. The brand offers five different versions of the inhaler, each infused with various botanicals and herbal ingredients designed to meet a specific need. Choose from Focus, Energy, Balance, Relax, or Sleep inhalers. Featured here is the Focus blend, containing ginseng, ginkgo biloba, and green tea. It has a rejuvenating honey-and-lemon flavor and is just what is needed for concentration and mental alertness.
Shipping: Free shipping on orders over $40.
Returns: Unused products in original packaging can be returned within 30 days for a full refund.
---
What Is a CBD Inhaler?
By now, you're probably familiar with many CBD products on the market—tinctures, salves, capsules, gummies, and even vape products. But inhalers? That's a new one for many people. However, these handy little devices aren't as odd as you might think. They work the same way a medicated inhaler works, but instead of medicine, they contain CBD. They are pocket sized with a mouthpiece and a pump that uses a propellant to force CBD into the lungs when inhaled.
What Are the Advantages of a CBD Inhaler?
Inhaling CBD is the fastest absorption method, and most people who want results quickly will either use smokable hemp or a CBD vape pen or vaping device. But there are downsides to these methods. All of them use heat, which can change the chemical structure of the ingredients in the vape liquid and can also cause potential lung damage. An inhaler does not use heat. Instead, a propellant is used to force the CBD into your airways.
Secondly, they are very discreet. Unlike vaping or smoking, there is no cloud, vapor, or smoke, and there is no odor. You can put a CBD inhaler in your purse or pocket and use it whenever you need it without drawing much attention to yourself. Plus, since it's premeasured, there is no fussing around with getting a consistent dose.
Finally, this method of delivery is surprisingly inexpensive. You can get up to 200 doses of CBD from one inhaler at a cost of well under 0.10 cents per milligram. This is right on par with some of the most affordable CBD oils on the market. In some cases, it's even cheaper.
How To Use a CBD Inhaler
The first thing to do is shake the inhaler a few times to ensure that the ingredients are mixed together properly. Then, put your lips around the mouthpiece, exhale fully, press down on the trigger, then breathe in deeply and hold for a few seconds before exhaling. Some inhalers will have a slight propellant taste; others will taste "hempy." Some on our list are flavored for those who prefer a tastier experience.
You should begin to feel the effects within a minute or two, and they will be subtle. Don't expect to feel high or buzzed. That's not what CBD is about. Instead, CBD inhalers are designed to gently and effectively provide potential relief for anxiety, aches, pains, and other discomforts. You may need to play around with dosing until you find the relief you're looking for, but give it several minutes before taking an additional dose.
Are CBD Inhalers Good for Respiratory Health?
The anti-inflammatory properties of CBD could make it particularly helpful for respiratory health. In fact, doctors in the 1920s used to prescribe cannabis for coughs.
Today, scientists have uncovered several ways in which CBD may help your lungs. One way is by triggering bronchodilation — causing the airways in your lungs to expand and pass air more freely.
CBD may also help you quit smoking tobacco, which is obviously a great benefit to your lungs and overall health. Clinical trials have shown that people who use CBD inhalers reduce the number of cigarettes they smoke daily by as much as 40%. If you have been wanting to quit smoking but need help doing so in a less stressful manner, CBD could possibly help.
It is speculated that CBD might even help people with asthma and COPD breathe easier. Animal studies have found that cannabidiol (CBD) reduced airway inflammation in mice. Other studies also showed it reduced inflammation as a result of lung injury.
However, animal studies are not substitutes for controlled double-blind studies on humans, no matter how promising the research is. If you want to try a CBD inhaler for your asthma or COPD, you should first consult with your doctor. And never stop using a prescribed inhaler or medication without seeking guidance from a medical professional.
Inhaled cannabis products have been in the news recently due to some rare and serious health complications that have arisen from vape products. Fortunately, these complications have not occurred with CBD inhalers, but caution and common sense are always advised.
Provided you have spoken with your doctor, trying a CBD inhaler might just give you the relief you are looking for. CBD inhalers are cheap, work fast, last a long time, and are premeasured, so there is no messy preparation involved.
You can take a CBD inhaler on a plane, put one in your pocket, or tuck one away in your purse or briefcase so you'll always have one on hand. Nobody needs to know you are using CBD, either, since there is no vapor or scent. Considering all of these plusses, we think it's well worth giving a CBD inhaler a try.
Methodology: Why Are These the Top CBD Inhalers?
Narrowing down the list of CBD inhalers was more straightforward than most products we review, considering that there are not many of this product type on the market. Still, there are some critical decision-making criteria that we always use when presenting our lists:
First and foremost, we look for brands with third-party lab testing reports, also called COAs (certificates of analysis), readily available for viewing. It's vital to know what is in your inhaled product, and the only way of determining this is by looking at an unbiased lab sheet. Lab testing reveals the potency and purity of a product, and can alert you to any unwanted ingredients.
Again, you want to know what is in your CBD product, and you don't want to have to dig too deep to find out. Companies that label their products with ingredients, serving sizes, amounts, and other pertinent information will always rank over those that do not.
Except for a few trusted European growers, we select brands that source their CBD from hemp grown in the U.S. Why? Domestic hemp is grown under strict regulations that keep it free of potential contaminants from the soil.
We also look at each CBD inhaler's cost per milligram, since this is the fairest way of determining a product's actual price. Brand A's sticker price might be lower, but if it contains less CBD than Brand B, it's not necessarily a good value overall.
Customer Service and User Experience
There are plenty of ways to create a good experience for a customer. Most of these have to do with friendly and helpful customer service along with an easy-to-navigate website. We look at both of these factors when evaluating various brands, because purchasing CBD products online should never be a hassle.
Word of mouth is still one of the best ways of ferreting out the best products. Real users with firsthand experience can provide an honest account of a product's price, effectiveness, and ease-of-use. We look at what real people are saying about a CBD product, not just the sales literature.
---
Additional Resources: