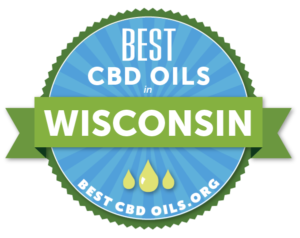 Because of its well-documented health benefits, CBD is one of the fastest-growing wellness products on the market, prompting stores across the country to stock their shelves with CBD oils, capsules, liquids, balms, edibles, and more. If you're looking to buy CBD in Wisconsin, you've got a few options.
First is the traditional brick-and-mortar shop, several of which are located in Milwaukee and Manitowoc, and even some in Madison. Below, we've compiled a list of these shops, plus a handful of the best places to buy CBD in Northern Illinois, for those able to make the trip. Alternatively, if you can't find a CBD storefront in your area, online retailers offer a great selection at affordable prices —— typically wholesale —— and will deliver your order right to your door.
Our favorite CBD product can be purchased online for delivery to Wisconsin:
Order Online!
Is CBD Legal in Wisconsin?

Governor Tony Evers in Wisconsin has big plans for medical marijuana in the state. This year, he has proposed several plans that would provide a path towards legalization, but all have been shot down so far. In 2014, the previous governor passed laws that allowed for the medicinal use of CBD for patients with seizure disorders. This law was vague, but it did allow medical practitioners to prescribe CBD-rich medications for those who were eligible. As of May of 2019, marijuana is not approved for medical use, and its possession remains a criminal offense. Marijuana-derived CBD is conditionally legal for medical use but otherwise not allowed under current laws.
Despite the state's views on medical and recreational marijuana usage, Wisconsin has a strong relationship with hemp. Since 2014, industrial hemp cultivation has been legal, and the industry has been booming ever since. This is part of the reason why there is hope for medical marijuana legalization in the coming years. Hemp-derived CBD was first approved for medical use in 2013, but it is currently legal for recreational use as well. As recently as 2018, Wisconsin's Department of Justice has stated that CBD is only conditionally legal; however, with the advances brought by the 2018 Farm Bill, recreational CBD use is legal in Wisconsin as long as it meets the federal requirement of containing less than 0.3% THC.
CBD Oil Shops in Milwaukee
Conveniently located in the heart of downtown, Green Fields (1237 East Brady St, Milwaukee, WI 53202) offers one of the widest selection of vape-related products in Wisconsin and the Great Lakes Region: e-juices, glass rigs, concentrates, incense, e-liquids, and premium-grade CBD oils. Open seven days a week: Monday-Saturday 11AM-8PM; Sunday 11AM-6PM.
CBD Oil Shops in Manitowoc
Established in 2015, Vāp (1001 Washington St, Manitowoc, WI 54220) is the leading vape shop in the area, conveniently located at the corner of 10th and Washington Street. Customer service is personal and professional, and the knowledgeable staff is eager to help you navigate the store's extensive inventory to help you find the right product, whether you're a fist-timer or a longtime enthusiast. In addition to a range of high-quality CBD products, you'll find vape liquids, e-juices, starter and advanced kits, and more than 150 flavor options. Open seven days a week: Monday-Friday 12PM-7PM; Saturday 10AM-4PM; Sunday 12PM-4PM.
CBD Oil Shops in Northern Illinois
Tobacco (4200 Il Route 173, Zion, IL 60099) offers a variety of products, including premium e-liquids, vaporizers, RDA, pipes, and some of the best CBD products in the area. Established in 2014, customer service is major emphasis. Open seven days a week: Monday-Saturday 10AM-8PM; Sunday 11AM-6PM.
Established in 2015, Resistance Vapor (321 Irving Ave, Woodstock, IL 60098; 2432 S Alpine Rd, Rockford, IL 61108) has two locations in Woodstock and Rockford for all your CBD needs. In addition to CBD, the wall-to-wall selection features atomizers/tanks, free in-store build kilts, and more than 100 flavors of CBD-infused e-liquids, including Sqeez, Respek, Prohibition, WHYTE, Black Stache, Alto Apple, Chubby Bubbles, Lunar Harvest, Lunar Harvest Black, and several in-house flavors. With a 4.5-star rating, customers highlight affordable price points, a friendly atmosphere, and, above all, a highly personable, knowledgeable staff that goes out of their way to make sure customers' needs are met, whether you're a first-time CBD buyer that needs some direction, or an experienced enthusiast looking for the next big thing. As always, make sure to check online for deals —— first-time customers receive 10% off in-house flavors. Open even days a week: Monday-Saturday 11AM-9PM; Sunday 12PM-7PM.
Peace Novelty (615 S Rockford Ave, Rockford, IL 61104) carries an excellent line of high-grade Kratom, e-liquids and vapors, and premium CBD products. Prices are at or below market, and in-store and online promotional deals are often available. Open seven days a week: Monday-Friday 7AM-9PM; Saturday 8AM-8PM; Sunday 9AM-6PM.