You don't need to get high to enjoy the numerous health benefits of cannabis. CBD edibles are a fantastic alternative to those traditionally made with THC.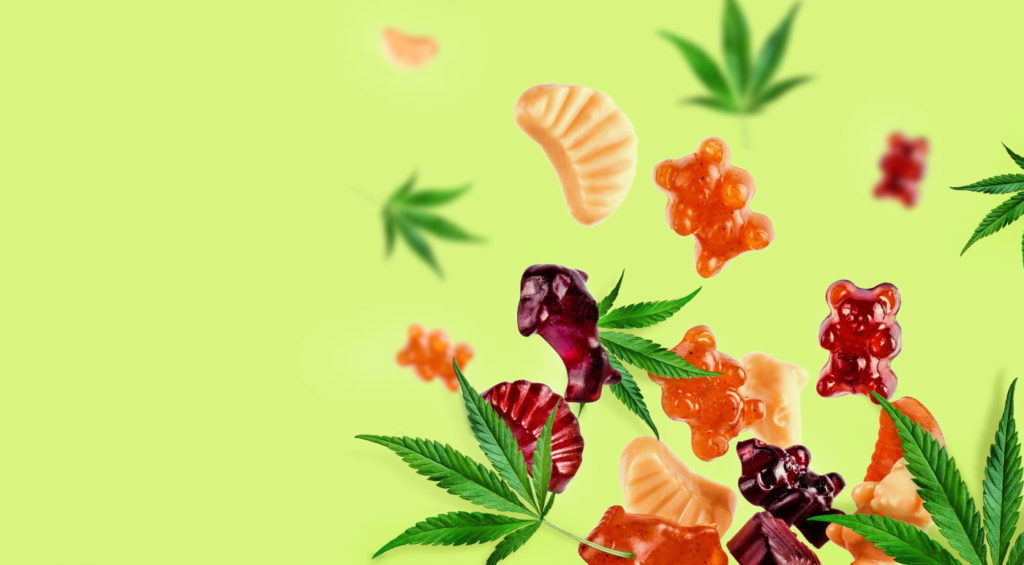 Since CBD is a non-psychoactive cannabinoid, it's not mind-altering and won't make you feel funny. Instead, you can avail yourself of the therapeutic effects of the plant and remain fully sober, with no concerns about becoming impaired.
Typically, edibles made from cannabis take the form of gummy candies, although you can find other delights made with CBD, too. From chocolate to honey, you can find a CBD edible to satisfy any sweet-tooth craving. In this review, we'll cover the top CBD edibles you can purchase online right now.
Get Long-Lasting CBD Edibles With Quick Page Jumps!
---
Top 7 Best CBD Edibles
Kanibi Organi Gummies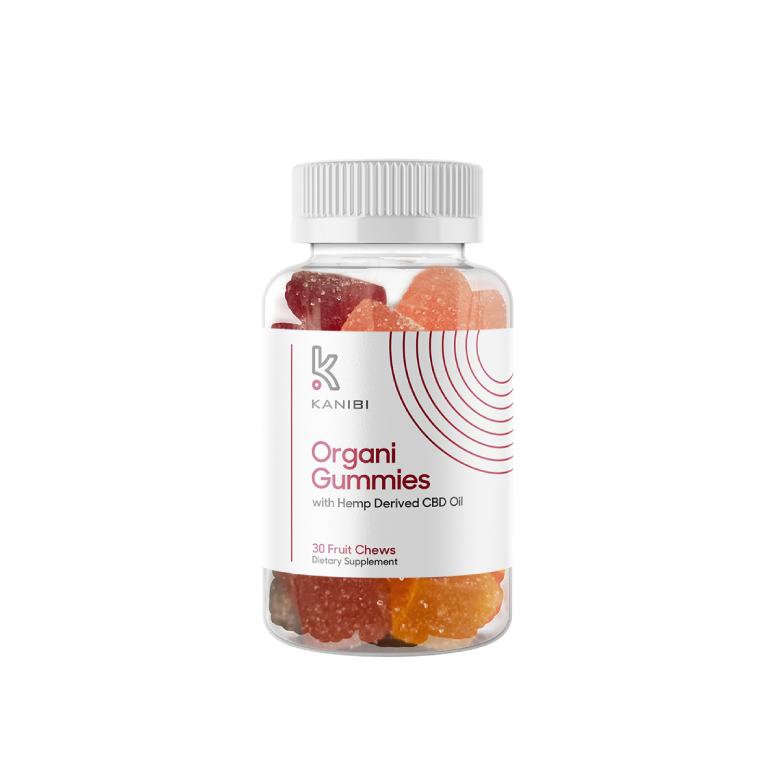 Highlights:
Sourced from organic hemp
Double-lab-tested
100% money-back guarantee
Description:
Ingredients: Organic tapioca syrup, organic cane sugar, water, pectin, natural flavors, organic fruit, and vegetable juice (for color), citric acid, sodium citrate, malic acid, organic sunflower oil, organic carnauba wax
Pricing: $0.13 per milligram
Company: Kanibi is a true standout for impeccable quality standards. They use double-lab testing for all their products, and their CBD is made with clean, organically grown domestic hemp. We know this popular brand for its top-notch CBD oils and sports creams, and now they've caught our attention for their gummies.
Made in an FDA-inspected facility, Kanibi's Organi Gummies are infused with high-quality CBD distillate and crafted from completely organic ingredients. They are gluten-free and suitable for vegans since they are made with fruit pectin instead of gelatin. Each bottle contains 30 fruit-flavored gummies, and you can choose from 10 or 25 mg potencies, depending on your needs.
Shipping: Free shipping on all U.S. orders
Returns: 100% satisfaction guarantee. Contact support at support@kanibi.com for instructions on how to obtain a refund
---
CBDfx CBD Gummy Bears
Highlights:
Huge variety
Single-pass CO2 extraction
Organically grown hemp
Description:
Ingredients: CBD, CBN, CBG, MCT oil, coconut oil, stevia
Pricing: $0.03 per milligram
Company: CBDfx is one of the leading brands in the country, and they also boast some of the most reasonable prices. The brand has been around since 2014, offering a full range of high-quality CBD products, including tinctures, topicals, pet products, capsules, and more. All are made using organically grown domestic hemp that goes through a single-pass CO2 extraction process. Every product is lab-tested for potency and purity.
These basic CBD Gummy Bears contain 25 mg of broad-spectrum CBD in each piece, and there are 60 pieces per container. They have a delicious berry flavor and contain no THC. However, they are just the tip of the iceberg when it comes to the brand's edible offerings. Customers can select from six other gummy formulations, all with a unique twist.
Shipping: Free shipping on orders over $35
Returns: Return new, unused, and unopened products within 30 days of delivery for a full refund, minus shipping
---
Joy Organics CBD Gummies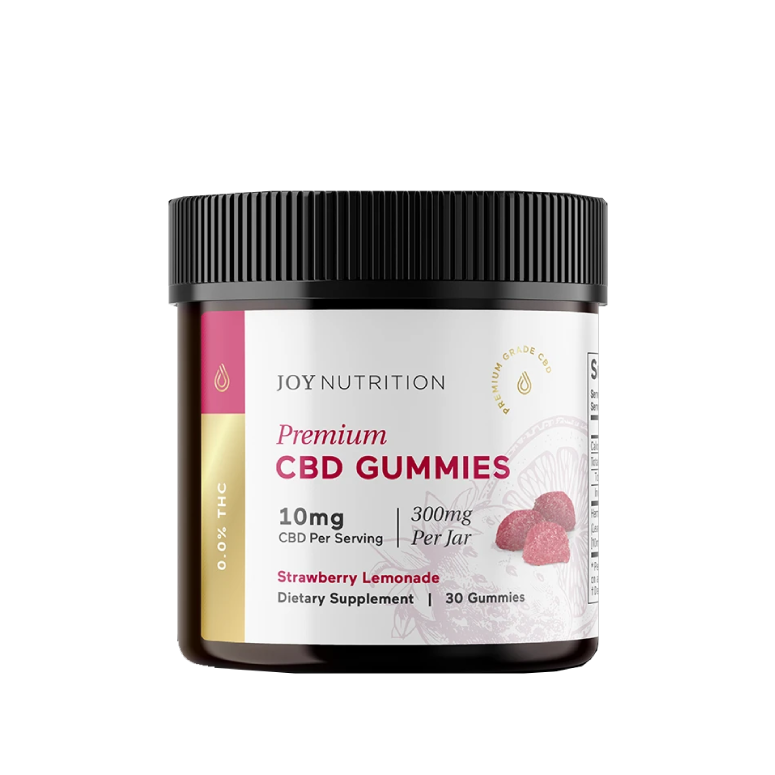 Highlights
No artificial colors or flavors
Made with broad-spectrum CBD
Great flavor options
Description:
Ingredients: Organic tapioca syrup, organic cane sugar, water, pectin, phytocannabinoid-rich hemp extract, citric acid, natural flavors, sodium citrate, malic acid, fruit & vegetable juice (color), sunflower oil, and carnauba wax
Pricing: $0.07 per milligram
Company: Joy Organics is one of the premium retailers of THC-free CBD products. Nearly all of the brand's offerings are made using broad-spectrum CBD, a formulation that retains all of the whole-plant goodness of hemp but without the inclusion of THC.
The company's Strawberry Lemonade Gummies are vegan, gluten-free, lab tested, and contain 10 mg of CBD in each piece. They boast clean ingredients like organic tapioca syrup and organic cane sugar. If you want something a little sourer, opt for the brand's Green Apple flavor instead.
Shipping: Free standard U.S. shipping.
Returns: 100% satisfaction guarantee. Contact support to initiate the process
---
Medterra Sleep Tight Strawberry Gummies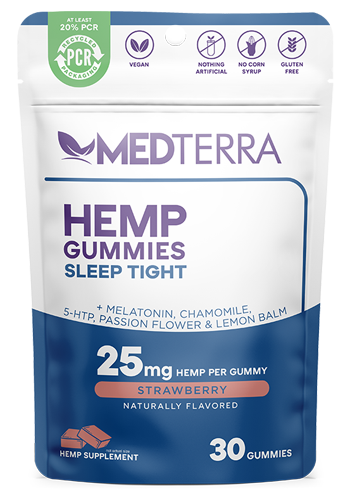 Highlights
Hemp sourced from Kentucky
No THC
Gentle sleep aid
Description:
Ingredients: Melissa officinalis (lemon balm), Matricaria chamomilla (chamomile), l-theanine, passiflora (passionflower), cannabidiol (hemp extract), 5-HTP (5-hydroxytryptophan), melatonin,
tapioca syrup, natural (turbinado) sugar, DI water, citrus pectin, natural flavor, and color, citric acid, malic acid
Pricing: $0.06 per milligram
Company: Medterra is one of the top THC-free CBD brands on the market, and they offer a full range of products, including tinctures, capsules, pet products, topicals, and more. They are formulated with 99.6% pure CBD isolate sourced from Kentucky hemp, and they are all third-party lab tested.
Medterra's Sleep Tight Strawberry Gummies are ideal for those who are searching for a product to help them get a good night's rest. In addition to 25 mg of CBD, each gummy contains powerful natural ingredients like melatonin, chamomile, and lemon balm to help you gently off to dreamland. They come in a bag of 30 and have a delicious strawberry flavor.
Shipping: Free shipping on all U.S. orders over $75
Returns: When purchased through CBD Direct, unopened products returned within 30 days are eligible for a full refund.
---
Charlotte's Web Calm CBD Gummies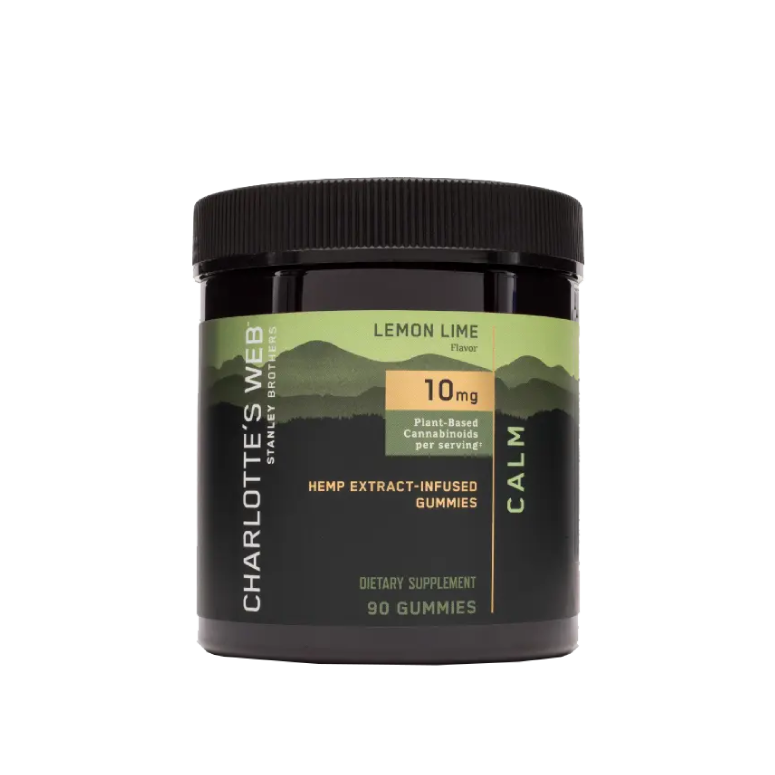 Highlights
Reputable and well-known brand
Domestically sourced hemp
Full-spectrum
Description:
Ingredients: Tapioca syrup, beet sugar, fructooligosaccharides, water, natural flavors, MCT oil, and pectin. Less than 1% of malic acid, spirulina extract (color), sodium citrate, dihydrate, organic lemon juice concentrate, citric acid, organic sunflower lecithin, tapioca starch
Pricing: $0.10 per milligram
Company: As one of the most well-known CBD companies in the world, Charlotte's Web has been instrumental in introducing CBD products to the marketplace. The iconic brand has a loyal following of repeat customers, most of whom began by looking for high-quality full-spectrum CBD oil. Today, they offer an array of products, from topicals to capsules, and yes, even CBD edibles.
Charlotte's Web Calm CBD Gummies are designed to help combat everyday stresses and encourage a sense of relaxation. They contain whole-plant hemp extract and lemon balm, a botanical also known for its calming properties. Available in 30-, 60-, or 90-count containers, the gummies each contain 10 mg of CBD.
Shipping: Free shipping on all U.S. orders over $24
Returns: Refund of the full purchase price within 30 days of the purchase date. Contact support to initiate the process.
---
cbdMD Premium CBD Gummies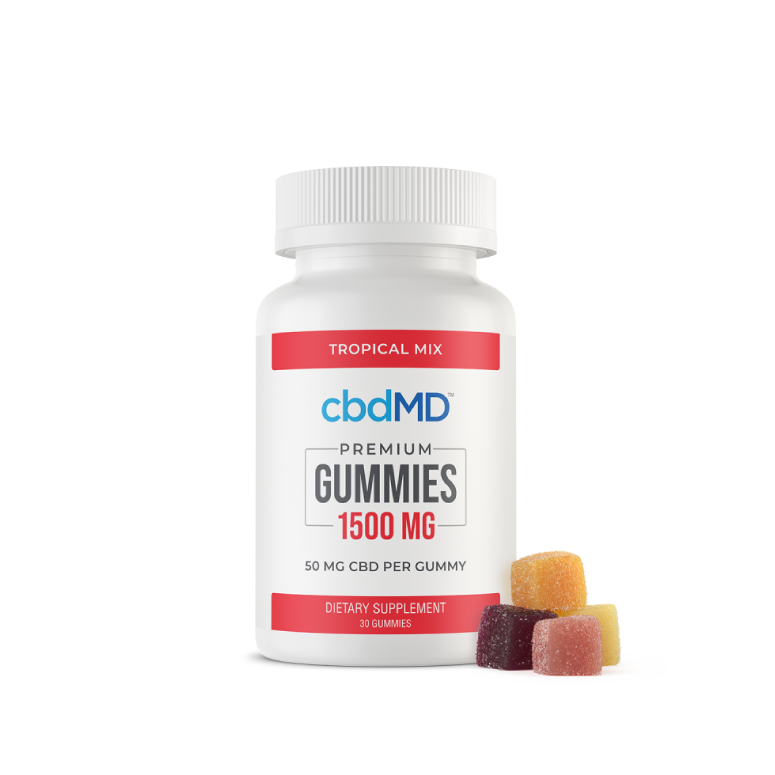 Highlights:
Domestic hemp
Excellent pricing
Varying potencies
Description:
Ingredients: Cannabidiol (CBD), organic tapioca syrup, organic cane sugar, water, pectin, natural flavors, organic fruit and vegetable juice (for color), citric acid, sodium citrate, malic acid, organic sunflower oil, organic carnauba wax
Pricing: $0.06 per milligram
Company: cbdMD is a trusted and reputable brand in the CBD space, with a variety of products to meet every need. The brand uses U.S.-sourced hemp and each of its products undergoes extensive third-party lab testing, with results listed right on the brand's website. Transparency is king with this brand, and you can view ingredients, dosing recommendations, and other pertinent information on each product description page.
cbdMD's Premium CBD Gummies come in three strengths: 10, 25, or 50 milligrams each, depending on the bottle you choose. This makes it easy for those who need different potencies to order exactly what they need. The gummies are made with broad-spectrum CBD, so they contain no THC and they are vegan, gluten-free, and packed with wholesome goodness.
Shipping: All orders over $79.95 ship free
Returns: 60-day money-back guarantee. Contact support to initiate a return
---
CBD Living Green Apple Hard CBD Candy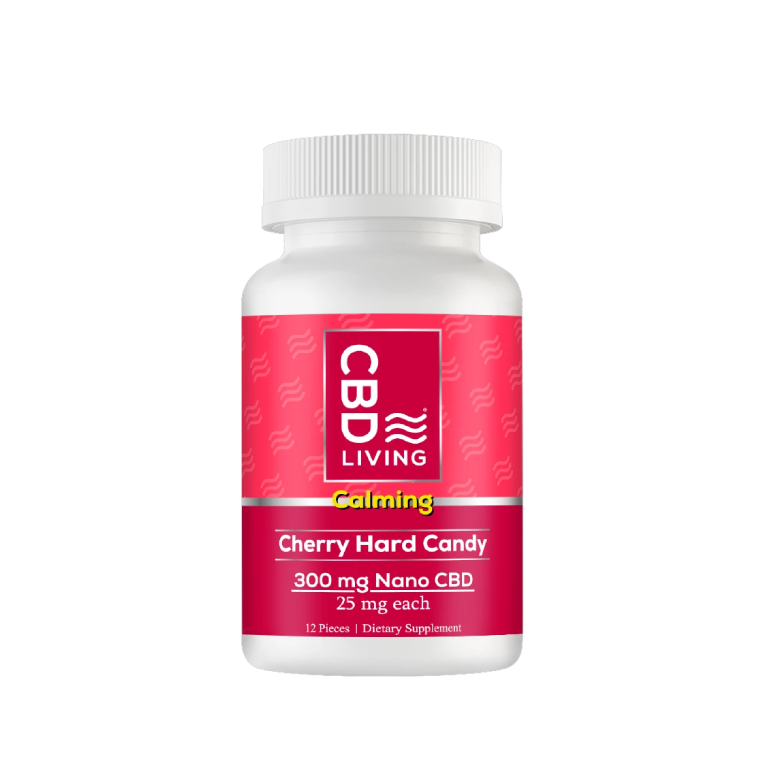 Highlights:
Sugar-free
Nano-CBD
Also available in cherry
Description:
Ingredients: Proprietary broad-spectrum nano hemp extract (aerial parts) 25 mg CBD, isomalt, organic stevia, natural flavoring, natural coloring
Pricing: $0.07 per milligram
Company: CBD Living is a brand known for using a proprietary nanotechnology process that takes CBD (an oil) and makes it water-soluble. The result, according to researchers, is a more bioavailable form of CBD that gets to where it is needed in the body easier than products not made with nano-emulsion.
We aren't sure about the science of it all, but we do know these Cherry CBD Candies are amazing. Each contains 25 mg of CBD that has been sourced from organic Oregon and Colorado hemp. The brand uses Stevia to make these little gems sugar-free, and if green apple is not your thing, you can get them in cherry instead.
Shipping: Free shipping on orders over $75
Returns: Refunds are issued on a case-by-case basis. Contact support with questions.
---
What Are CBD Edibles?
Edibles are a form of cannabis that you ingest. Other products you swallow include CBD oils, tinctures, and extracts, plus CBD capsules. Although CBD gums, lozenges, and beverages can also be considered edibles, we're focused mainly on edible snacks in this article.
The most common types of edibles you will find at a dispensary are THC edibles or those with a THC or CBD mixture. Our list's edibles are a little different because they only contain CBD. This makes them attractive because they won't cause any psychoactive effects or intoxication.
What Are the Advantages of CBD Edibles?
Many people wonder about the advantages of CBD edibles. After all, why not just take CBD oil? While products like tinctures definitely have their benefits, there are a couple of things that set edibles apart from other types of CBD products.
For starters, they taste good. This may seem obvious, but the earthy taste of hemp in some full-spectrum oils is unpleasant for many people. And if something doesn't taste good to you, you're less likely to take it regularly, no matter how much you know you should. Edibles, on the other hand, are designed to be delicious.
The other advantage of CBD edibles is that they are highly portable and convenient in most cases. You don't need to stop and do any measuring, and you can take a bag or bottle of edibles with you anywhere without worrying about spills or messes. It's easy to throw some edibles in your purse, briefcase, or backpack and have a perfect, premeasured dose of CBD any time you want.
Cost is another factor. While some CBD products can be pricy, edibles have a reasonably low price tag. In most cases, you can get them for under 10 cents per milligram, and often, they are even cheaper, especially if you purchase them in larger quantities.
How Are CBD Edibles Made?
Like CBD oils, edibles are made using one of three different forms of CBD:
Full-spectrum CBD edibles contain all of the compounds in the whole hemp plant, including the cannabinoids, terpenes, and plant matter. This means they include trace amounts of THC to help encourage the entourage effect. This amount is too low to cause any psychoactive effects but may possibly be detected on a drug test.
Broad-spectrum CBD edibles also contain whole-plant CBD, but it undergoes additional extraction and processing to remove all trace amounts of THC. This allows for a similar product to full-spectrum edibles for those concerned about drug testing or the presence of THC for personal reasons.
Isolate CBD edibles are made with pure CBD isolate that has been stripped of all other cannabinoids, terpenes, and plant matter until only the CBD remains. This ensures that you will be ingesting only CBD and no other cannabinoids or terpenes from hemp.
What Are the Best Edibles for Me?
As you can see from our list, the most popular edibles are CBD gummies. They come in different flavors and potencies, and you can get them in formulations that potentially help address specific issues like sleep or anxiety.
Although they are the most common, gummies are not the only edibles available. Hard candies, honey, baked goods, and chocolate are also options. The type of edible you choose will depend on your personal preference and any dietary restrictions you might have. Although gummies are the most practical and cost-effective, it's fun to try something different once in a while.
Where Can I Find CBD Edibles?
CBD edibles are easy to find at retailers near you, although the quality and consistency should be carefully examined before purchase. If you come across an unfamiliar brand, you should use the criteria above that we utilize to determine whether a CBD edible is a safe, reliable purchase or not.
Of course, purchasing products from our list of the best CBD edibles is one of the simplest ways of ensuring you are getting the highest quality CBD products on the market. Buying online from our vetted list of brands is easy, and your product will arrive quickly, without the hassles of venturing out to the mall or the grocery store.
Now let's look at the best CBD edibles on the market.
Why Are They Our Favorite CBD Edibles?
There are hundreds—perhaps thousands of CBD edibles on the market today. How do we decide which ones will make it to our recommended products list? We use a specific set of criteria to narrow down the options:
Testing is by far the most critical factor in weeding out the good from the bad, and the best CBD brands are transparent about this vital information. The test results should be easy to find on the company website, and they should be up-to-date. It does little good to view certificates of analysis (COAs) from lab tests that are not current. Lab tests will reveal the potency and purity of a product, so you know exactly what you're getting.
The CBD industry has been notoriously lacking in standardized labels for products. But more companies than ever before are making accuracy in labeling a priority. As a customer, you have a right to know the list of ingredients, the strength, dosage suggestions, expiration date, where your product was made, and other pertinent information.
United States–Farmed Hemp
Except for a handful of trusted European sources, we select those brands that source their hemp from farms right here in the United States. American-grown hemp is some of the cleanest and purest globally, thanks to the Industrial Hemp Acts of 2014 and 2018. These regulations require specific criteria for growing conditions, including soil testing. This is vital since hemp will absorb whatever is in the soil in which it is grown.
We also look at the cost per milligram of CBD and compare it among brands. The list price is not always the best way to do this, since different edibles contain different amounts of CBD. To get a precise idea of the value of a product, we look at the product's cost and divide it by the total milligrams of CBD in the package. The result is the cost per milligram. This is the fairest way of determining a brand's value and often reveals some surprising results.
Customer Service and User Experience
With so many customers turning to online shopping, it's crucial that brands develop a strong customer support team. It's equally important that the overall user experience is satisfactory. Finding what you need should not be difficult, and the checkout process should be smooth and straightforward. If you need to return a product, that should be effortless as well, and you should be able to count on the company to help you out when there's an issue. Shopping for CBD should never be a hassle.
Word-of-mouth is still king in the retail world, and although a brand may have great marketing, real users always tell the story better than any slick ad campaign can. We look at social media pages, forums, the Better Business Bureau, and other sources to see what people are saying about a brand's products. Most reputable brands continue to grow, while others fall by the wayside, and usually, it's a direct result of the way they do business.
---
Additional Resources on CBD Edibles: