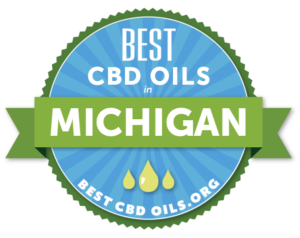 Are you looking for places to buy CBD oil in Michigan? We've got you covered. Below you'll find our review of places you can buy CBD in Michigan, with a focus on the Detroit metropolitan area. You can also order CBD oil products online.
Our favorite CBD product can be purchased online for delivery to Michigan:
Order here!
Is CBD Legal in Michigan?


Medical marijuana use was first legalized in Michigan in 2008. Recreational marijuana use was approved towards the end of 2018. As of right now, only one dispensary has opened its doors, but there are undoubtedly more on the way. Due to recreational marijuana use being legal for those over the age of 21, marijuana-derived CBD products are also legal if you're of age. If you're not of age, you can't use marijuana-derived CBD recreationally; however, you may be eligible for a medical marijuana license which would grant you access. Marijuana-derived CBD is the same as hemp-derived CBD, though, so this isn't something you need to worry about.
Hemp-derived CBD is legal for medicinal and recreational use statewide in Michigan. Industrial hemp was first defined as legally separate from marijuana in 2014 so CBD sourced from industrial hemp has been essentially legal since that time. Now that the state has made even more progress in regards to cannabis, you will have no problem purchasing CBD in a dispensary or through an online retailer as a resident. We'd like to note, though, that as of March of 2019, foods and beverages that contain CBD as an additive, regardless of its origin, are considered illegal by the Michigan state legislature.
Best CBD Shops in Michigan
Michigan is one of the fastest-growing CBD locales in the country, with more and more shops popping up. Following leaders like New York and California, Michigan's CBD community includes a number of highly knowledgeable enthusiasts and newcomers alike, all enjoying the unique health and wellness benefits of CBD oil that users across the country enjoy on a daily basis. As it stands, Detroit and Ann Arbor have the largest concentrations of CBD shops, but expect more in the coming years.
CBD Shops in Detroit
There are a couple CBD oil shops in Detroit worth checking out.
The Jazz Club Detroit (16890 Telegraph Rd, Detroit, MI 48219) is one of the most popular CBD shops in Detroit, with a perfect 5-star rating, thanks to its wide variety of premium CBD products available at some of the best prices in the city. Established in 2015, the shop offers CBD oil pens, waxes, concentrates, capsules, and more. The staff is highly knowledgeable and happy to answer any and all of your questions about CBD oil products in general and Jazz Club's selection. The shop also offers daily specials worth keeping an eye on, so be sure to check their website and social media feeds for the best deals. Open seven days a week, no appointments required: Monday-Sunday 10AM-8PM.
Located conveniently right on 8 Mile Rd., King Seaweed (3600 E 8 Mile Rd, Detroit, MI 48234) offers topical and homeopathic CBD oil products, in addition to accessories, edibles, and more. With a wall-to-wall selection, customers are sure to appreciate the shop's excellent inventory and hand-picked, premium CBD oils. Open seven days a week, no appointments required: Monday-Sunday 10AM-8PM.
CBD Shops in Westland, Garden City, and Livonia
Metro Smokers Shop (8155 N Middlebelt Rd, Westland, MI 48185) is a 4.5-star rated location with premium CBD oil products, liquids and powders, kratom caps, creams, accessories, and much more. The owner and staff are friendly and eager to help customers navigate the store's selection. Reviewers also note that Metro has some of the lowest prices around; on Yelp, there are numerous promotions, including a a $10 for $15 voucher, %15 discount, and gift certificate. Open seven days a week: Monday-Saturday 9AM-8PM; Sunday 10AM-7PM.
CBD Shops in Ann Arbor
Ann Arbor has two great CBD shops.
Cafe Liv & Wellness (603 E William St, Ann Arbor, MI 48104) is located in the heart of Ann Arbor, one of the most popular and best CBD shops in the state. With a 4-star rating, customers can find CBD products, e-juices, e-liquids, topicals, lotions, tinctures, and more. Prices are affordable, and the staff are friendly and helpful. Open seven days a week, no appointments necessary: Monday-Saturday 11AM-9PM; Sunday 9AM-7PM.
The Green Door (410 East Liberty St, Ann Arbor, MI 48104) offers a large line of concentrates, CBD oil products, and more. Established in 2014, the owner and staff are highly knowledgeable and able to help customers determine the best CBD oil solution for their unique needs. Open seven days a week, no appointments necessary: Monday-Saturday 10AM-9PM; Sunday 10AM-9PM.