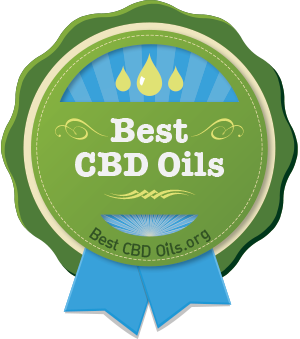 When considering how to help alleviate some of the adverse effects of autism spectrum disorders (ASD), one needs to understand the fundamental truth of a "spectrum disorder": each individual is unique. That means that "treatment" of autism is so specialized one can hardly prescribe a one-size-fits-all approach to treating autism.
We must clarify what we mean by treatment: autism is not curable, and in fact, many self-advocates such as Temple Grandin would never ask for a cure. Many people with ASD do however suffer from similar "Symptoms" that may be alleviated through dietary shifts, daily exercise, and holistic supplements. Autistic people may experience severe sensory processing issues, major insomnia, depression, gastrointestinal upset and along with it malabsorption of nutrients and potentially leaky gut, social anxiety, difficulty with speech and other forms of communication, and difficulty with motor planning and function.
The endocannabinoid system regulates a number of these areas: including sleep, motor performance, hormones, mood, and more. In fact, as more individuals use and create therapeutic CBD hemp oil products, we are always uncovering new and better information about how this system of our body works. For this reason, parents with autistic children and adults with autism may choose to use CBD hemp products to alleviate some of these issues that interfere with their day-to-day functioning and overall happiness. The leading cause of early death for autistic people is suicide, and over 80% of autistic adults are unemployed. We cannot ignore the social significance and impact a diagnosis of ASD has on an individual's life. Nor can we simply search and search for a cure. Many people, as we mentioned above are proud of their diverse minds, and wouldn't want to live without their unique abilities. Along with a diagnosis of ASD often comes spike creative skills, strong tendencies to focus and visualize, engineering abilities far beyond the spectrum of typically developing minds, and many other tremendous assets. Over the past 5 or 6 years the national focus thanks to self-advocacy and neurodiversity advocates, has moved away from "fixing" autism to accepting autism– typically helping an autistic person experience relief from crippling side effects and educating the world on best ways to accommodate individuals with exceptional abilities. This approach, we think, holds some real promise for this unique and growing population of individuals- autistic people.
Whether you're interested in sublingual CBD oil, CBD for vaping, or CBD edibles you'll want to find out which are the best CBD oil products for autism? To select the best CBD oil, you'll want to take into account a company's hemp sourcing, CBD purity, and range of CBD oil products offered, as well as the range of therapeutic dosages. Because the FDA does not regulate the industry, researching each CBD oil company is the only way to find a reputable and reliable source. To facilitate your search for the best CBD oil for autism, we've researched and ranked the ten best options on the market using a number of metrics. Read up and discover the best CBD oil to support you and your loved one alleviate some of the adverse effects that may come along with autism.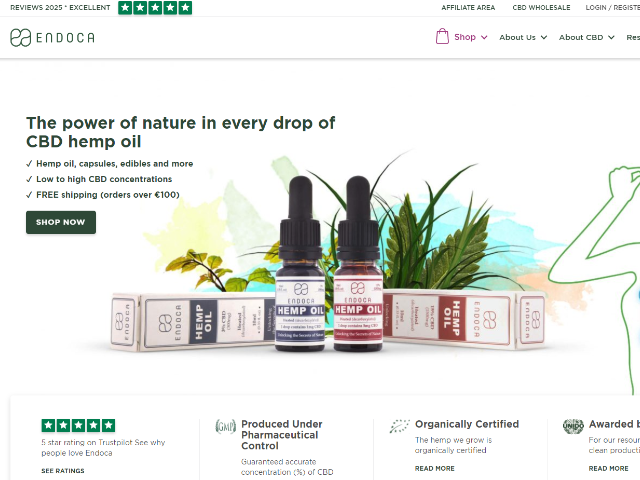 Endoca offers high-quality CBD products and even runs an associated nonprofit that has a hemp seed bank, and edible plant forestry venture, as well as a meditation and healing center Not only that but the nonprofit is committed to distributing CBD to low-income families with health concerns. This family-owned company Endoca is committed to chemical-free processing and stringent third-party testing. They are also committed to transparency, making test results available to consumers on their website. Their source hemp is organically and sustainably grown on permaculture farms in Denmark, and their products are formulated by a team of scientists, herbalists, and nutritionists. Their manufacturing follows a GMP-certified (Good Manufacturing Practice) process. The best CBD for autism available through Endoca is their CBD tincture and CBD chewing gum. The cold-extracted oral CBD drops have a mild flavor and contain 5-10 mg CBD per dose, along with terpenes, vitamins, ketones, amino acids, and phytonutrients to help naturally boost your mood, and overall cognitive function. Not only that but when taken over time, some individuals report even better effects. Like we mentioned above, an individual with autism is just that, an individual, so one approach may not be the best for each person. We recommend taking a month to adjust administration amounts and intervals to see what works best. Some people like to take small breaks from the product throughout the week to prevent a buildup of tolerance while others may feel the therapeutic effects more acutely and only take this product as needed. Tinctures can be a difficult sell for young individuals with autism. In which case, you may want to try Endoca's chewing gum– particularly for children and youth who like to chew. We like this method for slow-release and individuals who tend to fidget.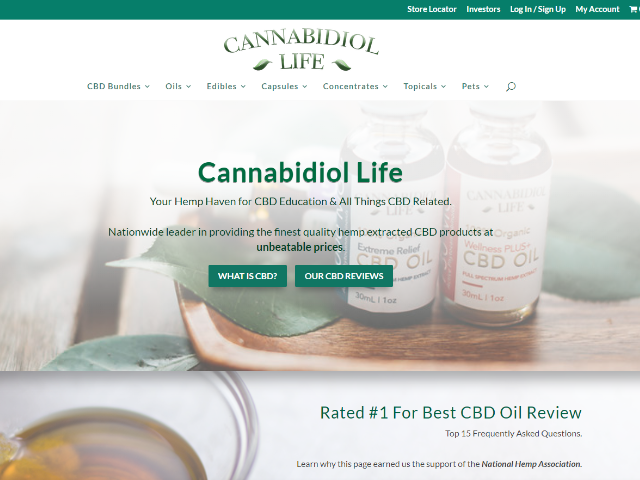 Cannabidiol Life shines when it comes to variety. The company offers CBD dabs, salves, waxes, gummies, pet tinctures, infused waters, and more. Customers require a range of selection as one size doesn't fit all when it comes to autism. Users want different products to meet their specific health concerns, personal preferences, and lifestyles, and some users prefer to take advantage of multiple products, such as taking CBD capsules while at work and imbibe the products while vaping at night. This is especially true in the case of autism which affects individuals differently and even when it comes to food and textures. While some individuals may need a vape pen for fast results, others may not want to use CBD in this manner. We like these tinctures for ASD as there is a wide spectrum of doses available- while some individuals may react better to low doses, more impactful doses like their 3,000 mg tincture, may be what is called for in the case of some individuals. Like with all herbal supplements finding a dose that works well is a crucial part of the therapy. You could take more of the 250 mg tincture or try single drop doses of the 3,000 mg tinctures. A good general rule of thumb is to start small, wait and see if there are results and if nothing is happening after a few weeks, make an adjustment then. All of the many Cannabidiol Life products are made from hemp which is organically grown in Colorado, with CBD is extracted through "cradling" in organic ethanol. We also really like their CBD gummies and CBD waters. Sometimes tinctures are just not going to work for some picky little ones, but a gummy bear or two may be just the trick for some individuals. A question that may come to mind is: Is this just experimenting with drugs? In a sense supplements and even prescription drugs are somewhat experimental until an effective dose is achieved. We like that CBD does not have a number of the unwanted effects of harsh pharmaceuticals often used to treat autism symptoms.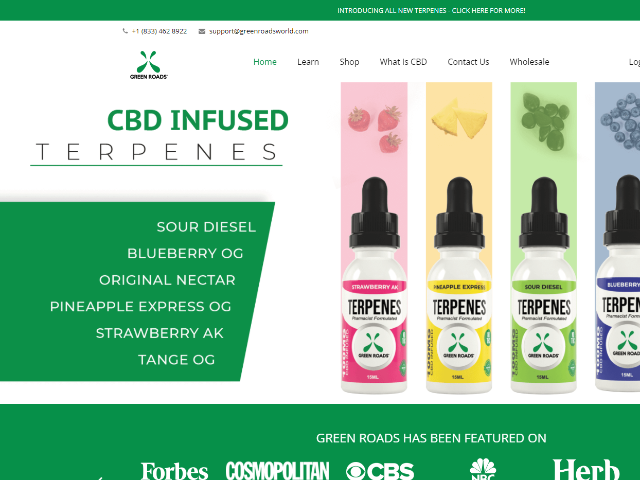 Green Roads World is the official CBD oil of the NFL and has been featured on ESPN, Forbes, High Times, Herb, and NBC. Not only that, but several professional athletes have endorsed their products. Though their topicals have warranted some notoriety from athletes, their whole line of products is worth mentioning as Green Roads offers: CBD teas, CBD coffee, CBD sleep capsules, CBD syrups, CBD concentrates, and CBD products for pets. For starters, their organic products have the same potent healing qualities as other companies with a more holistic and wellness-focused image making Green Roads a great option for any person who can benefit from the therapeutic properties of CBD. Their products also feature holistic botanicals to aid in physical recovery. While that may be a top priority for athletes, concrete repair can be a high priority for individuals who suffer from depression as well. Green Roads sources their hemp globally from certified organic farms, and subjects it to a high-pressure, low-heat CO2 extraction method. An experienced and licensed pharmacist compounds their products with pharmaceutical-grade, 99% pure cannabidiol, and cannabidiol oil. All their CBD is are third-party tested. Our top pick in their lineup for best CBD for autism is Green Roads' CBD oil tinctures. The tinctures are offered in five concentrations: 100 mg, 250 mg, 350mg, 550 mg, 30 ml, 1000 mg, or 1500 mg. Additionally, the coffees and teas are great ways to help improve digestion- a common issue for individuals with ASD. Not only that but if you love your morning ritual, it may make sense to include a therapeutic tea or coffee. Green Roads products are available in headshop across the US as this company makes a point to offer products that are THC-free.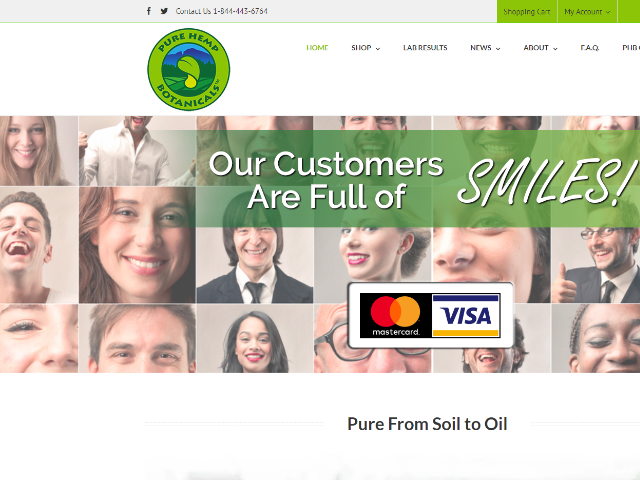 Finding a great CBD product is not straightforward. Without regulations, nearly any product made with hemp could be labeled CBD. That's just one of the reasons we love the transparency practices from Pure Hemp Botanicals. The company welcomes you to view their labs through a virtual tour, and also publishes their CBD lab results directly on their site-guaranteeing quality "from soil to oil." Their source hemp is non-GMO and organically grown in Colorado. Pure Hemp Botanicals employs a full-spectrum extraction process, sets purity benchmarks which exceed market standards, and incorporates synergistic botanicals into many products. One of the best CBD products for autism in their product lineup is Chamomile Lavender Hemp Tea. Lavender is a potent nervine (calms the nervous system), and not only great for cleaning linens but also clearing the mind of cobwebs that may accompany AD/HD– a common unwanted symptom that may be part of an individual's experience. Chamomile helps to ease digestion and also works as a nervine– specifically a vulnerary relaxing nervine. The tea contains 30% organically grown industrial hemp and is naturally caffeine free– synergizing well with the lavender and chamomile. Tea is a great drink to bring into a ritual or routine and works well for individuals who thrive on routines. We also recommend the company's CBD tinctures for autism, which boast an array of plant cannabinoids and terpenes, along with antioxidants and omega-3 and -6 fatty acids– great for grounding and boosting brain function. The tinctures are made from hemp seed oil and CBD in concentrations of 300 mg, 750 mg, 1500 mg, or 3000 mg per bottle.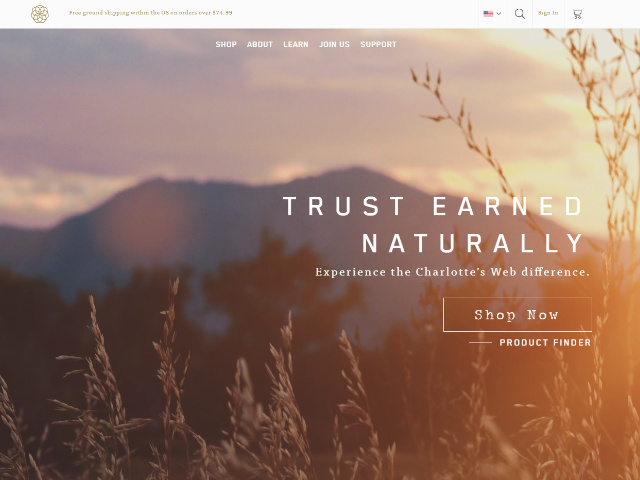 The story behind Charlotte's Web is a young girl named Charlotte Figi. Charlotte had a rare seizure disorder, and though her diagnosis wasn't autism, Charlotte's story has resonated profoundly with Moms and Dads with autistic children across the United States. Many parents are at their wit's end with the dangerous pharmaceuticals prescribed to their young children with autism. After years of trying modern medicine to no avail, Charlotte's parents turned to a new strain of high-CBD hemp extract designed by the Stanley brothers. Charlotte made vast improvements thanks to this high-CBD hemp strain and thus the name "Charlotte's Web" stuck. The brothers based their company of the same name around creating health-focused CBD products derived from this strain. Today, families of children with seizure disorders and autism may receive discounts on CW products. Charlotte's Web is an excellent choice for any individual who is looking to turn their life around, relieve anxiety, acquire sleep, and more. Their hemp is grown organically and sustainably in Colorado and put through a gentle, broad-spectrum extraction process. The best CBD products for autism offered by this company are the Charlotte's Web oil tinctures. All CW oils are available in luscious mint chocolate and in a variety of serving sizes. We hope that this chocolatey mint flavor is one that your little guy or gal finds palatable. The capsules are great for individuals who travel or anyone who is just more accustomed to dosing using a tablet. The company sells capsules in 15mg and 35mg doses.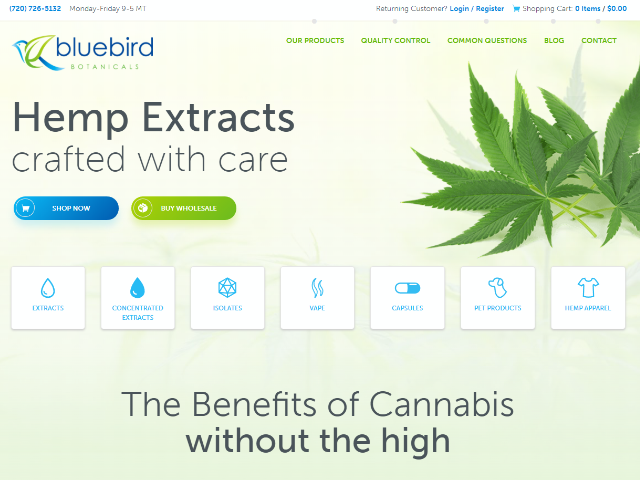 Bluebird Botanicals understands the importance of quality control and purity including ethical business practices. The company source using fair farming and labor practices in mind, sponsor charities and will grant discounts to individuals who are disabled, veterans, or low-income. When a company goes through lengths to create transparency and accessibility, this is often a sign of a high-quality product which is certainly the case with Bluebird Botanicals. Their hemp is grown sustainably and organically in Colorado and extracted using an energy-efficient broad-spectrum extraction procedure via CO2 or alcohol extraction. Their CBD is put through third-party testing for purity and potency, and Bluebird makes their product batch results available directly on their website. A number of their products include herbal additives with anti-inflammatory, antioxidant and immunity-boosting properties, and botanicals that help protect the skin, boost the mood and minimize pain. With great products and great business practices, it's not surprising that Bluebird Botanicals was recently awarded "#1 Hemp CBD Company" at the Cannabist Awards. The best CBD for autism in Bluebird Botanicals' inventory is their sublingual tinctures. Bluebird's oral CBD tinctures (aka "concentrates") come in several doses and formulations. The "Classic" blend is the most simple of these: hemp extract in hemp seed oil. "Complete" has the same, plus a comprehensive mixture of raw and heated cannabinoids and steam-distilled hemp terpenes. The "Signature" blend has all of these, along with wildcrafted frankincense serratta CO2 extract, and cold pressed black seed oil, a potent antioxidant. Some individuals have reported that black seed oil is helpful with depression, anxiety, and even PTSD. These symptoms often accompany individuals with autism all the way into adulthood. All three blends are offered as regular extracts (250 mg CBD) or concentrated (1,500 mg CBD) extracts.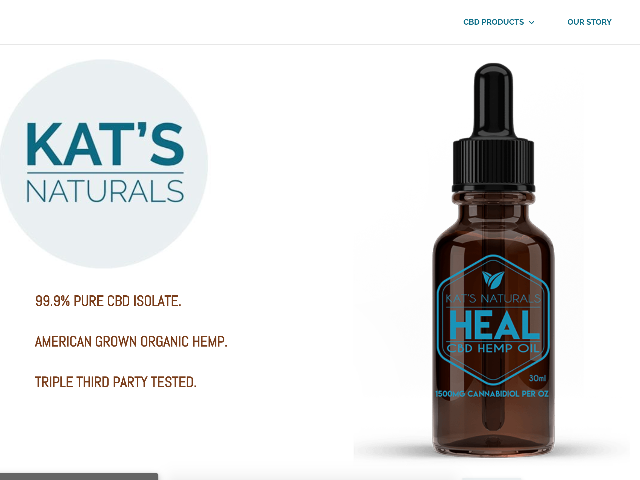 Kat's Naturals is unique in their emphasis on synergistic compounding, as well as high-quality extraction. The company uses specific strains of hemp to address particular health concerns, bred for a specific cannabinoid profile. These are enhanced with organically and sustainably grown, therapeutic-grade, and third-party tested essential oils, formulated to address the same target issues, such as mood or immunity. Their oils are also exceptionally pure. Most companies' CBD oils contain up to 0.3% THC (the legally-required limit, which is not enough to be psychoactive, but enough to potentially show up on a sensitive drug test). Many of the products from Kat's Naturals, however, are 100% THC-free. That being said the "Balance" utilizes a full-spectrum extraction-method and as such will contain trace amounts of THC. The company's source hemp is cultivated on Dutch organic farms, and processed using a critical CO2 extraction, before being blended with whole-plant organic hemp oil. The final product is rich in omega-3 and omega-6 fatty acids, linoleic acid, and alpha-linolenic acid, which boosts the immune system. To support the immune system and promote calm, a great choice of CBD for autism is "Relax" which contains hops yet another botanical in the Cannabaceae family that is also high in Mycrene. Mycrene is a terpene that helps regulate mood and induce a sense of calm. "Relax" is excellent for individuals losing sleep from anxiety and depression which often accompanies autism. Some of the side-benefits of Relax include relief from pain and often in acute situations. Relax has been reported to work in as little as 20 minutes. Remember to adjust your dose according to your specific needs.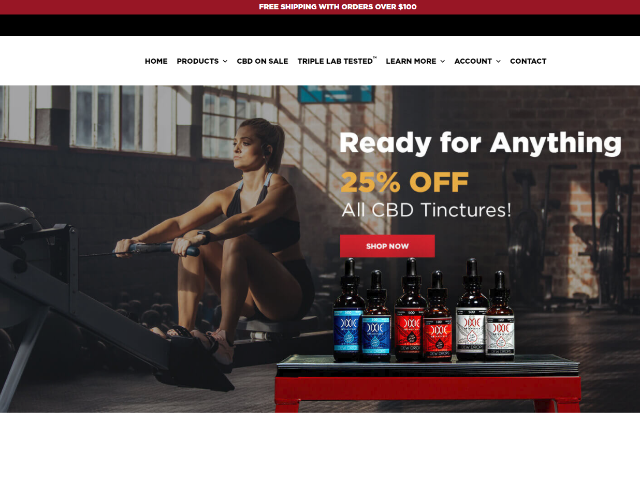 Dixie Botanicals provides high-quality full-spectrum hemp oil so that all of the cannabinoids including among them CBD work together. Their focus is to educate the public on the therapeutic benefits of CBD and CBDa- a compound found in all full-spectrum CBD hemp oil products. Not only that, but these formulas are full of rich omega-3 and omega-6 fatty acids. The company triple-tests all of their products through independent labs and explains the importance of testing for high-quality CBD products on their website. As HempMeds continues to streamline their process, the company can sell their extracts at a lower price than some of the comparable competitors. Their best CBD product for autism is their CBD oil, which comes in a variety of flavors and doses. We like the peppermint for the full-spectrum benefits of the product itself but also for the calm to the stomach and added nootropic properties peppermint oil bring to this blend. The cinnamon blend also helps with digestion and may boost the immune system as well– if you have one of those kids who catches every cold due to a compromised immune system, give the cinnamon a try.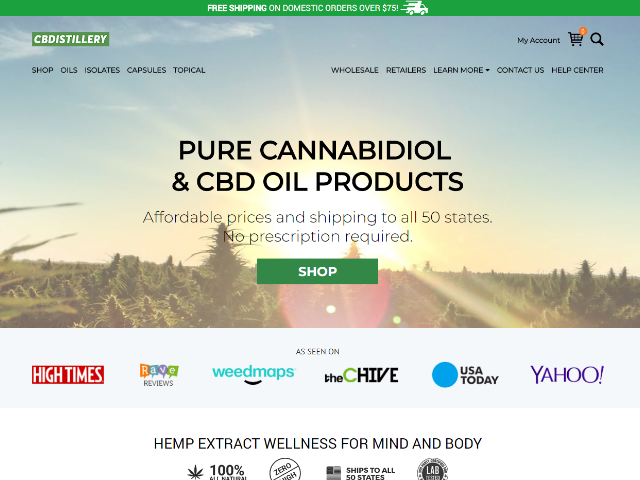 The CBDistillery has been featured on High Times, Rave Reviews, Weedmaps, the Chive and USA Today. And it's no wonder. CBDistillery offers a wide selection of quality third-party lab-tested products for affordable prices, and the company is clearly excited to educate and inform their users. This is a really good option if you are someone who wants to try a number of products without breaking the bank and there is a 10% military discount available with an ID. CBDistillery offers both full-spectrum and isolated spectrum products including CBD tinctures, CBD powders, isolates, CBD vapes in various flavors, and CBD gummies for day and night. For autism, we recommend their tinctures. You can choose between an isolated or full spectrum with a dosage range from 250mg to 2500mg. Though something to consider for autism is food texture. You may find a better fit actually comes in the form of a capsule, or gummy.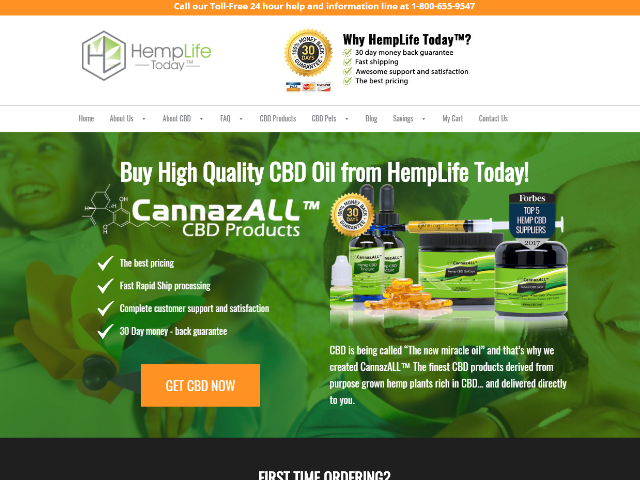 HempLife Today seems to be setting the standard for a new way to approach and sell CBD products. With large claims like CBD is the "most important breakthrough to happen in natural healing to occur in the last century" it's nice to see a company that backs up their products with a 30-day money back guarantee for all unopened products. As CBD is experienced differently by the individual, some may be holding out hopes to feel the effects instantly while that may not be the case. Individuals vary, and it may take a month to feel the results. The company offers a wide range of internal and topical products like their CBD tinctures, CBD capsules, vape liquids, and salves all of which are created from American-grown hemp. Their best CBD oil products for autism are their CBD oil tinctures available in 250mg and 500mg doses. The company offers better deals with larger purchases. While one bottle of their 500mg product is $60, six bottles are just $270. Each bottle contains about a 6-week supply. We recommend starting small and building to find the right therapeutic dose.