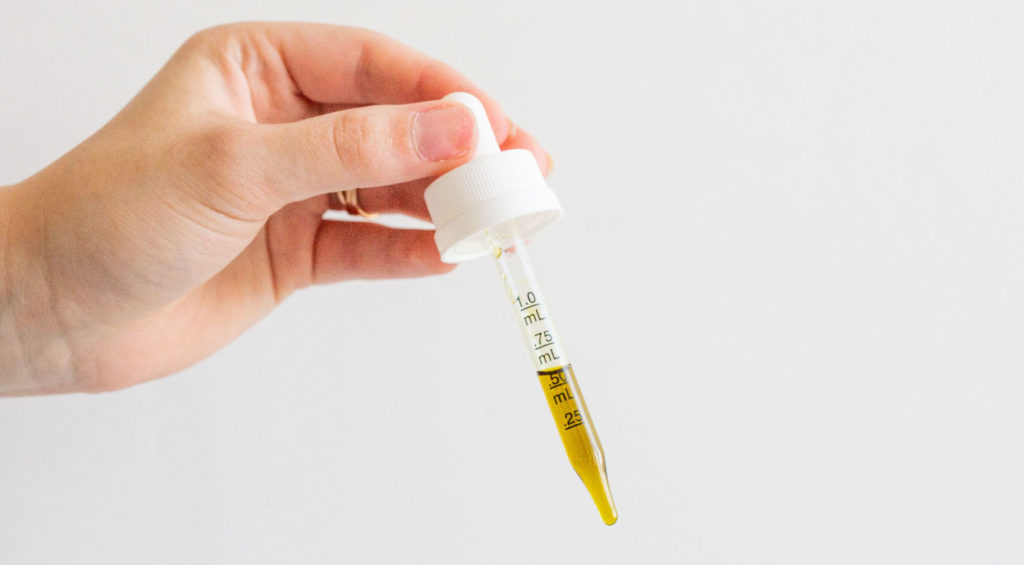 What exactly does CBD isolate mean? CBD isolate is a crystalline solid or powder containing pure CBD. Full-spectrum CBD products can legally contain up to 0.3% THC.
Featured CBD Companies
While most people gravitate toward full-spectrum CBD oil, which offers the potential benefits of the entourage effect, others prefer a tincture made with CBD isolate. Why? CBD oil made with isolate is as close to pure cannabidiol as you can get — around 99% CBD. The additional terpenes and cannabinoids are removed, which means there is also no THC in isolate formulations.
By law, full-spectrum CBD products must contain less than 0.3% THC. This trace amount is not enough to get you high, and many find its inclusion beneficial. But for a number of reasons, some users prefer formulas that are guaranteed to be THC-free, and that's where our list of the best CBD isolates comes in.
Quick Page Jumps!
---
10 Best CBD Isolates on the Market Today
Kanibi
Highlights:
Organically grown
Double lab-tested
Clean CO2 extraction
Description:
Ingredients: 100% organic CBD, MCT oil, natural flavors
Pricing: $0.07 per milligram
Company: Kanibi has developed an excellent reputation for their top-quality full-spectrum oils, gummies, soft gels, and topicals, but did you know the brand also carries an Isolate CBD Oil Tincture? Available in potencies of 750 or 1,500 milligrams of CBD, it's ideal for those who want to stick with this trusted brand but do not want even trace amounts of THC in their CBD oil. And if you like a little pizzazz with your CBD oil, you can select from fun flavors like skittles or cinnamon, or simply opt for the unflavored tincture.
Kanibi is at the top of our list for some very good reasons. They use only U.S.-farmed hemp that has been grown organically, so there are no pesticides, unwanted chemicals, or contaminants in their formulations. Plus, they have a strong focus on COAs — even double lab testing each of their products. Finally, they feel so strongly about their products they offer a money-back guarantee if you are not completely satisfied.
Shipping: Free shipping on all domestic orders.
Returns: 100% satisfaction guarantee. Contact support at support@kanibi.com for instructions on how to obtain a refund.
---
Plant Panda THC-Free CBD Oil
Highlights:
PRC hemp from organic Oregon farms
No THC
Super low prices
Description:
Ingredients: 100% organic CBD, MCT coconut oil, natural flavors
Pricing: $0.06 per milligram
Company: Plant Panda is relatively new to the CBD scene, although its founders have plenty of experience with hemp. This is a no-nonsense brand with a lot going for it, and it's an excellent choice when you're looking for a basic CBD oil that's affordable.
The brand offers their THC-free CBD oil in potencies of 750 or 1500 milligrams, and you can choose from unflavored, cinnamon, or fruit burst. Rest assured that this brand has some of the highest standards in the industry. They source their CBD from Colorado, subjecting their products to rigorous third-party lab testing before offering it to consumers.
Shipping: Orders over $50 qualify for free shipping
Returns: 100% money-back guarantee
---
Medterra Oil CBD Tincture
Highlights:
99.6% pure cannabidiol — no THC
Sourced from Kentucky-grown hemp
Choose from several potencies
Description:
Ingredients: 99% CBD, MCT coconut oil
Pricing: $0.08 per milligram
Company: Medterra's hemp products are made in the U.S., are non-GMO, and contain zero THC. They use a CO2 extraction method to remove everything aside from CBD, creating a pure isolate oil that is free from pesticides, chemicals, and other contaminants.
The CBD tincture itself has a mild earthy taste and no artificial flavors, and taste testers say this product's flavor is more pleasant than many other CBD oils on the market. It is available in three different strengths: 500, 1,000, or 3,000 milligrams of CBD per bottle. Each one contains enough for a full month's supply. Apart from their refined CBD products, Medterra provides excellent customer service to ensure you are completely satisfied.
Shipping: Free shipping on all U.S. orders over $75
Returns: When purchased through CBDirect, unopened products returned within 30 days are eligible for a full refund.
---
Extract Labs Pure CBD Isolate Tincture
Highlights:
Award-winning brand
Certified Organic
CO2 extracted U.S.-grown hemp
Description:
Ingredients: Pure CBD isolate, MCT organic coconut oil
Pricing: $0.03 per milligram
Company: At just 3 cents per milligram, Extract Lab's 2,000-milligram pure CBD isolate oil is a serious find for bargain hunters. It's designed to be taken sublingually, but many users prefer to add it to their coffee or other favorite drink. The brand guarantees no artificial colors, preservatives, or fillers, and they have lab results on-site to prove it.
Extract Labs uses hemp grown to organic standards from Colorado, and they have been awarded some of the highest ratings among independent testers and reviewers. You can shop on the brand's website for a wide range of CBD products to suit your taste.
Shipping: Free shipping on all U.S. orders over $65
Returns: 7-day returns on unopened and unused products, minus shipping
---
CBDistillery THC-Free CBD Oil Tincture
Highlights:
Uses ISO-certified labs for their third-party testing
Reputable brand with several years of experience
U.S. hemp sourced from open-air farms in Colorado, Kentucky, and Oregon
Description:
Ingredients: Fractionated Coconut Oil (MCT) and Cannabidiol (CBD) from Hemp Extract (Aerial Parts)
Pricing: $0.07 per milligram
Company: CBDistillery was founded in 2016 by a group of CBD-conscious Coloradans who aimed to create a company that had fair practices and was reasonably priced without sacrificing quality. What makes this company stand out is its commitment to the people. And while many other CBD companies offer excellent products, their prices are, at times, unaffordable.
The brand's 1,000-milligram THC-Free Pure CBD Oil Tincture contains 1,000 milligrams of cannabidiol per bottle and works out to about 33 milligrams of CBD per serving, although you can certainly take more or less depending on your needs. U.S. Hemp-Authority certified, it's from the aerial parts of the hemp plant, is non-GMO, and contains no THC. Odorless and flavorless, this is the perfect choice for those who want an all-around high-quality CBD that they can count on.
Shipping: Free shipping on orders over $75
Returns: 60-day customer satisfaction guarantee. Fill out a Money-Back Guarantee Form for refund or credit.
---
Hemplucid THC-Free CBD in MCT Oil Tincture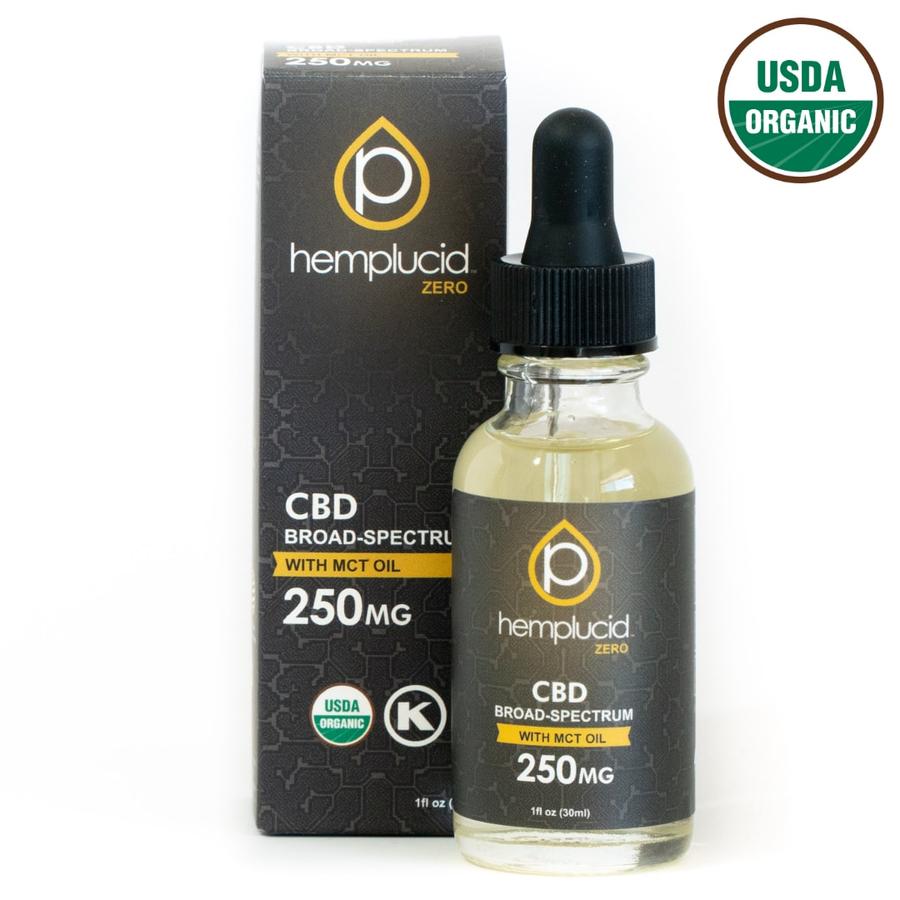 Highlights:
USDA organic hemp
Batch lookup tool for certificates of analysis
Supercritical CO2 extraction
Description:
Ingredients: Medium Chain Triglycerides, ISOTERP CBD (Natural Plant Terpenes, Isolate CBD)
Pricing: $0.05 per milligram
Company: Hemplucid's line of CBD oils is unique in that it is made with cannabidiol isolate with additional terpenes added back into the formulation. It's a terrific option for those who would like the potential benefits of a terpene-rich formula but who do not want the trace amounts of THC typically present in full-spectrum CBD oils.
THC-Free CBD in MCT Oil Tincture comes in four potencies: 250, 500,1,000, and 1,500 milligrams, and each 1-ounce bottle is designed for slow and steady absorption. The hemp is sourced from U.S. certified organic farms, and the product is manufactured domestically as well. If you are interested in finding out the exact ratio of terpenes in your formulation, you can use the site's batch lookup tool, which will provide you with the entire COA.
Shipping: Free shipping on all U.S. orders over $69
Returns: Contact support for a full refund minus shipping costs within 30 days of the initial purchase date.
---
Bluebird Botanicals CBD Isolate Tincture Oil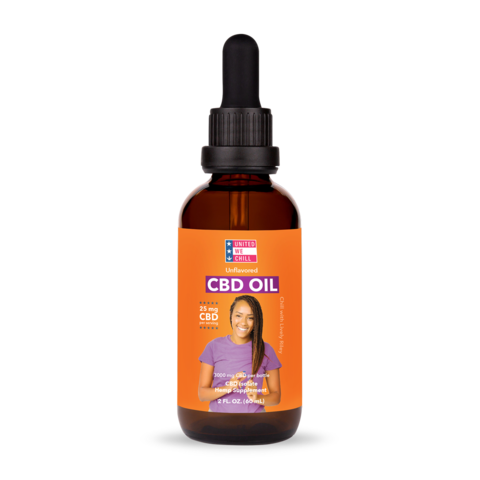 Highlights:
Excellent reputation
CO2 extracted
Third-party lab tested with results readily available
Description:
Ingredients: Hemp CBD Isolate, Organic fractionated coconut oil (MCT)
Pricing: $0.05 per milligram
Company: Colorado-based Bluebird Botanicals wasn't always this inexpensive. The brand is well known for its top-quality CBD tinctures and the top-shelf prices that generally accompanied them. However, the brand has recently reduced their price per milligram dramatically, at last making this reliable formula within reach of the average CBD user.
With Bluebird, you are getting impeccable quality, thanks to high-grade hemp grown on pristine farms in Colorado and Oregon. They were selected as the leading CBD oil company of 2016 at the Denver Post's renowned Cannabist Awards, and they are still going strong with some of the best hemp-based products in the country. While they are known for their full-spectrum CBD, this Isolate Tincture is the ideal option for those who want an unscented, unflavored CBD oil with zero THC.
Shipping: Free shipping on orders over $65 through CBDirect
Returns: When purchased through CBDirect, unopened products returned within 30 days are eligible for a full refund.
---
Lazarus Naturals Flavorless High Potency CBD Tincture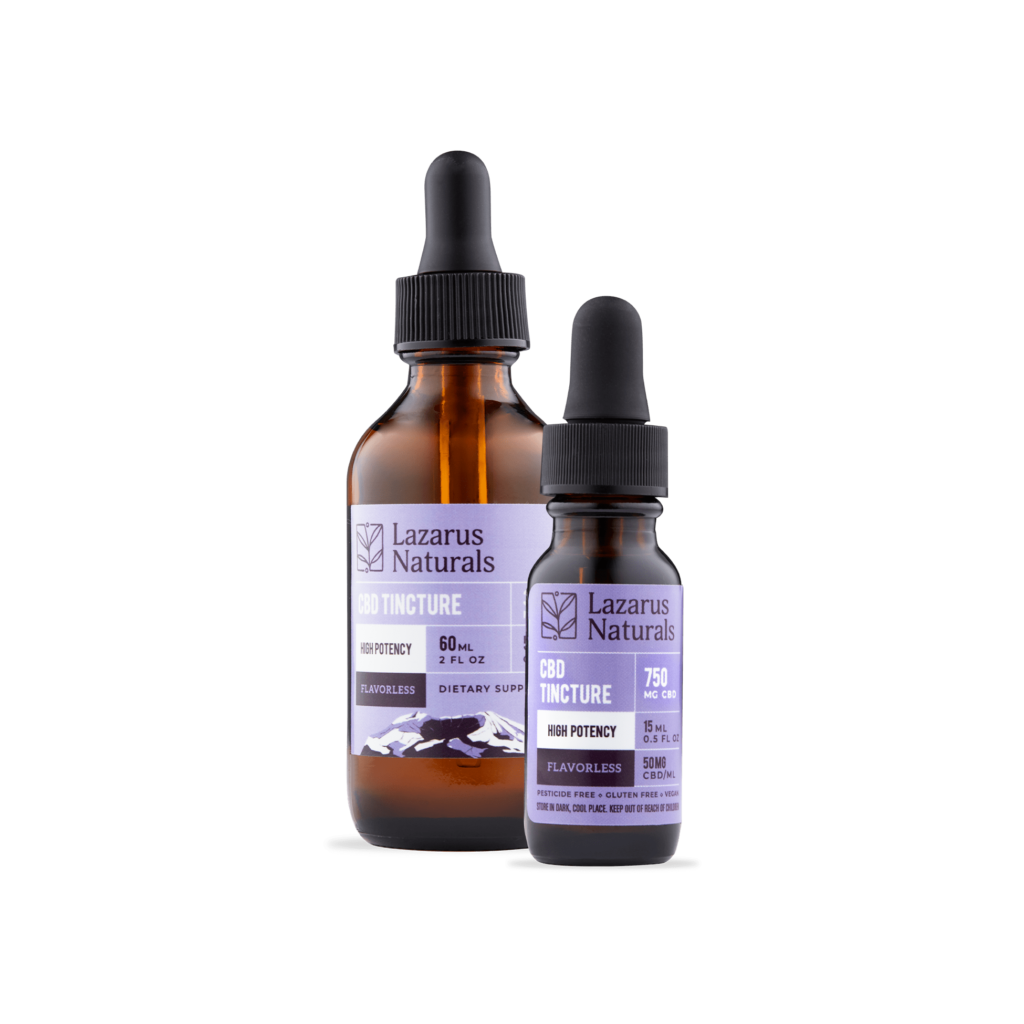 Highlights:
Kosher ethanol extraction
Extremely affordable
Excellent reputation
Description:
Ingredients: Fractionated Coconut Oil, CBD Isolate
Pricing: $0.03 per milligram
Company: This employee-owned brand has been in operation for many years, and they are committed to providing CBD to those who need it. To be sure, they've developed an almost cult-like following, with a loyal customer base that comes back time and again. Perhaps it's the allure of their vertically integrated operation, with all the hemp grown on their own farms. Using small-batch kosher ethanol extraction, Lazarus has managed to create a full line of products from topicals to full-spectrum CBD oils.
This High-Potency CBD Isolate Tincture is flavorless and contains your choice of 750 or 3,000 milligrams of CBD per bottle. They use fractional distillation and crystallization to create a fine white powder that is pure CBD, then add fractionated coconut oil to turn the isolate into an easy-to-swallow tincture. The brand has a robust program in place aimed to provide CBD to those who need it but can't afford it, and for those who are able, pricing is exceptionally reasonable at under 4 cents per milligram.
Shipping: Free shipping on orders over $50.
Returns: When purchased through CBDirect, unopened products returned within 30 days are eligible for a full refund.
---
Pure Hemp Botanicals Isolated Spectrum Tincture
Highlights:
Member of the National Hemp Association
Sourced from Colorado-grown hemp
Third-party lab results available on the website
Description:
Ingredients: CBD, hemp seed oil
Pricing: $0.04 per milligram
Company: "Compassion in Action" is the mantra that guides work and relationships for the folks at Pure Hemp Botanicals. This progressive brand is intent on creating sustainable, cruelty-free, vegan products and raising awareness about some of the most important environmental issues of the day.
The brand offers many different types of CBD oils, but this Isolated CBD Tincture is an ideal option for those who are looking for pure CBD oil and nothing else. It's suspended in a hemp seed oil carrier, and contains no flavors, colors, or preservatives. It provides a hefty dose as well, since each serving is designed to deliver 100 milligrams of CBD. It's recommended that you start with quarter or half doses if you are new to the product.
Shipping: Free shipping on orders over $75
Returns: Unopened, unused products can be returned for a refund.
---
Try the CBD THC-Free Isolate Tincture
Highlights:
CO2-extracted
Lab-tested
Great product selection
Description:
Ingredients: CBD Isolate, MCT oil
Pricing: $0.05 to $0.07 per milligram (for capsules)
Company: Colorado-based Try the CBD offers an array of hemp-sourced products to meet anyone's needs. They have a full lineup of topicals, capsules, gummies, pet oil, and CBD oil options.
Customers can choose from full-spectrum or THC-Free Isolated Tinctures, which come in several potencies ranging from 600 to 3,000 milligrams per dropper bottle. The tincture is unflavored, made in the U.S., and third-party lab tested for purity and potency.
Shipping: Free ground shipping on orders over $74.99
Returns: 30-day returns on unopened and unused products, minus shipping
---
What Are CBD Isolate Tinctures?
CBD is an active cannabinoid in cannabis and hemp plants. It's present in both, but more abundant in hemp than in cannabis. Consequently, most CBD products are made from legal, industrial hemp.
However, when CBD is first extracted from the plant, it's considered a whole-plant extract, meaning that it contains all of the original cannabinoids, terpenes, flavonoids, and plant matter in direct ratios to what is found in the hemp plant. This is what is used to create the majority of full-spectrum CBD oil.
THC is the compound responsible for the high you get from cannabis, and is precisely the substance that is regulated at the state level. The marijuana species of cannabis naturally produces large amounts of THC, while the hemp species must contain less than 0.3% THC by law to make it federally permissible.
These fractional qualities of THC in your hemp are hardly enough to show up on a drug test or even induce undesirable effects. Still, occasionally, both of these scenarios do happen. Therefore, some people prefer to avoid whole-plant hemp products altogether, even if they do contain a federally allowable amount.
How Is CBD Isolate Different from CBD?
For people who want to avoid THC, there's CBD isolate. As the name suggests, CBD isolate is separated from the rest of the cannabinoids in hemp. During the first draw of chemicals from the plant, some THC, CBG, CBN, and related compounds are present. The next few phases help to separate them further, eventually providing pure THC-free CBD.
Some companies use isolated CBD to create a full line of products that are free of THC. Other companies simply extract it and let you work it into your routine as you see fit.
CBD isolate often comes as a crystalline substance or a powder — occasionally called "shatter" or "crystals" — that can easily be added to food or beverages.
But this isolate powder is also used to make many of the THC-free CBD oils on the market. Isolate oils have no odor or flavor, although some makers will add them to make the product unique and more appealing.
Do Isolates Work as Well as Full-Spectrum CBD Oils?
For the most part, the best CBD isolates will potentially give you the results you hope for from CBD — although you won't get the advantage of the entourage effect, which many believe is a crucial component in wellness. Nevertheless, pure CBD products on their own have many benefits, and although we can't list these benefits due to FDA regulations, you've probably heard of some of them.
Since CBD isolate oils are usually flavorless, they appeal to those who don't like the taste of full-spectrum hemp, which is earthy and pungent. For this reason, they are ideal for cooking or adding to a favorite beverage. Finally, many people prefer an isolate, as it lets them reap some of the benefits of CBD without the worry of a possible false-positive drug test at the workplace.
Why Are These the 10 Best Isolate CBD Oils?
If you're wondering how we determine which CBD isolates are the best, here's a bit of inside information. Right out of the gate, we check out a brand's independent lab testing protocol. This is by far the most vital bit of information needed when it comes to a CBD company. Independent labs publish COAs (certificates of analysis) that show what is inside a bottle of CBD isolate oil.
COAs report on the type and amount of cannabinoids, flavonoids, terpenes, and any other compounds present in the formulation. They also test THC levels to make sure they are undetectable. Plus, most tests also look for any contaminants that could have made their way into the final product, such as mold, metals, pesticides, and other toxins.
The top CBD brands post these reports prominently on their sites, or at least have them available to customers upon request. In addition to independent lab testing, here are some other things we examine:
Since the hemp plant is a bioremediator, it absorbs whatever is in the soil in which it grows. In fact, hemp does this so well that it is often planted after major environmental disasters, like chemical spills, to remove impurities from the land. From an ecological standpoint, that's amazing. But from a consumer standpoint, it's bad news.
To be safe for consumption, hemp needs to grow in clean and well-tested soil. In the U.S., there are specific and strict farming regulations that determine where and how it can be cultivated, which means that U.S.-farmed hemp is a trustworthy source of CBD. There are exceptions, of course. Some select European brands are equal in quality to those that are domestically sourced.
With so few regulations in the hemp industry, labeling has become of vital importance. Just a few years ago, it was hard to determine what was in a bottle of CBD. New and improved labeling standards have come forward, and now, most reputable brands list the precise ingredients on its packaging for hemp products.
This is exactly as it should be, as you have the right to know the potency, ingredients, number of servings, and other pertinent information for anything you use on or in your body. 
Not surprisingly, many companies have begun developing their own unique reputations, and that's a good thing. As consumers try out the many CBD brands and products on the market, they've become more vocal about what they like and dislike about them. It's a great way to gauge not only first impressions of a company, but how well they have fared in the long run. Real consumer reviews are an important part of our analysis.
The CBD industry is highly competitive, with many options for consumers to select from. Therefore, there's absolutely no reason for poor customer service. For this category, we look again at independent reviews, but we also use our own experience, too. We make a note of how long a company takes to respond to our questions, how fast the products ship, and the return policy should we wish to get a refund. Additionally, we visit each website to see how easy it is to navigate and make a purchase.
It wasn't long ago that ounce for ounce, the cost of CBD was even higher than that of gold. Thankfully, prices have started coming down, and ordinary people can access brands that were once reserved only for those with a fat wallet. Additionally, there are many discounts these days that can help keep the cost of both the product and the shipping lower.
Additional Resources: