Cannabinoid tinctures represent one of the hottest areas of the market. Users prefer tinctures due to potency of these products and fast-acting results. But in order for these products to work well, they need to be made well.
Delta-8 THC tinctures in particular will provide dramatically different results depending on the quality of ingredients used and the care employed in the production process. Researchers report that rampant fraud, mislabeling, and contamination lead to customers receiving products that land terribly short of their expectations.
So for this reason, in this article we lay out the market's best Delta-8 THC tinctures that offer a level of quality and affordability worthy of customers looking for top tier products.
What is Delta-8 THC?
Delta-8 THC, colloquially named Delta-8, is a type of psychoactive chemical in cannabis. Of the many varieties of the cannabis compound to hit the market today, Delta-8 THC is probably the most popular.
Maybe you have heard it several times, but do you know what the Delta-8 exactly does? While many people are familiar with Delta-9 THC, few people know that Delta-8 is molecularly similar to the Delta-9 variant and that both these compounds come from plants in the cannabis family.

The critical difference between these compounds is the legal standpoint. Delta-9 THC can only be extracted from cannabis plants. To this day, this is federally illegal in the US. On the other hand, Delta-8 THC is extracted from hemp plants–federally legal since 2018 when President Trump signed into law the Farm Bill.
Because of the legality of using Delta-8 THC, it's not a surprise to see manufacturers, both old and new, introducing their Delta-8 THC-derived products. From vape cartridges to gummies to tinctures, all these are everywhere. But with so many makers today, how can you guarantee that your choice is safe? In this article, let's make a thorough discussion about the Delta-8 THC tincture. Which company offers the cheapest product? The safest? The most reliable? But before reviewing the best in the market, let's start with the basics.
Table of Contents
Why Use Delta-8 THC Tincture?
Delta-8 THC, or D8, is an analog of Delta-9 THC. Unlike Delta-9, Delta-8 THC has less intoxicating and abundant compounds found in cannabis because it has less psychoactive properties. While Delta-8 only occurs in smaller amounts, it can be created by modifying CBD or Delta-9 thru advanced extraction methods.
Delta-8 THC tincture is infused D8 THC liquid placed under the tongue and is legal in places where CBD is legal. D8 products are derived from hemp. Thus, it has very minimal concentrations of THC (<0.1%). Meaning, you don't have to worry about failing a drug test. 
So, why should you use Delta-8 THC tinctures?
There are so many great tinctures in the market today that provide different results for the users. But some of the most significant health benefits brought about by Delta-8 THC tinctures include:
Increased Appetite (along with Weight Loss). Research studies show that having low doses of Delta-8 THC can improve one's food consumption. Conversely, it can also alter one's neurotransmitter levels following weight loss. Such effects are because of the benefits of D8 tinctures on one's metabolism.
Lessen Anxiety. Delta-8 THC tinctures contain anxiolytic properties that provide stress relief, a sense of relaxation, and overall calmness. Plus, D8 binds itself to the body's CB2 receptors found within the organs. This affects several areas in minimizing anxiety.
The impact of lessening your anxiety when using Delta-8 THC tincture can help you in so many ways. But the most notable benefit is how you can achieve better sleep when your anxiety is reduced. If your anxiety is significantly reduced, you will no longer have to worry about chronic insomnia brought about by too much stress.
Pain Relief. These tinctures are your best choice for pain relief in different areas of the body, even at different levels. D8 tinctures have proven analgesic properties. Plus, they have been proven to help minimize neuropathy and inflammatory pain. Knowing that D8 tinctures don't result in the same side effects as their D9 counterparts is quite surprising. Still, these tinctures are very effective in pain management despite having fewer side effects.
Better Brain Health. With Delta-THC tinctures, the production of Acetylcholine in your body increases. This is a neurotransmitter that can help improve memory, cognition, and brain resilience. It can also help promote potency.
Is Delta-8 THC Marijuana?
Delta-8 THC, a naturally occurring compound in traces in cannabis (marijuana) and hemp, shares the chemical structure of its Delta-9 THC cousin. Delta-9 is the main psychoactive compound in marijuana, the one that gives you a "high."
Delta-8 and Delta-9 are both forms of THC. However, many people coin THC with Delta-9 found in high concentrations in marijuana. But both these THCs produce a euphoric and fuzzy feeling, although the Delta-8 variant causes a milder high.
Simply put, Delta-8 is referred to as "diet weed" or "marijuana high." It also causes other side effects like anxiety, paranoia, and drowsiness, although they are less potent than the effects of Delta-9.
Why not smoke Delta-8 THC tincture?
When using delta-8 THC tinctures, there is one method you should avoid: smoking. Under any circumstance, never add tinctures to your vape pen. There are so many companies today that advertise their oils and tinctures for use in vape pens. Avoid this if possible. Not only will it taste terrible, but this is also very risky. MCT oil, and other variants of polyunsaturated oils, are not for inhaling. They can cause a fatal condition called lipoid pneumonia.
While it's relatively easy to use this concentrated liquid extract, perhaps you are also looking for some step-by-step advice on using tinctures yourself properly. So here are the four common methods.
Method 1. Down the Hatch. This is the simplest and most basic way of using Delta-8 THC Tinctures. Just fill the dropper with oil, and directly drop it into your mouth and swallow. Fill the dropper with only one squeeze, making sure that the oil only fills the glass dropper by about ¾ of the way.
Each dropper pump is around 1mL of oil. With the delta-8 tincture, this equates to 40 mg of delta-8 THC. With this potency, it's best to start with just a half of the dropper, especially if you have never tried delta-8 THC before or you're very sensitive to it.
Method 2. Hold the tincture under your tongue. This is a modified method of the first method. Instead of directly swallowing the tincture, you hold the oil under your tongue for about a minute or two. This will give the delta-8 THC ample time to absorb through those tiny capillaries found underneath the tongue.
According to studies, this is the fastest way to achieve the most potent effects of the tincture, usually within ten minutes because the tincture is directly absorbed into the bloodstream. It skips the digestive tract and the first-pass liver metabolism. While this is the quickest way to consume tinctures orally, this can be a bit uncomfortable because you get to taste the oil directly.
Method 3. Mix it! If you hate the idea of directly consuming the oil, you can mix it with your favorite drink to mask its taste. However, remember that water and oil don't mix well. So if you are trying to add the tincture to juice or tea, expect the oil to float on the surface of your rink. Right on your first sip, you will directly 'hit' the floating all, and sometimes, this can be unpleasant.
To avoid this, make sure the oil is mixed properly into your drink. Also, it helps to drink it quickly to avoid the chances of these liquids separating and the oil floating to the top. Nevertheless, you can use an electric stirrer or blender to help evenly distribute the oil.
Method 4. Put the oil on your skin. Yes, you can topically apply the delta-8 THC tincture. Just like CBD, this tincture has been carefully studied for its topic effects. It suggests that delta-8 THC tincture can offer supportive effects to the muscles and skin. The tincture has delta-8 distillate and a carrier oil– both components being well-suited for topic use because they are for internal use.
However, remember to use only a small amount of the oil. Putting too much on your skin will leave you greasy and messy. Just a few drops will do, and just rub in before you add more.
Is there tobacco in Delta-8 THC Tincture?
In general, Delta-8 THC does not contain tobacco. Delta-8 THC products are very popular these days, thanks to their numerous therapeutic benefits. It is going in the same direction as CBD when it initially hit the buying public. Those who are 'smoking' CBD but wish to get an extra "pick-up" can easily transition to Delta-8 products without any difficulty. In the same manner, if you are dreading the bad effects of Delta-9, you might be surprised at how mild and comfortable the delta-8s are.
One of the most popular ways of consuming Delta-8 products today is tincture and cigarettes. However, one won't get easily addicted to Delta-8 because it has no tobacco or nicotine content. Thus, it's relatively safe to try delta-8 products without worrying about dependency or addiction.
---
Our Picks of the 10 Best Delta-8 THC Tincture
Delta-8 THC products have been successfully established in the cannabis market, thanks to hundreds of thousands of satisfied users. These products have stress-relieving properties that will not give you that anxious high like the delta-9 THC. These products are usually sold as smokable, edible, or vaping products. The 'high' you achieve from them is just like that of marijuana; only it has a lower intensity.
Buying delta-8 THC tincture is relatively safe since it is sold in its purest form– without additives, unlike the vape carts and gummies. However, to help you find the best and most reliable brands today, here are ten of the best Delta-8 THC tincture brands we have already reviewed for you.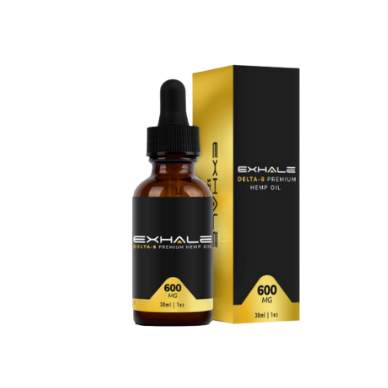 Highlights:
Third-party lab-tested
Full-spectrum cannabinoids
Convenient glass dropper bottle
Safe and clean hemp oil
100% all-natural ingredients
CO2 extraction method
No additives, artificial flavorings, preservatives, and color
Organic and non-GMO
Description:
Quick and discreet way to enjoy the many benefits of Delta-8 THC
Delta-8 compound is less than 1%
Boosts appetite, ease joint discomfort caused by swelling
Gives a loose and relaxed feeling
Promotes better sleep
High-quality, all-natural, and doesn't break the bank
Comes in three sizes: 300mg, 600mg, 1200mg
Pricing:
$29.95 for the 300mg
$39.95 for the 600mg
$49.95 for the 1200mg
Subscribe to get 20% off
Company:
Exhale Wellness products are made from all-natural, locally-sourced hemp and are tested via a third-party laboratory. This brand utilizes the CO2 extraction method to obtain CBD from hemp, ensuring that the purity and potency of the products are reliable and devoid of any GMOs and heavy metals. All the lab results can be seen on their website so that anybody can check them for verification.
Exhale Wellness prides itself on its organically and naturally grown hemp. The hemp seed oil obtained by CO2 extraction contains the full-spectrum cannabinoid, ensuring that the oil is safe and all the ingredients infused are pure.
The delta-8 THC tincture from Exhale Wellness comes in a glass dropper bottle, free from preservatives and additives. The oil gives you that mild and natural high so that you will achieve physical and mental peace. You can get the tincture in 300mg, 600mg, and 1200mg bottles.
Shipping:
Free economy shipping is offered to all customers upon checkout. For time-sensitive orders, there is also a faster-paid shipping option. You can see your total shipping cost before you pay, so you have the choice to select which option is best for you.
Returns:
If you are not happy with the products, Exhale Wellness offers a 30-day, 100% money-back guarantee.
Best For:
Ideal for people who want to enjoy all the benefits of Delta-8 THC discreetly.
Good for sharing, especially since they have the 1200mg bottle.
---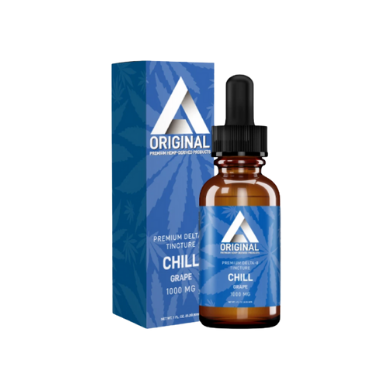 Highlights:
Third-party lab-tested
Comes in a variety of flavors
No synthetic additives
Value for money
Description:
Comes in 3 delectable flavors: Spearmint (Focus), Tropical Passion Fruits (Balance), and Grape (Chill)
The Focus Premium Delta-8 THC is a Sativa blend, perfect for your long days and long nights. It promotes focus and alertness using Pulegone, b-pinene, and Cedrene. The sweet spearmint variety captures your senses and awakens your taste buds, and the uplifting effects give you that euphoria to help you last thru the day.
The Balance Premium Delta-8 THC tincture is a hybrid blend that gives your senses the boost it needs, accompanied by calm and serene undertones. And for that little kick of extra, this variety has tropical notes of passion fruits to put a smile on your face all day long.
The Chill Premium Delta-8 THC tincture is an Indica blend so you can relax and achieve the extra sleep you need after a long and tiring day. With its mellow grape taste, you will surely drift your thoughts away into a dream head high in no time.
Pricing:
$39.99 one-time purchase; 30 ml,1000mg
Subscribe and save 15% every time ($33.99)
Company:
Delta ExtraX has a wide range of both Delta-10 and Delta-8 products. You can have their cartridges, disposables, gummies, edibles, infused hemp flowers, concentrates, pods, and Delta-8 THC tinctures. They also offer Delta-10 THC tinctures, bundles, cartridges, and disposables, all with different flavors.
All the Delta ExtraX are made with cannabinoids extracted from natural hemp thru a CO2 extraction method. These extracts are submitted to a third-party laboratory for further testing, the results of which are posted on the website.
Delta ExtraX delta-8 tinctures come in three variants: Chill premium, Balance premium, and Focus premium. These bottles come in 30ml bottles with 1000mg of D8 strength each bottle.
Shipping:
A flat rate shipping fee of $6.29 for all domestic orders
Returns:
Delta Extrax doesn't have a refund/return policy. But according to reviews, the majority of its clients love and are happy with the cart's high quality and unique flavors.
Full refunds are given on cancellations of any unshipped orders.
Best for:
Perfect for those keen on brands since Delta extract has long been known in the hemp industry.
---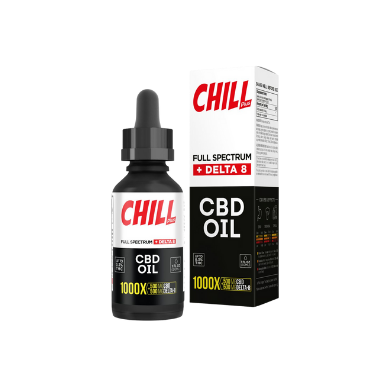 Highlights:
Extracted through CO2 method
No synthetic additives
Transparency with independent lab reports
Fused with full-spectrum CBD
Description:
Chill Plus Delta Force Delta-8 THC Tincture is a premier brand of pure, hemp-derived full spectrum CBD combined with Delta-8 THC.
Combines 500mg of Delta-8 with 500 mg of hemp-derived, all-natural full-spectrum CBD.
It is all organic and grown on non-GMO farms.
The CBD is guaranteed safe and pure
Underwent through rigorous third-party lab testings
With 1000mg of Delta-8 THC
Comes in 1000mg, 1500mg, 2000mg Delta-8 THC strength
Pricing:
$35.00 for the 1000mg strength
$52.50 for the 1500mg strength
$70.00 for the 2000mg strength
Subscribe to enjoy 65% off
Company:
Among the cannabis community, Diamond CBD is a relatively new one to enter the ever-demanding delta-8 markets. At present, they offer a huge selection of products like CBD ones and delta-8 products that are derived from hemp. If you choose Diamond CBDF, they have many products to choose from, like edibles, pre-rolled joints, capsules, vapes, delta-8 hemp flowers, topicals, tinctures, and more.
Let's focus more on Diamond CBD's Delta-8 THC tincture. This product combines all the health benefits you get from CBD and Delta-8 THC into one product. Called the Chillp Plus, this tincture line uses a full-spectrum CBD oil combined with delta-8 distillate to make a roll-on with a 1:1 ratio. The tincture also comes in three different strengths: 1000, 1500, and 2000mg bottles.
Shipping:
Free 2-day shipping on retail orders over $100.
Returns:
The company offers a 30-day refund policy. If 30 days have already passed from the delivery date, refund or exchange is no longer allowed. The items must be unused and in the same status/condition as when you received them to qualify for a return. The original packaging must also be intact. A receipt or proof of purchase is also required to complete your return/refund.
Best for:
Best for those who want to get the best effects at subtle and lower doses. This is also perfect for those who are looking for a wonderful sleep aid.
---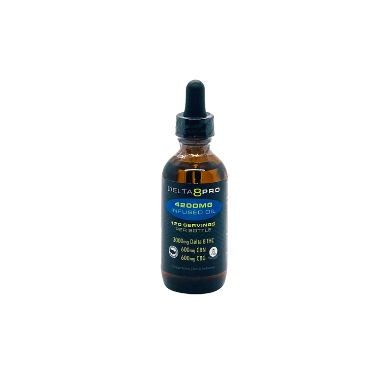 Highlights:
Third-party lab-tested
No synthetic additives
Value for money
Organically grown and natural hemp
Description:
Lab-tested and 2018 Farm Bill approved
4200mg od Delta-8 THC tincture
Uses synergistic properties of CBG, Delta-8, and CBN to promote health and wellness and stimulate cannabinoid receptors
Contains 3000mg of delta-8 THC, 600mg of CBN, and 600mg of CBG, all packed in a 60mL glass bottle
Ingredients include delta-8 THC derived from industrial hemp, Cannabigerol (CBG), and Cannabinol (CBN)
120 servings per bottle (at 0.5mL per serve)
Pricing:
Company:
In the cannabis industry, Delta-8 Pro is a veteran with a long tradition that spans more than 13 years already. Initially, this brand sold CBD products. But over the years, with numerous satisfied customers, they saw the chance to give something of value to the fast-growing market. Thus, from the usual CBD products, it shifted its focus on making delta-8 THC products.
Delta-8 Pro tincture has as much as 3,000mg of delta-8 each bottle. And unlike most popular brands, their extract also has 600mg each of CBG and CBD– both carrying their own unique set of benefits. CBG increases the efficacy of other cannabinoids as it fights inflammation, while CBD is most used for sedating effects.
Because of CBN and its properties that make you feel sleepy, the Delta-8 Pro tincture is a great sleeping aid. But, because of these sedative-like properties, you should be careful not to take the tincture during the day or when you are driving.
Shipping:
Free standard shipping for orders over $50
Returns:
Delta8 Pro offers a refund policy within 30 days from the day of delivery.
Best for:
This is the best product for those who wish to achieve sleep faster. Just make sure you won't be driving before having this oil.
---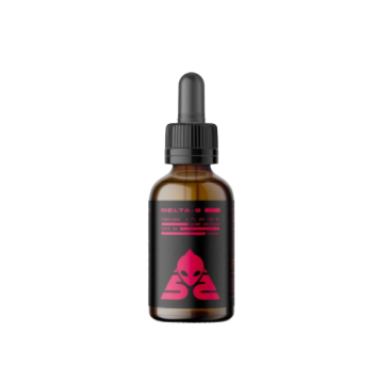 Highlights:
Third-party lab-tested
No synthetic additives
Value for money
Organically grown and natural hemp
Extraction involved several processes: distillation, recrystallization, winterization, and decarboxylation to provide a potent and pure product
Extracted with CO2
Description:
Infused with 1200mg of broad-spectrum delta-8 THC in a vanilla-flavored liquid
Each dose is 40mg per serving or roughly 1.5mg per drop
These tinctures are sweetened with stevia to improve their taste, minus the calories
Area52's proprietary blend contains myristicin, linalool, lavender, bisabolol, and roughly a dozen other cannabis-derived terpenes.
Comes in two flavors: cherry and vanilla
Pricing:
$109 for a single pack
$207 for a 2-pack (save $51)
$302 for a 3-pack (save $85
Subscribe every month and save 15% on all products
Company:
Area52 is another popular brand that produces high-quality delta-8 THC products from all-natural and organic hemp. Aside from their delta-8 vape carts and gummies, their best-selling product so far is the delta-8 THC tincture.
Each Area52 delta-8 THC tincture bottle has 1,200mg of pure and potent delta-8 THC (at 40mg per serving). This content makes their product one of the brands out there that make the most potent tinctures. The extract is also enriched with different terpenes to promote relaxation while providing that yummy vanilla aftertaste. Plus, it is added with stevia only means you can enjoy this oil without worrying too much about those extra calories.
When talking about transparency, Area52 leads above all the other brands. Each of its product batches has its third-party lab certificate, and you will get a copy of it with your order. You can also check the website to view the certificate.
Shipping:
Free priority shipping for orders over $110
Returns:
Items must at least be half full to qualify for a refund. You can send an email at hello@area52.com to initiate the return process.
Best for:
Best for those who love to have tastier and sweeter oil minus the calories.
---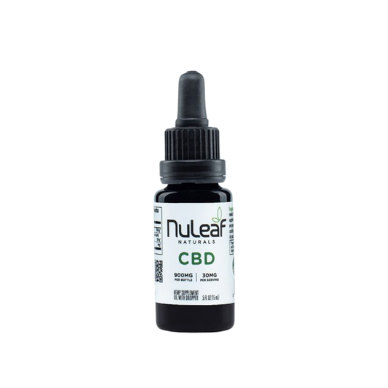 Highlights:
Free and fast shipping
cGMP-certified
Organic and full-spectrum
Lab-tested
No additives like herbicides, pesticides, fungi, mold, mycotoxins, and heavy metals.
Description:
Made from organic hemp
Hemp comes from the highest grade grown in the US
The products are all third-party lab tested to guarantee the absence of additives
NuLeaf uses local cannabis plants that follow stringent organic cultivation practices. The extraction process guarantees that solvent pollution and heat degradation are absent.
Comes in 300m, 900mg, 1800mg, 3000mg, and 6000mg strength
Pricing:
$29.99 for the 30mg
$79.00 for the 900mg
$149.00 for the 1800mg
$199.00 for the 3000mg
$399.00 for the 6000mg
They also have 2-pack, 3-pack, and 6-pack variants
Subscribe to save 10% on repeat deliveries
Company:
Another well-known hemp company in the US is NuLeaf Naturals. Founded by a group of plant medicine enthusiasts, the people behind the company aim to give way to a wide range of cannabinoid wellness products that will help promote mental and physical wellness.
NuLeaf is committed to making pure and potent hemp products. All their full-spectrum cannabinoids do not contain any synthetic ingredients. Everything is purely limited to organic hemp. The products are also cGMP-certified. Advanced extraction methods are utilized to get the full range of cannabinoids.
Shipping:
Fast and free shipping of orders to anywhere in the US via USPS Priority Mail.
You can also opt for the Express 1 to 3-day shipping option.
Returns:
New, unused, or unopened products may be returned within 30 days of delivery to get a full refund. Customers should pay the shipping fee for the returned items.
Best for:
Ideal for people suffering from stress, anxiety, or insomnia.
---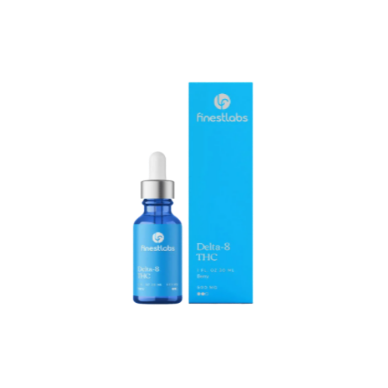 Highlights:
Premium hemp-derived Delta-8 THC
Uses state of the art extraction techniques
Third-party tested
Description:
Powerfully relaxing delta-8 THC tinctures
Made with 500mg of concentrated Delta-8 THC
For every 1mL of oil, you get 15mg of pure delta-8 THC
It contains a combination of all-natural stevia and strawberry extracts for better flavor.
Comes in a single pack, 2-pack, or 3-pack packaging
Pricing:
$59 for the single pack
$112 for the 2-pack (save 5%)
$164 for the 3-pack (save 7.5%
Subscribe and save 15% every month
Company:
Finest Labs is a cannabis company that creates artisanal extractions and upmarket aromatics. They use all-natural terpene-based flavors and use a combination of different methods (distillation, thin-film distillation, centrifugation, and short-path distillation) in extracting the purest products. No synthetic flavorings or additives are present in all the products.
Shipping:
Free priority shipping on all orders over $150
Returns:
Finest Lab offers a return policy. The product should be at least half full to qualify for a refund. You can send a "return request" email at support@finestlabs.com to initiate a return.
Best for:
This brand is a good start, especially if you want to give delta-8 THC a try for the very first time.
---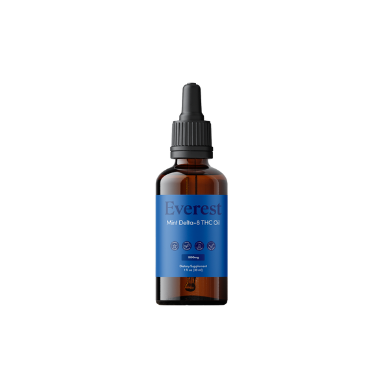 Highlights:
Vegan, dairy-free, no GMOs, pesticide-free
All-natural, locally grown hemp
Utilizes gold-standard in the CO2 extraction method
All products are sent in twice for testing via a third-party lab
Description:
All the delta-8 THC oils are potent (1,000mg)
Made with high-grade and naturally grown hemp
Comes in mint flavor
Made in the USA
Non-GMO
Pricing:
$125 (one-time purchase)
Subscribe and save 20%
Company:
In the cannabis industry, Everest is considered one of the most reliable and established brands. The company uses local and organic hemp processed with CO2. This makes all their products good for the environment. What people love the most about Everest is how they test their products in third-party labs more than once just to guarantee the safety of the products.
Everest Delta-8 THC tincture is full of 1000mg of D8 distillate. It is flavored with tasty peppermint so that you won't get that strong after the taste of pure Delta-8.
Shipping:
Everest offers free shipping. It processes orders one to two business days after the order confirmation. After shipping, the product will arrive in 2-5 business days. Take note, however, that Everest only delivers to certain US states. You can see if your state is eligible after you start the checkout process.
Returns:
Returns must be coursed through Everest's customer support team. You can email them at support@buyeverest.com with the subject "Return Request."
Refunds are not provided for orders shipped to the wrong shipping address.
Best for:
This is best for people still new to cannabis since the tincture only contains a small dose of Delta-8 THC.
---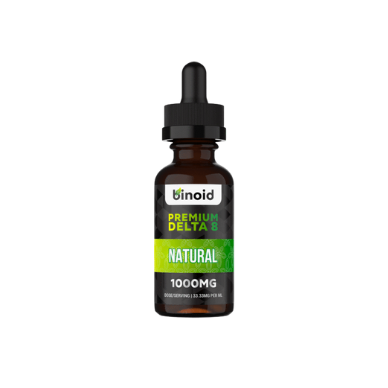 Highlights:
Uses MCT as the carrier oil
Third-party lab-tests
Fast shipping
Amazing customer service
Description:
Comes in 3 strengths- 100mg, 2500mg, 5000mg
The tincture contains delta-8, terpenes, and other cannabinoids for maximum effectiveness
MCT is used as a carrier oil.
The terpenes give the tincture a plant taste.
The tincture has an unbeatable uplifting feel
Derided from hemp and is federally legal.
Pricing:
$34.99 (1000mg strength)
$59.99 (2500mg strength)
$84.99 (5000mg strength)
Company:
Binoid was one of the first companies to manufacture and distribute delta-8 products. They have marked their name in the niche industry primarily because of the variety of products they offer. You can find a wide range of CBD extracts from Binoid, along with a huge selection of Delta-8 THC products.
All the delta-8 THC products of Binoid are made from organic, naturally grown hemp in Colorado. Binoids sells CBD pet oils, creams, water-soluble drops, oils, and gummies. In the Delta-8 line, they have vapes, tinctures, wax dabs, and gummies.
Shipping:
Fast, free, and discreet shipping
Returns:
Binoid offers a 30-day unused and unopened warranty and returns policy. If it goes beyond that, a refund or exchange is not valid.
---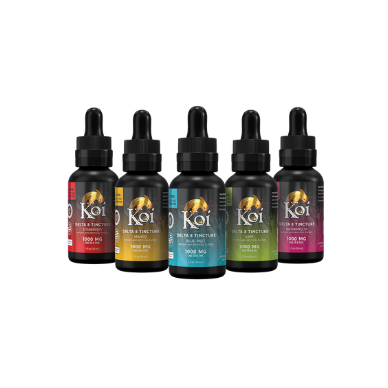 Highlights:
All-natural and organic hemp is grown in Colorado
They have a UK site for their European customers
Cool, California packaging and branding for that dispensary experience
Third-party lab tests
Description:
1000mg of Delta-8 THC per bottle
16.7mg per 0.5mL serving
30mL bottle with graduated dropper for precise measurements
Comes in r flavors: Watermelon, Strawberry, Blue Razz, Lime, and Mango
Delta-8 derived from Hemp
Pricing:
$59.99
Subscribe and save 20%
Company:
Since its founding in 2015, California-based Koi CBD has been a known brand in the cannabis industry. Because of their impressive range of CBD products, including pet products, skincare, shots, inhalers, and so much more, they have gained a numerous following from their avid customers. What is great about Koi is that they have a dedicated UK site for their European customers who wish to buy their CBD products.
Shipping:
Free USPS Standard for orders over $49
$6 for USPS Standard for orders under $49
$10 for USPS Priority
Returns:
You can send an email to customerservice@koicbd.com for claims of damaged products.
To qualify for returns, the product has to be in the same condition that you received it.
Best for:
Koi is a great company for people who are looking for hemp-derived THC products in prohibition states.
---
How We Find the Best Delta-8 THC Tincture
Making a list of the best delta-8 THC tinctures can be overwhelming, knowing there are more questionable cannabinoid companies than real ones. Why? Because it is neither cheap nor easy to create high-quality Delta-8 products. That's why many companies convert CBD to Delta-8 THC in a lab, and the process takes effort and time. Thus, it's normal for the cost to go up.
But with the high demand and many people looking for cheaper alternatives, you might end up getting low-cost substitutes in the market, and in most cases, they are not free of contaminants. In fact, some of them may not even be real Delta-8 THC. So, we came up with this list and followed the steps below:
We checked the feedback of real customers about the tinctures and oil they use.
We considered the opinions of reliable health experts, along with thousands of reviews on brand and third-party websites.
We made sure that the hemp was indeed grown organically. We also ensured that the cannabinoid is derived by strictly complying with the 2018 Farm Bill.
We checked the third-party lab results of all the products and brands to verify the tinctures' potency, quality, efficacy, and safety. We chose the brand that made their results public as this indicated their transparency and authenticity.
It's important to check the reliability and quality of the brand's products. Ideally, cannabinoids products should be made from organically-grown hemp. It should also be free from artificially sourced ingredients and also free from impurities.
The Takeaway
Delta-8 THC has too many benefits, including anxiety and stress relief, minus the chances of experiencing side effects closely associated with Delta 9. Today, there are so many brands that sell amazing Delta-8 products. However, it's best to stick to the more established and reliable brands, like the top brands mentioned above. So many people today are getting eager to join the Delta-8 fans club. Sadly, so many of them are also duped with fake products. To guarantee that you won't end up scammed, read and do your research.
Another thing is that it helps to consult a medical professional first before you embark on your delta-8 THC journey, especially if you possess underlying medical issues. Make an educated decision. Know all the things you need to know before you finally leap in your pursuit of a healthier, longer, and happier life.