As we move into 2022, big business stands more poised than ever before to dominate the CBD industry. However, local businesses continue to carve out a meaningful space in the industry. These smaller, locally owned CBD businesses differentiate themselves from large national corporations by offering a superior level of service and quality.
As big business seeks ever-increasing profitability, cut-corners become expected. But smaller, more agile businesses remain free to pursue making the products that they want to make. For these American business owners, true passion and authenticity need not be sacrificed for a better bottom line.
A good underdog story always rouses a sense of pride. And in this article, we explore some of the best underdogs in the Southeast. And with our help, they might even take center stage.
Table of Contents
The Beauty of CBD Boutiques
Many experts would argue that the CBD market is saturated. A quick gander of google results will demonstrate the hundreds–if not thousands–of competing brands in the CBD space. But while many of the larger CBD companies have galvanized their success by growing national operations while dropping bottom lines, a different kind of CBD business has stepped into the spotlight: one that relies solely on the quality of their products and the authenticity of service to compete in the market.
CBD boutiques are a phenomenon of the CBD industry wherein smaller operations–typically businesses that started right around the beginning of the market boom–have been forced to adapt to a highly competitive, highly saturated market. And while some of these businesses have certainly fallen on hardship, others have thrived.
Numerous locally owned, locally operated CBD boutiques around the Southeast demonstrate this success–with many going on to open second and even third locations. These businesses have earned loyal customers and built strong brands with true staying power, demonstrating a market evolution akin to the revival of local craft breweries.
So credit where credit is due–let's take a look at some of the best CBD boutiques in the Southeast that survived the gauntlet of the CBD market boom and more importantly, continued to thrive thereafter. At these boutiques you will find only the highest quality local CBD products curated by exceptional and knowledgeable staff.
NOTE: These shops are organized by state and are not ranked in any particular order.
Any discussion of the CBD industry's boutique movement in the Southeast would be sorely lacking without recognition of Jennifer Boozer and her brainchild, CannaBama. After speaking with Jennifer, it is clear why her operation is so successful. She is fueled by the diesel variant of passion–when others' tires are spinning in the snow, Jennifer trudges forward in snow shoes. While other CBD entrepreneurs might fret an underperforming quarter, Ms. Boozer laments the remaining humans who have yet to try CBD.
Because that is the self-proclaimed demographic of CannaBama: humans. Jennifer Boozer wants everyone to try CBD because she knows it to be life changing herself, and as such she has dedicated herself to becoming one of the most knowledgeable CBD advocates in the country. Thus it should be no surprise that she is well on her way to becoming a cannabis lobbyist for the state of Alabama so that she can push the industry forward in a positive direction.
At CannaBama, customers will find a truly unique experience. They will find a passionate business owner who is giving everything to her dream of making CBD available to everyone who needs it–and in her opinion, everyone does. That uncompromising passion and commitment is why CannaBama was demonstrating revenues of much larger national companies even when they did not have an online store, showing numbers from solely brick and mortar sales that would make the large chain stores weep tears of envy.
You can stay up to date with CannaBama and Jennifer Boozer and the awesome things she is doing through her radio show–one of the first true-blooded cannabinoid advocacy stations in the country–and her website, but if you ever have the opportunity you will want to check out her store, which might be the most infamous CBD boutique in the southeast:
558 Saint Francis Street, Suite 1 Mobile, AL 36602 – (251) 255-5155
Lab Canna East is an exemplar of the CBD boutique market and provides a bottom-up service of education, customer support, and quality product offerings that are designed to benefit a customer's needs. At Lab Canna East, customers of all education-levels are invited to learn more about the deep and constantly evolving science of hemp and CBD. This willingness to educate is what really separates Lab Canna from the rest, because it ensures that customers are not only getting the products and doses that they need, but more importantly, that they are using the products in a way that is conducive to their unique goals and needs.
One of the major criticisms of the CBD market is that overzealous companies blur the line between marketing and pseudoscience. Lab Canna East directly combats this stigma by staying on top of current peer-reviewed research and the industry's most cutting-edge technology in order to ensure that customers receive the appropriate facts backed by hard science.
It should be no surprise then that "Nashville Scene" readers have voted Lab Canna East as the best CBD shop of Nashville for three years in a row. At Lab Canna East, customers can expect to see the highest quality local and regional CBD products that represent the best of what the CBD boutique market has to offer including new and interesting products such as creams, oils, gummies, smokeable flower, and much more.
Additionally, Lab Canna takes customer service above and beyond industry standards by offering numerous methods of order fulfillment: you can enjoy curbside pickup, in-store pickup, and even local delivery options.
Check out Lab Canna East if you are ever in Nashville:

1006 Gallatin Avenue Nashville, 37206 – (615) 835-3474
Hemp House
– Chattanooga, Tennessee
The Hemp House of Chattanooga was one of Tennessee's very first CBD-only stores, having first opened back in 2017 when most people were still unsure about CBD products. The vision and dedication of owner, Dwayne Madden, would pay off though, as evidenced by the success of his three locations around the larger Chattanooga area.
Dwayne attributes his success to focusing his product offerings on local products and brands, and to. steering clear of head-shop paraphernalia which historically has hurt the branding of CBD boutique shops looking to target a more mature demographic. By promoting local and regional CBD products, Dwayne has cemented himself as one of the pillars of the grass-roots CBD market in Tennessee and the southeast in general.
Hemp House brandishes one of the most loyal customer bases in the southeast. They shower his businesses with perfect reviews and powerful testimonials, many of which make special effort to thank Dwayne for his dedication to running a relaxed business with top-notch products.
One such testimonial reads, "Dwayne is incredibly knowledgeable about all of his products as he does extensive research before he chooses to put them in his store. Dwayne genuinely cares about each and every one of his customers and does his due diligence to find the right product for them!"
Visit Dwayne at the Hemp House at one of his following locations:
512 Tremont St, Chattanooga, TN 37405 – (423) 531-4367

6016 Ringgold Road, Suite 104, East Ridge, TN 37412 – (423)-771-4367

9203 Lee Highway, Suite 10, Ooltewah, TN 37363 – 423-771-4223
Smoke N' Brew
– Greenville, South Carolina
Smoke N' Brew is built around a simple but clear mission: to provide its customers with everything they need under one roof. At Smoke N' Brew you will find a robust selection of CBD products of all types in addition to a menu of adult beverages to ensure that customer's enjoy themselves while they peruse the available products.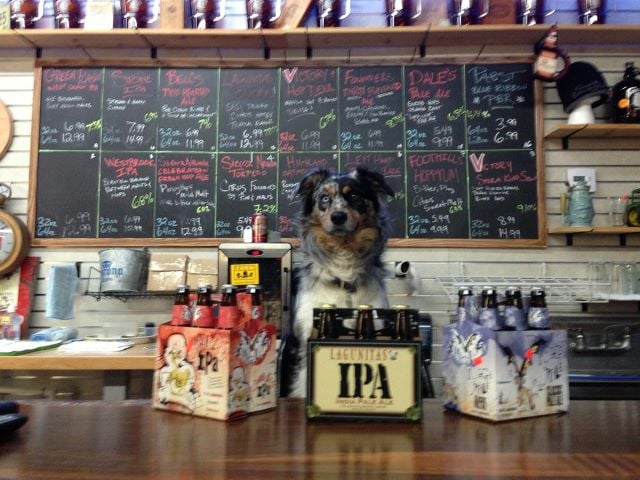 Smoke N' Brew is locally owned and operated, and made a name for itself at the very beginning of the CBD boom by being of the first businesses in the South to sell CBD products. As such, the team behind Smoke N' Brew were integral in the development of the local hemp and CBD market.
Since those early days, the Smoke N' Brew team has demonstrated exemplary success and now operates a total of three locations. Subsequently, the team has further facilitated the growth of local CBD projects in South Carolina. Through a commitment to only offering local products and brands, Smoke N' Brew helped to usher in the next generation of local CBD brands, solidifying independence in the South Carolina market.
If you are looking for the unique combination of brews, CBD, and a good time, don't hesitate to check out Smoke N' Brew at one of its three locations:

N. Pleasantburg Dr. Greenville, SC 29609 – (864) 244-7477

1401 Woodruff Road Greenville, SC 29607 – (864) 568-5559

815 Folly Road Charleston SC 29412 – (843) 501-7979
The Eucalyptus Wellness and Elixir Bar represents a tasteful pairing of curated CBD products with other wellness products and services. Eucalyptus Wellness combines elements of a CBD boutique, juice bar, and vitamin shop, which of course is by design. Customers can treat Eucalyptus Wellness as a one-stop shop for their health needs, which also helps to introduce new customers to CBD products who might not have branched out otherwise.
If you have ever wanted a place to kick back and relax, all while enjoying top of the line holistic health products, this place is for you.
Customers can choose from a list of cold-press juices, vitamin-rich "elixirs," convenient healthy meals, as well as a selection of the industry's best CBD products. Additionally, staff is trained to assist customers to find the exact product to meet their needs, which is a integral part of their service–as demonstrated by the numerous perfect reviews that recognize the knowledgeable staff for their willingness to educate.
If you are interested in picking up some CBD products while enjoying a cold-pressed juice and learning from expert alternative health professionals, then check out Eucalyptus Wellness at the following address:
920 Houston Northcutt Blvd, Mount Pleasant, SC 29464 – (843) 388-4956
Tru Hemp
– Orlando, Florida
Tru Hemp represents a permutation of the boutique style business model that rivals the size and efficiency of larger national franchises without sacrificing local operations or quality of care. Tru Hemp is competing against some of the most well-performing CBD franchise shops in the entire country, according to Yelp survey data, but not only are they are staying above water, they are thriving.
While franchise CBD chains might excel in providing seductive price points, shops like Tru Hemp are finding their niche in catering to more discerning customers who are looking to find higher dose concentrations or unique products that might not be carried at franchise stores. Additionally, Tru Hemp provides that high-class boutique vibe where staff are eager to educate customers.
At Tru Hemp staff work closely with customers until they find exactly what they are looking for, which apparently happens often according to Tru Hemp's stellar reviews. One of which reads, "Our experience today at TruHemp was much more than I expected. The whole experience very well explained, [and staff were] also careful not to make wild or unfounded claims about their products. Instead, they offer thoughtful and straightforward descriptions and let their customers be the judge."
Customers can find smokeables, vape juices, edibles, CBD juices, and a robust selection of potent CBD oils that are strong enough to please even the most avid CBD enthusiast. You can find these amazing products and more at the following address:
11937 S Orange Blossom Trail Orlando, FL 32837 – (407) 240-6400
Health Synergy is another CBD boutique shop that distinguishes itself in a market of the most well-reviewed CBD shops in America by providing the highest quality CBD products available. Health Synergy maintains some of the highest standards in the industry and only offers products with demonstrable lab testing of the highest caliber.
The boutique offers a chill but high-brow vibe where mature customers can delve deep into the vast number of CBD products available, curated by knowledgeable staff who are well-versed on the sciences and technologies involved in various CBD delivery methods and products. These professionals ensure that customers know how to make the most out of the products they leave with–thus ensuring that they get their money's worth and that they enjoy their CBD products to the fullest.
If you're ever in the area, you will not want to pass up the opportunity to check out one of the country's best CBD boutiques:

3253 N Federal Hwy Boca Raton, FL 33431 – (561) 571-5338
Sam's Paradise is the perfect example of a CBD boutique that offers all the services as a smoke shop without sacrificing the classiness of the boutique-vibe. Sam built his business around a commitment to providing his customers with the highest quality organic products. His follow through on this commitment is what fueled his successful expansion to two additional locations–all of which offer a full catalogue of water pipes, vapes, E-Liquids, coils, CBD products, hookahs, shisha, and many more products.
At Sam's Paradise you can kick back and enjoy a CBD vape, all while learning from knowledgeable staff who work to connect you with the ideal product to meet your needs. Sam has trained the staff to ensure that they are enthusiastic and well-informed.
If you are a CBD enthusiast who swings toward a favoritism of vape-style CBD products, then Sam's Paradise is as good as it gets. Check out any of his three locations at the following addresses:
Hapeville: 3380 Sunset Ave, Hapeville, GA 30354

Stockbridge: 5222 N Henry Blvd Suite G, Stockbridge, GA 30281

Sandy Springs: 8349 Roswell Rd, Sandy Springs, GA 30350
The CBD Joint is Atlanta Metro's leading distributor of CBD products of all kinds, a superlative earned by the company's high quality products that deliver some of the highest concentrations of CBD on the market. At The CBD Joint, customers can expect to find potent CBD products that are designed to assist both individuals who wish to optimize their health and those who wish to combat health issues.
At The CBD Joint, customers can find quality and unique products that might not be carried elsewhere. This boutique's shelves are lined with CBD coffees, soaps, balms, lotions, chapsticks, CBD waters, CBD cigarettes, and potent CBD capsules meant to combat headaches. While many CBD boutiques might shy away from associating products with health issues, The CBD Joint tackles these issues head-on.
This is mostly accomplished by the stellar staff of the Collective, who are specially trained in the literature to accurately and appropriately advise customers on the best products to match their needs or health concerns.
If you are someone who is always chasing a higher concentration of a CBD formula, you will definitely want to check out The CBD Joint:
801 Church St, Marietta, GA 30060 – 678-932-6912
The Green Lady offers one of the most inspiring CBD boutique stories and demonstrates just how powerful the boutique-style business model can be when helmed by passionate professionals. The Green Lady boasts of a number "firsts." They were the first dispensary of CBD in the state, and shortly after they opened the state's first dab bar. These innovations were delivered through generational collaboration, as the family behind The Green Lady works together to find new ways to serve their customers through the amazing science of CBD.
The Green Lady further distinguishes itself by offering a selection of cannabinoids that are not commonly available elsewhere such as CBG, CBN, THCA, Delta 8, as well as a few Delta 9 options as well. All of these products are lab-tested and federally legal, according to the Green Lady owners.
It is clear from reviews and testimonials that the Green Lady is the backbone of the local CBD industry in Alabama, and is known for providing high quality products from superior, well-vetted manufacturers with the same commitment to the grass roots CBD movement as the Green Lady Family.
If you are a CBD advocate that ends up in the Huntsville area, you will not want to miss the chance to meet the Green Lady Family:
​​601 Pratt Ave NE, Huntsville, AL 35801 – (256) 305-4367