As CBD products continue to take American markets by storm, the sheer number of available options often results in confusion. And more importantly it often causes consumers to miss some of the most interesting offerings available. According to a recent survey, around 20% of CBD users want edible CBD products but finding the best edible CBD products takes time and effort.
But don't worry. We've done the legwork to bring you the most simple and seductive CBD recipes available. These recipes combine convenience and quality, so that CBD enthusiasts can enjoy their favorite cannabinoid in new and interesting ways. These recipes range from hardy meals to quick snacks.
We lay out current strategies and techniques to make these astonishingly good CBD creations in your kitchen. You won't need a culinary degree to impress your friends and family either. Continue reading to find out just how easy it can be.
What's all the Craze About?
CBD-infused recipes are one of the most popular and convenient ways these days to incorporate this non-psychoactive compound into your regular health and wellness routine. From CBD brownies to CBD-infused sweets like CBD gummies and CBD dishes, it's so easy to get your daily dose of CBD just by infusing them into your favorite food. But before we scramble to our pantry and check the available ingredients to whip up a good, healthy meal, let's first understand what CBD is.

Cannabidiol (aka CBD) is a non-psychoactive compound you can find in cannabis. Chances are, you have heard how cannabis offers some potential health benefits without you getting high. And unlike THC (cannabis' high-inducing substance), CBD is legal in the US. That's why it's not a surprise to hear how CBD-infused foods are getting popular these days. From easy meals to candies, cookies, and more, there are so many healthy ways to incorporate CBD in your recipes.
Today, CBD-infused drinks and foods are one of the biggest trends. From coffee to cocktails, dishes to sweets, and anything in between, infusing CBD into your food is a very popular trend today. However, despite CBD oil's growing popularity, many people are still wary and confused about legality. Can you, or should you incorporate CBD infusions and oils into your menu?
The 20 Easy and Delicious CBD Infused Recipes
From a cannabis plant, there is a naturally occurring compound there called cannabidiol, commonly called CBD. Although it comes from the cannabis plant, it does not contain TCH, the most popular compound found in cannabis plants that produce that "high" effect. CBD is considered an all-natural supplement for minimizing joint aches, muscle pains, and migraines as it entered the market. There are also two rare types of epilepsy where CBD is legally used for medication.
The CBD market started to gain popularity sometime in 2019 and was used in snacks, food bars, drinks, and many dishes. At present, mixologists and chefs are still testing with CBD tinctures or oil infusions to give some extra kick to their menus.
But is CBD Legal?
Technically, CBD is legal. It is a product of hemp, which became legal under the 2018 Farm Bill. Although CBD is a substance you can legally have, selling it as a supplement with uncorroborated claims as a pain reliever or anxiety reducer is illegal.
Why do beverage and food companies put CBD in their products?
Under the 2018 US Farm Bill, hemp farming is considered legal provided that their plants only have less than .03% THC. This led to the flooding of products with CBD both on shelves and in virtual shops. Capsules, beverages, snack bars, tinctures, pain-relief salves, body oils, and more, CBD-infused foods have increased their popularity over time. 

CBD became known because of its apparent health benefits that include:
Increased productivity and better focus
Pain relief
Increased relaxation; decreased anxiety
A healthier alternative to alcohol
Anti-inflammatory properties
Helps acne breakouts
Helps deal with drug addiction and smoking
Reduces muscle soreness
Protects against cancer
Prevents Alzheimer's diseases
Improves sleep
Some of these claims may sound a bit outrageous. And indeed, it turns out that it is very little, and even zero, in some cases, valid and approved scientific evidence to support such claims. However, companies know how keen most consumers today are when looking for natural and plant-based solutions to various health concerns like insomnia and anxiety. Thus, CBD-infused drinks and food have become a thing.
Making CBD-Infused Foods at Home
Now, this is the fun stuff. When it comes to CBD edibles, you'll enjoy more than the usual gummies and brownies. You can add CBD to practically any snack or meal you want!
These helpful tips can get you started with preparing your CBD-infused foods.
Choose Your CBD Wisely. Dennis Lee, the edibles manufacturing director for Sublime Canna and executive chef and co-founder of Namu Gaji, prefers using CBD isolate (the crystalline powder version) for his CBD-infused foods. Aside from the fact that it is readily available, CBD isolate has a high level of purity, thus making it quicker to dose out.
Another option is to use CBD oil for your CBD-infused dishes. However, keep in mind that oils vary from one brand to another. Some have an earthy flavor. Others are flavorless. You may also want to check CBD oil made with avocado oil since it's tasteless, plus the avocado oil has so many benefits. The Journal of Nutrition said that when you add avocado oil to your salad, this helps increase the absorption of carotenoids beta-carotene, alpha-carotene, and lutein, which—according to the National Cancer Institute, American Cancer Society, and the American Heart Association—can help prevent certain diseases.
Find the Right CBD Dosage. It's always best to consult with your doctor before introducing a new substance (CBD in this case) into your life. Usually, doctors recommend small doses of 2.5mg to their patients and gradually increase the dose depending on the effects.
For First-Timers, Try it at Night. If you have not tried any form of CBD-infused foods, keep in mind that CBD has a sedative effect. Ideally, try these foods at night and observe your body's reactions. After all, you don't want to doze off in the middle of a conference, do you?
Pair CBD with the Right Types of Food. Because CBD is fat-soluble, meaning it absorbs fast, it is best to pair it with healthy fats. You can try adding CBD to avocado or peanut butter before you top your toast. For the avocado toast, you can infuse coconut or olive oils with CBD. Isolate and drizzle it on your toast. Another tip is to add CBD to pesto sauce because the sauce has fats from pine nuts and olive oil. Furthermore, use CBD in your smoothies because it will add more nutrients from other ingredients like berries or spinach.
Prepare only a single serving. When you make large batches of CBD, you'll end up having a hard time figuring out how much CBD is needed per serving. That's why it best to prepare single-serving CBD-infused foods like smoothies and avocado toast.
Try not to heat it. CBD is best integrated into your final product instead of literally "cooking" your dishes with it. Heating CBD will cause it to degrade and eventually lose its potency. Ideally, don't go above 350 degrees. For example, you want scrambled eggs for breakfast, and you wish to infuse them with CBD-infused butter. Instead of putting the butter directly on the pan, it's best to fold it instead into the scrambled egg at the end, after they're cooked.

The 20 Easy and Delicious CBD Infused Recipes
To find out more about the easiest and most delicious CBD-infused recipes you can try at home, here are 20 options you can try.
Pesto Pasta and Chicken with CBD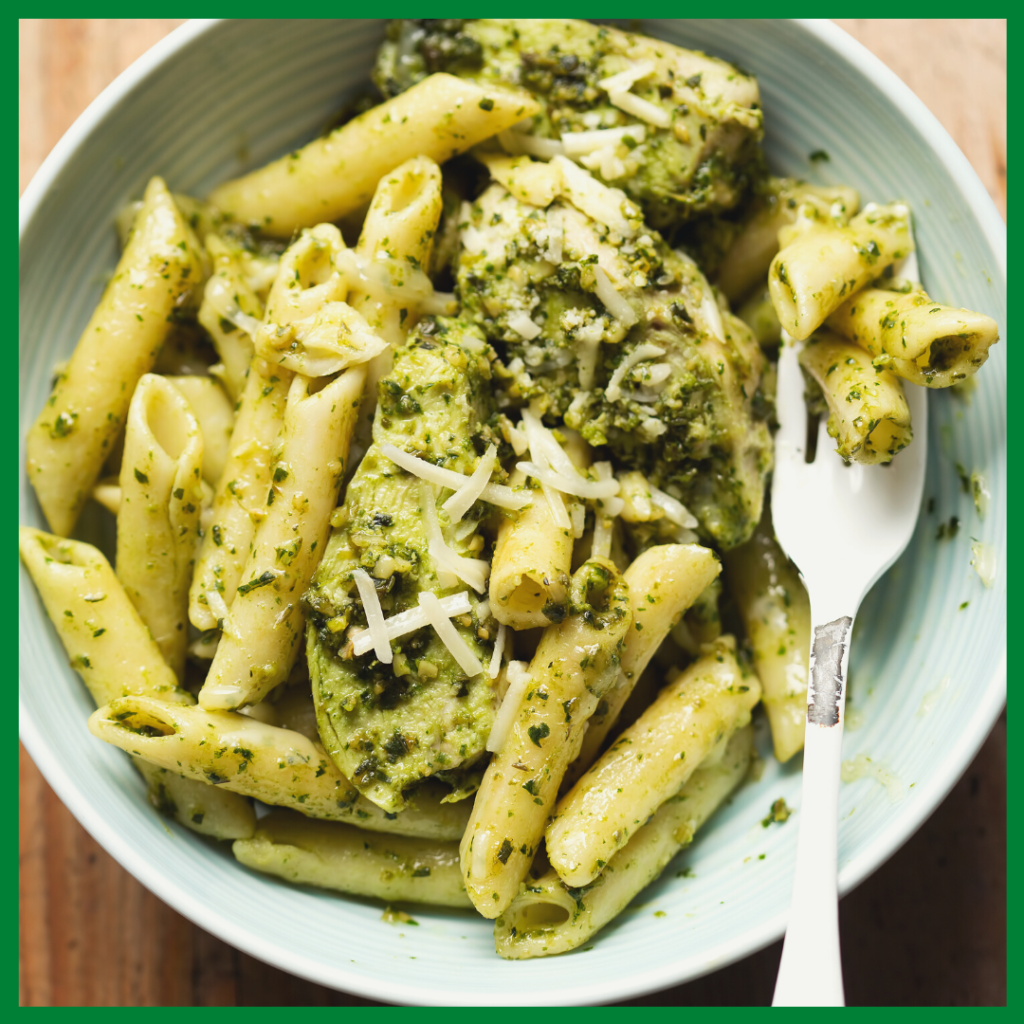 For the pesto, you need:
2 garlic cloves
2 tbsp of pine nuts
½ cup olive oil
2 cups fresh basil
2 tbsp high-quality full-spectrum CBD oil
½ cup parmesan
Salt and pepper
For the chicken and pasta, you need:
1 pound chicken breast
2 diced fresh tomatoes
½ tbsp lemon juice
6 ounces penne pasta
1 tbsp olive oil
1 tsp red pepper flake
½ cup chopped parsley
Salt and pepper
How to Make the Dish:
Blend all pesto ingredients until smooth, let chill in the fridge for 30 minutes. In a large pot, bring water to a boil and add pasta. Set aside. In another saucepan, add olive oil and sauté the (cubed) chicken breast. Once the chicken is done, add the spices. Toss the pasta into the saucepan, add the pesto, fresh parsley, and diced tomato. Finish with a squirt of lemon, fresh parmesan, and salt.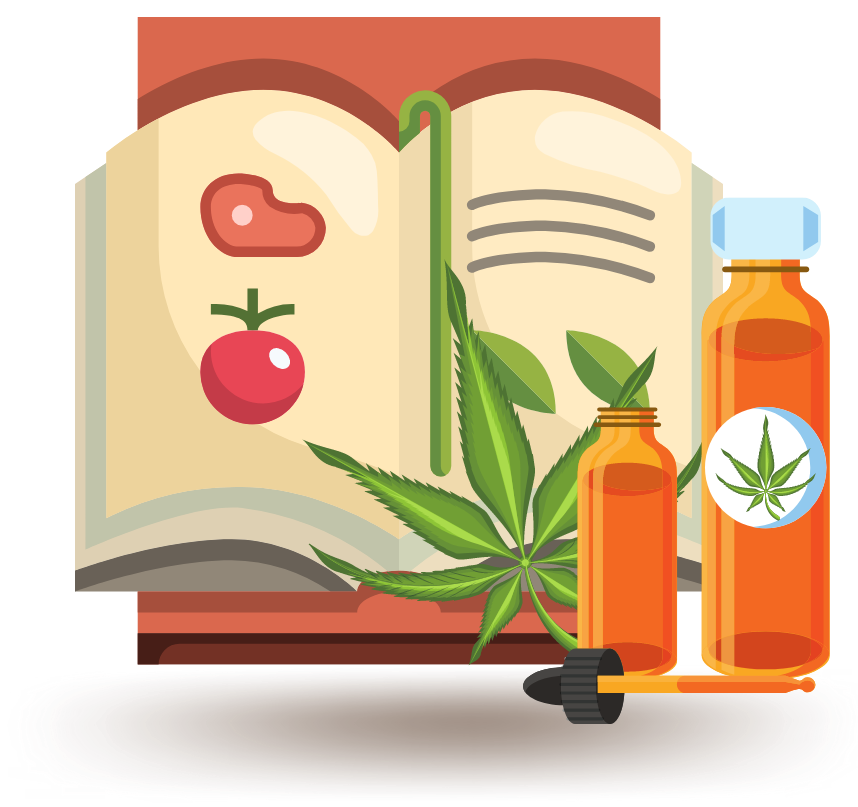 Chocolate Caramel Brownies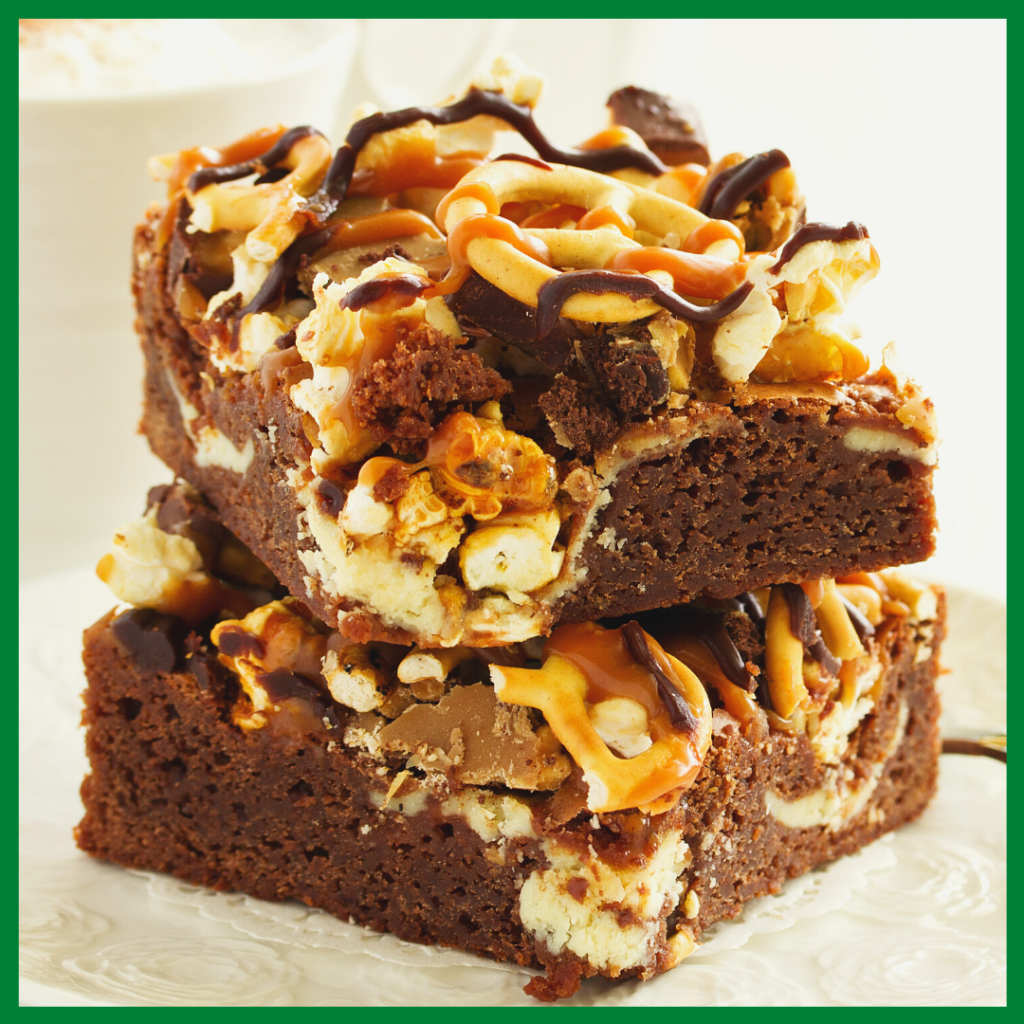 Ingredients:
1 box, Betty Crocker Milk Chocolate Brownie Mix
¼ cup milk
2 eggs
1/3 stick butter
6 CBD caramels
Procedure:
Preheat the oven to 350F, lightly grease your baking pan. In a bowl, combine milk, eggs, oil, and mix. Add the brownie mix and stir well. Cut the caramels into small strips. Spread half this mixture into the pan. Place the caramels into the batter and pour the remaining batter on top. Bake for about 45 minutes. Once done, cool the brownies before cutting.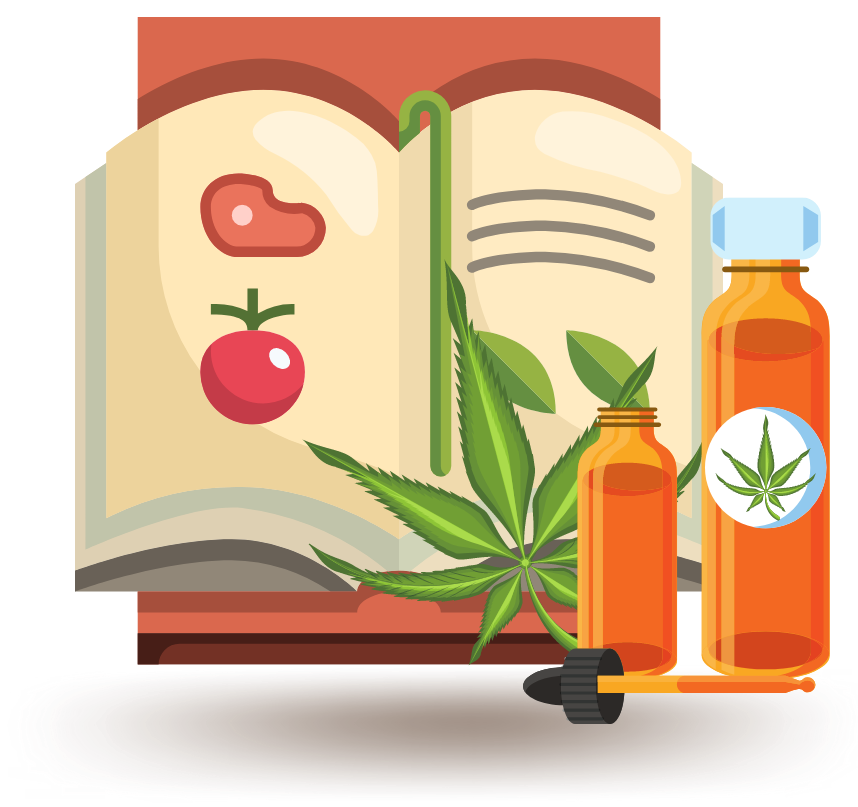 CBD Banana Peanut Butter Smoothie Recipe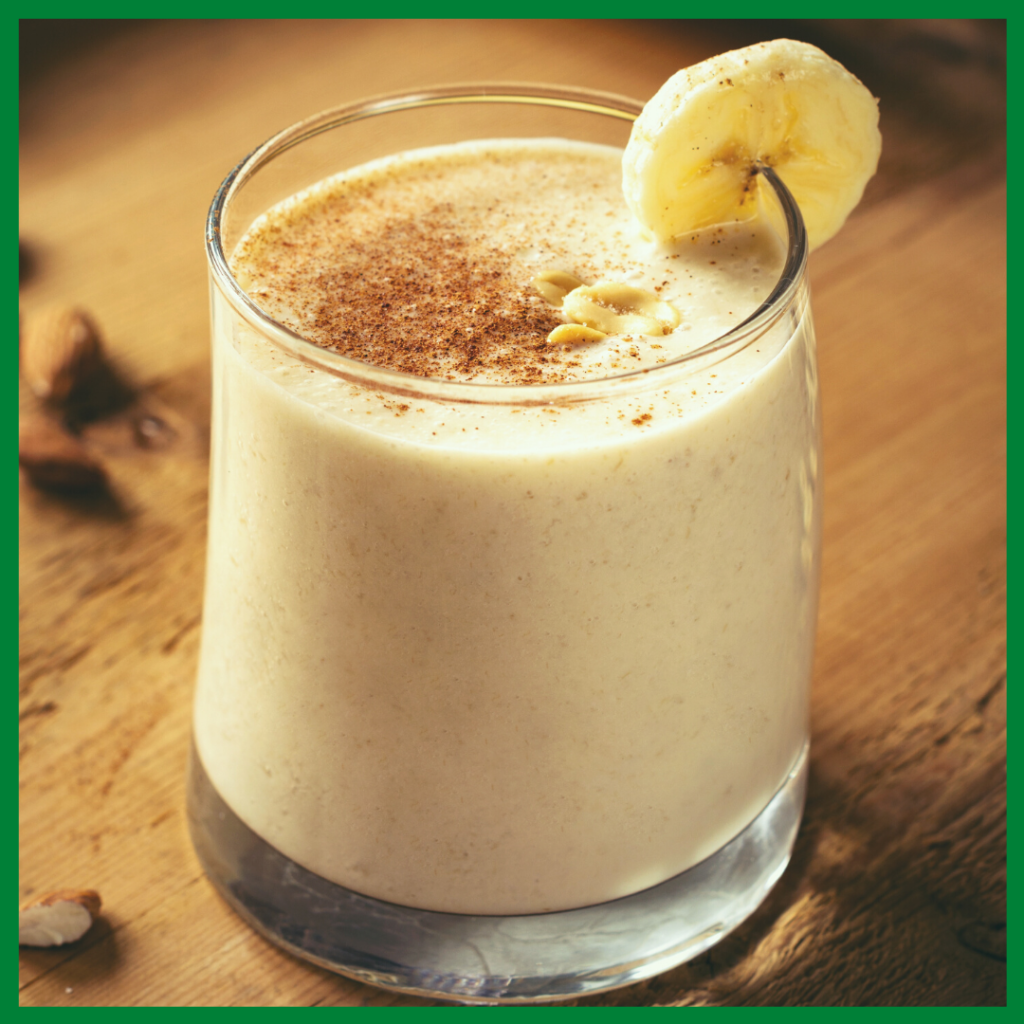 Ingredients:
1 frozen peeled banana
1-4 dates
5.3 oz of Greek yogurt
½ cup almond milk
1 tbsp peanut butter
a dose of CBD oil you prefer
Simply blend all these until it becomes a smoothie. Top with honey and serve.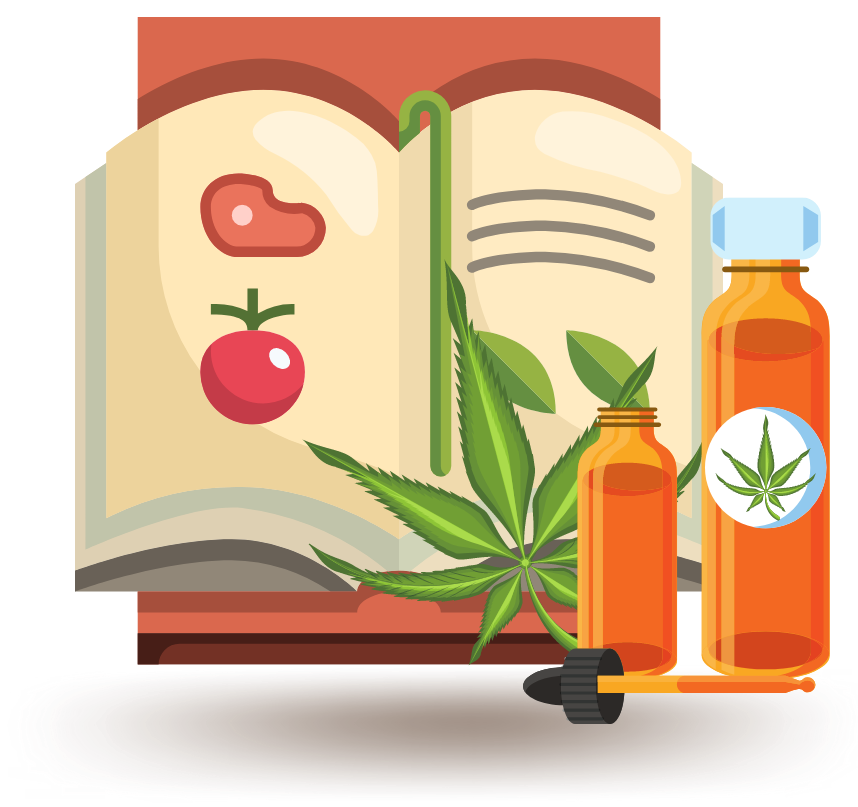 CBD Infused Chocolate Cookies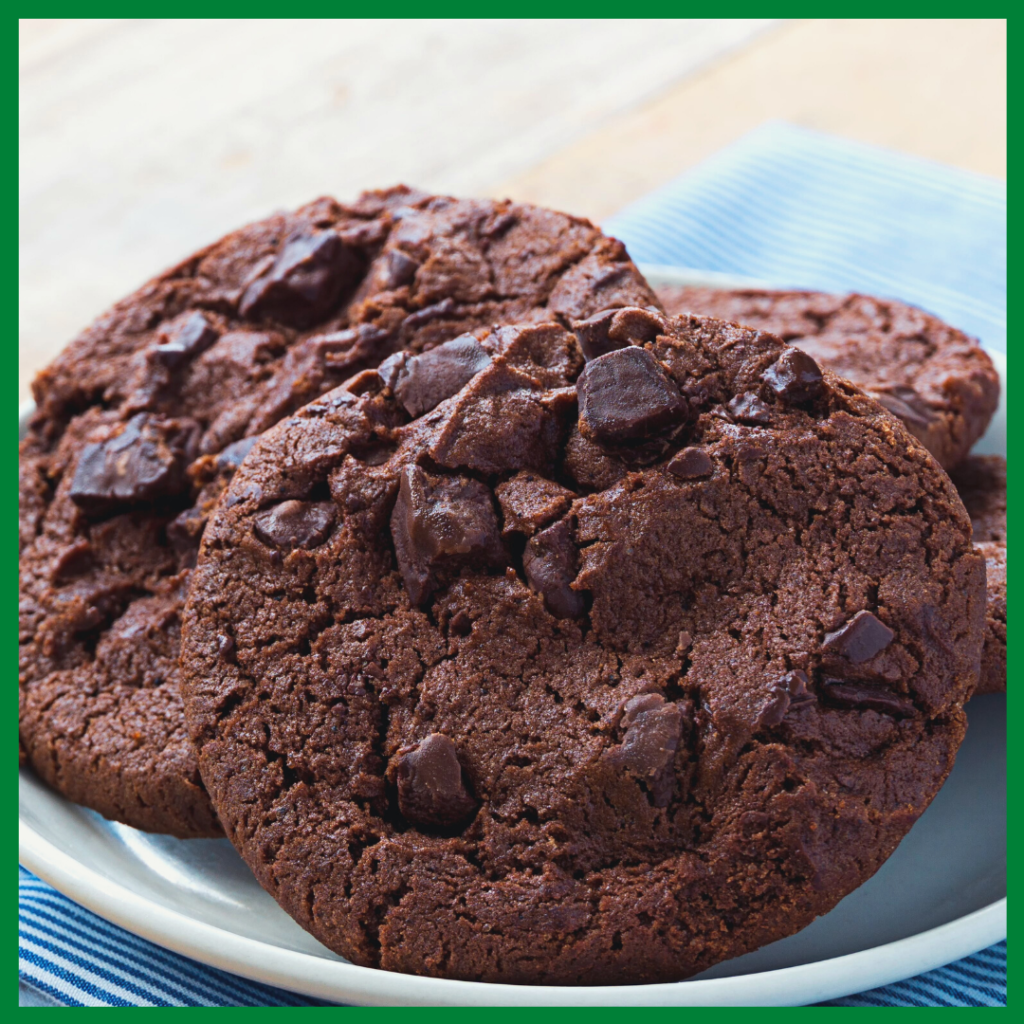 Ingredients:
220g chopped dark chocolate
500 mg CBD oil
2/3 cup flour
4 tbsp butter
½ tsp baking powder
1/3 cup brown sugar
1/3 tsp salt
1 tbsp vanilla extract
320g cubes dark chocolate
Procedure:
Preheat your oven to 320F degrees. Melt butter, chopped chocolate, and CBD oil in a pot. Add the softened butter. Once the chocolate dissolved, set aside. In a mixer, whisk the eggs, sugar, and vanilla until light and fluffy. Reduce the speed and add in the melted chocolate mixture. Gradually add 2/3 cups of flour, baking powder, and salt. Add in the remaining chocolate chunks. Spoon the mixture (according to your size preference) onto a lined baking tray and bake for 15 minutes or until brown.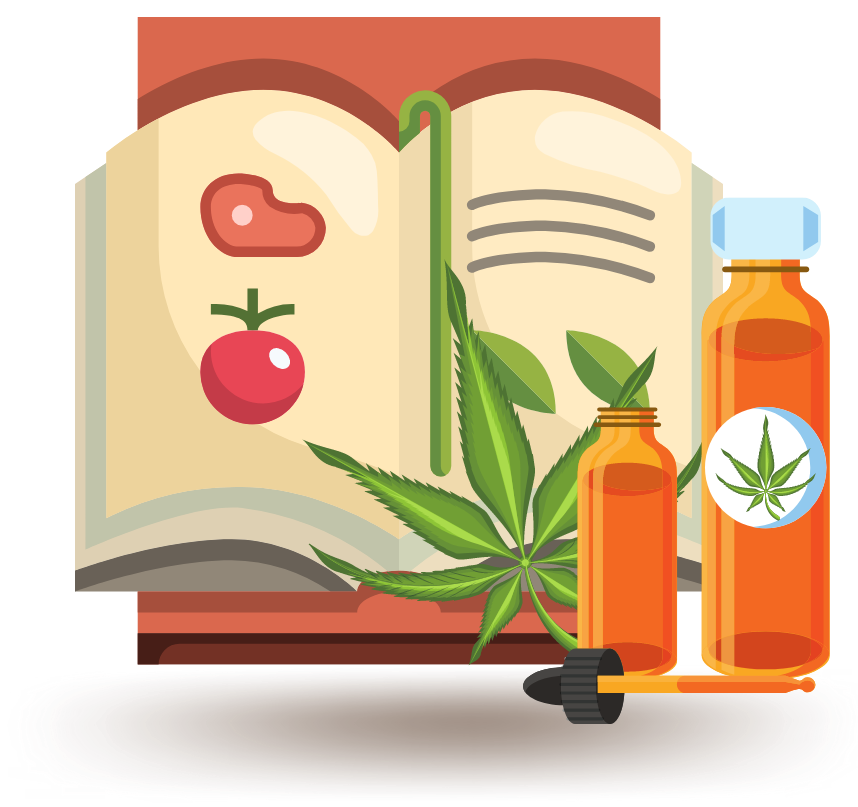 Duke Family Apple Cider and Moonshine (CBD Cocktail)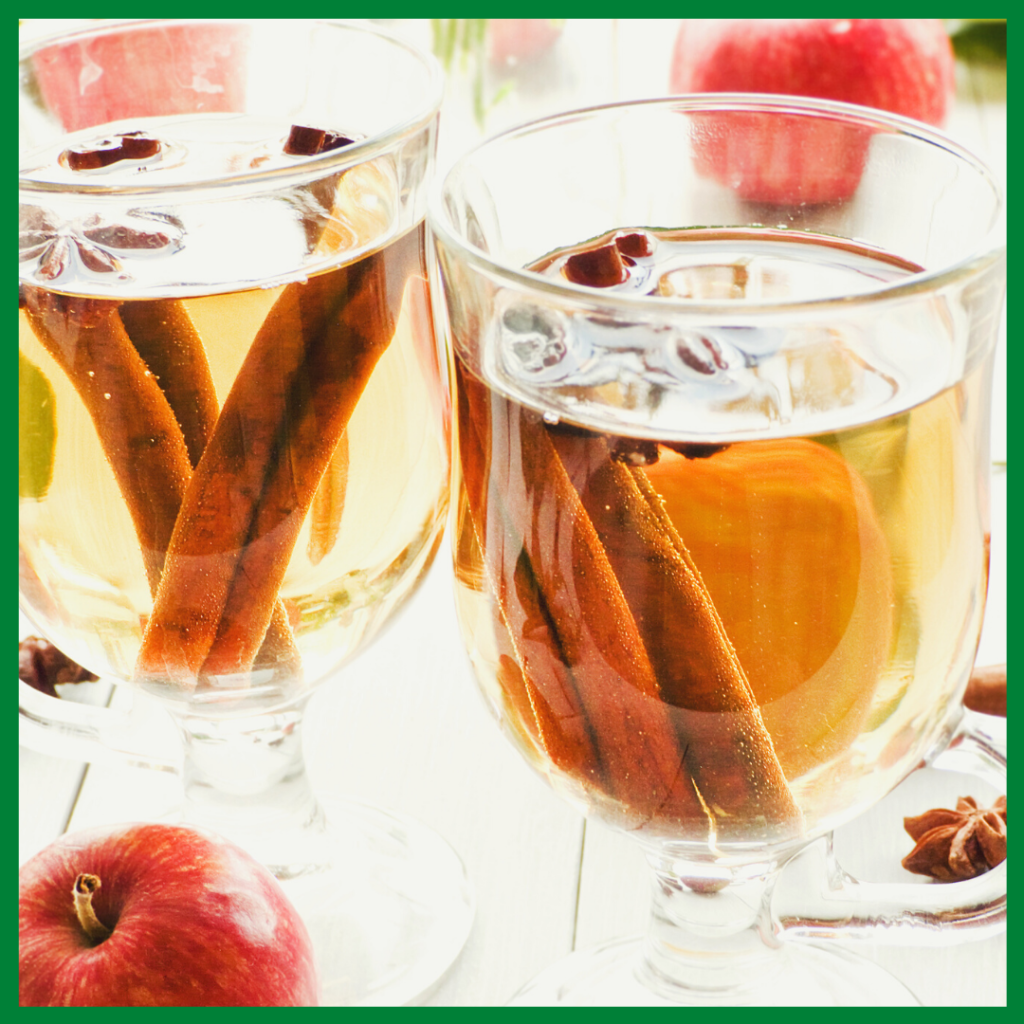 Ingredients:
5 ounces vanilla vodka
2/3 cups apple cider
5 ounces apple pie moonshine
1mL CBD tincture
1 tbsp simple syrup
Thinly sliced apple slices
Cinnamon sticks for garnish
Procedure:
Fill your cocktail shaker halfway to the top with ice. Add your apple pie moonshine, simple syrup, and vanilla vodka. Top with CBD tincture and apple cider. Shake well, and then pour into mason jars. Garnish with apples and cinnamon stick.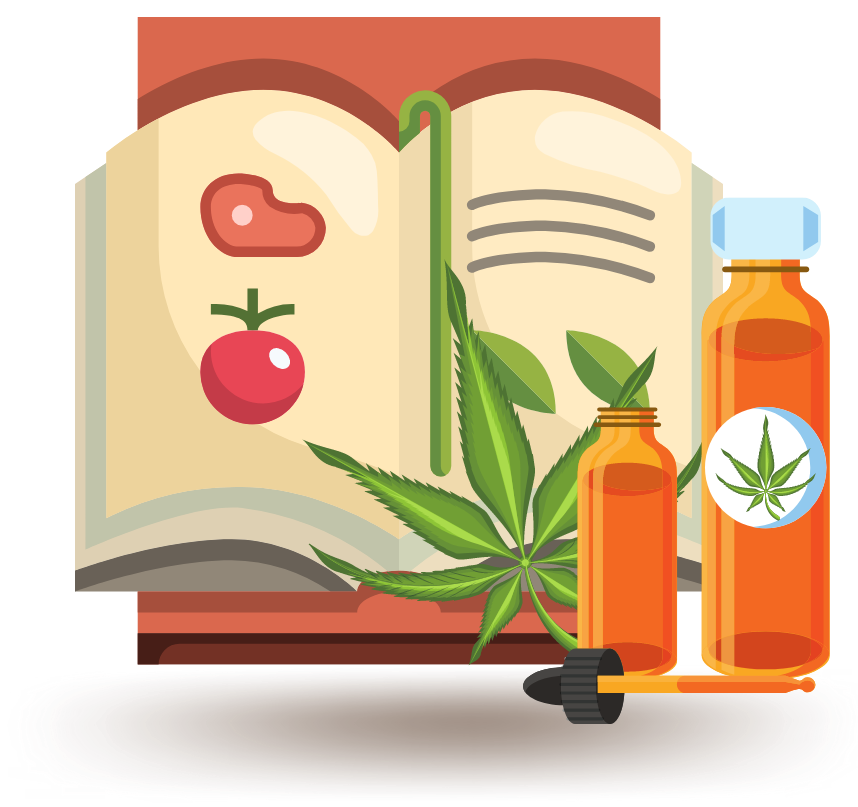 CBD Guacamole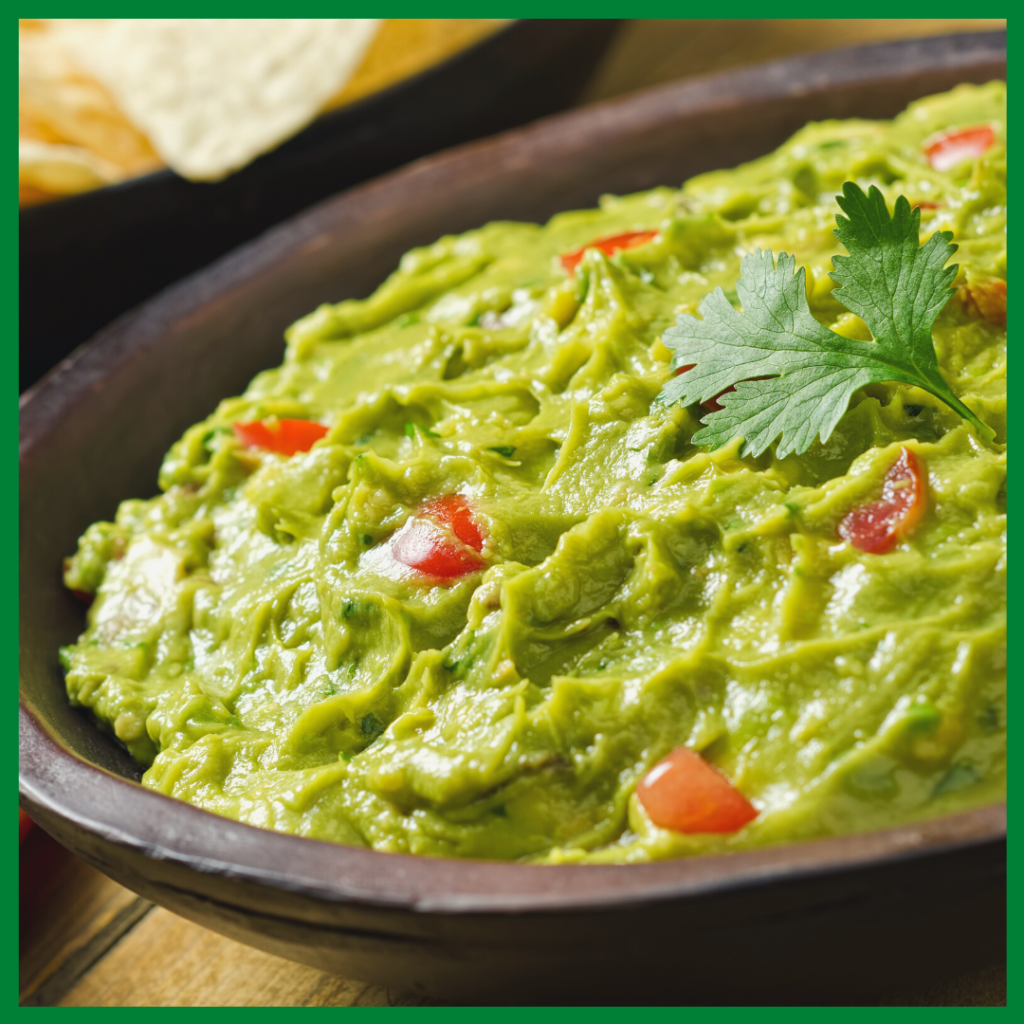 Ingredients:
3 avocados (halved, peeled, pitted)
2 diced Roma tomatoes
½ cup diced onions
1ml unflavored CBD oil
1 tsp minced garlic
Juice of 1 lime
Salt, cayenne pepper
Chopped fresh cilantro
Procedure:
Mash the avocado and CBD oil, salt, and lime juice. Once smooth, add the remaining ingredients. Refrigerate for an hour or two, then serve.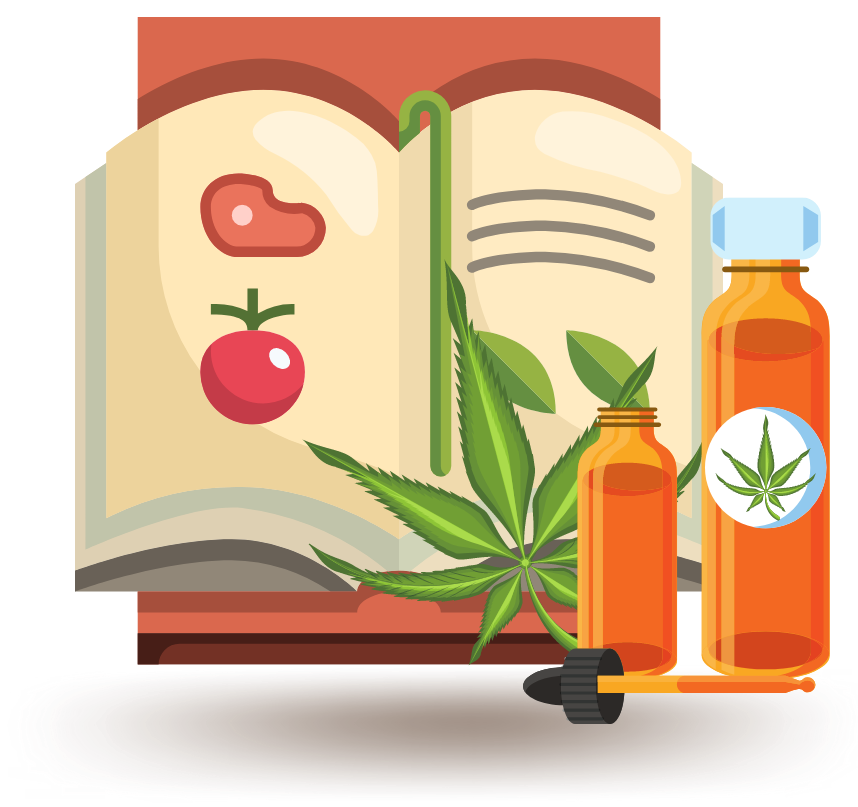 CBD Peach Sauce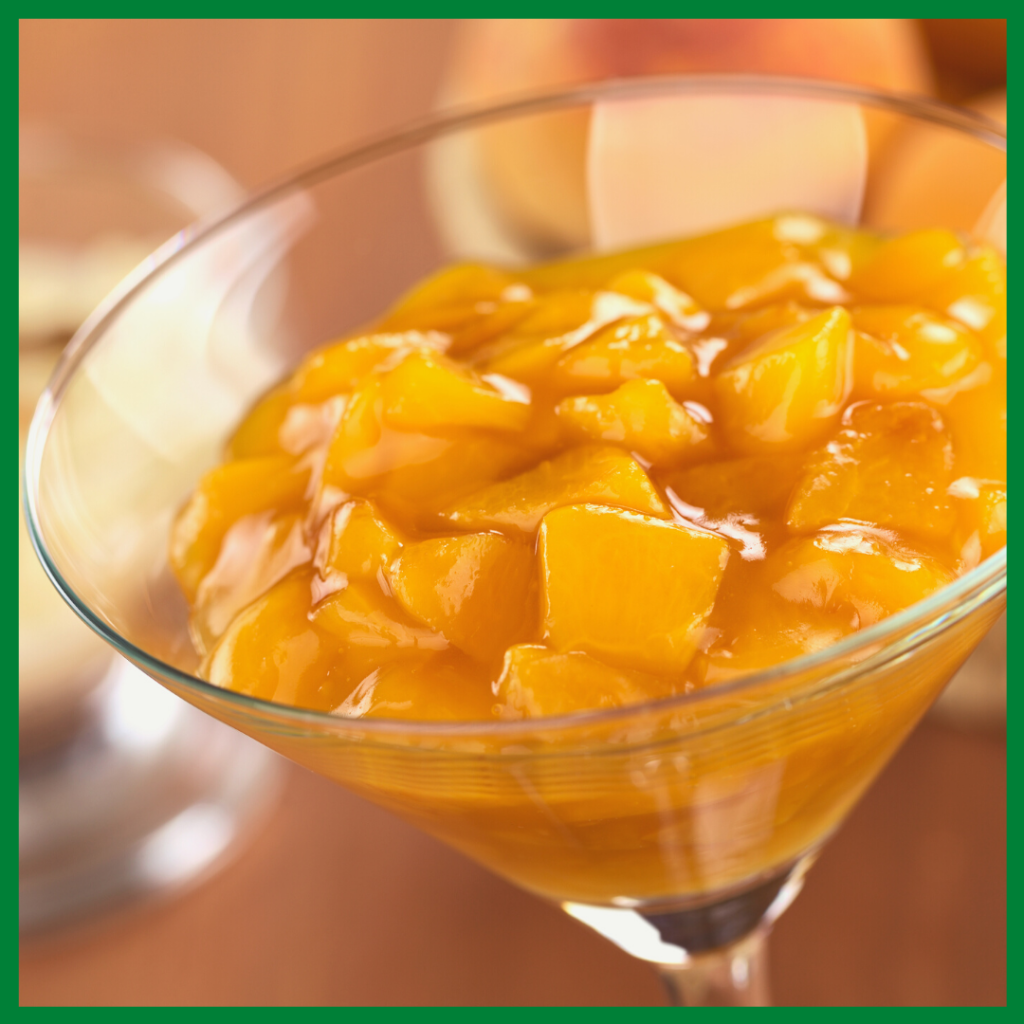 Ingredients:
½ lb peaches
2 tbsp honey
Pinch of salt and cinnamon
1 tbsp cornstarch
½ cup orange juice
½ tsp lemon juice
1 tbsp CBD oil
Procedure:
In a nonstick pan, add cubed peaches, honey, and CBD oil. Put the pan over slow heat. When the peaches begin to release water, mix well. In a separate bowl, mix cornstarch with orange juice and then pour into the peaches. Stir properly. Add cinnamon when the mixture gets thick. Remove from heat, then add salt and lemon.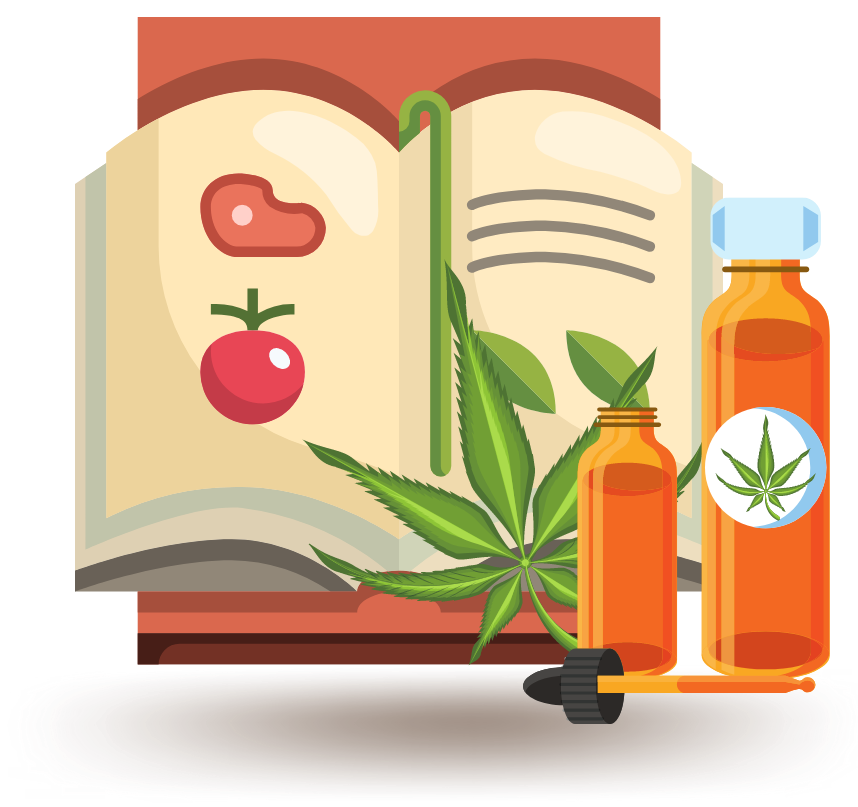 Pumpkin Spice CBD Latte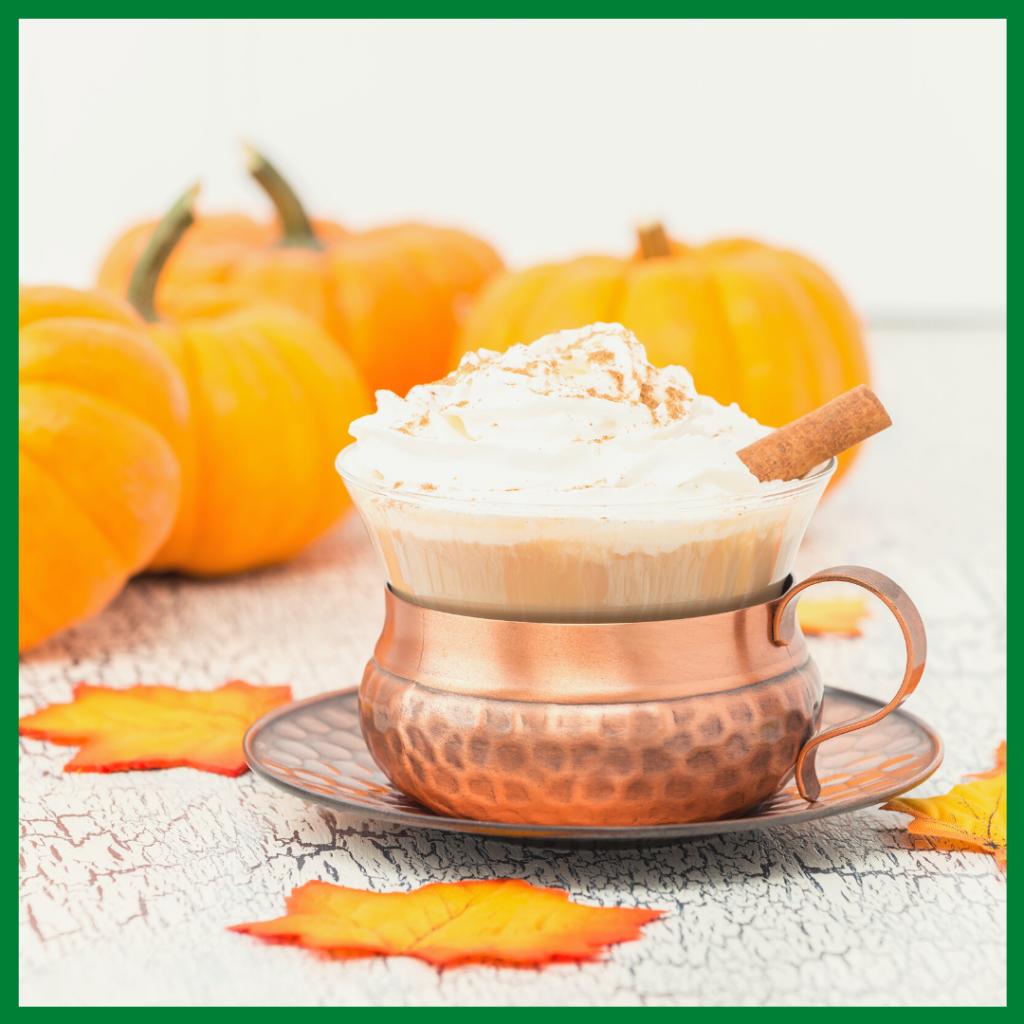 Ingredients:
2 cups whole milk
2-3 tbsp sugar
2 tbsp pure pumpkin puree
½ tsp pumpkin pie spice blend
½ cup strong and hot brewed coffee
1 tbsp vanilla extract
Whipped cream
Your preferred amount of CBD powder
Procedure:
Combine the pumpkin puree, milk, sugar, spice blend, and vanilla extract in a saucepan. Bring to medium heat, but do not boil. Whisk the mixture vigorously until it becomes foamy. Remove from heat and add CBD powder. Pour coffee into mugs (halfway) and pour the milk mixture on top. Topped with whipped cream and sprinkle with the pumpkin pie spice blend.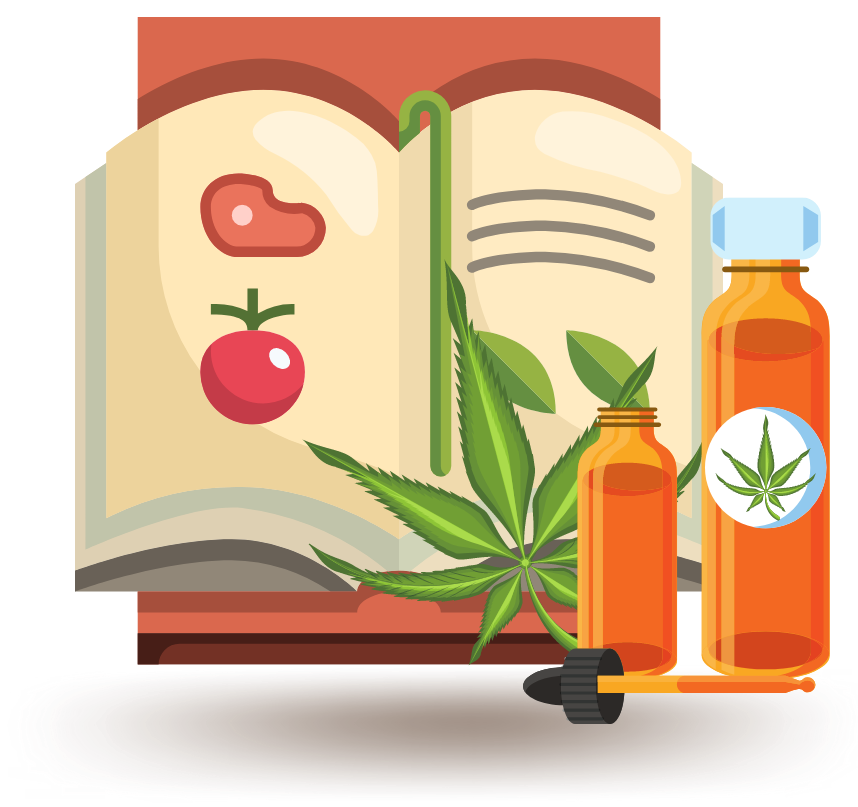 Chocolate Mousse with CBD Oil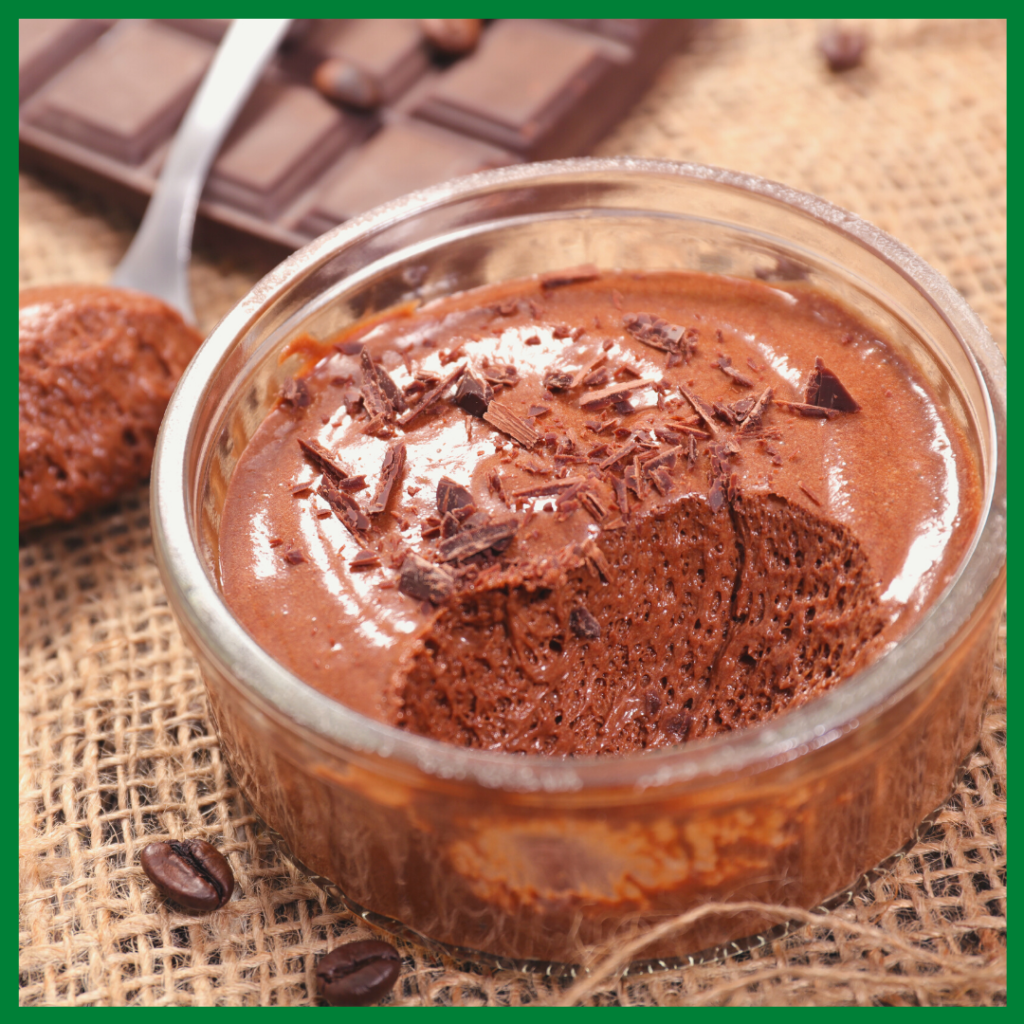 Ingredients:
2 large eggs
1-pint heavy cream, divided
¼ cup granulated sugar
6 ounces semi-sweet chocolate chip
33mg CBD oil (about 2 drops) for each serving
Procedure:
In a large bowl, add the sugar and eggs. Beat on high until fluffy. In a separate saucepan, heat 1 cup whipping cream, just hot to touch. Drizzle the cream slowly into the whipped eggs. Go slow to avoid scrambling the eggs. Once combined, bring the mixture back to the pot and heat over low heat. Stir about 8 minutes or until it thickens. At this time, the thermometer should read 150F. Remove it from heat and add in the chocolate chips. Stir it until smooth.
After chilling it for about 4 hours, put the mixture in a bowl and beat the other cup of the heavy whipped cream until you achieve soft peaks. Fold this into the chocolate mousse until combined. Refrigerate until ready to serve. When serving, stir in 1-2 drops of CBD oil, garnish with mint leaves, raspberries, and shaved chocolate.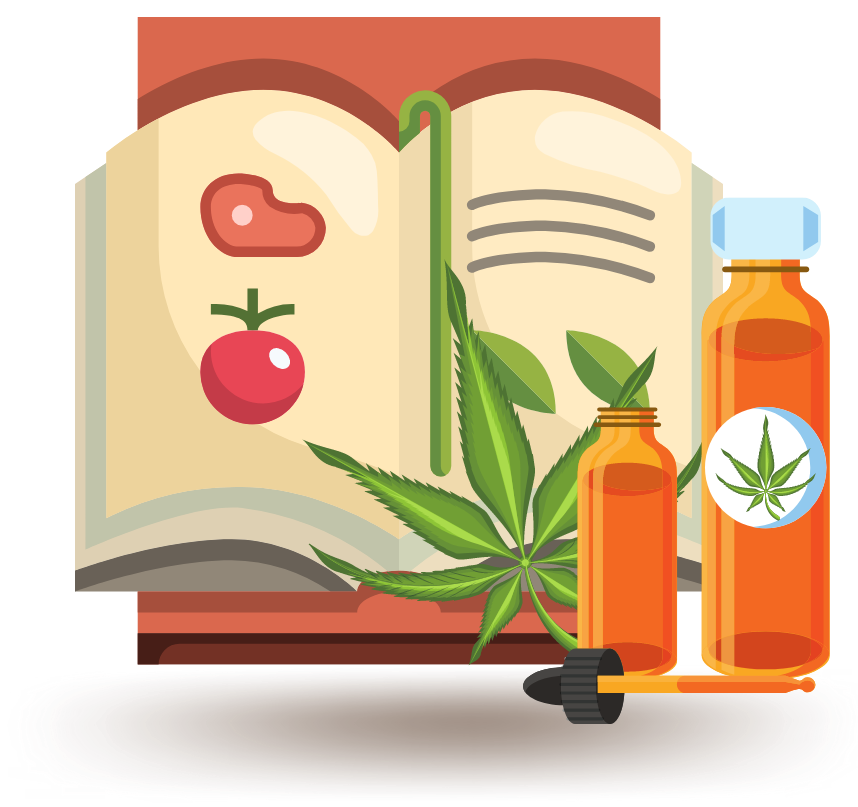 Apple Banana Smoothie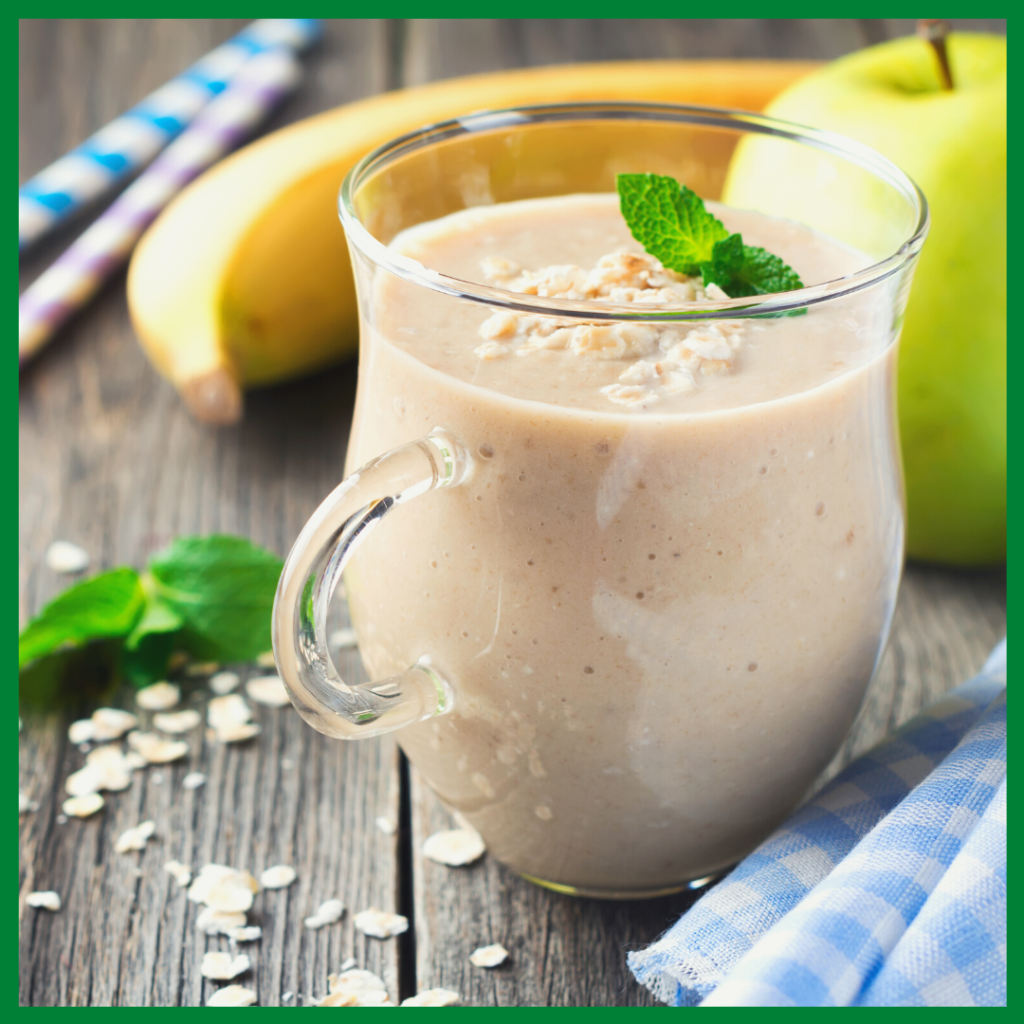 Ingredients:
6 oz black brewed tea
Plain Greek yogurt
1 banana, 1 apple
2 tbsp peanut butter
¼ tsp vanilla
1/8 tsp cinnamon for topping
1 tsp CBD powder
Procedure:
Brew the tea, and then chill. Peel and cut bananas, peel core, and slice apples. Put all these into a blender and blend until smooth. Pour into tall glasses, sprinkle with cinnamon, and serve.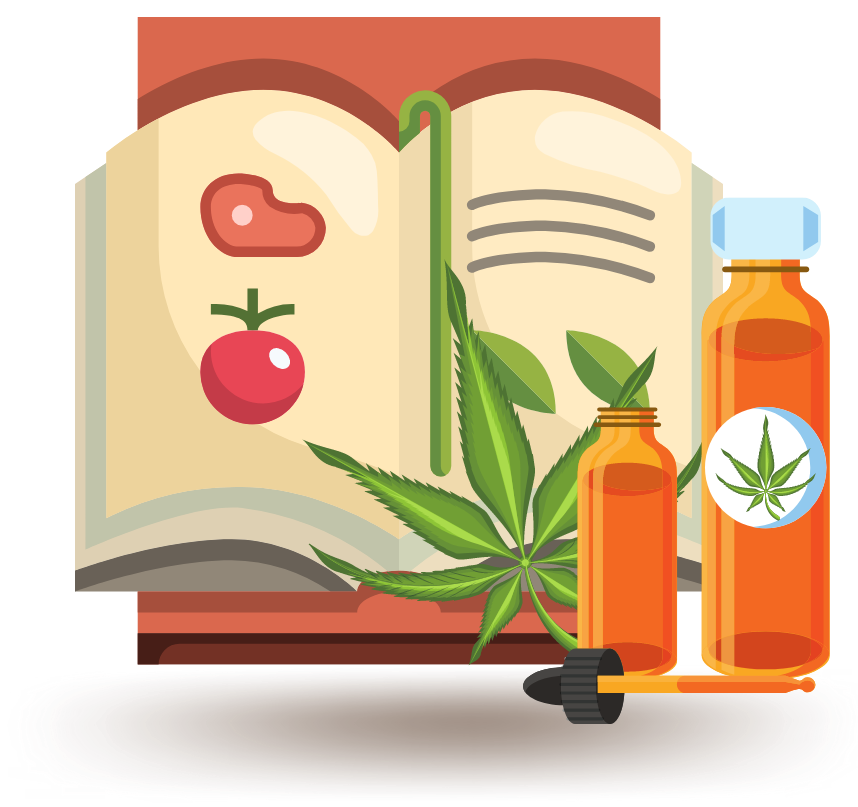 CBD Infused Honey Blueberry Yogurt Parfait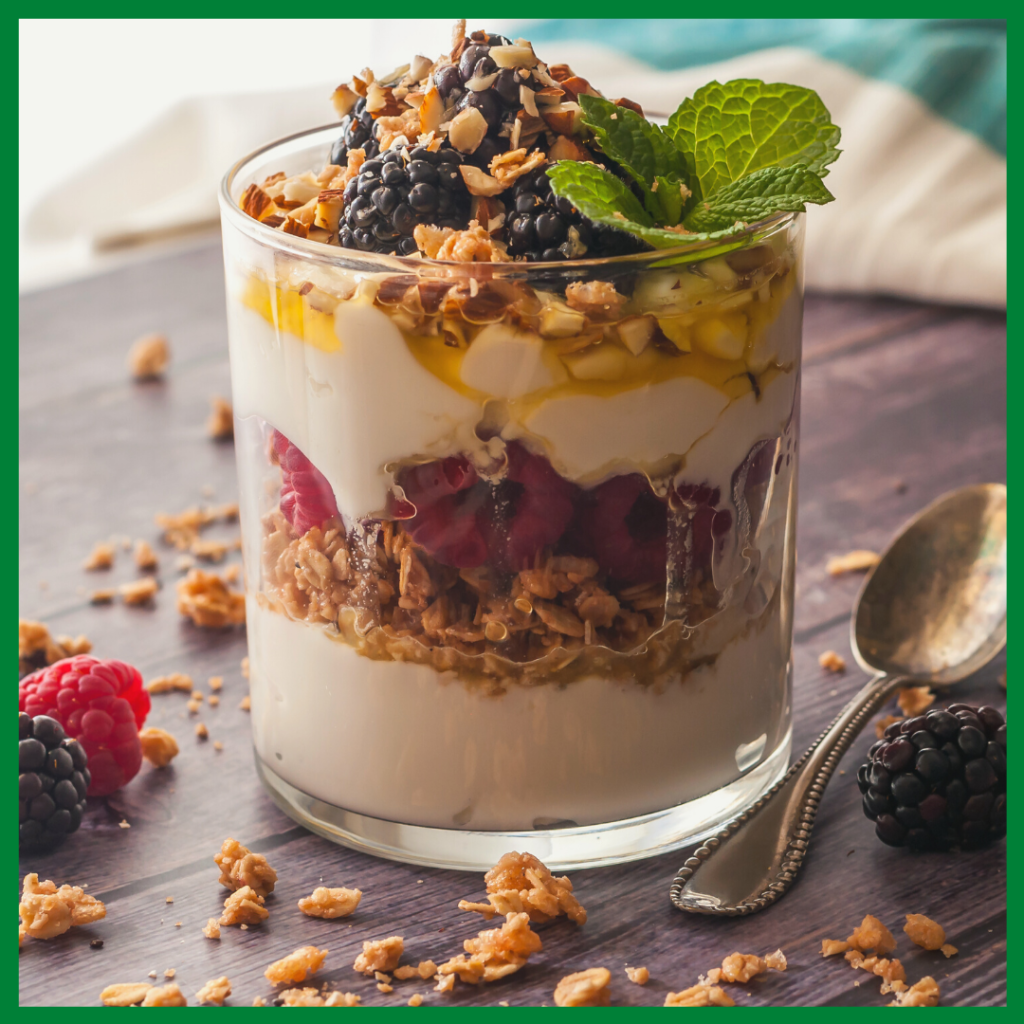 Ingredients:
2/3 cup Greek yogurt
6 ounces fresh blueberries
½ cup granola
2 tbsps honey
Pinch of salt and cinnamon
¾ tsp CBD liquid
Procedure:
In a double boiler, gently blend and heat the honey with CBD liquid, then set aside. In another bowl, mix thoroughly Greek yogurt, cinnamon, and salt. Add half of this mix to the bottom part of a drinking glass. Top it with half of the granola, then top with blueberries, then honey. Repeat the layers until you reach the top.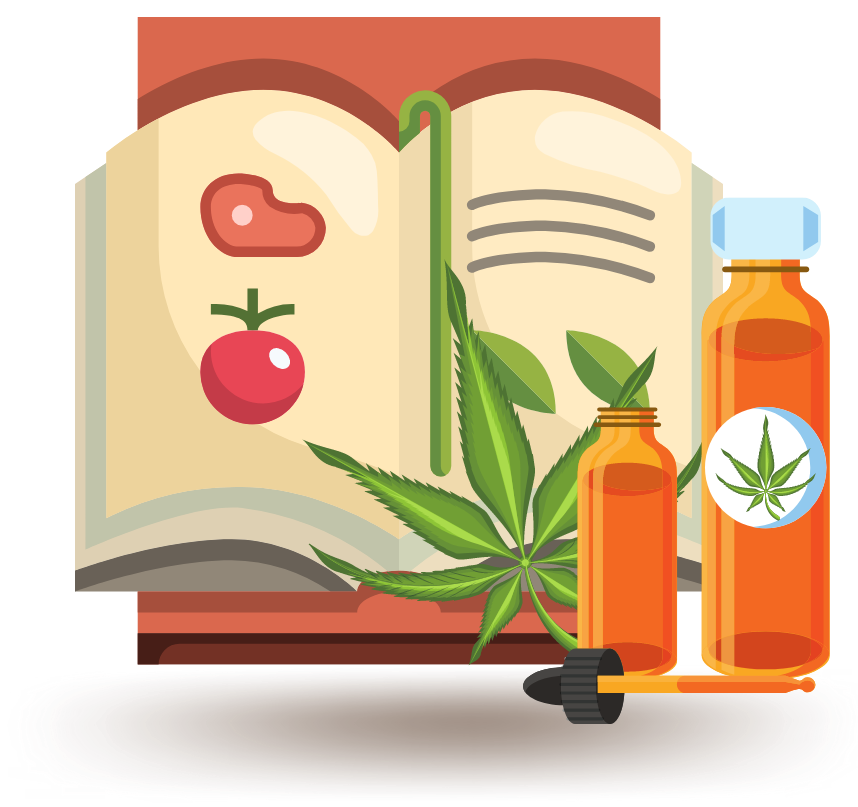 CBD Infused Lemonade Spritzer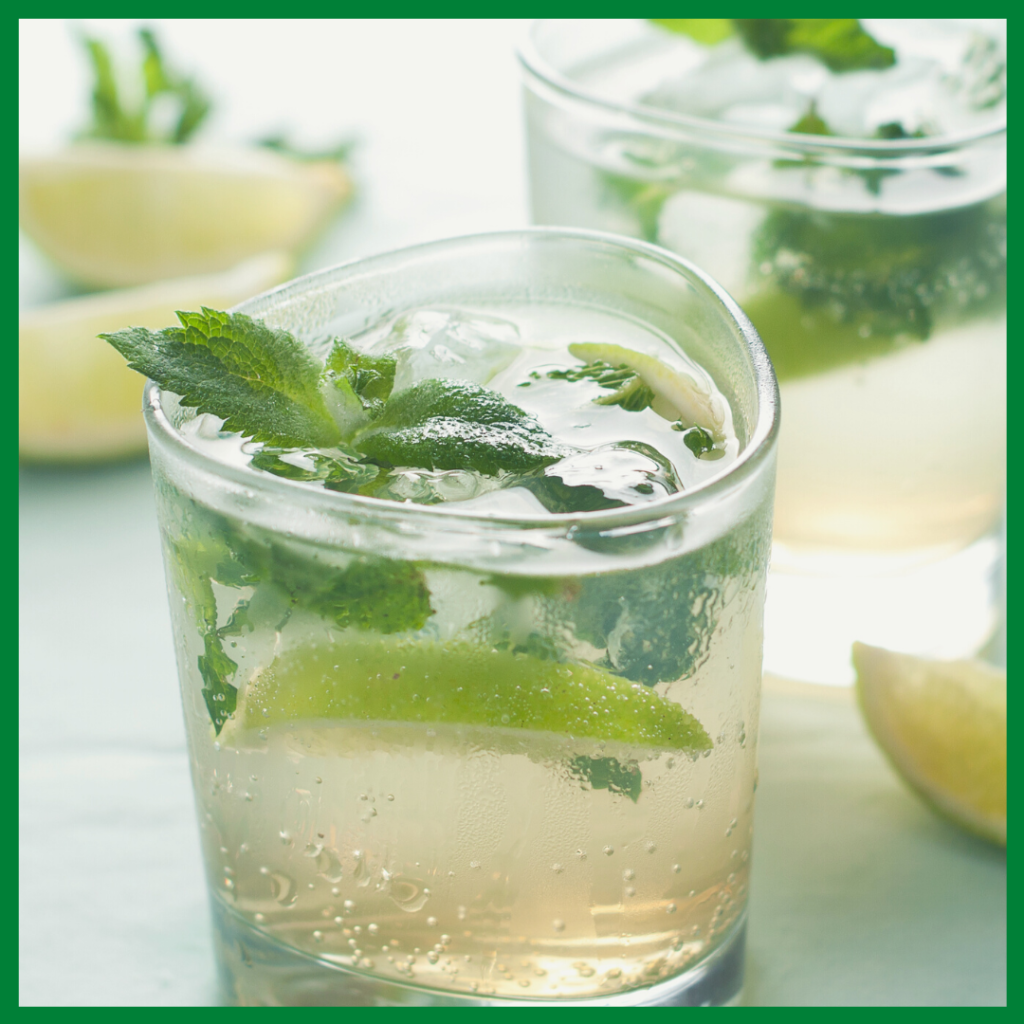 Ingredients:
6-8 lemons
5 cups water
1 cup sugar
1 cup seltzer
Fresh mint
6 tsp CBD Liquid
Procedure:
In a pan, heat 1 cup sugar with 1 cup water. When sugar is dissolved, remove it from the pan and let it cool. Juice lemons in a pitcher. Add the remaining water, sugar mixture, and CBD liquid to the lemon juice, stir thoroughly. Upon serving, muddle some basil leaves on the bottom of the glass. Fill ¾ way with the lemonade mix, then fill with seltzer water. Add some mint leaves as garnish.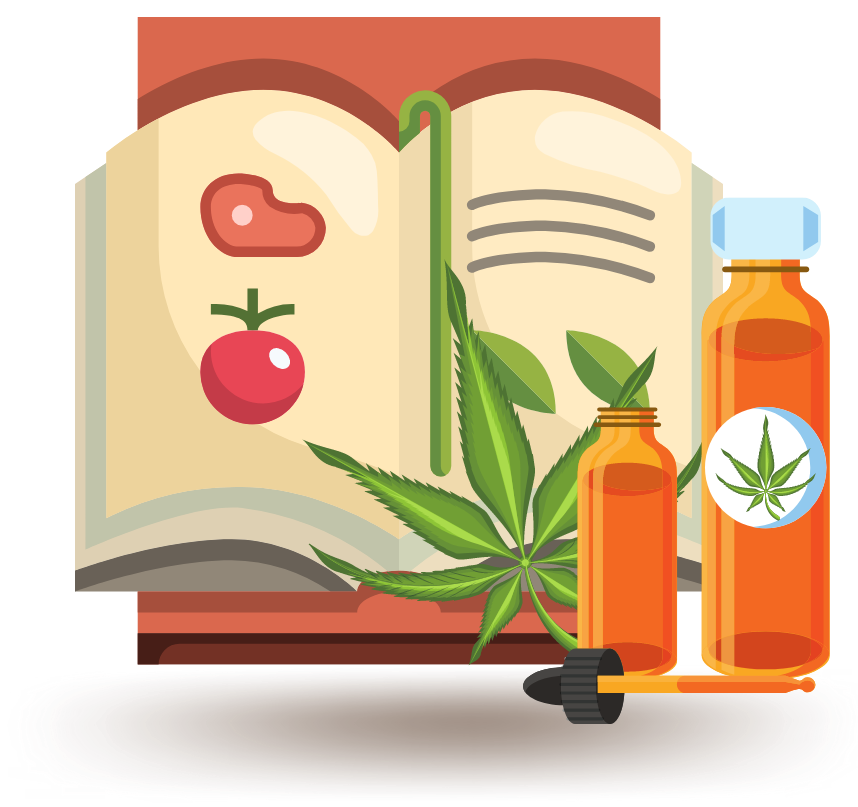 CBD Infused From- Scratch Holiday Eggnog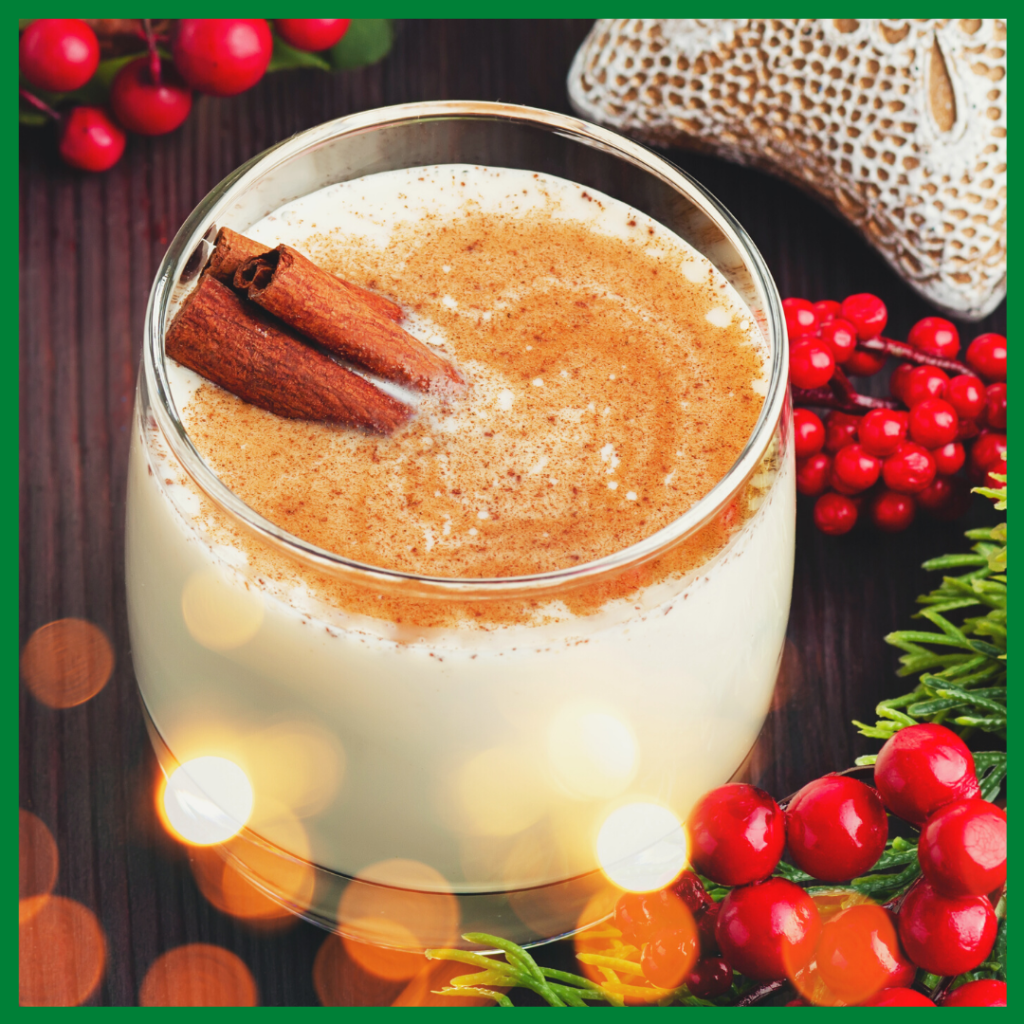 Ingredients:
8 eggs, separated
½ tsp salt
1/3 cup sugar
4 cups whole milk
1 tsp freshly grated cinnamon/nutmeg
2 cups heavy whipping cream
1 tsp vanilla extract
¾ tsp CBD liquid per mug
Procedure:
Whisk together the sugar, egg yolks, and salt until light in color. Add the whipped cream, whole milk, vanilla, and nutmeg, whisk more until smooth. Using the whisk attachment of a mixer, whip all the egg whites until soft peaks are achieved. Fold this into the cream mixture. Chill, then serve with freshly grated cinnamon on top. Add ¾ teaspoons of CBD liquid, then serve.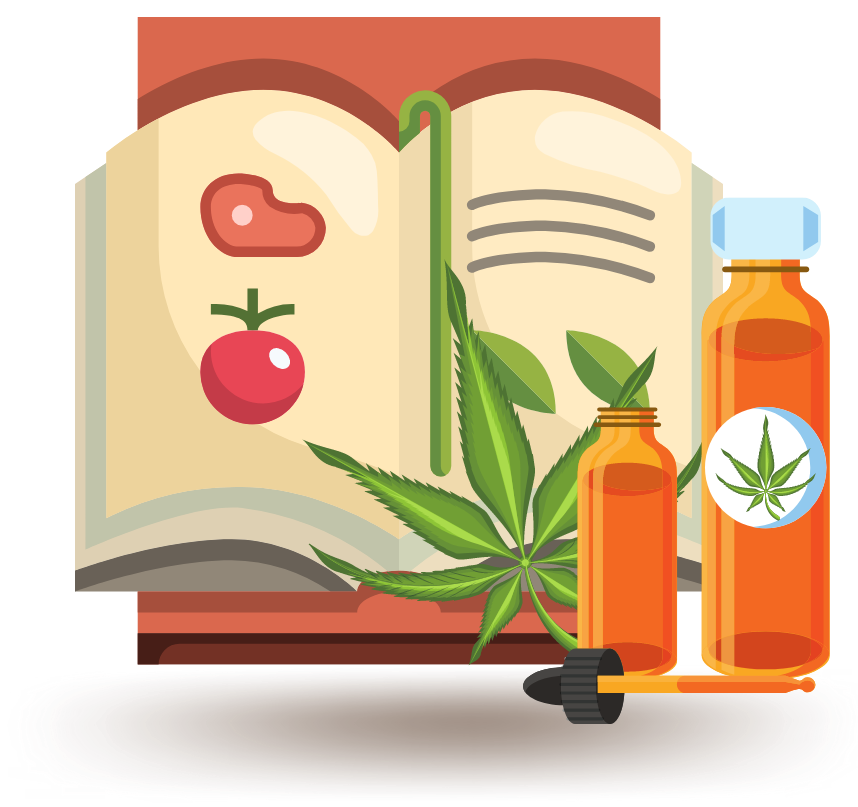 CBD Pesto Pasta with Spicy Shrimp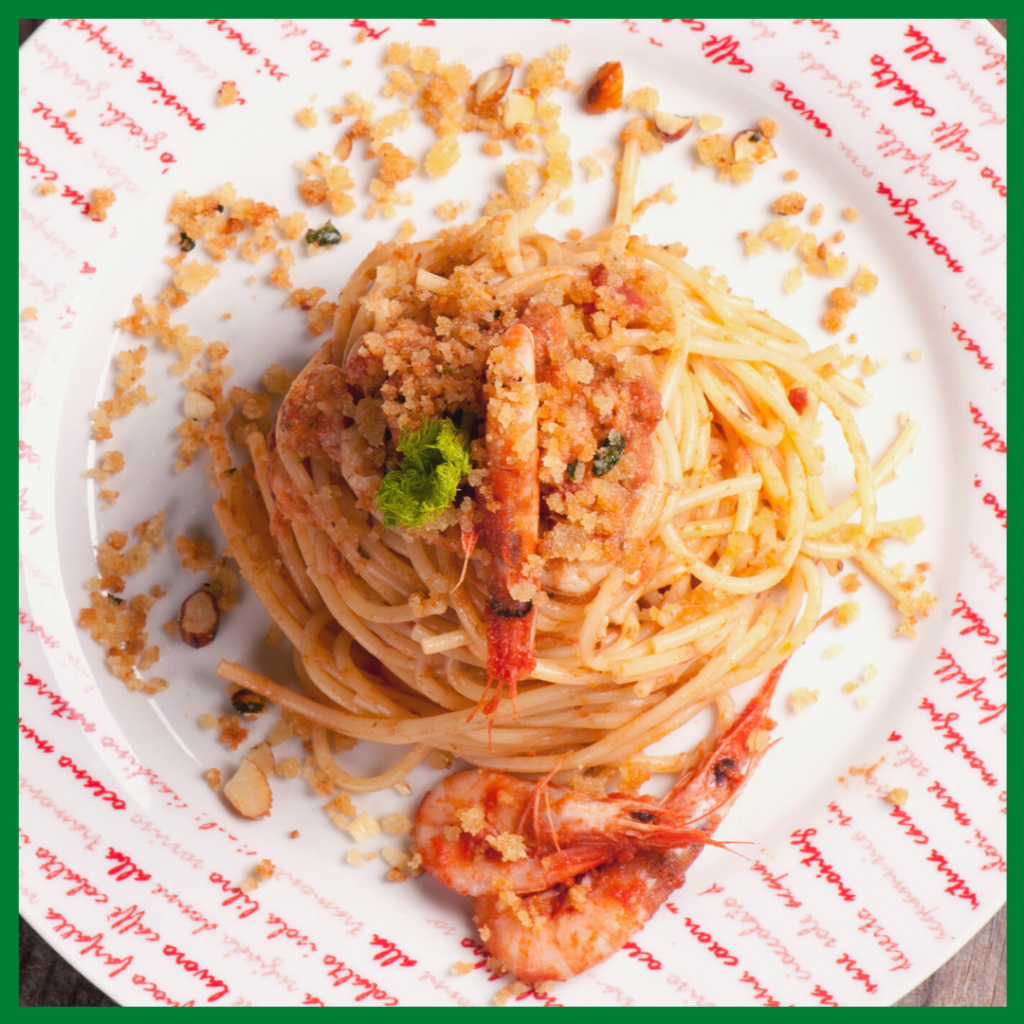 Ingredients:
CBD RAW PESTO
½ cup cherry tomatoes
½ cup fresh parsley
2 garlic cloves
1 tbsp pine nuts
2 tbsp olive oil
4 tsp CBD oil
Salt and pepper to taste
SHRIMP PASTA
8 oz uncooked penne pasta
1-2 cherry tomatoes, halved
1 lb asparagus
2 tbsp butter
1 tbsp lemon juice
1 tbsp olive oil
1 tsp red pepper flakes
1 tsp cayenne pepper
Salt and pepper
Procedure:
For the pesto: Wash the leafy greens under cold running water. Put all other pesto ingredients in a food processor. Blend until smooth. Transfer to a small bowl, cover with plastic wrap, and secure in the fridge.
For the shrimp pasta. Cook the penne pasta based on package direction. In a large saucepan, heat olive and butter over medium heat. Dip the shrimp in the pepper flakes, salt, black pepper, and cayenne pepper, then add to the saucepan. Add the lemon juice and cook shrimps until they turn pink. In the last few minutes of cooking the pasta, add the asparagus sticks. Drain, then set aside.
Once the shrimps are done, add the asparagus and pasta to the pan. Sauté for a few minutes, then remove from heat. Mix in roughly 8 tablespoons of pesto, add fresh basil leaves, cherry tomatoes, and shaved Parmesan cheese.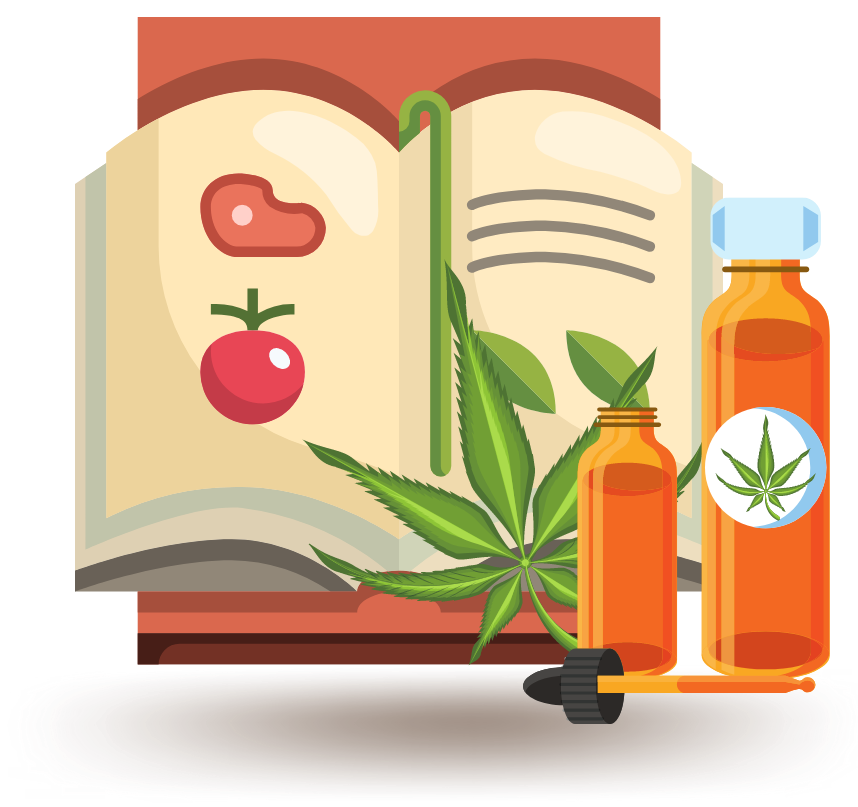 CBD Infused Parmesan Mashed Potatoes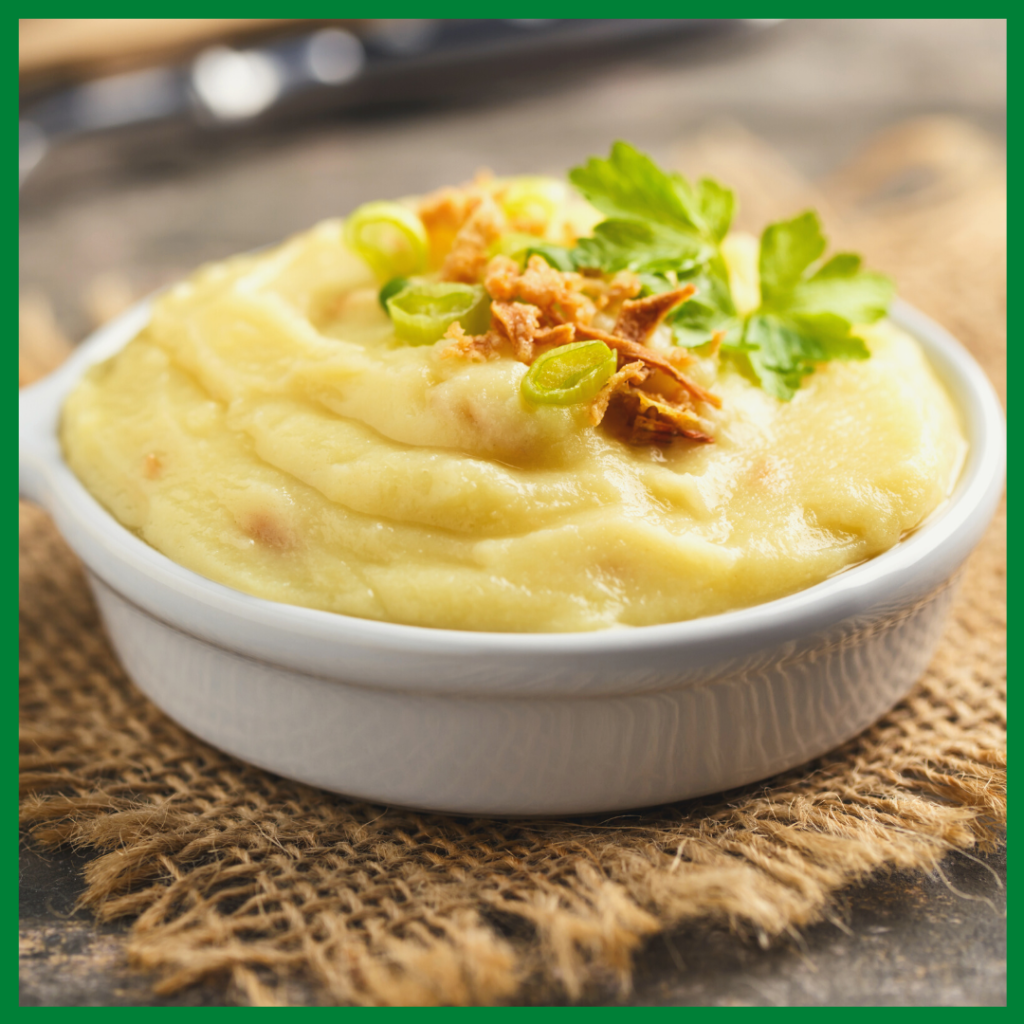 Ingredients:
8 cups, pre-made mashed potatoes
¼ cup whipped cream
2 tbsp unsalted butter
2 tsp each of salt and pepper
¼ cup parmesan cheese
.16g CBD isolate powder
Procedure:
In a stand mixer, combine the butter, mashed potato, parmesan cheese, whipped cream, pepper, salt, and CBD isolate. Whip well until it turns into a puree. Transfer the pureed mixture to a casserole dish. Top evenly with parmesan cheese, then put it in the oven and bake at 400F. Once done, allow the potatoes to cool off before serving.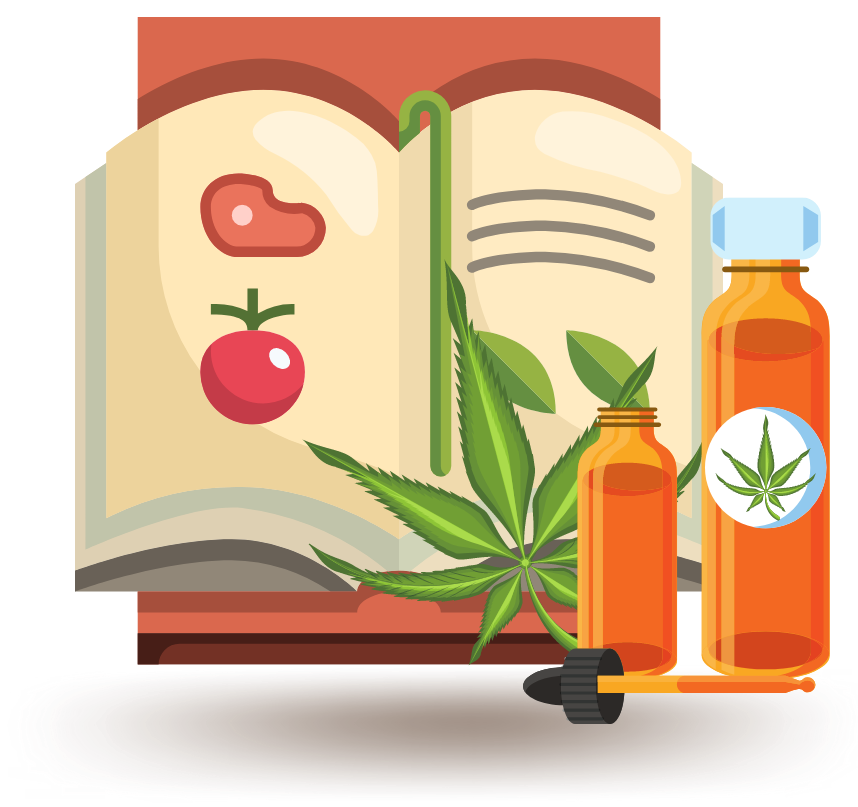 Slow Cooker Mozzarella-stuffed CBD Meatballs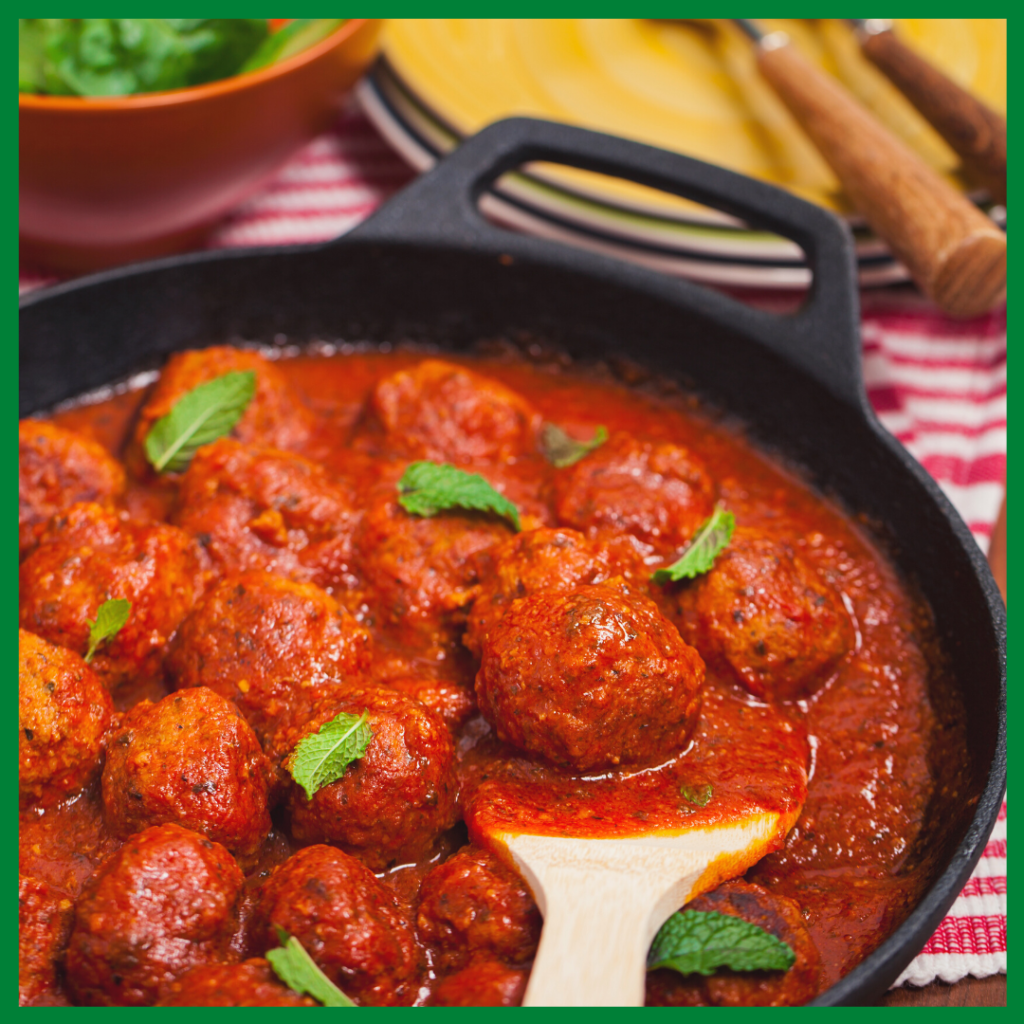 Ingredients:
SAUCE:
1/3 cup finely chopped onions
7 cups tomato pulp
2 tsp dried basil
2 garlic cloves, minced
½ tsp each of salt and pepper
½ tsp dried oregano
MEATBALLS:
1 lb ground beef (lean)
1 cup Italian sausage
1/3 cup finely chopped onion
1 cup panko breadcrumbs
1 tsp each of garlic powder and onion powder
1 tsp each of dried oregano and dried thyme
½ tsp salt
½ tsp pepper
4 mozzarella cheese sticks (divide into 5 even pieces)
2 large eggs
Procedure:
In a slow cooker, place all the ingredients for the sauce. Stir to combine. Set the cooker to high and cover, leave for about 30 minutes. Mix all the meatball ingredients except for the mozzarella. Once mixed well, take a Ping-Pong ball-sized piece of the mixture and secure a piece of mozzarella cheese in the center. Close the beef mixture, making sure the mozzarella piece is fully enclosed. Transfer all the meatballs into the slow cooker. Let it immerse in the sauce and continue cooking for 2.5 hours.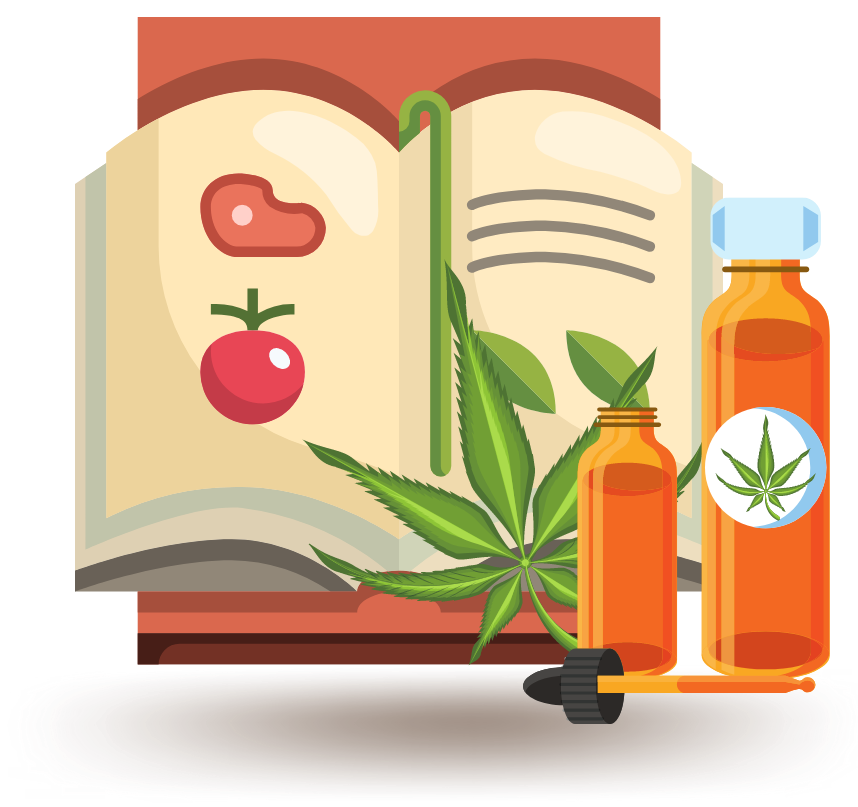 CBD Infused Steak and Veggie Buddha Bowl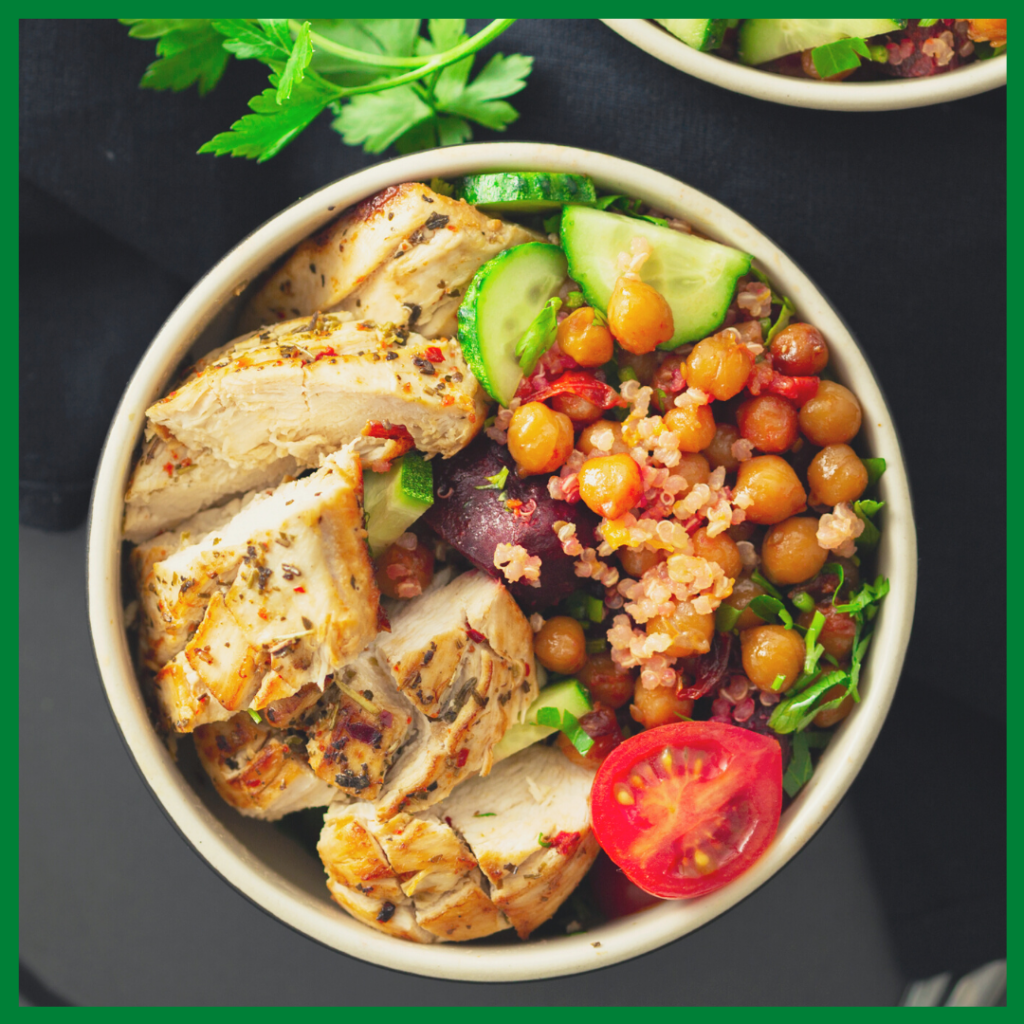 Ingredients:
STEAK:
Rib Eye Steak, cooked according to your desired doneness
VEGGIES:
1 large sweet potato, cubes
½ red onion, cut into wedges
230g chopped broccoli
2 handfuls of kale
2 tbsp olive oil
Salt and pepper to taste
CHICKPEAS:
1 can chickpeas (drained, rinsed, and patted dry)
1 tsp chili powder
1 tsp cumin
½ tsp garlic powder
1/4tsp each of salt and pepper
TAHINI SAUCE:
60g tahini
Juice of half a lime
1 tsp agave
3 tbsp hot water
.2g CBD isolate powder
Procedure:
Roast your onions and sweet potatoes (drizzled with olive oil, salt, and pepper) for 8-10 minutes, 400 degrees. While these are in the oven, toss the chickpeas in a bowl with all the seasonings. Heat a skillet, then add 1 tablespoon of olive oil, and sauté the chickpeas. Stir constantly and cook for about ten minutes. Remove the vegetables from your oven, then add kale. Make sure you drizzle the kale with olive oil, salt, and pepper, then bake for 5 minutes.
For the tahini sauce, mix all the ingredients and whisk to combine thoroughly. On a plate, serve the steak, add your vegetables, and top it with chickpeas and the tahini sauce.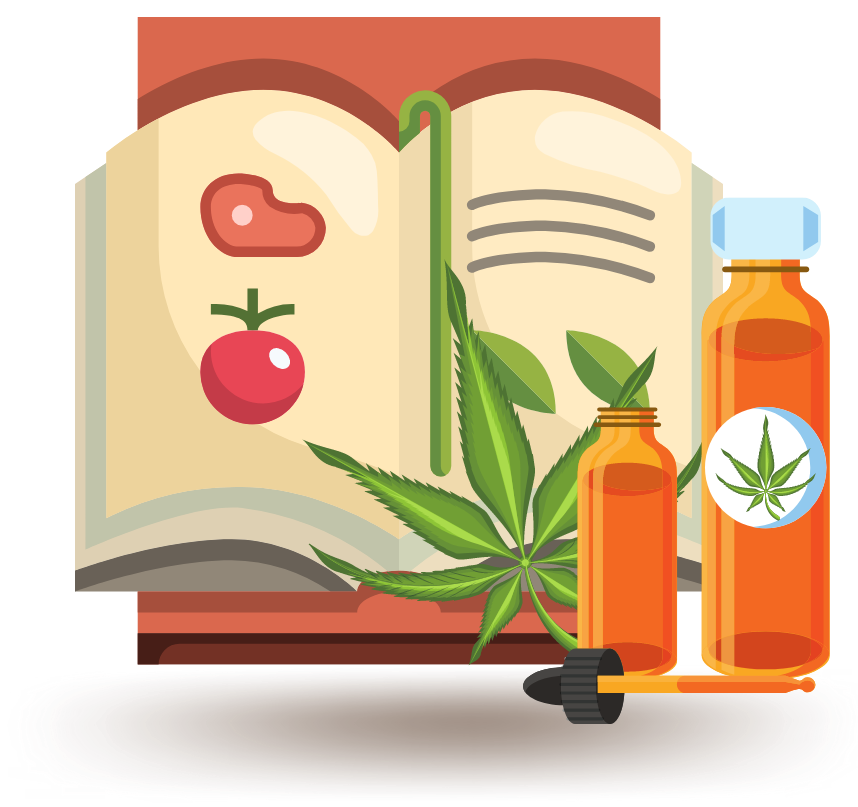 Cookies and Cream CBD Cheesecake Bites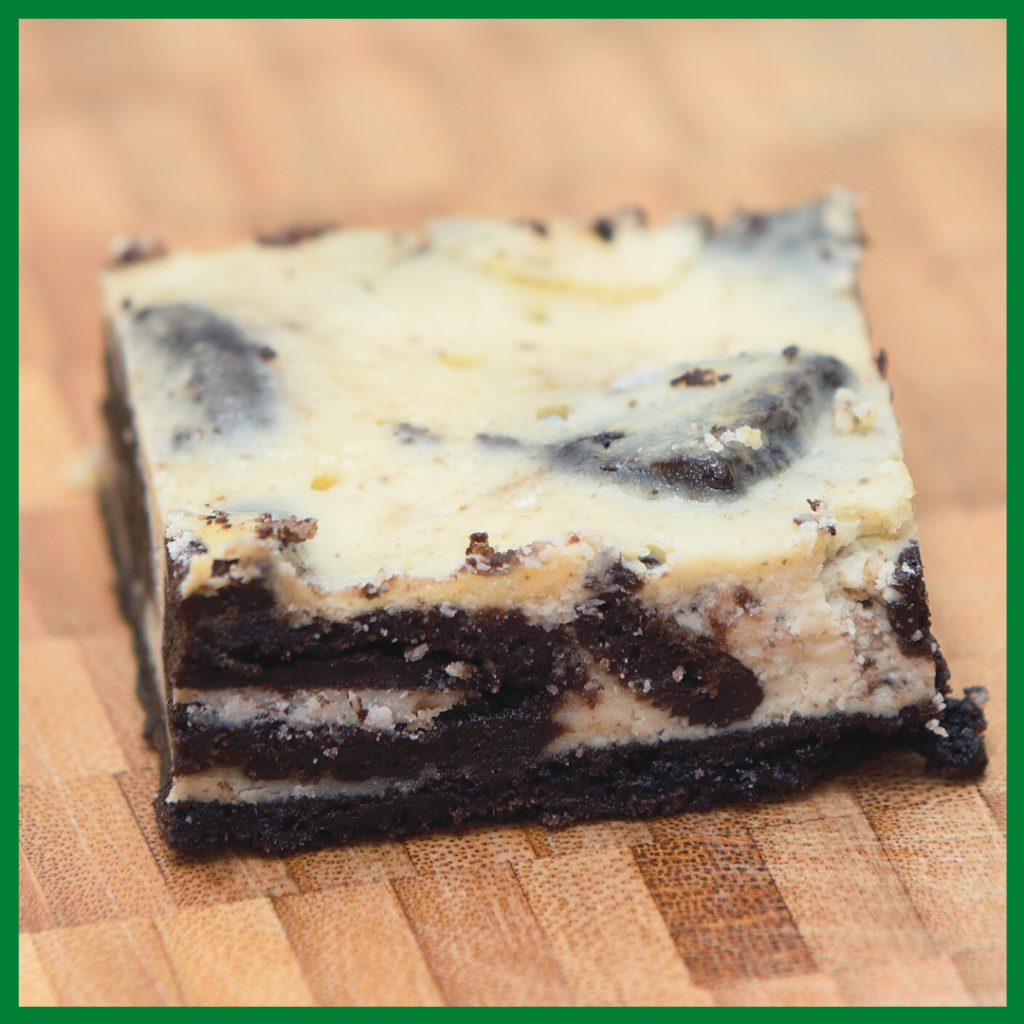 Ingredients:
COOKIE BASE:
4 tbsp unsweetened cocoa powder
½ cup almond flour
½ tsp Vanilla extract
1 egg beaten
1 tsp baking powder
1 tbsp clarified butter or coconut oil
CREAM CHEESE FILLING
1 cup cream cheese
½ cup almond butter
¼ tsp Vanilla extract
Pinch of vanilla bean paste
5 full droppers of CBD oil
Instructions:
For the dough. Preheat your oven to 300F. In a bowl, combine the cocoa, almond flour, salt, baking powder, and vanilla extract. Mix, then add the coconut oil and egg. Stir until everything is well combined. Scoop out the cookie batter and put them on parchment paper, making sure they reach 2 inches wide when you press it down. Bake these cookies for about 12-15 minutes. Let it cool to room temperature.
For the filling. Combine all the ingredients and mix until smooth. Fold in half of your crumbled cookies. Then scoop out one ball of the filling and empty the scoop on top of the remaining crumble. Roll the cookies, making sure the filling is covered in the cookies. Once completed, let the cheesecake bites sit in the freezer. Serve cold.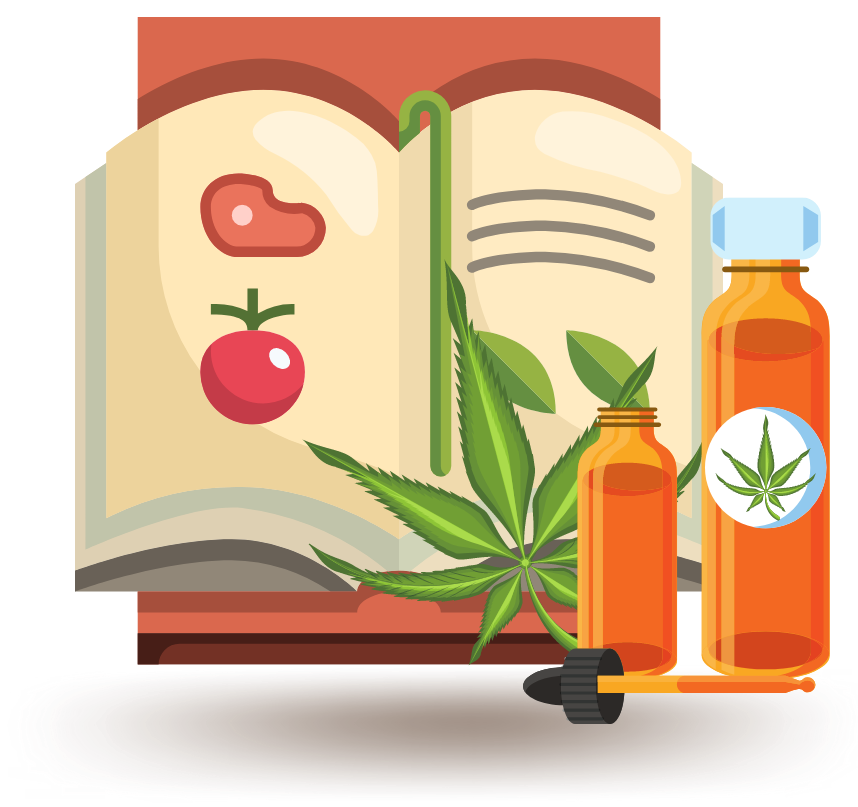 CBD Chocolate Latte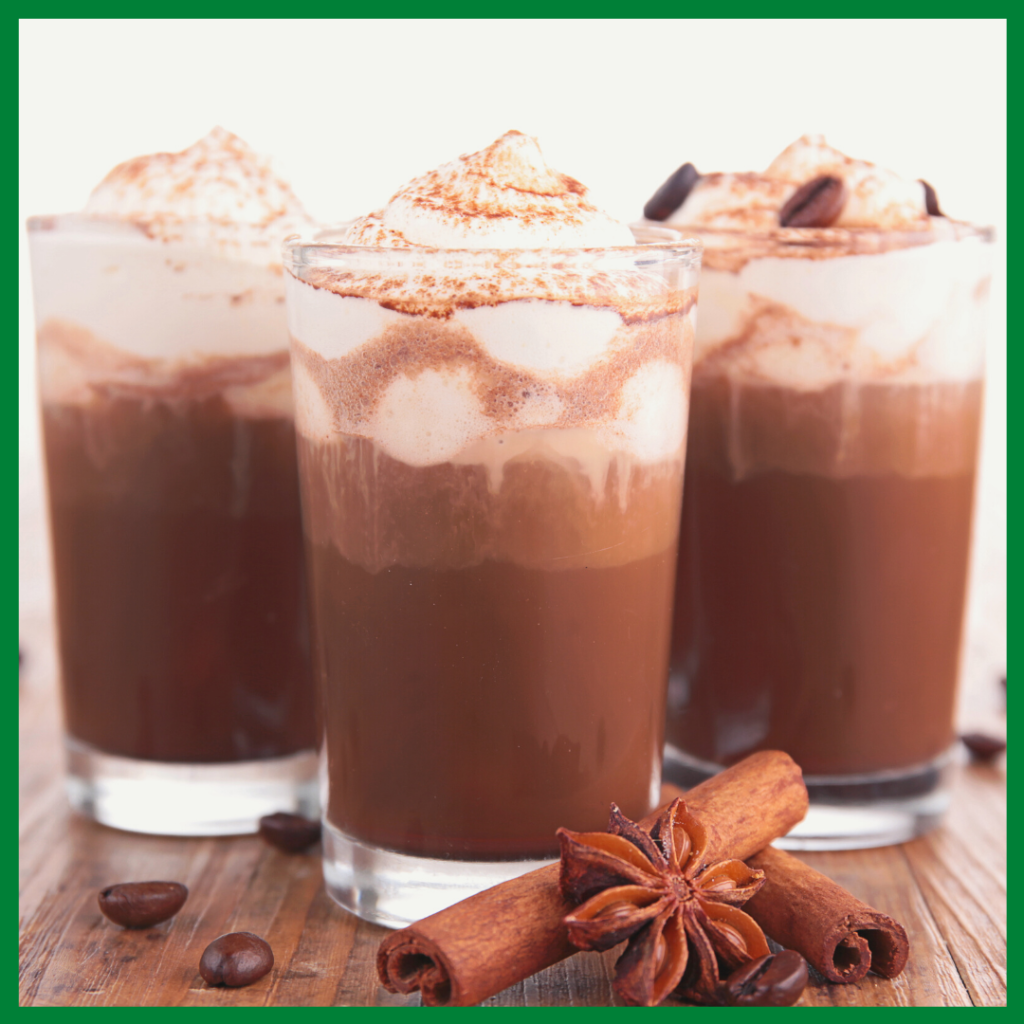 Ingredients:
1 tbsp raw cacao powder
1 cup unsweetened milk
1 tsp vanilla extract
1 tbsp maple syrup
A pinch of salt
Your favorite flavoring (cayenne, mint, cinnamon, rose water, or culinary lavender)
1 full dropper of CBD oil
Procedure:
Except for the CBD oil, place all the ingredients in a small pot and bring it to a simmer. Make sure you whisk the mixture vigorously to avoid clumps. Once done, remove from heat and mix in the CBD oil.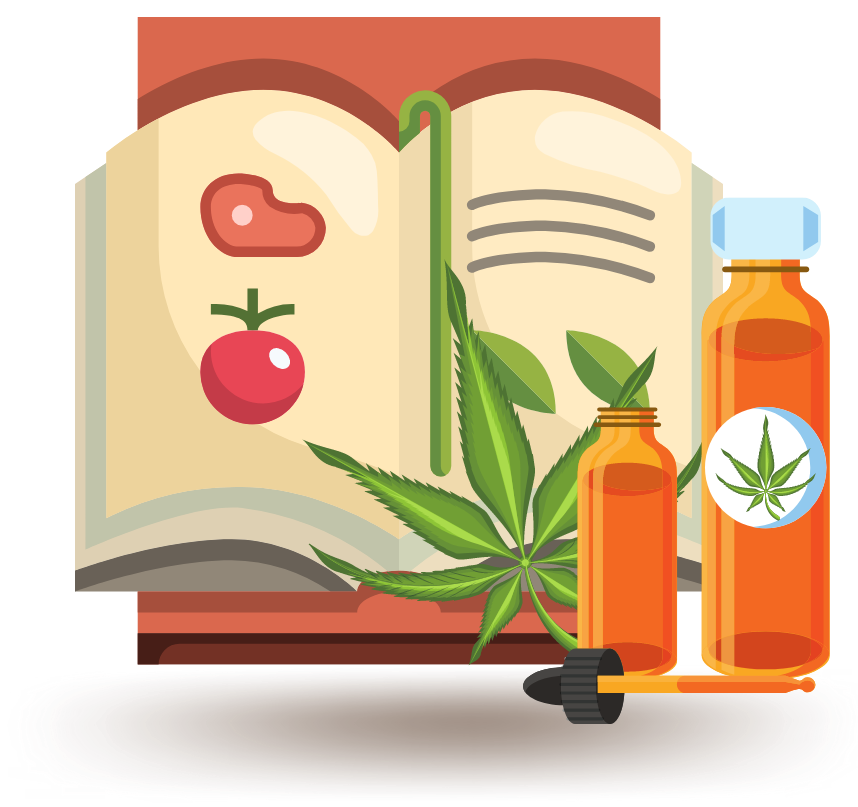 CBD Chocolate Coconut Fat Bombs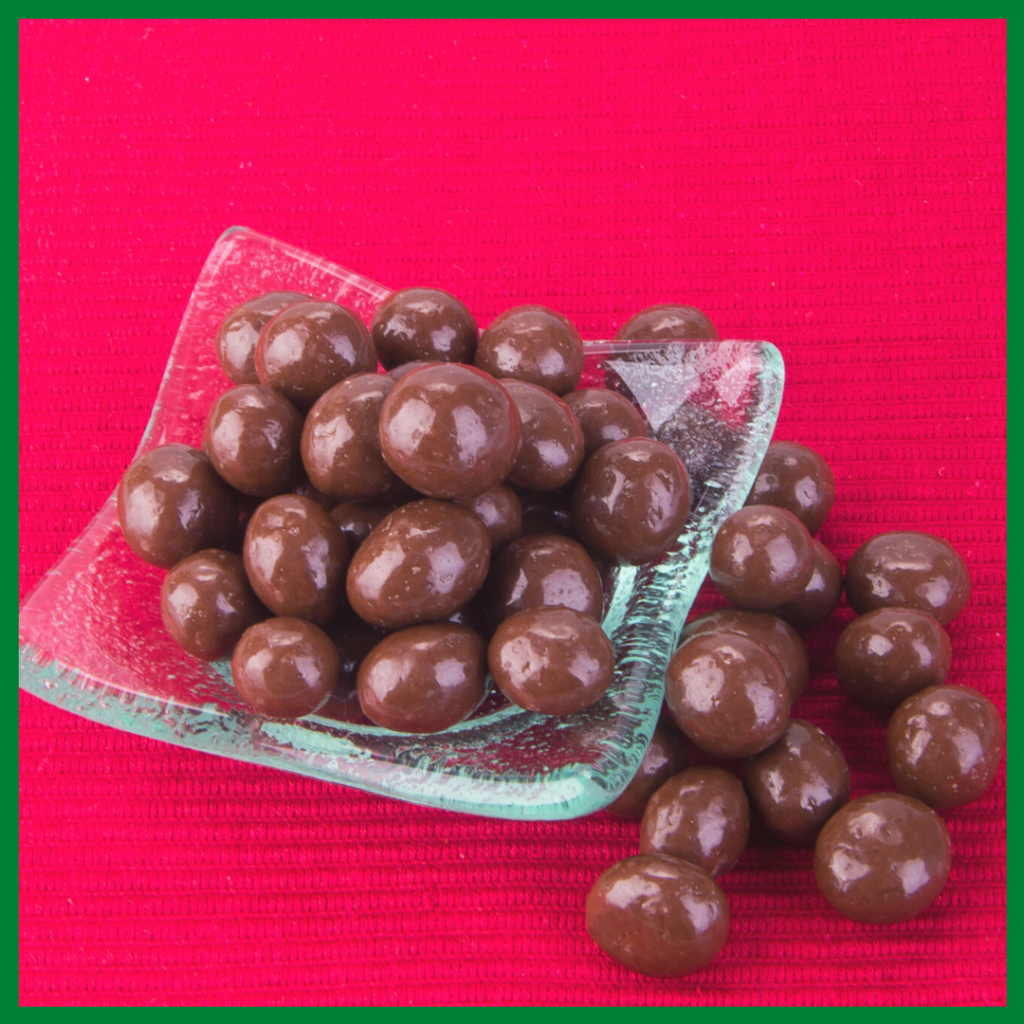 Ingredients:
½ cup coconut butter
½ cup raw cocoa powder
½ cup coconut oil
1 teaspoon honey
20 mg of CBD oil
Procedure:
Melt the coconut oil until completely liquified. Add the cocoa powder and whisk to remove the lumps. Stir in the honey and mix well until combined. Pour this cocoa mixture into 6 cups of a silicone muffin pan. Let it sit in the fridge for about 30 minutes. Using another saucepan, melt the coconut butter. Whisk in the CBD oil after you remove the pan from the heat. Get your muffin mold and add the coconut butter mixture to each cup. Let all these sit in the fridge for another hour or when everything completely solidifies.
---
Making CBD-infused recipes is fun. It's truly a rewarding way to get cannabinoids into your body. If you need your CBD dose at a much slower pace, CBD edibles are the perfect options. Contrary to most marijuana edibles, these CBD infusions will not give you that "high" feeling considering their THC content is just below 0.3%. This figure alone will not suffice to any psychoactive effect, much less the "high" mostly associated with marijuana.
To get your regular dose of cannabidiol, try these delicious treats and hearty meals.