CBD oil inhibits the production of sebum. And the overproduction of sebum is thought to be a main cause of acne. Unlike most acne treatments, CBD Oil is all natural and doesn't cause harmful or unwanted side effects. In fact, CBD Oil is known to help the skin be more youthful.
The best way to use CBD Oil for treating and preventing acne is a skin serum designed for skin use.
The skin serum we like best for acne treatment is Kat's Naturals Skin Serum which is a combination of CBD and other minerals designed to help your skin be its youthful best.
Acne is the most common skin disease in the world, affecting 80% of adolescents, along with a small proportion of adults. For this reason, it is often overlooked as nothing more than growing pains. However, while some youths suffer from nothing more than a few pimples, others have major outbreaks that cover the entire face. There is, of course, a whole spectrum between, and the condition can lead to low self-esteem, permanent scarring, and pain. Research into CBD oil for acne indicates that the compound may provide a solution far superior common treatment options.
The problem with acne treatment
Although acne is incredibly common, there are few treatment options that guarantee success. The most effective acne treatment currently on the market is isotretinoin. Originally marketed as accutane, generics on the market replaced the well-known treatment after a lot of controversy.
Accutane and its generics come with severe risks. It can cause birth defects if used when pregnant, and has been linked to major depression leading to suicide. Furthermore, before it gets better, accutane makes the condition even worse, and can exacerbate the effects for those with mild acne. While the acne will eventually disappear, it will likely leave scarring, and the process will be marked with dry skin and peeling, and can lead to many other complications.
What causes acne?
To understand how CBD oil can help in the treatment of acne, we must briefly discuss the causes of the condition.
Acne is caused by the overproduction of sebum, which is a common side-effect of hormones released during puberty. Sebum is an oily substance excreted by the sebaceous glands to create waterproofing of the skin.
CBD and the production of sebum
CBD has been shown to inhibit the production of sebum. This is because the endocannabinoid system regulates sebaceous gland function. Research indicates that CBD oil works to prevent and treat acne, whether ingested or applied as a topical treatment.
CBD: few side effects
Importantly, CBD has few side effects, and none that are nearly as harsh as those caused by accutane and its generics. While accutane can cause irreparable damage, CBD will at worst lead to drowsiness and low blood pressure. And it may well not lead to even those minor side effects.
Using CBD for acne
Acne is incredibly common, especially for adolescents, but should not be taken lightly. It harms self-esteem, making it difficult for youths to socialize, and can lead to isolation, anxiety, and depression. If not treated properly, it can leave permanent scarring.
It can be particularly troubling for adults as well, as it is seen as a teenage condition.
For these reasons, treatment of acne is important.
CBD provides a treatment that has no major side effects, and will not lessen your quality of life. It is safe to use, and has many other benefits as well.
Ranking the Best CBD Oils for Acne
If you suffer from acne, you may think that putting oil of any kind on your face is the last thing in the world you'd want to do. After all, it's well known that an excess of sebum- the skin's natural oil- is the prime cause of acne. And folks with oily skin types- and attendant large pores- tend to be more acne-prone. Oil buildup in pores leads to pimples. So if oil is the enemy, how can oil be the solution? Though it may sound counter intuitive, both scientific study and anecdotal evidence support the idea that CBD oil can be an effective treatment for acne.
CBD oil has been shown in multiple studies to naturally and effectively curb inflammation and balance irregular hormones, two top causes of acne. CBD oil also provides powerful anxiety relief, which can prevent stress-related breakouts. But the most potent way CBD oil prevents acne is by inhibiting the production of sebum. Unlike many conventional treatments, CBD oil is natural, free from harsh chemicals or toxins, and (apart from infrequently reported drowsiness) has no side effects. In fact, high-quality CBD oil products tend to include an array of beneficial vitamins, antioxidants and skin-smoothing agents. CBD oil can fight acne directly when topically applied, or help to prevent breakouts when ingested.
If you've decided to give this natural and effective treatment a try, you're likely wondering which are the best CBD oils for acne? In choosing the best CBD oils, there are many factors to consider, including sourcing, purity, and range of topical or oral CBD oil products available, as well as the range of therapeutic dosages. In addition, many companies include extracts from the whole plant and additional acne-fighting agents, such as calendula (which soothes irritation), tea tree oil (which repels bacteria), neem oil (which inhibits sebum), and jojoba (which enhances the skin's barrier). We've done the footwork so you don't have to. Our ranking of the 10 best CBD oils for acne ranks the leading products for this condition, based on careful evaluation of each of these categories. Read up on the best options on the market in CBD oil for acne, and you'll be clear and balanced in no time.
Methodology:
Range of Products Score (1/5)
Beginner Dosage Score: the lowest dosage available in this brand's product
Experienced Dosage Score: the highest dosage available in this brand's product
Delivery Method Score: the number of distinct delivery methods of CBD oil products
Cannabinoid Variant Score (1/5)
The range of documented cannabinoids in the brand's products. Often achieved through different distillation methods or extraction methods utilizing the whole hemp plant.
Product Purity Score (1/5)
Measure of extraction method, whether a brand's products are certified organic, and quality control testing employed by each brand.
Sourcing Score (1/5)
Measure of location hemp is sourced from as it relates to environmental toxins and greater cannabinoid density. Additionally, a measure of the number of chemicals used in the production of the hemp (if any).
Health Issue-Specific Factors (1/5)
The brand's range of delivery methods that are particularly well suited for aiding the medical issue at hand. In the case of using CBD Oil for acne, topical applications target oil production and irritation on the skin's surface, while oral preparations may be used in tandem to address the hormonal imbalances and stress that lead to breakouts.
The brand's range of additional herbs, vitamins, minerals, and carrier devices that are known to aid the medical issue at hand. In the case of acne, anti-bacterial, anti-inflammatory and skin-soothing botanicals such as calendula and chamomile may be added to CBD oil preparations to enhance the product's therapeutic effect.
The 10 Best CBD Oils for Acne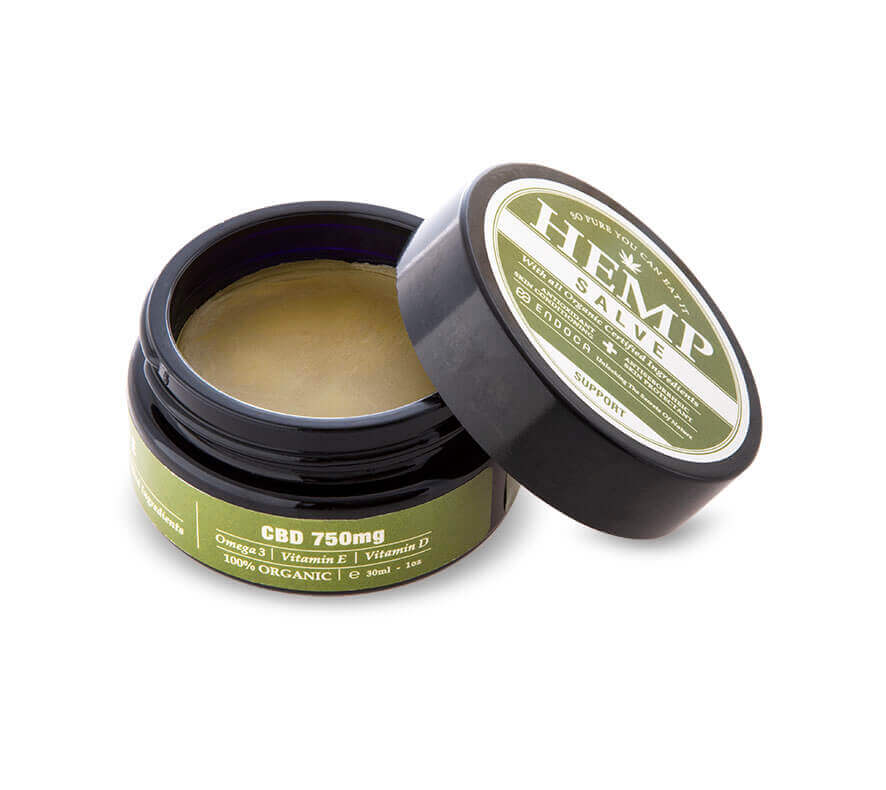 Endoca is a family-run company with a mission that goes far beyond supplying top-quality CBD products for acne and other health conditions. Among its many endeavors are a hemp seed bank, a sustainable food production and agroforestry system, a nonprofit children's health foundation, and meditation center. Endoca's powerful vision of positive change also translates to world-class CBD products, as the company applies their high ideals and exacting standards to the process of breeding, growing, extracting and processing hemp into a variety of all-natural hemp products. All Endoca products are developed by a team of scientists, herbalists and nutritionists, and are produced sustainable and organically. Endoca's hemp is organically grown in Denmark, processed through chemical-free methods using a GMP certified (Good Manufacturing Practice) process, and tested for purity and consistency by third party labs. Customers can even look up the batch number of any given product on Endoca's website to verify the exact purity and concentration. Our top pick at Endoca as the best CBD treatment for acne is the company's Helm Salve. This antioxidant-rich balm is formulated with food-grade ingredients, including 750 mg CBD, Coconut Oil, Beeswax, Cannabis Sativa Seed Oil, Lemon Peel Oil, Citral, Vanilla, Vitamin E. As with CBD, lemon peel oil fights sebum buildup, while Vitamin E repairs skin damage, and coconut oil reinforces the skin's natural barrier.
Product Types: Tincture, Drops, Capsules, Suppositories, Ovules, Crystals, Salves, Body Butter, Chewing Gum
Our Recommended Product for Topical Acne Treatment: CBD Salve for acne and irritation.
Our Recommended Product for Preventing Breakouts: CBD Oil drops and CBD oil capsules to treat hormonal imbalance and stress, with dosage based on user's level of CBD oil experience.
Charlotte's Web is both the name of a proprietary CBD strain and the company which breeds, grows and processes this "gold standard" hemp plant. All source hemp used by Charlotte's Web is sustainable and organically cultivated in Colorado, with the company overseeing the entire process from "seed to shelf." Charlotte's Web uses a broad-spectrum extraction process, which retains the majority of plan compounds to maximize the Entourage Effect (the capacity of hemp compounds to enhance the therapeutic effects of CBD). Along with high-quality CBD, all Charlotte's Web products include a variety of phytochemicals, such as phytocannabinoids, terpenes, and flavonoids. In the topical treatment of acne, these additional vitamins and antioxidants are beneficial healing and protecting the skin. The best topical CBD for acne in the their product lineup is the CBD skin cream, which is formulated with 750 mg hemp extract, along with several acne fighting-agents such as aloe (soothing), coconut oil and apricot kernel oil (barrier enhancing), arnica (healing), and oleic and linoleic acids (conditioning). This cream comes in lightly scented and unscented options, with the latter ideal for sensitive skin types. Charlotte's Web's CBD Oil Balm is a richer topical treatment for acne, and well-suited for those with dry or combination skin. This topical treatment contains not only 150 mg of hemp extract and essential oils in a base of apricot kernel. To address the underlying causes of acne breakouts (stress and hormones), the best CBD oil product is the Charlotte's Web Everyday Hemp Oil, comes in 10 mg or 25 mg per ounce, or 50mg per 0.6 ounce. This oral supplement comes in natural or chocolate mint flavors. Those on the go can try the full-spectrum CBD oil capsules, which are available in strengths of 15 mg each or 35 mg.
Product Types: Tincture, Softgels, Capsules, Mints, Crystals, Vape Liquid, Tea
Our Recommended Product for Topical Acne Treatment: Hemp Infused Cream or CBD oil balm
Green Roads delivers a wide range of products infused with top-quality, broad-spectrum CBD, with the aim of helping customers reach their peak performance. The company has been endorsed by the NFL Alumni Association, and has a number of pro athlete enthusiasts. The company's products are compounded by a licensed pharmacist with 20 years' experience, and contain pharmaceutical-grade, 99% pure cannabidiol, and cannabidiol oil extracted from hemp. The company's raw material comes from European certified organic hemp grown in various locations around the world, and is subjected toa high-pressure, cold CO2 extraction method. All raw materials are lab-tested by independent parties at multiple points to ensure purity, and Green Roads even makes their lab sheet public on their website. The best CBD for acne at Green Roads is the company's high-quality CBD oil tinctures, which can be taken internally to prevent acne breakouts by balancing hormones and reducing stress. These are available in five strengths: 100 mg, 250 mg, 350mg, 550 mg, 30 ml, 1000 mg, or 1500 mg of crystalline CBD isolates and a broad spectrum of phytocannabinoids. For those who'd like a portable solution, the company has a "Daily Dose" of pre-measured CBD oral srynges, available in strengths of 350, 1000, or 1,500 mg, or CBD terpenes in several flavors, such as strawberry and blueberry. Prefer candy to flavored oil? Green Roads even has a selection of CBD edibles, such as lollipops and gummies.
Product Types:Tinctures, Syrups, Cream, Capsules, Edibles, Beverages
Our Recommended Product for Preventing Breakouts: CBD Oil, or CBD Daily Doses to treat hormonal imbalance and stress, with dosage based on user's level of CBD oil experience.
The popularity of Pure Hemp Botanicals lies in this company's outstanding reputation for purity of CBD oil products. Pure Hemp Botanicals goes to great lengths to establish consumer trust in this largely unregulated industry, by setting exacting standards and creating maximum transparency. The company's quality control measures far exceed current market standards: all hemp is organically grown, processed, and packaged in Colorado, with the company controlling the process "from soil to oil." All Pure Hemp Botanicals products are lab tested to determine their cannabinoid profile and hemp extract potency. Consumers can see for themselves how their hemp is grown and extracted through a video tour of the facilities, and can even look up the individual lab test results for the source batch of their CBD oil products on the company website. Our choice at Pure Hemp Botanicals for best CBD oil for acne is the company's tinctures. These infusions of full-spectrum hemp extract in hemp seed oil contain a wide array of naturally occurring cannabinoids and plant terpenes, along with plenty of omega 3 and omega 6 fatty acids, which have powerful acne-fighting properties. Tinctures are available in doses of 300 mg, 750 mg, 1500 mg, or 3000 mg of cannabinoid extract per package.
Product Types: Tincture, Softgels, Capsules, Mints, Crystals, Vape Liquid, Tea
Our Recommended Product for Preventing Breakouts: CBD Oil tincture to treat hormonal imbalance and stress, with dosage based on user's level of CBD oil experience.
Kat's CBD oil is of the highest purity. CBD is legally permitted to contain up to 0.3% THC (not enough to be psychoactive, but enough to potentially show up on a sensitive drug test),but Kat's Naturals guarantees theirs to be 100% THC-free. Their source hemp is grown in the Netherlands on organic farms, and subjected to a critical CO2 extraction process, then blended with whole-plant organic hemp oil. The resulting solution is high in "good fats" (omega-3 and omega-6 fatty acids) which are known to fight acne. In addition, many of Kat's Naturals' products contain organically and sustainable grown, therapeutic-grade, and third-party tested essential oils. The best topical CBD oil product for acne in their inventory is KatÕs Capsicum Heat Cream, a warming salve with 350 mg CBD per ounce, and is made with avocado and almond butters, emu oil, capsaicin oil, ginger, black pepper, juniper, marjoram and rosemary essential oils. Why put a warming cream on potentially inflamed skin? Surprisingly, capsaicin is a known anti-acne agent, which boosts circulation and reduces inflammation, while rosemary has antibacterial properties. To treat the stress and hormonal spikes that underlie acne breakouts, we recommend "Heal", their best-selling and highest-potency product. This oral CBD oil tincture is blended from 1,500 mg pure CBD isolate, organic hemp seed oil, and organic peppermint essential oil, which not only adds flavor but has an anti-inflammatory effect.
Product Types: Tinctures, Vape Liquid, Topicals, Edibles
Our Recommended Product for Topical Acne Treatment: Capsaicin Heat Cream
Our Recommended Product for Preventing Breakouts: Heal CBD Oil blend to treat hormonal imbalance and stress, with dosage based on user's level of CBD oil experience.
One size does not fit all when it comes to CBD. There are many different ways to take it, dosage levels, flavors, forms, and synergistic additives that can enhance its effect. Cannabidiol Life has you covered, whether you want to take your CBDD oil in the form of Extreme Strength CBD Gummy Worms, CBD Terpin Wax, or even treat your cat to the benefits of hemp in a Hemp Oil Tincture for Pets. Among the company's many products are capsules, edibles, isolates, crystals, wax, dabs, salves and even CBD-infused water. Each is made from hemp, organically grown in Colorado, from which CBD is extracted through "cradling" in organic ethanol. Many of their products incorporate synergistic compounds, such as St. John's Wort for mood balancing and arnica for inflammation relief. Among their many offerings, two products stand out as the best CBD oils for acne: CBD Facial Serum and Soothe Balm. The Facial Serum targets anti-aging, but don't let the name fool you; those same ingredients (including no less than 12 essential oils) are potent acne fighters. 50 mg full spectrum CBD oil inhibits sebum. Jojoba oil enhances the skin's natural barrier to block bacteria. Evening primrose oil reduces inflammation. Vitamin E oil heals scarring and irritation. Cannabidiol Life's CBD Oil Soothe Balm is another excellent topical CBD treatment for acne. It's available in natural and lemongrass scents, but we recommend natural for sensitive skin. The balm contains no less than 15 active natural and botanical ingredients, several of which (like calming calendula and antibacterial lavender). To help head off breakouts from within, try Cannibidiol Life's full-spectrum CBD oil to combat stress and balance hormones. This CBD oil tincture is available in strengths of 250 mg, 750 mg, 1,500 and even 3,000 mg per fluid ounce (which, according to Cannabidiol Life, is the highest concentration per fluid ounce available).
Product Types: Tincture, Vape Liquid, Capsules, Edibles, Isolates, Crystals, Wax, Water
Our Recommended Product for Topical Acne Treatment: CBD Oil Facial Serum, CBD Oil Soothe Balm.
Our Recommended Product for Preventing Breakouts: CBD Oil to treat hormonal imbalance and stress, with dosage based on user's level of CBD oil experience.
ImáBue Botanicals controls every step of production- "from seed to shelf"- in making its high-quality CBD oil products, which include everything from pet tonics to CBD oil acne treatments. The company's non-GMO source hemp is sustainable grown, without chemical pesticides or herbicides, in Colorado at high altitudes, where more UV exposure yields higher concentrations of CBD. This hemp is then subjected to low-pressure, low-temperature processing to yield full-spectrum extracts rich in antioxidants and omega 3s and 6s. All products are third-party lab tested testing for potency, residual solvents, and microbial contaminants. ImáBue Botanicals sells an unusually wide array of top-of-the-line skincare products, a product line called EmáBody. Among their generously CBD oil-rich skincare items are lip balm, eye cream, facial cream, and a CBD salve and CBD body lotion that come in strengths of 200 mg or 400 mg. Of these many options, the best CBD oil products for acne treatment is the luxurious "ImáBue Lifted by EmáBody Premium CBD Facial Cream." This sumptuous cream works at the cellular level to restore skin, and features a wide range of potent acne fighting agents, including 100 mg sebum-curbing CBD, healing vitamin E oil, soothing aloe vera, mint, exfoliating lactic acid, antibacterial rosemary, anti-inflammatory arnica, and barrier-boosting shea butter, among others. An independent reviewer on Leafly.com writes, "After a week of wearing this cream every night, I, a very cystic acne-prone person, did not have any breakouts and had noticeably softer skin in the morning." This premium cream is an investment at $95 per 2-ounce jar, so ImáBue Botanicals offers a .25-ounce trial size for $19.90. To head off stress- and hormone- related breakouts, the best CBD oil option is regular ingestion of the company's full-spectrum Hemp Tinctures. These blends of hemp extract and vegetable glycerin have a natural, slightly-sweet taste, and are available in strengths of 40 mg, 100 mg, 250 mg, and 500 mg. Those who'd prefer a portable option can try the company's vegan Premium CBD Capsules, which come in strengths of 5, 10 or 25 mg per capsule.
Product Types: Tincture, Capsules, Cream
Our Recommended Product for Topical Acne Treatment: Premium CBD Facial Cream
Our Recommended Product for Preventing Breakouts: CBD Oil Tinctures or CBD Capsules to treat hormonal imbalance and stress, with dosage based on user's level of CBD oil experience.
Hemplife Today strives to maximize the quantity, quality and efficacy of its CBD oil across its range of products, and to make the benefits of CBD oil affordable to all. All its high-potency CBD products are very competitively priced, and can be purchased in larger quantities for additional savings. All of Hemplife Today's "CannazALL" products start with non-GMO, first-cut, purpose-grown (not industrial) hemp grown without the use of chemical pesticides under a Colorado Department of Agriculture Certified Hemp growing program, and sourced in Northern Europe. The source hemp is subjected to CO2 extraction, and a proprietary "NanoTech Infusion Process" that re-infuses whole-plant Terpenes, Phytocannbinoids and plant Botanicals, maximizing the "Entourage Effect". Hemplife Today is so confident in their products that they offer a 30-day money-back guarantee of satisfaction. Among their many CBD oil products are Tinctures, Gelcaps, Concentrates, Vape Liquid, and Salve. Of their inventory, the best CBD oil product for acne is their CannazALL Topical CBD Salve. This thick, rich balm contains 400 mg sebum-reducing CBD, occlusive Coconut Oil, antibacterial Lavender Oil, and antiseptic Eucalyptus Oil. Ingesting CBD oil can balance hormones and reduce stress, leading to fewer acne breakouts, and Hemplife Today's best product for treating acne in this way is its CBD Oil Tincture. Each 1-ounce bottle contains 250 mg broad-spectrum CBD oil, with peppermint oil added for flavor. The company's CBD Gelcaps offer another option for taking CBD on the go, with a potent dose of 25 mg per capsule.
Based on Los Angeles, California, PureKana creates simple, high-quality and affordable CBD oil products. Whereas some companies offer a wild array of CBD lollipops, dab oils, and crystal isolates, PureKana focuses on four high-quality specialty CBD products: tinctures, capsules, gummies and ointment. The company's source hemp is non-GMO and grown in select locations worldwide, with optimal microclimates and on multi-generational farms with organic farming practices. The gentle extraction process is designed to retain a broad spectrum spectrum of plant cannabinoids and terpenes. All products are tested by third-party laboratories for purity, CBD content and to ensure freedom from unwanted chemicals. The best CBD oil product for topical acne treatment in the PureKana lineup is the company's CBD Oil Ointment. While many CBD topicals are limited to thick, waxy balms, this ointment has a creamy consistency that's well-suited to delicate skin, and dispenses from a pump bottle, which prevents the introduction of bacteria when applying. Each 3.4 ounce bottle contains 600 mg CBD, along with skin-soothing aloe and healing arnica. Topical CBD treatments, which are absorbed directly through the skin at the affected site, are a great fast-acting and locally effective treatment for acne. But for system-wide, longer-acting treatment, ingestion of CBD is ideal, as this can balance the hormones and stress that often lead to acne breakouts. The best CBD oil for treating acne in this way in the PureKana inventory is the company's CBD Oil Drops. These are available in vanilla, mint and natural flavors, and in strengths of 300, 600 and 1,000 mg per 1-ounce bottle, and can be taken sublingually or added to food or beverages.
Product Types: Tinctures, capsules, ointment, gummies
Our Recommended Product for Topical Acne Treatment: Topical CBD Oil Ointment
Our Recommended Product for Preventing Breakouts: CBD Oil Drops to treat hormonal imbalance and stress, with dosage based on user's level of CBD oil experience.
CBD Drip has a big presence in retail stores, and a wealth of positive online reviews. This highly-visible brand emphasizes accessibility, offering easy-to-use and affordable CBD products in a range of doses and flavors. The company sells Sublingual Drops, Capsules, Vape Liquid, and is developing energy shots endorsed by former NFL defensive tackle, Matt Mitrione. All CBD Drip products start with pesticide-free, European-grown, non-GMO hemp, and are subjected to an extraction process designed to preserve a range of beneficial and synergistic compounds, including an array of cannabinoids, terpenes, antioxidants, and "good fats." All CBD Drip products are rigorously third-party tested prior to packaging to determine range of cannabinoid profile, terpene profile, and freedom from microbes and chemicals. To create transparency, CBD Drip even makes these results public on its website, where users can look up the individual results of their products' batch lab scores. To treat acne from the inside out, we recommend ingesting CBD oil to treat the stress, poor sleep, and hormonal imbalances that typically underlie recurring acne breakouts. For this purpose, we recommend the oral use of CBD Drip's CBD Oil, which is designed to be used for both vaping and sublingual application. These are available in doses of 14.5mg, 58 mg, 140 mg, 500 mg or 750 mg. Those looking for on-the-go dosing with long-lasting effects can try the company's vegan and gluten-free capsules. These are potent CBD capsules, containing a full 30 mg each (900 mg per bottle) of multi- cannabinoid, full-spectrum hemp extract.
Product Types: Oral Drops, Capsules, Vape Liquid
Our Recommended Product for Preventing Breakouts: Sublingual CBD Oil Drops or CBD Oil Capsules to treat hormonal imbalance and stress, with dosage based on user's level of CBD oil experience.
You should also check out our review of the 30 Best CBD Companies.