Green Gorilla has made a splash in the growing CBD market by creating the only USDA Certified Hemp Brand in America, as their website states, "USDA Certified Organic from Farm to Shelf." They have committed themselves to building an international brand that will set an example for hemp farmers worldwide by demonstrating successful, sustainable farming processes and ethical manufacturing techniques. The company has also committed to focusing their charitable efforts on developing and preserving drinking water sources and cleaning oceans around the globe. How awesome is that?!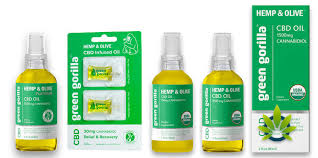 Table of Contents
Where Does Green Gorilla CBD Come From?
They have accomplished their organic farming goals by setting up their own farm subsidiary, Gorilla FarmCO to grow their products. Gorilla FarmCo owns over 1,500 acres of organic farmland and has organic farming partners in Arizona, California, Colorado, Nevada and Oregon. Green Gorilla is committed to growing top quality hemp while protecting the environment and ensuring human and animal welfare. Gorilla FarmCo and its partners use techniques that preserve the soil by reducing erosion, planting cover crops and increasing organic matter within the soil. These techniques also decrease water usage and the lack of chemical fertilizers yields clean water run off from their farms. In the near future, they are launching a line of "Master Grower" materials to help all hemp growers who are interested in growing organics and reducing waste to switch to sustainable farming practices.
How About the Products?
Green Gorilla is making their organic hemp into a wide variety of CBD products for human and animal usage. Some of their products use the entire CBD plant so that the user experiences the full-spectrum of the plants medicinal properties. Other products are made only from extracted CBD, the active ingredient in hemp. Green Gorilla has perfected the extraction process and is able to produce 99.98% pure CBD isolate, the purest in hemp history. Despite these high levels, the company has been very transparent about producing third party lab results that prove that no THC (the active ingredient in marijuana) has been detected.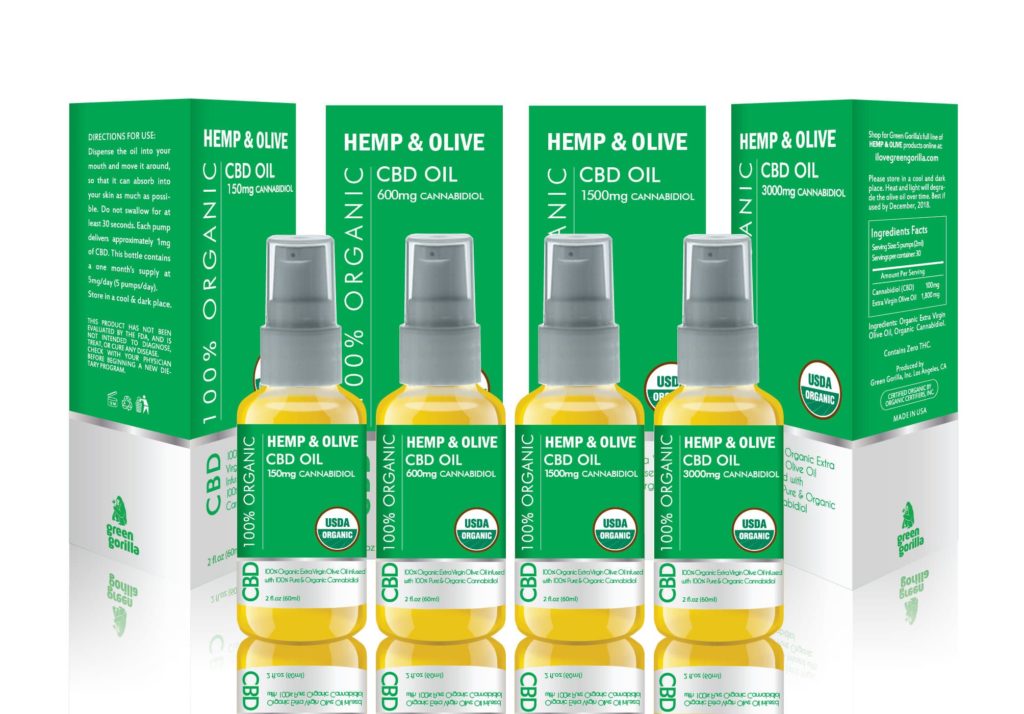 Green Gorilla's best selling line is known as "Hemp & Olive". Extra virgin organic olive oil and 99% pure CBD GG BioEnhanced Complex™ (Green Gorilla's Proprietary Formula to optimize bioavailability) is combined to create supplements, pet products, cosmetics and creams. Since olive oil has a high polyphenol count, it has health benefits of its own. When combined with organic CBD oil it has numerous synergistic positive effects on your body or your pet's body.
Green Gorilla CBD for Pets
CBD is a strong antioxidant which makes it effective on a myriad of health in humans and in pets. In humans it is often used to treat everything from anxiety to arthritis. Many companies are also marketing it to dog and cat owners for whose fur babies experiencing stress, joint health issues, separation anxiety and basic overall health. Green Gorilla makes treats and CBD oils for family pets insuring that it is easy for the pet owner to dispense. Green Gorilla has also taken their pet line to the next level and is producing it for use in horses. Horses benefit greatly from the anti-inflammatory and antioxidant properties CBD contains. 
In Conclusion…
Green Gorilla is posed to become a leader in the rapidly expanding hemp market. They believe that hemp shows incredible promise in the manufacturing of renewable fuel sources, textiles, plastics, and paper. In addition to those things, they are committed to extracting the medicinal properties of hemp into healing products for consumers' minds and bodies.