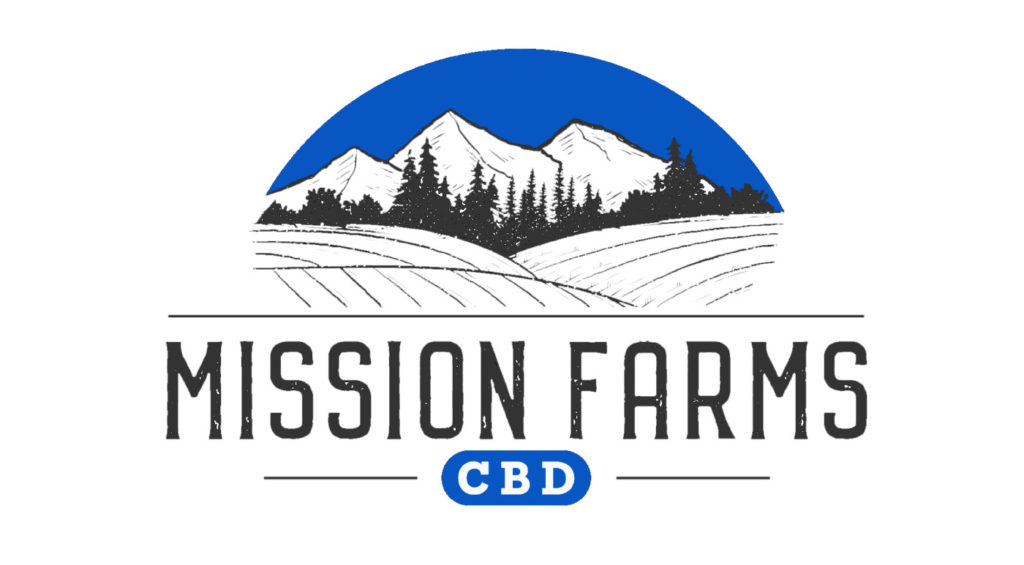 When you're looking for a high-quality bottle of CBD oil or CBD skincare product, it can be confusing and difficult to choose between the hundreds of brands that offer them. One thing that sets Mission Farms CBD apart from its competitors is its goal of helping people access the benefits of top-quality CBD products, rather than focusing on profits.
In this post, we take a closer look at Mission Farms CBD. Let's consider the story behind the company, what products it offers, and how much its products cost.
Mission Farms CBD Company Overview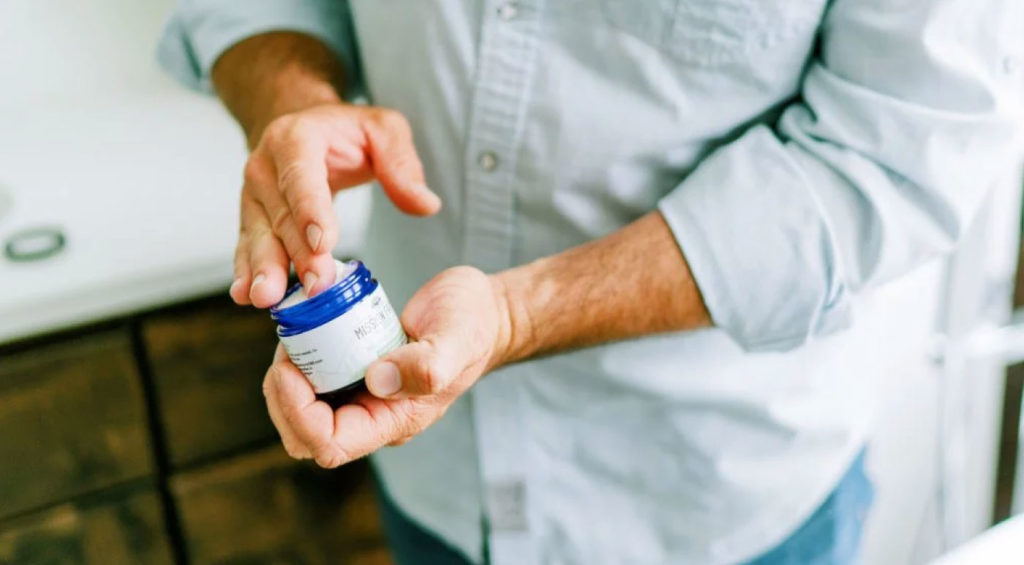 Mission Farms CBD began when the founders were dealing with health challenges. After experiencing adverse effects from pharmaceutical drugs that covered up the root causes of their issues, the founders were introduced to CBD. After giving it a try, they realized that CBD oil helped improve their health without the side effects of the drugs they had previously tried.
As they discovered the healing powers of CBD, they wanted to give more people access to the compound. This led to the birth of Mission Farms CBD, which today sells quality CBD oil and other products containing cannabidiol to thousands of customers.
Mission Farms CBD grows its own hemp in the United States and ensures each product is tested for quality and safety.
Mission Farms CBD Laboratory Tests and Certificates
Since not all companies follow the same strict rules and procedures when it comes to CBD products, it is always important to look at third-party lab testing.
Mission Farms CBD sends all its products to a company called Pure CBD Labs for rigorous third-party testing. The results of these tests help the customer understand exactly what they will be ingesting, in terms of purity and safety. Testing confirms that the product labels are accurate, and that no harmful chemicals or toxic substances are present in the CBD products.
Certificates providing evidence of third-party lab test results are available for the following products:
Pure CBD Oil
Relax CBD Oil
Rest CBD Oil
Relieve CBD Oil
CBD Bath Soaks
CBD Gel
CBD Roll-On
CBD Soaps
CBD Creams
Mission Farms CBD Product Range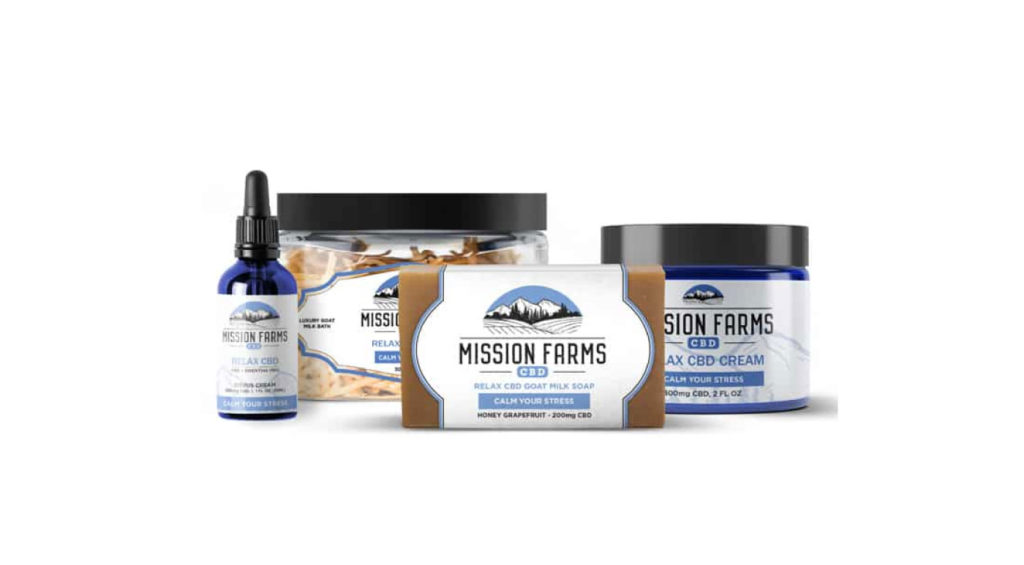 Mission Farms CBD has a great variety of products to choose from. In fact, it would be hard to find a competitor with such a large selection of CBD-based products:
Mission Farms CBD Product Pricing
The price of the products offered by Mission Farms CBD varies greatly. Some products are exceptionally affordable, while others have higher price tags. It all depends on the type of product and the potency of the formula.
The Relieve CBD Roll-On costs less than $25, for example. CBD drops, on the other hand, can cost up to around $109.
Mission Farms CBD Shipping Policies
The company offers multiple shipping options, but the preferred method is through USPS. Priority USPS shipping is also available, which takes between two and three business days. It should be noted, however, that order processing can also take up to three business days.
No international shipping options are available at the moment.
Mission Farms CBD Return Policy
To maximize the value offered by its products, Mission Farms CBD has a satisfaction guarantee. Customers get a period of 30 days to thoroughly test the product. During this period, if the customer is unhappy for any given reason, they are free to return the product for a refund.
Customer Reviews and Opinions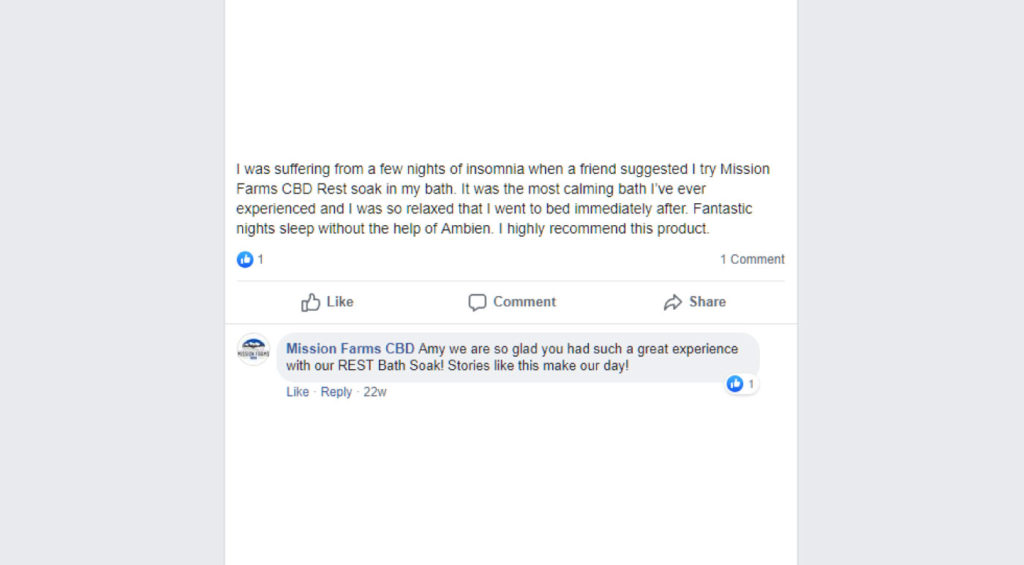 We always consider customer reviews to help determine whether a particular company may be trustworthy and whether its products are worth investing in.
Luckily, while analyzing Mission Farms CBD, we were able to find a number of reviews for its products. While there are no official reviews on the company's Facebook page, we did find that a lot of people have posted on the public wall on the Mission Farms CBD Facebook page, as well as recommended the brand.
Most people do seem to be happy with the effects that they experienced while using the products. Let's consider a couple of the reviews and opinions from the company's Facebook page below:
"Absolutely love Mission Farms products! I've always had sleep issues, and the rest cbd is so helpful for me every night!"
"I was suffering from a few nights of insomnia when a friend suggested I try Mission Farms CBD Rest soak in my bath. It was the most calming bath I've ever experienced…"
"I'm so impressed with the quality of this CBD brand! Their tinctures are easy to measure out and taste great, and I had the BEST night's sleep after soaking in the bath with their Rest bath soak!!"
Final Verdict
Mission Farms CBD has established itself as a provider of quality CBD products. The company has a large variety of products available, and existing customers seem to be exceptionally happy with the results they achieve from these products. The complete breakdown of the third-party lab testing results is fantastic and helps this brand stand out from the pack of CBD companies.