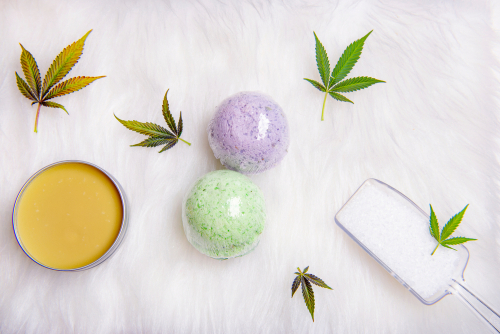 Whether you need to unwind after a long day at work or ease some sore muscles, nothing beats a steaming hot bath. And nothing enhances bath time like a fizzy bath bomb filled with soothing fragrances, essential oils, and hemp-sourced CBD.
CBD and bath bombs are two recent health and wellness trends that have merged to create an exquisitely relaxing experience. Whether you are looking for relief from tired or sore muscles, general aches and pains, or you just need to chill out, a steamy bath with one of these 5 CBD bath bombs might be just the solution.
At a Glance: Our Top Four CBD Bath Bombs
Use These Page Jumps To Find Your Favorite CBD Bath Bomb!
CBDfx 200 MG CBD Bath Bombs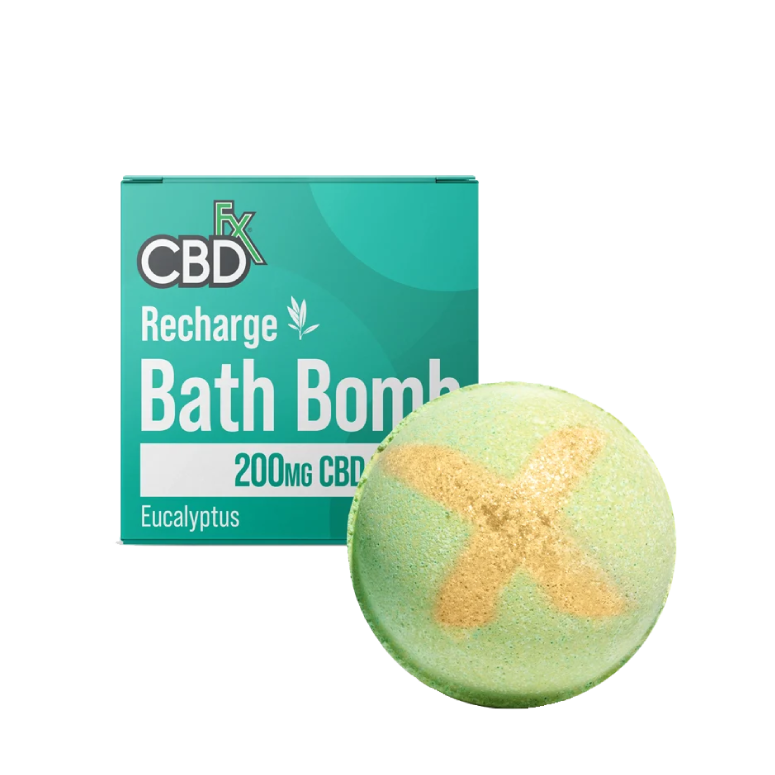 Highlights:
99% pure CBD isolate
Vegan
Organic hemp
Description:
Ingredients: Eucalyptus/Recharge: sodium bicarbonate, citric acid, avocado oil, peppermint and arnica essential oils blend, eucalyptus and spearmint fragrance, FD&C batch-certified green colorant, eco-friendly gold glitter, SLSa. Lavender/Soothing: sodium bicarbonate, citric acid, coconut oil, lavender essential oil, magnesium sulfate, Hawaiian black salt, SLSa. (dye-free, fragrance-free)
Pricing: $0.05 per milligram
Company: CBDfx was launched in 2014 on the belief that everyone should have access to the benefits of CBD. The brand has grown to be one of the top CBD retailers in the country, and it offers an excellent range of products, all sourced from domestic organic hemp and manufactured in Current Good Manufacturing Practice (CGMP) facilities. Each product is thoroughly tested, and you can find the certificates of analysis (COAs) on the description pages.
If you're looking for high potency, these 200 MG CBD Bath Bombs are ideal. You can select the Soothing formula with lavender oil and Hawaiian black salt or the Recharge formula with eucalyptus and spearmint oils. Both are made with specially sourced botanicals and essential oils designed to create a nurturing bath-time experience. Plus, at just $0.04 cents per milligram, these are the cheapest CBD bath bombs on our list.
Shipping: Free shipping on orders over $35.
Returns: Return new, unused, and unopened products within 30 days of delivery for a full refund, minus shipping
---
American Shaman CBD Bath Bomb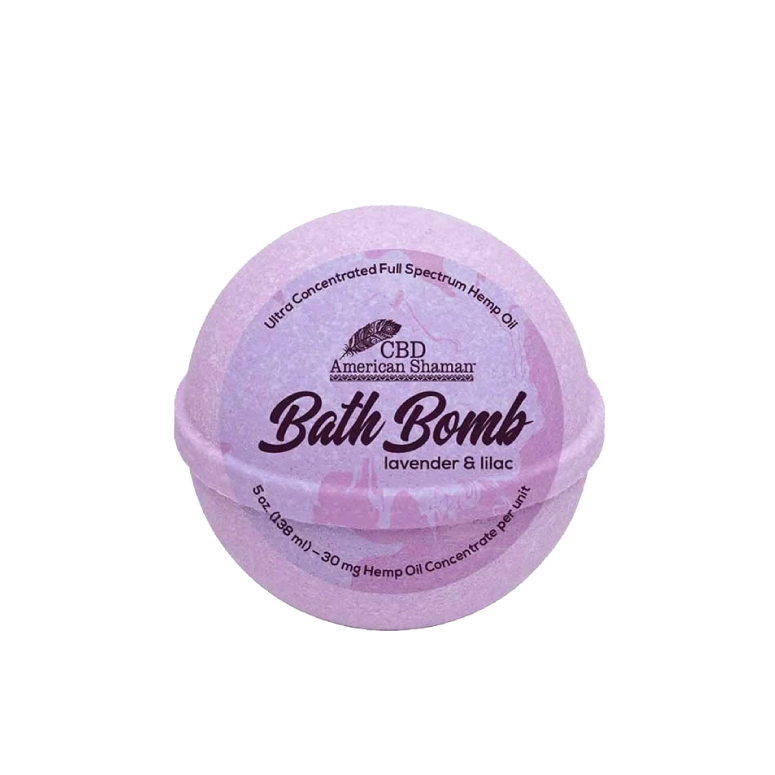 Highlights:
Choose from three scents
Made in the U.S.
Lab test results available on its website
Description:
Ingredients: baking soda, citric acid, Epsom salt, almond oil, essential oil, vegetable glycerin, polysorbate 80, cannabidiol, olive oil, medium-chain triglyceride oil (coconut), hemp extract (aerial parts).
Pricing: $0.15 per milligram
Company: American Shaman will be familiar to most CBD users who shop online, but the brand also has hundreds of retail shops in various U.S. locations. The brand is well known for offering innovative CBD products that you can't find elsewhere, including exciting edibles, CBD under eye serum, and CBD tea.
While you may pay a little more for American Shaman's CBD Bath Bombs, you can be assured of top-tier quality. Each contains an array of premium ingredients along with ultra-concentrated full-spectrum hemp oil. The bath bombs are made in the U.S., and they are third-party lab tested for purity and strength. Select from Lavender-Lilac, Tea Tree-Mint, or Oatmeal.
Shipping: Free shipping on orders over $99.
Returns: American Shaman will refund your order within 45 days if purchased from the website.
---
Just CBD Bath Bomb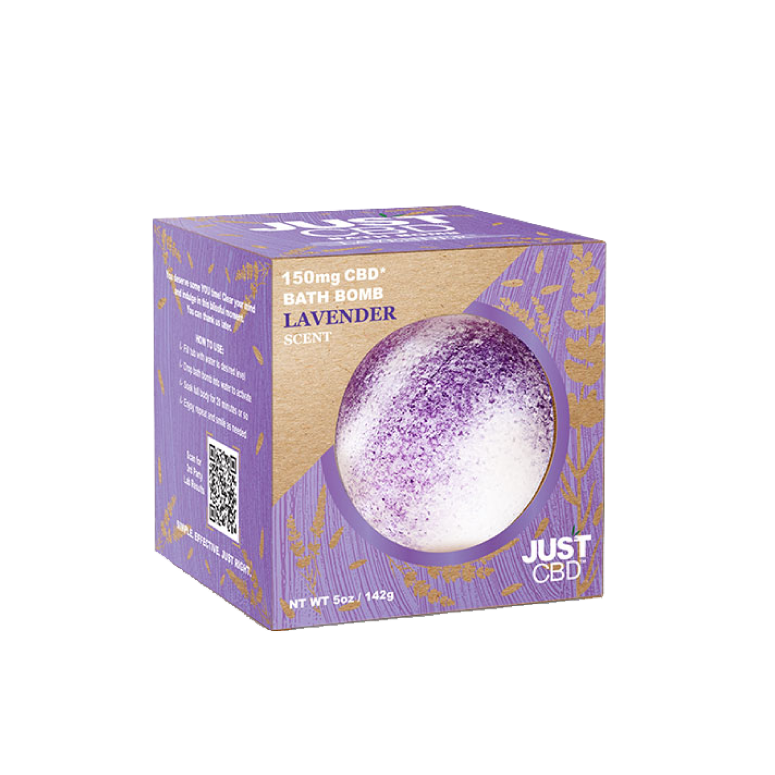 Highlights:
Made in the U.S.
Extensive product inventory
Free shipping on all orders
Description:
Ingredients: hemp isolate 25 mg, sodium bicarbonate, Epsom salt, citric acid, essential oils, corn starch, colors.
Pricing: $0.05 per milligram
Company: The founders of Just CBD have years of experience in the industry, and they are on a mission to provide transparency. They believe that you have a right to know what is in your CBD, and they prove this with third-party lab testing. Free shipping and hassle-free returns only serve to sweeten the deal. Plus, the bath bombs are inexpensive at just $0.05 cents per milligram.
Just CBD's artisan Bath Bombs are made with CBD isolate, Epsom salts, witch hazel, and a blend of botanicals that give them their heavenly fragrance. Each contains 150 milligrams of CBD, and you can select from Rose, Citrus, Sweet Cherry, Lavender, or Eucalyptus scents. Notably, the brand has more than 18,000 positive reviews at the time of this writing.
Shipping: Free shipping on orders over $65 through Direct CBD.
Returns: When purchased through Direct CBD, unopened products returned within 30 days are eligible for a full refund.
---
Joy Organics CBD Bath Bombs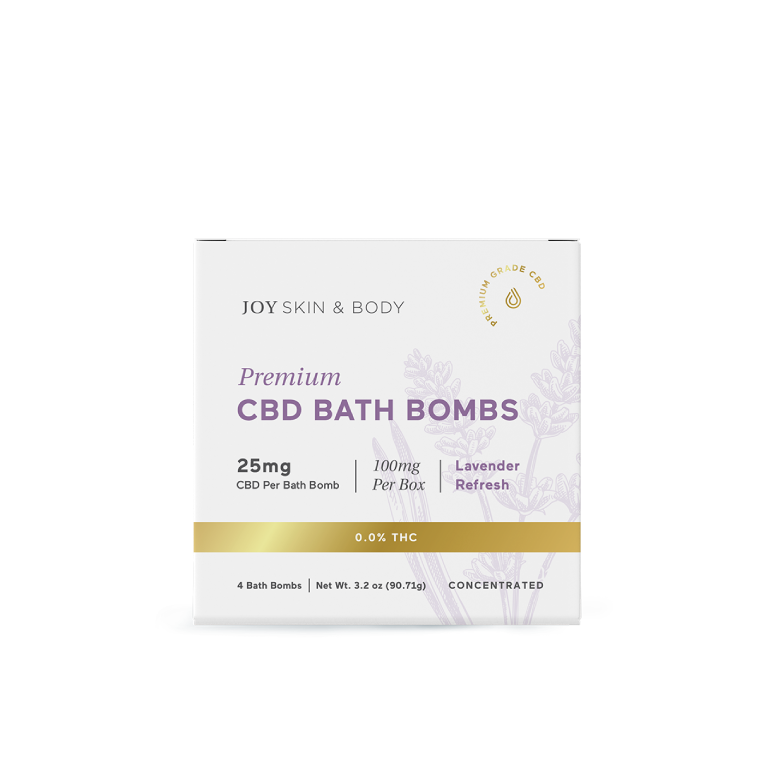 Highlights:
Organically cultivated domestic hemp
Third-party lab tested
Broad-spectrum CBD with no THC
Description:
Ingredients: Sodium bicarbonate, citric acid, organic coconut oil, lavender oil (lavandula angustifolia), water/aqua, maltodextrin, phytocannabinoid-rich hemp extract, and organic cocoa seed butter.
Pricing: $0.20 per milligram
Company: This family-owned-and-operated CBD company is driven by compassion and excellence, and it shows in everything it does. Joy Organics is an exemplary brand with excellent products, an easy-to-use interface, and a wide range of THC-free offerings. Plus, the brand makes a monthly donation to a select local or global nonprofit business, so part of your purchase goes to a worthy cause.
Joy Organics' CBD Bath Bombs each contain 25 milligrams of broad-spectrum CBD, and there are four in a package. They are designed to soothe the skin and promote relaxation with ingredients like coconut oil, lavender oil, and organic cocoa seed butter. All you need to do for a spa-like experience at home is fill up your tub and drop one in. The brand regularly runs promotions for free shipping and discounts, so definitely sign up for the mailing list.
Shipping: Orders over $50 qualify for free shipping.
Returns: Contact support to initiate the process. 100% satisfaction guarantee.
---
CBD Living Refreshing Coconut Lime CBD Bath Bomb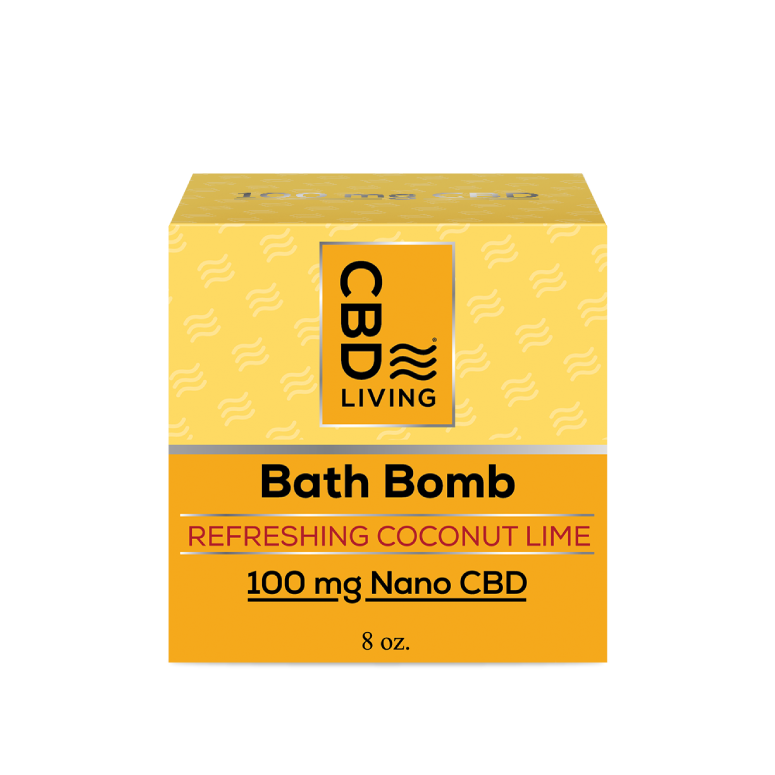 Highlights:
Member of the National Hemp Association
Broad-spectrum
THC free
Description:
Ingredients: proprietary broad-spectrum nano-hemp extract (aerial parts) 100 mg (cannabidiol / CBD), sodium bicarbonate, citric acid, starch, sucrose, hemp seed oil, Helianthus annuus (sunflower seed oil), Butyrospermum parkii (organic shea butter), Theobroma cacao (cocoa seed butter), water, natural dyes, sodium chloride (sea salt), Cocos nucifera (coconut) fruit extract, Citrus aurantifolia (lime) oil, Cucumis sativus (cucumber) fruit extract, Juniperus communis (juniper berry) fruit oil, Hippophae rhamnoides (sea buckthorn) fruit extract.
Pricing: $0.14 per milligram
Company: CBD Living utilizes nanotechnology and what the brand calls a "Proprietary Skin Retention Technology" that helps nutrients sink deep into the skin. That's a plus, since these CBD Bath Bombs are full of good-for-you ingredients like sunflower seed oil, sea salt, and juniper berry.
The company is a member of the National Hemp Association, and it uses only 100% organic hemp sourced from Colorado and Oregon. Third-party lab tests are available to download on each product landing page, and the process the brand uses renders its offerings THC free. Choose from five different scents, including Eucalyptus, Pumpkin Spice, Lavender, Coconut-Lime, or Amber Bergamot.
Shipping: Free shipping over $75.
Returns: Refunds are subject to review. Contact support if you have a problem, and they will try to work with you toward a solution.
---
What Is a CBD Bath Bomb?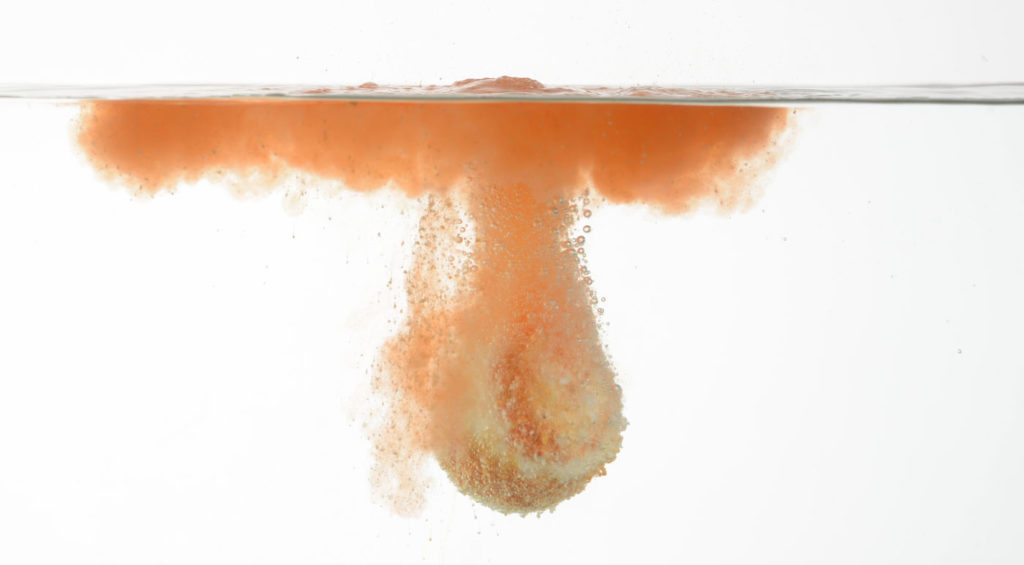 The outer layers of bath bombs contain ingredients that react to create carbon dioxide. These include an acid—often citric acid (from citrus fruits)—and a base, such as baking soda. When these ingredients come into contact with your bath water, they mix and start a chemical reaction.
The resulting carbon dioxide bubbles expand rapidly, causing the bomb's characteristic fizzing. Then, it breaks apart to release its inner contents—in this case, topical CBD. Other ingredients like essential oils and Epsom salt (magnesium sulfate) may also be added for additional effects.
What Are the Benefits of CBD Bath Bombs?
Baths have traditionally been ideal for unwinding and relaxing after a long, hard day. The warm water alone can release muscle tension, soothe aches and pains, and provide a sense of calm and serenity. Like many other bath products such as bubble bath, body wash, bath salts, and scented lotions, bath bombs are designed for self-care and restoration.
Depending on the type of bomb you choose, they can help rejuvenate or soften your skin or reduce irritation, and the essential oils may help provide a calming effect. Adding CBD to any of these bath products may enhance the effects. That's because we all have thousands of cannabinoid receptors in our skin. When phytocannabinoids like cannabidiol (CBD) interact with these receptors, they may potentially help relieve soreness, aching, and inflammation.
Are CBD Bath Bombs Effective?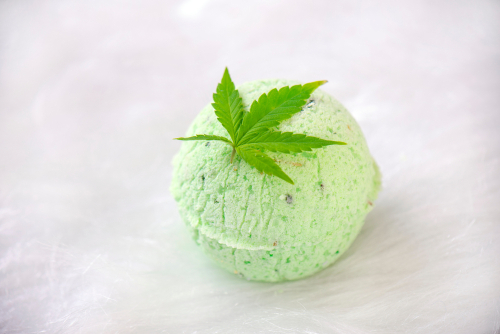 No specific studies have been undertaken about CBD bath bombs' benefits, although plenty has been written about the rejuvenating effects of bathing. Balneotherapy, derived from the Latin word balneum, or bath, refers to the use of bathing to treat specific conditions.
You probably don't need science, however, to tell you what your mother or grandmother has been saying for years: "Take a nice hot bath." According to some research, baths may do more than just relieve pain or hydrate the skin. Baths may help lower blood pressure, reduce the risk of stroke, and help keep your heart healthy.
Adding CBD in the form of a bath bomb is like the icing on the cake of your bathing ritual. Plus, many CBD bath bombs have additional botanicals designed to address specific needs. While you won't likely get the same effects on the endocannabinoid system as you would by taking CBD oil or eating CBD edibles, topical products made with CBD are a safe and fun choice.
How Do I Pick the Best CBD Bath Bomb?
Since CBD products are not yet regulated by the FDA (and may never be), you'll want to do a little homework before you make a purchase. We've done the research for you already with the above list of the best CBD bath bombs.
However, what if you find a product you want to try, but it's not on the list?
That's easy. Refer to the steps we outlined at the beginning of this article to select a CBD bath bomb. You'll want to look at factors like labels, third-party lab tests, where the hemp is grown, return policies, and other considerations. When you find something that appeals to you, go for it! As with any topical product, you should discontinue use if you notice any allergies, irritation, or adverse effects.
Methodology: What Makes a Great CBD Bath Bomb?
We evaluate thousands of CBD products each year to develop our top-rated CBD brands and product lists. Much research goes into determining why one product is chosen over another, and we look for some particular criteria before selecting those that make the cut. Here's what we consider:
The single most important factor in choosing the best CBD bath bombs comes down to third-party lab testing. Without it, you have no way of knowing the quality and potency of the bath bomb on which you are considering spending your hard-earned money. These tests reveal the amount of cannabinoids present in the product and an analysis of any potential contaminants in the formulation. They should be easy to find on the brand's website.
Since the CBD industry lacks clear standards for labeling, it's up to individual brands to step up to the plate. Many have. We appreciate companies that list their ingredients, suggested serving sizes, directions for use, and other pertinent information. We also like to see the exact amount of CBD and where the bath bombs are made.
Hemp is so good at absorbing the compounds from the soil in which it grows that it's often used to clean up tracts of land after hazardous waste spills. That's a plus for the environment. On the flip side, because hemp is so good at absorbing compounds, toxic chemicals used during the growing process can make their way into an end product. U.S.-grown hemp is cultivated under strict regulations so this does not happen.
The fairest way to determine whether a CBD bath bomb is a good value or not is to calculate the cost per milligram of CBD in the product. Surprisingly, some of the most expensive products contain far less CBD than some of their more affordable counterparts—and the same is true in reverse. The cost-per-milligram method will always reveal whether you are getting the most bang (or bomb) for your buck.
User Experience and Customer Service
Purchasing CBD online should be fun, or at least hassle-free. Dealing with unhelpful merchants is never a pleasure, but when you're shopping on the web, it can be even more difficult. We look at the interface on each brand's website to see how easy it is to navigate, and we look at shipping and return policies to find out what your options are. We also examine how you can contact the company should you have a question or concern.
Brands get to the top by doing all (or at least most) of the things on this list, and this is an industry where high-quality service, products, and processes truly are rewarded. Companies usually don't make it big without a good reason, and those that do have established a stellar reputation in the CBD industry. We scour the web to see what others are saying about a brand or product. Real users always reveal the true story.
Final Thoughts
When it comes to bath products, everyone is different. Some people don't even like baths, so for them, CBD soaps or lotions might be better options. But for those among us who like to soak our troubles away in a tub full of warm water, a CBD bath bomb might be just the thing to take away the stress of the day and clear the mind.
---
Additional Resources: