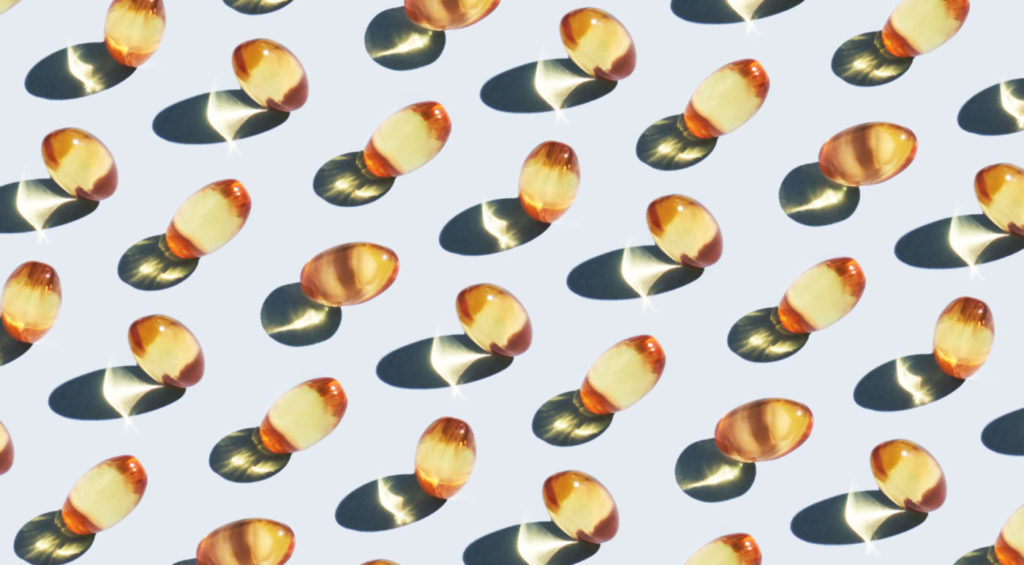 With the increasing popularity of CBD oils, dozens of new CBD products are available online. Perhaps none of them are more convenient, however, than CBD capsules.
Featured CBD Brand Capsules
Capsules are a fantastic way to consume CBD on the go. They are portable, discreet, and mess-free, and they fit easily in your purse, pocket, backpack, or overnight bag. Plus, since they are premeasured, you will always get a consistent dose.
This article will introduce you to the top 10 CBD capsules on the market right now. First, we'll talk about what makes them stand out among other choices, followed by a review of each brand. Finally, we will cover how capsules compare with other delivery methods and what you can expect from the best CBD capsules.
Get Your Easy, Discreet CBD Capsules With Page Jumps!
---
Top 10 Best CBD Capsules
Kanibi Full-Spectrum CBD Softgels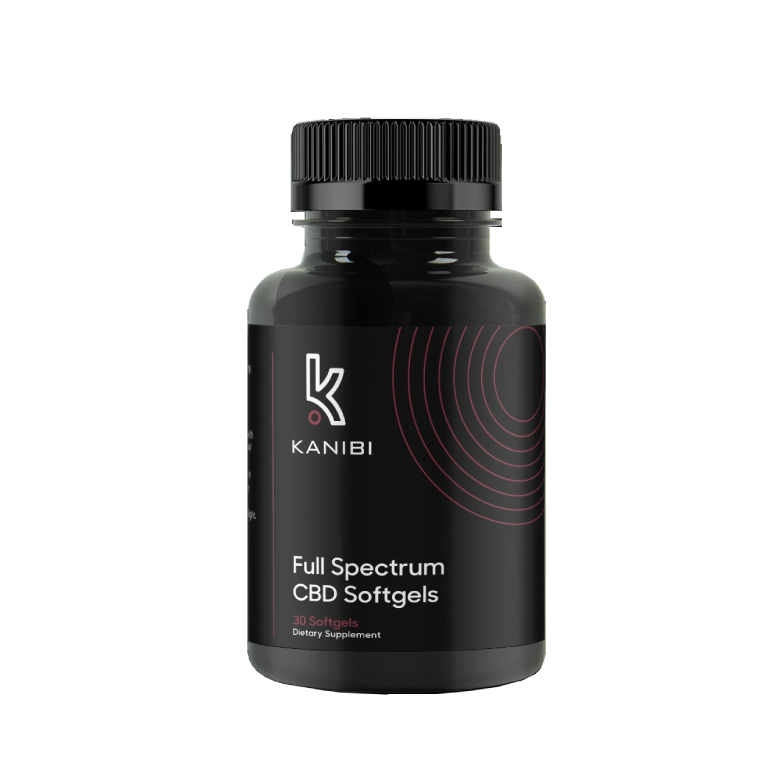 Highlights:
CO2 extracted CBD
Double-lab tested
Made in a Food and Drug Administration (FDA)-inspected facility
Description:
Ingredients: medium-chain triglyceride (MCT) oil, full-spectrum hemp oil
Pricing: $0.08 per milligram
Company: Kanibi is an up-and-coming brand with a strong focus on CBD science. Its tagline, "Raising the Bar on CBD," rings true, since the company aims for excellence in all they produce. Each batch of CO2-extracted CBD is double-lab tested and precision-made in an FDA-inspected facility.
The brand's Full-Spectrum CBD Softgels contain 25 milligrams of CBD each, for a total of 750 milligrams in the entire bottle. Sourced from 100% organic U.S. hemp, the capsules offer a portable and convenient way of taking CBD that is easy on the stomach and has long-lasting effects. There are no preservatives or fillers, just CBD oil and MCT oil in an easy-to-swallow gelatin capsule.
Shipping: Free shipping on all U.S. orders.
Returns: 100% satisfaction guarantee. Contact support at support@kanibi.com for instructions on how to obtain a refund.
---
CBDfx CBD + CBG Morning Capsules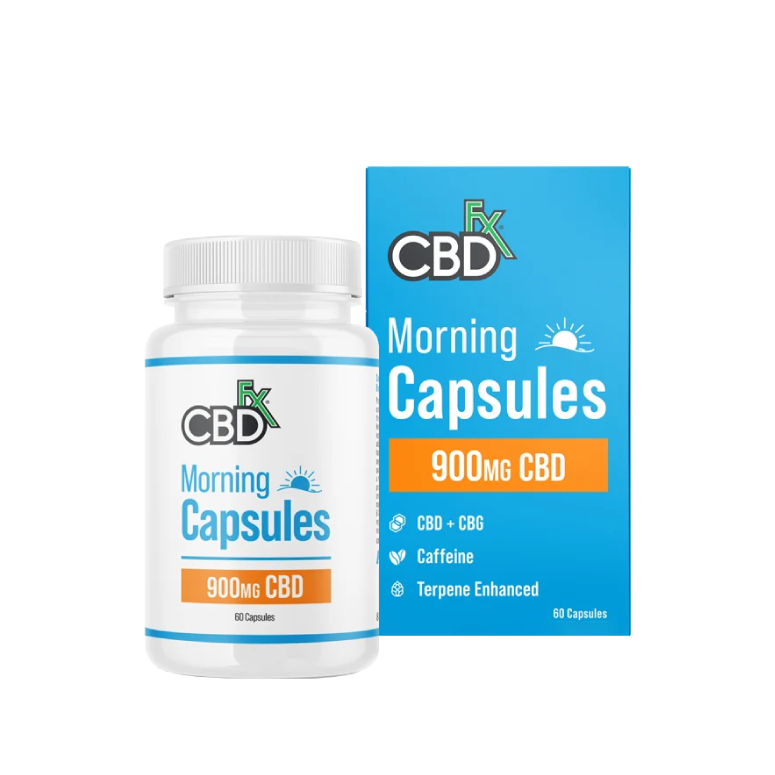 Highlights:
Formulated for energy and focus
Vegan
Organically grown hemp
Description:
Ingredients: hemp extract, vitamin B3, L-tyrosine, Rhodiola rosea, turmeric, curcumin, extended-release liquid stable caffeine, terpene focus blend, CBD, CBG, rice flour, vegetable capsule
Pricing: $0.07 per milligram
Company: CBDfx is a well-known brand across the country, and with a massive selection of products on tap, this industry-leader is a go-to brand for all of your CBD needs. Its products are made with organically grown domestic hemp, and they are all lab-tested, and cruelty-free. Customers can select from topicals, pet products, tinctures, gummies, and other top-quality CBD products.
These CBD + CBG Morning Capsules were designed to help you get your day off to a great start. In addition to broad-spectrum hemp extract, they contain various ingredients thought to increase focus and energy, including caffeine. If you are looking for a nighttime formula, CBDfx also carries CBD + CBN Night Capsules For Sleep, and those looking for basic CBD Gel Caps can select from 750- or 1,500-milligram formulations.
Shipping: Free shipping on orders over $75.
Returns: Return new, unused, and unopened products within 30 days of delivery for a full refund, minus shipping.
---
Medterra Ultra Broad-Spectrum Liquid CBD Capsules
Highlights
Broad-spectrum CBD (THC-Free)
Made with Kentucky-grown hemp
U.S. Hemp Authority certified
Description:
Ingredients: broad-spectrum extract: 50 milligrams that include CBD (cannabidiol), CBG (cannabigerol), CBN (cannabinol), CBC (cannabichromene), CBDV (cannabidivarin), natural terpenes, medium-chain triglyceride vegetable cellulose, silicon dioxide
Pricing: $0.05 per milligram
Company: Medterra is a top-tier provider of CBD products and one of the industry's most well-known companies. The brand has a reputation for offering THC-free products formulated with broad-spectrum CBD and CBD isolate, so you don't need to worry about the inclusion of tetrahydrocannabinol (THC), the compound that produces the high when ordering from this brand.
These Ultra Broad-Spectrum Liquid CBD Capsules are an exciting development in this category since they contain CBD and several other minor cannabinoids thought to be beneficial. They have a 10:1 ratio of CBD to CBG, CBN, CBC, and CBDV along with naturally occurring terpenes. If you are looking for a THC-free product to encourage the entourage effect, these capsules are an ideal option.
Shipping: Free shipping on orders over $75.
Returns: If you are not satisfied, request a refund of the full purchase price within 30 days. Contact support to initiate the process.
---
CBDistillery CBD Capsules and Softgels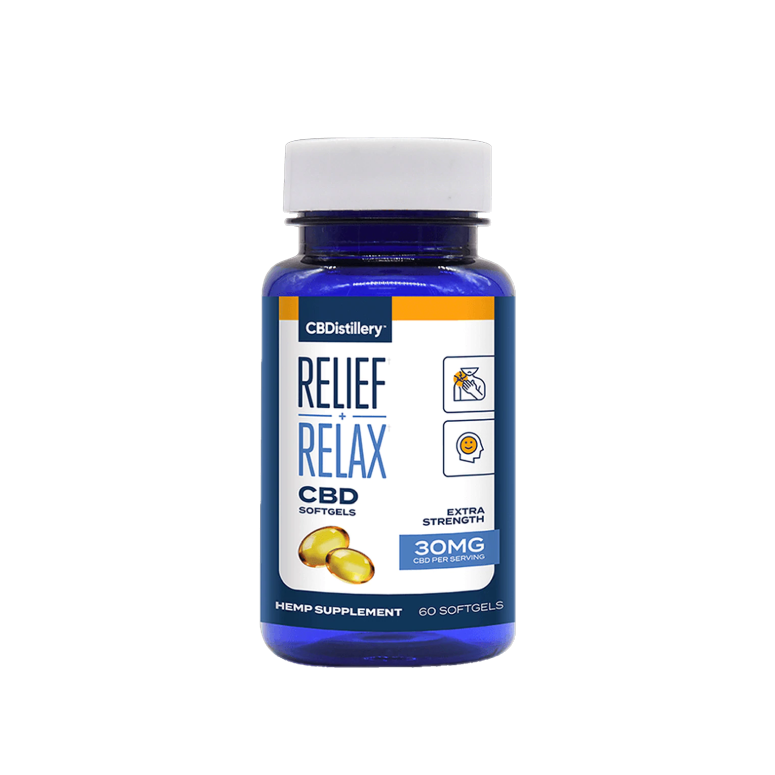 Highlights
Third-party tested at ISO-certified labs
Hemp sourced from open-air farms in the U.S.
Select from full-spectrum or broad-spectrum
Description:
Ingredients: full spectrum: fractionated coconut oil (MCT), full-spectrum hemp extract (aerial parts), gelatin (gelatin capsules); broad spectrum: fractionated coconut oil (MCT), broad-spectrum CBD hemp extract (aerial parts), shell (gelatin, glycerin, water)
Pricing: $0.08 per milligram
Company: CBDistillery is well-known for its low-priced, high-quality CBD products and has a solid reputation in the CBD industry. Voted Mashable's #1 Value Brand in 2019, the company has a wide range of products to suit any need, all third-party lab-tested, and made from Colorado, Kentucky, and Oregon hemp.

Customers have several options to choose from among Full- or Broad-Spectrum Softgels in 30- or 60-count bottles. Each softgel contains a generous 30 milligrams of CBD. The brand's rock-bottom prices are one of its main appeals, but visitors can also opt for the subscribe-and-save program, which reduces the costs by another 20%.
Shipping: Free shipping on orders over $75.
Returns: 60-day customer satisfaction guarantee. Fill out a Money-Back Guarantee Form for refund or credit.
---
American Shaman Concentrated Hemp Oil Capsules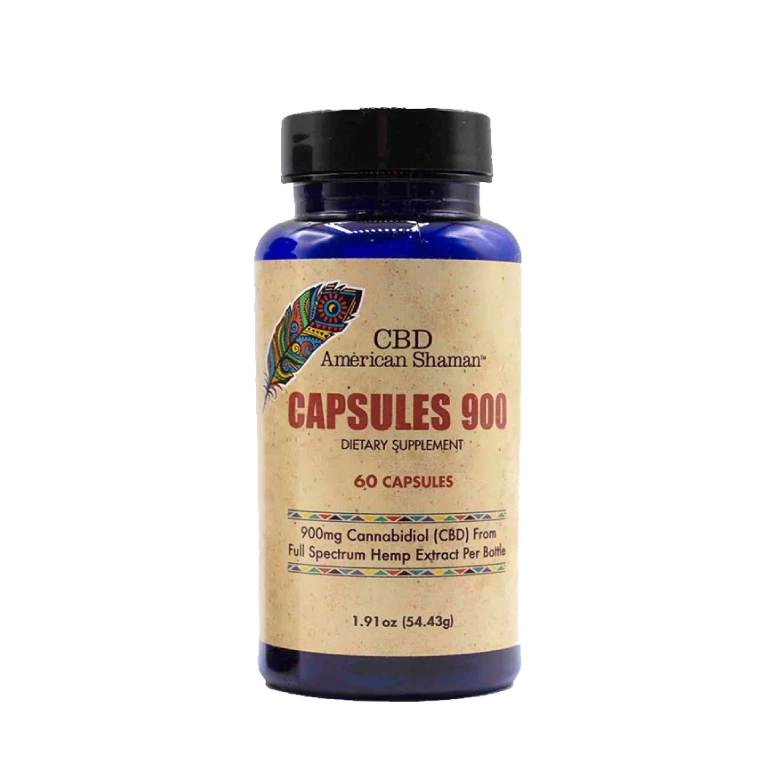 Highlights:
Low potency
Terpene-rich
Lab test results available on site
Description:
Ingredients: full-spectrum hemp extract, medium-chain triglyceride oil (naturally extracted from coconut oil), vegetarian capsules (vegetable cellulose, purified water), silica
Pricing: $0.13 per milligram
Company: American Shaman is a well-known brand with hundreds of retail shops in the United States as well as a robust online store. The brand offers one of the widest selections of CBD products we have found, including CBD snacks, gummies, vapes, tinctures, pet treats, and more.
The brand's Concentrated Hemp Oil Capsules are made in the U.S. and contain 15 milligrams of terpene-rich CBD oil in each capsule. They are full-spectrum and available in 30- or 60-count bottles, and the capsules are vegetarian. Customers may also be interested in the brand's peppermint-flavored rapid-dissolve Sublingual CBD Tablets.
Shipping: Free shipping on orders over $99.
Returns: American Shaman will refund your order within 45 days if purchased from the website
---
Joy Organics Everyday Formula CBD Softgels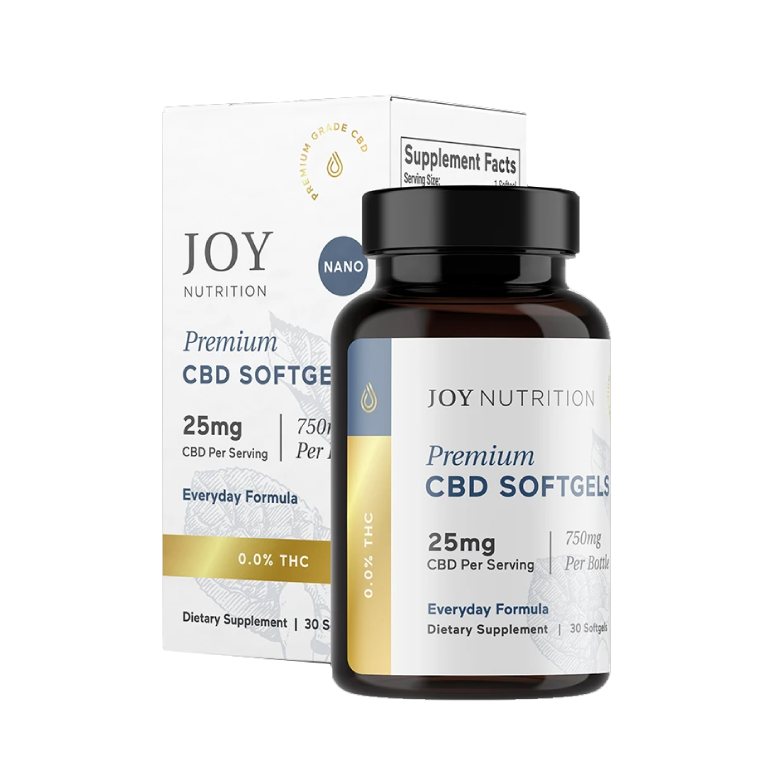 Highlights:
Organically cultivated in the U.S.
No THC
Easy to swallow
Description:
Ingredients: phytocannabinoid-rich hemp extract, polysorbate emulsifiers, medium-chain triglycerides, beta-caryophyllene, bovine-derived gelatin, glycerin, sorbitol, water
Pricing: $0.21 per milligram
Company: As a family-owned company, Joy Organics is driven by compassion and excellence. This reputable brand makes its way onto many of our top 10 lists, and it's easy to see why. It offers a wide variety of top-quality CBD products formulated with broad-spectrum cannabidiol and no THC.
These Everyday Formula CBD Softgels contain 25 milligrams of CBD and are perfect for everyday use. Since they are made with water-soluble CBD, they are designed for faster absorption than most. If you are looking for a nighttime formulation, Joy also carries CBD Softgels with Melatonin, and for joint health, the CBD Softgels with Curcumin might be a good option.
Shipping: Orders over $99 qualify for free shipping.

Returns: 100% satisfaction guarantee. Contact support to initiate the process.
---
Charlotte's Web CBD Oil Liquid Capsules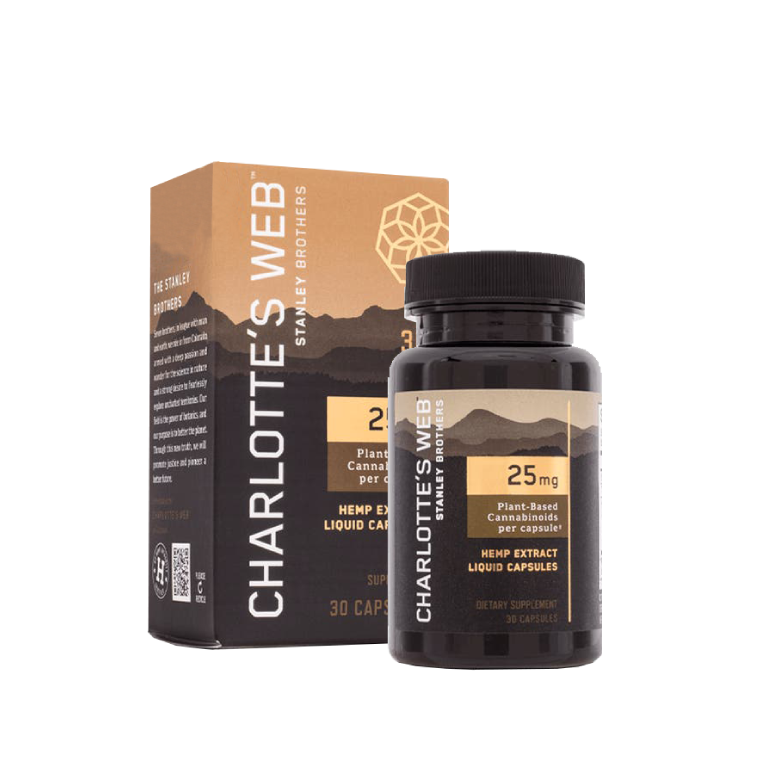 Highlights
Well-known reputable brand
Third-party lab-tests available on site
Vegan
Description:
Ingredients: full-spectrum hemp extract, organic extra-virgin olive oil
Pricing: $0.10 per milligram
Company: Charlotte's Web is one of the most well-known and popular CBD brands globally. Its reputation speaks for itself and it has a loyal following along with a wide variety of CBD products. Charlotte's Web extracts its CBD from clean, domestic hemp that has been grown using organic methods.
Available in 30-, 60-, or 90-count bottles, Charlotte's Web CBD Oil Liquid Capsules contain 25 milligrams each of full-spectrum CBD, and they are kosher, gluten-free, vegan, and allergen-free. Made with extra virgin olive oil and full-spectrum hemp extract, the capsules are designed with a thin capsule wall to help them dissolve quickly. If 25 milligrams is too much, customers can opt for the 15-milligram Liquid Capsules instead.
Shipping: Free ground shipping on orders over $25.
Returns: 30-day guarantee. Return the unused portion for a full refund.
---
cbdMD CBD Capsules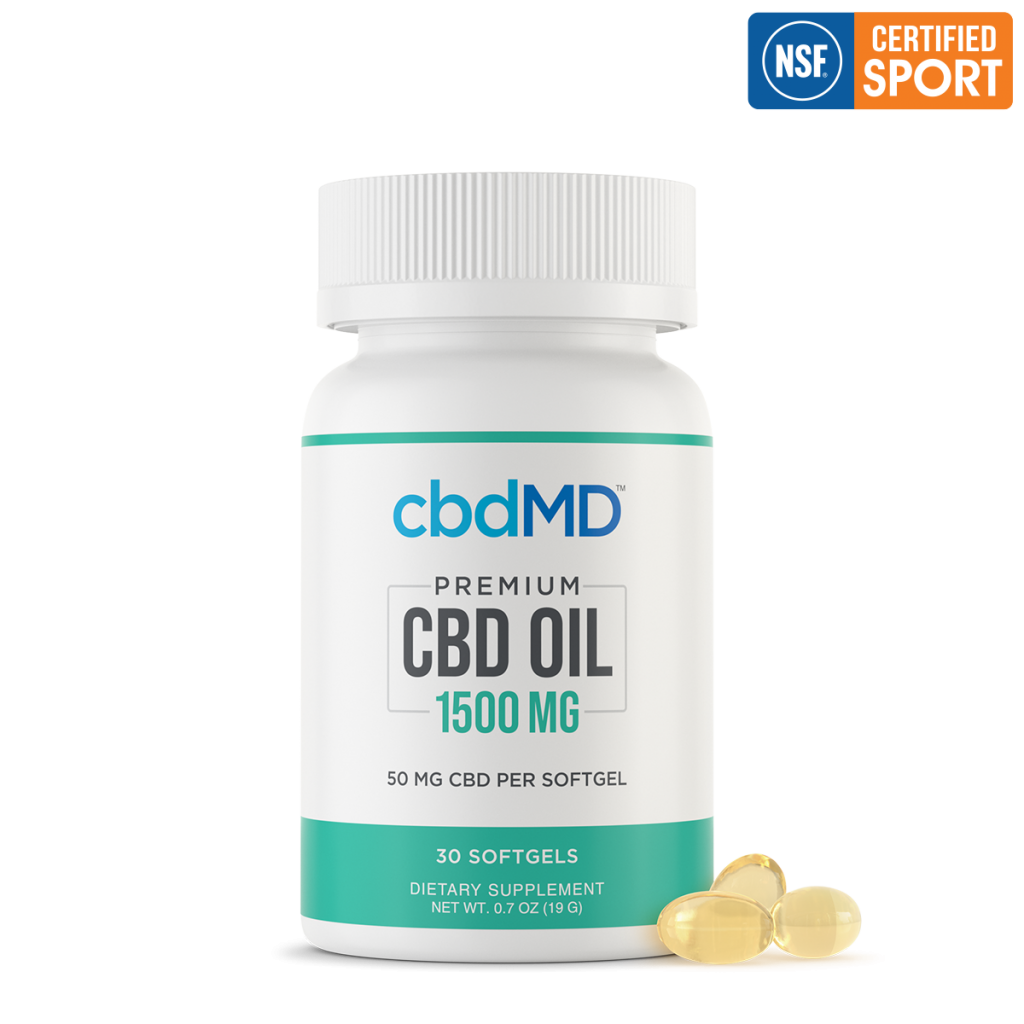 Highlights:
Domestic hemp
Inexpensive
Excellent variety of products
Description:
Ingredients: softgels: hemp extract (cannabidiol, cannabigerol, cannabinol), guar gum, MCT oil, and hydroxypropyl methylcellulose
Pricing: $0.06 per milligram
Company: cbdMD is a long-standing reputable brand known for its great variety of products. It utilizes all of the industry's best practices, including extensive third-party lab testing, manufacturing in high-tech FDA and NSF (National Sanitation Foundation) and Good Manufacturing Practice (GMP)-registered facilities, and U.S.-grown hemp. Plus, the brand's products are all guaranteed to have non-detectable THC levels.
You have many options to choose from when shopping for CBD capsules at cbdMD. The brand carries CBD Softgel Capsules and CBD Oil Capsules in different potencies and quantities, so you will always be able to choose the strength that works for you.
Shipping: All orders over $79.95 ship free.
Returns: 60-day money-back guarantee. Contact support to initiate a return.
---
Elixinol Daily Balance Capsules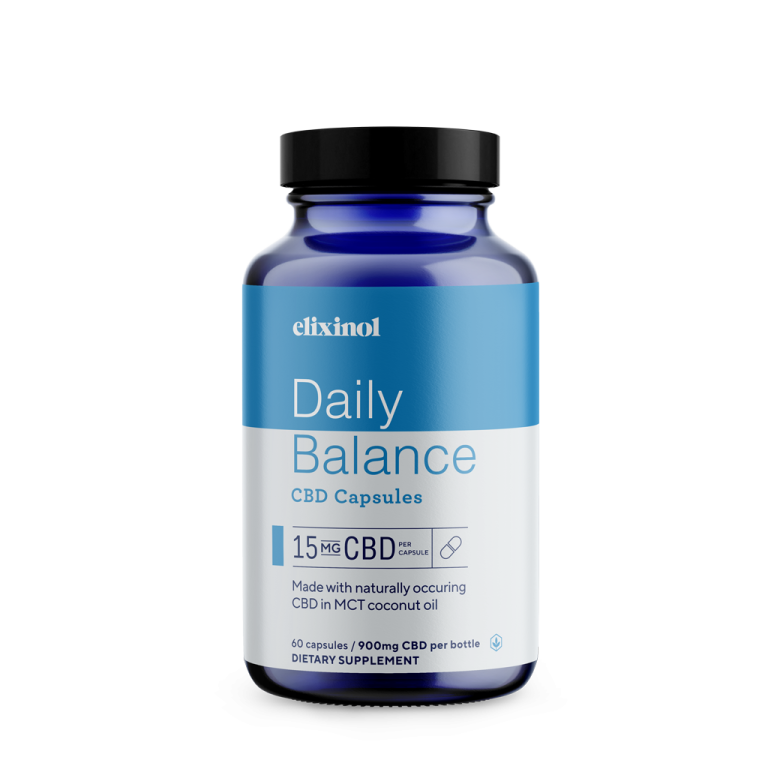 Highlights:
Extensive third-party testing
Full-Spectrum
Sourced from domestic hemp
Description:
Ingredients: Full-spectrum hemp oil, MCT coconut oil
Pricing: $0.07 per milligram
Company: Elixinol has been in the hemp business for a long time. Initially, the brand started 25 years ago making clothing, fiber, and paper, and it discovered CBD along the way.
Elixinol has a strong commitment to science-based products, education, and innovation, and it offers some of the best CBD capsules in the marketplace.
The brand's Daily Balance Capsules were designed with regular dosing in mind, and each contains a moderate 15 milligrams of full-spectrum CBD. Non-GMO and sourced from American hemp, the capsules are ideal for those who want to use a full-spectrum CBD capsule with a low potency. There are no synthetic chemicals or ingredients in these capsules, just pure full-spectrum CBD oil and MCT coconut oil as a carrier.
Shipping: All orders over $50 are free shipping.
Returns: If you're not happy with your order, contact customer service at (844) 804-3504 within 30 days.
---
What Is CBD?
Did you know that your brain has a unique system for processing cannabinoids? It's called the endocannabinoid system, and cannabinoid receptors are a critical part of this system. Receptors are proteins that allow for chemical responses and communication by binding like a lock and key to specific molecules. Your brain has natural (or endogenous) chemicals that act on these cannabinoid receptors. Anandamide is one such naturally occurring chemical.
CBD doesn't act directly on cannabinoid receptors. Instead, it works indirectly—by increasing levels of anandamide. Research has shown that anandamide levels are correlated with stress and anxiety responses. More anandamide is associated with less stress-induced anxiety.
Additionally, indirect activation of cannabinoid receptors by CBD may exert anti-seizure and anti-inflammatory effects. The use of CBD products also has minimal side effects.
What Are CBD Capsules?
The CBD-hemp industry has grown by leaps and bounds in recent years. In the past, CBD has been talked about mostly in the context of marijuana. Marijuana contains a combination of both CBD and tetrahydrocannabinol (THC). THC is the chemical associated with the "high" people seek when using marijuana.
While THC offers a mind-altering buzz, CBD is usually sought after for its potential health benefits. After the passage of the 2018 Farm Bill, the production and distribution of industrial hemp (and products made from it) are legal, and you can now benefit from CBD without ingesting THC.
CBD comes in the form of tinctures, oils, gummies, vapes, pet products, and topicals like salves and lotions. The most popular of these products is CBD oil. However, not everyone likes the taste of hemp oil, and it can be a messy product to use if you're looking for accurate dosing. For those who prefer to forego CBD oil but want the same benefits and potency, CBD capsules are an ideal option.
CBD capsules come in many different formulations, potencies, and sizes, but they all have one thing in common: Each contains CBD and smaller amounts of other ingredients. They are portable and convenient, and ideal for those on the go since they provide pre-measured, mess-free dosing of CBD that is equivalent to what you would get with a tincture.
How Can CBD Capsules Help Me?
An increasing number of scientific studies support the potential medicinal benefits of CBD to help regulate a variety of processes, including:
Although the science supporting CBD-based treatments is growing and CBD itself is safe, with very mild side effects, keep in mind that the Food and Drug Administration does not regulate this supplement. Therefore, before you start using CBD capsules or any other CBD products, you should discuss it with your doctor. You definitely want to avoid potentially harmful reactions or interactions with other products you may be taking.
Overall, CBD appears to be a promising new tool that may help support general well-being, and capsules are a quick and convenient way to consume CBD.
How Long Do CBD Capsules Take To Work?
CBD oils and tinctures are typically taken sublingually (under the tongue), which allows them to absorb quickly because they bypass the process of digestion. This, in turn, allows for faster onset of effects.
Capsules are slightly different since they need to pass through the entire digestive system before the CBD can be absorbed into your bloodstream. While it may vary depending on your age, metabolism, weight, and other factors, you can expect CBD capsules to take effect within a half hour to 90 minutes after ingestion.
Fortunately, this slower delivery time also comes with an upside—the relief you may get from CBD capsules might last longer than if you took a tincture, typically from six to eight hours. The long-lasting effects of CBD capsules are one reason many people prefer this method.
How Many CBD Capsules Should I Take?
Like all CBD products, dosing can be a matter of trial-and-error. Since there are no official dosing standards, we recommend consulting your doctor for recommendations. Beyond that, each brand on our list of the best CBD capsules has its own dosing suggestions, and you are advised to follow them. Typically, you will want to start with the smallest amount you can take and work up from there, noting any changes in your symptoms as you go along.
What Makes These the Best CBD Capsules?
At Best Choice Oils, we evaluate new CBD products all the time, so we are always discovering new brands. Narrowing down the top CBD capsules is no easy task when faced with so many fantastic choices. However, we look at some crucial factors when determining which brands end up on our top 10 lists:
Out of all the details we look into when deciding on the top 10 CBD capsules, independent lab testing is the most crucial consideration. Third-party lab tests determine a product's potency and purity, and are critical for consumer safety and trust.
A certificate of analysis (COA) from an independent, unbiased lab will reveal the ratio of cannabinoids in a CBD capsule, along with any unwanted compounds or contaminants. If a brand does not have the COAs available for viewing, it doesn't make the list. It's that important.
Accurate labeling is another vital consideration when choosing the top CBD capsules. The CBD industry is still relatively new, and there are no hard-and-fast guidelines regarding what a brand should put on the outside of its packaging, so it's up to each company to take up the task.
We prefer to see brands with clear and easy-to-read labels listing the potency, suggested serving sizes, and ingredients in their CBD capsules. Other pertinent information such as the place of manufacturing and source of the hemp is helpful, too.
Hemp is used in bioremediation to clean up toxic waste sites, which is one of its many amazing uses. This is fantastic for the environment. However, this means hemp absorbs anything toxic that may have been used during the growing process—like pesticides—which can make consumables unsafe.
Except for a few trusted European growers, we select those brands that get their hemp from select farms here in the United States. Thanks to a U.S. hemp-pilot program, there are strict and specific guidelines for cultivating hemp in this country. You can trust that domestic hemp is grown in clean, uncontaminated soil.
To determine whether you are getting the best bang for your buck, we don't just look at the sticker price of a brand's CBD capsules. Instead, we look at the cost per milligram of CBD in each capsule.
Consumers are often surprised to learn that what might appear to be the least expensive product turns out to be pricier overall. Conversely, a top-shelf product that seems costly might be a much better value when calculating the cost per milligram.
Customer Service and User Experience
Shopping for CBD capsules online should be a hassle-free and rewarding experience. There are many tools available today to make online purchasing easy for the customer. A site should be easy to navigate and have a seamless checkout process.
Excellent customer support is also vital. We look at how easy it is to reach out with problems or questions, and we even evaluate how responsive and polite the support staff is. After all, everyone appreciates kindness.
Often, a brand's overall reputation can tell the story of how it operates better than any of the above factors. Word-of-mouth is still one of the best ways to determine how good a product really is, so we look at social media, forums, and reviews to see what others are saying.
While we do look at how long a brand has been around, we often feature companies that are newer to the market. If they hit all the other criteria on our list, there's a good chance they will be successful.
---
Additional Resources on CBD Edibles: