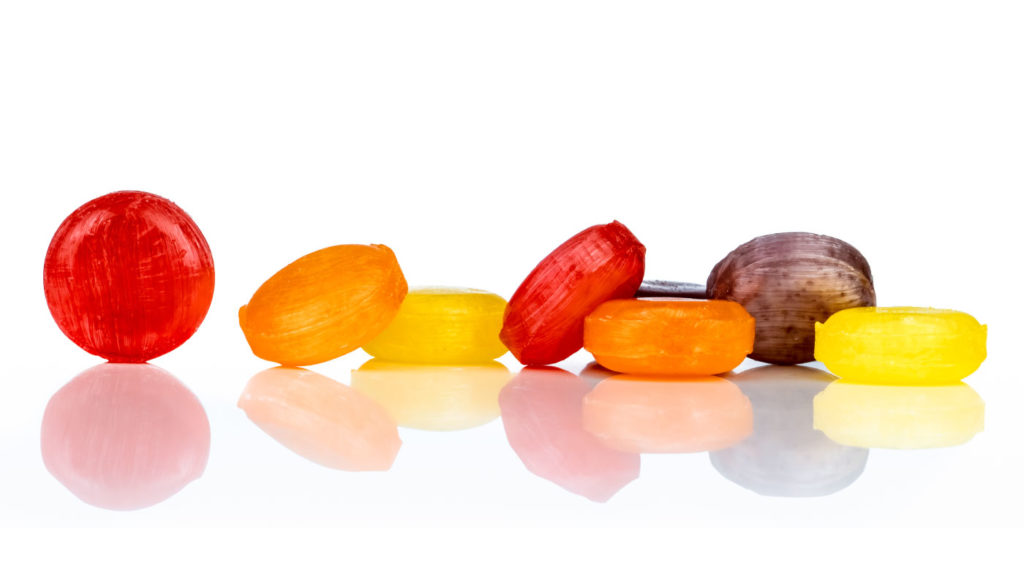 The top CBD lozenges offer the best of two worlds: a great tasting CBD edible that works a lot like a sublingual oil.
Featured CBD Brands:
We'll explain why after this review, but for now, we'd like to introduce you to some tasty and innovative CBD products. The following five lozenges are available in the U.S. and have been reviewed based on the criteria below. If you're looking for the best CBD lozenges, we've got you covered.
Get The Sweet Medicinal CBD Lozenges By Using These Page Jumps!
The 4 Best CBD Lozenges
Mission Farms CBD Mints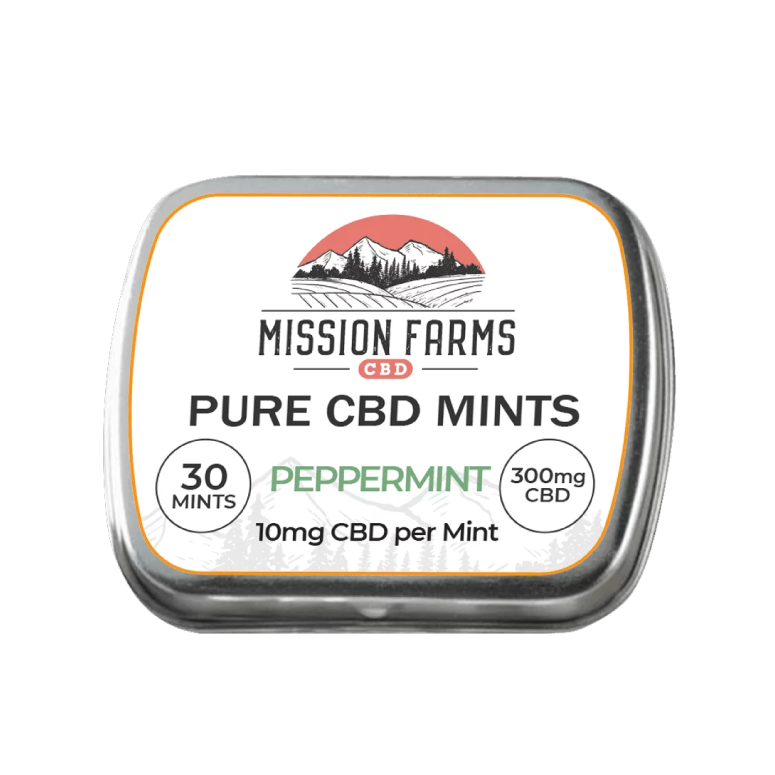 Highlights:
THC free
Comes in a tin
Sourced from Oregon hemp
Description:
Ingredients: Dextrose, hemp extract, stearic acid, organic peppermint oil, CBD isolate.
Pricing: $0.07 per milligram
Company: These long-lasting CBD mints from Mission Farms are the perfect all-in-one CBD solution. Formulated as breath mints, they are available in a tin of 10 or 30 pieces, each containing 10 mg of CBD isolate, so there's no THC.
The brand claims these mints are up to five times more bioavailable than gummies and work by dissolving slowly as ]any other hard candy would. The longer you keep them in your mouth, the more effective they will be. Portable and discreet, you can carry them in your purse, carry-on, or backpack.
Shipping: Free shipping on all U.S. orders over $99.
Returns: 30-day guarantee of replacement or credit if you are not satisfied.
---
CBD Living Cherry CBD Hard Candy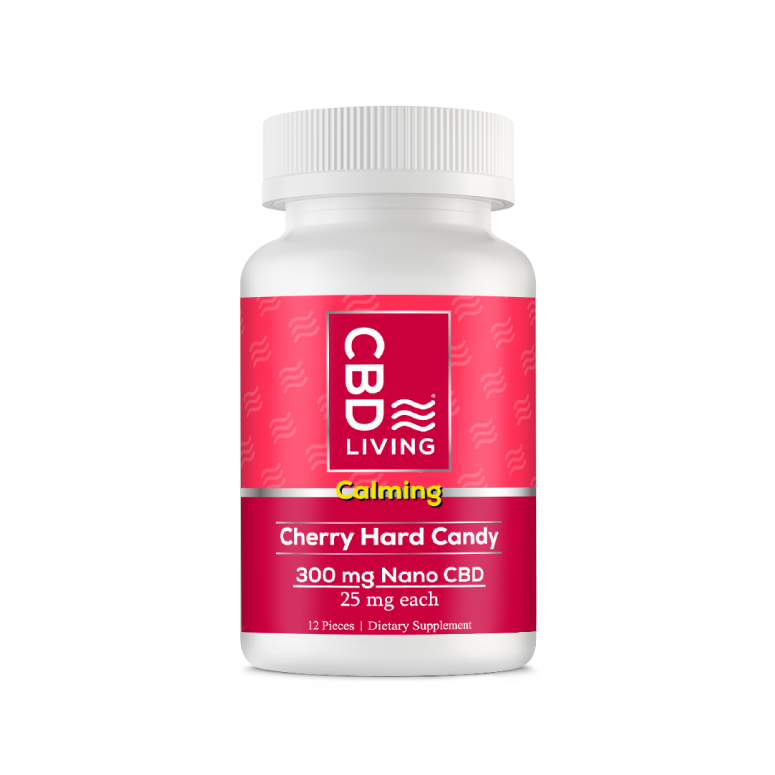 Highlights:
Member of the National Hemp Association
Broad spectrum
THC free
Description:
Ingredients: Proprietary broad-spectrum nano hemp extract (Aerial parts) 25 mg (Cannabidiol/CBD), isomalt, organic stevia, natural flavoring, natural coloring.
Pricing: $0.07 per milligram
Company: If you're looking for a great-tasting THC-free CBD lozenge, CBD Living has you covered with these Cherry CBD Hard Candies. They come in a bottle containing 12 pieces and are sugar-free. Customers can also select the Green Apple hard candies if they would rather try something different.
CBD Living creates high-quality hemp-based products using nanotechnology, which the brand feels produces the best effects overall. Each lozenge contains 25 mg of CBD, a medium-sized dose that is often recommended for daily use.
Shipping: Free shipping over $75.
Returns: Refunds are subject to review. Contact support if you have a problem, and they will try to work with you toward a solution.
---
Bluum Lab Organic Hard CBD Candy
Highlights:
Dual-stage lab testing
Organic ingredients
Five mg of CBD per cube
Description:
Ingredients: CBD, organic beet sugar, water, natural and artificial flavoring, and artificial coloring.
Pricing: $0.06 per milligram
Company: Bluum Lab's Organic CBD Hard Candy is designed to deliver 5 mg of CBD in each tasty square. To get the best effect, allow each piece to melt in your mouth slowly. Made with organic ingredients and nutraceutical-grade CBD, these candies are a top choice when it comes to CBD lozenges.
Customers can choose from peaches and cream, strawberries and cream, peaches, and pineapple, or red and green apples. There are 40 pieces in the 200 mg bottle and 70 pieces in the 350 mg bottle. Designed to potentially relieve stress and enhance mood, Bluum Labs' hard candy is a great product to keep on hand.
Shipping: Free U.S. shipping
Returns: Returns are accepted within 30 days for unopened products. Contact customer support to initiate.
---
Innovative CBD CBD + CBDa Lozenges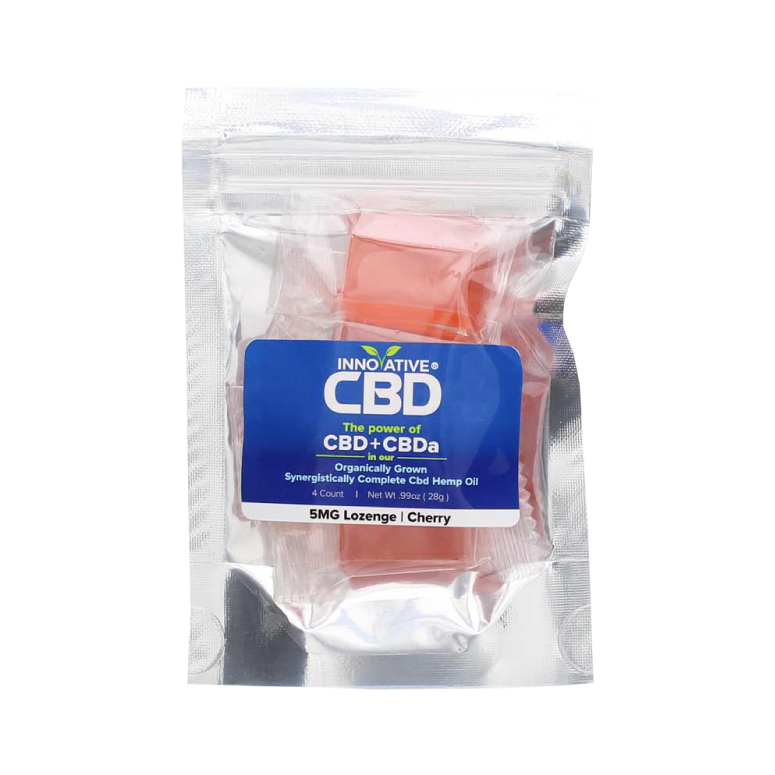 Highlights:
CO2 extracted CBD
Organic ingredients
Made in the U.S.
Description:
Ingredients: Isomalt, water, organic stevia, organic flavoring, organic color, organic CBD hemp oil.
Pricing: $0.50 per milligram
Company: Innovative CBD products are offered through Natural Healthy Concepts (NHC), a company that provides high-quality pharmaceutical-grade products. These CBD + CBDa Lozenges offer a low-potency solution that is both portable and discreet.
Vegan, gluten-free, and approved by the Autism Hope Alliance, they are crafted from organic ingredients and come in four delicious flavors. Choose from tangerine, apple, watermelon, or cherry. There are four lozenges in each bag. Made in the U.S., this is an excellent choice for those looking for a CBD lozenge containing CBDa.
Shipping: Free shipping on all U.S. orders.
Returns: 45-day money-back guarantee for unopened packages. Contact support to initiate.
---
Some Information About CBD Lozenges
Cannabidiol (CBD) is one of many compounds found in the cannabis plant. But unlike THC, it's non-psychoactive, so it doesn't cause a high. Mounting clinical studies indicate that CBD has many possible health benefits, and there are several ways to take it, including gummies, oils, topical formulas, and more. CBD lozenges are among the newest and most innovative product offerings on the market. Want to find the best CBD lozenges? That's why we're here.
First Things First: What's a Lozenge?
A lozenge is typically used to calm a cough, soothe a sore or irritated throat, or freshen your breath. They are also known as hard candy, pastilles, or cough drops. Infusing a lozenge with CBD means you get all the benefits of the lozenge plus the advantages of cannabinoids. Not to mention, they taste great.
Lozenges: A Novel CBD Option
At first glance, this product appears to be an afterthought. However, CBD lozenges may provide benefits over many other oral delivery forms of CBD. That's because they stay in your mouth longer. Why should this matter? Because CBD can be absorbed directly into the bloodstream via the lining of the mouth, called the buccal mucosa.
This sublingual absorption means that the product avoids the first-pass metabolism that occurs when CBD is ingested as a capsule, tablet, edible, and even some forms of CBD oil. This also means it can work faster and provide relief in a much shorter time than some of the products mentioned above.
The Best CBD Lozenge for You
More than 100 different cannabinoids are found in cannabis plants, and many have yet to be adequately studied for their potential healing benefits. However, between the current research and first-hand accounts, we can surmise that CBD can at least help with several different conditions.
Different people can have different responses to the many CBD products on the market, and since each contains varying amounts of CBD, it's hard to know what might work best for you. The best way is to listen to your body. Sometimes, there is an element of trial and error involved in finding a CBD lozenge that works best for you.
Whether you are trying CBD for the first time or are an experienced enthusiast, CBD lozenges may provide a novel and convenient way to access this exciting compound.
How Do We Choose the Best CBD Lozenges?
We try out dozens of new CBD products each day—some great and some not so great. How do we decide which ones make it to our top CBD product lists? We look at a very specific set of criteria:
Independent lab testing is the single most crucial factor in deciding whether a brand makes the list. A certificate of analysis, or COA, from an independent third-party lab is the industry's gold standard.
We look for easy-to-read labels that list the ingredients, where the product is manufactured, suggested serving sizes, and other pertinent information. Consumers deserve to know what is inside the products they buy and where they come from.
Thanks to the industrial hemp acts of 2014 and 2018, American-grown hemp is the cleanest and safest in the world. The strict growing methods employed ensure that the soil is uncontaminated, which is more difficult to verify with imported hemp.
We use the cost-per-milligram method to calculate whether the product is a good buy. Prices vary widely among CBD products but calculating the cost per milligram of CBD in them always reveals the actual price. This method is also fair and gives every brand a chance to shine.
Customer Service and User Experience
A satisfying user experience and helpful customer service are at the top of our list when evaluating CBD brands. With so many to choose from, we'd prefer to take our business to companies that go the extra mile to ensure the shopping experience is smooth and hassle-free.
We look at social media, forums, reviews, and other sources to determine a brand's overall reputation in the marketplace. It's easier to gauge a brand's reputation (whether good or bad) when you talk to real people with real experiences.
---
Additional Resources on CBD Edibles: