Many seniors turn to CBD oil for pain management in a variety of forms. Some people swear by tinctures, while others prefer to take a pill or vape for quicker absorption. CBD pain relief creams were designed to be used topically along with any oral form of CBD oil, or on their own. CBD rich creams and salves can be applied directly to the skin to lessen muscle tension, pain, or to provide relief to a number of other physical ailments that seniors especially are prone to.
You may wonder how to use CBD oil for pain, and the answer comes in as many forms as CBD oil itself. CBD dosage for pain also varies quite a bit, in that everybody is different and many factors impact the amount you should be taking. This also includes what form might be best for you. Your height and weight play a role in the appropriate dosage when you take CBD oil orally, as does how used to the product your body is. In other words, you might want to start with a low dose and titrate up. When talking about topical creams, however, the dosing is not an issue. Rub it on and see how long it takes for the pain to dissipate, and reapply accordingly. In some cases you shouldn't use more than four applications per day, so be sure to read the indications on the container.
There are many types of CBD topical creams, from balms, to salves, to topicals with a more lotion-like texture. I love some of the fragrances used in by many of the brands. You may want to find a scent that supports the mood you are going for or choose a topical that combines CBD with other ingredients that might be beneficial to your unique needs. Arnica is one that is often used to support the anti-inflammatory work of CBD oil.
When searching for the best CBD oil for pain, keep in mind that everybody has different needs and there is not one best product out there. We have come up with a selection of seven different topical creams that we believe in. They all have different components that make them stand out. So, if you are searching for a CBD oil for pain management you are sure to find something here that will inspire your muscles to release tension.
1. Huny B CBD Hemp Oil Heat Rub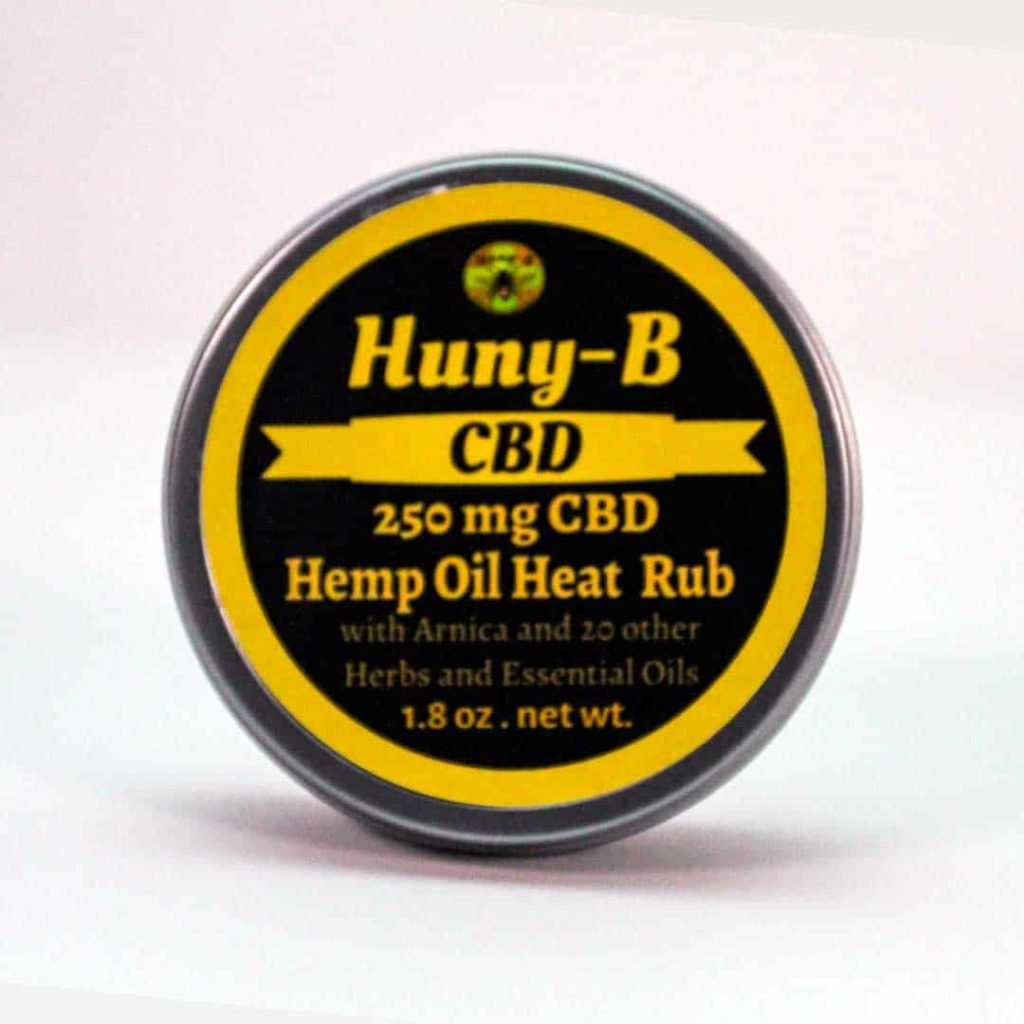 Huny B Heat Rub is like using every product you would ever want to loosen your muscles combined into one. At this point, you probably know that CBD cream for back pain can be a real game changer, but finding a good fit is the next step. Hunny B incorporated essential oils into their CBD rub in order to add other health benefits, including antibiotic, antimicrobial and anti fungal properties that can be good for numerous skin conditions. As people age dry skin can be a real issue, so not only is CBD for chronic pain a good fit for many seniors, it also can help moisturize and alleviate itchy scaly skin. The creams that they offer, and there is a variety, are not greasy. They penetrate the skin easily to get to work on inflammation and topical issues.
The heat rub is Hunny B's signature product, and is made with aged CBD oil. It combines arnica for extra inflammatory properties, as well as Hemp Seed Oil. There are actually 20 additional essential oils that are rich in a variety of herbs. The synergy created from this specific blend is said to increase blood flow on top of supporting pain management and skin wellness. Other conditions that people use CBD cream for include MS, fibromyalgia, nerve pain, along with a myriad of other issues that come sometimes with aging.
Price: $49.00-$59.00
Dosage: 250mg
Size: 1.8oz
Highlights:
20 essential oils
Antibacterial and antifungal properties for skin health
---
2. Receptra Targeted Topical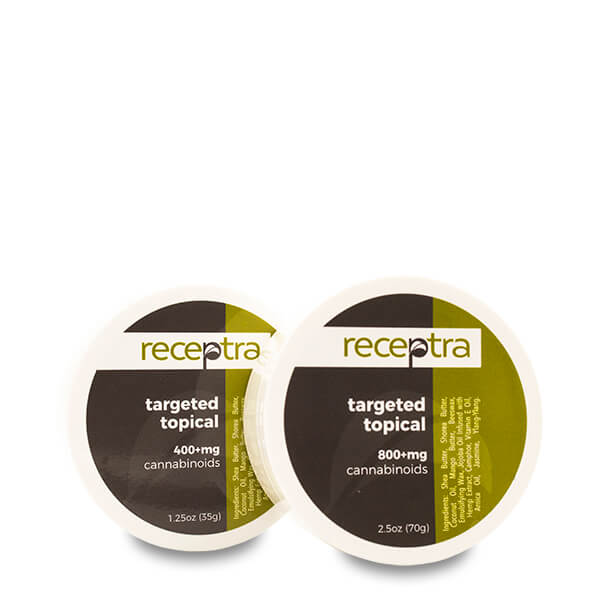 Receptra Targeted Topical is a response to the epidemic of repetitive stress injuries and the aches and pains that come with having a body and using it. People have said that it has helped speed up the healing process after an injury or even a surgery. Other reviewers have proclaimed using this CBD oil for seniors with hip pain has shown remarkable results. Many people use it as a preventative measure prior to a work out as well as a therapeutic support for injuries, both new and old. Their brand is known for having excellent customer service which includes a 30 day money back guarantee if you are unhappy with what you got.

Receptra topical is infused with additional essential oils to get the maximum impact of the healing properties. Arnica and jojoba oil are added to this cream for additional anti inflammatory benefits. Camphor is another herb that is added, and it works to open pores in a way that brings the healing properties to the right place more quickly. Two other added oils that the rub has infused into the CBD are ylang-ylang and jasmine. Both essential oils not only have a relaxing aroma, but bring about deeper muscle recovery.
Price: $39.95-$68.95
Dosage: 400mg, 800mg
Size: 1.25oz, 2.5 oz
Highlights:
Added Essential oils
Added arnica and jojoba oil
30 day money back guarantee
---
3. 4 Corners Cannabis Salve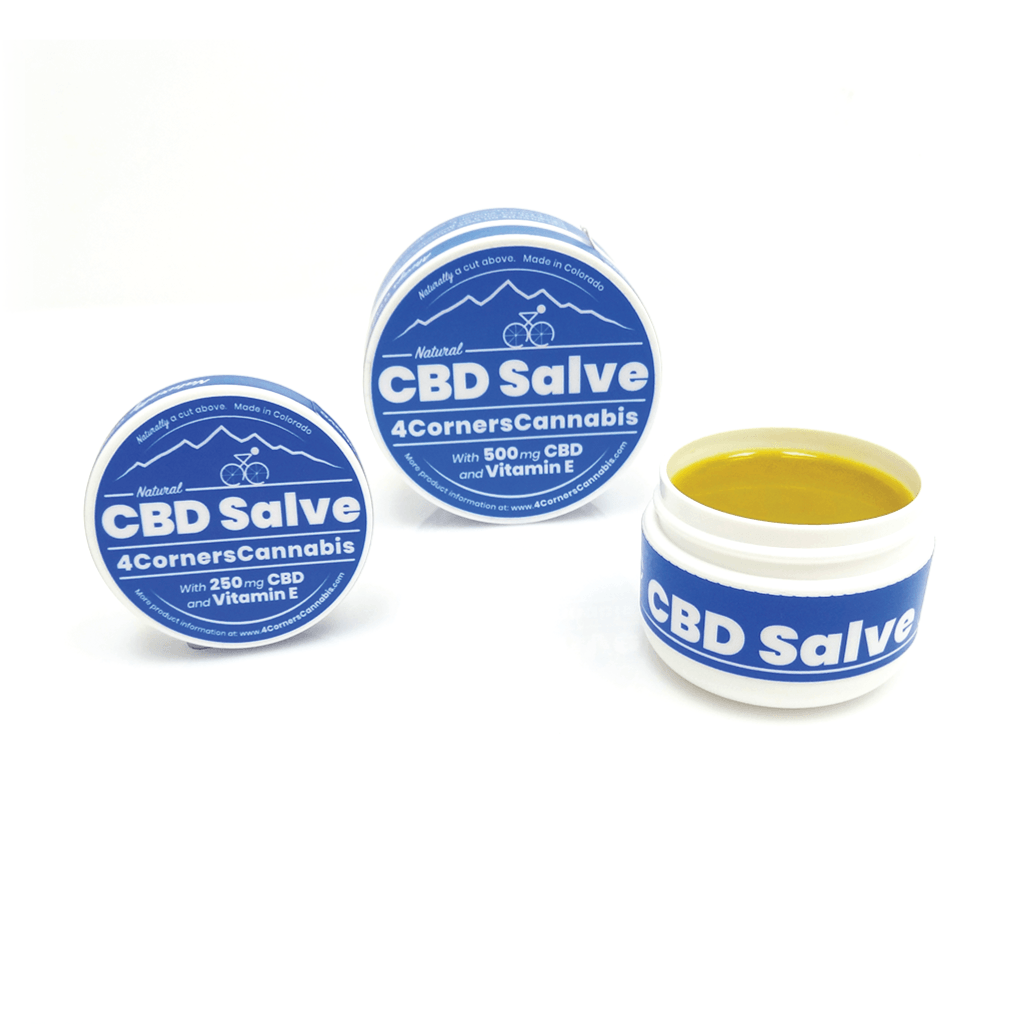 4 Corners Cannabis Salve was designed to soothe sore muscles or penetrate deeper muscular inflammatory issues. This includes chronic conditions or acute muscular strain as a result of injuries. This salve is easy to rub into sore muscles, because of the coconut oil and beeswax blend that becomes a vehicle for the CBD infusion. The salve comes in stick form as well, making it even easier to target joints and muscle groups. They have an additional offering of the same product with the added ingredient of cooling menthol.
4 corners is a family business based in Colorado. All of their products are third party lab tested and made with fair trade, non GMO ingredients. They also ensure that everything they sell is processed in allergen friendly facilities. Within their reviews you can see their loyal customer base uses this salve to alleviate some of the symptoms of fibromyalgia as well as other conditions that create pain and inflammation. There are many ways to use CBD for seniors. A product like this can be one aspect of a pointed care plan for older adults. This is also a great product for distressed skin and other topical conditions as well. Many customers also say how much they love it in place of lip balm.
Price: $59.99-$$99.99
Dosage: 250mg, 500mg, 1000 mg
Size: 1oz, 2oz
Highlights:
Added coconut oil and beeswax
Antioxidant rich
---
4. Pure Kana – CBD Muscle Menthol Roll-On Gel
Pure Kana CBD muscle menthol roll-on gel is a favorite among athletes including runners and cyclists. The product comes in what looks like an old school deodorant roller, making it easy to apply directly to the skin. Not only do they have a record of excellent reviews, but their clients have gone as far as to say that it has a very relaxing impact on the whole body and an uplifting fragrance. The roll-on is infused with aloe leaf and additional anti inflammatory properties like juniper berry oil, cinnamon leaf oil, and menthol crystals to support skin health and muscle as well as tendon care.
Pure Kana prides themselves on their non GMO product that is organically grown in the United States. Their dosage is higher than many of their competitors, ensuring a high concentration of the healing properties found in CBD oil. Seniors might prefer this product over others because of the easy to use roll-on applicator. They offer a 30 day guarantee, meaning you can return the product if it is not to your standards within that time period. This can be a good remedy for sore muscles, old or new injuries, or even to use as part of a preventative care routine for inflammatory conditions or regular workouts.
Price: $80
Dosage: 600 mg
Size: 3 oz/88 ml
Highlights:
Proudly crafted in the USA
Organic Domestically-grown hemp supply
Non-GMO
Easy Roll-On
30 Day Guarantee
---
5. Papa & Barkley – Releaf Balm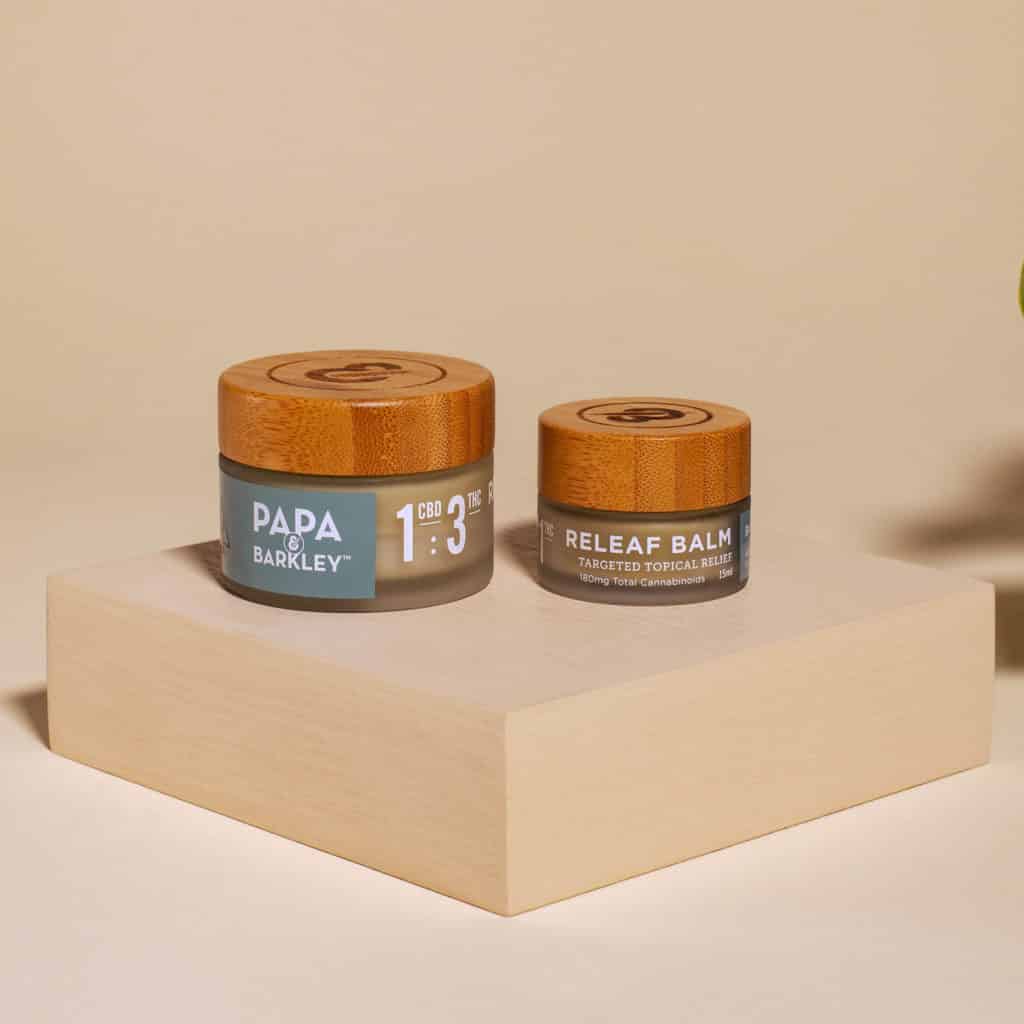 Papa & Barkley – Releaf Balm is a unique and popular product, because it is 1 part CBD oil and 3 parts THC. You cannot legally buy it anywhere by the state of California, as a result of the THC addition. This salve not only works the topical area that you target, but it has a calming impact on the entire body. As a muscular healing routine, many people use a heating pad and follow it with ice; this product has a similar impact. It first warms the area and then cools naturally. It has a relaxing smell that comes from the added essential oils including lavender, eucalyptus, peppermint, and tea tree oil. The whole cannabis plant is used in this full spectrum blend to get the most out of the anti inflammatory properties.
Though there is a significant amount of THC in this product, it has no psychoactive impacts, meaning using it will not get you high. It has been known to have an instant impact and is loved by a variety of people who struggle with a myriad of muscle related aches and pains.
Price: $90
Dosage: CDB 100 mg THC 300mg
Size: 15 ml & 50 ml
Highlights:
Only available in California
Added essential oils: eucalyptus, tea tree, peppermint and lavender
1 Part CBD: 3 Part THC

---
6. CBDistillery Topical Salve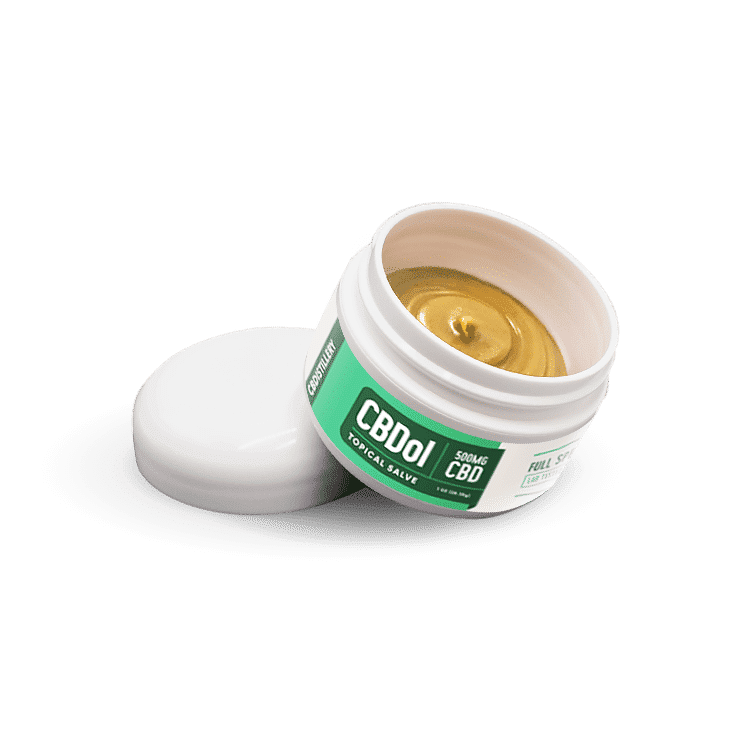 CBDistillery Topical Salve was written up in High Times Magazine as the number one Hemp Derived CBD salve in 2017. It was developed to relieve joint and muscular tension and inflammation, while helping the body heal from strain. They have a loyal customer base that swears by this product and the ways it has soothed back pain, sports injuries, swelling, and the impact of illnesses like MS, fibromyalgia, and even the ability to sleep restfully. The CBD oil in this salve is infused in a variety of oils including hemp seed, olive, apricot, beeswax, almond and sunflower. There are also several essential oils including pine, lavender, basil and wintergreen for scent and additional health benefits. Arnica is also added for all of its anti inflammatory properties.
Many seniors have had success using CBD for chronic pain management, and CBDistillery has many options to fit into that bill. The topical salve can be well paired with one of their tinctures or other options for oral consumption. There are a myriad of benefits to the topical salve including skin health and a relaxing effect it has on the body as a whole. This can be applied to targeted muscles after a workout, or even used as a preventative measure prior to stretching or exertion.

Price: $50
Dosage: 500 mg
Size: 1 oz
Highlights:
Natural Farming Practices
Third Party Lab tested
Full Spectrum CBD
---
7. CBDFx lotion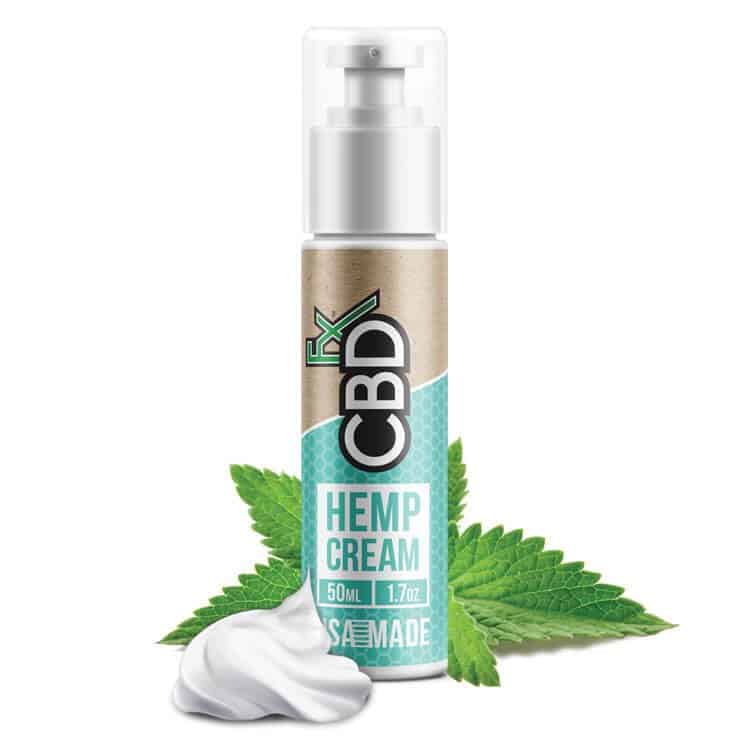 CBDFx Lotion is organically grown and crafted to ease muscles while also healing dry and damaged skin. It brings together a unique combination of ingredients that offer a non greasy quality to their cream. It was designed to do more than simply ease tension and muscle strain, but to also support skin health. Their CBD is broad spectrum, which means it is free of any traces THC. It also has an addition of white willow bark extract that provides a skin soothing and cooling quality. The synthesis of ingredients has a number of benefits including acne prevention, skin exfoliation, and is also used as a cbd cream for back pain. CBDFx lotion is well loved by it's customers.
Unlike most creams CBDfx is a water based lotion that absorbs easily in the skin and leaves very little residue. It is very emollient and penetrative. More than many other similar products CBDFx focuses on repairing skin as much as it does body pain. The broad-spectrum CBD is extracted by using a CO2 based process and is packed with essential fatty acids, nourishing terpenes, and amino acids. Caffeine is also added for extra skin relief and to open the pores so the medicinal benefits can easily work their way to the muscles.
Price: $39.99
Dosage: 150 mg
Size: 1.7 oz/ 50 ml
Highlights:
Heals dry and damaged skin
Contains two natural cooling/soothing agents, menthol and white willow bark
Grown organically
GMO free
Full-Spectrum CBD formula