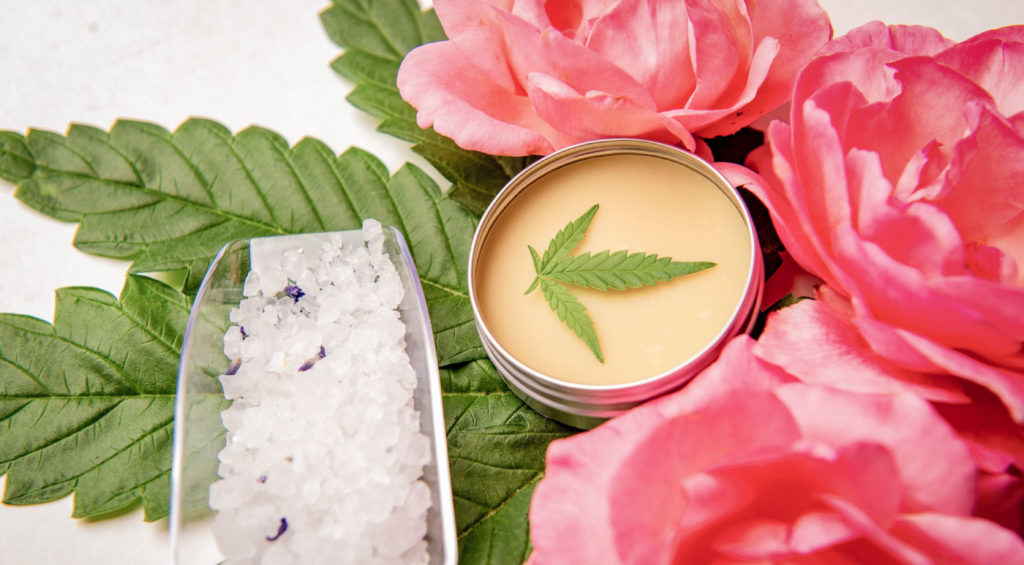 We all know that CBD is a champion of health and wellness, but CBD also wants to be there to help you put your best foot (and face) forward. That's why we've come up with a list of the 10 best CBD beauty products.
Beauty products come in all shapes and sizes, just ask the people who use them. Even if you think that the term "beauty products" denotes a femme-only club, think again. Burly men and fine fellas alike can find some soothing experiences within these 8 CBD beauty products.
Thank us later.
But first, it's important to know what you're getting into when you incorporate CBD into your beauty regimen. We can help you there, too.
Use These Page Jumps And Feel Fresh With CBD Beauty Products
8 Best CBD Beauty Products
CBDfx Hemp Rose Face Mask
Fragrant; moisturizing; relieving; this rose-scented face mask brings spa-treatment to your home. The water-based CBD mask sits on your skin for 10-minutes, fighting acne-causing bacteria, reducing inflammation, and moisturizing your skin for a fresh, dewy face.
Just because you're putting it on your skin doesn't mean the ingredients should be ignored. This product, like all from CBDfx, comes with accessible lab-reports, affirming the safety and potency of the CBD used.
A single mask costs you about $7, but for those who are hooked on its effects (fighting acne, reducing inflammation, smoothing out skin tone), you can get a 5-pack for $20.
It's affordable, it's invigorating, and it's our favorite CBD beauty product yet.
Best for those who want an all-around CBD beauty product.
---
Hemp Bombs CBD Beard Oil
Gentlemen, as promised, this is a product that's just for you.
A beard is a point of pride. It's a defining feature of your face. Keeping it well kept is essential for tying your look together, and Hemp Bombs CBD Beard Oil is here to help.
Using CBD for your hair isn't news. The moisture-locking effects can help to maintain the vitality of your hair. It's also great for that uncomfortable beard rash, since it helps to nourish the skin and prevent itching.
Stray hairs, firm shape, and an enticing bourbon sandalwood scent serve to drive the point home of just how essential this can become for your facial-hair maintenance.
Best for taming and nourishing facial hair to a spa-like treatment, daily.
---
American Shaman Lip Revitalizer
Shoppers of all ages can't help but share the news about this American Shaman Lip Revitalizer. It takes some of the best things you can from nature–olive oil, shea butter, aloe vera–adds it to terpene rich hemp oil, and drops a touch of organic peppermint oil. The result is undeniably silky smooth lips.
Not only does this balm have the potential to heal and treat chapped lips, it can also add a touch of plumping magic for a fuller smile.
Though you may not get the Kylie Jenner lip-treatment with this revitalizing balm, you'll certainly get something far better. Customers are thrilled to find that this balm helps with dry air in high altitudes, cold winter winds, and as a bedtime regime to keep lips moist overnight.
Though $10 might be more than you normally spend on a lip balm, there's 30mg of CBD oil in this tube. This is one lip balm you'll always remember to remove from your pockets before washing!
Best for restoring even the most stressed lips to softness.
---
Pure Hemp Botanicals Lip Balm
Made with avocado oil and candelilla wax, this naturally-flavored CBD lip-balm is perfect for lip minimalists.
From the scent to the ingredients, there's nothing artificial in this blend. The only other thing that add to it is hemp seed oil and hemp extract. Though hempseed oil doesn't have any of the active chemicals you'll get from true hemp extract, it still has vitamins and fatty acids to offer the skin.
Candelilla wax is also mindfully chosen for this formula. It creates that kissable lip balm experience without leaving you with a waxy feeling.
This balm does also come in peppermint and berry varieties, but the natural flavor is a favorite for its no-nonsense approach to CBD beauty products. If you're worried about the pungent taste that CBD on its own often has, Pure Hemp ensures that this product is scentless and tasteless, as well as vegan and gluten-free.
Best for those looking for an all-natural, vegan CBD lip balm.
---
HempLucid CBD Lip Balm
If you're looking for a greater dose of CBD in your lip balm, HempLucid has you covered. This CBD Lip Balm formula uses 50mg of full spectrum CBD per product as well as all the natural ingredients you'd hope for in such a product.
This list it as a natural-hemp flavor, but the addition of peppermint oil may be one that is difficult to ignore. Other ingredients, like sweet almond oil, apricot oil, cocoa and shea butters, and beeswax make up the rest of the all-natural formula.
One reviewer says it "goes on like silk," and those are words we won't soon forget. It isn't vegan (because of the beeswax), but what you do get is all-natural and long-lasting balm with some of the highest CBD-concentrations available for such a product.
Best for anyone looking for an all-natural CBD balm with a little extra potency.
---
Sagely Naturals CBD Relief and Recovery Cream
Soothing, all-over relaxation can be yours, even if you don't like to vape. That's right; CBD body lotions can be that skin-deep remedy you need to a long day or a tough workout, and there's few that work as hard as Sagely Naturals CBD Relief and Recovery Cream.
Of all the Sagely products, this is one fan-favorite for good reason. A 4 ounce bottle has 250 mg of CBD (half of that for the 2 ounce option) so you can let it sink into your muscles when they need extra TLC. With the help of menthol and peppermint, you'll literally feel the sensational tingling of the lotion getting to work restoring your skin.
The magic behind the formula is that they leave out everything that could harm your skin and keep only what helps. There are absolutely no parabens, sulfates, artificial dyes, or synthetic fragrance. As everything should be, this product is cruelty free. More importantly (for some) it's also vegan.
This Recovery Cream absorbs well, smells great, and leaves your looking touchably refreshed.
Best for all-over body care for stressed skin.
---
Lazarus Naturals Lavender Body Balm
Lazarus Naturals makes topicals in a few different scents, but we love that the Lavender scented body balm helps to promote relaxation alongside the CBD.
The calming scent will transport your senses to a place of serenity, while the beeswax and mango butter work to soothe and soften dry skin. All of these elements are tied together and bolstered by a potent dose of CBD extract.
What sets this product apart is its strength. The smaller choice comes packed with 1000 mg of CBD and the larger offers 3000 mg per jar. This extra dosage can make all the difference for people with dry skin, psoriasis, eczema, or any other daily wear and tear.
Like all of Lazarus' products, the CBD they use goes through third-party lab testing. The results can be found right on the product page.
Best for those looking for a relaxing balm for exceptionally stressed skin.
---
Life Elements CBD Bath Bomb
A bath bomb is so much more than glitter and fragrances. It's hard to know exactly where it fits, but given the way that it can soothe and soften skin, relieve tense muscles, and help to eradicate acne, we're sure you'll feel more beautiful when you step out of the tub.
The Life Elements CBD Bath Bomb is our favorite for several reasons. It's made in the USA with high-quality hemp oil. The amount of CBD is up to you. Choose from different strength levels depending on your TLC needs.
The rest of the ingredients that pull it all together are just as nourishing. It's made in small batches without any harsh chemicals or synthetics and never tested on animals.
Scents like eucalyptus, ylang ylang, and witch hazel help to give you the soak fit for a goddess.
Best for those looking for a full-body CBD rejuvenation treatment.

---
CBD for Skin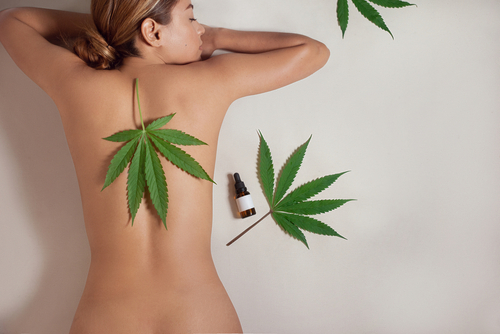 After consuming CBD through edibles, tinctures, and vapes, applying it to the skin is among the most popular methods for use. While we love that CBD can aid with anxiety, restlessness, and pain, the skin is also well-equipped to take in CBD, and it knows exactly what to do with it.
If you know nothing else about CBD, you should know this: CBD is an anti-inflammatory. It helps to calm nerves because it, essentially, tells those nerves to chill out. But CBD is a linguist, which means it knows how to communicate with all types of bodily systems. Our largest organ, the skin, is chock-full of ready-to-mingle nerves that CBD gravitates right toward.
Since it works to cool things down, CBD can help to reduce redness from skin irritation. It can even help alleviate some symptoms of psoriasis and eczema.
When it comes to beauty products, the area of skin that usually gets the most attention is the face. CBD works wonders there, too. Our faces take a lot, from sun exposure and pollutants to everyday makeup and oils. It's no wonder that we're prone to acne and breakouts on our money-makers.
But now that we know about CBD, we can expect less unwanted skin reactions. CBD reduces inflammation, but also acts as an anti-bacterial. This very important role can start to zap zits before they protrude. It can also help to keep your skin moisturized without any of the residual oils or greasiness; a win-win.
CBD for Hair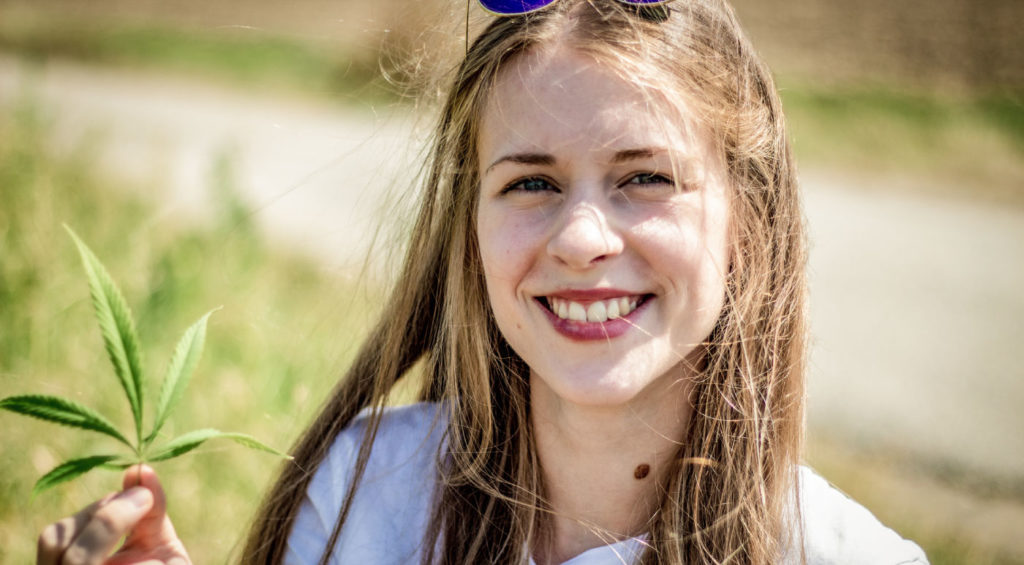 Just like the natural oils in our skin, there are natural oils in our hair and scalp that, when out of balance, can wreak havoc. Dry, itchy scalp, oily hair, or distressed tresses are some everyday problems that seem to only be remedied by a wash, dry, and cut.
That's no longer necessarily the only go-to. CBD can help to restore some of the natural shine to your hair while improving damage and promoting strength. Evidence is also inching toward CBD as a way to halt hair loss thanks to its vitamin E and fatty acid content.
CBD for Everything Else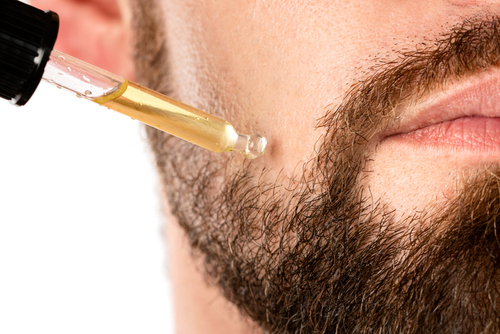 When we say hair, we mean hair everywhere. That's right fellas. For men with their own sultry locks or rough-and-tumble beards, CBD could be your secret weapon for keeping the shrubbery around your strong, steely reserve well-groomed. Go ahead and flash a smile for that!
And it's not just the skin and hair that can be improved with CBD–it's you! These 10 CBD beauty products (listed below) may help to soothe your body, but it's nothing compared with how you can feel once you finish your beauty routine with CBD.
Additional Resources: