When cannabidiol (CBD) is ingested, it's absorbed best when accompanied by something high in fat. No, not bacon, silly. Healthy triglycerides like fish, nuts, olive oil, or seeds work well. Medium-chain triglycerides (MCTs) like those found in coconut oil work even better, which is why many brands use it as a carrier in their CBD oils. Basically, the higher the fat content, the better the oil works to make CBD bioavailable to the human body.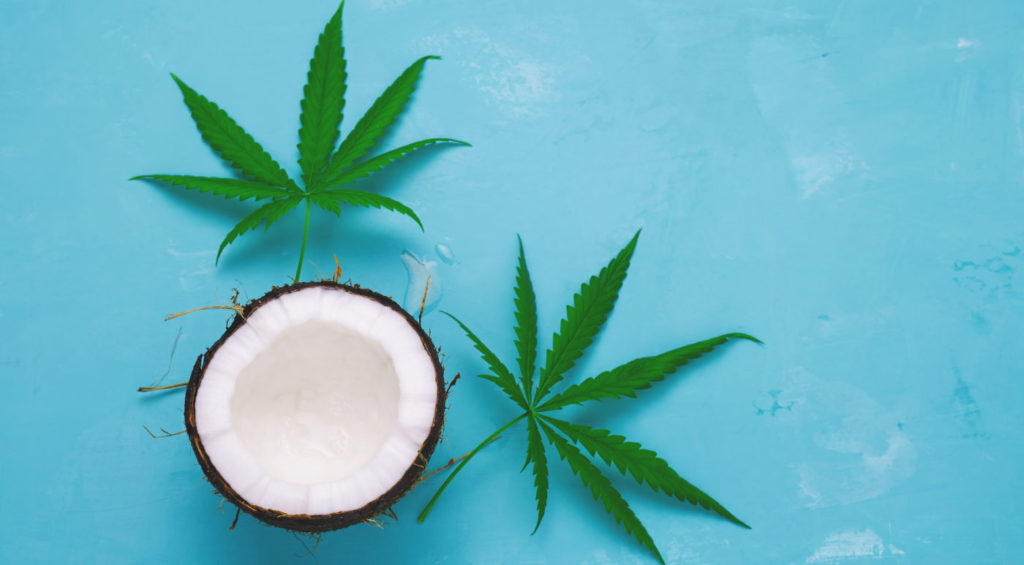 It comes as no surprise, then, that many brands have begun offering CBD coconut oil in their product lines. The idea is simple yet genius.
Combine CBD with a healthy, fat-dense MCT coconut oil, and it becomes not only an excellent method of delivery but doubles as a food ingredient in the kitchen as well. In this article, we listed the five best CBD coconut oils on the market. There's even a CBD coconut oil for dogs!
At a Glance: Our Top Four CBD Coconut Oils
Hydrate Your Skin And Enjoy The Benefits Of CBD Using These Page Jumps!
---
The 3 Best CBD Coconut Oils
Sunsoil CBD Coconut Oil
Highlights:
USDA Certified Organic hemp
Suitable for people and pets alike
Tested at three ISO-accredited labs
Description:
Ingredients: Organic hemp and organic coconut oil.
Pricing: $0.10 per milligram
Company: Sunsoil (formerly Green Mountain CBD) is a highly recommended brand out of Vermont. Everything they make is sourced from USDA certified organic ingredients, and they have a unique infusion process used to craft all their full-spectrum CBD products. At just $0.10 per milligram, Sunsoil's CBD Coconut Oil is also extremely affordable.
The product comes in a small 1-oz jar that includes a handy little scoop so you can get a precise amount every time. The 1-mL serving size contains 20 mg of CBD. You can consume it as is, use it topically, add it to recipes, or even mix it in with your pet's food. This is a full-spectrum product, so you will notice the plant matter (the oil is green) and the strong, earthy taste of hemp.
Shipping: Free shipping on orders over $65 through Direct CBD.
Returns: When purchased through Direct CBD, unopened products returned within 30 days are eligible for a full refund.
---
Lazarus Naturals CBD Coconut Oil
Highlights:
Oregon-grown hemp
Affordable
Made with broad-spectrum CBD
Description:
Ingredients: Organic coconut oil, CBD distillate.
Pricing: $0.02 per milligram
Company: Lazarus Naturals' CBD Coconut Oil is potent at 50 mg of CBD per teaspoon. However, this is just one of the things that makes it one of our favorite CBD coconut oils on the market. It's made the old-fashioned way, using kosher alcohol extraction, and each batch is third-party lab tested for purity, potency, and pesticides. The brand is trusted by thousands, having been a leader in the CBD industry since 2014.
If you are looking for the cheapest CBD coconut oil available, you've found it. But don't let the low-cost fool you. This is one of the highest-quality products on our list. It's sourced from Oregon hemp and is vegan and gluten-free and contains no sweeteners, preservatives, or artificial flavors. Customers can select from a 1-oz jar containing 300 mg of CBD or a 4-oz jar containing 1200 mg of CBD. It's ready to consume straight or to use in recipes.
Shipping: Free shipping on orders over $65 through Direct CBD.
Returns: When purchased through Direct CBD, unopened products returned within 30 days are eligible for a full refund.
---
Santa Cruz Medicinals CBD-Infused Coconut Oil
Highlights:
Sourced from Colorado hemp
Highly versatile
Affordable
Description:
Ingredients: Organic coconut oil, hemp-derived CBD
Pricing: $0.04 per milligram
Company: Santa Cruz Medicinals is one of the few CBD companies to offer an entire line of healthy, CBD-infused fats. The brand's offerings include CBD-infused olive oil, MCT-oil, and coconut oil, all crafted from Colorado-grown hemp and organic ingredients. However, despite the high-quality ingredients, the prices are incredibly reasonable, and this 1,000-mg coconut oil comes in at just $0.04 per milligram of CBD.
It comes in a 4-oz jar, making it highly versatile since there is enough to use for multiple purposes. You can add it to shakes, your morning bulletproof coffee, and various other recipes. It can also be used topically or taken straight. Each tablespoon provides 125 mg of lab-tested CBD. If you're looking for something super potent, you can check out the brand's 10,000-mg CBD coconut oil, which also contains CBG.
Shipping: Free shipping on all U.S. orders.
Returns: Unused products in original packaging are eligible for returns within 30 days.
---
CBD Coconut Oils and Health
Although coconut oil is high in fat, about half of that fat content is lauric acid, a type of fatty acid that has been shown to have numerous potential health benefits, including:
Raising HDL (good) cholesterol in your blood to help prevent heart disease
Increasing the number of calories your body burns as opposed to other fats
Killing harmful pathogens like fungi, bacteria, and viruses
Protecting skin, hair, and teeth
Boosting brain function
Reducing appetite and burning belly fat
CBD and Coconut Oil: The Perfect Marriage
CBD also has a number of purported health benefits. It may improve mood, help with sleep issues, and reduce pain and inflammation. And unlike THC—the compound in cannabis that makes people feel high—CBD is non-psychoactive and won't cause cognitive impairment.
Combining coconut oil and CBD is a natural fit. It combines the potential therapeutic health benefits of coconut oil with those of CBD. Plus, coconut oil has chemical properties that make it especially suited for use with CBD.
Coconut oil has the highest concentration of fat among the various plant-based oils. It's composed of up to 90% fatty acids, compared to the only 11% fat content in hemp seed oil. Therefore, coconut oil can accommodate much more CBD in a smaller volume than hemp seed oil or other types of oils can.
Coconut oil is also particularly shelf-stable and resistant to spoiling, so it can be stored at room temperature for up to 6 months. However, the addition of CBD may change its shelf life, so be sure to check the label for storage directions.
Uses for Coconut CBD Oil
Coconut CBD oils can be utilized straight out of the jar, either topically or as a food supplement. Put it in coffee, smoothies, sauces, dressings, and other recipes. Plus, it can also be used as a spread in place of butter. CBD coconut oil can also be applied directly to the skin as a salve, massage oil, or moisturizer.
CBD coconut oil is often used for "oil pulling," an alternative medicine solution based on the Ayurvedic technique known as "Kavala" or "gundusha." The practice involves swishing oil around in the mouth on an empty stomach for about 20 minutes. Oil pulling purportedly draws out toxins in the mouth and body and may help with a variety of ailments.
Should You Try CBD Coconut Oil?
For people who already use CBD oils, a coconut oil–based CBD product may be a pleasing alternative to the usual liquid oils. This is especially true if you do not like the pungent, earthy taste of a full-spectrum oil. CBD coconut oil is versatile, and, compared to many other CBD edibles, it's extremely affordable.
In our review above, you will find CBD coconut oil in full-spectrum or isolate formulations, so you can choose the one that's best for you. And if you are looking for something to add flavor to everyday menu items, you'll find that too. Try one, or a few, of the products from our list of the best CBD coconut oils and see the results for yourself.
Why Are the Products in Our Review Considered the Best CBD Coconut Oils?
With the number of CBD brands on the market, it's a challenge for customers to decide what makes one company better than another. We solved that problem with a methodology to evaluate each product. Here's our criteria:
The first thing we look at is whether the company uses a third-party lab to test potency and purity. It's the single most crucial factor when it comes to any CBD product. Consumers should be able to find this information easily on the brand's website.
The CBD industry lacks regulatory standards, but that does not mean brands should forego clear labeling of ingredients. You deserve to know what is in your product, where it was made, and the potency, volume, and other specifics, just as you would expect from any other product.
Where is the hemp for the product grown? In the U.S., hemp farming is governed by strict regulations. From a consumer perspective, this is ideal. Why? Because when you purchase from a brand that sources its CBD from U.S.-grown hemp, you can be assured it is grown in clean, uncontaminated soil.
In this category, we look at each CBD product's cost per milligram rather than the sticker price. It's the best way to uncover whether the product you are considering is a good buy or a waste of money. Keep an eye on this figure since it can vary widely among brands.
We also look at things like shipping and return policies, the helpfulness of customer service, and how easy a brand's site is to navigate. Buying CBD products online should be a pleasant and straightforward experience with as little hassle as possible.
We take a hard look at a brand's public profiles, its backstory, and the testimonials and reviews that are relevant to other users. The truth always comes out when real customers speak up about their experience with a brand.
---
Additional Resources on CBD Edibles: