Anxiety can be crippling if you don't tackle it head-on. Whether it's brought on by work, stress, personal grief, or anything else, it can have a profound effect on your health. The fact is, anxiety is the most common mental health condition in the U.S. and will affect most Americans at least once during their lifetime. While many of us experience anxiety on a daily basis and find it manageable, it can be a much bigger problem for others.

Anxiety can interrupt your sleep cycle, leaving you with insomnia, or stop you from participating in events that you previously enjoyed. At its worst, it could even lead to you isolate yourself at home, unable to face other people. And ironically—and unfairly—these issues can worsen your anxiety, creating a vicious cycle that's hard to escape.

The Anxiety and Depression Association of America (ADAA) has posted some pretty startling facts about the condition:

Anxiety disorders affect 40 million adults across the U.S. from ages 18 and upwards, around 18.1% of the country's population each year.
While anxiety is a treatable condition, only 36.9% of sufferers receive treatment.
Individuals with an anxiety disorder are three to five times more likely to visit their doctor, and six times more likely to be admitted to the hospital with a psychiatric disorder.
While getting professional help from a therapist can help, sometimes you need an extra helping hand to tackle the most stressful or anxiety-inducing situations. CBD oil could be the supplement you need to calm your nerves before a big event or ease you into a more regular sleep cycle.
Treating Anxiety with CBD
The most common form of anxiety disorder is Generalized Anxiety Disorder. However, there are more specific forms, including separation anxiety, social anxiety, and phobias over health and other phenomenon. Each of these types can provide different symptoms that present themselves under different circumstances and scenarios. The CBD industry understands the distinction between various types of anxiety and so provides products tailored for specific purposes.

Some CBD supplements promote longer, more restful sleep, whereas others are designed to lessen social anxiety. In addition to CBD, many incorporate other natural remedies, which have been proven to provide anxiety relief. For example, lavender, jasmine, rose, and basil. With these ingredients combined together, you may be able to find something that, when coupled with professional therapy, can largely improve your quality of life.

The delivery methods for CBD vary widely. You can add CBD oils to food or take them directly, while soft gel capsules are chewed and swallowed. Digestible products may come unflavored or infused with flavors like chocolate, vanilla, or fruit, which can be more pleasant for those who dislike the taste of the raw form. Alternatively, lotions and creams can be applied directly to the skin, often promising sore muscle relief in addition to other benefits. And, some companies provide custom vape pens for on-the-go relief.

If you suffer from anxiety that worsens with social exertion, you might be better off taking CBD oil via the mucosal or sublingual method. This method involves applying the droplets either against your gums or beneath your tongue. You will feel any effects within five to ten minutes, as the mucous membrane allows CBD to enter your bloodstream far more quickly than if you ingested it. While the effects won't always last as long as with edibles, this method might be more effective for more immediate anxiety relief.
The 10 Best CBD Oils for Anxiety
Below, we chose our five best CBD companies that create products for anxiety relief. We'll explain why we chose each company, as well as the kinds of products that each offers. If you feel like your anxiety is hard to overcome and you haven't tried CBD yet, it might be worth trying some of these products to see if they can help take the edge off.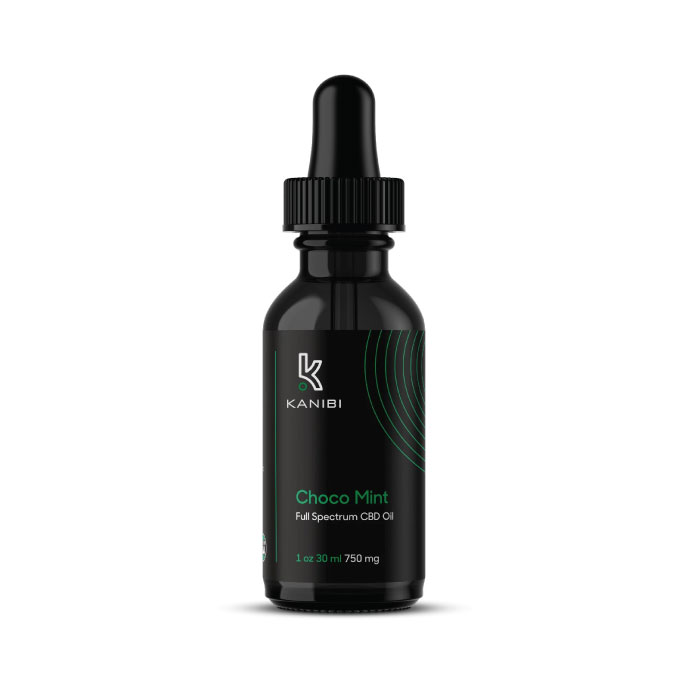 Kanibi's self-stated mission is to "raise the standards of the entire CBD industry with superior made CBD products." They're so committed to this mission statement, that they third-party test every product twice before bringing it to the market. For those who worry about their CBD products containing any nasty chemicals, fungicides, herbicides, or fertilizers, Kanibi is ideal. They promise to never use anything unorthodox in their oils—including artificial colors, flavors, dyes, or sweeteners.

Kanibi's main products include tinctures, chewable gummies, sports cream, and softgels. Tinctures are available in 750- and 1500-milligram concentration 30-milliliter bottles, and flavored with lemon lime or chocolate mint. Their sports cream is designed to both moisturize and alleviate athletic-induced stress and muscle soreness. At 6 to 8 milligrams CBD per pump, you'll get 30 to 40 uses per bottle, and the effects that are more rapid than slow-digesting oral CBD supplements. Chewable gummies are available in packs of 30, with a total of 300 milligrams CBD per jar, while easy-to-swallow softgels provide 25 milligrams CBD per unit.

Kanibi is completely upfront about the contents of their products. Those third-party tests we talked about are clearly listed on their website: Under each product, you can see the results. You can also view a breakdown of the ingredients, botanical source, and manufacturing date. Honestly, this approach is refreshing and honest. Many companies promise to be transparent and avoid using any unpleasant chemicals in their products, but Kanibi puts it right out there in the open.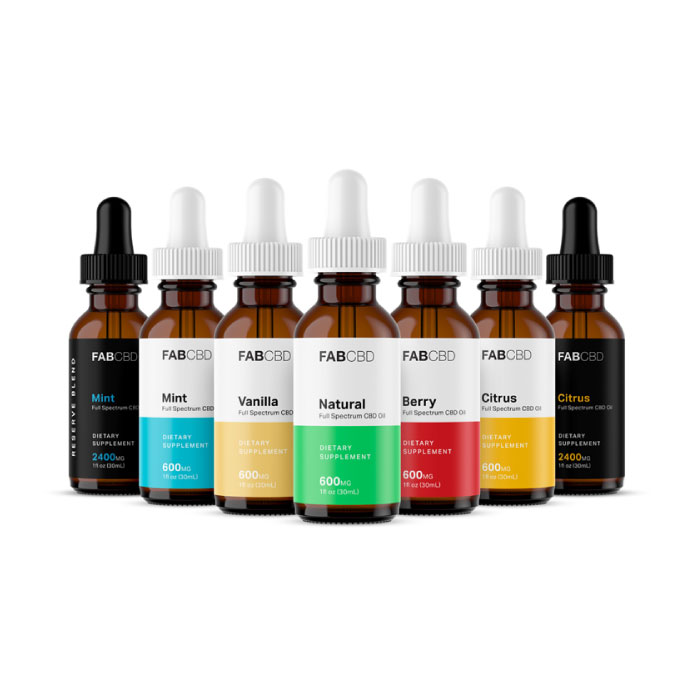 We're a huge fan of any company that takes its societal responsibilities seriously, and this company is one of them. FAB CBD has gotten behind some great causes. Recently, they partnered up with the Make-A-Wish Foundation, sponsoring three wishes for children in need. Their product range is no less impressive either. In addition to CBD oils, creams, and chewables, FAB CBD caters to pets with a separate range, and provides their own custom CBD vape pen.

Their standard CBD oils come in five distinct flavors, including citrus, mint, berry, vanilla, and natural. The latter three options are available in concentrations of 300, 600, and 1200 milligrams. But if you need a higher dose, the mint and citrus varieties extend to 2400 milligrams. An additional fruit flavor is available if you opt for CBD chewables, which deliver 25 milligrams CBD per gummy, with 30 gummies in a bottle. If you're supplementing for anxiety, these gummies are a great on-the-go solution. Alternatively, FAB's custom CBD vape pen is portable and delivers 125 servings.

We love that FAB CBD also creates CBD products tailored to your pet. Just check out our other article on the benefits of CBD for dogs. Many of FAB's oils are suitable for both humans and man's best friend, but you can also pick up dog treats infused with CBD. You can buy them individually or as a bundle pack to promote better canine health. The worst that can happen is you or your pets aren't fans of the products. But if the worst should happen, FAB CBD has a 30-day money back guarantee.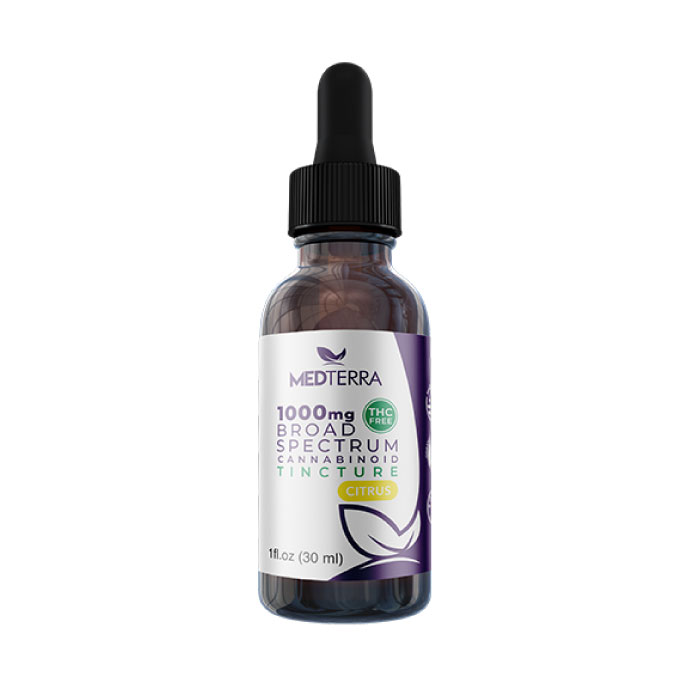 If you're new to the industry, you might not have heard of the U.S. Hemp Authority Certification Program. The whole CBD industry is pretty new itself, but this initiative was created to identify high standards and best practices. It's a way for the industry to self-regulate and give customers confidence in buying safe and legal hemp-based products. Medterra is one of the companies who can boast that they're U.S. Hemp Authority Certified.

Their CBD oils are guaranteed to contain 0% THC, ranging from 500 to 3,000 milligrams CBD. They're available as CBD isolates, as well as in broad-spectrum (full-spectrum) tinctures. You can also pick up their CBD+ Wellness supplements, which are tailored to concerns other than anxiety. These three different supplements promote monthly feminine wellness, provide an energy boost in the mornings, or help you get to sleep at night. Topicals are also available in 125-, 250-, and 750-milligram concentrations.

Again, Medterra is one of the CBD companies that offer CBD specifically designed for pets. Their cat- and dog-friendly oils range from 100 to 750 milligrams, with 10-milligram chews available to support joint health and promote anxiety reduction in pets.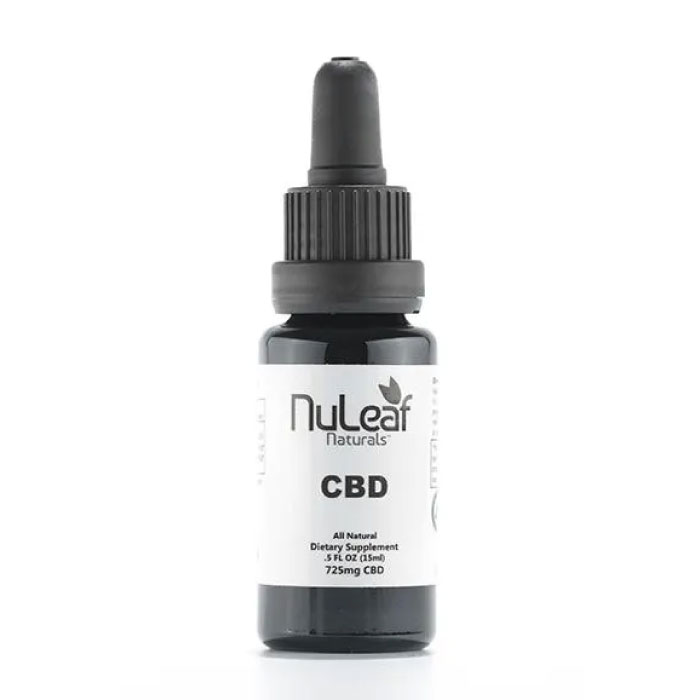 NuLeaf Naturals was founded in 2014 and sources its specially bred hemp from licensed farms in Colorado. They pledge to use only whole-plant extracts, meaning full-spectrum CBD and not a CBD isolate. When we say "full spectrum," we're talking about a product that has high levels of CBD, as well as other useful cannabinoids like CBG, CBN, and CBC. By comparison, CBD isolates are isolated—hence the name—to just the CBD molecule. Those other cannabinoids have their own respective health benefits that are the subject of scientific study, too.

While NuLeaf Naturals doesn't offer edibles, they're the place to go if you're looking for the highest concentration CBD oils available. Concentrations of 240, 725, and 1450 milligrams are available, much like the other retailers on our list with similar products. However, NuLeaf Naturals also offers higher concentrations of 2425 and 4850 milligrams. We recommend starting with a lower dose while you assess which level works for you before increasing.

Much like FAB CBD, NuLeaf Naturals also caters to your canine friend. They're your one-stop shop for the highest concentrations of CBD oil for the biggest breeds of dogs. You can buy their full-spectrum pet CBD oil in strengths of 240, 725, and 1450 milligrams. Due to the similarity between the central nervous system (CNS) of dogs and humans, your best friend could enjoy similar health benefits. If you have an anxious, jumpy dog, you might consider trying CBD supplements for them alongside your own.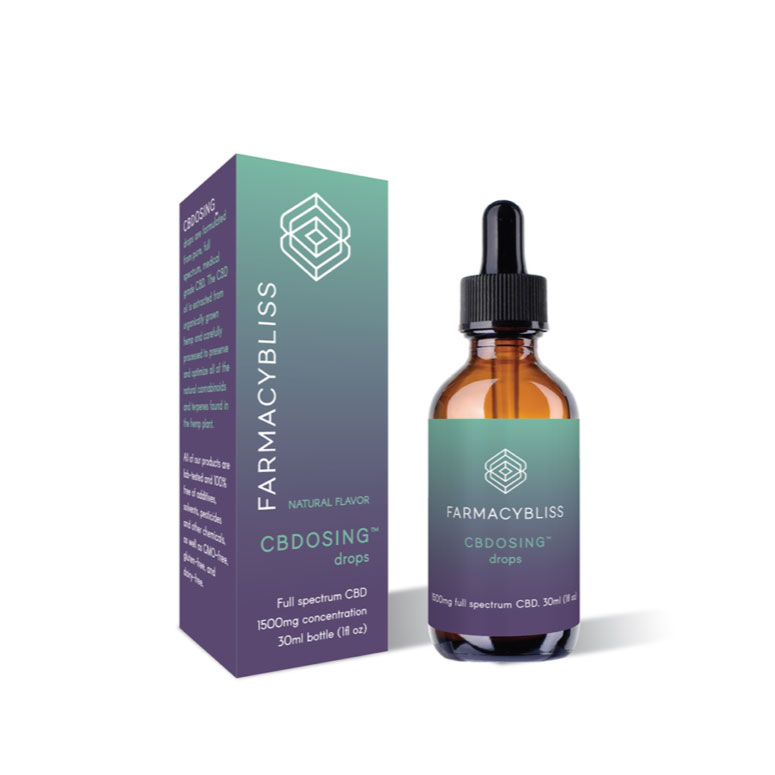 The story behind Farmacy Bliss is incredibly moving. The founders, part of the same family, were looking for a solution for a family member who was undergoing a serious health crisis. When they came across the incredible potential of CBD, they decided to formulate their own potent CBD solution. Demand from friends and family circulated soon after and thus the company was born. Farmacy Bliss has since become well-reviewed on TrustPilot, where they enjoy an impressive ranking from loyal customers.

Farmacy Bliss offers CBD in three forms: drops, softgels, and a custom vape pen. Their CBD drops are available in concentrations of 100 milligrams with 17 milligrams CBD per dropper, or 1500 milligrams with 50 milligrams per dropper. You can add these drops to food or take them sublingually for faster absorption into the bloodstream. Softgels are available in three concentrations of 120, 450, and 900 milligrams. Finally, there's the CBDeliver disposable vape pen, which contains 350 milligrams full-spectrum hemp CBD oil. You can expect around 250 puffs per vape pen, which could be beneficial if you feel anxiety symptoms rising while you're away from home.

Should you find yourself benefiting from the use of CBD, Farmacy Bliss has a cash back reward scheme, too. For every $10 you invest in products from their website, you'll get $1 back to spend on your next order. At a rate of 10% cash back, that's pretty generous compared to other schemes. You'll also get $20 to spend in their shop just for creating an account.

6. PureKana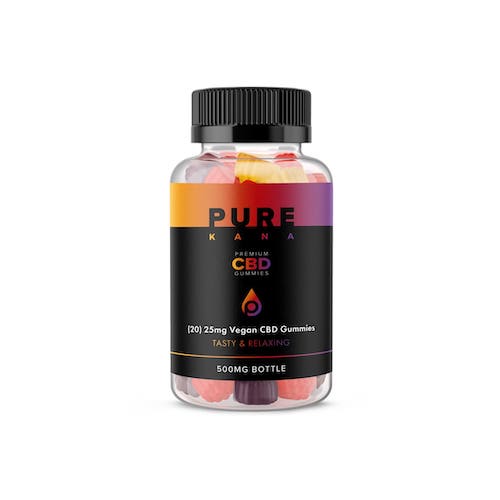 PureKana is a CBD company that aspires to emerge as a leader in the CBD industry. Their CBD is non-GMO and is guaranteed to be free of any pesticides, solvents, herbicides, chemical fertilizers, heavy metals, or other contaminants. For your personal security, you can easily view third-party lab test results for each batch right on the website. The CBD they use to create their high-quality and affordable products is grown and processed in the state of Kentucky.
One thing that stands out about PureKana is that they aren't trying to be anything that they are not. They understand their target market and do all they can to create great products that younger people who want to take of their bodies will enjoy. Their vape pens come in great flavors like blue raspberry and blood orange. They also offer a product they call Pure Picks. These are CBD-infused toothpicks that contain 25 milligrams of CBD per pick. Flavors include blue raspberry, caramel apple, churro, cinnamint, lemon-lime, mountain berry, orange, pink lemonade, strawberry limeade, and tropical mint. Honestly, this is one of the most innovative products we have ever seen.
While those sound amazing, we've gone with a more classic product for our selection on what PureKana CBD you should use for anxiety. Gummies! Specially formulated to help you to relax, these gummies are completely vegan and contain 25 milligrams of CBD isolate apiece. They are naturally fruit flavored and are only two grams of sugar per serving (that's one gram of sugar per piece!) We don't know of many other places where you could find a delicious and healthy candy that will help ease your nerves.
Product Types: tinctures, capsules, pills, gummies, beverages, topicals, vape cartridges, bath bombs, pet care
Our Recommended CBD for Anxiety: CBD Vegan Gummies
7. Canna Hemp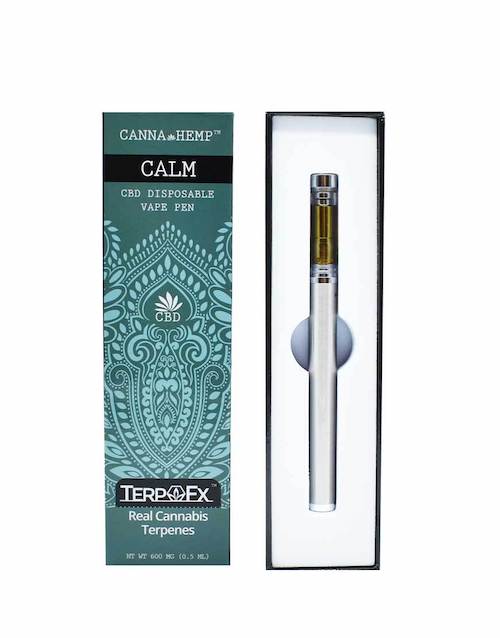 Canna Hemp is a great company. Their mission is simple: to bridge the gap between healthcare professionals and their patients that are interested in alternative healing. Canna Hemp is dedicated to delivering quality CBD health and wellness products to consumers all around the world. All of the products that they make are organic, vegan, and non-GMO. All of the CBD used in their products is grown and cultivated in America.
Canna Hemp cares about what their customers care about. They have a variety of products available such as vape pens, lotions, elixirs, and more. We can promise you, though, no matter what you buy, it is not going to contain any parabens, formaldehyde, petroleum, or phthalates. Every product is tested in independent third-party labs, and Canna Hemp will gladly provide a COA for anything you purchase.
If you would like to use CBD for anxiety, we recommend trying out the CBD Vape Pen in Calm by Canna Hemp. This pen contains about 100 milligrams of CBD per individual unit; each disposable vape pen is good for 90 draws. The liquid inside doesn't contain any PG or VG; instead, it is just Coconut MCT Oil, Cannabidiol (CBD), and Terpenes. Vaping is great for anxiety because it provides instant relief. Nothing allows the CBD to enter the bloodstream faster. This pen is described as having a woodsy mango flavor to it. (We're obsessed).
Product Types: elixirs, vape pens, pet care, topical pain relief, lotions, capsules, isolate crystals, lip balms, vape cartridges
Our Recommended CBD for Anxiety: CBD Vape Pen – Calm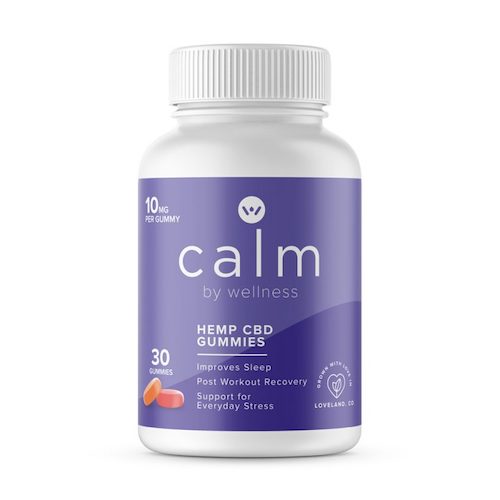 Calm by Wellness Co is a CBD brand that is fairly new on our radar, but they are awesome. According to their website, they were recently rated as the best CBD product for anxiety, as well as sleep and pain management. They use scientific formulations informed by the latest research from world-class laboratories all over the globe. The Calm by Wellness Co team is made up of doctors from reputable universities and pharmaceutical companies, and they are very dedicated to complete transparency in their processes.
Calm by Wellness Co uses source hemp that is grown in the state of Colorado; they use the most gentle extraction methods available in the industry in order to preserve the entire host of benefits you receive from full-spectrum CBD. They also care about people. The company is involved in charity and offers great customer service, including a money-back guarantee. As of now, the only products they offer are CBD drops or gummies.
What we recommend you trying out if you'd like to take CBD for anxiety are the gummies. They are made with hemp seed oil, fractionated coconut oil, and flavored with natural essential oils. Each fruit-flavored gummy contains ten milligrams of full-spectrum CBD oil. They have been specially formulated to help you feel calm and reach your potential every single day because you're taking care of your body.
Product Types: extracts, edibles
Our Recommended CBD for Anxiety: Hemp CBD Gummies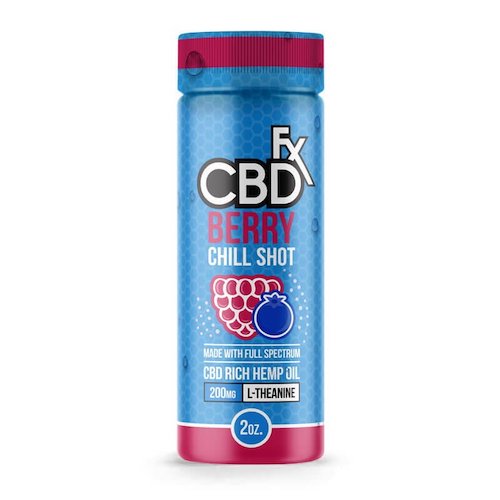 CBDfx is a CBD company that creates high-quality products with CBD extracted from industrial hemp that is organically grown and processed right in the United States. They use a gentle CO2 extraction method, which is the cleanest method available, and it also allows for the best preservation of all the extra goodies that come along with CBD, such as terpenes. They have a mission to create a CBD marketplace with a global reach that allows people to get the best products they can while still being able to have fun.
One this is for sure about CBDfx, they certainly don't compromise on quality, but that doesn't make their products boring by any means! They sell a huge variety of items ranging from edibles to pet care. One thing that stands out significantly about them is that they have an impressive range of vape flavors, which is something we've found uncommon across other CBD companies. Just a few options you have are blue raspberry, fruity cereal, or even gelato for those of you who have a sweet tooth.
From CBDfx, the CBD for anxiety we would recommend is their CBD drinks. These beverages are called "Chill Shots," and they come in a Berry or Lemonade flavor. Each shot is two milliliters and contains 20 milligrams of full-spectrum CBD oil per serving. These shots are rich in CBD as well as vitamins and other nutrients that help bring you back into balance when anxiety starts to get the best of you. The shots also contain L-Theanine, which is known for helping to regulate anxiety and lower blood pressure.
Product Types: vape oils, vape pens, gummies, tinctures, capsules, oils, pet care, beverages, terpenes, edibles, concentrates
Our Recommended CBD for Anxiety: CBD Drink – Berry CBD Chill Shot – 20mg
Conclusion
Hopefully, you'll find some additional relief for your anxiety from some of our favorite products. But remember, the best use for CBD is as a supplement to provide another means of attacking your anxiety. We always recommend seeking professional help if your anxiety is affecting your everyday life. Keep in mind, 18.1% of the American population will suffer from anxiety each year, so there's nothing to be ashamed of. Don't be among the three-quarters of sufferers who struggle on without seeking help; take back control of your life.

Additional Resources on Using CBD for Anxiety
How Does CBD Oil Help Relieve Anxiety?