CBD oil has become a common conversation starter and hip new cure-all name. Is it really effective for all of the things they say it is? Well, this article will probably not answer every question you have ever had about CBD oil, but it will both give you some background and dive into all of the ways that it may be an effective addition to shingles and nerve pain treatment. CBD oil and shingles are still new to each other, but there is pretty good evidence that suggests this to be a therapeutic pairing.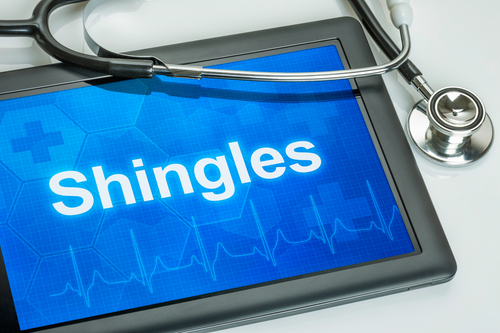 I have heard multiple people describe "the worst pain in their lives," when explaining their experiences with shingles. It has been compared to the pain level of unbearable back pain and even childbirth.
There are some mysteries associated with this viral infection, but one thing is for sure, if you come down with it, you want to do whatever you can to ease the symptoms and heal quickly. There is a shingles and now chickenpox vaccine that are great for taking preventative measures, though even they are not a sure thing. It is always good to have as many tools as possible for getting to the other side of something like this.

Calm Your Shingles With Page Jumps To Find Your CBD Oil!
---
Topical CBD Oil Balm: The Best Delivery Method for Help with Shingle Pain
Applying CBD oil balms, salves, and creams can have a big impact on the rash itself. CBD oil for shooting nerve pain from shingles has been proclaimed an excellent fit. The topical application of CBD can have a great impact on the nerve issues associated with the pain. Though not confirmed scientifically yet, it is speculated that CBD oil both orally and topically can reduce the duration of the virus, while also making you more comfortable as it runs its course.
An intensive topical cream is most likely the best course of action when using a salve or balm for treatment. It is important that you only put it on clean dry skin in order to prevent bacteria from growing on this sensitive rash. There are many topicals out there, so be sure you find one with all-natural ingredients from a trusted source. It can be put on targeted nerve pain areas and might even work instantly to relieve pain.
How to Dose CBD Oil for Shingles
It is important to remember that CBD oil is not a one size fits all remedy. Everybody responds differently, and less is sometimes more in the case of CBD. It's good to titrate up, especially with something as severe as shingles. So, start low and increase your dose until you find that you are in a therapeutic range, and stick to that for a while. 20-25 mg is considered a therapeutic amount specifically for extreme pain management.
If you start to feel that dose is no longer serving you, increase the dose. Topical and oral doses are different, and you can do both at the same time. Patience is critical because it might take a little while for your nervous system to respond to the CBD oil, so be sure to keep using it for at least a week if you are not feeling relief.
There are many ways to ingest CBD oil, and personal preference plays a role in choosing the right fit. For example, you might prefer gummies over a tincture or a pill. While having something like shingles probably doesn't inspire experimentation, it is important to find a good fit for your personal constitution and preferences.
These days there are so many ways to take CBD oil, including infused in your coffee or tea, in pill form, tincture, smoking the bud, vaping, in a variety of edibles (including chocolate), in botanical blends that can be mixed into drinks, among many other formats. Topically speaking, there are even CBD infused bath salts and lightly laced lotions.
It's true that there is not yet conclusive scientific research connecting CBD oil to a shingles treatment plan. As we covered in this article, however, there is quite a bit of evidence that suggests CBD's relevance in the treatment of nerve and joint pain, including neuropathic pain that is a result of chemotherapy.
Hopefully, you never have to contend with how to treat a shingles infection, but if you do, it seems that CBD oil could be an excellent addition to whatever your doctor comes up with as an appropriate treatment supplement. Again, don't shy away from taking CBD oil orally to combat nerve damage and the pervasive impacts of shingles, and also using it topically in tandem.
What We Know About Shingles
This infection is actually caused by the varicella-zoster virus, which is the same strain that kickstarts the chickenpox. In the case of shingles, It is also called herpes zoster (different from the sexually transmitted version of herpes).
One of the myths about shingles is that if you have never had the chickenpox you are more susceptible to coming down with shingles. Quite the opposite is true. In fact, if you have had the chickenpox virus, it never fully goes away. It can linger in a dormant stage nestled into the tissue near your brain and spinal cord. It is not clear exactly what, but something can trigger it to reactivate in the form of the shingles virus.
Be careful, because the virus can actually be contagious, but most only likely if someone comes in contact with the fluid from the rash itself. The real kicker is that if someone comes in contact with the rash they will not come down with shingles, but chickenpox. This is only if they have never had it before.
Shingle Causes
It is speculated that one of the causing factors of a shingles outbreak is extreme stress. Stress has been linked to a lowering of the immune system, which can re-activate dormant and new viruses alike. Age seems to play a role in contracting shingles, though not always. The majority of the people who get this painful viral rash are over the age of 50.
Another population at higher risk for contracting shingles are those with compromised immune systems. Many people fall under this category, including:
People with HIV/AIDS
Anyone undergoing treatment for cancer–specifically chemotherapy and/ or radiation
Anyone carrying an autoimmune disease like Lyme or fibromyalgia
People on a variety of medications, especially those designed to help the body integrate an organ transplant
Typical Shingles Symptoms
The first symptom of shingles is generally full-body pain. The pain is so pervasive that it often hurts to be touched, or can simply feel overly sensitive.
After a few days of pain, the signature red rash generally appears. It is often on one side of the core body, or it can be on the face. It is known to wrap around the left or right side of the torso like a ribbon of blisters.
The nerve pain generally comes with tingling, itching, and on and off numbness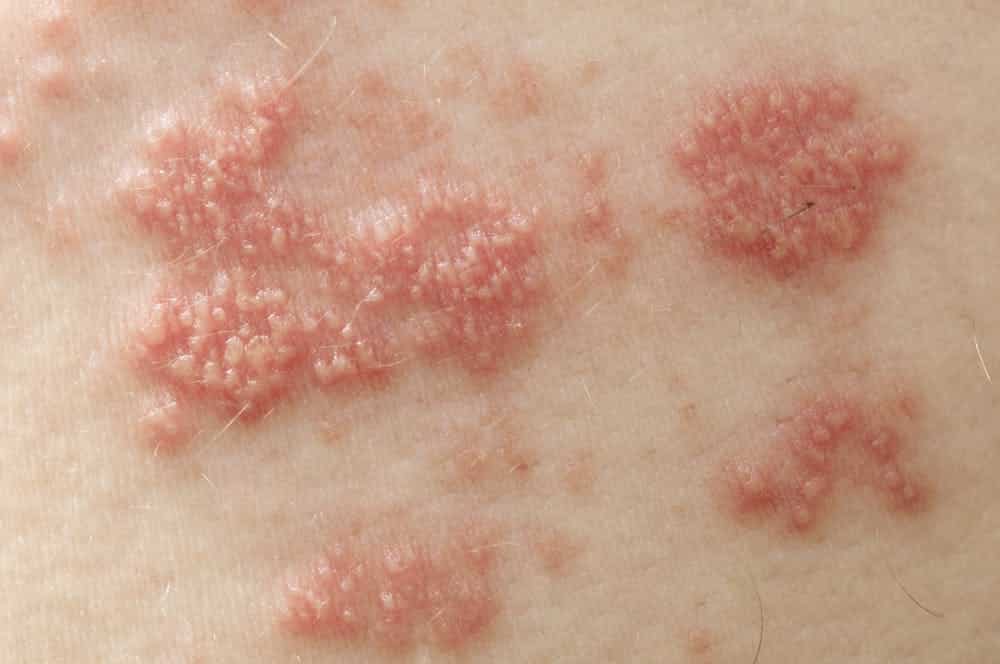 As aforementioned, shingles can show up on the neck or face, and even surrounding the eye. This of often initially misdiagnosed as eczema at first sight. The rash goes through many stages, including blisters that are full of fluid and crust over after bursting. Often, this signature rash is the telltale sign that it is indeed shingles.
Misdiagnosis is common, especially when the rash is late to the game, or doesn't appear at all. That's right, a complicating factor is some people get the pain and never come down with the rash, making it very challenging to diagnose. People have been known to leave the doctor's office thinking they have a heart, lung, or kidney issue instead of shingles.
Other Shingles Symptoms May Include
light sensitivity
headache
body aches
fever
overall extreme exhaustion
Yep, sounds like a virus. Within two to six weeks, this nasty rash sickness should have run its course and moved on — phew.
It is important to take a shingles diagnosis very seriously because in extreme cases, and without the proper healing regimen, you can open yourself up to long term damage. This can include:
Postherpetic neuralgia

– a condition that occurs when the nerve damage is so extreme the neurotransmitters send confused or exaggerated messages to the brain from the skin, keeping the pain around much longer than the rash.

Vision impairment

– The eye is such a sensitive place to have any kind of infection. If this virus presents itself around the eye (ophthalmic shingles), you must take preventative measures to not have long term eye problems, including loss of vision.

Neurological complications

– The nerve channels can literally get their wires crossed with this infection, and in extreme cases result in brain inflammation (encephalitis). This can cause facial paralysis, balance, or even hearing issues.

Skin infections

– your skin is your largest organ and needs to be cared for as you would any other part of your body. With something like shingles, it is important the blistery rash is proactively treated, otherwise, bacteria can get beneath the skin and create infections.
In the meantime, how do you get through it with as much ease as possible?
CBD Oil: Help for Those Suffering With Shingles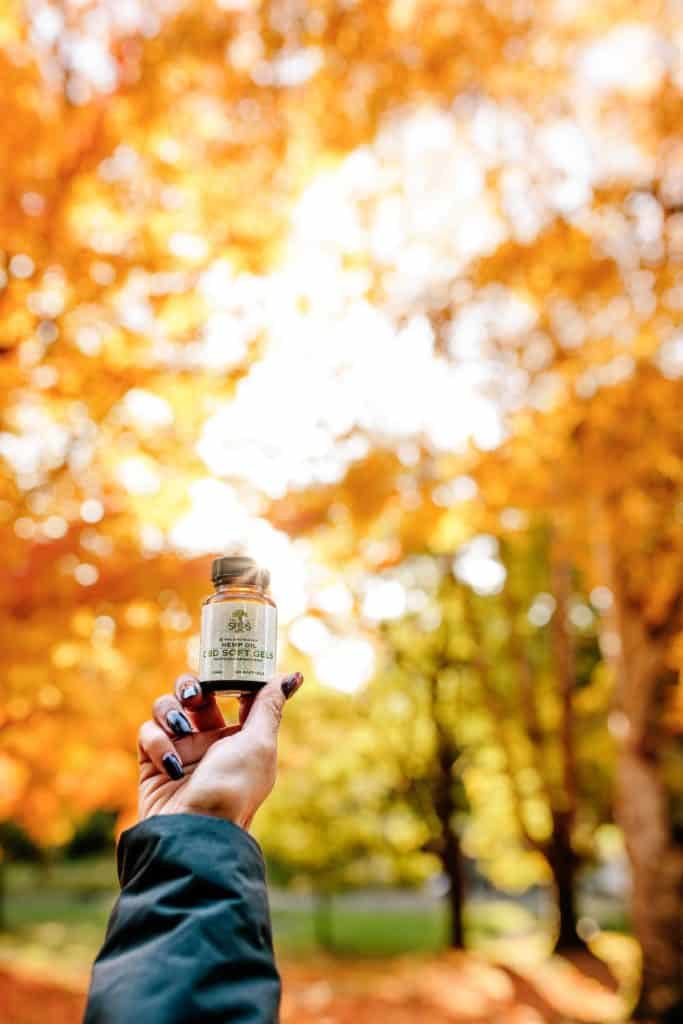 Though using CBD medicinally is still quite new, there have been studies that suggest CBD oil for nerve pain is very effective. Because there is not a clear treatment path for shingles yet, finding ways to be as comfortable as possible as it runs its course is paramount. Basically, the cannabinoid chemical found in CBD supports an anti-inflammatory response in the body that can be both beneficial for the rash itself but also calming some of the nerve pain. The more you take down active inflammation, the less likelihood you have of accruing long term damage from the virus.
CBD is known to be an active nerve protectant. This is an important element because if the inflammation gets too out of control, the nervous system can have irreversible damage. The body is full of neurotransmitters. These are basically messengers sending information from the brain to different parts of the body. A type of neurotransmitter is called endocannabinoid, which is something your body makes to connect with your nervous systems' cannabinoid receptors.
I know, this is a lot of scienc-y jargon, but the meat and potatoes of the story is that CBD plays a role in effecting the activity of endocannabinoid receptors, which not only bring down inflammation but tell your systems (by way of neurotransmitter) to chill. In a nutshell, that is why CBD oil for nerve pain from shingles can be effective.
CBD has shown in research studies to be useful in positively reducing nerve damage and subsequent pain from the use of chemotherapy. Drugs like chemotherapy are known to have a long term impact on the nervous system. Because CBD is a proven nerve protectant it can play the same role in those with shingles as it does for people undergoing chemotherapy treatments. As mentioned earlier in the article, a long term complication that can come from shingles is chronic nerve pain (also called post-herpetic nerualgia). In studies that use animals, CBD has proven to be helpful in reducing this outcome.
There are other reasons CBD oil can be helpful here. Many people take CBD oil for stress and anxiety. This has actually been researched much more heavily and has proven to be therapeutic in some people. Because shingles is potentially kickstarted by stress, CBD oil can be an effective multi-tasking support. Not only is it coming at shingles from the nerve angle, but it is also dealing with the whole patient, and allowing all of your systems to calm down. Being sick is never a walk in the park, so even if you are not someone who regularly struggles with anxiety, this might be the time it shows its head.
Another way CBD oil is helpful in the treatment of shingles is its ability to suppress viruses. This is partially due to its anti-inflammatory properties, and also it's natural immune-boosting properties. Relieving inflammation support viruses to stay in their dormant stages and not reactivate.
CBD has been known to generally bring a sense of homeostasis to the body, providing an equilibrium of sorts. The anti-inflammatory properties alone can positively impact pain signaling and overactive nerves. This is turn can have a major impact on pain relief.
---
Additional CBD Resources on Pain: