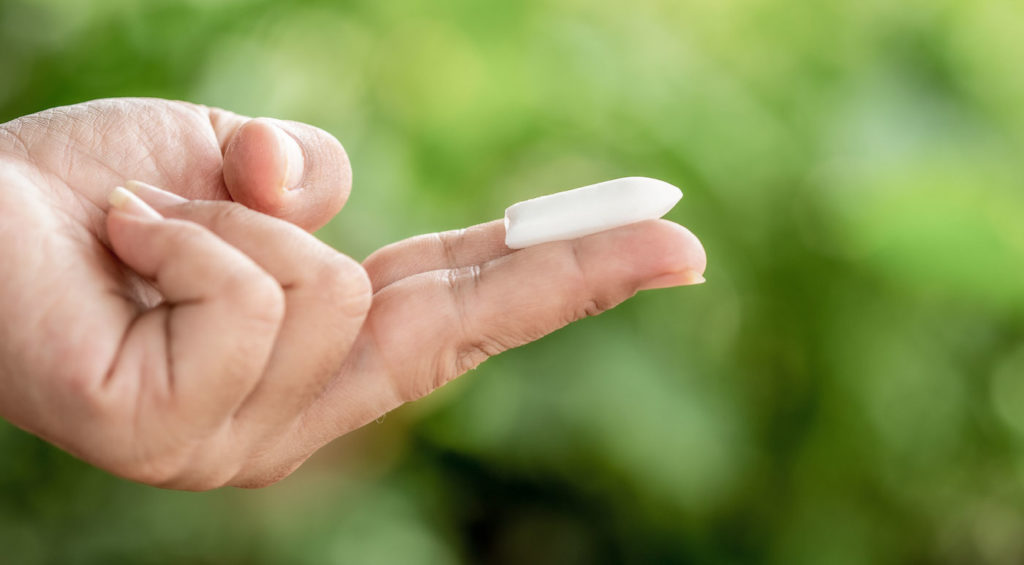 Cannabidiol (CBD) is one of over 100 compounds, known as cannabinoids, that are found in hemp and marijuana plants. CBD has become the focus of much attention because of its many purported therapeutic uses, and there is growing support for CBD in the medical community, as well as CBD suppositories. What's more, CBD doesn't produce a high or the risk of dependence that is seen with its fellow cannabinoid, THC.
As research evidence mounts supporting the use of CBD as a natural alternative to traditional therapies, people are becoming increasingly interested in exploring for themselves what the buzz is all about. With the increasing popularity of these products have also come a number of options for ingesting or applying CBD: swallowing it, dissolving it under the tongue, applying it to the skin, or – perhaps less popularly – taking it rectally. CBD suppositories are a growing trend and we're here with a list of the best CBD suppositories around.
Why Suppositories?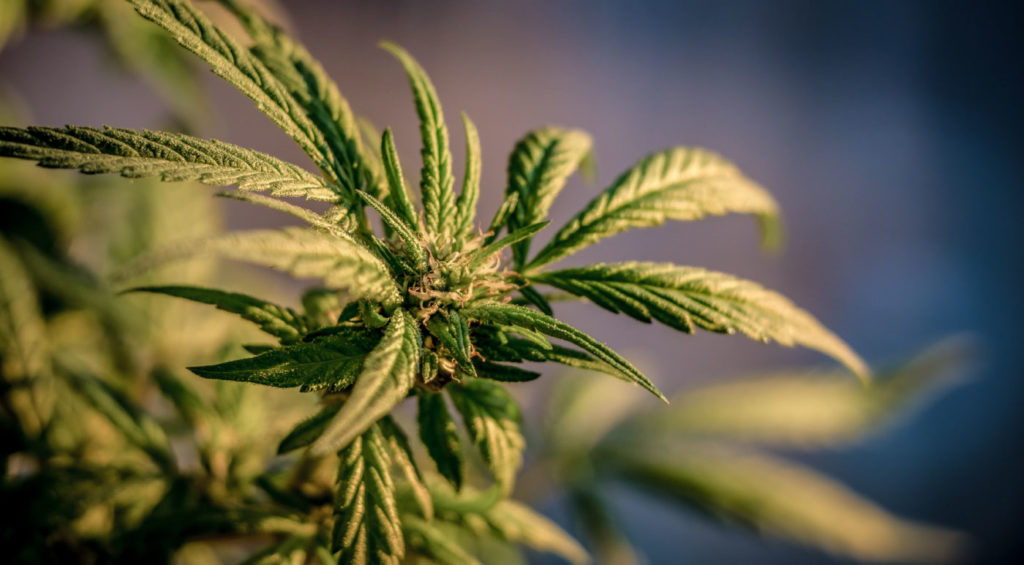 Just hearing the word suppository may cause some people to cringe, but this alternative route has some definite advantages. It provides an alternative for people who are experiencing nausea and vomiting and can't keep down oral medications, who have swallowing problems, or who don't like the taste of oral lozenges or pills.
Suppositories offer a method of "transmucosal absorption," similar to dissolving a tablet under the tongue. That means that the CBD is delivered directly into the bloodstream and avoids the "first pass effect" metabolism that occurs when CBD is taken orally. Suppositories also provide rapid absorption and onset of action.
5 Best CBD Suppositories
In this article we reveal our picks for the five best CBD suppositories. All of our choices are from companies that use organically sourced crops from the U.S. and fair trade products from abroad. All are socially and environmentally conscious in their production techniques, and provide up-front, third-party verification of purity and content surrounding their products.

In addition, all of the product choices in this list are THC-free.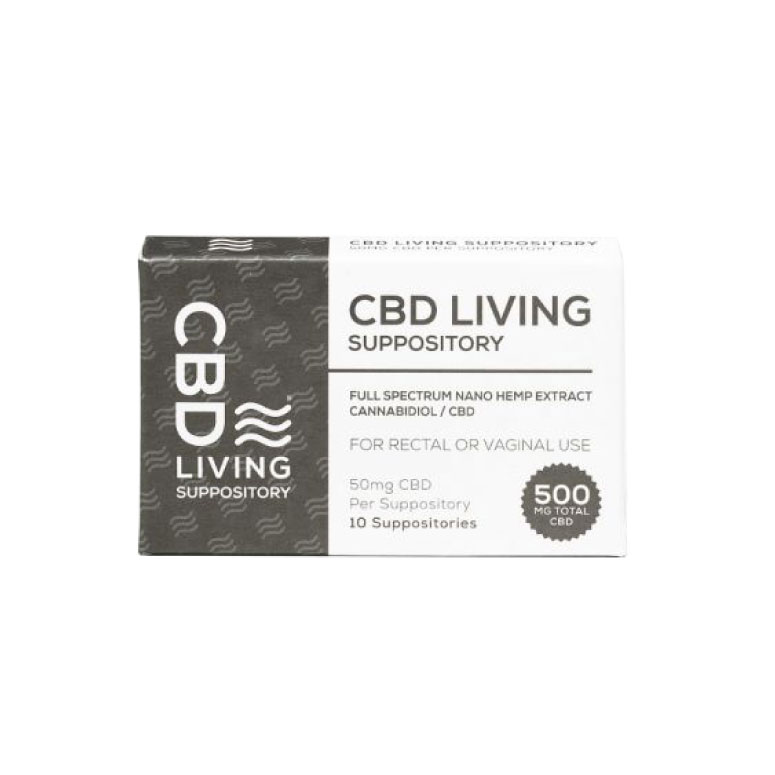 CBD Living suppositories are made from full-spectrum CBD using nano-technology to optimize absorption and bioavailability. Full spectrum CBD contains many different chemical compounds besides CBD (such as terpenes and flavonoids), which may give an additive therapeutic effect known as the "entourage effect."
These suppositories may be used rectally or vaginally, and may be cut in half for dosing flexibility. They are gluten-free, non-GMO, and vegan-friendly.
CBD Living suppositories come in a box of ten suppositories, each containing 50 mg of CBD. They can be purchased for $50 per box directly from the CBD Living website.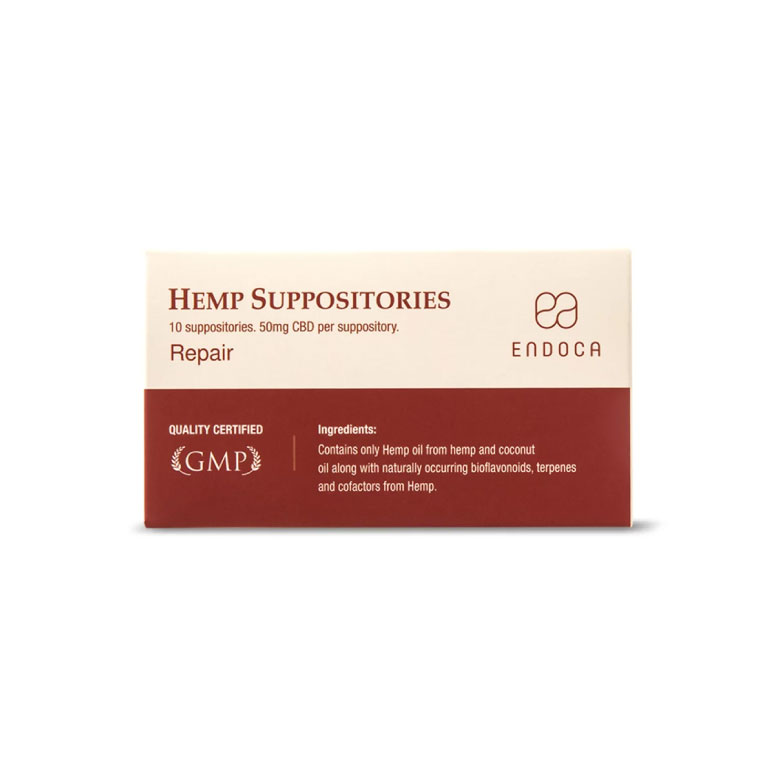 The Endoca suppositories include two ingredients: organic coconut oil and organic-certified hemp extract. Endoca uses full-spectrum hemp extract.
This product was chosen for our five best CBD suppositories list because of Endoca's track record and excellent customer service reports. Endoca has been recognized by the UN for its sustainable, clean, and efficient production practices. Endoca offers exceptional customer support, with a dedicated online chat support for questions and concerns.

The Endoca Hemp CBD suppositories have over 3,000 reviews with 89% of the ratings as "great" or "excellent." These reviews can be found on their website's product page.
Endoca suppositories each contain 50 mg CBD, and can be used rectally or vaginally. They come in a box of ten suppositories and are available from the Endoca website for 46 Euros (about $50). Endoca ships for free within the U.S. for orders over $74.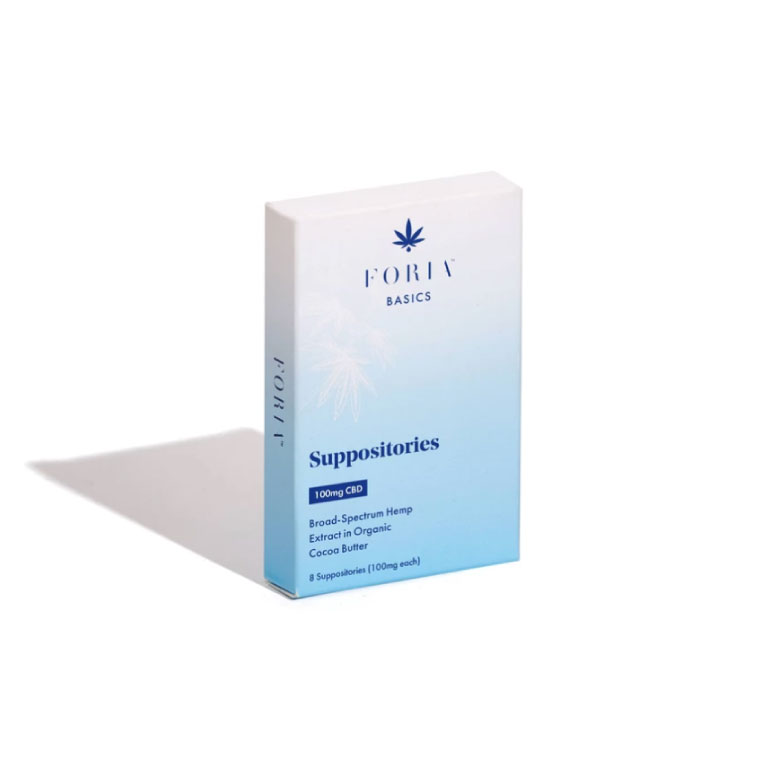 Foria Basics was chosen for our list of five best CBD suppositories because their product is specially formulated for the use of easing symptoms of menstruation or other painful pelvic symptoms in women. They can be applied rectally or vaginally.
Foria Basics suppositories are made with only two ingredients: organic-certified fair trade cocoa butter and broad-spectrum hemp extract. Their hemp is sun-grown in the U.S. on a sustainable farm that supports biodiversity. After harvest they use CO2 extraction to ensure a CBD that is rich in active cannabinoids. They adhere to GMP-certified best practices throughout the manufacturing process.
These suppositories can be purchased directly from the Foria website. They come in a box of eight suppositories, each containing 100 mg CBD, for $72. Foria offers free shipping within the U.S.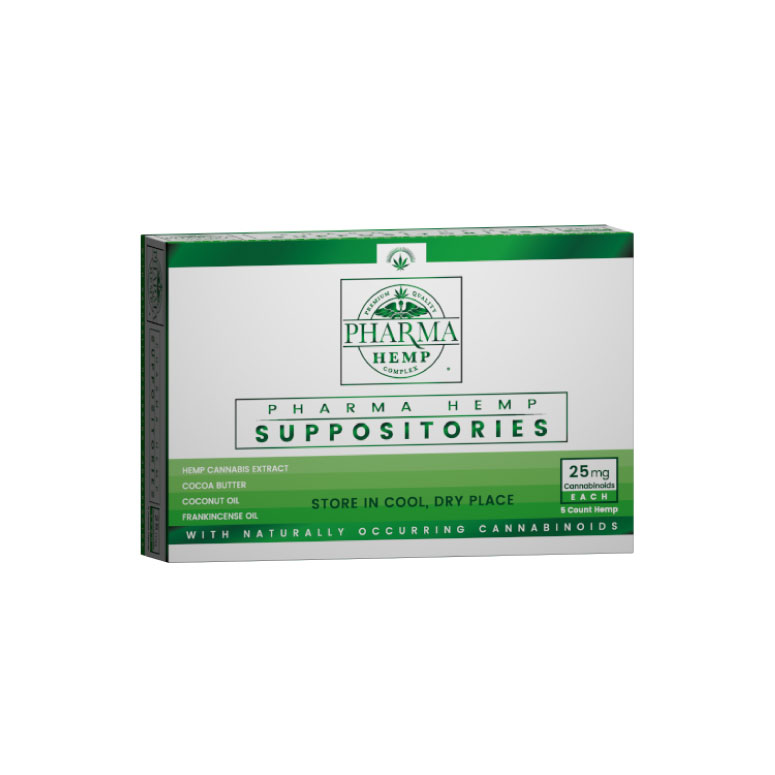 These suppositories were chosen for our list of the five best CBD suppositories because they are available in two different strengths to allow for individualized dosing preferences.
Pharma Hemp's suppositories can be cut in half to allow further dosing options, and are non-GMO as well as free of peanuts, preservatives, dairy and gluten. In addition to full-spectrum organic hemp CBD, they are made with a curious mix of coconut oil, cocoa butter, and frankincense oil, all organically sourced.
These suppositories are available in a 25 mg suppository, which comes in a five-count package for $29.98 or a ten-count package for $39.98, as well as a 75 mg suppository, which comes in a five-count package for $59.98.
This first-rate product can be ordered directly from the Hemp Health website, with free shipping on orders over $50.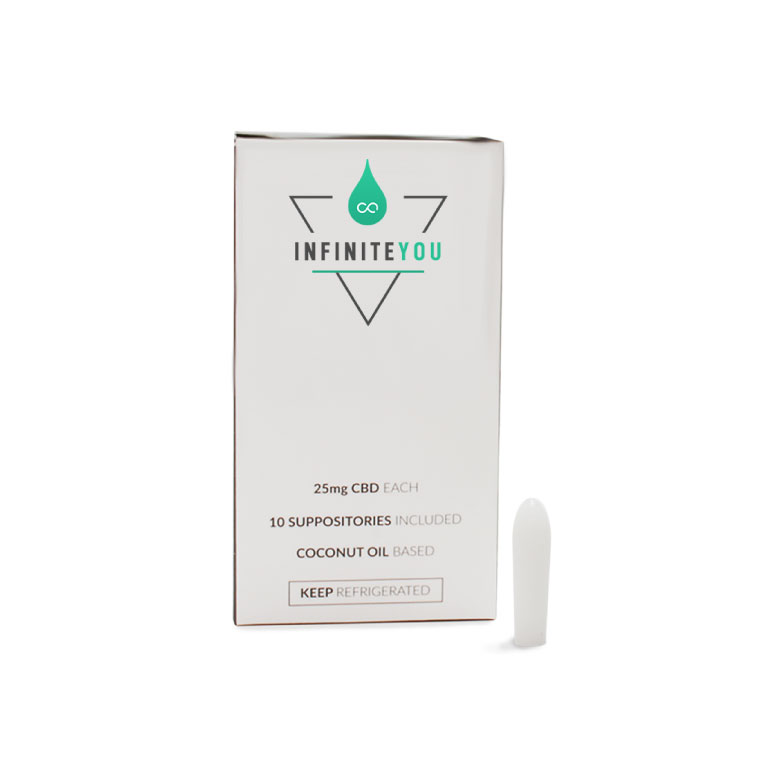 Although deserving of recognition simply for its cool name, this product made our five best CBD suppositories list because it is made with CBD isolate, unlike the other products on our list. CBD isolate is different from full-spectrum CBD in that it is chemically purified so that it contains only CBD, with virtually all other chemicals from the cannabis plant removed.
These versatile suppositories can be inserted rectally or vaginally, although they are somewhat large compared to our other product choices.
Infinite You Rocket Ship suppositories come in a box of ten suppositories, with a 25 mg size for $18.50 and a 100 mg size for $46.50. They can be ordered from the Infinite You website.
The "Bottom" Line on CBD Suppositories
In the end, suppositories may not be everyone's first choice for probing the potential benefits of CBD. However, they provide an effective and reliable route of administration that may be an attractive way to rectify problems with other methods of administering CBD.