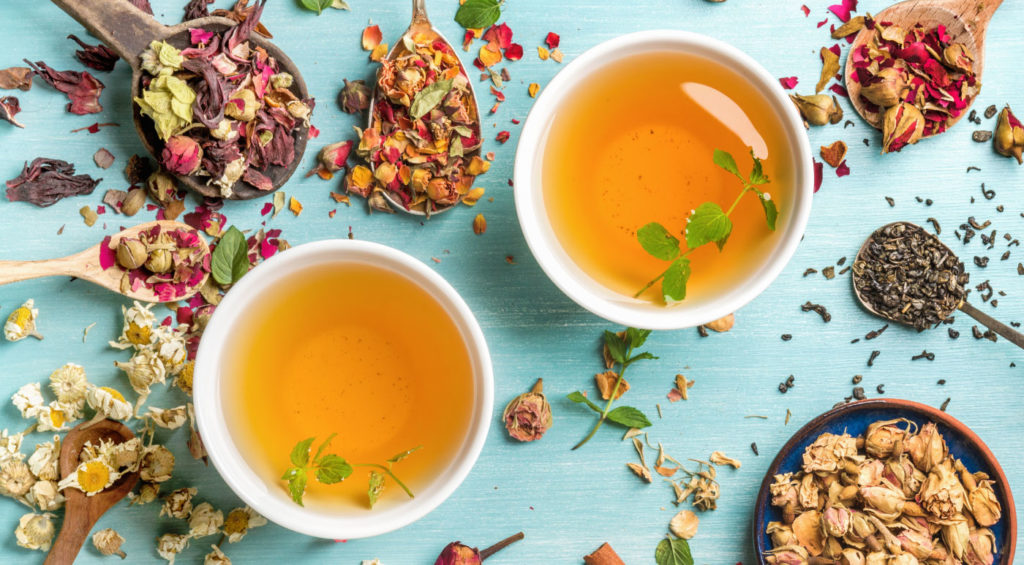 What could be more relaxing than a warm, soothing cup of tea? How about tea infused with CBD? Cannabidiol (CBD) is good for pain relief and for mood lifting, making it an excellent ingredient to add to an already comforting or refreshing (if you like it iced!) beverage.
Whether you're new to CBD or shopping for new ways to infuse it into your life, always be sure to get product information from a trusted source. Since CBD products aren't regulated by the FDA, you can't always be sure what you're going to get if you just go shopping all willy-nilly.
As you may or may not know, CDB products come in a wide variety of forms. You can get it in tinctures, edibles, lotions, and a host of other products. Depending on what effects you're looking for, you'll most likely want CBD in multiple products so you can use whatever form is most efficient for your specific need at the time.
Whether you want a tea that will get your day off to a good start or help you unwind for a good night's sleep, you can find many varieties of CBD-infused tea for the ultimate calm. Here are our picks for the 10 best CBD tea choices you can buy today.
The 10 Best CBD Tea Brands on the Market
These herbal blends are made with top-quality ingredients. The companies' ethical and environmentally friendly farming and manufacturing practices will add to your peace of mind as you enjoy their tasty drinks. Each company listed here uses organic, American-grown hemp plants for their products.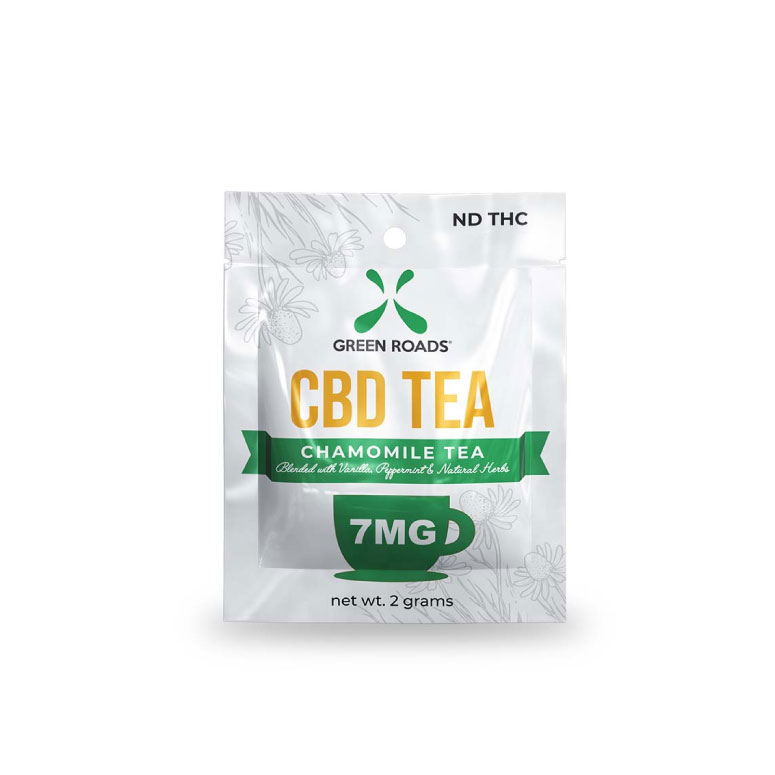 Green Roads has been named the #1 privately-held CBD company in the United States, and their products consistently feature as top-sellers in several different categories. Established in 2011, the company has a lot of experience and has earned numerous accolades. In 2018, they took home the "Best CBD Product" prize from the Cannabis Business Awards.
The team at Green Roads takes pride in their efforts to always provide the highest quality CBD products. Licensed pharmacists formulate each small batch of CBD consumables, using CBD purified with advanced extraction methods. Each batch is extensively tested by a third-party lab for pesticides, heavy metals, pathogens, and other contaminants, and the test results can be viewed right on Green Roads' website.
The company's CBD chamomile tea is just one of the choices that makes Green Roads our #1 pick among today's 10 best CBD tea brands and products. It's made with a blend of natural ingredients with soothing properties, including vanilla and peppermint. You can buy them in individual tea bags containing 7mg of CBD for $6.99 each. This tea has been highly reviewed by many satisfied customers for its calming effects. For a greater pick-me-up in the morning, Green Roads also sells a few varieties of CBD coffee.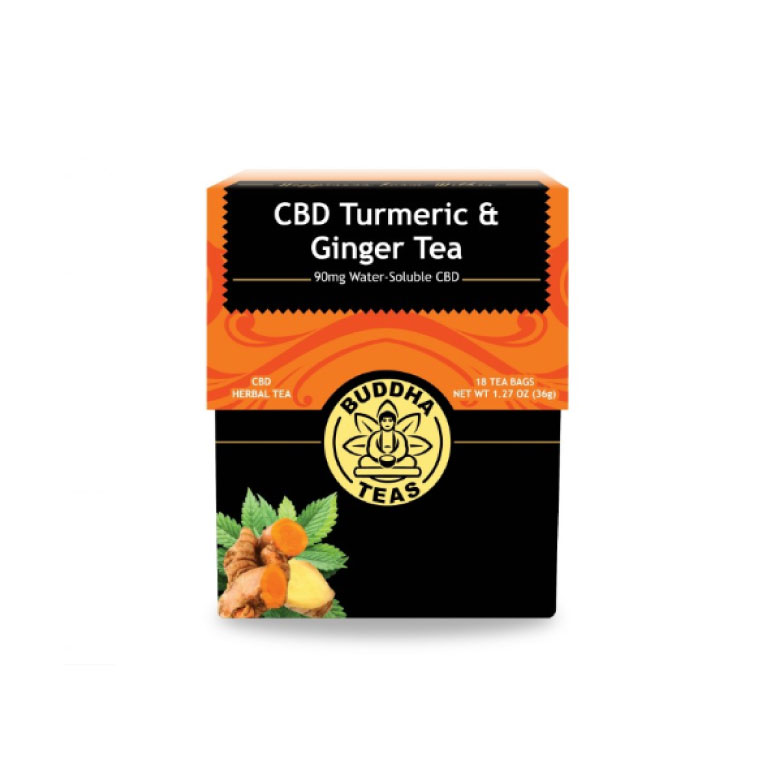 Just because there is CBD in the tea bag doesn't necessarily mean that the CBD will end up in your tea. Some lower-quality simply add CBD oil to their tea leaves, which will give you with expensive tea that doesn't have the benefits of the CBD. The scientists at Buddha Teas ensure that each cup you brew absorbs all the CBD out of the leaves so you get the effects you desire (and paid for).
They do this is creating nano-sized particles of water-soluble CBD. This form of CBD easily diffuses into hot water and has a high bioavailability, meaning it can be readily absorbed and used by your body. They blend this special type of CBD into four different flavors of tea: matcha green tea, peppermint, chamomile, and turmeric & ginger tea. Each type comes in unbleached tea bags, which are better for the environment and their flavor profile.
Each Buddha tea bag contains 5mg of CBD. A box of 18 tea bags costs $19.99, making them one of the least expensive CBD teas on the market. You can also buy the boxes in bulk for even better pricing. And if you can't decide which flavor you want to try, you can get a four-pack mix and try them all.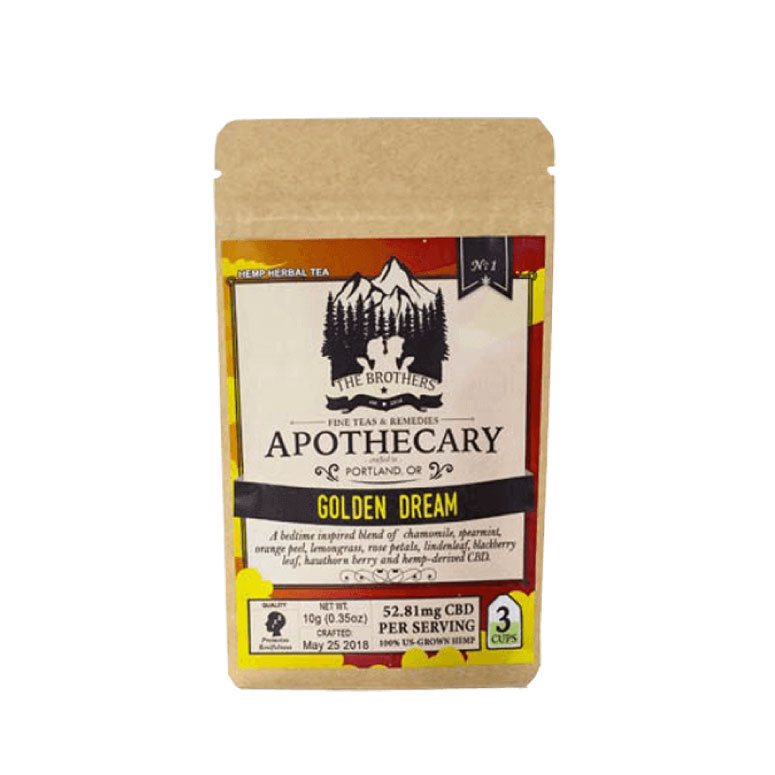 If you like some variety to spice up your life, check out the selection of CBD infused teas from The Brothers Apothecary. As the name implies, this company was started in 2015 by two brothers in Portland, Oregon who wanted to create a healthy way to consume cannabis. They now make CBD products using superfoods and other healthy ingredients, forgoing sugary gummies and vapes for consumables that are better overall for your body.
Those with particular tastes will should be able to find something to suit their palate with The Brothers Apothecary's range of 10 different varieties of teas infused with full-spectrum hemp extract. Choose from traditional teas like chai and oolong, or more exotic herbs like kava root and hibiscus. The commitment to healthy living, as well as the wide variety of full-spectrum products, earns The Brothers a strong standing among our choices for the 10 best CBD teas on the market today.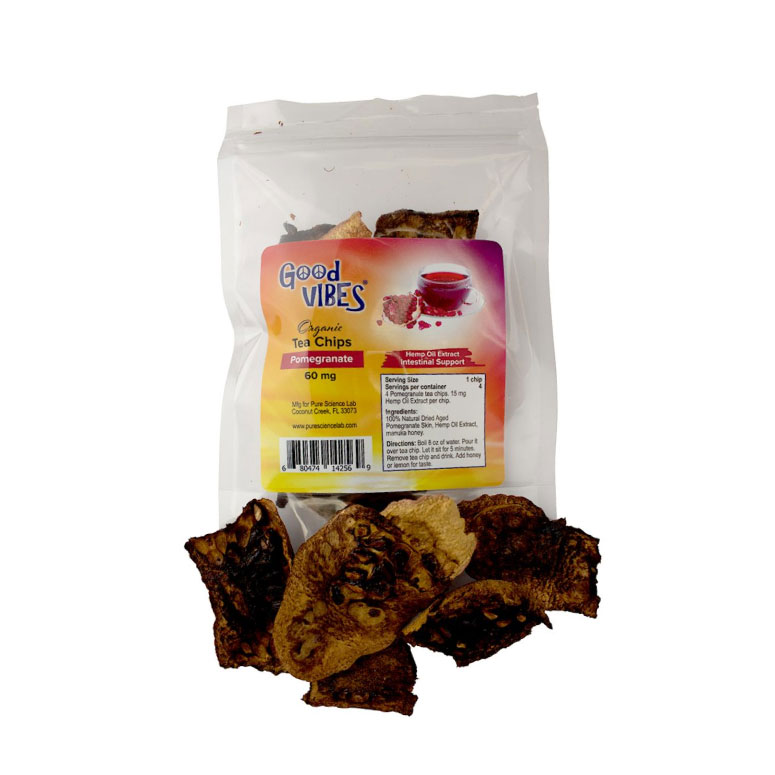 Perhaps the nerdiest CBD producer out there, Pure Science Lab uses advanced engineering methods in their CBD extraction and formulation techniques to create products with ultra-high concentrations of very pure hemp extract. True to their name, they manufacture their CBD products in certified laboratories using International Organization for Standardization (ISO) guidelines. A certificate of analysis issued by a third-party laboratory is available for every batch of products on their website, so you can check their purity for yourself.
Pure Science Lab's "Good Vibes" line of products is a bestseller in the United States. Their CBD pomegranate tea comes in "tea chips" made with dried pomegranate skins and manuka honey for extra antioxidant and anti-inflammatory properties. Each tea chip contains 15mg of CBD. You can buy a bag of 4 tea chips for $19.95, or up to 4 bags of chips at a time for a discounted price.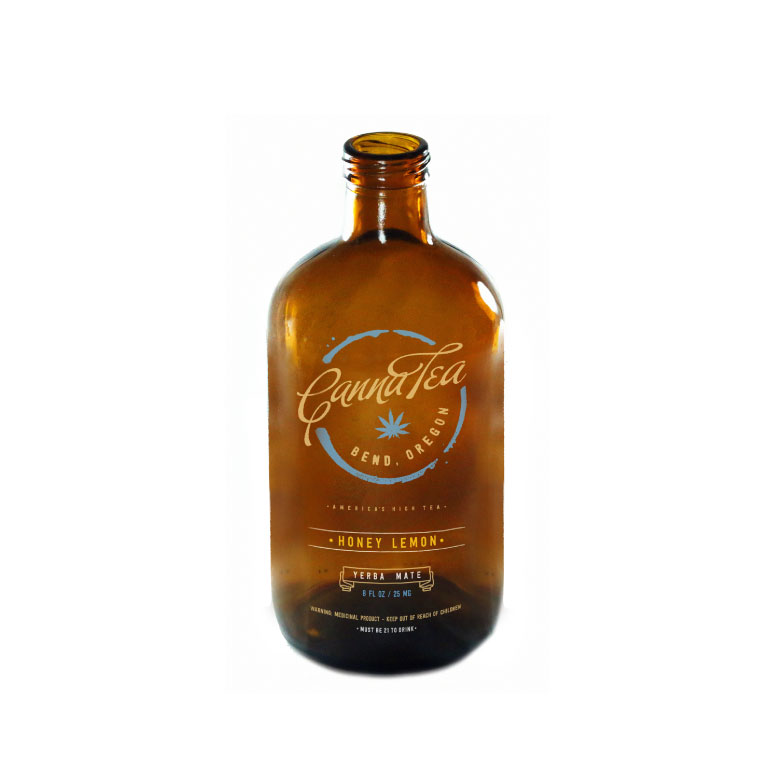 Canna Tea is a down-to-earth brand that uses hemp and other natural ingredients that are locally-grown at Ruby Farms in Bend, Oregon. Good for the environmentally-minded, their products are packaged in recycled materials.
Canna Tea offers traditional tea bags of honey rose chamomile and marion berry chamomile for making fresh, hot brews. For something cooler or more convenient, you can also buy bottled teas in varieties including wild berry white tea and honey lemon yerba mate, which are packed with antioxidants, amino acids, and vitamins and minerals. They also sell CBD honey and THC honey if you want to give your cuppa an extra kick.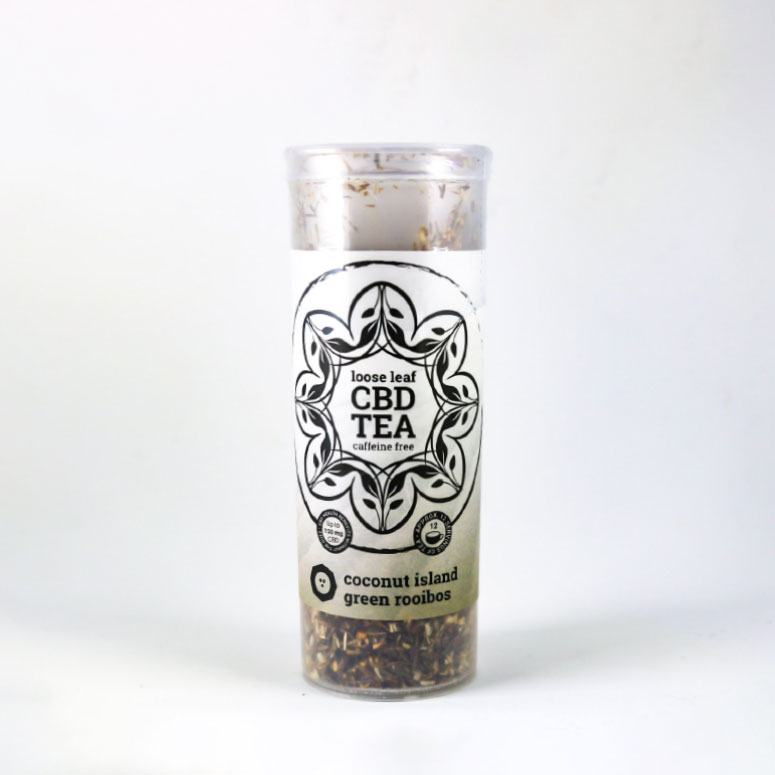 CBD Tea takes their tea making seriously. They offer one of the biggest varieties of the best CBD teas you can find, and they're always developing new flavors to try out. On their website you can also find useful tea-brewing utensils, such as filter straws, infuser balls, and infuser bottles.
All their teas come in either powdered or loose-leaf forms so you can strengthen each cup according to your personal preferences. Flavor options range from coconut rooibos to banana bread honeybush to apple pie green tea. Each jar contains 1.5 ounces of loose leaf tea infused with 150mg of CBD, which is enough for about 12 cups. At $20 per jar, this makes it a very cost-effective option.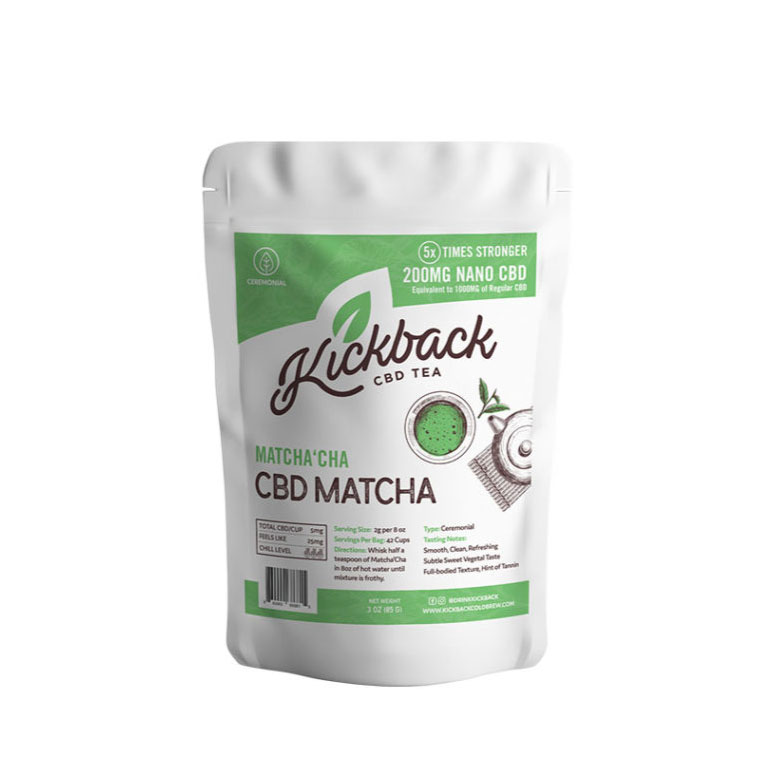 Starting with cold-brew coffee, Kickback has expanded their wares to include several types of soothing CBD-infused beverages and tinctures. All their products are vegan, third-party lab tested, and contain nano-sized CBD particles which are 5x stronger than standard forms of CBD.
Kickback has two flavors of CBD tea: ginger peach and matcha'cha. Their bags contain 130-200mg of CBD and cost $30-$36, and ship for free (free!) to anywhere in the United States.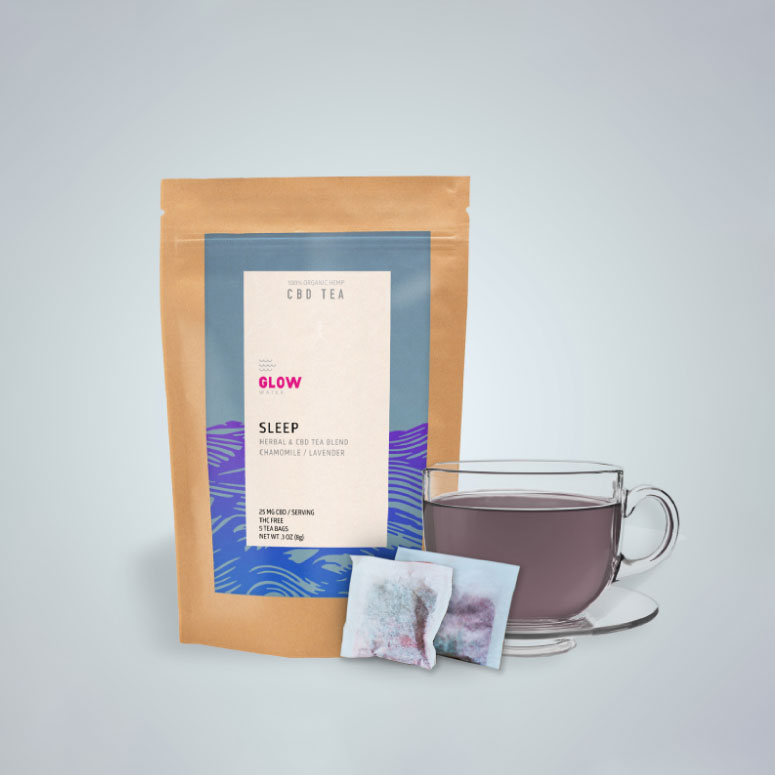 Glow Water's teas contain organic hemp and hand-selected medicinal herbs. That's it. No sweeteners, no other additives. They offer three specialized tea blends to choose from based on what healing effects you are looking for: "Calm," "Restore," or "Sleep." For example, their "Sleep" tea is made with chamomile and lavender to help alleviate insomnia.
Each tea bag contains 25mg of CBD, one of the highest strengths of CBD you can find. The strength of the dose and purity of the products makes Glow Water a solid choice for those looking to choose one of today's 10 best CBD teas. Packages of 5 tea bags cost $28.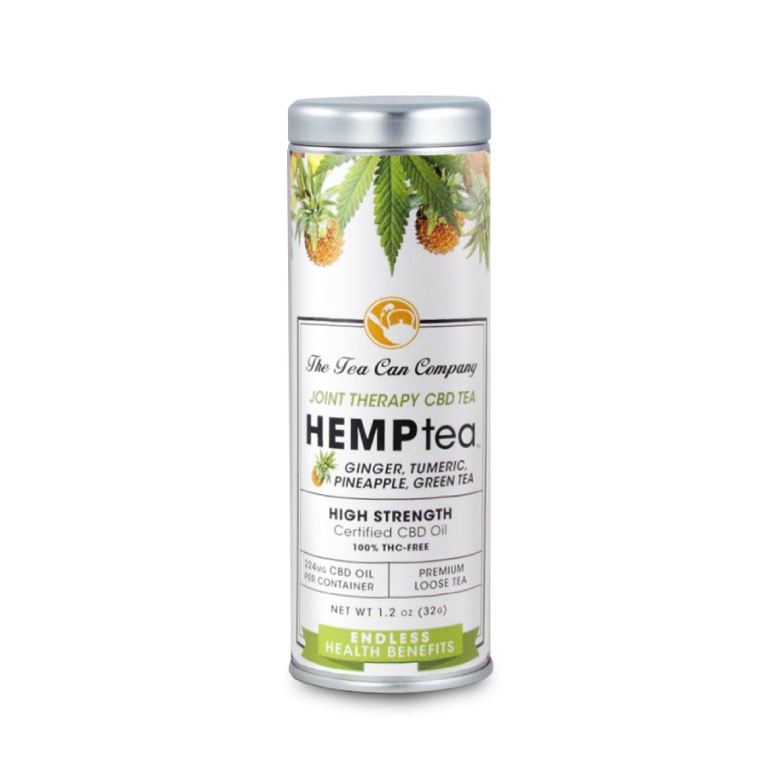 The Tea Can Company is a specialty tea company that has recently started offering CBD-infused options. Their HEMPtea line comes in two different strengths: high and mild. High strength contains 7mg of CBD per gram of tea, and is great for people who need a stronger dose to manage pain or relieve more severe anxiety. Mild strength contains 3.5mg of CBD, which is good for those trying out CBD tea for the first time or for people who only need a small dose to get through the day.
The Tea Can's HEMPteas also come with herbal blends with other known health benefits. Their "Joint Therapy" tea contains anti-inflammtory herbs that can help relieve joint pain and swelling, including turmeric, bilberry leaf, and lemon myrtle.
As a bonus, you can order custom labels for cans of hemp tea, making them great for gifts or party favors. With a background in tea, choice of dosage, and other perks, The Tea Can Company certainly ranks among the 10 best CBD teas around.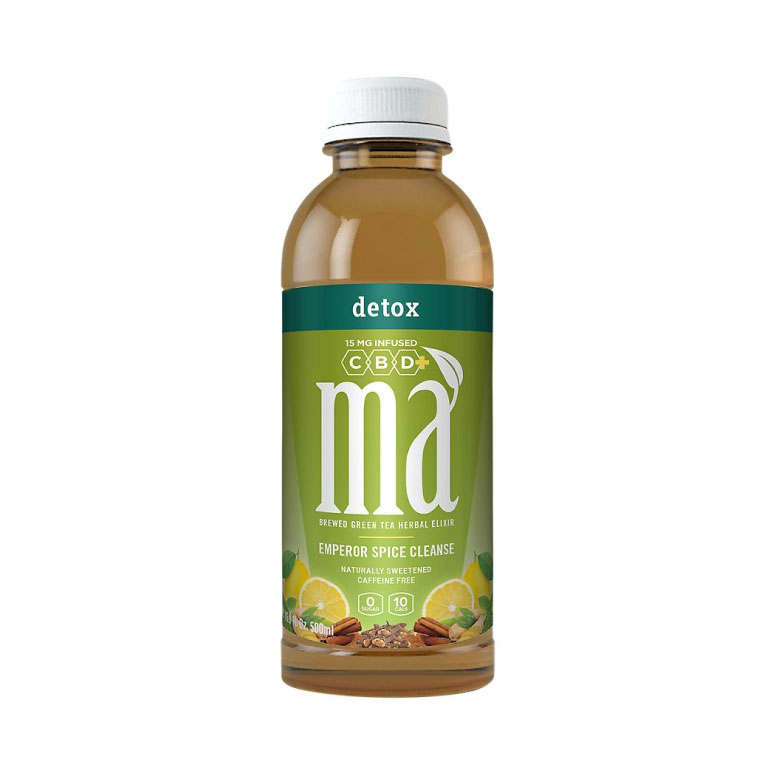 Ma' has to be one of the 10 best CBD teas on the market if it's found its way into the mainstream fitness community—which it has done. It is available exclusively through the Vitamin Shoppe, both online and in retail stores in certain states. The company draws inspiration from Sh'nnong, the Chinese emperor who legend says was the inventor of tea, and who first made ma' by steeping tea with hemp and other herbs over 4,700 years ago.
These teas span centuries of medical knowledge, designed for people living in the modern world using herbs favored by traditional healers. For example, their "Detox" tea contains dandelion root, schisandra berry, and cloves, which promote liver function. Each bottle of pre-brewed tea contains 15mg of CBD, and you can get a pack of 12 bottles for $49.99.
How CBD Tea Boosts Your Health and Helps You Relax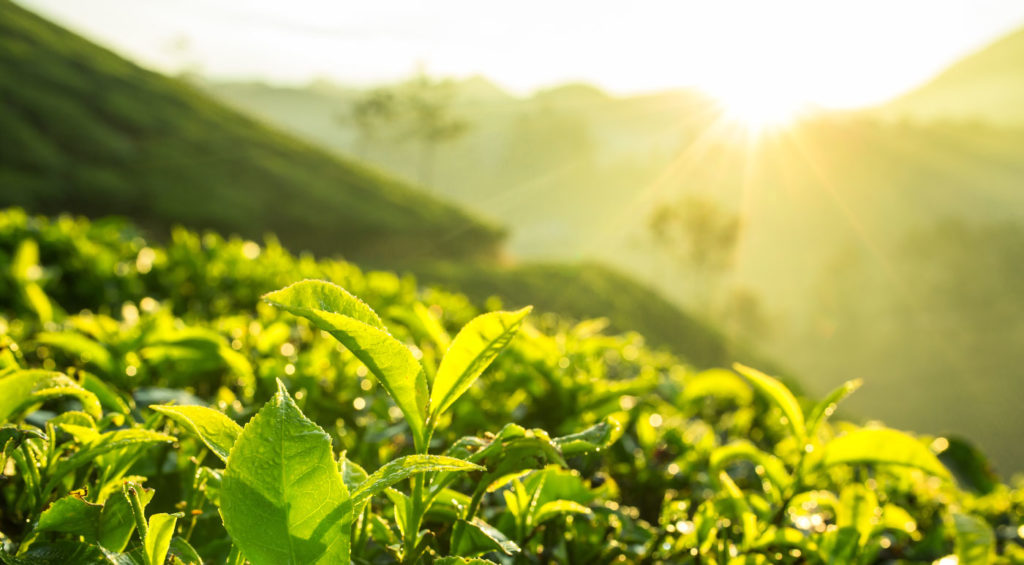 CBD teas are infused with organic compounds known as cannabinoids. Cannabinoids found in herbs like the cannabis plant (Cannabis sativa) include cannabidiol (CBD) and tetrahydrocannabinol (THC). These act on your body's endocannabinoid system, causing nerve cells to send signals and create changes in your body's function. This helps control several important processes in your body, such as sleep, pain, appetite, and mood. Best of all, CBD does this without causing serious side effects like some pharmaceutical drugs can.