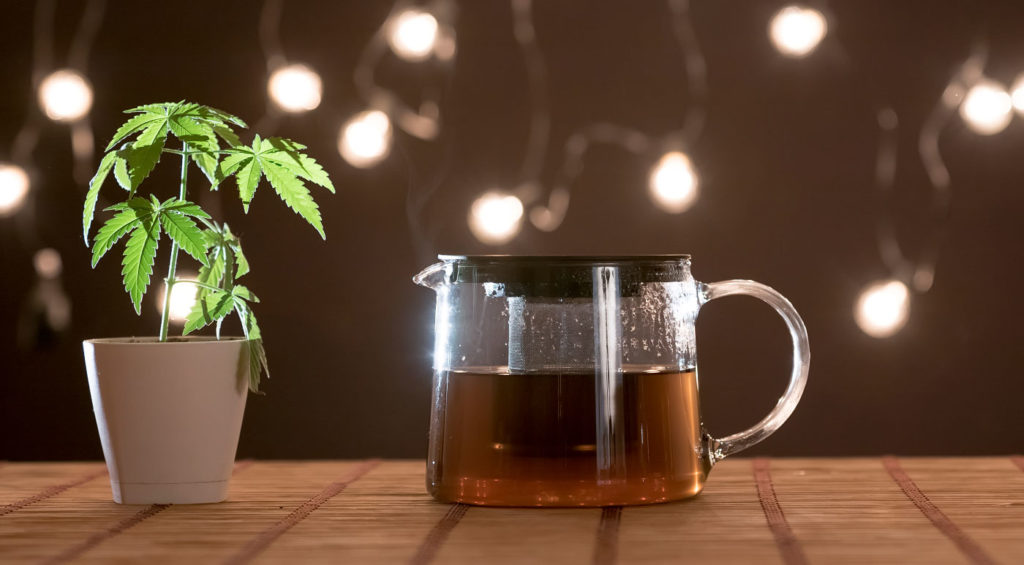 What could be more relaxing than a warm, soothing cup of tea? How about tea infused with CBD? Cannabidiol (CBD) is potentially useful for pain relief and could help lift your mood, making it an excellent ingredient to add to an already comforting beverage. Of course, if you're looking for refreshment, nothing beats a cold glass of CBD iced tea, either.
Whether you want a tea that will get your day off to a good start or help you unwind for a good night's sleep, you can find many varieties of CBD-infused tea for the ultimate calm. Here are our picks for the best CBD tea choices you can buy today.
Use These Convenient Page Jumps To Start Your Mornings With Smooth CBD Tea!
---
Best CBD Teas
CUE Rise 20mg CBD shot with Caffeine – Lemon Tea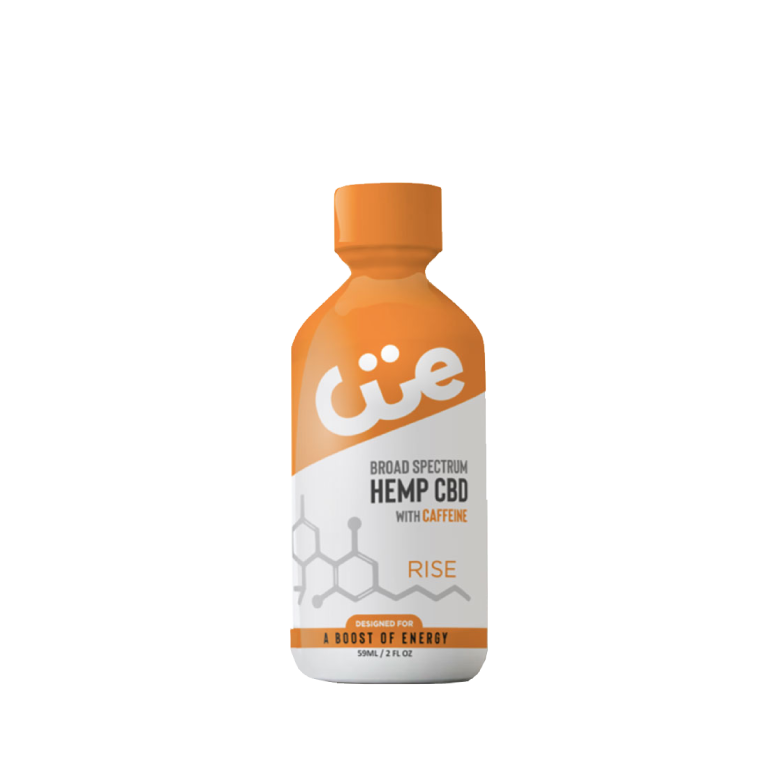 Highlights:
Concentrated shot of CBD tea
Broad-spectrum hemp oil
Made with natural caffeine
Description:
Ingredients: Yerba mate, green bean coffee, ginger extract, lemon extract, sugar, citric acid, potassium sorbate, monk fruit, glycerin, xanthan gum, broad-spectrum hemp CBD oil
Pricing: $0.25 per milligram
Company: CUE's CBD shots are made with natural caffeine derived from Yerba mate and green bean coffee for a steady lift. They are infused with 20 milligrams of broad-spectrum CBD that has been made more bioavailable, thanks to nanotechnology.
If you're the type that's in too much of a hurry to sit and enjoy a cup or a tall glass of iced tea, this might be the product for you. It's designed as a two-ounce shot of CBD and caffeine to get things rolling. The inclusion of ginger and monk fruit only adds to this innovative drink's appeal.
Shipping: Free shipping on orders over $65 through Direct CBD
Returns: When purchased through Direct CBD, unopened products returned within 30 days are eligible for a full refund.
---
Waveland Green Tea With CBD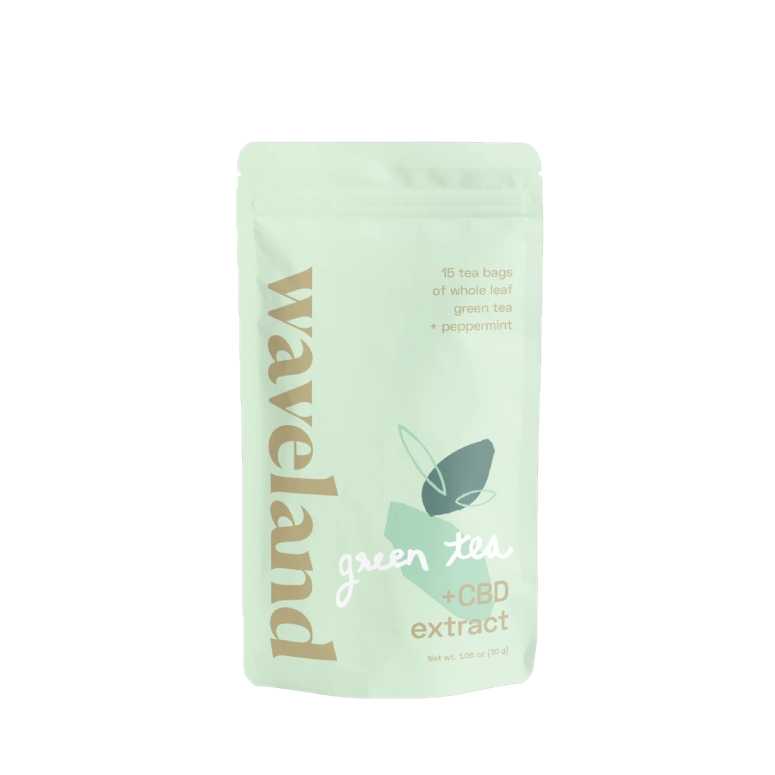 Highlights:
Broad-spectrum
Choose from several teas
Minimal ingredients
Description:
Ingredients: Broad-spectrum CBD extract, green tea, peppermint leaf
Pricing: $0.17 per milligram
Company: Waveland is a newer brand that specializes exclusively in CBD teas. They source hemp from farms that use organic methods and embody sustainable principles, and their high-quality tea leaves come from all corners of the globe.
Waveland's Green Tea With CBD is a mix of Chinese gunpowder green tea, peppermint, and 10 milligrams of broad-spectrum CBD in each pyramid tea bag. There are 15 bags per package. Great when served hot or over ice, this medium-caffeinated tea is the perfect pick-me-up any time of the day. Customers can also select Waveland's black, herbal, or white teas with CBD.
Shipping: Free shipping on orders over $40
Returns: For damaged or defective products, contact support within 14 days for a replacement or refund.
---
Buddha Teas CBD Turmeric and Ginger Tea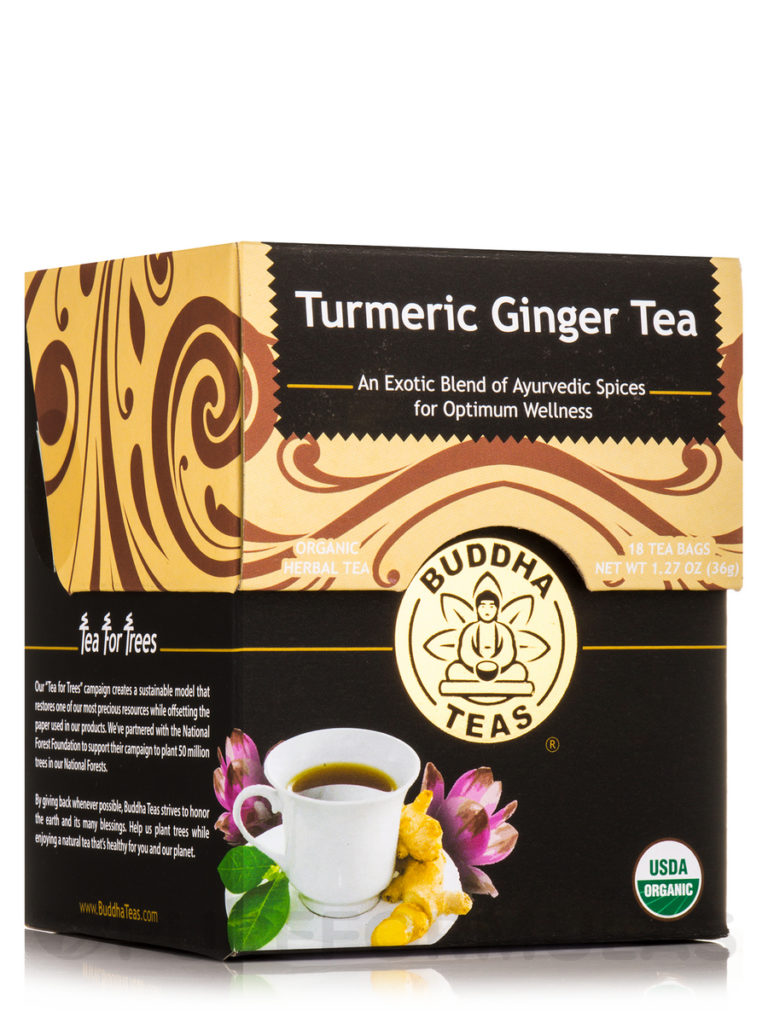 Highlights:
Excellent selection of CBD teas
Organic ingredients
Satisfaction guaranteed
Description:
Ingredients: Broad-spectrum CBD extract, green tea, peppermint leaf
Pricing: $0.22 per milligram
Company: The scientists at Buddha Teas ensure that each cup you brew absorbs all the CBD out of the leaves, so you get the effects you desire (and paid for). They do this by creating nano-sized particles of water-soluble CBD. This form of CBD readily diffuses into hot water and has a high bioavailability, meaning it can be readily absorbed and used by your body.
Buddha's CBD Turmeric and Ginger Tea combines organic black pepper, ginger root, and turmeric with five milligrams of CBD to create a potent anti-inflammatory tea that is as delicious as it is effective. It comes in a box of 18 bleach-free tea bags and carries a 100% satisfaction guarantee. This flavor is not the only one Buddha Teas carries, though. You can check out all of the brand's CBD teas by ordering the full collection bundle for one great price.
Shipping: Free shipping on orders over $50
Returns: 100% money back and satisfaction guarantee. Contact support to initiate a return.
CBD Tea's Blazin Berry Black Tea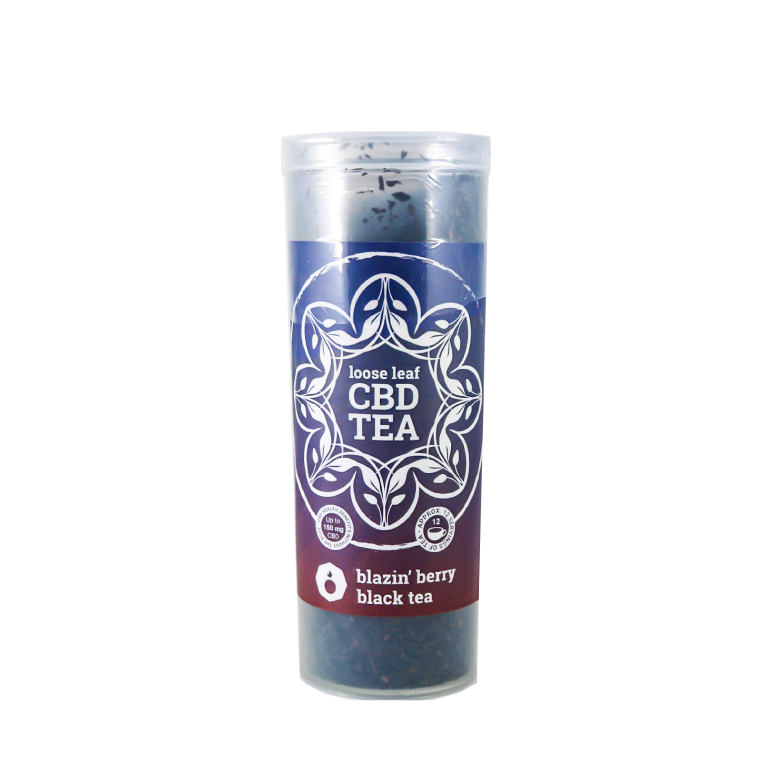 Highlights:
Fresh berry flavor
100% organic
Tons of other flavor options
Description:
Ingredients: Assam black tea, dried black currants, blackberry extract, CBD hemp oil
Pricing: $0.10 per milligram
Company: CBD Tea has one of the most extensive collections of CBD-infused teas we have found. Choose from fun flavors like apple pie, banana bread, volcanic vanilla, and more. Plus, they have some great tea-brewing utensils, such as filter straws, infuser balls, and infuser bottles.
The brand's Blazin Berry Black Tea comes loose in a gift-worthy 1.5-ounce tin, which is enough for about 12 cups. Each can has around 150 milligrams of CBD, so you'll get about 12.5 milligrams in each cup. Certificates of analysis are available on a dedicated web page on the site.
Shipping: Standard shipping fees.
Returns: Return new, unopened items within 30 days of delivery for a full refund
---
Glow Water Restore CBD Tea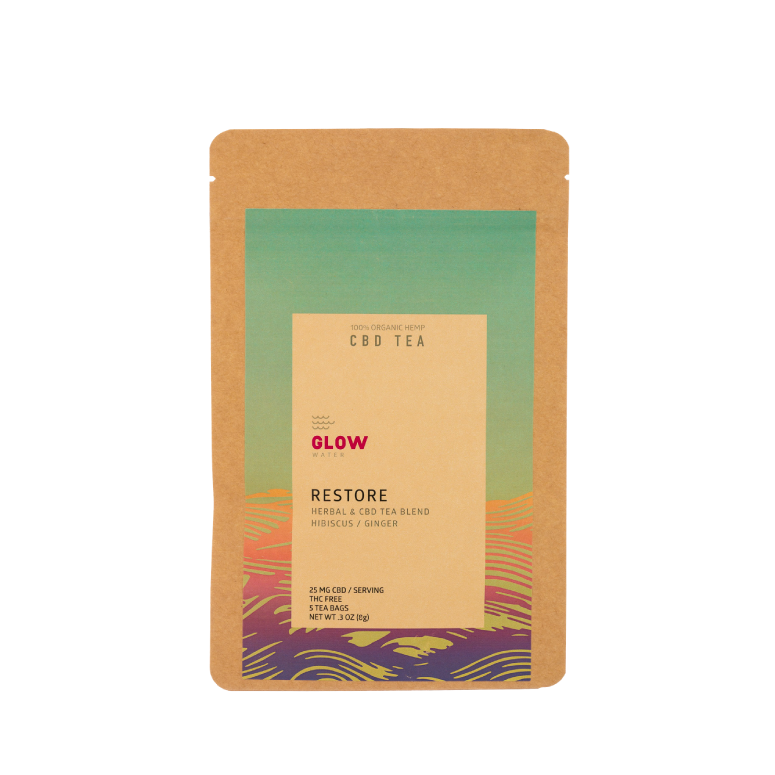 Highlights:
Reviving and replenishing
Water-soluble CBD
25 mg per bag
Description:
Ingredients: Herbal tea, hibiscus, ginger, CBD
Pricing: $0.30 per milligram
Company: Glow Water teas contain organic hemp and hand-selected medicinal herbs. That's it. No sweeteners, no other additives. They offer three specialized tea blends to choose from based on what healing effects you are looking for: "Calm," "Restore," or "Sleep." Featured here, the Restore CBD Tea is made with hibiscus and ginger to encourage renewal.
Each tea bag contains 25 mg of CBD, one of the highest strengths of CBD you can find in a teabag. The strength of the dose and purity of the products makes Glow Water a solid choice for those looking to choose one of today's 10 best CBD teas.
Shipping: Pay your own shipping
Returns: Refunds issued on a case-by-case basis. Contact support with concerns.
---
The Tea Can Company HempTea Healing Elderberry
Highlights:
Pharmaceutical-grade CBD
Caffeine-free
No THC
Description:
Ingredients: Lemongrass, elderberries, echinacea, lemon verbena, cinnamon, ginger, licorice, CBD oil
Pricing: $0.25 per milligram
Company: The Tea Can Company is a specialty brand that carries regular and CBD-infused options. They offer several flavors and gift options in their Hemptea line of products, including a Hemptea heart, tea accessories, gift basket, and several unique flavors.
This Hemptea Healing Elderberry tea comes in a 1.12-ounce jar and contains 224 milligrams of pure CBD isolate along with elderberries and other healing botanicals. It's ideal for warding off illness and boosting immunity. As a bonus, you can order custom labels for cans of Hemptea, making them great for gifts or party favors. With a background in tea, choice of dosage, and other perks, The Tea Can Company certainly ranks as some of the top CBD teas we have found.
Shipping: Free shipping on orders over $49.
Returns: Refunds issued on a case-by-case basis. Contact support with concerns.
---
Why These CBD Teas Are the Best
If you're wondering how we can analyze dozens of CBD teas to come up with a list of the best, it's no easy task! There are plenty of excellent companies to select from. However, we dig in to some specific qualities we feel are the most important to find the best CBD teas:
Since the CBD industry is still fairly unregulated, third-party lab testing has become the most reliable way for companies to prove their transparency. Without these tests, you have no way of determining what is actually in the final product.
How does it work? Reputable brands send batches of their products to independent and unaffiliated labs for analysis. In return, they receive a COA (certificate of analysis), which states the percentage of cannabinoids in each product, along with the presence of any contaminants such as mold, bacteria, fungi, pesticides, heavy metals, and other unwanted toxins. (These should all be listed as ND or not detected.)
All of the companies we feature undergo this vital step, and they display the results of these tests prominently on their websites. If you ever come across a brand that does not share the COAs for their products, move on and find one that does. It's that important.
While most food and health supplements are required to have clear labels, many CBD brands have lacked this fundamental consideration in the past. Again, this is due to a lack of standards and clear regulations in the hemp industry.
With no hard-and-fast rules when it comes to labeling, companies should take it upon themselves to provide this information upfront. You should be able to read the list of ingredients, directions for use, size, potency, and any other pertinent information.
Many brands even have QR codes on their packaging, which you can scan for the latest lab results and other details.
Hemp is a highly versatile plant and is even used in bioremediation to clean up hazardous waste sites. It absorbs many of the nutrients from the soil in which it is grown, and unfortunately, many of the toxins as well.
United States hemp is grown under strict guidelines that ensure the soil is clean and free of contaminants. Imported hemp and CBD oils are not subject to the same rules. That is why, wherever possible, we choose companies that source their hemp right here in America.
How do you tell if the CBD product you are considering is a good buy or not? There is one sure way of finding this out, and it's not from the actual price tag. Instead, you need to calculate the total cost per milligram of CBD in the item.
Some people are surprised when discovering that so-called expensive brands are actually cheaper than the lower-tier alternatives when the cost per milligram is calculated.
In an age when there are so many tech tools at our disposal, there should be no reason for any online purchase to be a hassle, including CBD. And with so many brands vying for your attention, excellent customer service should be a top priority.
We look at things like how easy a site is to navigate, what the checkout process is like, the shipping and return policies, and the different ways to contact support if you have a question. The best brands have a seamless interface that makes purchasing CBD online a pleasant experience for anyone.
How long has the company been in operation? Have they been featured in other publications? What are real customers saying about them? We ask all of these questions when determining a brand's reputation.
Whether it's a well-known brand with a loyal following, or a newer company just breaking into the marketplace, we scour the reviews and forums looking for what makes them great, and we pass on that information to you.
Final Thoughts
Whether you're new to CBD or shopping for new ways to infuse it into your life, it's essential to do your own research. Since the FDA doesn't regulate CBD products, you can't always be sure what you will get if you shop without a little prior knowledge. Always be sure to get product information from a trusted source.
---
Additional Resources: