Yes, you read that correctly: CBD oil can have health benefits for dogs, too.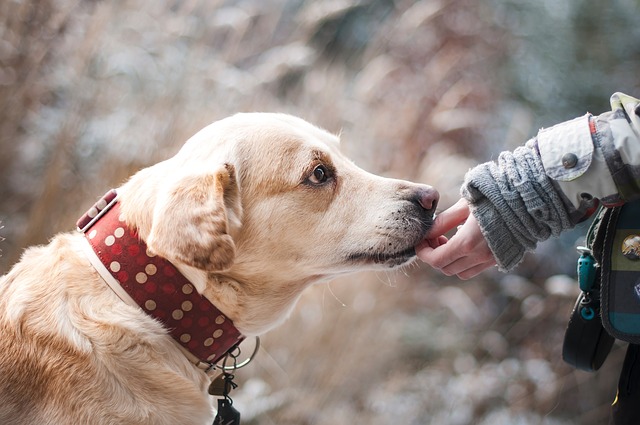 If you're looking for CBD oil, you probably already know about the health benefits associated with CBD. These benefits are possible because CBD oil interacts with the endocannabinoid system that forms part of your CNS (central nervous system).
Well, dogs have a CNS too, which means CBD can be equally beneficial to them as it is to us humans. Pretty cool, huh?!
While these products aren't yet endorsed for pet use by the FDA, it doesn't mean you shouldn't use them. There's a lot of red tape and accountability standing between the FDA and formal approval of any new product; it takes time. But vets throughout the U.S. already support CBD oil use for dogs.
The truth is, wherever you turn, organizations that provide advice or care for dog health increasingly support CBD use. Vet-approved website PetMD highlights the potential benefits of CBD oil for dogs. What's more, the only negative associated with this advice is the risk of toxicity, which can be managed simply by not overdosing your pet.
And there's promising research underway, too. A study by Cornell University showed encouraging results when CBD oil was administered to osteoarthritic dogs. As many as 80% of the dogs in the trial saw improvements in mobility and pain reduction.
So now that we've helped alleviate any concerns you might have, let's take a look at how it works. We'll also explore the 9 best CBD oils for dogs.
Find The Right CBD Oil For Your Beloved Kanine With Page Jumps!
---
The 9 Best CBD Oils for Dogs
CBD oils vary, so we did some background research for you. Below, you'll find the 9 best CBD oils for dogs out there right now, including the best value, best tasting, and our overall best pick. Any of these oils are suitable for your dog, but keep in mind your dog's size and dosage requirement when you're shopping.
King Kanine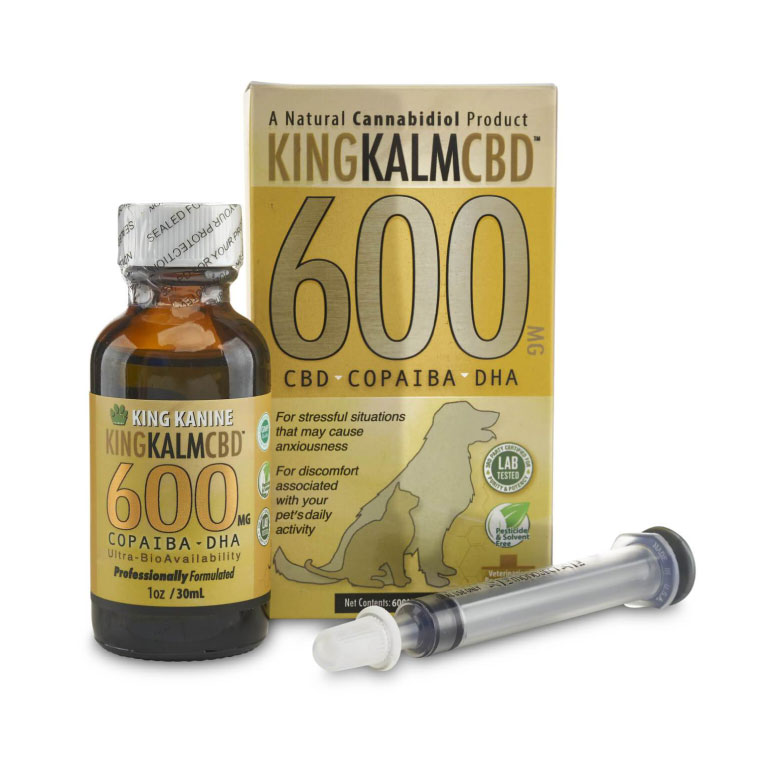 King Kanine offers their own custom dog treat, King Kalm Crunch, which is made with organic ingredients. Formulated by a licensed holistic physician, it comes in three flavors at around $42.99 per pouch, though it's frequently on sale.
King Kanine also produces CBD oils in doses of 75 mg, 150 mg, 300 mg, and 600 mg which cost ($40.00 – $109.99), as well as tinctures and balms for topical use. We also love that King Kanine offers breed-specific CBD oils, which remove any doubts about dosing.
---
Medterra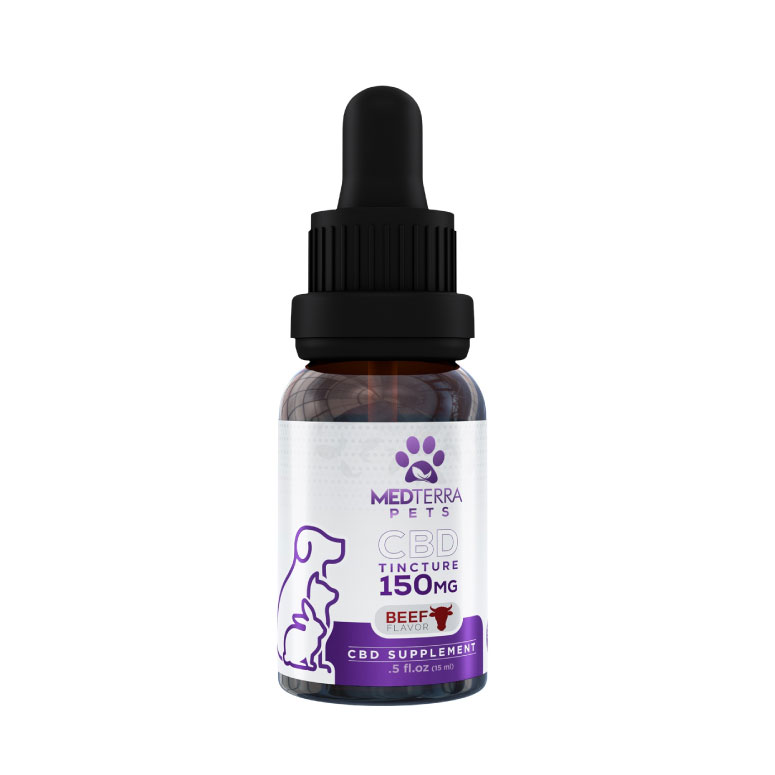 Medterra doesn't just produce CBD products for dogs, but humans too. Their oils and tinctures are available both flavored and unflavored, making them easy to disguise in your dog's food.
Their Joint Support chews come in packs of 10 or 30 and cost ($15.00 – $34.99). They contain MSM, glucosamine, and chondroitin, promoting joint health in older dogs or those affected by osteoarthritis. They also have Calming chews in packs of 10 or 30 ($15 – $29.99), which include natural plant extracts designed to promote relaxation and alleviate anxiety.
---
NuLeaf Naturals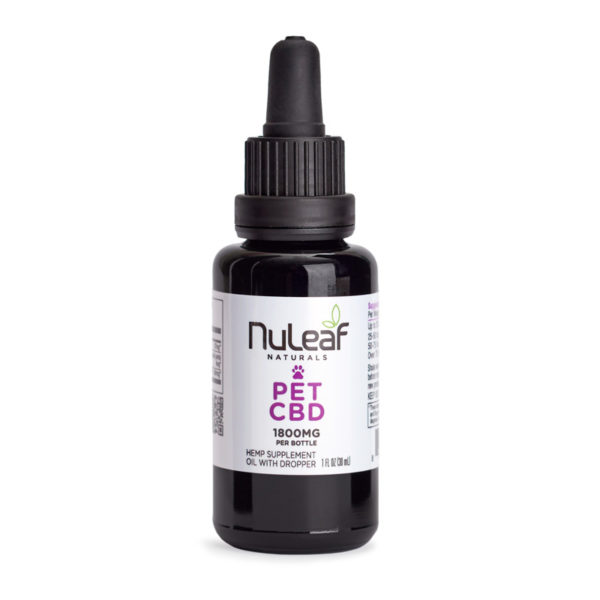 NuLeaf Naturals provides CBD oil for dogs that can also be used for humans. This high-dose CBD is extracted from non-GMO hemp plants grown in highly controlled farms in the U.S. They're wholly organic and contain no harmful chemicals, herbicides, or pesticides.
The Full-Spectrum Pet CBD Oil comes in 300mg-1800mg and costs ($19.00 – $89.00). It contains only full-spectrum hemp extract and virgin hemp seed oil. Full-spectrum CBD oil promotes anxiety and pain relief in our furry friends who we love to see confident and comfortable.
---
HempMy Pet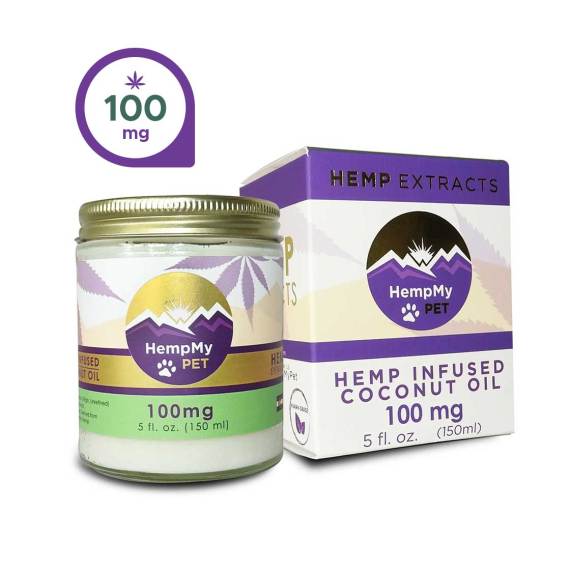 We love HempMy Pet due to the number of options and the company's focus on organic products. Whether you'd prefer oils, tinctures, or treats, this company offers all three.
Their oils—including organic coconut oil—range from 100 to 500 milligrams, and cost from $39.00 to $89.00 for higher doses. You can also pick up a Wellness Bundle that contains oil, a tincture, and treats for $93 (small) or $190 (large). 
---
Honest Paws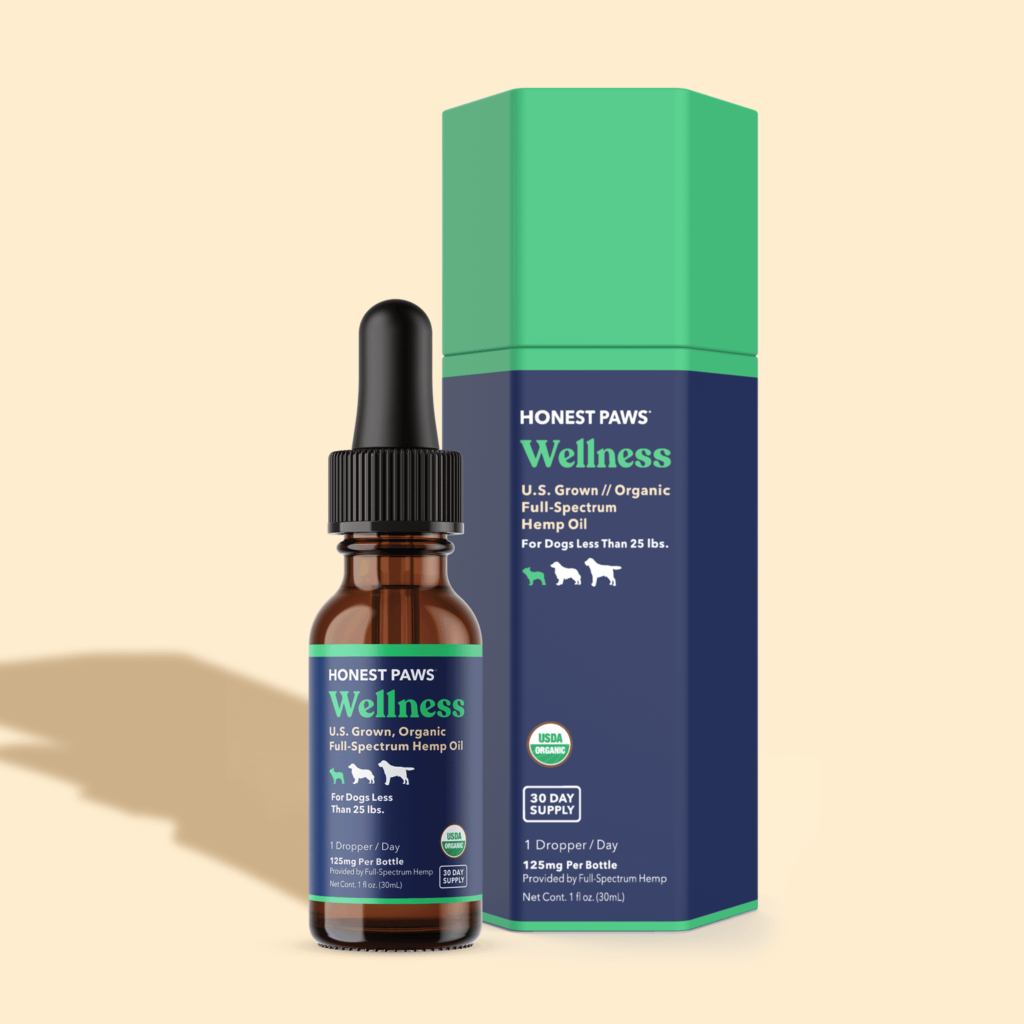 Honest Paws are a great bunch of people: They've been featured on Fox, NBC, CBS, Forbes, and other major media outlets. It's easy to see why we picked their CBD products as the best tasting.
Honest Paws' Bites range of dog biscuits ($29.99) includes peanut butter, turmeric, and creamy coconut, targeting anxiety and joint health. For picky pups, these products are a great choice. Honest Paws also stocks CBD soft chews at $35.95, and oils infused with chamomile and turmeric for $39.95.
---
Innovet PurCBD+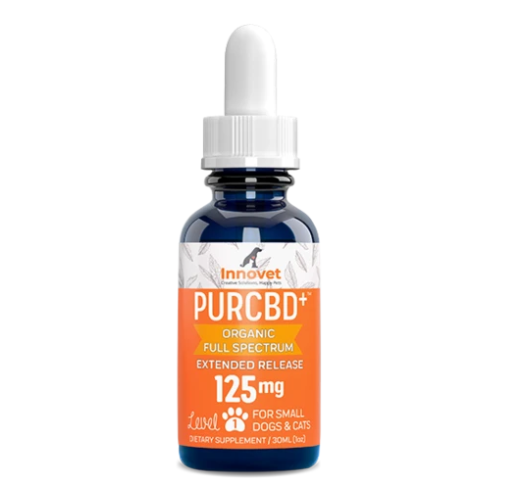 Innovet PurCBD+ is an organic full-spectrum CBD oil safe for dogs, cats, and horses. Innovet guarantees absolutely zero THC and zero additives or chemical residues in their products, which come in a 125 mg and 6000 mg variety.
The 125 mg option costs $28.00 and the 6000 mg option will run you $260.00. The 750 mg product is for large dogs and small horses. The CBD is sourced in Oregon and extracted with a cold CO2 process. Innovet sells vials that are labeled for compliance in Indiana and Virginia for your convenience.
You also have the added bonus of a 30-day money-back guarantee and an extremely detailed dosing guide available on the site.
---
Kat's Naturals: Pet Care CBD Oil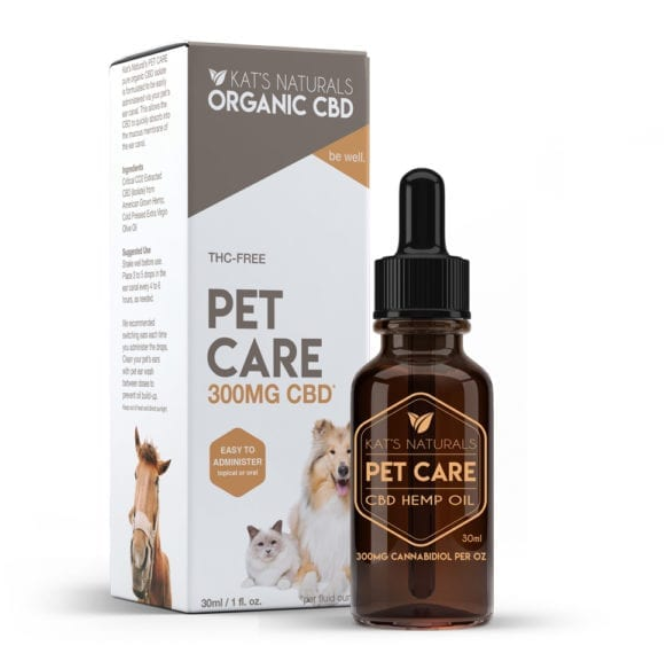 Kat's Naturals Pet Care CBD Oil is the most innovative product on this list. A 300 mg 30-milliliter vial will cost you just $55.99. It is a CO2 extracted CBD oil with olive and lavender oils to be administered as an ear drop.
This is great for those of you who don't think your dog would ingest oil or a treat; it also ensures absorption. Be sure to clean and alternate ears when you're giving your dog this type of CBD.
Essential oils (such as lavender) should not be administered to cats.
---
Lazarus Naturals CBD Pet Tincture Oil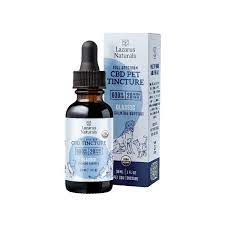 Lazarus Naturals makes CBD Pet Tincture Oil in two varieties; you can get a 600 mg 30-milliliter vial for $20.00 or a 2,400 mg 120-milliliter vial for $60.00. Each milliliter of the vegan, non-GMO tincture contains 20 mg of full-spectrum CBD.
The site offers comprehensive reports on the heavy metals and pesticides per batch and potency results per batch so that the low cost doesn't send up any red flags. The vial comes with a graduated dropper to simplify dosing and an easy-to-read guide is included right in the product listing.
---
Pet Releaf CBD Oil for Dogs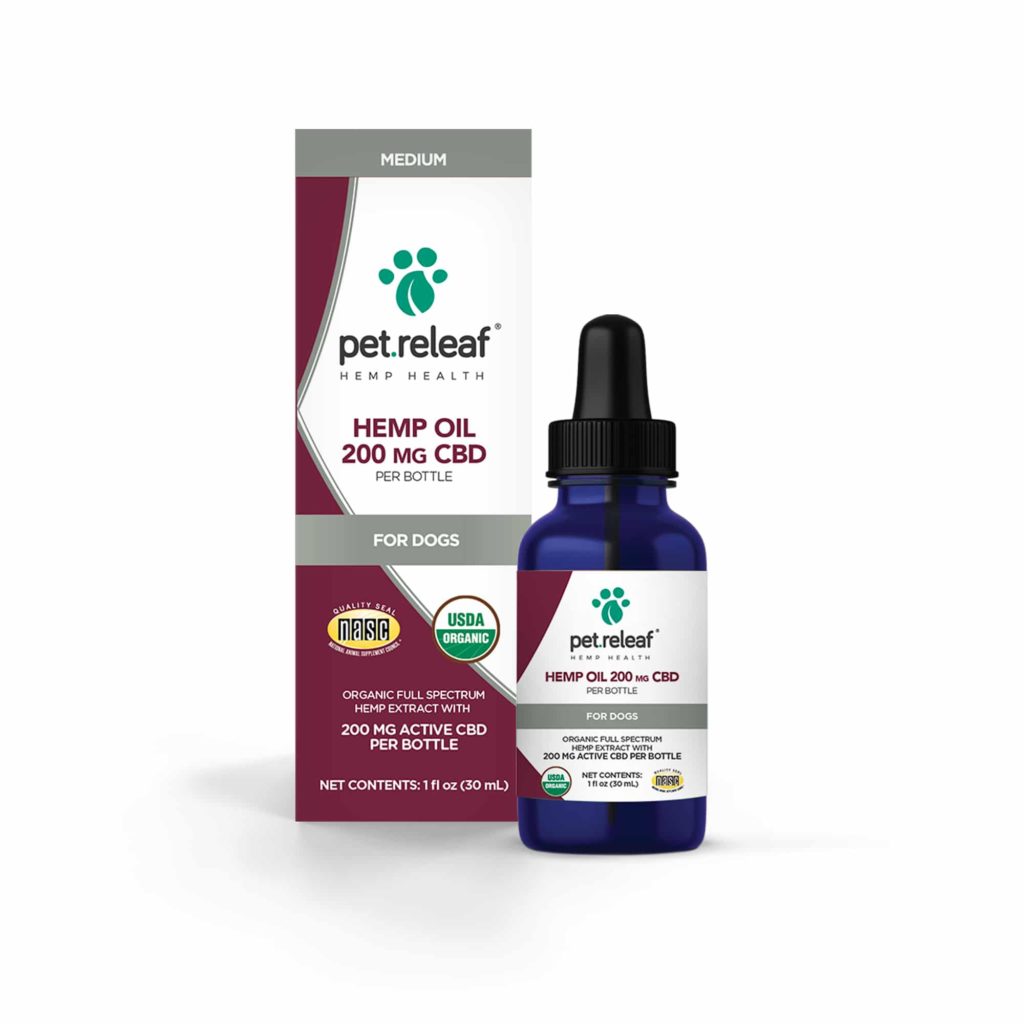 Pet Releaf CBD Oil for Dogs is a full spectrum CBD oil extracted with pressurized air. It is third-party tested for guaranteed quality and made with certified organic hemp grown in Colorado. The thing that sets this oil apart is that the hemp plants used are a proprietary and specialized strain that is specifically grown for this oil.
The strain has an extremely beneficial cannabinoid profile for your furry friends. This is the only company we found that makes a topical product as well. 100 mg vials are $26.99, 200 mg costs $34.99, and 500 mg vials cost $68.99, and 750 mg costs $89.99. The company also offers some CBD dog treats in their shop.
---
How Does CBD Oil Interact with Dogs?
Man's best friend isn't all that dissimilar to man under the surface. Their endocannabinoid system works in almost the exact same way as it does in humans, meaning that CBD oil interacts in essentially the same way, too.
Your endocannabinoid system controls some essential bodily processes, including sleep, appetite, mood, memory, and reproductive processes. In fact, it's active and working even if you don't take cannabis or CBD oils. Unlike the psychoactive substance THC, endocannabinoids are naturally produced by cells within your body.
As a supplement, CBD can interact with neurotransmitters in your endocannabinoid system to help balance normal function and lessen any symptoms you're experiencing. The same is also true for your dog.
The Health Benefits of CBD Oil for Dogs
Supplementing your dog's food with CBD oil or using tinctures can have some hugely beneficial effects on their quality of life. The products we looked at in this article aren't necessarily a catch-all but focus on improving specific areas of your dog's health.
What Conditions Can CBD Improve?
Some of the common ailments that CBD supplements can help are anxiety, insomnia, and poor joint health. Anxiety can be a huge boon for pet owners; some dogs react very strongly to threats like loud noises or close proximity to strangers. But pet owners report an improvement in these behaviors, and a calmer, more relaxed dog through the use of CBD.
The same can be said for your dog's sleeping habits. CBD is recommended for people who have trouble regulating their sleeping cycle. Remember what we said about the effect of CBD on the endocannabinoid system? CBD targets receptors in your CNS and can improve your quality of sleep. The same effect can be seen in dogs who take these supplements.
Other benefits can include reduced nausea for dogs who are susceptible to it, whether it's caused by motion sickness when traveling, or a long-term health condition like IBS. But nausea can have other far-reaching effects, such as poor appetite or toilet troubles. The endocannabinoid system affects appetite, so CBD products can have a soothing effect on your dog's stomach, regardless of the cause. Though research is still lacking in this area, pet owners have been able to reduce their dog's nausea using CBD.
You'll also notice that many CBD brands offer products for joint health because another main use for CBD is to reduce inflammation, both chronic and acute. Since inflammation can lead to reduced mobility and pain, CBD could alleviate your dog's suffering.
Though the above conditions are the most commonly treated with CBD, your dog may also see benefits in other areas of their health. These could include decreased seizures for dogs with epilepsy, improved cardiovascular health, and a stronger immune system.
How to Give CBD Oil to Your Dog
While humans have a lot of options here, the avenues for administering CBD oil to dogs are more limited. Giving any kind of non-food substance to your pets is never easy, but there are tried and tested methods.
You can get topical products, but there's always the risk of your dog cleaning itself and removing the oil, lessening the benefit. Even when hidden behind the ears, it only takes a rain shower during your dog's exercise time to wash the product away. That's why the best two ways to administer CBD to dogs are through oils or tinctures, or tasty treats.
Tinctures and Oils
The great thing about these products is that you can drop them directly into food at meal times, disguising the flavor. Avoid adding them to water, though, as they may be wasted if your dog is a messy drinker and splashes the water. Oils and tinctures are fast-absorbing, and you can adjust the dosage depending on your dog's needs.
Edible Treats
While it takes longer for edibles to be broken down and absorbed, the effects last longer than oils or tinctures. And because they're mixed directly into the treat's ingredients, you've got a vast range of flavors and doses to choose from. Of course, one of the main benefits here is that there are very few dogs on the planet that will refuse a treat.
What Dosage Should You Use?
You might struggle to get dosage recommendations from your vet, despite the lack of psychoactive properties and the fact that it's not illegal to use CBD oil. This is because cannabidiol comes from the cannabis plant and is used in many of these oils. While it's extracted from industrial hemp plants, they are essentially the same plant with one simple difference. Industrial hemp must have less than 0.3% THC to be categorized as such, as opposed to the cannabis plant.
THC is what gives cannabis its psychoactive properties, which is why cannabis is categorized as a Schedule I substance in the U.S. Because of this fine line between legal and illegal use of cannabis plant extracts, vets are generally careful with their recommendations—but the fact remains that many still advise that CBD oil is safe when used in correct doses.
The typical advice is to start with a low dosage and increase it slowly until the desired effects are achieved. Your dog's body weight and size determine the dose that ultimately works for him, but as a general rule, start with 5 milligrams CBD per 50 pounds of body weight.
Choosing the best CBD product for your dog can be difficult when you're new to the market. That's why we picked out five of the best CBD oils for dogs. But before we move on to that, here's a quick list of what you should take into account:
Take a look at the advertised effects of the oil and whether they're suited to the specific symptoms or conditions your dog is experiencing.
Examine the ingredients to be sure CBD is included. Because of the association to the cannabis plant, some companies might not explicitly make clear on the label that the oil contains CBD. Some might not even contain CBD at all, but may be branded to appear as if they do.
Be wary of your dog's required dose before making a purchase. Remember, you're supposed to start with a low dose. A high-dosage product for a tiny chihuahua would be too much too soon.
Look for organic products. Avoid anything that's filled with unknown chemicals, or worse, pesticides and fungicides.
Additional Resources on CBD for Pets: