Are you wanting healthier skin? CBD Oil may be your solution.
The best CBD oil for healthy skin is either a skin serum, or a topical cream. Topical creams have added ingredients to help with skin health and youthfulness. They also have other oils like avocado oil to help with the absorption of the CBD. Topic creams also help moisturize your skin.
Skin serums, on the other hand, are purer forms of CBD usually designed to address things like acne or other skin issues.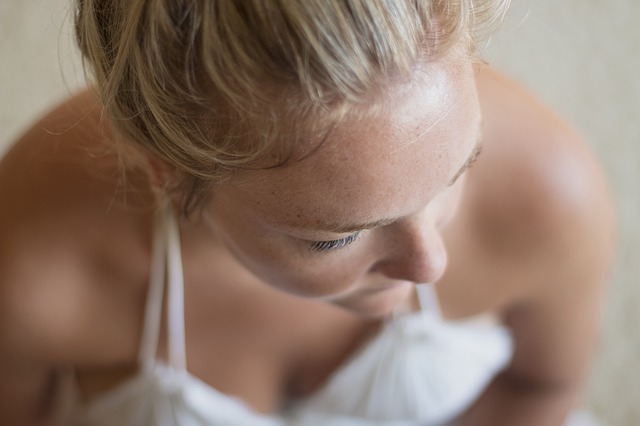 Smooth, radiant skin signifies youth and good health. But the largest organ in the human body does a lot more than look pretty – skin regulates temperature, protects the body from the outside environment, produces vitamin D, and warns of potential danger through the sense of touch.
Healthy skin can help us to look and feel our best, and the beauty industry is always searching for the next breakthrough to help protect and restore this important organ.
Cannabidiol, or CBD, is a compound derived from cannabis. With its antioxidant and anti-inflammatory properties, CBD could be the next big thing in skincare.
Clearing Up Skin Conditions with CBD
Skin conditions can be painful,and may cause significant damage to a person's self-esteem.CBD may offer relief from a variety of skin conditions, without negative side effects.
Psoriasis is a disease that causes painful,scaly patches, resulting from skin cells growing at an abnormal rate. A recent study suggests that CBD has the potential to effectively treat psoriasis by slowing the growth of these cells.
CBD may also help to treat acne.It attacks acne on several different fronts, from slowing the production of oil to suppressing inflammation.
The Antioxidant Protections of CBD
Free radicals are unstable molecules that are produced naturally within the body.They are important to many cellular processes, but when they build up too much, they can damage cells. This is known as oxidative stress and can include DNA damage, which may play a role in illnesses like cancer.
Antioxidants are substances that stop oxidative stress by stabilizing free radicals. Nutrients like vitamin C and vitamin E are antioxidants – and so is CBD. Topical skincare products with antioxidants can protect skin from damage and reduce signs of aging.
Can CBD Oil Help Heal Injuries?
We've all experienced minor cuts and scratches, and normally the body can heal from this damage on its own. But when the injury is more severe, or when an infection occurs, wound care can prevent major complications.
Inflammation is the body's natural response to injury, but it can cause redness, swelling, and pain. As an anti-inflammatory, CBD helps manage the body's response to injury and reduce these unwanted side effects.CBD also has antibacterial properties, and it even kills antibiotic-resistant MRSA. This is important because bacterial infections in open wounds can spread throughout the body and cause life-threatening illness.
CBD and Skin Cancer
Skin cancer is a deadly disease that affects millions of people. Melanoma, the most dangerous form of skin cancer, kills more than 10,000 people a year in the US alone.
In preclinical trials, CBD slowed the growth of melanoma in mice.Researchers treated mice with a combination of CBD and THC, another compound found in cannabis. According to the study, "THC and CBD engage different molecular machineries that cooperate to promote tumor cell death."The authors called for more research to determine whether CBD can help with skin cancer in humans.
CBD products – from topical creams to sublingual CBD oil drops – can help keep your skin healthy and looking its best. They may also be effective as part of a treatment plan for serious skin conditions. Always talk to your doctor about using CBD as part of your treatment plan.
Best CBD Oils for Healthy Skin
It's the body's largest organ and the most obvious indicator of health. A well-rested, fit, hydrated, and balanced person will have that "healthy glow," while stress, sleep deprivation, dehydration, and inactivity are quick to register on our faces and bodies as a poor complexion, or in the form of acute issues like rashes, pimples, redness, and wrinkles.
In addition to exercise, good nutrition, rest, and emotional self-care, CBD oil products can form an important part of your skincare routine. CBD oils for healthy skin have caught on in a big way, with mainstream beauty and wellness media outlets touting CBD skin creams, serums, balms, and kinds of butter. More than a buzz, there's serious science behind the use of CBD oils for healthy skin, as this natural, safe, and effective botanical targets such a wide variety of common skin problems at their root.
Inflammation underlies a host of skin woes, from acne to rosacea. The well-established anti-inflammatory effects of CBD have been shown to effectively fight inflammation, reducing uncomfortable and unsightly puffiness, redness, and swelling.
Oxidative stress results from exposure to free radicals and can lead to spotting, wrinkles and even skin cancer. Thanks to modern pollution and ozone layer depletion, our skin is constantly bombarded with free radicals. CBD helps undo oxidative stress damage by encouraging cell death in damaged skin cells.
Pain and Irritation caused by chafing, scrapes, injury, and rashes can be effectively soothed by CBD topicals, thanks to CBD's ability to bind to the skin's natural TRPV-1 receptors.
Dryness can result in fine lines, flaking, premature aging, ashy skin, and eczema. The natural fatty acids in CBD restore the skin's moisture and reinforce its natural acid mantle barrier.
Oiliness results from overproduction of sebum and leads to the clogged pores that create pimples. Yes, CBD can moisturize by restoring the acid mantle AND fight oil, doing double duty by encourage natural cycles of sleep and relaxation.
Hormone Imbalances are another less-obvious but clearly proven cause of worrisome skin conditions, and CBD can help fight hormone problems by restoring homeostasis to the endocrine system.
CBD oil can be applied topically in a variety of skin care products (like serums, creams, and balms) for immediate effect. This delivery method is ideal for conditions like swelling and redness. It can also be taken internally (through CBD tinctures, capsules, or vape) to address long-term, system-wide issues like hormone imbalances and stress. In the case of issues like acne and eczema, users may want to use CBD both internally and externally to fight acute outbreaks and to correct the underlying cause.
However you choose to take it, you want to find the best CBD oil for healthy skin. What does that mean? You want a CBD skin care product that's high-quality, pure, effective, and high in value. You'll also want to find a product that's available in a range of doses and delivery methods, and one which contains synergistic botanical compounds. You'll get more bang for your buck- and better skin health- from CBD oils that also contain extracts like calendula (to calm irritation), tea tree oil (to repel bacteria), neem oil (to fight sebum), and jojoba (to moisturize).
We've taken out the guesswork by thoroughly researching the CBD oil market to bring you a curated ranking of the best CBD oils for healthy skin.
Methodology:
Range of Products Score (1/5)
Beginner Dosage Score: the lowest dosage available in this brand's product
Experienced Dosage Score: the highest dosage available in this brand's product
Delivery Method Score: the number of distinct delivery methods of CBD oil products
Cannabinoid Variant Score (1/5)
The range of documented cannabinoids in the brand's products. Often achieved through different distillation methods or extraction methods utilizing the whole hemp plant.
Product Purity Score (1/5)
Measure of extraction method, whether a brand's products are certified organic, and quality control testing employed by each brand.
Sourcing Score (1/5)
Measure of location hemp is sourced from as it relates to environmental toxins and greater cannabinoid density. Additionally, a measure of the number of chemicals used in the production of the hemp (if any).
Health Issue-Specific Factors (1/5)
The brand's range of delivery methods that are particularly well suited for aiding the medical issue at hand. In the case of using CBD Oil for healthy skin, topical applications target issues like overproduction of sebum, dryness, and irritation on the skin's surface, while oral preparations may be used in tandem to address the hormonal imbalances and stress that lead to acute outbreaks.
The brand's range of additional herbs, vitamins, minerals, and carrier devices that are known to aid the medical issue at hand. In the case of skin health, antioxidant, anti-inflammatory and skin-soothing botanicals such as calendula and chamomile may be added to CBD oil preparations to enhance the product's therapeutic effect.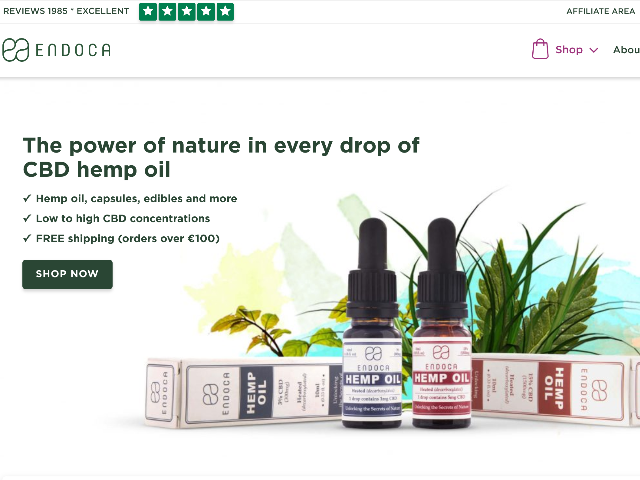 Endoca is a lifestyle as much as a CBD company. The company's charismatic owner is on a mission to bring the world the benefits of top-quality CBD oil while restoring global well-being through bold projects like a sustainable food production and agroforestry system, a hemp seed bank, a meditation and discourse center, and a charitable children's wellness foundation. This uncompromising and idealistic vision also applies to their top-quality CBD products, which are held to the highest standards of potency and purity. A full team of scientists, herbalists, and nutritionists contribute to each product's formulation. All Endoca CBD products are produced through organic and sustainable means, using pesticide and herbicide-free hemp grown in Denmark, which is then subjected to chemical-free extraction, all through certified GMP (Good Manufacturing Practice) means. All CBD products are also independently tested by third-party labs for purity, consistency, and potency, and customers can verify CBD oil test results online. We endorse the entire Endoca line of CBD oil skin care products. These include Hemp Salve, CBD Oil Lip Balm, and CBD Body Butter. In addition to a hefty dose of CBD (20 mg- 1,500 mg), Endoca's skin care products also incorporate healthy skin bonuses like Beeswax, Coconut Oil, and Shae Butter (for moisture), Lemon Peel Oil (to reduce sebum), Vitamin E (for wrinkle and scar-reducing antioxidants), and Terpenes (to calm inflammation).
Product Types: Tincture, Drops, Capsules, Suppositories, Ovules, Crystals, Salves, Body Butter, Chewing Gum
Our Recommended Product for Healthy Skin Entire skincare line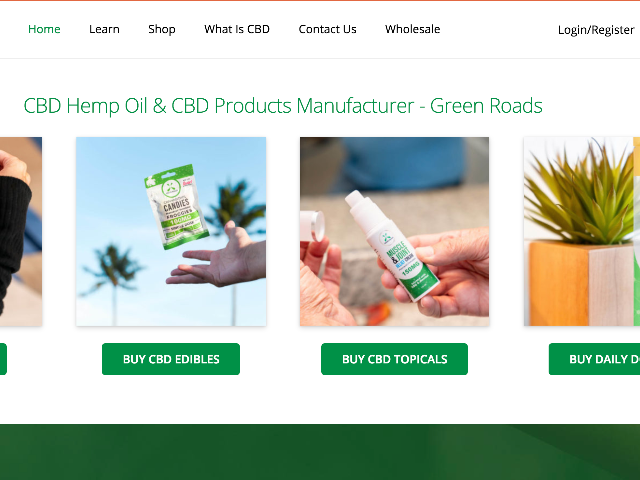 Green Roads is an extremely well-known and popular CBD oil brand, with a wide presence in brick-and-mortar stores. The company is notable for its wide range of dosages and CBD oil products, and the best selection is, naturally, available through the company website. You'll find everything from basic CBD Capsules and Tinctures, to more exotic offerings like CBD infused coffee, CBD pet treats, and "daily doses" (oral syringes pre-loaded with measured doses of CBD). Each product is offered in several concentrations, allowing users to choose not only their preferred delivery method but also the right dosage for their body. All Green Roads CBD oil products are crafted from pharmaceutical-grade, 99% pure cannabidiol, and cannabidiol oil. Their source hemp is grown in America on certified organic farms and extracted through high-pressure, cold CO2 extraction methods which preserve a broad range of terpenes and other botanical compounds. Each batch is then independently lab tested, with the results published online for consumer verification. For healthy skin, we recommend Green Roads' CBD topical Pain Cream, which not only relieves joint and muscle aches, but also dampers the body's inflammation response, thanks to 150-300 mg CBD oil. Vitamin E, Chamomile Extract, and Cucumber Extract provide additional soothing and antioxidant properties, reducing redness, swelling, and irritation. For creating healthy skin from the inside out, the best CBD at Green Roads is their CBD oil tinctures, which, taken orally, can balance irregular hormones, fight systemic inflammation, and reduce stress. Five concentrations are offered: 100 mg, 250 mg, 350mg, 550 mg, 30 ml, 1000 mg, or 1500 mg of crystalline CBD isolates and phytocannabinoids.
Product Types:Tinctures, Syrups, Cream, Capsules, Edibles, Beverages
Our Recommended Product for Healthy Skin: Pain Cream for acute irritation and inflammation, and CBD Oil for hormonal imbalance, systemic inflammation, and stress, with dosage based on user's level of CBD oil experience.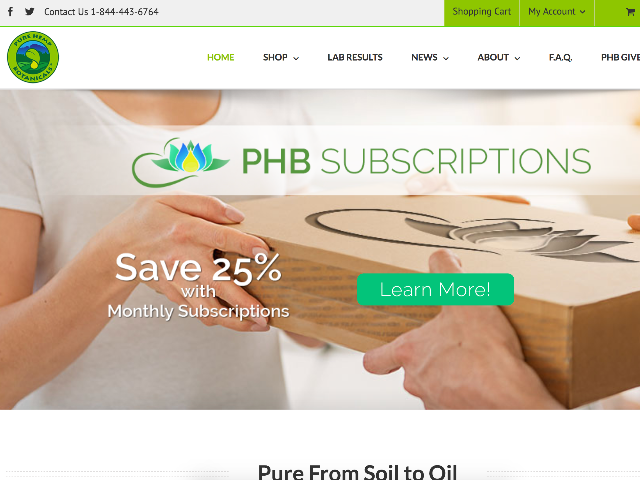 Pure Hemp Botanicals has staked their reputation on purity, and the results speak for themselves. The company itself has the highest standards of manufacturing practices, community commitment, and corporate transparency. Their quality control measures go far beyond the CBD industry norms; all their CBD is lab tested for purity and potency, and consumers can even verify their lab results by batch on the Pure Hemp website. Their source hemp is grown organically, processed, and packaged in Colorado, and Pure Hemp supervises the process to their exacting standards "from soil to oil," rather than outsourcing. Interested shoppers can even take a a virtual tour of their farms and labs to see for themselves how the products are made, and better understand the broad-spectrum extraction process which allows Pure Hemp to preserve such a wide range of whole-plant cannabinoids, plant terpenes, omega 3 and omega 6 fatty acids during extraction. Pure Hemp offers a variety of delivery methods for there hemp, including edible and oral products like Tincture, Softgels, Capsules, Mints, and Crystals. While any of these can work internally to create healthy skin by regulating stress, hormones, and the body's inflammatory response, our top product pick is Pure Hemp's CBD teas. These contain many herbs and botanicals which can work synergistically with CBD to promote healthy skin. Each tea contains at least 30% organic, CBD-rich hemp, along with such flavorful and skin brightening plants and plant extracts as Chamomile Lavender (skin soothing), Ginger Tumeric (inflammation reducing), and Peppermint Mate (skin brightening). There's also a classic Pure Hemp tea made with 100% hemp, and containing 25 mg CBD.
Product Types: Tincture, Softgels, Capsules, Mints, Crystals, Vape Liquid, Tea
Our Recommended Product for Healthy Skin: CBD Oil Teas to treat hormonal imbalance, inflammation, and stress.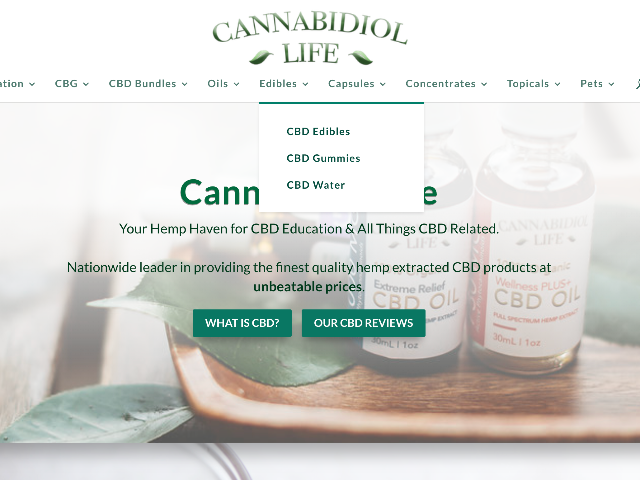 Cannabidiol Life excels in the area of CBD product diversity. That's great news for consumers since some folks prefer eating CBD infused products to ingesting oils, for instance, or need higher or lower doses. Other CBD users like to keep a variety on hand for different conditions or situations, such as vaping at home and taking CBD capsules while at work. With a wide range of products that includes CBD crystals, wax, dabs, capsules, edibles, isolates, salves, beverages, and even CBD pet treats, there's something for everyone in the Cannabidiol Life lineup. Their products also contain both the lowest and highest available doses of any company included in our ranking of best CBD for healthy skin, so users can choose the strength that works best for their bodies. The company uses organically grown Colorado hemp, from which the CBD is gently extracted through the use of organic, food-grade ethanol. For healthy skin, the entire line of Cannabidiol Life skincare products gets our endorsement, including CBD Lotion, CBD Body Butter, CBD Skin Cream, CBD Muscle Balm, CBD Chapstick, CBD Soap, & CBD Facial Serums. Their healthy skin lineup features high-quality ingredients tailored to a variety of needs, and broad spectrum CBD infused in a variety of concentrations. For anti-aging, their Facial Serum contains a full 50 mg CBD, along with 12 essential oils, including moisture-enriching and antioxidant jojoba oil, evening primrose oil, and Vitamin E. The company's CBD Oil Deep Soothe Balm, made with 15 natural and botanical ingredients like calendula and lavender, is ideal for conditions like sunburn, chafing, eczema and rosacea. A full 275 mg of hemp extracted CBD makes this a potent product. Cannabidiol life also makes top quality Moisturizing Balm for dry skin, with a CBD oil in a rich mango butter base, and Tattoo Care Balm, with 110 mg CBD in a base of avocado oil, hempseed oil, and coconut oils, to promote healing and relieve pain.
Product Types: Tincture, Vape Liquid, Capsules, Edibles, Isolates, Crystals, Wax, Water
Our Recommended Product for Healthy Skin: Entire Skincare Line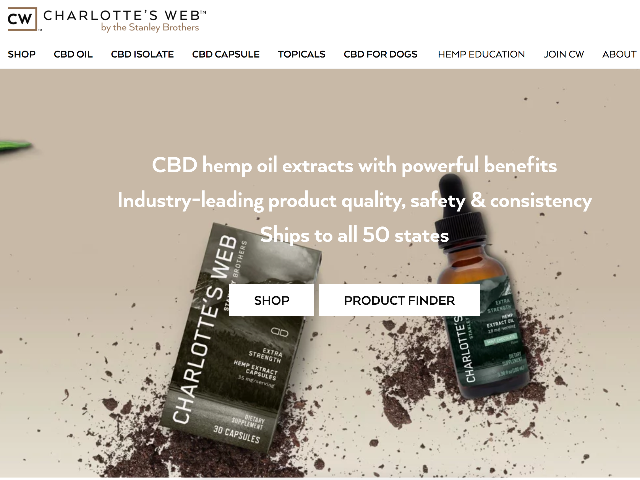 Charlotte's Web is one of the higher-profile CBD companies, thanks in part to its share-worthy backstory. The company name reflects it's "gold standard", high-CBD, proprietary hemp strain, which was bred by the two brothers who founded the company. This strain, in turn, was named in honor of Charlotte Figi, born in October 2006, who made a nearly miraculous recovery from a rare and debilitating seizure disorder after using their CBD oil. Her recovery convinced the two to establish their company, which has set new standards in CBD as a serious therapeutic treatment for health conditions from epilepsy and schizophrenia, to anxiety and ADHD, as well as more common issues like swelling, headaches, insomnia, and acne. The company's source hemp is organic and Colorado-grown under the company's quality oversight. Through a gentle, broad-spectrum extraction process, Charlotte's Web retains an array of beneficial plant compounds (like phytocannabinoids, terpenes, and flavonoids), which enhances product efficacy through the Entourage Effect. When it comes to healthy skin, these compounds contribute moisturizing and antioxidant effects, along with the anti-inflammatory properties of the CBD. Our favorite Charlotte's Web CBD products for healthy skin are their Hemp Infused Cream and Hemp Infused Balm. Both feature 300 mg of hemp extract per ounce, along with deeply penetrating botanical skin moisturizers like Vitamin B5, aloe, coconut oil, arnica, and shea butter. The Cream's nourishing ingredients plump up the skin to fill out wrinkles and relieve flaking. The thicker Balm is best suited for chafing, severely dry skin, and rashes, and contains rich, conditioning apricot kernel oil with oleic and linoleic acids. Both are available unscented or with a "Soothing Scent," an aromatherapeutic essential oil blend with camphor, mint, clove, and cinnamon.
Product Types: Tincture, Softgels, Capsules, Mints, Crystals, Vape Liquid, Tea
Our Recommended Product for Healthy Skin: Hemp Infused Cream or CBD oil balm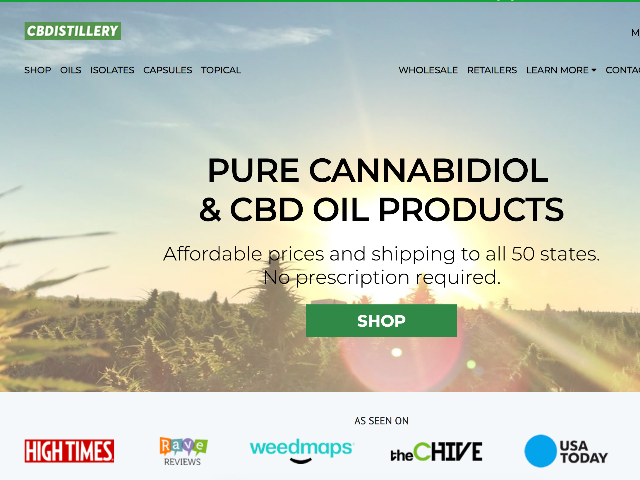 Founded by a group of Colorado natives, the CBDistillery is all about making top quality CBD affordable and accessible. The company offers both broad-spectrum, and CBD isolate products, all of which are made from non-GMO hemp grown outdoors in Colorado, without the use of chemical pesticides and herbicides. Their CBD is lab tested for purity and processed through CO2 extraction. The CBDistillery product lineup includes everything from Tincture, Isolate, and Capsules, to Softgels, Suppositories, Dabs, Wax, and Vape Liquid. The company also offers free shipping on orders over $75 and a 10% discount for veterans and emergency responders. For healthy skin, we recommend the company's CBDefine Skin Care Cream and CBD oil Topical CBD Salve. Both contain 500 mg pure and pesticide free CBD oil, along with natural, skin nourishing moisturizers like Aloe, Hemp Seed Oil, Olive Oil, Coconut Oil, Apricot Oil, and Almond Oil. The Skin Care Cream is designed specifically to reduce inflammation, and is a great choice for acne and aging, with antioxidant and antiseptic compounds like Lavender, Frankincense, Rosemary, and Tea Tree. The CBD Balm is ideal for inflammation and soreness and has analgesic and anti-inflammatory Peppermint, Wintergreen, Marjoram, Eucalyptus, Arnica, Basil, Camphor. CB Distillery also offers a rich lip balm with 25 mg CBD oil, made with Beeswax, Sweet Almond Oil, shea butter, and cocoa butter.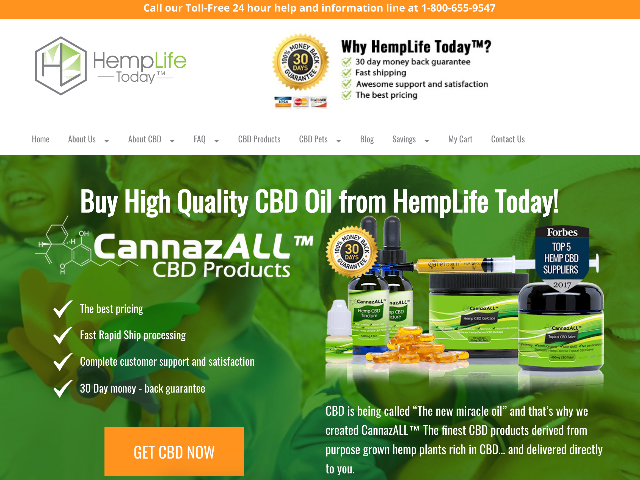 While some companies take a high-end boutique approach to CBD, Hemplife Today aims to bring CBD to the masses with simple, affordable CBD products. That's especially good news for regular or higher-dose users, who rely on a daily therapeutic CBD regimen and need a reputable, reliable and affordable source. Hemplife Today satisfies this need with highly potent CBD Tinctures, Gelcaps, Concentrates, and Vape Liquids, all of which have economical prices and can be purchased in bundles for additional savings to regular users. New customers will appreciate the confidence of shopping under Hemplife's 30-day money-back satisfaction guarantee. Affordable CBD prices don't mean sacrificing quality at Hemplife; the company's source hemp is non-GMO, pesticide-free, first-cut, and purpose-grown (not industrial) grown in Northern Europe. This hemp is then processed with CO2 extraction, and many of the original botanical extracts, like Terpenes and Phytocannabinoids, are then infused back into the oil using Hemplife's proprietary "NanoTech Infusion Process," to make the most of the "Entourage Effect". Our top choice for healthy skin in the Hemplife Lineup is CannazALL Topical CBD Salve. This nourishing balm contains a whopping 400 mg CBD, enough for over 250 applications. Other ingredients include rich Coconut Oil, antibacterial Lavender Oil, and anti-bacterial Eucalyptus Oil, all of which make this CBD balm an excellent solution for rashes like psoriasis and eczema.
Product Types: Tinctures, Gelcaps, Concentrates, Vape Liquid, Salve
Our Recommended Product for Healthy Skin: CannazALL Topical CBD Salve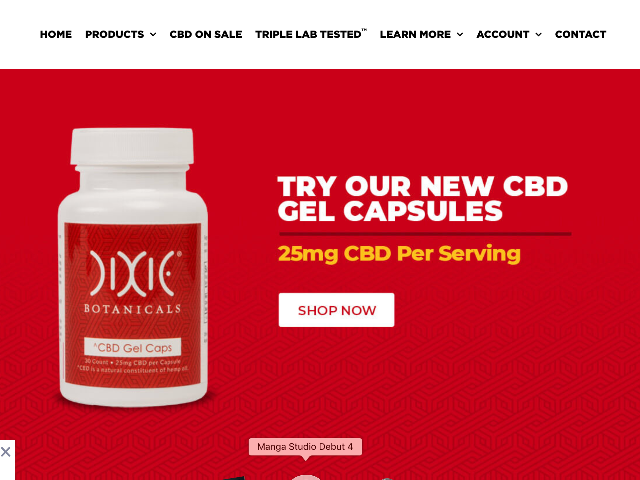 Now that CBD is trending, there's no shortage of newcomers popping up on the scene with CBD products of every stripe. Dixie Botanicals, on the other hand, helped to create the CBD scene, having launched their hemp CBD oil operation back in 2012, and was among the first company to sell mainstream hemp-based CBD oil products. Dixie approaches CBD as both a treatment and a performance-enhancer, educating consumers about how CBD oil products can alleviate common health conditions and improve their daily functioning, from work to fitness. Their products are thoughtfully formulated by a team of scientists, clinical herbalists, and nutritionists, with features like vegan "gelatin" capsules for their CBD oil gelcaps, and stevia sweetening in their hemp oil tinctures. Their non-GMO hemp is grown in Europe, subjected to broad-spectrum extraction. The process yields a CBD oil that is highly pure, very concentrated and includes plant compounds like Omega-3 fatty acids, Terpenes, Vitamins, Chlorophyll, Amino acids, and Phytocannabinoids. Among their many CBD oil products, Dixie Botanical's "Salvation Balm" is our choice for healthy skin. The balm is made with 50 mg CBD, along with rich cocoa butter, barrier-enhancing beeswax, moisturizing hemp oil, and a blend of natural anti-inflammatory rosemary, lavender, and cedarwood oils.
Product Types: Tinctures, concentrates, isolate, salve, edibles
Our Recommended Product for Healthy Skin: Salvation Balm topical CBD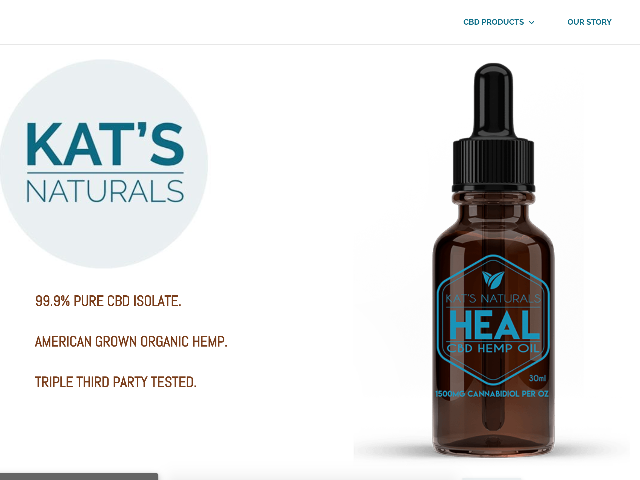 Kat's takes a wellness and self-care approach to CBD products, with a nourishing and luxurious user experience in mind. From their beautifully designed tincture bottles to their aroma-therapeutically scented topical CBD products, Kat's aims to make CBD use an enjoyable and restorative part of people's routines for balancing and enhancing their health and well-being inside and out. The company starts with hemp that has been organically cultivated in the Netherlands and processed through a critical CO2 extraction process, and then lab tested for purity. This CBD oil is then blended with organic, whole-plant hemp oil, for an end product rich in phytocannabinoids and omega-3 and omega-6 fatty acids.
With their high purity, powerful anti-inflammatory properties, and range of synergistic botanical ingredients, we can confidently endorse the entire skincare line from Kat's Naturals. Their products are especially good for conditions rooted in dryness and irritation, including eczema, acne, rosacea, psoriasis, dermatitis, itching and swelling or puffiness. Their Facial Serum is especially popular, and fights signs of dryness and aging with 300mg CBD and an array of organic botanicals like vitamin-rich Carrot Seed Oil, Omega-rich Argan Oil, antioxidant Rose Hip Seed Oil, moisturizing Grape Seed, and Pumpkin Seed Oil, and anti-inflammatory Chamomile and Lavender Essential Oils. Other great choices for skin health include Kat's Capsicum Heat Cream, a warming balm made with rich avocado and almond butters, emu oil, along with 350 mg CBD per ounce and warming botanicals like capsaicin, ginger, black pepper, juniper, marjoram, and rosemary essential oils.
Product Types: Tinctures, Vape Liquid, Topicals, Edibles
Our Recommended Product for Healthy Skin: Entire Skin Care Line
Plus CBD Oil sets a high bar for purity and accountability in the unregulated industry of CBD oil products. They oversee the entire supply chain, "from seed to shelf" to ensure quality and consistency at every phase. Their award-winning, non-GMO hemp strains are cultivated in California, then harvested and subjected to an environmentally friendly CO2 cold extraction process. Plus CBD Oil operates a state-of-the-art laboratory with mass spectrometry, gas chromatography, and performance liquid chromatography equipment, where their CBD oil is in-house tested at multiple points in the production process for purity, potency and consistency, then subjected to further testing by an independent, third-party lab for verification. The company uses this exceptional pure oil to produce an extensive variety of CBD oil products, with a variety of CBD oil Capsules, Sprays, Drops, Balms, Vape Liquid, Concentrates, and Tinctures available in a range of flavors and doses. The Plus CBD product we recommend for healthy skin is Plus CBD Oil Balm, which is available in Original (50 mg CBD) and Extra Strength (100 mg CBD). Both are rich in Vitamin E, known to heal scars and abrasions, as well as deeply moisturizing fatty acids and beeswax, and infused with cooling and analgesic peppermint oil.
Product Types: Capsules, Sprays, Drops, Balms, Vape Liquid, Concentrates, Tinctures
Our Recommended Product for Healthy Skin: CBD Oil Balm